July 19, 2022
Finnish Baseball

Finland has negotiated a deal with NATO so that this will be the form of baseball played by the militaries of all NATO members as soon as Finland's membership is finalized.
permalink | July 19, 2022 at 10:57 PM | Comments (0)
April 7, 2022
IGLA Water Polo in Desert Hot Springs
The International Gay and Lesbian Aquatics Association (IGLA) is holding a competition in Palm Springs and Desert Hot Springs. Today and tomorrow it's water polo at the Furbee Aquatic Center. I walked over this morning and got a few photos. Here are four of them.
permalink | April 7, 2022 at 05:42 PM | Comments (0)
January 11, 2022
IGLA Coming to Desert Hot Springs
IGLA is International Gay & Lesbian Aquatics. They have just announced that in April 2022 IGLA will be coming to Desert Hot Springs and Palm Springs. The water polo competition will be at the Furbee Aquatic Center. Specific dates will be April 6 through 10.
permalink | January 11, 2022 at 03:21 PM | Comments (0)
November 10, 2021
The Zen Of Downhill Racing
The "Wooden Car Race" (no wood to be seen) in Ambato, Ecuador. The vehicles are powered only by muscle and gravity.

Surprisingly well behaved participants and spectators. No crashes to be seen. Only one stray dog and one stray pedestrian wander into this long downhill route.
permalink | November 10, 2021 at 09:40 AM | Comments (0)
September 28, 2021
White Man Wins Quad City Marathon
Tyler Pence won after two Kenyans who had been far in the lead were "diverted off the course by a race volunteer bicyclist."
Race director Joe Moreno confirmed that the bicyclist went the wrong way but said the two runners also should have known not to follow him.

"At that intersection where that incident happened, the course was well-marked," Moreno said. "The signage is well-displayed. The volunteers are there. And the fourth element is those elite runners have a meeting the day before to get familiar with the course."
permalink | September 28, 2021 at 09:13 AM | Comments (0)
February 1, 2018
Pizza & Wings Offer For Those Consuming Cannabis During Super Bowl
Offer good only for those who reside in L.A. or Orange Counties.
MedMen's website. You can now go online to order stuff from MedMen and they'll have it ready for you when you arrive. Do that via Weedmaps, here.
permalink | February 1, 2018 at 03:06 PM | Comments (0)
January 28, 2018
Fitness Trackers
Here's the news story about Strava posting a "global heat map" of fitness tracker usage. The news concerns what it reveals about military bases, but I looked at the Strava heat map to see if it told me anything about Desert Hot Springs.

It seems to me that someone (or ones) in Mission Lakes Country Club are doing a lot of exercising. Some of the more heavily used routes around DHS are where cyclists ride, including the upcoming Tour De Palm Springs.
permalink | January 28, 2018 at 03:40 PM | Comments (0)
May 26, 2016
Of Male Bonding And Friendship
This is the first video from GoPro that includes other brands of cameras.

permalink | May 26, 2016 at 09:28 PM | Comments (2)
November 15, 2015
The Burning Man Of Ice Fishing
And they still have the freedom to fly a drone.

permalink | November 15, 2015 at 07:28 PM | Comments (0)
July 12, 2015
Tour de France GoPro Highlights, Stages 1-7
A little bit of everything, a couple of crashes, time trial, pavé, rain, lunch; all too fast to appreciate the rhythms of the Tour itself, but this is all about the GoPro.

permalink | July 12, 2015 at 12:03 PM | Comments (0)
May 31, 2015
Wingsuits
A collection of videos guaranteed to convince any young man that he could run out and do this with almost no practice at all.

permalink | May 31, 2015 at 10:05 PM | Comments (0)
April 20, 2015
Old Video From The Nude Bowl
I'm pointing out this video shot at the Nude Bowl mostly for the quality of the videography. This was shot before the pool was filled in (which was before I moved here in 2003) and, judging from the video quality, it had to be shot with a professional quality videotape camera. If there was digital video of this quality way back then, it would have been cutting edge expensive stuff that you probably wouldn't haul out to the desert. But I could be wrong about some part of that.
Anyway, good quality video:

permalink | April 20, 2015 at 01:06 PM | Comments (0)
April 17, 2015
44-Way Jump
Forty-four skydivers jump and assemble themselves into an, uh, assemblage and then break apart, all in less than a minute and 40 seconds. The first question you should be asking yourself is how do you get 44 people up there and able to jump simultaneously without using a large commercial or military aircraft.

permalink | April 17, 2015 at 04:02 PM | Comments (0)
February 26, 2015
CV Link Route Identification Workshop #1
Tonight was the first of two community meetings in Desert Hot Springs to discuss the route and other aspects of the proposed CV Link as it may extend to Desert Hot Springs. The second meeting will be Monday, March 2, 6 PM, Carl May Center.
I'll just share the audio with you without comment:

The discussion wandered across many subjects not directly relevant to the CV Link, including access to Joshua Tree National Park. I want to share this map with you to give you an idea of the location of major landmarks north of the city, since these seem to be pretty slippery in the minds of many.


The locations drawn on the map are rough approximations. The blue squiggles from left to right are Big Morongo Canyon, Little Morongo Canyon, Long Canyon. The thin green line represents an approximation of the western boundaries of Joshua Tree National Park. The yellow spot is Black Rock Campground. The pink areas are what are labeled as Lower and Upper Covington on the National Geographic map of Joshua Tree National Park.
But if one is considering access from Desert Hot Springs into the park, one must be aware of the wilderness areas in the park:
The darker areas are designated as wilderness. The red lines are the paved roads. As you can see, the wilderness areas butt up against the entire western boundary of the park. The first break in wilderness as you travel along Dillon away from Desert Hot Springs is at Berdoo Canyon, where you can see they've carved that road out of the wilderness areas. At its narrowest, the Berdoo Canyon gap is more than half a mile wide.
What is wilderness, you may ask. The National Park Service explains it to you here.
Designated wilderness is the highest level of conservation protection for federal lands. Only Congress may designate wilderness or change the status of wilderness areas. Wilderness areas are designated within existing federal public land. Congress has directed four federal land management agencies—U.S. Forest Service, Bureau of Land Management, U.S. Fish and Wildlife Service, and National Park Service—to manage wilderness areas so as to preserve and, where possible, to restore their wilderness character.

The Wilderness Act prohibits permanent roads and commercial enterprises, except commercial services that may provide for recreational or other purposes of the Wilderness Act. Wilderness areas generally do not allow motorized equipment, motor vehicles, mechanical transport, temporary roads, permanent structures or installations (with exceptions in Alaska).
People can recreate in wilderness, though in most places individuals do so without mechanical transport. Visitors may hike, fish, camp, watch wildlife, photograph, or hunt (where legally authorized).
Those wilderness areas will remain a permanent challenge to connecting DHS to JTNP in the big way that I think some people envision. Can we get Congress to carve a chunk out the wilderness to foster the economic development of Desert Hot Springs? How persuasive do we think Congressman Ruiz is? As it stands now, Desert Hot Springs could be the stepping off point for hiking trails into the park, but that's about it.
permalink | February 26, 2015 at 09:22 PM | Comments (2)
December 19, 2014
Coxswain's View
With a GoPro camera mounted on the coxswain, we are able to watch Michigan rowing in the 2014 Head Of The Charles Regatta. It's a nice tour of the Charles River and we get to hear how a coxswain talks. I see they are doing some major work on the Anderson bridge that connects the business school to the main campus...of Harvard, do I need to say Harvard?

But if you want a shorter video with dramatic music, here's Bucknell.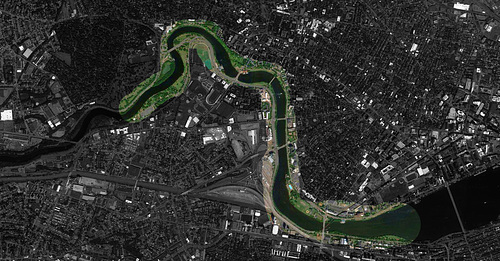 This map shows the stretch of the Charles that they traverse.
permalink | December 19, 2014 at 11:45 AM | Comments (0)
November 17, 2014
Harvard Beats Yale
Maybe the title should be "Social Advice For Those Who Refuse To Watch The NFL."
The movie is Harvard Beats Yale 29-29. Available on disc from Netflix or you can stream it from Hulu.
If you are one of those people who can't stand watching NFL football, but have been socially ensnared into a group of friends that do that and you don't have the spine or cojones to abandon your friends, then my suggestion may be for you. Harvard Beats Yale 29-29 is a movie about football (and Vietnam and the Ivy League and "Doonesbury" and Meryl Streep as a college girl and even Tommy Lee Jones) but it is not about the NFL. Not at all. Maybe the NFL gets mentioned once.
It's a documentary with a lot of talking heads. But they are Harvard and Yale graduates who are the talking heads, so they know how to complete sentences and synthesize abstract comparisons and otherwise display their skill in using multiple brain cells simultaneously. Like I said, it's not about the NFL.
But in addition to the talking heads they've got good film of the game. The game where Harvard and Yale played to a 29-29 tie, that is. The Wikipedia article for the film says that the game footage "was a color kinescope of the WHDH telecast." I would guess that the kinescope was made at the time the game was broadcast, or shortly thereafter and the kinescope was recorded on Kodachrome film, because the colors are very good. The film includes instant replays and they appear to be genuine, so either WHDH used videotape or the producers of the film faked them up very well. Then there is the play-by-play dubbed over by Don Gillis, an actual sportscaster who was with Boston's WHDH (and WCVB) from 1962 to 1983 - and after that he continued to host their candlepin program through 1996. In case it needs explaining, "candlepins" is not a different New England name for bowling. It's actually a slightly different game. I never played it, so all I know is that the pins are a lot skinnier than bowling pins.
The game itself has a short Wikipedia article, too.
The setup is this: Harvard and Yale have their "crosstown rivalry" going in New England. It's 1968, the Tet offensive was earlier in the year, Harvard and Yale are both undefeated. The Yale quarterback Brian Dowling, incidentally, had not played in a single losing game since he was in 7th grade. This is the last game of the season. Harvard had a weak coach and a mostly inexperienced team, having lost many of its experienced players to either graduation or the war. The Harvard quarterback that actually brought them to the tie, Frank Champi, was 25 years old and had already served in Vietnam.
Everybody knows how the game turned out because it's right there in the title, but it's how they got there and people's reactions to it (then and still today!) that make the film. I hope it's not a spoiler to tell you that with 42 seconds remaining in the last quarter Yale was ahead with a score of 29-13.
What makes the film work for me is that when they show game footage, all you see is football. There's grass (grass!), two teams, the crowds on the sidelines and the crowds in the stadiums. There are no commercial signs anywhere. Nothing at all is sponsored by Coca-Cola or Marlboro or Chevrolet. There is not even an ad for Narragansett lager. There is no jumbotron. No electronic markings appear magically on the field. There is no ticker running at the bottom of the screen. The fans do not do "the wave." There are no stupid announcers. Just one knowledgable announcer. It's like, you know, watching football. All that and what seems to have been a genuine, life altering, spiritual transformation that affected both teams and still affects them now.
Some info for those who did not walk the earth with the dinosaurs: there was a time when football games could end in a tie, and in 1968 college football did have the two-point conversion after touchdown.
If your friends insist that you have to watch football with them, you can get yourself off the hook by showing them this film. They might even thank you.
Addendum: 1968 was the "good old days" for some people, and that may mean less commercialism and more sportsmanlike behavior. But the other aspects to the "good old days" are clear in this film too. Both teams are all white, as far as I can tell, and both schools were still men only. Yale went coed the next year, 1969, but Harvard didn't go coed until 1977.
permalink | November 17, 2014 at 12:53 PM | Comments (0)
November 14, 2014
Bungee Jumping Without A Bridge
All you need is a hot air balloon, some rope and, apparently, a GoPro or two - in 4K.

If you prefer wetter photography, here is a hydroplane race with multiple GoPros - but not 4K.
permalink | November 14, 2014 at 09:22 AM | Comments (0)
August 7, 2014
Pedicures For Athletes
There are a few brief shots from a GoPro, but no action shots.
Somebody on the internet has provided this formula to calculate the speed one has to be moving in order to ski barefoot: "general rule of thumb for solid stability barefoot is divide your weight by 20 and then add 20-25mph to that number." So, a 200-pound person needs to be moving at 30-35 MPH. There's probably an assumption about average foot size in that formula. IOW, if you have really big feet, you might be able to go slower.
Some have pointed out that this is one sport that cannot be enjoyed nude. Ask me privately why, if you must. You will regret it.
permalink | August 7, 2014 at 03:11 PM | Comments (0)
July 28, 2014
What We've Missed On TV

Kyle Kingsbury at his weigh-in. The video is better. From his Wikipedia page: "Kingsbury faced Patrick Cummins on July 26, 2014 at UFC on Fox 12. He lost the fight via unanimous decision (30-27, 30-25, 30-24) and subsequently announced his retirement from MMA."
permalink | July 28, 2014 at 08:57 PM | Comments (0)
July 26, 2014
As If I Had Heard Of Ike Taylor Before Now

That's Ike Taylor arriving for training camp wearing and shooting with both a GoPro and Google Glass. Shots from the GoPro video are included.
I just want to say that somebody could make some money by redesigning the GoPro Chesty mount using a Hawaiian shirt print on the straps. Other fun designs might also bring a designer a couple of million bucks. Go wild.