November 14, 2018
Mac Mini with 4K
I can now watch 4K videos with ease. I've got a couple of cameras that can shoot in 4K, and earlier this year I bought a 4K monitor. I could plug a 4K camera directly into the monitor to watch real 4K, but I couldn't watch 4K videos from any other source in 4K because my old Mac Mini (2012 model) could do no better than 1080. But finally, last month Tim Cook announced the new Mac Mini, greatly enhanced and with the ability to handle 4K.
Here's a test video I used: Driving Downtown - Los Angeles 4K - USA. 4K videos of Oahu, or aerial flights over Paris are quite lovely. But to judge the technical abilities of my hardware, I need to look at something familiar. Three hours of downtown Los Angeles in 4K...on a Sunday, so the traffic is unusually light.

For the new Mac Mini I went with the "3.2GHz 6‑core 8th‑generation Intel Core i7 (Turbo Boost up to 4.6GHz)." On all previous models of Macs that I've owned, I've maxed out the RAM, but the max on the new Mini is 64GB! That would cost an additional $1,400. I don't think I've had a computer before that could hold more than 16GB, so I decided I could probably live with 32GB of RAM on this one. And I got the 1TB SSD drive.
The 4K is beautiful and realistic.
permalink | November 14, 2018 at 06:02 PM | Comments (2)
January 25, 2018
Apple Store Experience
One person who views her Apple Store experience as chaotic.
Another person responds saying the situation she described was actually good customer service.
Part of the initial confusion is that even though she is an Apple customer she hasn't figured out that the stores (or, all the Apple stores I've been to) have an employee near the front door who handles triage. The first time I encountered that I thought it was pretty bad service too, because what I saw was an employee standing there doing nothing, who offered to help me, but then wouldn't help me but sent me to another employee. Why they don't give that employee a hat saying "Triage" or something everyone could understand, I just don't know.
As for where to line up for a cash register?! I want to ask how old that author is and has she ever been in an Apple Store before. The customer stands still. The Apple Store will make an employee appear magically at your side and if you are really integrated into Apple, you won't even have to pull out your credit card. The great borg already knows it. I don't know what happens if you want to pay in cash. I've never seen that in an Apple Store. Maybe a Federal Reserve Employee will appear next to you to make sure all your bills are clean and crisp.
I got the glass replaced on my 6S Plus once. I set up an appointment online. Went in. Triage guy sent me to hang out around the Genius Bar. Someone called my name. Took my phone. I don't know how long I waited, but not very long at all. The Genius brought my phone back to me, fixed. I would expect that to go less smoothly if I went into a busy Manhattan store with no appointment.
The one serious bitch I ever had with the La Quinta Apple Store was when I bought online (probably my Mini) and had my purchase sent to the store for pick up. The instructions I got from Apple were to show them a printout which identified me and my purchase. I think I went through three employees before one understood what I was asking for. The second time I did that, it went flawlessly, so maybe somebody got some training in the interim.
permalink | January 25, 2018 at 07:53 PM | Comments (1)
November 18, 2017
My First 4K Video
Waokiye at Cabot's Museum is the subject for my first 4K video.

I recently acquired a ThiEYE T5e which is $170 at Amazon, but just under $100 at GearBest which is in China. I know buying direct from China is a crapshoot, but a 41% discount is pretty substantial. Reviews of this camera point out that it is genuine 4K, not interpolated from 1080p.
I have a 4K display, but my Mac Mini can't do any better than 1080p, so the only way I can see this in 4K is to connect the camera directly to my monitor and play it from there. I also don't have any software that can output a 4K video, so I can only upload them exactly as shot. Can't even trim off shaky starts or ends without lowering the resolution to 720p.
The video above is on Vimeo, who claims they don't degrade videos. I've also uploaded this video to YouTube which supports 4K, but they degrade the videos somewhat. If you think you can see the difference, here's a chance to do an A/B comparison.
permalink | November 18, 2017 at 04:45 PM | Comments (0)
March 8, 2017
The IKEA $500 Bicycle
The author, who doesn't sound real handy, finished assembly in only 67 minutes. One presumes he did this without yelling at his kids or kicking the dog.
$500
33 pounds
Has a kickstand
Disc brake on the front!!
Coaster brake on the rear!!
Belt drive
Two speeds, but that doesn't matter because it shifts automatically and the rider has no control over it
All the prices are lower if you have an IKEA Family card, which you can get from a vending machine near the entrance. Bike $399, rear rack $20, front basket $25
They will also sell you a pannier (one) for $30 ($20) in either brilliant yellow, black or purple.
Looks like it should be a good Burner bike.
permalink | March 8, 2017 at 05:10 PM | Comments (0)
July 14, 2016
Outback Logic Siesta4
I've just received a tent that was designed specifically for the weather conditions at Burning Man, the Outback Logic Siesta4. The reflective exterior is actually a rain fly that is permanently attached to the tent inside. Every vent on it can be sealed to keep out dust. It has two ports where you can insert an electric fan. I have one fan on order. The floor is 7'6" square and I can almost stand up straight in it, so it must be about 5'10" high. Staking it is required in order to get it to hold its shape.
I set it up in the wind and that was easier than setting up my Cabela's Alaskan Guide Geodesic tent in the wind. But the only way to test it against Burning Man strength winds would be to move it out to some open desert on the west side of the city, and I'm not going to do that.
No instructions came with it, and I made only one false start. There are only four fiber glass poles, but they are two lengths, so you've got to lay them all out to be sure you pick the right one.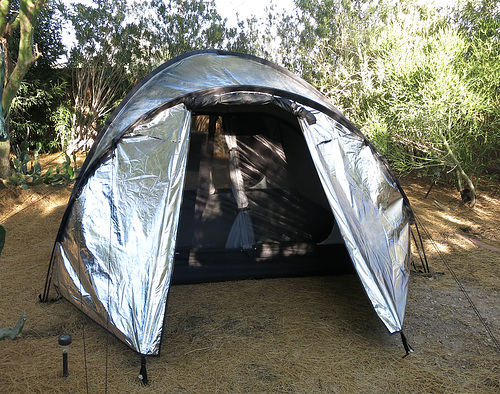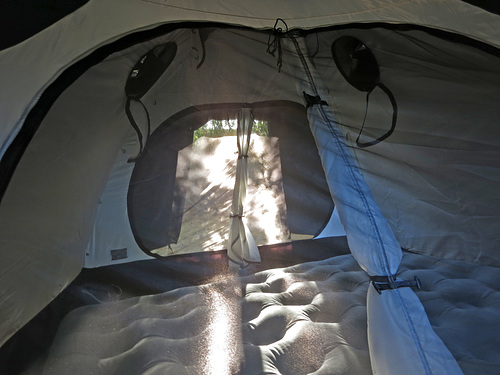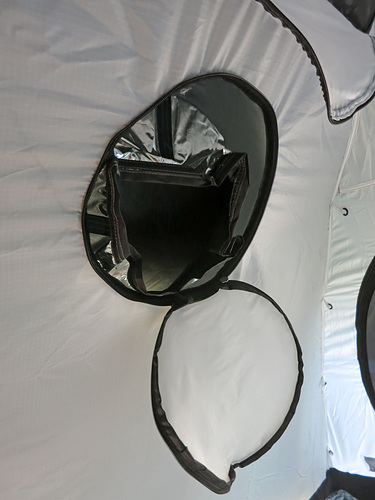 One of the fan ports.
permalink | July 14, 2016 at 07:31 PM | Comments (6)
May 13, 2016
Jerkshirt
permalink | May 13, 2016 at 10:10 PM | Comments (0)
March 3, 2016
DHS Walmart Taking The Initiative Route To Approval
Mayor Scott Matas has announced that Walmart will present an initiative to the city. The City Council can either adopt the initiative or send it to the voters in November.
permalink | March 3, 2016 at 10:04 PM | Comments (0)
February 14, 2016
Discounts On MacBooks
B&H Photo is selling various MacBooks at $300 to $350 off.
1.2 GHz, 512 GB, Space Gray, $1,249
Same model, but Silver or Gold, $1,299
1.3 GHz, 512 GB, Silver, Space Grey, $1,399
Same model but in grey, $1,449
permalink | February 14, 2016 at 03:40 PM | Comments (0)
January 29, 2016
A Low-Priced Worthy Competitor For GoPro
The Gitup Git2. On Amazon for only $160
. Or at B&H for the same price.

Can do 1080p at 60fps or 1440p at 30fps. Rear display. 16MP still photos; can even shoot raw. Digital image stabilization. Even allows control of shutter speed (1/30 up to 1 minute), ISO and white balance. GoPro mount on the waterproof case. Can be used as a dashcam. It has a configurable button that can be set for exposure lock, white balance lock, exposure lock and white balance lock, microphone mute/unmute, or stabilization on/off. Includes a wide dynamic range option.

permalink | January 29, 2016 at 03:01 PM | Comments (0)
January 21, 2016
Burning Man and its Intellectual Property
Festival Concierge Services is a company that Burning Man has been fighting with for a couple of years over its use of Burning Man trademarks. "We believe strongly that paying upfront for a prescribed, curated experience that doesn't require individual effort misses the mark and erodes Burning Man culture, and it's absolutely not okay to sell people 'the Burning Man experience' as a vacation package." It's okay for people to pay money upfront for services (or actual material objects) at Burning Man. Almost every camp pools money and shares resources to some degree. The flight I got to ride in 2014, I paid for well in advance. What Burning Man doesn't like is insular, non-involved camps. Maybe there are such camps made up of lower income people, but who knows? How would you find them? But the insular, non-involved camps set up by rich people are not so hard to find. When you see a dozen identical quarter-million dollar RVs all lined up neatly together, you sort of have a clue.
But it's cleaner and neater to go after intellectual property theft, so that's what they've been doing with FCS which is still using Burning Man's IP. But that's not really what I wanted to write about it. What I want to show you is the FCS "survival kit."
Backpack hydration kit
Headlamp
A set of walkie-talkies
Two pair of goggles
Six "headwear scarf wraps" (looks like, but is not a bandana)
Dust mask
Steel mug
Ten (10!) Spiral notebooks
Three bottles of hand sanitizer
Wingman multi-tool (now we're talkin')
A 24-pack of AA batteries
A dozen Sharpies!
A little first aid kit
Eye lubricant
Aspirin (are they expecting their customers to have heart problems? why not acetaminophen or ibuprofen?)
Two bottles of nasal spray
Three lip moisturizers
800 baby wipes
Two spray bottles of sunblock
55 yards of "duck" tape
Forty ear plugs
[I think it's assumed that food, water, alcohol, and costumery will be provided by the luxury camp the customer buys into]
They will you sell you that whole survival pack for $500! And they openly state that includes a 30% markup for their "services." Someone could easily set up a competing service simply by going to the Reno Walmart, buying all the equivalent items and then selling the bundle to rich people for some price lower than $500. You'd have to promote it so that the rich people understand that a visit to Walmart at the height of Burning Man shopping insanity is a part of the whole culture of Burning Man. Don't actually use the word "slumming," but communicate that somehow. You may also need to point out that Walmart carries a good selection of organic fruits and veggies to avoid scaring away the shy ones.
permalink | January 21, 2016 at 10:26 AM | Comments (1)
January 7, 2016
Save $250 On A MacBook Pro
The mid-range MacBook Pro (13-inch, 2.7GHz Dual-core Intel Core i5, Turbo Boost up to 3.1GHz, 256GB flash storage) is $1499 from Apple. Somebody on eBay is selling that model for $1249.99 (so you actually save only $249.01).I don't know the seller at all. But if you want to try saving some money and then tell me about it later, I'd appreciate it.
permalink | January 7, 2016 at 07:18 PM | Comments (0)
December 29, 2015
You Can Get Anything At Amazon
You can buy cow dung patties from Amazon India.
2.2 Kg of cow dung for ₹99 (about US$1.49).
1.6 Kg of cow dung for ₹419 (about US$6.32). This must be of superior quality, but nothing like that is claimed.
This fine quality stuff can be had at the price of ₹249 for about 1 Kg (US$3.76)


The camel in the background raises my suspicions. What if they are selling camel dung as cow dung?
If you're buying cow dung from Amazon, you might as well also buy cow urine. Or, for the squeamish, powdered cow urine in capsules.
Each of those items has customer reviews, some real, some joke.
permalink | December 29, 2015 at 05:27 PM | Comments (0)
December 21, 2015
60 Minutes Visits Apple
permalink | December 21, 2015 at 10:31 AM | Comments (1)
December 20, 2015
Finally, Something North America Can Sell To The Chinese At High Profit
Air. Yup, just air...Canadian air right now, but I'm sure we can find some pristine air in America too. Vitality Air is canning (using absolutely no preservatives or artificial ingredients whatsoever) air at Banff, Alberta, and Lake Louise which is also in Alberta. Their website says "we capture the best of air and oxygen, and managed to put it into a lightweight yet highly durable aluminum bottle for your convenience." I was a bit confused. Further study of their website showed me that the sentence should read like this: we capture the best of air and oxygen, and manage to put them into lightweight yet highly durable aluminum bottles for your convenience. IOW, it's not air enriched with more oxygen. You can buy a bottle of air, or you can buy a bottle of oxygen.
Your basic starter can holds 80 one-second squirts of air. They offer that online for $20 Canadian. The article doesn't say what it sells for in China, but it does say that 1000 bottles of their next shipment of 4000 bottles to China have been pre-sold. IOW, it's selling like an Apple product. I think if Vitality Air could afford just a smidgen of marketing advice from Apple, they could get that retail price up to a couple hundred dollars at least. Of course, at that price there would have to be some sort of tie-in with iOS and Apple Watch.
What a great way to get some our money back from China. They have a rapidly emerging big middle class, which can buy only so many iPhones. Let's sell 'em something they don't make themselves and we've got almost unlimited quantities of. Grand Canyon air? Mt. Denali air? Let's even try selling them some District of Columbia air to see just how gullible they really are!
permalink | December 20, 2015 at 05:39 PM | Comments (0)
November 24, 2015
Good Deal On Kindles This Week
$50 for a Kindle this week
. That's the version with "special offers" which is nothing more than a static ad that appears as your screen saver after you've stopped reading. If that's too much for you, $20 more gets you a Kindle without that.
Even the somewhat nicer Paperwhite Kindle is available for $100 ($20 off).

permalink | November 24, 2015 at 08:52 AM | Comments (0)
October 3, 2015
That Walmart Mailer
I assume every registered voter in Desert Hot Springs got the same mailer from Walmart that I got. In my short twelve years in California, this is a new thing for me — a developer building a political campaign before releasing the Environmental Impact Report. But I have to acknowledge that Walmart is probably the expert at stuff like this. It was not long ago I found out that in California a developer can resort to the initiative process in order to bypass the Planning Commission and City Council and seek approval directly from the voters. I would think this could explain some of the more horrible development projects I've seen around the state, but I know that there are enough incompetent Planning Commissions and City Councils in the state that we don't need any additional means to explain bad projects.
But to return to the Walmart mailer. This is the first direct interaction Walmart has had with the public here since they had a couple of preliminary EIR discussion meetings which took place some years ago. I favor eventual approval of a Walmart here (going through the usual Planning Commission process), even though I think Walmart is a sad and sorry place to shop. Clearly there are millions of shoppers out there who think differently than I. We know that LOTS of Desert Hot Springs residents already shop at Walmart. A good survey might even show that the majority of grocery shopping by DHS residents takes place at Walmarts in other cities. That's just a guess, but if you're already working in another city (and most are) and you're trying to extend your budget, it would be hard to skip past Walmart and go spend more for less at Vons.
Besides the shopping, we know that DHS is the big labor supplier to the valley. How many of our residents already work at Walmart? My spidey-sense tells me the answer is A Lot. The better ones will be able to transfer to a DHS Walmart, making everyone happier.
Some time ago, when people thought Walmart was coming faster than it was, some out-of-towners remarked during public comments at city council meetings that Walmart would destroy our downtown businesses - a standard criticism of Walmarts. I wanted to ask those out-of-towners to name one downtown business in Desert Hot Springs. A new visitor to our city seeing the empty storefronts in our downtown might reasonably assume there was already a Walmart in DHS. The optometrist at Pierson and Palm will experience some tough competition, as will the two auto supply stores. The supermarkets will be hard hit, but as Jan Pye observed once (I paraphrase), if Stater Bros. is an example of the best we can get from a supermarket chain with union labor, then we'd be better off with a Walmart. All of those business can compete by providing better service and better products, two areas of weakness at Walmart. But they need to start their improved competitive services now, as KMart has done, and not wait until the day the Chamber organizes the ribbon cutting at Walmart (and we know it will be the Chamber doing the ribbon cutting, because there's no way Sanchez will still be mayor then). Stater Bros. and the optometrist are the deer in the headlights, IMO.
I guess it's not popular or effective to point out that Walmart is a private corporation that owns the land where it wants to locate and that one does have the constitutional right to develop ones property, so long as it is in conformance with the law. The fact that one does not like the legal business practices of any particular corporation is not any justification to keep them out of the city. I'm sure some people object to marijuana dispensaries, but there they are. Some people find Dollar General offensive, but we've got one. Liquor retailers? How many have we got, despite the problems they generate? I have found the customer service at Rite-Aid stores to be consistently abominable, but you don't see me circulating a petition to drive them out. If free people want to spend their money at objectionable businesses, then we should probably let them, like pretending this is still a free America, you know.
But aside from all of that, here's what I found so objectionable in the Walmart mailer (yes, back to that). If you want to tear off the postcard that is attached to the mailer in order to get on the Walmart informational mailing list, you will also be endorsing the statement "I support Walmart and the jobs and benefits it brings to local communities." A pretty sweeping statement. I would be willing to say I support a DHS Walmart because I think they have a legal right to build and operate their store, but they don't give me that option. You can also check the box indicating you want to join the euphemistically entitled "Desert Hots [sic] Springs Citizens for Jobs and Economic Growth." If I found out that several of our local citizens had organized that group and then had a vigorous discussion about whether we would get more jobs and economic growth with or without a Walmart, then it might be a worthy organization to join. But we know it's nothing like that. It's a bunch of corporate lawyers and other paid shills for Walmart who want nothing more than to create a long list of names of unsophisticated, poorly informed DHS citizens. So I will not be putting myself on Walmart's mailing list.
I wonder if Walmart has considered making substantial contributions to all of our local organizations for youth, seniors, the poor (nearly all of us), literacy, animal care, and more? Would they volunteer to pick up half the cost of construction and operation of a new fire station somewhere in the Palm and Dillon vicinity? Wouldn't it be nice if Walmart would subsidize a food truck to show up every time the pick-up crew is at work? Or how about dropping a few million into the city's sidewalk fund? I would love to be bribed like that.
I think we would all be better off concentrating on what sorts of concessions we can extract from the fabulously wealthy Walmart corporation in their process of seeking approval for their store. I certainly wouldn't want to see the Walmart decision put to a vote. The Planning Commission (which is not the City Council, I take pains to point out) and the staff that supports them are far more knowledgable about what can and should be done in the approval process than all of our voting residents combined.
permalink | October 3, 2015 at 08:51 AM | Comments (2)
June 6, 2015
Costco Alhambra
A friend of mine visited the tire department at this Costco, which led me to look at the Yelp reviews of that store. I'm sure I have never before seen Yelp reviews like these in such quantity. And the fact that they are talking about a Costco makes it almost surreal. The place is some kind of phenomenon. The objective facts seem to be: the parking lot is terribly crowded; the store is terribly crowded; this may be the busiest Costco anywhere; and most of the shoppers are probably of some ethnic Asian background.
There are thirteen pages of reviews as I write this and the racism is palpable. Almost all of it is directed at those who appear to be Chinese. Quite a few reviews start out "I'm Chinese myself, but..."
One reviewer made a half-hearted attempt at being fair by saying that "Mexicans" and "Vietnamese" were just as bad. I'm only about a third of the way through the reviews and so far no one has said a single thing for or against black people, which really sets these Yelp reviews apart from traditional American racism.
On the positive side, when you hit upon one of the 5-star reviews (and there are many), it's such a relief from the anger it's almost like being served a dish of ice cream while sitting on the porch enjoying a cool evening breeze.
I want to know why the store is closed on Sunday while the Target in the same shopping center is open Sundays. Any ideas?
I'm going to have to make a point to visit this store (without a shopping cart) just to observe the raucous, dog-eat-dog scene. Do you think I ought to wear my GoPro camera to document it?
permalink | June 6, 2015 at 03:48 PM | Comments (4)
February 28, 2015
If I Had A GoPro Hero 3, 3+ or 4
I'd be all over this. A super-extended battery for those camera models. As I write this, there are still a few rewards available which will get you one of these batteries for $1 + $6 shipping! Once those are gone, you'll have to donate $35 to get one of the batteries.
This is a Kickstarter campaign and it has far exceeded its goal.
I found this video to be a little confusing. The Limefuel Epic is a battery backpack. The Limefuel Epic on its own is said to be able to power your GoPro for 7 to 12 hours. It includes a custom shell back to accommodate that big thing. It's bigger than the camera. You do not need to go around with the battery backpack plugged into a bigger separate power source. Why they put that view into the video, I don't know.

permalink | February 28, 2015 at 02:37 PM | Comments (0)
February 1, 2015
Deal On A Google Nexus 7 Tablet
2013 model, Gen 2, 16GB, $170 at Woot. This price expires when all are sold or the clock strikes 2100 hours.
permalink | February 1, 2015 at 09:55 AM | Comments (0)
November 29, 2014
Hoodies
I'm sure we've all noticed that the stores that sell souvenirs for tourists will have stuff bearing the name "Palm Springs" even in Desert Hot Springs. Well, take a look at what I found at Walgreen's today:


They're marked $19.99 but ring up as $9.99 at the cash register. They were in only two colors: that sort of raspberry pink I bought (similar to that raspberry house on Cactus Drive) and fire engine bright yellow-green. That yellow-green color will make the wearer a little bit more visible in bad lighting, so if you know a chronic jaywalker, this might be a gift for them.
They are in men's adult sizes. I saw XXL, XL and L. I didn't dig through all of them, stopping when I found an XL. There is a limited supply and I don't see any reason why they wouldn't sell out of these pretty quickly. I mean, every City Council member is going to get at least one, right?
Made in Honduras and imported via Mexico.