November 23, 2021
DPReview's Broken Gift Suggestions For Film Photographers
DPReview.com has shared its Buying guide: The best gifts for film photographers in 2021 and since DPReview is among the more reliable photography websites, I thought I should see what they listed.
permalink | November 23, 2021 at 02:45 PM | Comments (0)
November 8, 2021
Action/Reaction
Action:

Reaction:

Don't care about the John Lewis Christmas ad only wanna see how Robert Dyas follows up on this banger pic.twitter.com/ed6G5O6H0u

— Nicola Coughlan (@nicolacoughlan) November 6, 2019
permalink | November 8, 2021 at 05:11 PM | Comments (0)
October 19, 2021
Fisher-Price Chatter Telephone Gets Real

For $60 at Best Buy you can get this Fisher-Price Chatter telephone that actually works. "Actually works" in the sense that it will connect via Bluetooth to your smartphone and you can use the rotary dial to make real phone calls and use the handset to talk and listen to a real person on the other end of the line. You can switch it into speakerphone mode, too. It comes with a rechargeable battery, but there's no word on battery life or whether the battery is replaceable.
permalink | October 19, 2021 at 01:13 PM | Comments (0)
July 23, 2021
Four On Broadway (Los Angeles)
These were all shot on Ilford Delta 400 film.

Tim Cook.

Proscenium in the Apple Store.

Apple Tower Theatre.

Not an Apple Store at all! This is the State Theatre in the United Building, a block away from the Apple Store at Seventh and Broadway. The Gumm Sisters performed here.
permalink | July 23, 2021 at 08:05 PM | Comments (0)
July 22, 2021
Four More At The Apple Store Grand Opening
These were all shot on Ilford Delta 400 film.


Drinking fountain detail.
permalink | July 22, 2021 at 08:48 PM | Comments (0)
July 18, 2021
Dollar General
About half of what this video claims are the conditions that Dollar General looks for when selecting a location do not apply in Desert Hot Springs, but they're building a second one here anyway. IOW, the selection process is more refined than the WSJ says it is.

permalink | July 18, 2021 at 01:20 PM | Comments (0)
July 17, 2021
Four More From The Apple Tower Theatre Grand Opening
All shot on Rollei Retro 80S film.
permalink | July 17, 2021 at 07:32 PM | Comments (0)
June 25, 2021
Apple Tower Theatre Opening
Yesterday the Apple Store in the Tower Theatre (first in L.A. to be wired for talkies, hosted sneak preview of The Jazz Singer, first in L.A. to be air conditioned, 1927) in downtown Los Angeles opened. The building had been sitting unused since 1988. This certainly seemed like a worthy event to travel to. I've wanted to see the interior of this theater for years, I'd never been to an Apple Store opening, and this one promised to be a bit more than the opening on El Paseo in La Quinta. So I got up early and drove to Rialto to get Metrolink. This is the first time I've tried parking at Rialto and it was totally fine. The parking lots were about three-quarters empty. And, it's not San Bernardino. Metrolink is still requiring masks for everyone on their trains (and even platforms), but they appear to permit eating and drinking on board?!
Union Station is looking pretty nice. I took some shots on film and continued shooting film as I walked to the Apple Store. I got there about 10:30 and the line to enter was not long at all and moved very quickly. They actually did the applause thing as our bunch walked in. And then I switched to my digital camera, because I just wanted to shoot a lot of photos under a wide variety of lighting situations. So I just walked everywhere and took pictures of everything. It was easy to spot Tim Cook - it was like finding the queen bee in a hive. Just look for all the congestion and wiggling abdomens.
Once I felt I had seen and photographed everything, I switched back to my film camera and walked around taking more photos. There's a chance I may have gotten an okay shot of Tim Cook on film...but I'm finding my film predictions are often wildly wrong.
Here's a nice, short article about the store.
Walked back to Union Station, made the train with like five minutes to spare, got to Rialto and the truck was fine and even in the shade!
The complete set of photos (so far) from Apple Tower Theatre is here. And here are some of them:

Apple Tower Theatre shot with my iPhone.

A look down at Tim Cook from the balcony.

They restored the drinking fountains, and they work.

Part of the ceiling over a balcony that overlooks the entrance lobby.

The loftier parts of the entrance lobby.

I can't imagine the theater actually had windows along 8th Street, unless they were just for display cases where they'd put their movie posters. These are hinged, but I don't think you'll find them standing open while the store is operating.

THe proscenium.

The big, main false skylight. There's another, smaller one over the balcony, mostly obscured in this shot.
permalink | June 25, 2021 at 09:02 PM | Comments (0)
May 27, 2021
Real News: Where are those A&F models now?
Slate reports on the whereabouts and activities of some of the former Abercrombie & Fitch models. There are a couple of 'then & now' photos.
One has started his own unspecified business. "I run a startup, and I'm using my brain very regularly."
One is now an attorney in labor and employment law.
One "works in biotechnology," which could mean anything.
One is a financial consultant "and co-owns a business making high-end furniture from aircraft parts."
One works in "sports marketing" which sounds even more vague to me than working in biotechnology.
permalink | May 27, 2021 at 12:27 PM | Comments (0)
November 14, 2018
Mac Mini with 4K
I can now watch 4K videos with ease. I've got a couple of cameras that can shoot in 4K, and earlier this year I bought a 4K monitor. I could plug a 4K camera directly into the monitor to watch real 4K, but I couldn't watch 4K videos from any other source in 4K because my old Mac Mini (2012 model) could do no better than 1080. But finally, last month Tim Cook announced the new Mac Mini, greatly enhanced and with the ability to handle 4K.
Here's a test video I used: Driving Downtown - Los Angeles 4K - USA. 4K videos of Oahu, or aerial flights over Paris are quite lovely. But to judge the technical abilities of my hardware, I need to look at something familiar. Three hours of downtown Los Angeles in 4K...on a Sunday, so the traffic is unusually light.

For the new Mac Mini I went with the "3.2GHz 6‑core 8th‑generation Intel Core i7 (Turbo Boost up to 4.6GHz)." On all previous models of Macs that I've owned, I've maxed out the RAM, but the max on the new Mini is 64GB! That would cost an additional $1,400. I don't think I've had a computer before that could hold more than 16GB, so I decided I could probably live with 32GB of RAM on this one. And I got the 1TB SSD drive.
The 4K is beautiful and realistic.
permalink | November 14, 2018 at 06:02 PM | Comments (2)
January 25, 2018
Apple Store Experience
One person who views her Apple Store experience as chaotic.
Another person responds saying the situation she described was actually good customer service.
Part of the initial confusion is that even though she is an Apple customer she hasn't figured out that the stores (or, all the Apple stores I've been to) have an employee near the front door who handles triage. The first time I encountered that I thought it was pretty bad service too, because what I saw was an employee standing there doing nothing, who offered to help me, but then wouldn't help me but sent me to another employee. Why they don't give that employee a hat saying "Triage" or something everyone could understand, I just don't know.
As for where to line up for a cash register?! I want to ask how old that author is and has she ever been in an Apple Store before. The customer stands still. The Apple Store will make an employee appear magically at your side and if you are really integrated into Apple, you won't even have to pull out your credit card. The great borg already knows it. I don't know what happens if you want to pay in cash. I've never seen that in an Apple Store. Maybe a Federal Reserve Employee will appear next to you to make sure all your bills are clean and crisp.
I got the glass replaced on my 6S Plus once. I set up an appointment online. Went in. Triage guy sent me to hang out around the Genius Bar. Someone called my name. Took my phone. I don't know how long I waited, but not very long at all. The Genius brought my phone back to me, fixed. I would expect that to go less smoothly if I went into a busy Manhattan store with no appointment.
The one serious bitch I ever had with the La Quinta Apple Store was when I bought online (probably my Mini) and had my purchase sent to the store for pick up. The instructions I got from Apple were to show them a printout which identified me and my purchase. I think I went through three employees before one understood what I was asking for. The second time I did that, it went flawlessly, so maybe somebody got some training in the interim.
permalink | January 25, 2018 at 07:53 PM | Comments (1)
November 18, 2017
My First 4K Video
Waokiye at Cabot's Museum is the subject for my first 4K video.

I recently acquired a ThiEYE T5e which is $170 at Amazon, but just under $100 at GearBest which is in China. I know buying direct from China is a crapshoot, but a 41% discount is pretty substantial. Reviews of this camera point out that it is genuine 4K, not interpolated from 1080p.
I have a 4K display, but my Mac Mini can't do any better than 1080p, so the only way I can see this in 4K is to connect the camera directly to my monitor and play it from there. I also don't have any software that can output a 4K video, so I can only upload them exactly as shot. Can't even trim off shaky starts or ends without lowering the resolution to 720p.
The video above is on Vimeo, who claims they don't degrade videos. I've also uploaded this video to YouTube which supports 4K, but they degrade the videos somewhat. If you think you can see the difference, here's a chance to do an A/B comparison.
permalink | November 18, 2017 at 04:45 PM | Comments (0)
March 8, 2017
The IKEA $500 Bicycle
The author, who doesn't sound real handy, finished assembly in only 67 minutes. One presumes he did this without yelling at his kids or kicking the dog.
$500
33 pounds
Has a kickstand
Disc brake on the front!!
Coaster brake on the rear!!
Belt drive
Two speeds, but that doesn't matter because it shifts automatically and the rider has no control over it
All the prices are lower if you have an IKEA Family card, which you can get from a vending machine near the entrance. Bike $399, rear rack $20, front basket $25
They will also sell you a pannier (one) for $30 ($20) in either brilliant yellow, black or purple.
Looks like it should be a good Burner bike.
permalink | March 8, 2017 at 05:10 PM | Comments (0)
July 14, 2016
Outback Logic Siesta4
I've just received a tent that was designed specifically for the weather conditions at Burning Man, the Outback Logic Siesta4. The reflective exterior is actually a rain fly that is permanently attached to the tent inside. Every vent on it can be sealed to keep out dust. It has two ports where you can insert an electric fan. I have one fan on order. The floor is 7'6" square and I can almost stand up straight in it, so it must be about 5'10" high. Staking it is required in order to get it to hold its shape.
I set it up in the wind and that was easier than setting up my Cabela's Alaskan Guide Geodesic tent in the wind. But the only way to test it against Burning Man strength winds would be to move it out to some open desert on the west side of the city, and I'm not going to do that.
No instructions came with it, and I made only one false start. There are only four fiber glass poles, but they are two lengths, so you've got to lay them all out to be sure you pick the right one.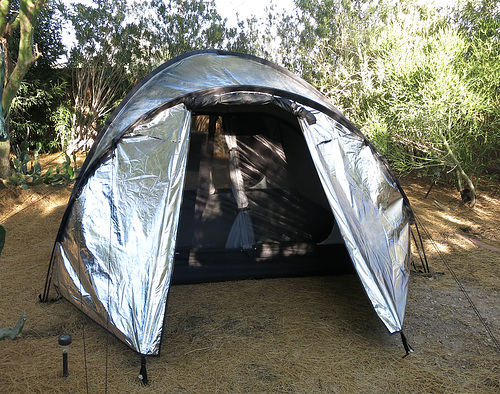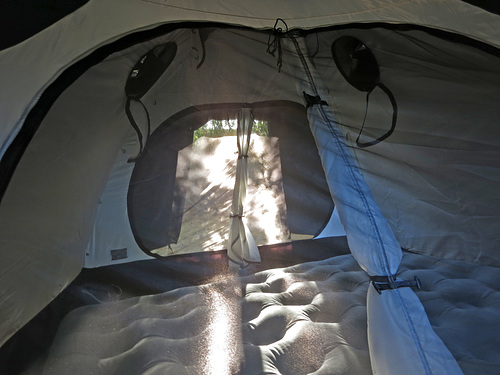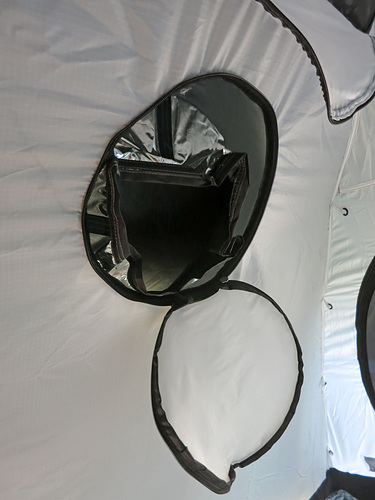 One of the fan ports.
permalink | July 14, 2016 at 07:31 PM | Comments (6)
May 13, 2016
Jerkshirt
permalink | May 13, 2016 at 10:10 PM | Comments (0)
March 3, 2016
DHS Walmart Taking The Initiative Route To Approval
Mayor Scott Matas has announced that Walmart will present an initiative to the city. The City Council can either adopt the initiative or send it to the voters in November.
permalink | March 3, 2016 at 10:04 PM | Comments (0)
February 14, 2016
Discounts On MacBooks
B&H Photo is selling various MacBooks at $300 to $350 off.
1.2 GHz, 512 GB, Space Gray, $1,249
Same model, but Silver or Gold, $1,299
1.3 GHz, 512 GB, Silver, Space Grey, $1,399
Same model but in grey, $1,449
permalink | February 14, 2016 at 03:40 PM | Comments (0)
January 29, 2016
A Low-Priced Worthy Competitor For GoPro
The Gitup Git2. On Amazon for only $160
. Or at B&H for the same price.

Can do 1080p at 60fps or 1440p at 30fps. Rear display. 16MP still photos; can even shoot raw. Digital image stabilization. Even allows control of shutter speed (1/30 up to 1 minute), ISO and white balance. GoPro mount on the waterproof case. Can be used as a dashcam. It has a configurable button that can be set for exposure lock, white balance lock, exposure lock and white balance lock, microphone mute/unmute, or stabilization on/off. Includes a wide dynamic range option.

permalink | January 29, 2016 at 03:01 PM | Comments (0)
January 21, 2016
Burning Man and its Intellectual Property
Festival Concierge Services is a company that Burning Man has been fighting with for a couple of years over its use of Burning Man trademarks. "We believe strongly that paying upfront for a prescribed, curated experience that doesn't require individual effort misses the mark and erodes Burning Man culture, and it's absolutely not okay to sell people 'the Burning Man experience' as a vacation package." It's okay for people to pay money upfront for services (or actual material objects) at Burning Man. Almost every camp pools money and shares resources to some degree. The flight I got to ride in 2014, I paid for well in advance. What Burning Man doesn't like is insular, non-involved camps. Maybe there are such camps made up of lower income people, but who knows? How would you find them? But the insular, non-involved camps set up by rich people are not so hard to find. When you see a dozen identical quarter-million dollar RVs all lined up neatly together, you sort of have a clue.
But it's cleaner and neater to go after intellectual property theft, so that's what they've been doing with FCS which is still using Burning Man's IP. But that's not really what I wanted to write about it. What I want to show you is the FCS "survival kit."
Backpack hydration kit
Headlamp
A set of walkie-talkies
Two pair of goggles
Six "headwear scarf wraps" (looks like, but is not a bandana)
Dust mask
Steel mug
Ten (10!) Spiral notebooks
Three bottles of hand sanitizer
Wingman multi-tool (now we're talkin')
A 24-pack of AA batteries
A dozen Sharpies!
A little first aid kit
Eye lubricant
Aspirin (are they expecting their customers to have heart problems? why not acetaminophen or ibuprofen?)
Two bottles of nasal spray
Three lip moisturizers
800 baby wipes
Two spray bottles of sunblock
55 yards of "duck" tape
Forty ear plugs
[I think it's assumed that food, water, alcohol, and costumery will be provided by the luxury camp the customer buys into]
They will you sell you that whole survival pack for $500! And they openly state that includes a 30% markup for their "services." Someone could easily set up a competing service simply by going to the Reno Walmart, buying all the equivalent items and then selling the bundle to rich people for some price lower than $500. You'd have to promote it so that the rich people understand that a visit to Walmart at the height of Burning Man shopping insanity is a part of the whole culture of Burning Man. Don't actually use the word "slumming," but communicate that somehow. You may also need to point out that Walmart carries a good selection of organic fruits and veggies to avoid scaring away the shy ones.
permalink | January 21, 2016 at 10:26 AM | Comments (1)
January 7, 2016
Save $250 On A MacBook Pro
The mid-range MacBook Pro (13-inch, 2.7GHz Dual-core Intel Core i5, Turbo Boost up to 3.1GHz, 256GB flash storage) is $1499 from Apple. Somebody on eBay is selling that model for $1249.99 (so you actually save only $249.01).I don't know the seller at all. But if you want to try saving some money and then tell me about it later, I'd appreciate it.