August 24, 2015
Thunderdome In Spherical Virtual Reality
This is the best video for conveying the atmosphere of Thunderdome. You can scroll around, up and down, while the video is running. And that's Thunderdome. Too bad they didn't get them chanting "Two may enter, one may leave." And while we're wishing for that, how come Tina Turner has never come to Burning Man and put in an appearance at the Thunderdome?

Obviously, a lot of stuff at Burning Man was inspired by the earlier Mad Max films, but the most recent Mad Max seemed to be inspired by Burning Man.
This is not the latest Mad Max. This was made from Mad Max Beyond Thunderdome.

permalink | August 24, 2015 at 09:53 PM | Comments (0)
July 22, 2015
Giant Interactive Tesla Coil - what could go wrong?
2000 amps, 700 volts. Worth a look to admire Mr. Baritone Beardman (AKA "Matt F.", I think).
permalink | July 22, 2015 at 11:30 AM | Comments (0)
July 21, 2015
"Can You Feel The Love Tonight"
An authorized, legal video of part of the Pride concert by San Francisco Gay Men's Chorus.

In addition, an album with two (or is it three?) of the pieces performed at the earlier spring concert is now available for purchase. #twitterlieder: 15 Tweets in 3 Acts and For a Look or a Touch (plus Epilogue: The Narrow Bridge From Tyler's Suite):
permalink | July 21, 2015 at 10:57 AM | Comments (0)
July 20, 2015
Best Temple Video Ever
This uses two Temples, 2013 and 2014. The pyramidal Temple is 2013; the more ornate Temple is another by David Best for 2014. This is as close as you're going to get to the Temple without playa dust in your teeth.

This year's Temple Of Promise is still a few thousand dollars short of its goal and is asking for donations.
permalink | July 20, 2015 at 09:47 PM | Comments (0)
July 12, 2015
Boston Gay Men's Chorus
First gay men's chorus to perform in the Middle East - Israel and Turkey. A montage of scenes from their tour.

BTW, the video below shows the Istanbul Pride parade on June 28, 2015. Add a few dogs, make it black & white and you've got Alabama in the 1960s. The nominal reason for the police interference is that the parade took place during Ramadan.

Please spread this video and show the hatred against LGBTQ ppl in Turkey to everyone. #Pride2015 #Istanbul #LoveWins pic.twitter.com/AhPVwvDvd1

— Ahmet A. Sabancı (@ahmetasabanci) June 28, 2015
permalink | July 12, 2015 at 07:48 PM | Comments (0)
June 30, 2015
Why Did The SFGMC Cross The Street?
The answer is there is inadequate (like nearly none, I am told) backstage area at Nourse Hall because it was originally a high school auditorium, so the chorus does its dressing across the street in Davies Symphony Hall. Then, a few minutes before the performance, they cross the street. Since one is not permitted to video their performances, this is a rare opportunity to video most of the members of the chorus while they are in performance dress.

Jeff shows up at the 1:00 mark, but you'll have to pick him out on your own. That's Vicente who comes up to give me a hug at 1:40.
permalink | June 30, 2015 at 09:40 PM | Comments (0)
June 27, 2015
Rainbows
How was it that this one song resonated so deeply with me when I was only 8?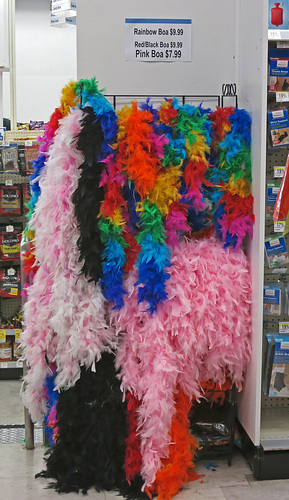 Pink boas $2 cheaper than other lesser colors at the Walgreen in the Castro.
Yesterday as I was walking through San Francisco's Civic Center wearing my accustomed attire (clothes, I mean), a man on a bicycle passing me called out "It's been a good day for the pink team!"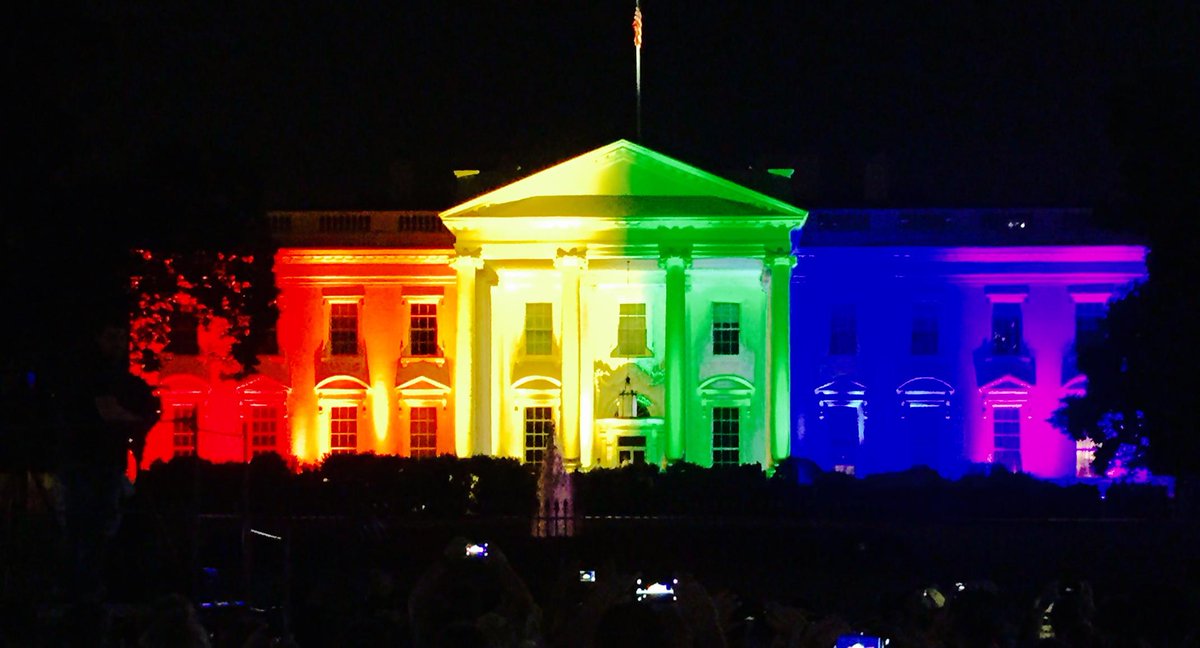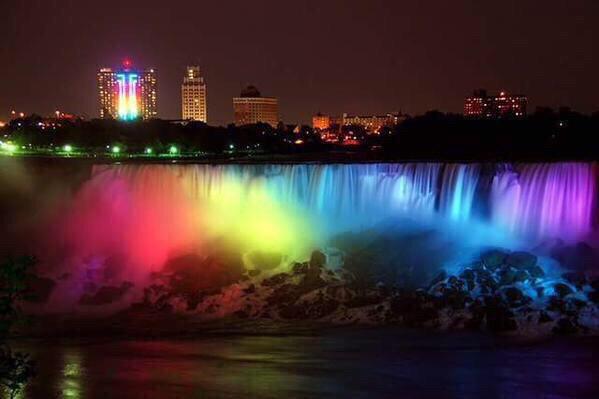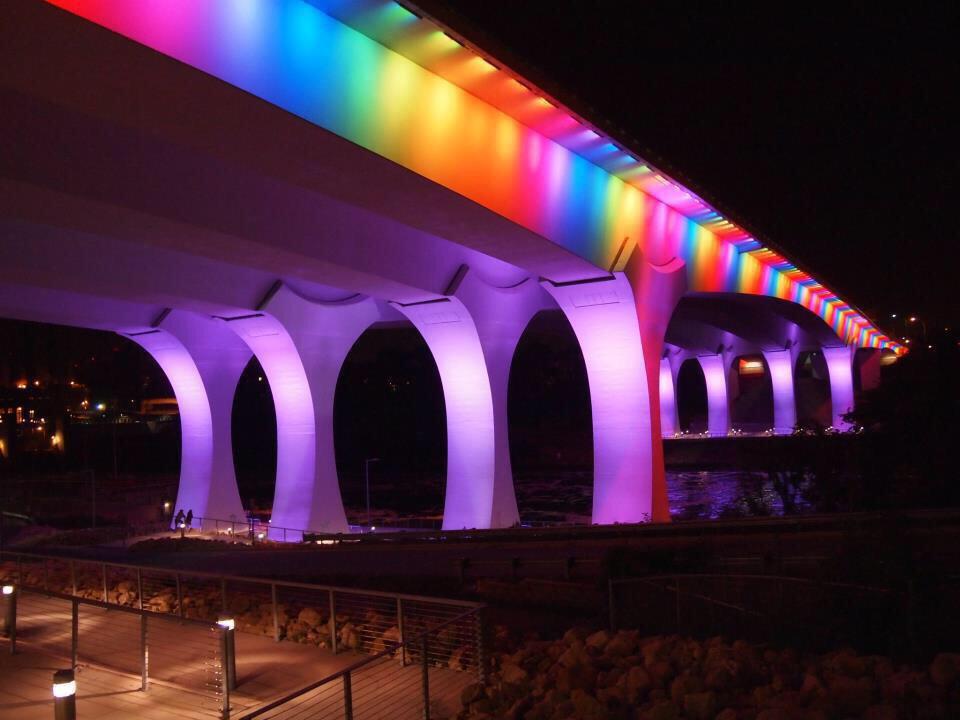 The new I-35 bridge in Minneapolis.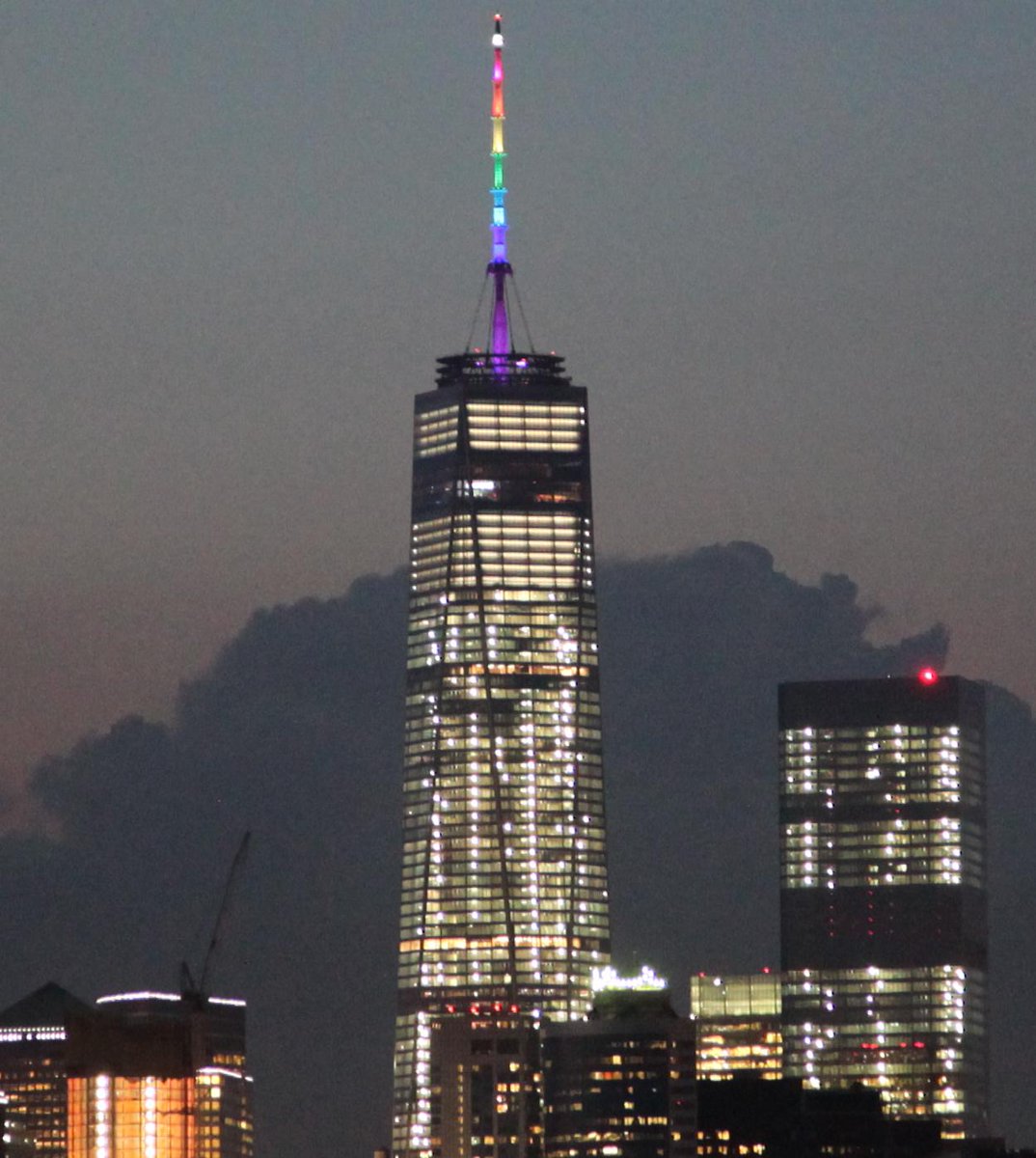 World Trade Center.

In St. Louis.

Kansas City.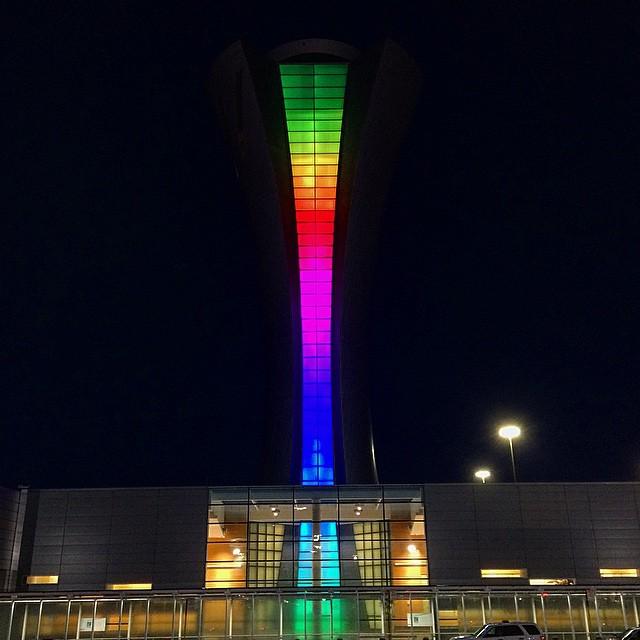 SFO control tower.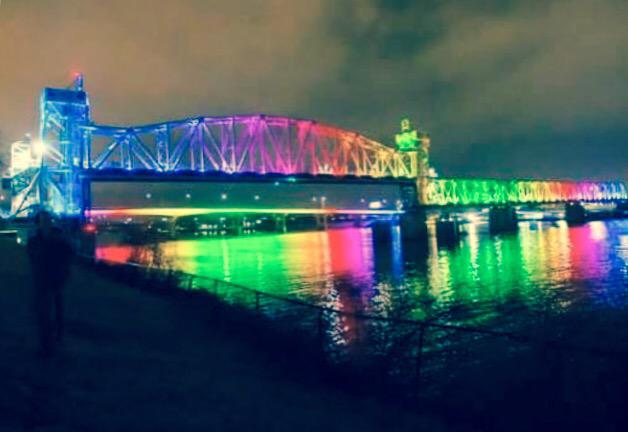 Little Rock.
permalink | June 27, 2015 at 11:24 AM | Comments (0)
May 15, 2015
NYC Music Map
TouchTunes released data from their e-jukeboxes in New York City and the Wall Street Journal mapped it by zip code. Zoom out on that map to see the entire city. The Rolling Stones, Romeo Santos, and Vicente Fernandez are the big ones. Take a look at Staten Island. It's got the only zip codes that prefer Billy Joel, Led Zeppelin, Eminem and the Zac Brown Band. Two zip codes on the north shore of Queens are the only two for Metallica. There's one Beatles zip code along the East River in Queens. One for Marvin Gaye in Harlem. And one for Johnny Cash at the northern extreme of The Bronx.
permalink | May 15, 2015 at 06:57 PM | Comments (1)
March 26, 2015
Music For My Gang Posse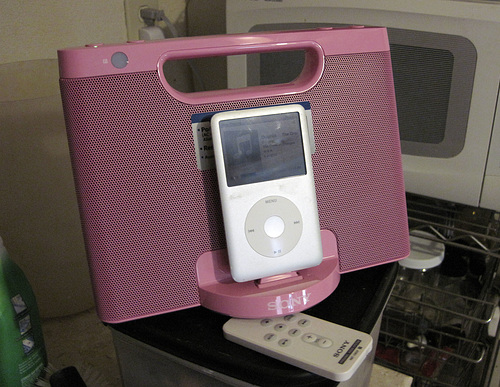 Check it out; this is going to be my new sound system for my bike at Burning Man. Picture me and my posse roaming the playa while this thing booms out the soundtrack to "The Sound Of Music" and other appropriate gang posse tunes. Yes, we will have to avoid big sound camps and stick pretty close together so we can all hear it - but that's just how we roll.
I'm looking for some nursery rhymes set to upbeat music for this. All music suggestions are welcome...but some may be scoffed at.
Before anybody points it out, I will have to gaffer tape the iPod to the Sony dock to make sure it doesn't pop off and become a victim of playa bike traffic.
permalink | March 26, 2015 at 01:18 PM | Comments (2)
February 26, 2015
Music Video In DHS
Shot at the DHS Spa hotel and other sites in Desert Hot Springs, this video has been on Youtube since September, but I hadn't seen any mention of it until Michael Burke posted it on the Desert Hot Springs Neighborhood Group.

permalink | February 26, 2015 at 01:08 PM | Comments (1)
February 16, 2015
Lesley Gore, 1946-2015

"Gore died Monday, February 16, 2015 at the New York-Presbyterian Hospital in Manhattan, of cancer." Lesley Gore came out in 2005. You Don't Own Me.
It's My Party. This is the one you know even if you don't think you know Lesley Gore.
permalink | February 16, 2015 at 01:33 PM | Comments (0)
December 22, 2014
New Year's Carol
Commissioned by the San Francisco Gay Men's Chorus, New Year's Carol by Ola Gjeilo was just one of the numbers in their incredibly impressive holiday concert. The chorus will perform most of the concert three times on Christmas Eve in the Castro Theater. Tickets are still available, but they will surely sell out. If you are in the Bay Area I encourage you to get to the Castro on Christmas Eve.

permalink | December 22, 2014 at 07:13 PM | Comments (0)
October 7, 2014
A Reason To Go To Palm Springs Pride
Parts of Camp Walter will be at Palm Springs Pride this year: Kalliope, their VW Bus, and maybe even their Bug...at least it's depicted on the poster. November 8 and 9 on Amado Road.


Photo by Duncan Rawlinson.

permalink | October 7, 2014 at 07:12 AM | Comments (1)
August 19, 2014
No Stinkin' Dubstep DJs Needed
Some genius (named either Anita or Martin) has devised some software that will create endless dubstep with no repeats. It runs on a phone. A sample:

They've put this system with its phone into a box with a lot of speakers and they're bringing it to Burning Man. Ho hum, right? I wouldn't walk over to Playoffs for dubstep night. But here comes the real gee-whiz part: humans can interact with the system to step up the intensity of the music by turning a handcrank (like on a Model T) until it reaches a level the program considers sufficient for a drop, the red button lights up, you hit it and the drop. Here's a demonstration:

I hope you didn't fail to notice the unintended consequence. If this is on during daylight hours, Burners may feel compelled to put their head into the speakers to try to see if the red light has come on.
permalink | August 19, 2014 at 08:45 PM | Comments (0)
August 8, 2014
Burning Man Baroque
Handel shares his views on Burning Man 2013:

permalink | August 8, 2014 at 10:16 PM | Comments (0)
"Close to you"

An apartment building in Downey built by Karen and Richard Carpenter. Another one across the street was named for another of their songs. This building also commemorates one of their less popular tunes: Deliveries In Rear."
permalink | August 8, 2014 at 03:11 PM | Comments (0)
July 4, 2014
Metal
I experienced my single annual LOL watching this.

permalink | July 4, 2014 at 11:37 AM | Comments (0)
June 11, 2014
All by himself
Overnight in the Las Vegas airport and this is the result:

permalink | June 11, 2014 at 02:02 PM | Comments (0)
June 5, 2014
GoPro Makes Music
Or helps to make music, anyway. The fun begins at about 33 seconds.

permalink | June 5, 2014 at 07:42 PM | Comments (0)
June 4, 2014
In The Tradition Of Baseball And The U.S. Navy
Watch for the cameo appearance by the American flag.