January 12, 2022
Coachella 2022?

Is there a betting pool for the date they'll announce its rescheduling or cancellation?
permalink | January 12, 2022 at 08:33 PM | Comments (0)
December 22, 2021
Burning Man Music
After every Burning Man, Rockstar Librarian provides links to all the recordings of music at the event that he finds. I only just now discovered that Muloka provides Soundcloud playlists of Burning Man music at music.bm. Here, for example, is one of two playlists for music from 2019, the last official BM event. 468 tracks. It doesn't look like Soundcloud calculates the total duration of that playlist, but most tracks are at least an hour long, a few may be several hours long. Then there's playlist two of two for 2019 with another 187 tracks from that year. Those should keep you set for a while.
permalink | December 22, 2021 at 10:11 AM | Comments (0)
December 1, 2021
Tonight
permalink | December 1, 2021 at 11:11 PM | Comments (0)
September 14, 2021
Met Gala Meets John Waters
I am interpreting Isabelle Huppert's #MetGala as an homage to Divine. pic.twitter.com/tJuSEkEr1y

— Roge (they/them) (@myrogeniche) September 14, 2021
permalink | September 14, 2021 at 08:47 PM | Comments (0)
Ruth Olay, 1924-2021
Jazz singer Ruth Olay, who performed with Duke Ellington, dies in Desert Hot Springs at 97

Brian Blueskye
Palm Springs Desert Sun

Ruth Olay, a jazz vocalist who performed with Duke Ellington and Benny Carter, died at her Desert Hot Springs home on Sept. 3 at the age of 97.

According to her publicist, Olay died of natural causes, and there are no current plans for a memorial service. She's survived by her daughter, Amy, from her first marriage to Lionel Olay and a son, Adam, from her marriage to music producer and manager Lee Magid.

Olay was born on July 1, 1924, in San Francisco to a Rabbi father — who eventually became head of research at Warner Brothers — and a professional choral singer mother who sang for film musicals and at the Hollywood Bowl. Olay was a piano prodigy during her childhood but became interested in singing due to her mother's work.

She worked as a secretary at Twenty-First Century Fox as a teenager while taking singing lessons with Florence Russell, who also taught actress and singer Dorothy Dandridge.

While performing at many jazz clubs in Los Angeles, she met Ivie Anderson, who was a vocalist for Duke Ellington's band. Anderson had come out of retirement and was singing every Sunday at the Streets of Paris club on Hollywood Boulevard. One night at the club, Olay made her live debut following an introduction by Anderson.

Olay landed her first professional job as a singer in jazz saxophonist Benny Carter's orchestra in 1951 using the moniker Rachel Davis, which was assigned to her by Carter to avoid troubles that might arise as a white Jewish woman traveling with a mostly black band.

Due to her dark complexion and short curly hair, it was assumed she was Black, but Olay was of Hungarian ancestry.

Following her four-week stint singing in Carter's band, she worked as a singing waitress at Cabaret Concert Theatre before being discovered by an arranger named Bill Hitchcock. He offered her the opportunity to record an album on Zephyr Records. Her debut album, "It's About Time," was released in 1956. She later signed to Mercury and released "OLAY! The New Sound of Ruth Olay" in 1958.

The success of "OLAY! The New Sound of Ruth Olay" led to several appearances on TV shows such as "The Merv Griffin Show," "The Steve Allen Show" and "Playboy's Penthouse" with Hugh Hefner. She appeared with Duke Ellington on the "Jackie Gleason Timex Show" and performed with him again on "The Tonight Show with Johnny Carson."

During her later career, she recorded for the labels Everest, ABC-Paramount and Laurel. Olay was also a regular performer at the Vine St. Bar and Grill in Hollywood.
permalink | September 14, 2021 at 01:16 PM | Comments (1)
June 28, 2021
Flash Mobs Still A Thing (or a thing again?)
Somewhere in L.A.

permalink | June 28, 2021 at 10:00 AM | Comments (0)
June 18, 2021
Provincetown
permalink | June 18, 2021 at 11:35 AM | Comments (0)
May 1, 2021
Carol Burnett & ELP
The Ernie Flatt Dancers perform to Hoedown by Emerson, Lake & Palmer on "The Carol Burnett Show." It looks like the cast of "Oklahoma" decided to do an encore with British prog rock.

permalink | May 1, 2021 at 09:20 PM | Comments (0)
April 8, 2021
Brahms
5 Minutes That Will Make You Love Brahms in the NY Times. It's more than five minutes.
permalink | April 8, 2021 at 06:54 AM | Comments (0)
March 1, 2021
Classical Music in Cartoons
This is the most complete list I've seen, and it includes examples.
permalink | March 1, 2021 at 09:48 PM | Comments (0)
January 18, 2018
Le Sacre du printemps Under The Tree of Ténéré At Burning Man 2017
permalink | January 18, 2018 at 11:27 PM | Comments (0)
March 13, 2017
Joshua Tree Moonrise
I shot this in Joshua Tree National Park this past Saturday. When you buy (and register) a GoPro camera, you get access to GoPro's library of royalty-free music, including the over-wrought stuff you hear in a lot of GoPro videos. So I thought it might be fun to waste some of that here.

permalink | March 13, 2017 at 02:39 PM | Comments (0)
November 21, 2016
LA Opera - Akhnaten


Los Angeles Music Center - the Dorothy Chandler Pavilion is on the right.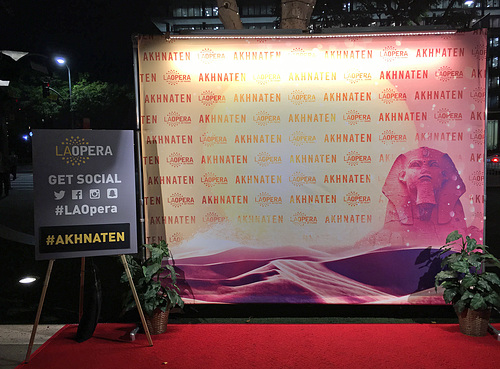 The LA Opera seems a bit heavy handed in promoting social media.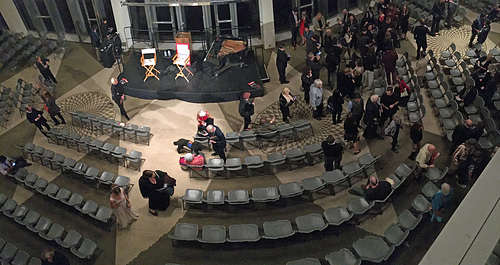 Composer Philip Glass and conductor Matthew Aucoin had a talk in the lobby before the performance. Philip Glass is in the crowd in the upper right with his hand on a lady's shoulder.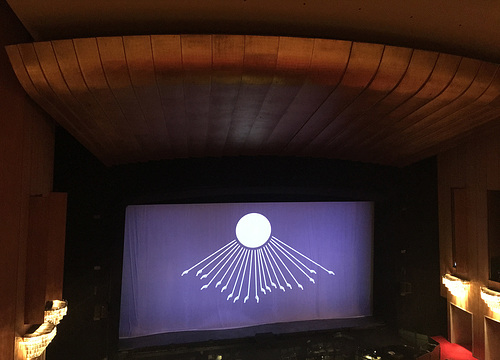 During the intermission after Act II.
More photos from my visit to the LA Opera can be seen here.
Here's the LA Times review of LA Opera's "Akhnaten."
Wikipedia article about the opera.

Here's a short video that gives you a few brief samples of the performance. The jugglers were amazing. Often there was so much action on the stage that you just couldn't follow it all - a sort of five-ring circus. It was great!
If you want a sampling of the music, here is the first 10 minutes and 44 seconds of the opera.
Akhnaten himself is sung by a counter-tenor. Here Anthony Roth Costanzo explains how he prepared.

Akhnaten imposed a monotheistic religion on Egypt during his reign (1353 BC to 1336 BC). His queen was Nefertiti. His son was Tutankhamen. More facts.
permalink | November 21, 2016 at 10:13 PM | Comments (2)
September 16, 2016
What I Would Do With My Tricycle If I Could
permalink | September 16, 2016 at 08:48 PM | Comments (0)
September 13, 2016
Frenetic
A lot of images from Burning Man buzzed together.

permalink | September 13, 2016 at 01:42 AM | Comments (0)
July 29, 2016
Sebastien De La Cruz
In 2013 he sang at an NBA finals game in San Antonio:

That brought a flood of racist commentary on Twitter.
He repeated his performance with a deeper voice (but he can still hit the high notes) at the Democratic convention:

Bonus: Here he is on "America's Got Talent" in 2012.

permalink | July 29, 2016 at 02:33 PM | Comments (0)
April 21, 2016
GoPro goes onstage at Coachella
From a fan's hands to the singer's.

permalink | April 21, 2016 at 10:15 AM | Comments (0)
December 17, 2015
San Francisco
Some photos from my weekend in San Francisco.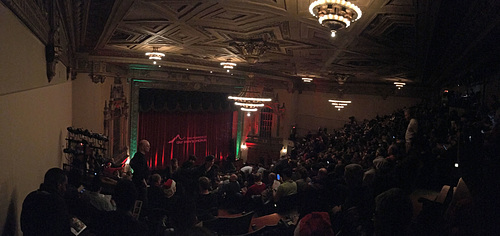 Nourse Theater where the San Francisco Gay Men's Chorus performs.

If anyone has insight into what might be the native language of the author who wrote "lock back" rather than "relock" or just "lock," I would appreciate it.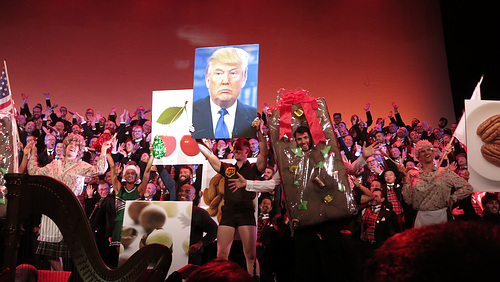 After "Recycle The Fruitcake" the Director had Mr. UPS (who was very popular with the audience) come back with the Trump poster so that the audience could take photos. While singing, chorus members held up, one by one, photos of "fruitcakes." They were Liberace, Richard Simmons, Pee Wee Herman (each one getting a good laugh), and then Donald Trump to which the audience reacted with a great roar. It was clearly the peak of excitement for the whole concert...in both performances that I attended. The Director said that when they came up with this idea four weeks ago it had seemed a bit iffy, but as the weeks passed the idea became better and better.

That's Darrell who I met at the Billy gathering at Halloween. I ran into him at the 440.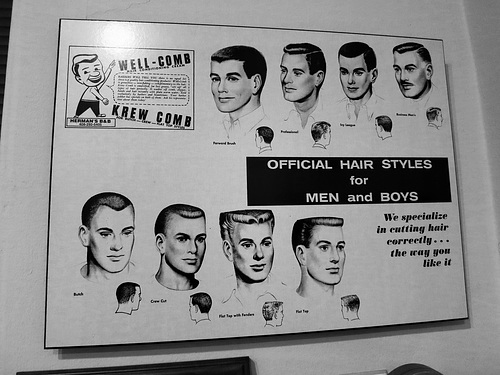 These are "Official" hair cuts. Anything else is simply unofficial. This is hanging in the barbershop where G. Fry works.

I don't need to explain this one, do I?

South San Francisco BART.


Civic Center BART with the UN shield front and center.
permalink | December 17, 2015 at 05:43 PM | Comments (2)
October 12, 2015
Amoeba Records Wants To Sell Marijuana
Amoeba Records in Berkeley wants to get the permit for the fourth medical marijuana dispensary in that city. If they get it, they will sacrifice their jazz and classical room (it's always jazz and classical that has to suffer) and turn it into a separate building for the dispensary. It's not too different from what KMart has done in Desert Hot Springs, splitting itself into two and putting a more attractive business in the other part in order to stimulate business in the old part.
permalink | October 12, 2015 at 08:49 AM | Comments (0)
September 24, 2015
Monkey Chant
This year at Burning Man I got to fulfill my desire to participate in a monkey chant. The monkey chant is also known as "Kecak". The monkey chant is taught Monday through Thursday at HeeBee GeeBee Healers and then on Friday they do a big monkey chant in Center Camp. I was unable to make it to the big event on Friday because that's when we host our party at Burner Buddies. The chant requires a lot of physical activity as well as mental alertness as the changes come unpredictably.
Here's a longish video of the monkey chant in Center Camp in 2014. It's not too different from practice chants done earlier in the week. I suppose they expect a lot of newbies to join the chant, so some of what you see is teaching the chant. The action begins to pick up after the 4 minute mark.

Ideally, we would have made it look like something created by Hollywood choreographers, like this scene from The Fall which is possibly the most beautiful movie ever made.