January 13, 2019
Desert Hot Springs Planning Commission - January 8, 2019
Selection of Chair and Vice-Chair
Larry Buchanan and Scott De La Torre nominated themselves to serve another year in their respective positions, Chair and Vice-Chair. Approved 4-0.

Development Permit For Five Contemporary Mediterranean Homes In Rolling Hills Estates
Recent history of proposed development by Elyon Development on these five lots:
At the November 2018 meeting of the Planning Commission Elyon Development presented their proposal for five mid-century modern homes for these lots. The city planning staff had given erroneous information to Elyon Development earlier, telling them that since there were only five homes, they wouldn't have to bring their proposal before the Planning Commission at all. Later, they were told that they DID have to go before the Planning Commission because it was more than four homes. At the Planning Commission meeting there was strong opposition from the current owners and residents of the incomplete Rolling Hills Estates and for that reason the Planning Commission rejected the proposal.
Elyon Development appealed to the City Council and their appeal was heard at the December 12, 2018, City Council meeting. At this hearing the error by city staff was given a different explanation. Now the city said the proposed development of five lots had to come before the Planning Commission because contemporary Mediterranean home designs were included in the original approvals of the tract in 2006 and these proposed mid-century homes conflicted with that. Again there was opposition from the neighbors, but now some of them admitted they opposed the Elyon proposal because the developer had not made much of an effort to contact those neighbors in advance to tell them of his plans. They said they didn't really object to the designs. Others, however, continued to insist that smaller, mid-century modern homes would pull down the value of their contemporary Mediterraneans. The developer provided testimony that his homes would be of a higher quality than the existing homes and that new homes identical to his design were selling for higher prices in Palm Springs. My gut sense is that real estate developers have a better knowledge of the market than others who are not real estate developers, but we're not going to test that here because the City Council voted to uphold the decision of the Planning Commission. They did, however, acknowledge that the error by city staff (the unnamed person they blamed was new and no longer works for the city) had cost the developer unnecessary fees and time, so they directed the City Manager to try to set that right by offsetting Elyon Development's expenses on their other projects in the city.
Meanwhile, at the December 11, 2018, Planning Commission, Watermarke Homes presented a proposal to build contemporary Mediterranean homes on 16 other empty lots in Rolling Hills Estates. The approval for that sailed through the Planning Commission slicker than snot.
Which brings us to tonight, January 8, where Elyon Development presented its proposal for five contemporary Mediterranean homes on its lots.
No one from the public had any comments on this proposal. With no discussion, the motion was made to approve. The vote to approve was 4-0.

One-Year Extension For DHS Therapeutics
This is a marijuana cultivation site proposal that would be located on Cabot Road about a block south of Two Bunch Palms. The City Council approved four CUPs for the site in February 2017.
One member of the public commented. He began by asking the Commission if any of them smoked marijuana or if any of their kids or wives [sic] smoked marijuana. Chair Buchanan interrupted him to try to explain how public comments work, but the man interrupted Chair Buchanan and said he was asking the questions. Mr. Buchanan continued to explain that none of the Commissioners could respond directly to his questions to which the man responded "Okay, I'm sure none of you smoke marijuana. Not your kids, not grandkids." He wanted to know why they would let it be grown here. Was it intended for some other "junky town," he suggested.
Mr. Buchanan explained the rules of public comments again.
The extension was approved 4-0.

Amendment To CUP For Blue Mango
This concerns a 1.15-acre parcel at 65265 San Jacinto Lane. Previously approved for marijuana cultivation, the developer wants to add manufacturing, extraction, packaging and distribution to its permitted uses.
Approved 4-0.

Vintage Trailer Resort At Aqua Soleil
Aqua Soleil is proposing to replace that rather sad RV facility on its property with a new, upscale vintage trailer resort to be called Air Heart Vintage Trailer Resort. If you've been wondering what it's like to spend a weekend in an Airstream, here's your chance. They propose to ultimately have 32 trailers there. These will function and be taxed the same as hotel rooms. At the same time, incidentally, this provides an opportunity to lock in Aqua Soleil's share of the expense of a future traffic light at Park Lane and Palm Drive.
Diane Powell, Vice President of the homeowners' association at Skys Haven, which is located across Palm Drive from the Aqua Soleil. She was concerned that the traffic created by visitors hauling trailers in and out of this development would be excessive.
It was explained to her by staff that the vintage trailers would be permanently located there, and not creating any traffic issues. In fact, there will be slightly less traffic, since the existing RV park does have trailers coming and going.
Approved 4-0.

CUP For A Health Center In The Vons Shopping Center
The location is 14238 Palm Drive in the Vons shopping center. I believe it's the storefront that used to house Liberty Tax Service. Have you noticed the lack of the Statue of Liberty promotion on Palm Drive there this year?
The applicant calls its business People's Community Clinic and they will provide "FDA approved contraceptive methods and supplies, family planning counseling and education, sexually transmitted infection testing and treatment, HIV screening, cervical cancer screening, male and female permanent contraception, and limited infertility services." City staff said that they had received one email comment asking if the clinic would provide abortion services. Staff said that the applicant had not said if they would or not. People's Clinic's website suggests they offer complete health services, not just what was listed in the city staff report.
The applicant said they had offices in Hemet, Los Angeles and West Covina. They are a non-profit. He said they would not perform abortions. Hours will be 8:30 AM to 4:30 PM.
Approved 3-0-1. Vice Chair De La Torre abstained, but did not say why.

Amending Housing Ordinances To Conform To State Legislation
Subjects addressed in these amendments include:
Identifying a zones where emergency shelters are allowed as a permitted use without a conditional use or other discretionary permit ("by-right zone").
Transitional and supportive housing to be considered a residential use subject only to those restrictions that apply to other residential dwellings of the same type in the same zone.
Defines "family" as "a group of individuals living together in a dwelling unit as a single housekeeping unit under a common housekeeping management plan based on an internally structured relationship providing organization and stability."
To permit "Accessory Dwelling Units" in all residential zones. An ADU must have permanent provisions for living, sleeping, eating, cooking, and sanitation. If there's no kitchen, then it's a "Guest House." ADUs within existing structures must be allowed in all single-family residential zones. If an ADU requires an addition or new structure, then development standards (such as parking, height, lot coverage, lot size and maximum unit size) may be applied.
"When a developer agrees to construct the requisite percentage of affordable housing units or child care facilities, the city must grant a density bonus [and] other specified incentive or concessions to the developer." Incentives or concessions are (1) reduction in site development standards or modification of zoning code or architectural design requirements, such as a reduction in setback or minimum square footage requirements; or (2) approval of mixed use zoning; or (3) other regulatory incentives or concessions which actually result in identifiable and actual cost reductions.
The city cannot block manufactured homes (that meet the building code) from being erected on residential lots [imagine how that would go over in Rolling Hills Estates].
Attorney Mizrahi explained that this will all come back before the Planning Commission again in 6 to 8 months as part of the General Plan update.
Chair Buchanan moved for approval. Vice Chair De La Torre seconded "provided that we add the additional parking space" by which he meant, I believe, that the city could still require an additional off-street paved parking space when an ADU is constructed...subject to state law. Approved 4-0.
These revisions now go to the City Council for their final approval.
permalink | January 13, 2019 at 09:24 PM | Comments (0)
May 16, 2018
DHS Planning Commission, May 8, 2018
New Commish
The meeting began with the swearing in of new Commissioner James Nindel. This is Mayor Matas' appointment to replace Dirk Voss. Mr. Nindel's application for the position tells us he has lived in DHS for only 9 months. He retired from USAID's Office of Procurement. He has not been on a city board in any city before now. He moved here from St. Augustine, Florida. He said in his cover letter "I believe that DHS should demand (through code enforcement) that boarded-up windows be immediately repaired and bars taken down and replaced with electronic security systems. The trash on vacant lots between buildings on Palm Drive should be picked-up by the land owners and businesses."
The four other Planning Commissioners are Jan Pye (Chair), Peter De la Torre (Vice Chair), Larry Buchanan, and Gary Gardner.

Amendment to the CUP for Snider Cannabis Cultivation Facility
The CUP was originally approved in November 2015. They want to convert 854 s.f. of their operations that were previously a secure storage room and a packaging room to a distribution area. This should not make any difference in their tax payments to the city. The address of the property is 13310 Little Morongo Road, the place with a lot of greenhouses.

After no testimony and no discussion at all, the amendment was approved unanimously.
If I understand correctly, the Planning Commission has final say on CUPs for marijuana businesses, so this decision does not have to be approved by the city council.

Amendment to the CUP for Maraparm DHS California
Maraparm DHS California wants to increase the size of their proposed facility from from 20,664 s.f. to 21,697 s.f. and to rotate the building to take better advantage of the sunlight. Their facility will be located on 15th Street (currently dirt) between Little Morongo and Cabot Road (also dirt there). Their CUP was originally approved in September 2017.
This facility will also have greenhouses. In the original plan the greenhouses were north of the building that will hold all functions other than growing. This very sensible proposal is to rotate the plan 180°, so the building will not cast a shadow on the greenhouses. (Kinda makes you wonder how it ended up the other way to start with.)
The cultivation area of the building will be 17,360 s.f. and will generate $218,600 in cultivation tax revenue annually for the city.
The facility will be on septic until sewers are put in there, but the septic itself is only for ordinary waste. Wastewater from cultivation itself has to be contained separately and not put into the ground.
After no testimony and extremely little discussion by the commissioners, approved unanimously.

Sign Variance for the Harborside Facility
Here is an interesting item, finally. Harborside, the very well known cannabis business in Oakland, will be running the dispensary to be built behind the Arco station at Palm Drive and Paul Road, next to the I-10 interchange. Their CUP was among the very first approved in the city, and it's taken quite a while to get to this stage.
Harborside has very high name recognition among cannabis aficionados.
Founded in 2006 by Steve DeAngelo, Harborside is the most respected and largest cannabis dispensary in the United States. Harborside has over 200,000 registered consumers and was first in the nation to support education for seniors, veterans and families with severely ill children; first in the country to offer CBD-rich cannabis; and the first to treat children with Dravet syndrome. Harborside continues to set an example of diversity and compliance, and is one of the prime advocates of diversity, sustainability and economic justice in the industry.
The sign will display Harborside's logo only, shown below. No green cross; no marijuana leaf.
The overall proposed height is 70 feet. Harborside proposed a 200 s.f. sign rated to withstand 160 MPH winds. City code would require only that the sign withstand 130 MPH winds. The usual height limit for a sign of this type in DHS is 25 feet and the maximum sign area limit is usually 125 s.f. So, Harborside is asking for a variance to allow this sign. A monument sign and the sign mounted on the building were also included in this package. The neighboring Arco sign is 49 feet high and 156 s.f. The Arco sign is further from the highway than the proposed Harborside sign, so the bridge there does not block the view of it. The Harborside sign needs to be higher to avoid being blocked by the bridge.
In the site plan shown below I've highlighted I-10 at the lower left as well as the two possible sites for the sign ("Second Choice" won out). Paul Road runs left to right across the top of this image.

(click for a higher res image)
City staff had proposed reducing the sign size to 160 s.f., but the developer said that it takes so long for a sign like this to be made, they have already ordered it at 200 s.f. The difference in size is not great and if the city insists on the 160 s.f. sign, there will be a delay for some months and extra expense for the developer. It takes 14 weeks from the time it is ordered for the final sign to be delivered. The dispensary's owner said they had done a survey of signs along interstates and 200 s.f. was the biggest they saw, and they saw a lot of them. The sign costs nearly $100,000. He expects 80% of their business to come from those who do not reside in DHS.
They hope to open in July 2018, but it may be early August.
A motion was made to approve subject to moving the sign back away from the highway to the "Second Choice" location as shown on the site map above, and keeping the 200 s.f. sign. Approved unanimously.

Streamlined Process For Amending Entitlements For Cannabis Cultivators
Cultivators, if they want to include manufacturing or distributing or testing facilities, have to come back to the city to get their CUP revised. Normally, this would mean a return to the Planning Commission which is expensive and takes time. Last year an ordinance changed this process so that if they wanted to convert some of their area to manufacturing (and they are in good standing in relation to the city), then city staff could make the revision without a trip to the Planning Commission. The proposed ordinance before the Planning Commission this night was to do the same for distribution and testing.
Ryan Fingerhut from High Road Consulting Group rose to comment in favor of this ordinance. He added, however, that the city also needs to revise their ordinances to permit testing facilities in the commercial zones.
Moved, seconded and approved unanimously with no changes.
permalink | May 16, 2018 at 06:24 PM | Comments (0)
February 16, 2018
Desert Hot Springs Planning Commission - 2/13/2018
Commissioners Sworn In
All five commissioners were sworn in for this term. Four of them were familiar incumbents, and the new one (taking Cathy Romero's seat) was Gary Gardner who was appointed by Yvonne Parks. The members of the Planning Commission for this year are: Dirk Voss (Chair), Jan Pye, Scot De La Torre, Gary Gardner and Larry Buchanan.

Cultivation: Cabot Road
First item was a CUP for a cultivation development (33,200 s.f.) on the east side of Cabot Road (map). It will be a 2-story building. The Planning Commission had already approved an identical proposal for the parcel next door, so this one was even more of a slam dunk than the usual cultivation CPU. Approved 5-0. Construction will start in June, the developer said.

Cultivation: Desert Land Ventures
This is the third Really Big Cultivation proposal in DHS that I'm aware of. Really Big as in 123.4 acres, 13 parcels, 1.9 million s.f. of development, some streets, all infrastructure (estimated $30 million - just infrastructure), and it's all going into that blank space along I-10, west of Palm, east of Indian. The proposal is for more than marijuana. The developer plans a 150-room hotel, along with the usual sorts of commercial projects you see around a hotel along the interstate. The approximate location is shown in the aerial view below:

As a Really Big Project, it includes a specific plan, a vesting tentative tract map, and a development agreement.
They want to put a dispensary there too. The city has a list of 16 parties who have been approved to get (or try to get) a CUP for a dispensary. I believe we have 8 dispensaries open. One dispensary has been permitted behind the AM/PM station at Palm and I-10. There is some site preparation there, and I believe at least some of the roads have been paved. That leaves 7 parties who have not started any development and may not yet have gotten a CUP. The Desert Land Ventures developer (he's owned the site since 2006) did not want to have to get in bed with some dispensary owner that he doesn't know. No one suggested the alternative. He could buy out the CUP rights from one of those parties.
The specific plan is flexible so that the developer can determine which parts will be industrial and which commercial. City staff and the commissioners expressed the desire that there be no cultivation on the parcels that are adjacent to I-10. The developer who, BTW, is also developing the new San Diego airport that will be over by Otay Mesa (!!) says he understands and he wants his development to be top notch, so he wouldn't have put cultivation. Those parcels need to have businesses that attract people from the highway. Some of it could be ancillary marijuana businesses, like a bakery, a testing lab, whatever else I can't think of right now.
The Commissioners, recognizing the value of the site, said it would be a window onto Desert Hot Springs, so it needs to look really good. The developer agreed, saying it's in his interests to do just that.
The developer said this development will extend over years and nobody knows what's going to happen to cannabis in the future, and that's one reason for the flexibility in the specific plan.
The part of the site that is north of Varner Road extends into the MSHCP area, but it was said that development of 10% of the area within the MSHCP is permitted! I had never heard that before, and I'm sure there are more strings to it than simply wanting to build in the MSHCP. The developer said they might put solar or wind power there.
Varner Road, which goes through the project, is supposed to be paved to a width of six (6!) lanes. Both the developer and the commission agreed this was excessive to start with, since it just deadends and it will be years before six lanes are needed, so they're going to start with something less (to be negotiated with staff, unless the city council says different). Comparisons were drawn with the "Bridge To Nowhere" (the Alaska one, not the Los Angeles one). Some day (after your prince comes) 20th Avenue will also be paved coming east from Indian. It would make sense, IMO, to connect that with Varner.
Approved 5-0.

Cultivation: Collective Solutions
This is a CUP for a cultivation site of 22,176 s.f. total, in three buildings on 1.26 acres. It will be on currently unpaved 15th Avenue, between Little Morongo and Cabot Road. This will include two 10,000 s.f. greenhouses. There will be a temporary trailer, but that has to be out of there before August 13.
Approved 5-0.

Dispensaries: Special Dispensary Entitlements
Currently, our city ordinances define a dispensary (which must be located in a commercial zone) and cultivation (which must be located in an industrial zone). But what about baking? Tasting rooms? And very small scale dispensing, such as at a hotel? This ordinance attempts to address some of those issues.
It would define light manufacturing as any kind of production of cannabis products using only "chemical synthesis," by which they mean baking or infusing, but absolutely not any extraction.
A Special Dispensary Conditional Use Permit would be created for light manufacturing, hotels that want to dispense cannabis, and cultivators who want to have a tasting room in their facility.
A cultivator's tasting room would be limited to offering samples of products produced on that site only. There can be no on-site sales and consumption; i.e., the tasting is free. Any sales must be "off-site," that is you carry it away with you...like a liquor store, where you can buy alcohol but can't consume it on premises. For existing cultivation facilities, the Director of Community Development would be able to approve the Special Dispensary Conditional Use Permit in most cases.
Hotels could get a Special Dispensary Conditional Use Permit if they want to dispense marijuana. Note that any hotel that serves alcohol cannot also dispense marijuana under California state law. Any sales at a hotel must be for on-site consumption only. No off-site sales. Just like a bar that serves alcohol. You can buy it and drink it, but you can't walk out the door with the glass in your hand (except in New Orleans). No cultivation or manufacturing would be permitted at a hotel.
A Special Dispensary Conditional Use Permit would also allow light manufacturing in a commercial zone. The simple reason for this is that light manufacturing is not nearly as profitable as cultivation and light manufacturers cannot now afford the price of land in our industrial zones. Light manufacturing facilities that already have a CUP (there are some at the cultivation sites) can get a Special Dispensary Conditional Use Permit with approval just by the Director of Community Development in most cases.
Gretta Carter, who represents some cultivators and other cannabis businesses, made a public comment. She said this ordinance is "about 90% there." She suggested that the commercial zone also accept lab testing facilities.
Ryan Fingerhut asked that the ordinance be delayed so that small improvements can be made in it.
Andrew Milks of Brown Dog dispensary said there are safe extraction methods that don't use flammable solvents. He would like "light extraction" to be permitted in commercial zones. He thinks dispensaries should have the right to some light manufacturing.
The Commissioners discussed the issue of intoxicated driving that might result from tasting rooms.
Approved 5-0 with some clarifications of the language in the ordinance.
permalink | February 16, 2018 at 09:48 PM | Comments (12)
February 7, 2018
Marijuana Sales Are Way Up
The West Hollywood location of MedMen (a marijuana dispensary) reported big increases in both revenue and customer traffic in January 2018. Revenues in January 2018 were 200% higher than in December 2017 and 500% higher than in January 2017. Customer traffic in January 2018 was also up 200% compared to December 2017 and 350% higher than in January 2017.
There were also large increases at their Santa Ana location.
permalink | February 7, 2018 at 07:14 PM | Comments (0)
February 1, 2018
Pizza & Wings Offer For Those Consuming Cannabis During Super Bowl
Offer good only for those who reside in L.A. or Orange Counties.
MedMen's website. You can now go online to order stuff from MedMen and they'll have it ready for you when you arrive. Do that via Weedmaps, here.
permalink | February 1, 2018 at 03:06 PM | Comments (0)
June 20, 2017
Desert Hot Springs Planning Commission - June 13, 2017.
Commissioner De La Torre was absent and one seat is vacant, so there were just three commissioners present.
11940 Palm Drive

Over the years I've heard a lot of reasons why nothing could be done about this building at 11940 Palm Drive which I have considered the worst eyesore in the city since I moved here, 13 years ago. Black mold so serious that the only complete demolition could deal with it. Demolition couldn't be immediate because cellphone towers on the roof would have to be moved. We can't locate the owners. As the Inland Empire's largest dovecote, we would have to get permission from the US Department of Interior to kill all those birds. Okay, just kidding about that last one.

Evidence that the city at least sicced Code Enforcement on the building in 2010. There was some improvement in the property following that.
Turns out none of that is true. All the building needed was an investor willing to pour money into it, and we've got one now, thanks to marijuana!
The matter of a conditional use permit for that building as a medical marijuana dispensary came before the Planning Commission last Tuesday night. The applicant (Stephanie Bodde and Desert Hot Springs Dispensary) had previously applied for a CUP for a dispensary at 66406 Pierson. That application was turned down at the March 8, 2016, Planning Commission. The main issue was lack of parking and the fact that nearby Rose Mortuary also objected to it. I thought that was the least we'd hear of them, but they went and found a better location.
There will be no other tenant in the approximately 6,000 s.f. building. The site has 20 parking spaces, two more than the minimum required. Entrance and exit will use the east entrance. The north and south doors are for emergency use only. Most of the second floor will go unused.
Chair Voss said that some residents may be concerned that too many dispensaries are concentrated in this area, but he went on to say that every dispensary in town moved into a substandard building and improved it. I think the two dispensaries in the Mission Lakes shopping center are pretty obvious exceptions to that. The IVTHC dispensary at 11555 Palm Drive opened in a fairly new building. But he's right about all the others. He wanted to make some changes to the external appearance of the building at 11940 Palm Drive to make it look better. He likes the new paint color that you see on the building now (brown), but he wants one additional color to be used, so it isn't just one big blob of brown. He would like to see more landscaping. He would like to see window treatments with wrought iron, and rock treatments on the exterior. He said he was going to leave the details of these matters to be hashed out between the applicant and city staff. The chainlink fencing will be removed (of course) and Mr. Voss would like to see a combination of block and wrought iron wall erected.
Commissioner Larry Buchanan said the building was erected in 1985 by Jack Webb for his real estate office.
Approved unanimously.

Other Planning Commission Actions
The city approved the Ho Ho Express Private Fueling Station to be located on Little Morongo south of Dillon a couple of years ago. The project has been delayed because the Coachella Valley Water District required them to build a 1½ mile water line. They were before the Planning Commission only to get a one-year extension of their entitlements. This was approved unanimously.

That Distribution Center to be constructed on the east side of Indian between 18th and 19th is still identified as a "Distribution Center" on city paperwork, even though the site will now be marijuana cultivation. Originally approved by Riverside County, several time extensions have been granted the project. This evening they came before the Planning Commission seeking another extension to November 2017. An extension will keep their mitigated negative declaration valid, so they can avoid having to go through a CEQA process. Approved unanimously.

Another marijuana cultivation project, Desert Grow, to be located on the north side of Palomar Lane in a site that has not been previously developed was approved 2-0-1 with Commissioner Buchanan abstaining.

Still another marijuana cultivation project, Din Cultivation, will be located on the southeast corner of Palomar Lane and Little Morongo, also previously undeveloped. This one was approved 3-0.

For a change of pace, the Commission then took up a proposal for a marijuana cultivation facility, Kim Cultivation, on undeveloped land on the north side of Palomar Lane, but further east than Desert Grow. This was approved 3-0.

Next, to really mix things up, the Commission considered a marijuana cultivation project located not on Palomar Lane. This one, MIRO, LLC or Desert Springs Cultivation, will be on San Gorgonio Lane. Approved 3-0.

Victor Muñoz brought a proposal for the Starlite Lodge Motel to the Planning Commission. The Starlite Lodge Motel is located on Palm Drive, a bit south of Hacienda, across the street from the Stater Bros. parking lot. He proposes to remodel and expand the existing one-story building and erect a new two-story building on a parcel south of the one-story building. The bus stop located there will not be moved. The developer says that they expect to do well because there is no motel in that area, and it's close to a lot of restaurants. That motel at Palm and Ironwood which has been undergoing incremental improvements for years does not seem to be a competitive threat.

Approved 3-0.

The next item was a proposal to allow Post and wire fencing, not to exceed 48 inches in height, \along the perimeter of vacant property. "Post and wire," I take it, is legalese for chainlink fencing. The intent is to discourage illegal dumping on vacant parcels. Approved 3-0.

DHS Properties which already has approval for a marijuana cultivation site on Two Bunch Palms Trail returned to the Planning Commission only to get an amendment to their Development Agreement to permit extraction and manufacturing at the location. Approved 3-0.

Commissioner Romero asked if there is a moratorium on new residential construction in the Hot Water Overlay zone. Community Development Director Daniel Porras said he doesn't think there's a Hot Water Overlay zone (see, he's still new), but he would find out if there is a moratorium. Mr. Porras thought she had it confused with the Spa Zone sign toppers.
permalink | June 20, 2017 at 10:17 PM | Comments (0)
April 15, 2017
MedMen Cultivation Facility
This coming Tuesday, the marijuana cultivation facility proposed by MedMen will come before the Desert Hot Springs City Council. I wanted to share a few images from their proposal to build at Hacienda and Little Morongo. There's no paved Hacienda on the east side of Little Morongo, but on the west (county) side it's paved and called 13th Avenue.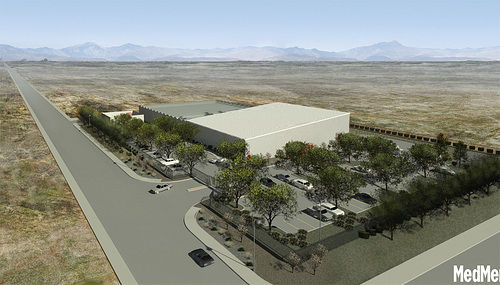 The little red figure on the right of the driveway is the public art contribution.

Here's a closer view. They almost look like penguins, don't they? The artist will be Gerardo Hacer.
The piece will consist of two red metal penguins in origami form. MedMen's COO and cofounder [Andrew Modlin] envisioned a piece that drew upon his own affinity for penguins, which frequent his own original paintings. and functioned as a juxtaposition between penguins' natural habitat and Desert Hot Springs' climate. Furthermore, the penguins' lifelong companionship and partnership is emblematic of our hope to build a lasting relationship with the City of Desert Hot Springs. The installation is red as that is MedMen's signature color.
MedMen broke ground on a cultivation facility in Reno last year.

permalink | April 15, 2017 at 03:55 PM | Comments (0)
March 9, 2017
The End Of Medbox
Faithful readers will surely recall my earlier posting about the marijuana vending machine by Medbox. Now it seems it was all a stock scam. They settled with the SEC for $12 million. Now the litigants are in line for their take.
permalink | March 9, 2017 at 08:09 PM | Comments (0)
February 6, 2017
Carjacked 1,200 Pounds Of Marijuana
In Pomona! They were caught when they were spotted from the police helicopter unloading the weed in the "700 block of Washington." So I went to Google maps to look at the aerial view to see if possibly there were other indications.
Well, looky here. Can you pick out the weed house in this neighborhood of neat homes? I imagine the police already had their eye on this place.

permalink | February 6, 2017 at 07:15 PM | Comments (0)
Planning Commission - January 31, 2017
This was a special meeting of the Planning Commission to deal with the heavy marijuana workload. There are currently only four Planning Commissioners. Those two statements aren't directly connected. It's city staff that has a heavy marijuana workload and, coincidentally, there are only four commissioners for now.
Basement Cultivation at Green Leaf Wellness
This item was the agenda for the January 10 Planning Commission meeting, but was continued because the owner of the dispensary didn't show up. Now, on January 31, the owner was present.

North is up.
Commissioner De La Torre asked if the cultivation area in the basement extended under any neighboring business, such as the nail salon. City staff said it did not. Aw, too bad, because when I first saw these plans I could tell that it would extend under the nail salon. When the owner came to the podium he explained that the basement did, in fact, go under the nail spa. The point of that question was to determine whether an additional fire alarm should be installed in the nail salon, in case of a fire in the basement. The owner went on to list security measures he was putting in place, such as hardening the exit doors and installing card readers so he can track every employee who goes into a cultivation room.
Commissioner Cirner asked about ADA compliance. The plans show only two ways to access the basement and both of them are stairways. Rather than answer that question, the owner described more security measures he was putting in place. Mr. Cirner seemed to accept that as an answer. At the end of the meeting I asked Community Development Director Rangel about ADA requirements. His answer was, basically, that full ADA access in this space would be cost prohibitive. Yes, of course, but I didn't know you could compromise on ADA improvements solely because of their cost.
Someone (I could neither see nor hear who) moved to approve with the addition of an alarm in the nail salon connected to the fire detection system in the basement, Mr. Cirner seconded. Approved 4-0.

Tentative Parcel Map by DHS Properties, LLC
This is an empty 14.9 acre lot on Little Morongo Road north of Two Bunch Palms Trail. This tentative parcel map is for condominium purposes for marijuana cultivation. The agenda packet showed the applicant to be DHS Properties, LLC, but staff said the applicant was David Snyder.

This map shows the old city limits, prior to the annexation that reached to I-10.
The CUP for this parcel was approved in November 2015.
With no discussion or public comments, Commissioner Romero moved for approval, Mr. Cirner seconded, approved 4-0.

Four Parcels on Cabot Road
These four parcels are all adjacent and all will be used for cultivation. But there are two owners and some differences between each parcel, so this item includes FOUR CUPs, two development agreements and one mitigated negative declaration. (No partridges.) The two owners are Cabot Building Partners and DHS Therapeutics. It's on the east side of Cabot Road, a couple of empty lots south of Two Bunch Palms Trail. 6.29 empty acres.
Commissioner Cirner moved for approval with the addition of two lights on poles, seconded by Commissioner De La Torre, approved 4-0.
The entire meeting wrapped up in only 35 minutes.
permalink | February 6, 2017 at 01:53 AM | Comments (0)
January 11, 2017
Planning Commission January 10, 2017 - Cultivation, Cultivation, Cultivation, Cultivation
Commissioner Terifaj is no longer with the Planning Commission. Here's the form to fill out if you want to be part of shaping the future of DHS. Mayor Pro Tem Joe McKee is the one to make the appointment to fill this seat. Present tonight were Andrew Cirner, Scott De la Torre, Dirk Voss (Chair) and Cathy Romero.
The agenda this night consisted of four public hearings:
A marijuana cultivator's tentative parcel map
A CUP for a marijuana cultivation facility
Amending a CUP to allow for marijuana cultivation in a dispensary
Subdivision of land to be used for marijuana cultivation
Tentative Parcel Map for We Care DHS
The CUP for this grow facility got final approval back in August. The location is vacant land on Two Bunch Palms just west of the only cultivation site that is currently operational.

Approved 4-0.

Conditional Use Permit and Development Agreement for A Green Culture DHS, Inc.
This location is the northeast corner of 15th Avenue and Little Morongo Road. 15th Avenue is just a dirt road there.

The building will have 22,479 square feet of cultivation area and greenhouse roofs, so their electric bill will be a bit lower. The design of the building includes two 9 x 12 feet rollup doors that the cultivators don't need, but the city has started adding requirements to the cultivators' CUPs that will make the building more likely to be useful for other purposes when the day comes that they decide not to cultivate there anymore.

It looks like it's going to be right purty!
Approved 4-0.

CUP Amendment for Greenleaf Wellness
All marijuana dispensaries are permitted to grow up to 99 plants in Desert Hot Springs. When the CUP for Greenleaf Wellness was approved, however, the dispensary did not include any plans for the 1,315 s.f. basement. Now, they've got plans and they've come back for this amendment. The owner, Thom Miller was not present at the hearing.

I believe north is to the left. The shops on the street level face the north. Across the top would be Palm Drive.
Ted Mayerhofen commented that he had worked on this building before it was a dispensary. He thought there were security issues. He also said that delivery would have to be from the alley, and an ordinary truck would block that alley. OTOH, any delivery to any business in that little shopping center on the southwest corner of Buena Vista and Palm Drive could block an alley. Plus, I thought the main reason for alleys was using them to load and unload, because then the trucks are not blocking the main streets or taking up parking lot space. So what if it blocks a short alley for a short time? Later, the discussion of the Commission indicated that they understood a dispensary would have no large deliveries or shipments, so no big trucks would be in that alley anyway.
Commissioner Cirner raised the question of ADA access to the basement. In the floor plan above you can see there is a stairway coming down from the first floor and one door that exits to the exterior. It looks to me like that's the door that opens onto the stairway that goes up to Palm Drive. That would mean this basement space is not 100% beneath the dispensary, as it seems to extend to the eastmost end of the building.

The stairway from the one exterior door is on the left side of the building.
This would certainly not seem to be ADA compliant. Do small business have to conform to ADA when doing major renovations? I think they do. Installing an elevator in this building would, it seems to me, be very cost prohibitive. This cultivation space may never come to be.
The vote was 2-2, making it a denial. Commissioners Cirner and De la Torre voted against. Mr. Cirner had brought up the ADA issue, but Mr. De la Torre never expressed his concerns about the project. Then a motion was made to continue the hearing to next month's hearing (February 14) so some of their questions could get answered and to give the owner the opportunity to show up and explain. That motion was approved 4-0.

Coachillin Holdings Tentative Parcel Map
Before discussion started on this one Charles Rangel introduced himself as the new Interim Community Development Director.
Coachillin Holdings propose to build the biggest cultivation site in the city on Indian Canyon between 18th and 19th. You may have already noticed that there has been some grading there. The land is vacant, but the Google satellite view below is recent enough to show some of the grading.

The site is 150 acres and the developer proposes to subdivide it into 40 parcels. Mr. Rangel said that staff recommended this item be continued...again. This is not the first time this has come before the Commission and been continued. Part of the reason this time is that the developer handed a new map to the city on the very day of this meeting. That map would need to be reviewed by both the planning department and fire department before the staff could make any recommendation on that.
Another, bigger reason for the continuance is that the property has on it what the Army Corps of Engineers calls a blue-line stream. Here's the definition of blue-line stream as given by the Riverside County Flood Control and Water Conservation District:
Blue Line Stream - Any stream shown as a solid or broken blue line on 7.5 Minute Series quadrangle maps prepared by the U.S. Department of the Interior Geological Survey (USGS). A blue line stream may be any creek, stream or other flowing water feature, perennial or ephemeral, indicated on USGS quadrangle maps, with the exception of man-made watercourses. The United States Army Corps of Engineers uses USGS blue line stream markings as a preliminary indicator of "Waters of the United States". Streams identified on USGS maps in such a manner are therefore generally subject to federal environmental regulations.

A USGS map of the site. That's I-10 at the bottom. Dillon Road runs across the top of the map. It shows that "blue-line stream" coming down from the north, crossing Dillon and then Indian, then parallelling Indian as it crosses Coachillin's property. You can make it out in a regular Google satellite view, but it's also been used by off roaders, which somewhat obscures it. Before they can do anything on that site they need a sign off from the Army Corps of Engineers which will state, in effect, that they don't expect to be sending any ships up that stream, nor do they plan to dam it for hydropower or irrigation. BUT, the guy who does that at the Army Corps of Engineers retired in November and it seems he has not been replaced. Kenny Dickerson who represented Coachillin Holdings at this meeting, suggested that if both he and Interim Community Development Director Rangel went together to the Army Corps, they would get some action.
Coachillin Holdings disagrees with the requirement to put sidewalks on the streets around the project (except along Indian Canyon - there will be a sidewalk there). They also object to sidewalks inside their property. Their reasoning is that sidewalks make it easier for nefarious people to get closer to their valuable product. What a lot of nonsense. If your security plans are overwhelmed by simply providing evil doers a level path to walk on, then your security plans need a lot of beefing up. Every dispensary, every cultivator, everybody actually, puts in sidewalks. Never have I heard an argument that sidewalks attract crime. That sort of non-logic is usually used when a city is planning to extend a subway line or bike path, because everyone knows most stolen TVs are transported by either bicycle or mass transit. Crooks never have cars.
Coachillin is paying to build the roads around its facility. The sidewalks are a only a small part of that. Why would the city want to force people to walk in the street in an industrial zone?
Mr. Dickerson said that he would redo his proposal so that it only dealt with the parcels to the rear, which the blue-line stream doesn't cross. Mr. Rangel said that wouldn't help, because the Army Corps of Engineers would also have to sign off on a decision that the blue-line stream doesn't cross those parcels.
These are the remaining issues that still must be resolved before the Planning Commission can make a decision. Rather than bringing this proposal back month after month simply to approve a continuance, the Planning Commission voted to table it, meaning it hasn't been rejected and it isn't scheduled for a decision. Whenever Coachillin can get all their ducks in a row, they'll come back to the Commission.
Approved 4-0.

Special Meeting, Tuesday, January 31
Mr. Rangel said there is a bit of a backlog of proposed cultivation facilities that are ready for the Commission, so the Commission agreed to a special meeting on the 31st to review some of those.
permalink | January 11, 2017 at 12:10 AM | Comments (0)
December 6, 2016
Happiness, I Think
permalink | December 6, 2016 at 09:33 PM | Comments (0)
November 13, 2016
Blythe Outlawed Marijuana Sales
But that was some time ago when the issue was solely medical marijuana. Now, however, the city leaders see that Blythe could be THE city to supply recreational marijuana to all of Arizona...illegally, of course, but how many cops can Arizona tie up just to watch for marijuana to cross the Colorado River.
permalink | November 13, 2016 at 05:22 PM | Comments (0)
November 4, 2016
DHS Dispensary #6
The city's sixth medical marijuana dispensary is open, and this is the one that's only one block from where I live! Great for the day I'm in a wheelchair. They give their web address as IVTHC.com, but it looks like they let their domain registration slip, because there's nothing there now. They are on the west side of Palm Drive almost at 4th Street, 11555 Palm, immediately next to the dentist's office, in that set back building that used to be a dentist's office.
Here's their Weedmaps page. They opened only yesterday, November 3. Hours are 10 AM to 7 PM, every day of the week.

It's the building on the left.
permalink | November 4, 2016 at 02:45 PM | Comments (0)
October 2, 2016
DHS in Palm Springs Life
Palm Springs Life has a good and accurate article covering all the aspects of marijuana cultivation coming to Desert Hot Springs.
permalink | October 2, 2016 at 03:15 PM | Comments (1)
September 29, 2016
Canndescent Ribbon Cutting
Canndescent is the first cannabis cultivator to go into real operation in Desert Hot Springs, which means it's the first legal cultivation site in California, outside of dispensaries themselves. Boy Scout Troop 1606 brought the American flag and led the Pledge of Allegiance, which the cannabis people thought was a bit unusual. But! One of the Scouts is trying to raise money for a trip to Washington DC for some Boy Scout function. Canndescent covered his remaining financial need with a check for $3,300. I would like to be there when he tells other Scouts how he raised his money.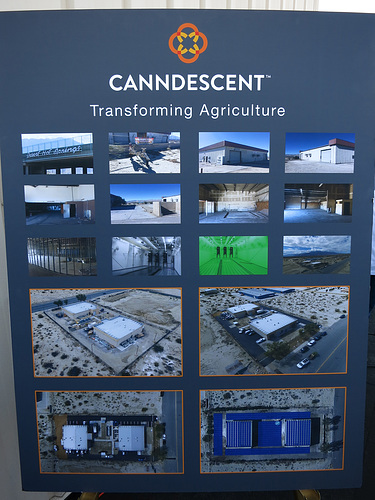 "Transforming Agriculture." I imagine in a few years as the cannabis industry settles down we'll get used to seeing slogans like you'd see in Iowa or any other predominantly agricultural state.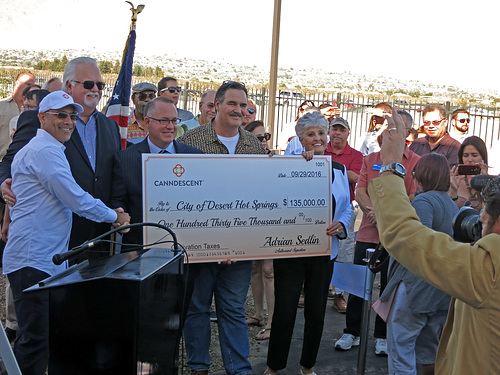 Canndescent also presented the city with its first tax payment of $135,000. The tax rate is based solely on cubic footage of the grow area, so the city doesn't have to wait for a crop to mature and be sold to get taxes. I don't recall if the taxes are paid quarterly or every 6 months, and no one said if this tax payment is one full payment, or does it cover through the end of the calendar year or perhaps the fiscal year? Nevertheless, $135,000 is almost the cost of one cop for one year. So it's a start.


Click for a larger size.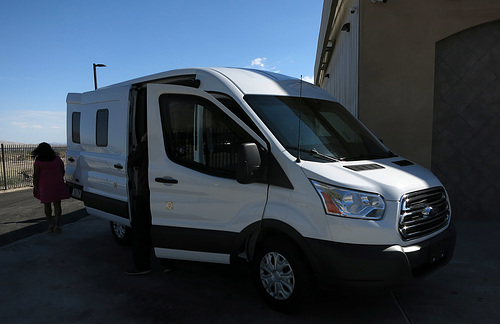 Their armored vehicle which doesn't seem to use CNG.

And it looks like they went all the way to Connecticut to get it.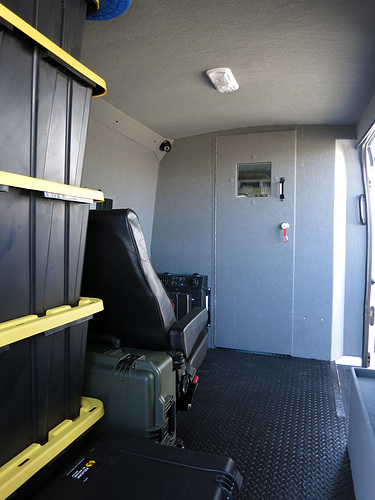 Interior of the vehicle.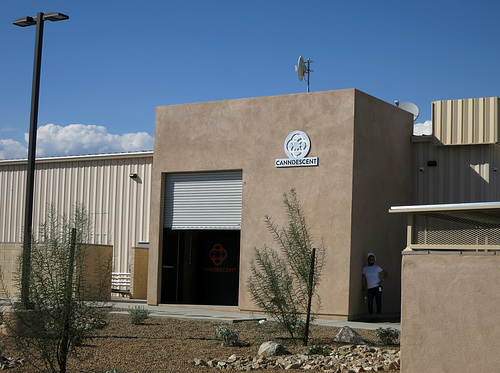 An historical plaque that Canndescent will erect. I suppose this fulfills their "art in public places" requirement. The plaque says:
CANNDESCENT

This marks the site of the first municipally-permitted cannabis cultivator operating in California. On November 5, 1996, California became the first U.S. state to legalize medical cannabis use. On October 21, 2014, Desert Hot Springs became the first city in California to legalize cannabis cultivation. On September 19, 2016, CANNDESCDENT commenced production.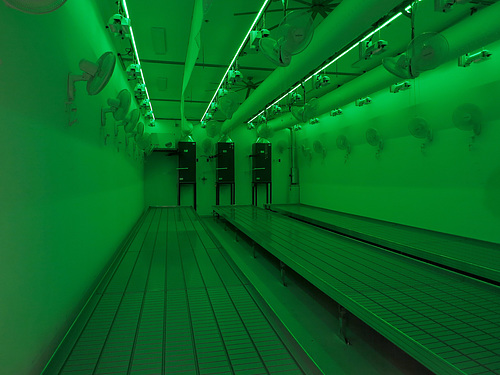 One of their grow rooms (with nothing growing).

Video of the grow room so you can see all the fans and appreciate the resulting noise.
permalink | September 29, 2016 at 07:17 PM | Comments (0)
September 25, 2016
Joint Meeting Of The City Council & Planning Commission, September 13, 2016
This was a special joint meeting of the City Council and Planning Commission solely to consider an Ordinance Amending Chapter 17.180 "Medical Marijuana Facilities Location." The proposed amendment clarifies and expands the current law. The current law did not address manufacturing (making edibles, packaging product, extraction, etc.). The amendment would put manufacturing in the industrial zones along with cultivation. The amendment also included restrictions on extraction methods. Some extraction methods use flammable solvents.
Testing and distribution facilities are addressed in the amendment, too, and they will be restricted to the industrial zones. The definition of "delivery" is also in the amendment. The existing ordinance is silent about delivery which, I think, made it illegal. Does merely defining it in a zoning ordinance make it legal, in the absence of any sort of restriction? Maybe it does.
Attorney Jennifer Mizrahi first covered some corrections to be made to the proposed amendment. After that, Mayor Pro Tem Joe McKee said that section 17.180.060(d) Operational Requirements needed to be culled because as written it would be too burdensome. Here's my summary of the 12 paragraphs that make up that section:
"Manufacturers are limited to certain equipment, methods, solvents, gases and mediums when creating medical marijuana extracts."
"Medical Manufacturing Facilities with a state license of a Type-6 (non-volatile) or a Type 7 (volatile) classification may be allowed to operate under this Chapter."
All of the usual laws regarding air, water, health and safety apply. The usual permits are required.
Class I and Class II solvents (as defined by the FDA) are forbidden.
But "butanes, ethanol, carbon dioxide, propane, heptane or other solvents exhibiting low to minimal potential human health-related toxicity for extraction, or other methods approved by the State" are okay. Any solvent must be at least 99% pure.
Extraction using hydrocarbons must conform with the standards of the American Society of Mechanical Engineers and with proper ventilation.
If CO2 is used for extraction, that also must conform to ASME standards. And there has to be proper ventilation.
If any other method of extraction is used, there must be proper ventilation and ignition source controls.
"The amount of residual solvent per gram of finished extract cannot exceed 300 parts per million when quality assurance tested."
An exact duplicate of 3 above.
"Manufacturers may use heat, screens, presses, steam distillation, ice water, and other methods of extraction without employing solvents or gases to create kief, hashish, bubble hash, or vegetable oils or fats derived from natural sources, and other extracts."
"Manufacturers using extract to create ingestible products shall only use food-grade ingredients."
Attorney Mizrahi said that in a discussion earlier that day with Mr. McKee he had expressed his desire to get rid of 4, 5, 6, 7, 9, 10, 11 and 12; leaving the "less stringent" requirements.
Council Member Anayeli Zavala said she thought it was important to retain the level of detail in the paragraphs that Mr. McKee wanted to eliminate.
Ms. Zavala also spoke about another provision in the proposed amendment. That provision is 17.180.060(e) which requires marijuana manufacturing facilities to hire a Ph.D chemist to "supervise the design, installation and operation of the facility's systems and manufacturing processes." She asked if the intent was for the chemist to be there only during setup, or is the chemist supposed to supervise on an ongoing basis.
Council Member Russell Betts said he didn't see anything in the proposed amendment that gives the city the ability to shut down a non-confirming business. The attorney assured him that provision was in there. [There's only one thing on the agenda, this proposed amendment, and it's only 10 pages long, but that's still too much for Betts]. The relevant bit is at 17.180.120(d): "Failure to abide by any laws mentioned in this subsection shall constitute a public nuisance and shall subject the medical marijuana facility to revocation of any and all entitlements, licenses and permits." Then again in 17.180.130(b) which begins "A conditional use permit approved for a Medical marijuana Facility may be suspended or revoked for any violation of this Chapter..."
Mr. Betts went on to ask if a testing lab could be safely located in a commercial zone. The amendment is written to restrict them to industrial zones, but his concern is that industrial land has become so expensive here that a lab might benefit from being able to open in a less expensive commercial zone.
Planning Commissioner Dirk Voss said he was ready to approve the amendment now.
Commissioner Paula Terifaj said she thought that labs should be permitted in commercial zones.
When Mayor Matas opened the public hearing, the first speaker was Jeff Ridge. He said that he thought the 99-plant limit for dispensaries should be changed so that cultivation in dispensaries is restricted in some other way, such as square footage or wattage used. He said the 99-mature-plant limit made it very difficult for dispensaries to operate. He also suggested delivery services should be required to have city or county permits from any city or county that bans delivery service before the service can deliver there. The intent would be to keep delivery services from going into cities where they are banned.
Bob Sellen spoke next. He was there representing a new group called DHS Can. He said they think it's good to have laws in place until the new state laws go into effect. He said there is no independent third party testing lab for marijuana.
Gretta Carter spoke in favor of the amendment, saying that until the state regulations come into place, city regulations like this protect the marijuana industry.
Dan Osborne with Clonetics Laboratories said the testing will keep the medicine safe for patients.
Brent Furman expressed support for the amendment. He said Ph.D. chemists are usually brought in after the "crude" oil has been extracted to oversee the refining process.
Andrew Milks supports the amendment. He said he would like to see the 99-plant cap removed. The coming California regulations restrict it by square footage, not by number of plants. The smallest state license will be 5000 square feet. He asked for a matching municipal limit.
Back when the original medical marijuana ordinance was debated and approved, the issue of whether the limit should be by square footage or number of plants was discussed quite a bit. I thought square footage would be a lot simpler to administer, but others said counting plants was easier. Representatives from the marijuana industry commented then that the 99-plant limit was fine and they could certainly work with that. Somehow it is now unusable! Five-thousand square feet is more square footage than any dispensary in town, and I mean the entire dispensary, not just the grow room. Organic Solutions of the Desert, the large dispensary on Ramon in Palm Springs is something closer to 5,000 square feet. Maybe it's a coincidence that Organic Solutions of the Desert is also the stinkiest of the dispensaries in the Coachella Valley.
Michael Dixon said he was concerned at the lack of a reference to the most recent state legislation, SB 837. He has found several inconsistencies between that legislation and the proposed amendment. He said the most qualified people in the marijuana industry are not Ph.D. chemists, but those who have had the most innovation in extraction. The proposed amendment's only quality standards concern potency and residual solvents. More than that needs to be tested. He also said there needs to be consideration of the fact that the amendment's definition of "manufacturer" is so broad it includes the simple re-packaging and labeling of products that goes on at a dispensary.
Nicole Salisbury recommended there be a neutral third party tester, rather than having each cultivator hire their own chemist. She also said that testing labs should be permitted in commercial zones. She expressed dissatisfaction with the 99-plant limit, saying it is too small.
Katy Podine said that the ordinance could be re-amended at any time, so there is no real risk in fast-tracking this amendment. She said that the definition of "manufacturer" was taken directly from state law.
Planning Commission Chair Cathy Romero said the discussions so far all focused on safety and quality and warned against the possibility of over-regulating. She said that if a business in Desert Hot Springs wanted to extract the oils of a lavender plant or frankincense or sandalwood, she doubted that the city would be so concerned with quality and safety.
Commissioner Voss pointed out that the provision in the amendment for a Ph.D. chemist already defines the position as neutral and third-party. Here is that paragraph people have been talking about:
As a condition of obtaining a City-issued medical marijuana regulatory permit and conditional use permit, a licensee of a manufacturing facility desiring to operate under this ordinance shall first verify that the licensee employs or contracts with a person who has a PhD in chemical sciences who shall supervise the design, installation and operation of the facility's systems and manufacturing processes. The licensee shall submit to the City a written statement that he or she certifies under penalty of perjury that the name of the employee/contractor is true and correct. The employee/contractor shall also submit a written statement that he or she certifies under penalty of perjury his or her educational qualifications and verifying that the supervisor is employed full-time to supervise the design, installation and operation of the facility's systems and manufacturing processes.
IMO, since the paragraph permits the chemist to be either an employee or an independent contractor, I have to disagree with Mr. Voss. He cited the fact that the paragraph requires certification. But the only verifications actually required are certifications of the chemist's name, qualifications and that he is employed full time.
Commissioner Andrew Cirner also warned against the risk of over-regulating.
Commissioner Terifaj expressed concern that the city might be approving something that would be in conflict with state law in 2018. The attorney pointed out section 17.180.060(f) [it's identified as "(e)" in the agenda packet due to a typo, but this comes right after the requirement for a chemist] which says state regulations take precedence over city regulations..
State Regulations. In the event the State of California implements health and safety regulations applicable to Medical marijuana Manufacturing Facilities, upon implementation of such state regulations, all Medical marijuana Manufacturing Facilities operators shall immediately implement the state regulations. Should there be a conflict between the provisions of this Chapter and the state regulations, the state regulations shall control.
Ms. Terifaj suggested that the city go ahead and approve the zoning component of this amendment, while forbidding extraction until the state regulations are in place.
Commissioner Voss moved for approval of the amendment, with all of the corrections that the attorney listed. In 17.180.060(e) the reference to full-time employment (for the chemist) would be removed. In item 17.180.060(d) all items would be deleted except for 1, 2, 8 and 10. Here those are for your reference:
1. Manufacturers are limited to certain equipment, methods, solvents, gases and mediums when creating medical marijuana extracts.

2. Medical Manufacturing Facilities with a state license of a Type-6 (non-volatile) or a Type 7 (volatile) classification may be allowed to operate under this Chapter.

8. All other methods of extraction shall be conducted in an environment appropriate to the solvent being used, with consideration to proper ventilation and ignition source controls.

10. All equipment, systems and manufacturing processes must meet or exceed all applicable state and federal requirements and regulations regarding air, water, health and safety, and handling, processing and storage of hazardous materials, solvents, gases and waste. No manufacturing facility shall commence operations or be issued any form of certificate of occupancy without first obtaining all required fire, environmental, health and safety, planning, and building certificates, permits and approvals required under City's Municipal Code and all other applicable county, state and federal regulations
The motion did not change the zoning rule that restricts manufacturing to the industrial zone. Commissioner Cirner seconded the motion. Chair Romero asked Commissioner Voss why his motion did not address the 99-plant limit. He said he feels okay with what we have in place.
The motion was approved 5-0.
Then attention went back to the City Council as they discussed the revised amendment approved by the Planning Commission.
Mayor Matas said he had received information about the dispensaries' problems with the 99-plant limit only the evening before, so he has not had time to fully inform himself on the subject. He said he will organize a subcommittee (himself and Mayor Pro Tem McKee) to meet with the dispensary owners and make sure their voices are heard.
Mr. McKee said that at a later date the council needs to address delivery modifications, the 99-plant limit, and labs in commercial zones.
Ms. Zavala moved to approve with the additional requirement that the Ph.D. chemist is required to visit the facility quarterly. Council Member Yvonne Parks seconded. Approved 4-1 with Mayor Pro Tem McKee voting against.
permalink | September 25, 2016 at 08:35 PM | Comments (0)
September 8, 2016
Israel To Export Marijuana
Israel has removed the limits on the number of marijuana cultivation sites in the country. They plan to begin exporting it in two years. The article says nothing about which countries might permit it to be imported.
permalink | September 8, 2016 at 01:28 PM | Comments (0)
July 23, 2016
Santa Ana Marijuana Raiders Fired
You may remember those Santa Ana cops who displayed less than ideal police behavior while raiding a marijuana dispensary.

Three of those officers are no longer with the force.
permalink | July 23, 2016 at 10:37 AM | Comments (0)
June 8, 2016
Marijuana Cultivation Groundbreaking
This took place on Little Morongo, between Two Bunch Palms and Pierson.


The site of the first groundbreaking in Desert Hot Springs for a marijuana cultivation site.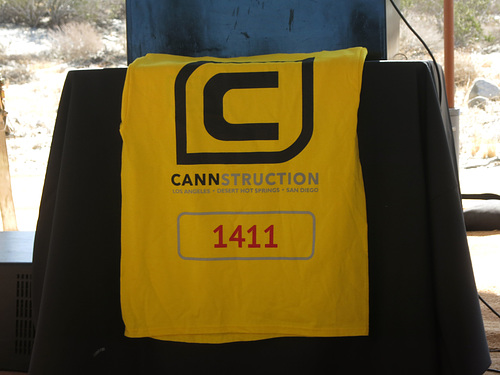 All these t-shirts bore the number 1411, but I don't know the significance of that.

A genuine peace pipe as a gift from the Chamber of Commerce.