July 18, 2021
The Mayor Of Springfield, Missouri, On The Subject Of COVID
He may be an independent, or at least he won't say he's a Republican or Democrat.
permalink | July 18, 2021 at 09:13 PM | Comments (0)
July 17, 2021
Some Health Department Inspections
DHS Spa again!
The restaurant at Desert Hot Springs Spa, at 10805 Palm Drive in Desert Hot Springs, was inspected July 13 and received a failing grade of 81/B with one critical violation. Food was at unsafe temperatures inside two refrigerators and a freezer that were impounded. Among the 12 lesser violations, there were rodent droppings behind equipment in all three food storage rooms, and the floors, walls, ceilings and cooking equipment needed cleaning. This was the restaurant's third failed inspection since 2019 and it was shut down twice last year for rodent infestations.
This place is in the county, not in Desert Hot Springs, but that's a small matter:
Mariscocos Culiacan #2, at 16760 Palm Drive Suite 2 in Desert Hot Springs, was inspected July 14 in response to a foodborne illness complaint. It received a failing grade of 80/B with one critical violation, for five pans of cooked meat and rice being at unsafe temperatures. Among the 12 lesser violations, there were multiple flies inside, containers of food weren't being stored protected from contamination and there were areas in need of cleaning.
Rancho Mirage:
Joyce's Sushi, 36101 Bob Hope Drive Suite E1, Rancho Mirage
Closed: July 13
Grade: Not graded
Reason: Cockroach infestation. The inspector visited in response to a cockroach complaint and saw two nymph roaches running across a floor, multiple live and dead roaches on a sticky trap in the same area and many more dead roaches throughout the facility. The owner said roaches tend to come into the restaurant during the summer, and he conducts his own pest control rather than using a professional service.
This one is way over in Corona, but it sounds like a horror story at an all-you-can-eat sushi dump:
Sushi Zen, 1525 E. Ontario Ave. Suite 108, Corona
Closed: July 13
Grade: 66/C, failing
Reason: Failing an inspection on probation. The restaurant had four critical violations: Multiple employees didn't wash hands. Numerous items of food were at unsafe temperatures, including raw seafood in a cooler that wasn't keeping cold and cooked seafood in a warmer that hadn't been turned on. Food was contaminated, including lemons that had gotten moldy and sushi rice that an employee scooped up with a dirty wiping cloth. And some food-contact surfaces weren't clean; one employee said they didn't know how to sanitize dishes. Among the 14 lesser violations, there were flies landing on food-contact surfaces and the restaurant had to throw out 50 pounds of sushi rice that had been left out. This was the restaurant's fifth failing grade since 2020 and fourth closure this year. Two closures in March were for not having hot water and a third in May was for failing its first inspection after being placed on probation. To reopen, the operator would have to correct all violations and pay double the fee to purchase a new permit.
permalink | July 17, 2021 at 12:03 PM | Comments (0)
July 10, 2021
How Hot Is It?
This is from the report of Riverside County Health Department inspections in the Press-Enterprise:
Little Caesars, 4553 La Sierra Ave., Riverside
Closed: July 2
Grade: Not graded
Reason: Excessive heat, inoperable exhaust hood. Visiting in response to a complaint — the second in two weeks — the inspector measured the air temperature at 105 degrees in the pizza prep area, 103 at the front counter and 89 in the dough prep area, while the pizza prep fridge was 60 degrees inside. Additionally, the exhaust hood had been altered in an unapproved way. The restaurant was told it would need to fix the air conditioner and hood before it would be permitted to reopen.
Reopened: July 3
permalink | July 10, 2021 at 11:27 AM | Comments (0)
July 7, 2021
News to the Wall Street Journal
The headline for a front page article in today's Wall Street Journal: Hospitals Often Charge Uninsured People the Highest Prices, New Data Show. The article may be behind a paywall for you, but let me tell you it contains no surprises. For example...
Hospitals routinely bill uninsured patients at their highest rates. About 21%, or 319, of the hospitals did so for the majority of the services included in the analysis. At 171 of those hospitals, the cash rate was higher than all of the rates billed to insurers, or tied for the highest rate, for every service in the analysis. That was true at some hospitals owned by major systems including Sanford Health and Yale New Haven Health System.
permalink | July 7, 2021 at 08:50 AM | Comments (0)
June 16, 2021
Ranking States by Prevalence of STDs
The 2019 report from the CDC (PDF).
Chlamydia: Alaska has the highest rate (848.1/100,000); California is in 15th place with 598.4; national average is 552.8.
Gonorrhea: Mississippi is highest at 404.1; California is in 18th place with 203.0; national average is 188.4.
Primary and Secondary Syphilis: Nevada is highest at 26.6; California is in 4th place with 20.9; national average is 11.9.
Congenital Syphilis: Texas is highest at 138.2; California is in 6th place with 94.3; national average is 48.5. Seven states reported ZERO congenital syphilis.
permalink | June 16, 2021 at 03:25 PM | Comments (0)
Not Milk
An article in the Washington Post all about Not Milk, but they didn't see any need to include any nutrition information. Why should they? It's only food. So I found the ingredient list ("Water, Pea Protein, Contains less than 2% of: Chicory Root Fiber, Sugar, Pineapple Juice Concentrate, Coconut Oil, Sunflower Oil, Virgin Coconut Oil, Cabbage Juice Concentrate, Natural Flavors, Salt, Gum Acacia, Gellan Gum, Calcium Carbonate, Monocalcium Phosphate, Dipotassium Phosphate, Vitamin B12, Vitamin D2") and nutrition labels for Not Milk, whole and 2% milk.

Protein
Fat
Saturated
Fat
Carbs
Sugars
Calcium
Not Milk
4g
5g
3g
7g
3g
310mg
2% milk
8g
5g
3g
12g
12g
300mg
Whole milk
8g
8g
5g
12g
11g
300mg
Soy milk*
7g
4g
0.5g
3g
1g
52mg
* using
Using Trader Joe's unsweetened soy beverage for comparison
.
permalink | June 16, 2021 at 01:38 PM | Comments (0)
June 9, 2021
An Osteopath Explains
permalink | June 9, 2021 at 02:09 PM | Comments (0)
June 8, 2021
That Pharmacist
That Wisconsin pharmacist who destroyed 500 doses of Moderna COVID vaccine has been sentenced to three years in federal prison. After that he will serve three years of supervised release.
permalink | June 8, 2021 at 01:02 PM | Comments (0)
June 2, 2021
"Residents of California, Alabama, and Texas don't qualify"
Anheuser-Busch will give away 200,000 $5 digital vouchers good for one of its beers once 70% of adults in the U.S. are at least partially vaccinated against COVID-19.
permalink | June 2, 2021 at 01:22 PM | Comments (0)
March 3, 2021
Texas
greg abbott ending the mask mandate in texas looks different here

i hate it here pls #VoteHimOut pic.twitter.com/Nn6NfCvxo5

— ginger ANIMATIC PINNED (@mmmgingerale) March 2, 2021
permalink | March 3, 2021 at 08:15 PM | Comments (0)
February 26, 2021
"Queen says COVID vaccine is quick, painless and helps others"
And if a Queen says so, then it must be.
permalink | February 26, 2021 at 06:09 AM | Comments (0)
February 11, 2018
Wacking Off
Loving and touching ourselves together with BateWorld's Paul Rosenberg and Sexologist Dr. Jallen Rix. This was on The Brooklyn Conversation, originally. You may (or may not) want to check out BateWorld.
permalink | February 11, 2018 at 06:27 PM | Comments (0)
November 30, 2017
Autopsy of an obese person
Here's a very good video that explicitly depicts the autopsy of an obese woman who died of heart failure. It includes clear, matter of fact explanations from the experts.

permalink | November 30, 2017 at 04:43 PM | Comments (0)
January 2, 2017
Tecopa Update
I'm just home from three nights of camping at Tecopa Hot Springs. The water there is as odorless as the hot water in Desert Hot Springs. Below is a comparison of the minerals between DHS and Tecopa.
Information on the Desert Hot Springs Aquifer came from Two Bunch Palms Resort. The numbers for Tecopa's hot mineral water came from Delight's. Units are PPM. ND = "Not Detected." I would appreciate it if anyone who can fill in a blank spot would leave a comment with the data.
DHS Aquifer
(hot)
Tecopa
Aluminum Oxide
ND
0.2
Bicarbonate
39
668
Calcium
31
7.2
Chloride
120
371
Fluoride
6.2
2.4
Hydrogen-ion Activity (ph)
8.4
7.5
Iron Oxide
ND
0.094
Magnesium
ND
9.7
Silica
0.53
Sodium
300
725
Sulphate
470
497.5
Lithium
0.24
Lead
4
Boron
9.2
Selenium
8
Potassium
22.3
Arsenic
0.24
Carbonates
ND
45.2
Another difference that I only noticed this time (although it's never changed) is that in Tecopa, they are pumping a LOT of water into the hot tubs, 24 hours a day. I couldn't give you an objective estimate of gallons per minute, but I'll say that in DHS the flow of the water into and out of any particular hot tub is pretty subtle. The owner of the place could tell you if the water is flowing, otherwise you'd probably never notice. At the county baths in Tecopa the water is gushing into the first tub and roaring as it pours out of the second tub on its journey back into the ground. You have to really speak up to be heard over the water.
I counted the cinder blocks so I can tell you that the second tub at Tecopa is 16 feet long...and after that I forgot to do any more counting. I'd estimate the width at 10 feet. I didn't count any cinder blocks in the first tub, but it's roughly the same volume. One night when I was there, someone slapped what looked like a plastic bucket lid over the drain (which is just a 6-inch hole) in the second pool. This completely stopped the outflow and made it possible to talk at a normal volume. Over a period of about half an hour I watched the water level rise about six inches. With another couple of inches it would have started to run out into the dressing area. They pulled that plug off when they left.
Tecopa is showing astounding (for Tecopa) signs of prosperity for such a tiny, remote, and harsh town. There's a brewery. My big question was: What is the source of their water? There is no drinking water aquifer there. All the springs are hot mineral springs. Here's what I found on their website: "Now, we hearken back to the days when miners lived there and brewed their own beer with the same artesian water which flows daily from the natural springs." Maybe they run it through reverse osmosis to bring it closer to potability...or maybe not! For those Tecopans who drink more beer than water, this could be a risk.
The Bistro restaurant is still there, but I hear it's gone through a number of personnel changes. The food is still good (AMAZINGLY good for this outpost of civilization). I had the pork chops. All the guys said that the night before the pork chops were wonderful. Mine were dry and overcooked. They do pizza and there is no additional charge for additional toppings! Pig out! The best thing about the place, though, is the people. They are seriously understaffed (especially on New Year's Eve), but all the staff are really great. Service is slow, but very willing to customize to your pleasure. Prices are not bad at all ($21 for those pork chops). When I was there it was almost like being at a party. On their menu you will find a few dishes with scorpions in them. I asked, so I can tell you the scorpions are canned in alcohol in Thailand, so they come into the U.S. as food and it's about as safe as eating a dead Thai scorpion can be. When someone orders a scorpion dish, it's a big show...and not like those restaurants where the entire staff turns out to sing you a really bad birthday song. One of the staff comes out carrying a bullhorn and an instant camera (you know, nueva Polaroid style) along with the food. She'll ask you to hold the scorpion in front of your open mouth while she takes a picture. I was told they have no flavor, but are crunchy and fairly hard to chew, according to three local experts, ages 6, 7 and 8. They all ate scorpions that night. For some this was a repeat adventure. And then they came over and wanted to tell us their ages! There's a lot of screaming, cheering and applauding when a scorpion is successfully swallowed.
A scorpion eater is supposed to write his name on the instant photo and then it gets pinned up to their wall of fame.
There was a table of four young people, two men, two women, seated boy-girl-boy-girl, so if I were to stereotype I'd guess heterosexual dates. The men ordered a scorpion dish (ice cream and some cake in a big bowl), one took a selfie as he held it in front of his mouth—and then he put it back into the ice cream! He didn't swallow! The other guy didn't eat one either, so we got to find out what happens with failures like this. The nice lady with the bullhorn announces to the room "We've got a couple of chicken shits right here!" and the crowd goes wild.
BTW, this is a BYO alcohol place.
Further up the road, there is now a McNeal's BBQ at the entrance road to Delight's. Some of us went there this morning for breakfast. They have a very brief menu, but the waitress named off a list of other dishes they had that was longer than the menu. They should probably just print out new menus every day on plain 8½x11. The staff was great...as staff seems to be everywhere in Tecopa. Outside of Burning Man, I've never seen such a bunch of hardworking, nice, and apparently quite honest people.
But the food at McNeal's. Urgh. I had the brisket sandwich. In Kansas City a barbecue brisket sandwich is a couple of slices of white sandwich bread laid out side by side on a plate, topped with a big pile of sliced brisket with some dill chips and something like coleslaw on the side. At Gates BBQ in Kansas City that would cost you $5.75. It might be more than some people can eat. At McNeal's where all the meat is smoked for 15 hours, the brisket sandwich (their only other meat option is pulled pork - no chicken, no ribs) was a hamburger bun laid open face on top of which was shredded cabbage with no dressing at all (they called it "coleslaw") and a small amount of cubed brisket (I've never seen it cubed) that was dry and not very flavorful. Ten bucks. The pulled pork looked like a much better deal and the guys who ordered that said they thought it was very good. They got a much larger quantity of meat and sauce.
I didn't notice the most obvious lack at the table until someone asked the waitress for barbecue sauce!! She brought out one cold bottle of a thin red sauce. I put some on my brisket and it didn't seem to add flavor or moisture. At any other barbecue restaurant I would have tasted a couple of straight spoonfuls of the sauce, but I didn't even think of it, I was already so disappointed with what I had.
I'd say go there and try it. Mine was so bad it had to have been a fluke. They had been closed the day before, so my brisket may have been left from Saturday night. Order anything but the brisket (they have vegetarian choices) and just enjoy the Tecopa ambiance. They've got a big screen TV and play music (possibly satellite) and there's a large area of the floor that's clear, just about the right amount of space if some people wanted to dance.
I was there for three nights with Great Outdoors. I was the only one in a tent, my nice windtight tent, not the lightweight cool one I took to Burning Man, so I was always comfortable in there. But most of the time it was too cold (and sometimes windy) to sit outside. There was always, of course, the hot water tubs across the street. The cost of camping ($22/night for a spot with electricity) includes unlimited usage of the hot water tubs. One night we held a potluck dinner inside the RV that had the biggest popout. I brought my last package of Hydrox cookies. Most of the guys had never heard of them...and they were all of an age that the original Hydrox should have been available in their yoots. Maybe Sunshine Biscuit company was not entirely nationwide.
The county-owned campground and hot tubs use this website: tecopahotspringscampground.com which is not to be confused with the Tecopa Hot Springs Resort (tecopahotsprings.org) next door.
Neglected to mention for those new to the subject, the county hot tubs are sex-segregated with mandatory nudity. Very popular with immigrants from Korea, but it's not at all in the style of a Korean spa. Besides the group tubs, there is a third private hot tub room that is handicapped accessible and can be rented by anyone for their private enjoyment.

Here's your county campground on the west side of the roadway, and your county hot tubs on the east side and a bit to the northish. I never knew until I looked at this aerial view that the county tubs had one outdoor tub in back...or on the women's side.
permalink | January 2, 2017 at 09:54 PM | Comments (4)
September 16, 2016
Rats
Using dry ice to exterminate rats in their burrows in Boston, Chicago and New York.
permalink | September 16, 2016 at 09:47 PM | Comments (0)
July 8, 2016
Finally!
For those young men who are confused by demonstrations using bananas, zucchinis or sausages, Ellis Lacy uses the best sort of phallus: his own erect penis. No ambiguity there.

permalink | July 8, 2016 at 01:42 PM | Comments (2)
April 23, 2016
Seeing Clearly Underwater
Here's an article about the children in a Thailand tribe who can see clearly while swimming underwater. The researchers ruled out genetics and have determined that the children learn to voluntarily contract their pupils to their smallest size and change the shape of their lenses. A group of Swedish children learned to do it in one month. The ability disappears in adults.
permalink | April 23, 2016 at 05:02 PM | Comments (0)
April 21, 2016
The Desert Hot Springs Marijuana Meeting
Everything you missed at last night's meeting. For the most part, a very interesting couple of hours. That is I, in the red t-shirt on the left of the screen as the video starts.

"I am a very conservative individual. I have totally done a 180 on my opinion" regarding marijuana, said [Desert Hot Springs Mayor Scott] Matas, who describes himself as a right-of-center registered Republican.
permalink | April 21, 2016 at 07:51 PM | Comments (0)
April 13, 2016
Three Cultivations Sites And One Dispensary Approved
I listened to last night's meeting of the Planning Commission from my private personal health facility, where I can exercise my right shoulder and hack up my left lung without disturbing the general public. Got to keep track of which marijuana facility is going where.
Last night the commission approved three more cultivation sites and one more dispensary.
Desert's Finest Patient's Cooperative
The dispensary (Lawrence Bynum - Desert's Finest Patient's Cooperative) is going to occupy the long-former location of Thai Palms on the northeast corner of Palm and Acoma. FINALLY, something to fill that blank in a prominent corner location. This is certainly going to be the most visible dispensary right here in the city. The site, which the dispensary will be renting, is connected also to the empty lot just east across the alley. There will be parking in that lot and quite a bit of discussion was about how MUCH of it would be used. There also was a general lamentation about the planning standards of the 1940s and '50s in this town. Yup. That's our legacy.
The site will have no more than one green cross displayed, and that will be painted on the south-facing Acoma side of the building. There will be potted plants along Acoma as well, including a few palm trees.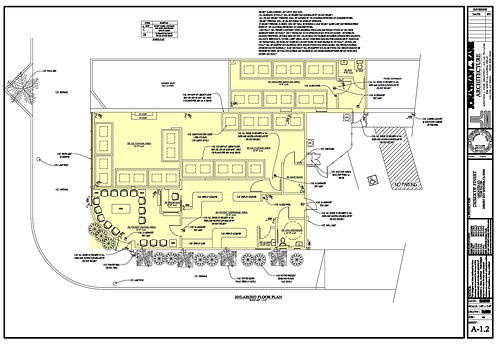 You can see on this interior plan that the dispenary's space includes the area behind the barber shop next door. More than half of the space can be used for cultivation. This is, as far as I can recall, a larger space than at other dispensaries in town, but all the dispensaries are limited to 99 mature plants.
Approved unanimously.
After the approval, there was some discussion about a billboard on Palm that can be seen as you are coming into the city that is promoting a low price at some dispensary. I don't recall seeing that sign, but there did used to be a sign that you could see as you headed south on Palm Drive that advertised "Home of the $5 Gram," but that was for PSA Organica, which is one of the newer dispensaries in Palm Springs. The city attorney explained to the commission what the city was able to control and NOT able to control in public advertising. At least one commissioner thought advertising like that could sully the image of the city as "Dime bag DHS. While it did look like the low class sort of advertising you can find in Los Angeles, I think some price competition between dispensaries could be beneficial to the patients.
DHS Diversified
The first cultivation site on the agenda last night was by Ryan Po of DHS Diversified located at 65441 Two Bunch Palms Trail. That building has been used as a recycling center up to now.
One thing I have not heard is where are the tenants of these industrial buildings that are being snapped up for marijuana cultivation, relocating to? The Pentecostal church surely has enough money from its sale to relocate into a residential area of the city, but the industrial businesses must be leaving town. There are no spare buildings in our industrial zone now, and anyone who tried to buy a site to put up a new building would be competing with the marijuana industry. I hope all these cultivation sites become fully developed and employ as many people has they have been saying they will.
An advantage to going into an existing building, is that electric service is already there. Mr. Po said he has 400 amps, which was plenty.
Approved unanimously
Blue Mango
Kamran Amirianfar for Blue Mango was there last night for two different sites, each requiring a separate CUP. The Planning Commission handled them separately. The first will be at 65118 San Jacinto Lane; the second at 65265 San Jacinto Lane.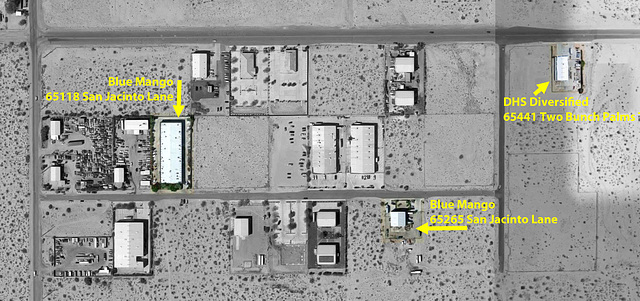 This map shows all three cultivation sites that the Planning Commission addressed last night. Here's a live map link.
The interior of 65118 is divided into 18 separate units which have been rented out to industrial tenants. The interior will be redone to create space for four large cultivation rooms and five smaller rooms for curing, processing, shipping, etc. Chair Romero encouraged them to removed the ficus and palm trees that decorate the street frontage, to be replaced with more drought tolerant plants.
65265 San Jacinto Lane will not require nearly as much work to re-arrange the interior. They'll keep most of the existing interior partitions and have two large, interconnected, double-deck growing rooms. The interior features a mezzanine from which, I imagine, one could gaze across the big spread of green leafy plants, as any farmer likes to do. They will also be cultivating up on the mezzanine.
Both sites were approved unanimously.
Vinyl Fencing
The single non-marijuana item the Planning Commission considered was a request to be permitted to erect vinyl fencing on top of existing "retaining walls" between new homes in the Gallery Vista Santa Fe homes at the northern end of Sonora Drive. The agenda packet describes them as "retaining walls," but it seems unlikely there would be an actual retaining wall between each house, unless they were built on a fairly steep hillside. Nevertheless, the fencing was proposed only between the newest homes (which I think are Coachella Valley Housing Coalition sweat equity homes). There would be no vinyl fencing facing the street.
The Planning Commission rejected the request.
permalink | April 13, 2016 at 02:54 PM | Comments (0)
March 13, 2016
DHS Planning Commission - March 8, 2016
Box Score
Dispensaries approved: 3
Total dispensaries approved: 12
Dispensaries open: 5
Dispensaries denied: 1 (technically a continuation, but it's going to be denied)
Cultivation facilities approved: 1
____
Dirk Voss presiding at first, as Chair Cathy Romero was late, but Ms. Romero arrived before the Commission had even approved the agenda.
City Manager Magaña and Financial Director Tanner spoke at length about the budget and taxes. After years of underspending and cutbacks, whaddayaknow, there's a lot of critical stuff that's going to start failing. Like staff, even. And some taxes are going to expire. [My editorial: meanwhile the City Council (well, three of 'em) have voted not to even study new or revised taxes.] But I'll spare you the really bad news.
As with last month's report, just the marijuana:
Benno Pabst and Valley Compassionate Care
This is a proposed CUP for a medical marijuana dispensary at 11522 Palm Drive, which is the southeast corner of 4th and Palm, the old chiropractor's office which is 1,207 square feet. Parking for 6 vehicles is proposed to be on the south side of the building (where there may also be a mural) with access via the alley. Four head-in parking spaces on 4th will be eliminated.
Commissioner Cirner recused himself due to a possible conflict of interest.
Benno Pabst was not present this night for health reasons, but his representative was there and spoke. Pabst owns the building outright.
There was a lot of discussion about the parking. Staff had first laid it out with diagonal parking so that patients would drive in from the alley and exit on Palm Drive. The Commission thought it would seem more sensible to drivers coming up Palm Drive to reversed that. Now, the thing I wonder about is left turns from southbound traffic. That entrance on Palm Drive is only 25 feet away from 4th Street.
Approved 4-0.
Yes, there will be two dispensaries directly across the street from each, so there will be no need to run across Palm Drive at night wearing dark clothes, right? And that ought to solve the problem of left turns too.

Lisa Lozano and Stephanie Bodde and Desert Hot Springs Dispensary
Another proposed CUP for a medical marijuana dispensary. This one was continued from last month. You may recall that potential neighbor Rose Mortuary raised objections about inadequate parking. There were other issues as well.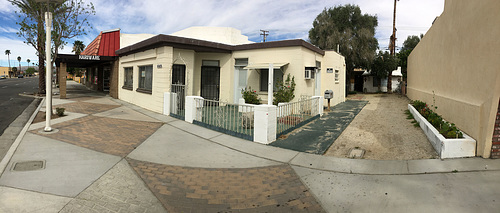 Chair Romero said that she could see all of the issues she had with this CUP had been addressed.
Thomas Moen, manager of Rose Mortuary, said he was concerned a dispensary could conflict with his business. Parking only in the street is still an issue.
Michelle and Michael Lally both expressed their support for medical marijuana generally, and spoke well of Stephanie Bodde. Mr. Lally also criticized Rose Mortuary, saying they both serve the same community, one in life and one in death.
David Lally (son of Michelle and Michael, if you hadn't guessed) talked about the tax benefits to the city. He described the personal experience with medical marijuana by a friend.
Jordan Bratonburg, owner of Rose Mortuary, also shared a personal experience in his family. He was concerned that some of his clientele would be offended by the proximity of the dispensary.
The applicant said that her security guard would not let her clients park in the Rose Mortuary parking lot.
Vice Chair Voss said that he, too, was concerned about the parking situation, especially the lack of a designated handicapped parking space. He also wanted to clarify what will happen with the small house in the rear of the property. He said this is the wrong location for a dispensary.
Commissioner De La Torre said he agreed with Mr. Voss.
Commissioner Terifaj said these were all the same issues brought up last month and that she, too, thought it was a poor location for the dispensary.
Rich Malacoff asked the Commissioners to specify which findings in the prepared CUP the Commission would determine had not been met. Then staff would use that information to craft a legal resolution of denial and bring it back next month. Staff prepared only the positive resolution of approval for the agenda packet, not wasting time on a negative just in case.
Ms. Terifaj cited the parking issue as the reason to deny.
The applicant came back to the podium to say that an elderly gentleman lives in the house in the rear and that he is a member of her collective. She does not want to kick him out so that she can tear down the house for parking. She was not aware of any problems with parking until this meeting. (It did come up as an issue the previous month, though.)
The Chair reopened the public hearing at the suggestion of the city attorney.
The applicant said she had an informal parking survey done at the Brown Dog dispensary which is east of Palm on Pierson. Over the course of a week there was only one time during the day when there were three cars there and the overlap was for only two minutes. In the evenings there would sometimes be as many as three cars there. She expects the same traffic at her dispensary. Street parking would handle that small amount.
Vice Chair Voss moved to continue this until next month at which time staff will have prepared the proper denial paperwork. Approved 5-0.

Eduardo Rivera and D.H.S. Alternative Healing Corporation
How about another CUP for a medical marijuana dispensary? This one is also continued from last month (and the month before that, IIRC). The continuance was to allow a neighbor to come in and comment on this. No changes have been made from last month. This one is going to be at 66328 Pierson Boulevard.
>
Unfortunately, the aggrieved neighbor did not show up. There were no public comments at all.
Vice Chair Voss moved to approve with the additional requirement that there be no neon lighting. Approved 5-0.

Dino Sogoyan - Desert Hot Springs, Collective, Ltd.
This item is a CUP for a medical marijuana dispensary to be located at 66292 Pierson Boulevard. That's just to the east of Wiefels Mortuary.
The monument sign in front of the building will have to be upgraded to meet current sign standards. The applicant is buying the property and said he plans to tear down that monument sign.
Commissioner Cirner moved to approve with the additional requirement that they come up with a different color scheme (and no neon). Approved 5-0.

Adrian Sedlin - Canndescent, MBC
This is for a CUP for a marijuana cultivation facility at 65334 Two Bunch Palms Trail, which is currently occupied by an auto repair business and tire recycling business. The two buildings are about 4,800 square feet each.
The applicant says he hopes to be operating by June 15.
Vice Chair Voss moved to approve with the addition of a ban on neon signs. Approved 5-0.

Other Things
The Planning Commission also approved a design review and development permit for a warehouse and retail facility for Angel View on Dillon Road.
They also appointed Andrew Cirner to the Arts District Committee.