July 2, 2015
GoPro at TdF
This year, GoPro is the official camera of the Tour de France. Expect a carload of videos to come out of that, but I hope they offer a livestream from one or more of the GoPros. See what happens in the peloton uncensored!
permalink | July 2, 2015 at 11:06 AM | Comments (0)
June 27, 2015
Pink Party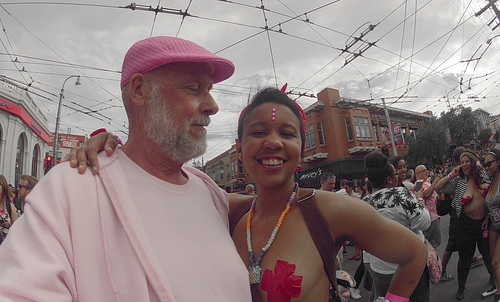 I have had a number of people come up and ask about my GoPro, saying they had never seen or heard of such a thing - and all of them have been women, like this young lady.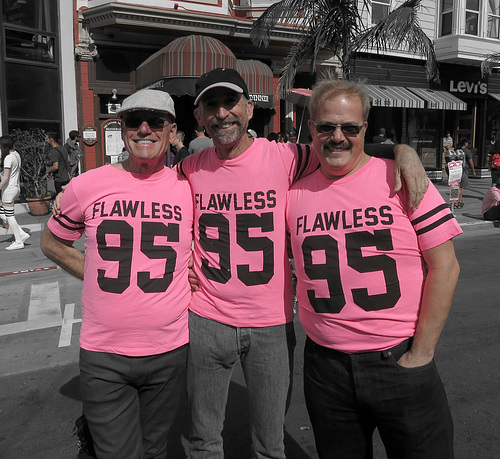 Look at these flawless Palm Springs boys I found at the Pink Party. They got the shirts and matching real Converse sneakers in correct sizes! At Ross. This morning.
permalink | June 27, 2015 at 06:40 PM | Comments (0)
June 19, 2015
Balls Pyramid
Not a pyramid, actually, but what may be the strangest island anywhere on Earth does take balls [to visit]. Here it is wingsuited and GoProed.

permalink | June 19, 2015 at 09:19 PM | Comments (1)
June 1, 2015
One More GoPro Model
GoPro has inserted a fourth model into its product line. Here they are in ascending order by price. It's the $300 Hero+ LCD that's new:
Hero, $130, basic features, 1080p30 and 720p60 video, 5MP photos up to 5 fps, no external mic input, SDHC only (not SDXC), not removable from its case, timelapse is set to one photo every ½ second.
Hero+ LCD, $300, adds more than just the LCD touchscreen, 1080p60 and 720p60 video, 8MP photos up to 5 fps, built-in Wi-Fi and Bluetooth, touch display, not removable from its case, additional fps settings, a range of settings for timelapse, no microphone input, SDXC.
Hero4 Silver, $400, more video settings, best is 1440p24, still photos are up to 12MP at up to 10/second (Hero and Hero + LCD are limited to 5/sec), accepts external mic.
Hero4 Black, $500, all the bells and whistles they can offer. Video up to 4Kp30, still photos are the same as the Silver, accepts external mic.
The Hero+ LCD will be available in the U.S. beginning June 7; the rest of the world on July 12.
And just so you, the potential customer, won't feel embarrassed in trying to save money on a GoPro, I'll tell you that their cheap $130 camera is their bestseller.
permalink | June 1, 2015 at 04:16 PM | Comments (0)
May 31, 2015
Wingsuits
A collection of videos guaranteed to convince any young man that he could run out and do this with almost no practice at all.

permalink | May 31, 2015 at 10:05 PM | Comments (0)
May 7, 2015
Antarctica
It must be a trend. We've got two videos shot along the rugged shoreline of Antarctica using drones. And why not? If you're going to the expense and effort to travel there, you are going to want to be able to impress the hell out of those you left back home.
This first one was shot with a GoPro Hero3+ Black mounted on a DJI Phantom 2:


The second one was shot with the new DJI Inspire 1 which possesses its own camera:

permalink | May 7, 2015 at 09:14 PM | Comments (0)
April 21, 2015
Office Life
permalink | April 21, 2015 at 10:19 AM | Comments (1)
April 17, 2015
44-Way Jump
Forty-four skydivers jump and assemble themselves into an, uh, assemblage and then break apart, all in less than a minute and 40 seconds. The first question you should be asking yourself is how do you get 44 people up there and able to jump simultaneously without using a large commercial or military aircraft.

permalink | April 17, 2015 at 04:02 PM | Comments (0)
Stabilizer For GoPro
Designed to work with standard GoPro mounts (so it should be usable for lots more than Just GoPros), the Stabcam looks almost as stable as a chicken's head.
Gizmodo article. Stabcam hasn't even started its Kickstarter yet, so it'll be a while before these are available on the market.
permalink | April 17, 2015 at 02:39 PM | Comments (1)
April 13, 2015
Professional Broadcast Link For GoPro Cameras
First, you might need to know whichever version you get, it's gonna cost you $7,500. It's called Herocast and will provide a professional quality to your GoPro cameras so that you can use them live - presumably in a sporting event, but public TV might like to put one on the end of a trombone in a symphony performance.
permalink | April 13, 2015 at 04:55 PM | Comments (0)
Express Your Inner Baboon
How's this for high concept advertising? You don't get a single spec. You get the brand name, 3DR, but is there a model name? How much? Can I buy it? All irrelevant questions. There is only one question: How cool can you be?

I'm sure your first thought was the same as mine: what, they couldn't use the opening of "Also Sprach Zarathustra?" Why not? Too trite? I find that hard to believe. My/your second thought would be "Where is that place?" "That place" is Spaceport America in New Mexico:
BTW, if that one scene was meant to suggest Mars, a quadcopter would need to be redesigned to fly with lower gravity and less atmosphere, ya know, so if you volunteer for Mars mission you'll want to pack your conversion kit. Something to do on the long voyage.
permalink | April 13, 2015 at 11:42 AM | Comments (0)
April 10, 2015
Skydiving At Burning Man
Haven't we seen that before, you may ask. Well, maybe you have and maybe you haven't, but this video is almost perfectly 100% non-pretentious with nary an asshole in sight. Just lots of falling over Black Rock City.

permalink | April 10, 2015 at 09:33 PM | Comments (0)
April 8, 2015
New DJI Quadcopters
DJI introduces quadcopters outfitted with their own cameras.
The Phantom 3. They say they guarantee that it will ALWAYS have accurate GPS data and it will ALWAYS return to home. I interpret that to mean that when it does get lost and crash, DJI will replace it for you completely free. Could they mean anything less? And they promise it is sufficiently reliable and accurate to fly indoors! Will they provide liability insurance for free?
They try to copy the Apple style of product announcement videos, at least verbally. But it goes a bit overboard when they brag that their aluminum has been "pulled from the Earth itself" which I guess means they won't use any from the moon. Or should I say the Moon itself?
720P is "eye popping." Uh-huh.
I gotta admit the included automatic video editor would be worth buying by itself.
The "Advanced" model will have a SRP of $999 and shoot 1080P at 60fps. The "Professional" will be $1,259 and can shoot at up to 4K at 30fps.
Here is the company's website. Buy it here. Shipping in late April.
They do not emphasize what I think is the greatest advance: finally, someone is selling a completely integrated quadcopter. Researching quadcopters before now, I was surprised to find out how many separate parts you had to buy from different vendors and then assemble them all yourself, unless you took advantage of a package deal offered by B & H. The only thing you need to add to the Phantom 3 is your own smartphone or tablet (Android or iOS - sorry Windows!) so that you can get the view from your quadcopter live, while it's flying. This shaves about $1,000 off your starting price.
permalink | April 8, 2015 at 10:52 PM | Comments (1)
March 26, 2015
Solar Eclipse Two Ways
If you want to see and hear how ordinary, non-TV professionals respond to the solar eclipse, you'll want to watch this video shot by Frank Jernigan in Norway. A GoPro would be about the least appropriate camera for a solar eclipse, IMO, but when he pans around to show you the crowd out there on the ice, don't they look just like penguins wearing puffy coats and toting cameras?! Very fun video despite or because of the technical issues. Don't tell me you wouldn't say stupid things, too, if you were watching totality from Norway.

permalink | March 26, 2015 at 08:21 AM | Comments (1)
March 22, 2015
Hang Gliding Into Burning Man
I had no idea you could cover this sort of distance while hang gliding. This is a 100-mile drive via highways.

permalink | March 22, 2015 at 08:44 PM | Comments (0)
March 14, 2015
Hiking The Presidio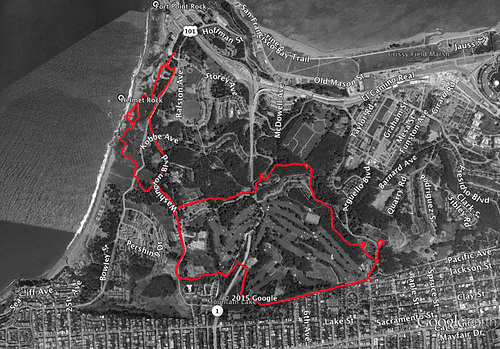 The San Francisco National Cemetery.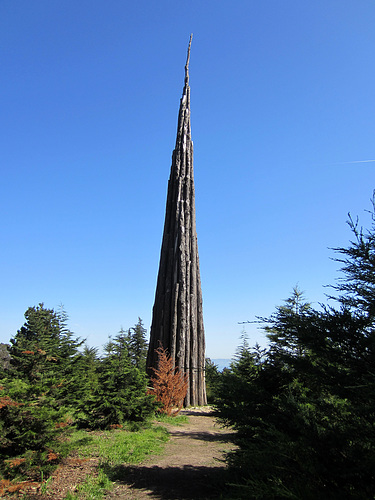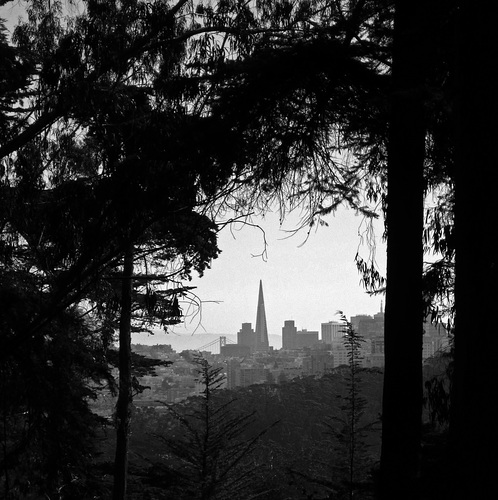 I'm sure this little gap in the foliage is not accidental.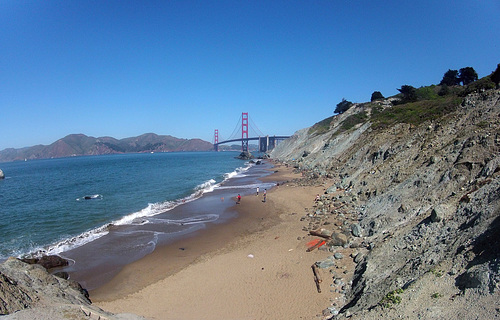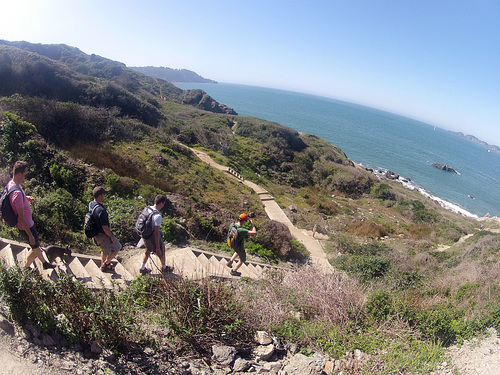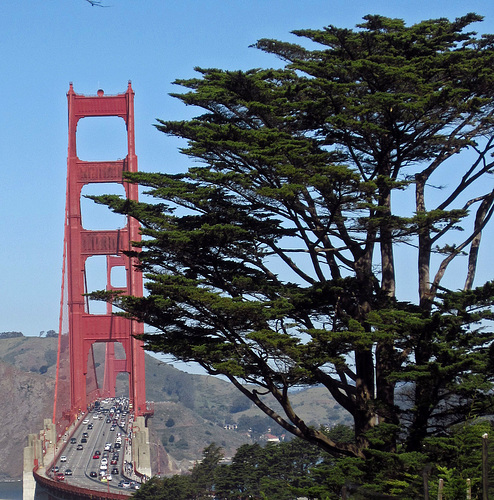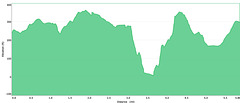 The complete set of photos is available here.
permalink | March 14, 2015 at 02:56 PM | Comments (0)
March 13, 2015
Getting To And Hiking The Alexander Zuckermann Bicycle-Pedestrian Path
While I was up in the San Francisco Bay area last weekend, I went over to the east bay and hiked that portion of the new Bay Bridge Trail that is open to the public. Officially it is the Alexander Zuckermann Bicycle-Pedestrian Path. The part everyone is excited about is the path that is constructed along the new eastern span of the Bay Bridge which will eventually allow bicyclists and pedestrians to have direct access to Yerba Buena Island and Treasure Island. Currently, public access to the path stops just as it gets to the suspension portion of the bridge just east of the Yerba Buena tunnel.
But you don't get to bike or walk on that new path unless you find one of the trailheads in the real world environments of Emeryville or Oakland...or the bus stop on the Bay Bridge itself. The bus stop has been there all along, I'm sure, primarily to serve Caltrans employees who work on the bridge. Go to ACTransit.org if you want to figure out how to take advantage of the easy way.
The Bay Bridge's own website offers up a nearly useless map. The map has been shrunk so that no street names are readable with no link to a readable version. Your tax dollars at work. TrailLink has a better map, but you have to register to use it, and it only shows one entry point - the one I used. The Oakland Wiki has a similar map and you don't have to register to use it.
The trailhead that I did not go to is in Oakland at 37.82198, -122.301379, AKA the parking lot at Maritime Street and Burma Road.
The trailhead I did go to is in front of the Emeryville IKEA store at 37.829521,-122.292555. The current imagery at that link puts it in shadow, but it's there. The trailhead on the easterly (IKEA) side of Shellmound Street is for pedestrians and bicycles. Over on the westerly side of the street is another access point that joins the bike path that goes along there. They join immediately after the easterly branch crosses beneath the Shellmound/40th Street viaduct.
There are several bus routes that will take you right to the trailhead (or to IKEA, which is its own kind of hike):
Or, you can do like I did, and just walk the 1.8 miles from MacArthur BART. Head west on 40th Street. As you near the trailhead, 40th will go up on a viaduct that curves to the right and comes down as Shellmound Street. The trailhead is RIGHT THERE to your right. Even the blind can't miss it. If you get to the first driveway for IKEA, then you have gone too far! Turn around! Walk back the way you came a hundred feet or so and wake up and pay attention to the world around you. How in the hell did you miss that?
There is also a crosswalk at that first IKEA driveway which you can use to cross over Shellmound Street to get to the twin trailhead on that side of the street, but why expose yourself to traffic like that? The IKEA, BTW, offers restrooms and water fountains, but comes up pretty short in the hiking supply department. I'm sure you could find a water bottle in there, if you wanted to take the time to look for it. There is a Trader Joe's about half a mile north and you will have passed various retail opportunities on 40th Street.
Once you get to that IKEA trailhead, this video will give you some idea of what you could see along the path:

Here's a link to all my still photos from the hike which was about 10 miles round trip from the MacArthur station. Samples: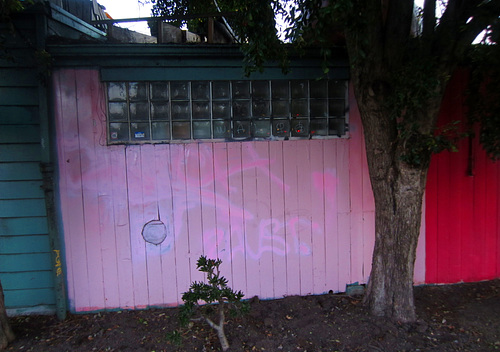 On 40th Street in Oakland.


A Hudson in Emeryville.

A Porsche, also in Emeryville.

Pixar Studios in, you know, Emeryville.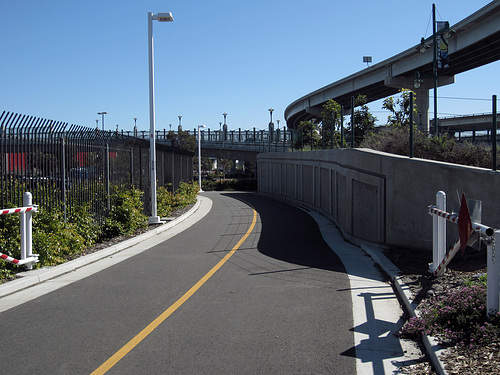 The very beginning of the trail where it curves under the Shellmound Street viaduct.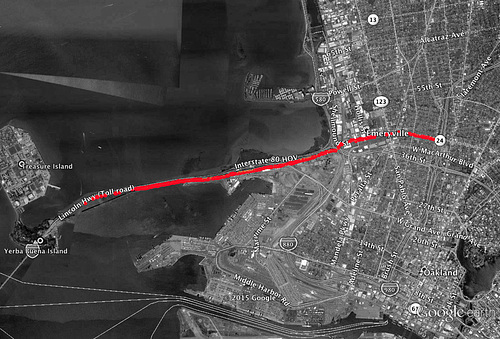 Five-ish miles from MacArthur Station to the limit of the path.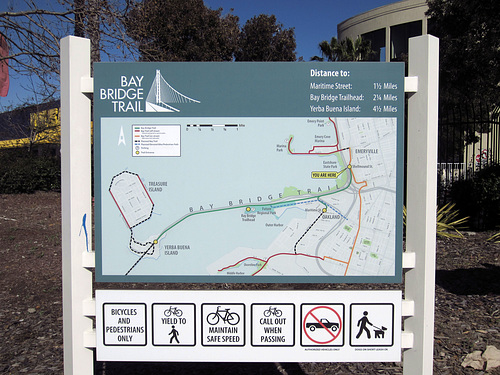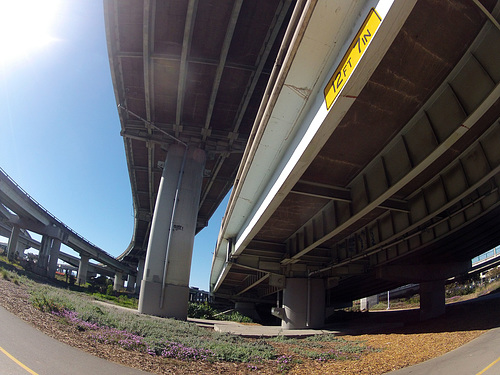 You hike under a lot of elevated highways at first.

Currently the path is open from 7 AM to 6 PM and they say that CHP begins clearing it at 4:30. I was on there after 4:30 and saw no sign of CHP, but a couple of local police (or sheriff's deputies) bicycled up the bridge about then. This photo was taken at about the spot where the path from Oakland joins the path from Emeryville.

There is a sign at these porta-potties saying they are the last ones before the bridge. That is not true.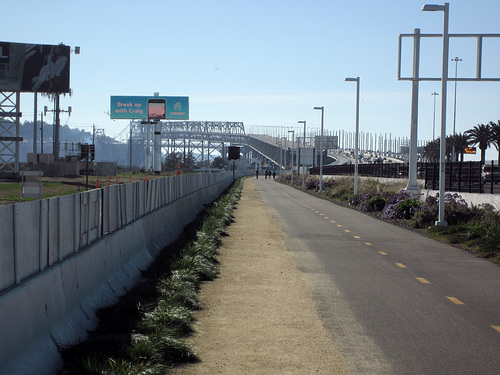 This is the AC Transit bus stop shelter on the Bay Bridge.

FYI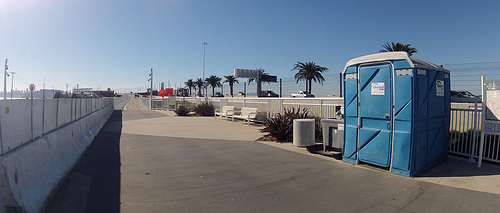 This is the last porta-potty before the bridge. I didn't spot anyplace to get potable water anywhere along the trail, so bring all you need.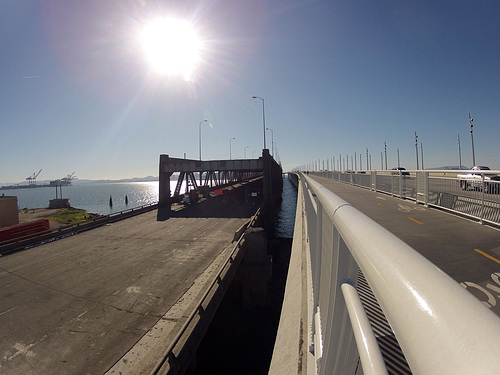 What's left of the old bridge on the left.

Lighting for the path on the bridge comes from these tubes situated about a foot above the pavement.

Closer to the raw end of the old bridge.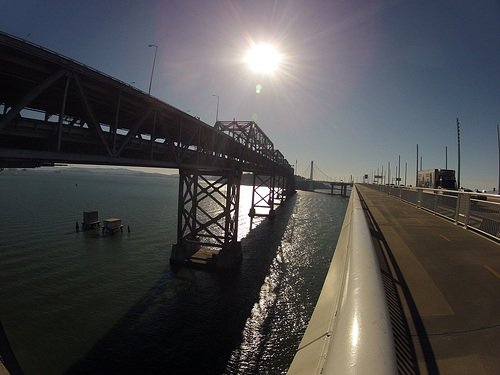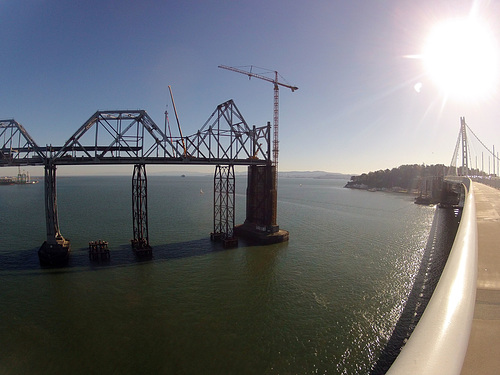 The other end of the old bridge.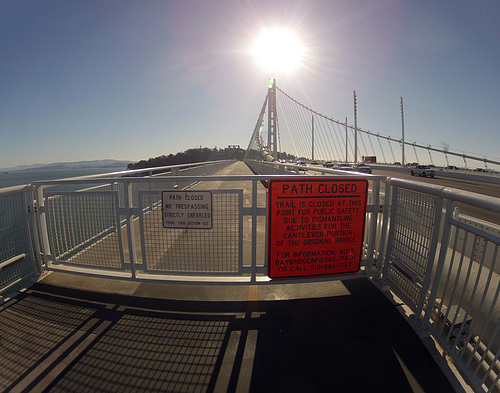 As far as you can go for now. Access to the islands is supposed to happen this summer.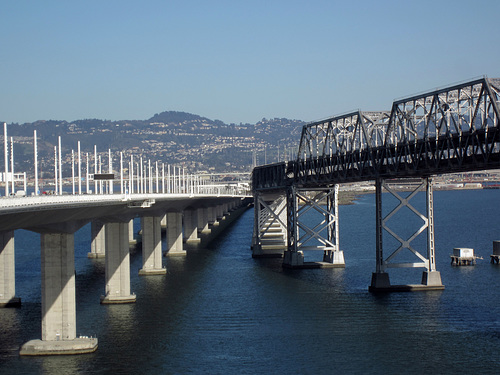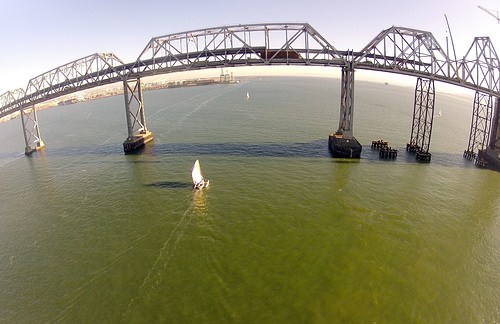 Old equipment under the old Bay Bridge atop one of the support towers. It looks electrical and I wondered why this equipment needed to be this far out from the shore.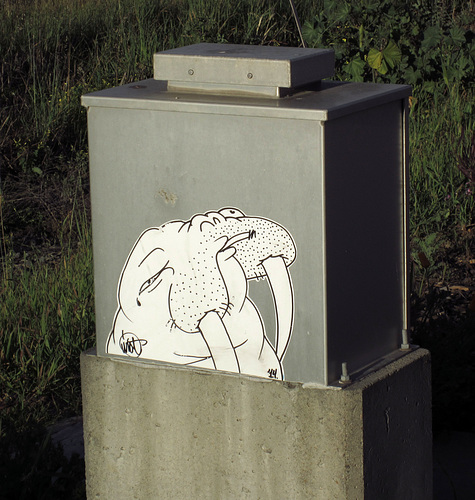 Lots of landscaping along the way before you get to the bridge. Under the biggest snarl of overpasses there is a riparian habitat with all the plants and animals one might expect to find there - except not a lot of water fowl. Of course, buried beneath those highways I don't know how an egret is going to see it, much less get to it.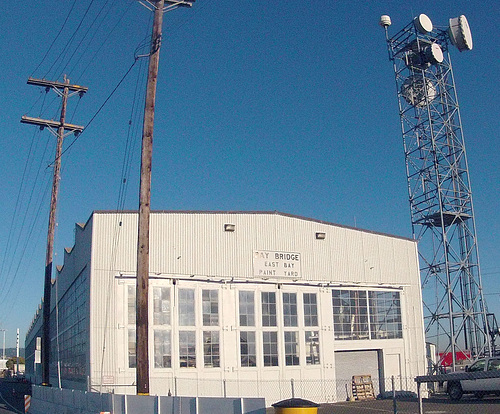 This seems to be the access to the tunnel out to the toll booths. I did not descend. There were no signs telling me to stay away or inviting me in.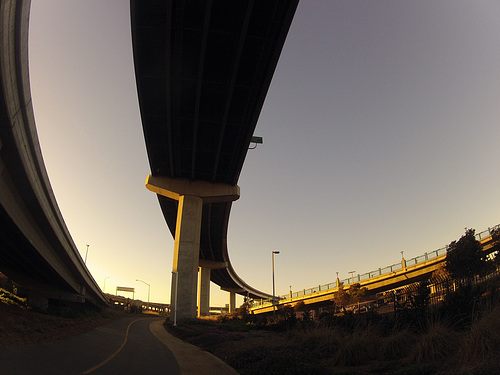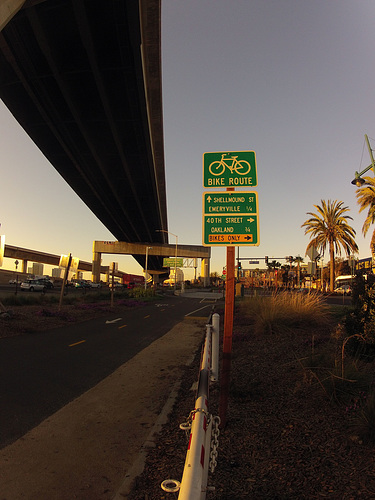 Returning, I followed the branch to the westerly side of Shellmound Street.

On the viaduct facing east on 40th into Emeryville and Oakland. Pedestrians on one side (north and east), bicycles only on the other side.
permalink | March 13, 2015 at 06:55 PM | Comments (1)
February 28, 2015
If I Had A GoPro Hero 3, 3+ or 4
I'd be all over this. A super-extended battery for those camera models. As I write this, there are still a few rewards available which will get you one of these batteries for $1 + $6 shipping! Once those are gone, you'll have to donate $35 to get one of the batteries.
This is a Kickstarter campaign and it has far exceeded its goal.
I found this video to be a little confusing. The Limefuel Epic is a battery backpack. The Limefuel Epic on its own is said to be able to power your GoPro for 7 to 12 hours. It includes a custom shell back to accommodate that big thing. It's bigger than the camera. You do not need to go around with the battery backpack plugged into a bigger separate power source. Why they put that view into the video, I don't know.

permalink | February 28, 2015 at 02:37 PM | Comments (0)
February 21, 2015
DJI Phantom Near Desert Hot Springs
Shot on the outskirts of Desert Hot Springs - except for one segment with big boulders that must be in the high desert - the videographer tested his GoPro Hero3+ on the DJI Phantom 2 quadcopter with the H3-2D gimbal.

permalink | February 21, 2015 at 04:49 PM | Comments (0)
February 13, 2015
Updated Aerial Views Of Apple Campus Construction
In January, 4K with a GoPro Hero4.