April 23, 2021
Cycling the Paris Catacombs
permalink | April 23, 2021 at 05:11 PM | Comments (0)
December 5, 2019
GoPro Hero5 Black, Night Mode
I recently acquired a used GoPro Hero5 Black. I am finding that when the price of a GoPro drops below $150, I feel like I'm getting what I pay for. I wanted to test the night mode, so I headed down to Palm Springs tonight to take a few photos of a friend's pool and then headed over to Village Fest for more photos. All of these photos are handheld. Almost all the photos turned out well, which is the opposite of what I expected. I would say I'm quite pleased with night mode. Here are some of the photos.

Starbucks.
permalink | December 5, 2019 at 08:39 PM | Comments (0)
August 3, 2019
Los Angeles World Naked Bike Ride Photos for 2019
I rode only the afternoon loop on this year's World Naked Bike Ride in Los Angeles. I had three GoPros, each shooting one photo every five seconds during the ride. Two of the cameras faced rearward and on forward. The complete collection of photos is here. There's an icon for a slideshow near the upper right corner of that page. I tried to sync the clocks on the three cameras, but they don't allow you to set the seconds, so they're out of sync with each other over a spread of a minute or so. The route changed some this year, partly due to construction on the LA River bike path, so if you enjoy looking at these photos for what's in the background, you'll see some different scenery in this year's photos.
What follows are a few of the photos:


I'm pretty sure these two were not together, but while we waited for a traffic light they seemed to mirror each others body language unconsciously.

There were a lot of motorcycle cops along on the ride. They were tremendously helpful and had to stop at least a couple of drivers who thought they could just drive right into us, as if we would magically disappear out of their way.

A naked bystander. Not part of the ride at all, but an observer from the side of the road. I guess we inspired him. Too bad he didn't have a bike!

We entered the LA River bike path at the point where we exited in previous years.

A stop along the LA River bike path.

And we exited the bike path via a little dirt path.

The first time I rode the LAWNBR we went past this church and they called the cops. This is the first time we've ridden by it again. No problems this time.

And then we re-entered the LA River bike path.

We went through this rotary twice, for a total of 360°.

This guy was back with his sign - this year, no typos!
permalink | August 3, 2019 at 10:25 PM | Comments (1)
January 16, 2017
"GoPro Ready"
You may recall that a year or two ago Toyota was promoting one of their vehicles as "GoPro ready" because they had simply built in a standard GoPro attachment point somewhere. Pffft! Now Jaguar has come up with a car that really is "GoPro ready." You attach your smartphone to the car via USB (they skip over the part about how iPhone users will handle this) and attach the phone to your camera via Wi-Fi, and then let your camera record your driving. While that goes on, the Jaguar is recording all sorts of details about what the car is doing (speed, RPM, which gear, etc) which is then synched perfectly to the GoPro video. This will be excellent for professional drivers or those who just like to race illegally. Also, you could use it to monitor a teenager.
permalink | January 16, 2017 at 04:08 PM | Comments (0)
October 31, 2016
You're Not Going To Want A GoPro Karma
Compared to the DJI Mavic Pro.

permalink | October 31, 2016 at 03:14 PM | Comments (1)
October 6, 2016
Yet Another Mavic Pro Review
This one talks a little bit about focus and why some people may think the image from the Mavic is "soft."

permalink | October 6, 2016 at 07:32 PM | Comments (0)
October 4, 2016
Another Mavic Pro Review
An entertaining review of the Mavic Pro which is also very informative. Also, lots of L.A. scenes.

permalink | October 4, 2016 at 08:21 PM | Comments (2)
September 29, 2016
Phantom 4 vs. Mavic Pro vs. Hero5 Session - image quality
Spoiler: the Phantom 4 produces the clearest, sharpest images, the Mavic Pro's image is a bit soft, the Hero5 Session has better image quality than the Mavic Pro.

permalink | September 29, 2016 at 02:42 PM | Comments (0)
Hero5 Session Is Good!
permalink | September 29, 2016 at 12:22 AM | Comments (0)
September 27, 2016
DJI Smacks Down GoPro
Just a week after GoPro announced their first drone, Karma, DJI (longtime sales leader in drones) has come out with something much better called Mavic Pro. The Mavic Pro appears to fold down smaller than the Karma; it can go 40 MPH (somebody's going to lose an eye!); and it has tracking ability. It's also cheaper than the Karma. The Karma is $800. Add a Hero5 and the total is about $1,200. The Mavic Pro is $999 and includes a camera. You can also exclude DJI's new remote controller and save $250, dropping the price to $749. You can skip the remote controller and operate the Mavic Pro from your smartphone. DJI says the Mavic Pro can hover so steadily and its gimbal is so fantastic that you can use shutter speeds as long as 2 seconds on their camera! I am gobsmacked!
Here's a video which is nicely lower key than a GoPro video.

The only way this is going to be a bad deal is if the camera is crappy...so wait for some reviews first.
UPDATE: A Mavic Pro test video.

It looks like image quality is very good, but a narrower angle than GoPro, which has its pluses and minuses.
Here's a comparison list of features of the Mavic Pro and the Karma.
permalink | September 27, 2016 at 09:53 PM | Comments (2)
September 20, 2016
Lower Tech Than A Drone
permalink | September 20, 2016 at 03:44 PM | Comments (0)
GoPro Karma & Gimbal Test
A pretty good test of the gimbal and image stabilization in the Hero5 (conducted by someone not connected to GoPro) begins at 6:50 in this video. After that he shows what he can do with it without reading or receiving any instruction at all. And then he proceeds to test it over the Hudson River!
permalink | September 20, 2016 at 03:43 PM | Comments (0)
September 19, 2016
Small Coincidence
I was watching this video about the GoPro Hero5 Session when I realized I recognized Chris Farro who shows up at about 27 seconds into the video.


In the video.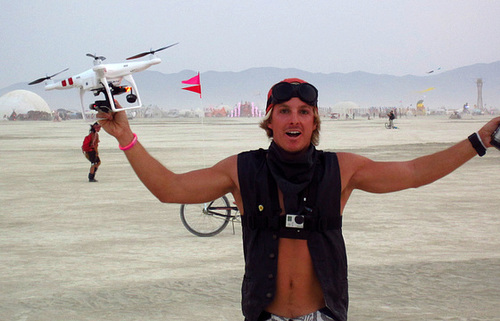 At Burning Man 2013.
permalink | September 19, 2016 at 07:11 PM | Comments (0)
GoPro Hero5 (and more) announced
GoPro Hero5 Black (does that suggest there will also be a Silver model?) (Oct. 2)
$400
12MP
Voice commands
Video stabilization
Touch display
Waterproof without a case
4K up to 30 fps
1440 up to 80 fps
1080 up to 120 fps
Location capture
Raw
Auto-upload

GoPro Hero5 Session (wait for the reviews to find out if they've sufficiently improved the Session's horrid photo quality) (Oct. 2)
$300
10 MP
Voice commands
Video stabilization
Waterproof without a case
But it comes with a case so you can mount it
Auto-upload
4K up to 30 fps
1440 up to 60 fps
1080 up to 90 fps

GoPro Hero Session (Oct. 2)
$200
8 MP
1440 up to 30 fps
1080 up to 60 fps
Waterproof without a case
But it comes with a case so you can mount it

GoPro Karma drone (Oct. 23)
$800
No propellor guards
Has a stabilizer that can be removed and used handheld. Or you can purchase the stabilizer independently for $300

Omni 360° camera array
$1500 for Omni only; $5000 if you also need to buy the six Hero5 Black cameras. You're paying $583/camera, if you do it that way.
For professional live broadcast. Price not stated.

As before, purchase of a GoPro product does not include trips to Alaska or India, hot air balloons, dramatic music, backstage passes at concerts, a classic VW camper bus, slackline skills, or (most regrettably) beautiful people.
Here's your Apple-style video ad for the Hero5 Black.
And here's the one for the Hero5 Session.
UPDATE: I totally missed this earlier. The Remo, a remote for voice commands; $80.
permalink | September 19, 2016 at 01:12 PM | Comments (0)
June 17, 2016
Wired Remote For GoPro Hero4
It's a Kickstarter for a product that, when attached to the back of your Hero4, allows use of a wired remote, additional power via USB and an external LED indicator. The wired remote can be the traditional handheld type or one operated by biting or by tongue pressure. It's called a GoHawk.
permalink | June 17, 2016 at 11:41 AM | Comments (2)
May 26, 2016
Of Male Bonding And Friendship
This is the first video from GoPro that includes other brands of cameras.

permalink | May 26, 2016 at 09:28 PM | Comments (2)
May 12, 2016
LG Action Camera
LG has announced a new action camera. Specs are a bit meager, but it doesn't look like it shoots 4K. But, it's claim to fame is that it's able to stream your video via 4G. No longer will you have to wait until you get within range of some Wi-fi as you are shooting some police on civilian action to share with the world. Will also be handy in revolutions, but never to be used at a nude function. The price is supposed to be comparable to a GoPro, which hardly narrows that down.

permalink | May 12, 2016 at 07:24 PM | Comments (0)
May 4, 2016
Rocket Video
UP Aerospace Inc.attached a lot of GoPros to a rocket they launched last November. One camera is on one of the stages jettisoned from the main rocket. This allowed them to catch clear images of the rest of the rocket just sitting there in space like a 1950s science fiction magazine. Here's the video.

permalink | May 4, 2016 at 11:47 AM | Comments (0)
March 14, 2016
Total Waste Of Perfectly Good Pepper Spray
We've seen several instances of police misdeeds documented on video because some cops are taking a long time to realize there are cameras EVERYwhere now. You would think, though, that a police officer would know that motorcyclists have more GoPros than any other travelers on the highway. Fort Worth PD Tracey Knight learned that the hard way.
permalink | March 14, 2016 at 09:11 PM | Comments (0)
March 4, 2016
New Camera in Death Valley
A short time ago I acquired a GitUp Git 2 camera, yet another inexpensive action camera ($160 at Amazon). It has a few features that GoPro still does not offer: image stabilization, user control of color saturation, white balance, and ISO.
So I headed up to the flower bloom that's going on in Death Valley, taking along a few of my collection of action cameras. I was really surprised at how very much better the video from the GitUp was than from other cameras. I did have the color saturation set to vivid, which I don't usually do. And it was shooting at 1080p 60fps, which I simply don't have available on another camera. Upon seeing the video I thought it was good enough to post it with no color editing at all. I just removed the wind noise and added music (you can listen to your own, if you don't like my choices) and I edited out the bits where I pulled to the side of the road a few times. The route is northbound on Badwater Road, then east on 190.
The flowers were mostly yellow, but there's a lot of purple too, and some white. Occasionally the roadside may appear to have a reddish-brown cast that could make you think the landscapers had put down some colored rock there, until you realized Death Valley is not landscaped — well, at least not by humans. The color comes from very tiny flowers on plants that are that color.
Here.

Set it to 1080p, please, and full screen.