November 14, 2018
Desert Sun on Steve Grasha
The Mission Springs Water District's newest board member, Steve Grasha, has tweeted at Sen. Lindsey Graham, R-South Carolina, that the senator should shoot himself in the head and that New York City Mayor Bill de Blasio should be beheaded.

These and other tweets are part of a long history of Twitter posts that include violent, sexist and racist language from a man elected to serve customers of the water district, which services most of Desert Hot Springs.

By Wednesday, after this article published online, it appeared Grasha had removed his Twitter account from public view. Iinks in this article to his tweets are no longer active.

Grasha was easily elected to the MSWD board last week with 33 percent of the vote. In an interview on Thursday, he acknowledged he uses extreme language in his posts but said he did not think it was inappropriate for a public official.

"I think people should be honest, we have a crisis of honesty in our country," he said. "What they should be concerned about is newspapers like yours, trying to tear down the only honest person."

Grasha has written many tweets saying politicians or journalists should be executed or urging them to kill themselves. He has used terms like "lying c---" and "stupid c---" to insult women.

Grasha also has repeatedly faced judges in Riverside County Superior Court. He was charged with two counts of felony stalking and one felony count of making death threats in 2013. All the charges were either dismissed or discharged.

He said the case was falsified by former District Attorney Paul Zellerbach. Grasha said he then worked with current District Attorney Mike Hestrin to unseat Zellerbach. A representative of the DA's office said Grasha did not "formally" work for Hestrin's campaign.

"I ended his career with one email, boom," Grasha said of Zellerbach's tenure in office.

He was also named, along with relatives, in two lawsuits brought by Rimcrest Community Association, a condo and apartment complex in Palm Springs. He was sued by the condo association for minor infractions; both cases were dismissed.

He has also been taken to small-claims court regarding debt collections at least twice; judges ruled against him and ordered him to pay both times.

Further, he was sued for libel in 1999 by Environmental Engineering Concepts after publishing a letter stating the company had its California State Contractors license revoked, which it had not. The company had been a competitor of Grasha's company, TrueFog. That suit was settled in 2000.

MSWD board member Nancy Wright, who was re-elected last week with 31 percent of the vote, said she recently became familiar with Grasha's social media history and said it wouldn't preclude her from being able to work with him on water district issues.

"I'm a professional and I can work with anyone," she said, adding she did have some concerns about a lack of transparency with his campaign finances. Grasha did not file any campaign finance forms with the county this year or in 2017.

California Fair Political Practices spokesman Jay Wierenga said the agency had received a complaint against Grasha and that its enforcement division has an open case involving Grasha relating to "potential violations of the campaign disclosure provisions of the Political Reform Act," according to documents provided by the FPPC.

In a phone interview, Grasha accused The Desert Sun of poisoning children by running print advertisements from the Mission Springs Water District. He also said his constituents had no reason to be concerned about his language.

"The only people that should be concerned should be people like John Brennan," he said of the former CIA director, whom Grasha accused of being a Muslim who wants to destroy the country.

In response to a tweet from journalist Anna Navarro in October 2017 in which she said 1,000 Puerto Ricans had died after Hurricane Maria and millions were without power, Grasha replied: "Listen you're [sic] lying c---. Not a single Puerto Rican has died because of that f------ Hurricane. Go f--- yourself b----."

In August of this year, officials in Puerto Rico acknowledged 3,000 people died as a result of the hurricane after the results of an independent study were released.

Grasha has tweeted at journalist and author Kurt Eichenwald to "take a bottle of pills and kill yourself," and that former President Barack Obama was a "criminal and should be hunted down and trapped like the lowlife scum that he is." He once responded to a tweet by conservative commentator Bill Kristol about meeting an American citizen who immigrated from Afghanistan and fought against the Soviets by saying if the man was a "hero" he would have killed Kristol.

In response to a tweet from former Arizona state Sen. Kelli Ward calling for the end of amnesty and the Deferred Action for Childhood Arrivals program, Grasha tweeted he felt threatened at a local convenience store.

"I walked into a 7-Eleven near my house the other day and it literally felt like I was in a foreign country and that I needed an armed security force to get me out of the store safely and alive," he tweeted Jan. 5.

Other tweets have praised President Donald Trump for his relationship with porn actress Stormy Daniels.

"President banged a porn star and walked away with a $211,000 profit! Greatest. President. Ever," Grasha tweeted on Oct. 30.

The majority of his tweets are about local or national news, retweets of the president's tweets or retweets of statements of support for the president from other individuals.

His Facebook profile also contains frequent posts about regional and national news and politics. During the campaign, he posted a picture of MSWD board member Jeff Bowman (who was not re-elected last week) naked, with two other individuals — a man who appeared naked, and a topless woman. Bowman, who owns and operates a clothing-optional resort in Desert Hot Springs, appeared to be officiating a wedding.

In the post, Grasha said Bowman was with "a seemingly underage girl" and accused him in an email, provided to The Desert Sun, of child pornography. In an interview with The Desert Sun, he accused Bowman of possibly molesting or trafficking a child, based on the image he shared, which he said originated from Bowman's website.

"The voters decided that wasn't cool," he said, adding that he didn't send out the email or Facebook post to be underhanded. "That was a chance I had to take because people have a right to know what might be going on."

Bowman vehemently denied all of Grasha's accusations. He said the wedding in the photo was from 2006 and the pair pictured were "a lovely couple" who were both of age and had a valid marriage license.

"There's no words to describe when your life is slandered in such a way that your integrity is called into question, your business," he said. "For something that was so sacred to be taken and spun 180 degrees and then the slander, defamation of character. I have never met a person that has done something so heinous."

Grasha said he believed the post may have led to action from the Riverside County District Attorney.

John Hall, the district attorney's office spokesperson, said the office was unaware of the photograph Grasha referenced and said the sexual assault task force, which is separate from the Gang Impact Team, conducts regular sweeps of registered sex offenders, and Bowman was neither a target of the task force nor a registered sex offender.

In an email to Bowman, Desert Hot Springs Police Chief Dale Monday said Bowman had never been implicated in any child pornography or child sexual exploitation.

Grasha dismissed that statement.

In addition to a prolific social media footprint, Grasha formerly published an online newsletter, the Palm Springs Village Voice, and is the owner of TrueFog USA, which sells the type of misting systems seen outside many Coachella Valley bars and restaurants.

Grasha made several unsuccessful bids for public office before his election to the MSWD board. In 2014, he ran for the District 1 seat on the Coachella Valley Water District board but was defeated by G. Patrick O'Dowd. He ran for a seat on the Palm Springs City Council multiple times, including a special election in 2002 and a regular election in 2013.

He said in 1999 that he had registered as a Democrat to run for the congressional seat encompassing the Coachella Valley (the 44th Congressional District, at that time). He announced in 2011 that he would run for Congress in 2012 as a Republican, challenging then-incumbent Mary Bono Mack for the 36th Congressional District seat, but did not win.

Grasha said winning an election was a "new experience" for him and said Thursday that MSWD voters had overwhelmingly voted to make a change.

He has flip-flopped between saying he was a Democrat or Republican in previous campaigns, though many local races are nominally nonpartisan, and in a 2003 interview with The Desert Sun he said he wasn't concerned about the way those inconsistencies would look. That year, he had touted himself as a Democrat to try to get the endorsement of the Desert Stonewall Democrats, a powerful local LGBTQ political group, during the Palm Springs City Council race.

"I understand the process. I understand politics. I understand I should be kissing up to these (special interest) groups," he said.

In interviews with The Desert Sun during his MSWD and CVWD campaigns, Grasha expressed serious concerns about the levels of chromium-6, a cancer-causing agent found at varying levels in drinking water across the county, and accused Wright and Bowman — and The Desert Sun — of poisoning children.

After his election to the MSWD board, Grasha released a statement on social media saying he was "honored" and thanking Bowman, whom he accused of poisoning children and being a child molester, "for his commitment to public service and our water district since 2009."

Grasha said in the statement that the water district was facing challenging circumstances.

"I will work together with anyone and everyone who wants to create a better path forward for families that rely on our sacred duty to protect our most precious resource, our water supply," he wrote. "And I will fight for all of you, each and every day to make your lives better and our entire community stronger."

Bowman was the third highest vote-getter on Election Day, netting 21 percent of the vote. Malcolm McLean finished last among the four candidates, with 15 percent of the vote.
permalink | November 14, 2018 at 11:32 AM | Comments (0)
July 27, 2018
DHS City Council - June 19, 2018
End Of RDA Oversight Board to the Successor Agency
The DHS "RDA Oversight Board to the Successor Agency" has reached the end of its duties. Its responsibilities are passing on to a county-level board. Mayor Matas presented certificates of recognition to the members of the Oversight Board.

Public Comments
Planning Commissioner Gary Gardner came to the podium to give the Planning Commission update.
Nina Duarte thanked all the volunteers for the Emergency Preparedness Seminar.
Linda Barrack, President and CEO of Martha's Kitchen in Indio, spoke about homelessness. During the first five months of this year, Martha's Kitchen housed 57 people from Desert Hot Springs.
Mike Picardi reported on the first "Jammin' In the Desert." He then spoke against the federal government's policy of separating children from refugee parents at the border. He asked the city council to approve a referendum condemning this practice.
Bruce Hutchison complimented Doria Wilms, Assistant to the City Manager. He said if it weren't for her, he would not have stayed in DHS.
James Velasquez said he has seen some DHS dispensaries are not in compliance with rules that will be enforced on July 1.
Mark [no last name given] talked about cannabis tourism in Colorado.

66071 and 66079 Pierson Boulevard
These two adjacent parcels have been property of the late RDA. They are being sold for $98,010 to Richard Feenstra. Both of these parcels are vacant. One extends from Pierson to Acoma.

The RDA originally paid $315,950 for these parcels.
Approved 5-0.

66146 Pierson Boulevard
This is another RDA parcel which is also being sold to Richard Feenstra. This one is going for $22,542.
Approved 5-0.

APNs 641-191-008 and 641-191-009
These are two adjacent vacant lots on the north side of Ironwood; one on West, the other on Santa Ysabel. They are being sold by the Housing Authority (not the RDA) to Richard Johnson for $12,500 each ($25,000 total). These were acquired with low or moderate income housing funds, which is how they ended up in the hands of the Housing Authority rather than the RDA. The proceeds of the sale return to our Housing Authority rather than being turned over to the county for redistribution, as in an RDA sale.

A realtor who did not state his name said that NAI (the real estate agency handling these sales for the city) had not returned calls his agency had made to them and he thought he "might" have people who would make an offer higher than $12,500.
The properties were listed on MLS. Any real estate agent could have found them easily. They were listed for 20 months. Several offers were received that were lower than $12,500. An offer was received on the day of this city council meeting for $10,000 per parcel.
Approved 4-1 with Mr. McKee voting against. Mr. McKee did not speak during these items and did not explain his vote.
Besides these two parcels, the Housing Authority is retaining 13 other parcels where affordable housing might actually be built someday.

Contract For City-wide Janitorial Services
There were bids from three firms: Santa Fe Building Maintenance ($105,367.24), Merchants Building Maintenance ($81,032.68) and R&R Janitorial Services ($284,520.00). Staff recommended Santa Fe, who had a contract with the city some years ago. Staff said references for Merchant Building Maintenance came back negative.
Mr. Betts moved to deny and to put this out for bid again for at least 30 days with bids solicited from every janitorial service the city has ever had any dealings with. This was seconded by Mr. McKee.
Danny Porras said staff had contacted every city in the valley to find out who they contract with. Bid requests were sent to every firm named.
The motion to deny was approved 3-2 with Mayor Matas and Mayor Pro Tem Zavala voting against.

Furbee Pool Maintenance Contract
The city got two bids for this: 1 Stop Pool Pros for $128,070 and Ocean Springs Tech for $139,104. 1 Stop Pool Pros has been the current contractor and city staff recommended awarding the contract to them again.
Mr. Betts moved to award to Ocean Springs Tech, a DHS firm, and to lower the contingency amount from $25,000 to $10,000. Mr. Porras explained the contingency fund is to pay for broken equipment, and some of the equipment at the Furbee Center is very expensive.
Approved 4-0 with Ms. Pye voting against.

General Municipal Election November 6, 2018
The deposit for candidate statements will be $400. The nominating period is July 16 through August 9. The filing fee is $25. The cost to the city for the election is estimated at $30,000 to $45,000. Approved 5-0. Mail-in ballots will be sent out about October 8.

Rotating Mayor Selection
A resolution to be submitted to the voters which would change the city's mayorship to a position that rotates among members of the council in order by longevity for a one-year term each. Not coincidentally, this measure was proposed by Russell Betts who has run for mayor and lost, but who has the greatest longevity on the council and would (if this were to be approved as proposed) be the first to serve as rotating mayor.
Mr. Betts cited Rancho Mirage as an example of a city with orderly leadership. This is not the first time Mr. Betts has held up Rancho Mirage (or Palm Desert) as an example of what we should be like, ignoring the fact that none of us here in DHS have chosen to live in RM or PD. IOW, why would we want to be like Rancho Mirage, which recently has taken on our former role as disruptive asshole city of the valley?
The proposed resolution would not take effect until November 2020 to determine who becomes the new mayor in December.
Mr. McKee, who co-sponsored this proposal, cited the current matter that a sitting council member can run for mayor from a "safe seat," so that if they lose they will still remain on the council. Rather than filling the position in order by longevity, Mr. McKee proposed that the order of rotation be determined by ordinance because "it will give us the ability to look at something and make sure that if it's not working well, we can change it without going to another election."
Now there's a variation on this proposal that am sure will never fly. In effect, the mayor will not be selected by an objective, pre-determined method (rotation by longevity, for example) but by whatever method three members of the city council prefer. And they could change that preference with every election, if the voters let them.
He went on to say that the council is getting along well with Mayor Matas in his seat, but he called this situation "an outlier," a polite way of saying "unheard of in DHS history." He's certainly right about that. He described the current role of mayor to have a lot of responsibility and very little power, which Mayor Matas immediately agreed with.
Donna Poyuzina expressed her opposition to the proposal, saying "We are not Rancho Mirage." She wants to vote directly for mayor...and it sounds like she'd be happy to re-elect Mr. Matas several times.
Gary Gardner opposes this because the Mayor's position should be filled only by someone who wants to be Mayor. (Mr. McKee had pointed out that taking the job is voluntary, any member of the council can excuse himself or herself from being Mayor).
Michael Picardi said that, in effect, our city council members represent different parts of the city. If that's true, I want him to tell me which one represents me. Mr. Picardi favors a 4-year term for mayor.
In response to a question from Mayor Matas, City Clerk Soriano said that each item added to the ballot costs the city $10,000 to $15,000.
Mayor Pro Tem Zavala said she is still undecided on this proposal for a 4-year mayoral term, but she will vote for this so the voters can decide.
Ms. Pye pointed out that the council has not budgeted for these items. She said this is a decision for the voters, not the council. She said there has not been enough time for people to even discuss it with the council.
Mr. McKee disagreed with Ms. Pye, but he said that if the voters don't approve this, he'll be back to say "I told you so."
Mr. Betts said that if Mr. McKee wanted to suggest a basis other than longevity on which to selecting the rotating mayor, he would be open to that.
Mayor Matas said that if this rotating mayor proposal is put on the ballot, then the voters should also be given the choice of a directly elected 4-year term mayor.
Ms. Zavala said she didn't know which proposal she would prefer personally, and as far as a rotating mayor goes she didn't know what method she preferred for choosing the mayor, but she is okay with submitting it to the voters.
Ms. Pye said the public has not had enough time to figure this out.
Mr. McKee made a motion. "The first part of the motion is that the mayor's term...the mayor's or fifth person that's left on the council will be four years; and that the people, as a second item, will vote on having a rotating mayor with a methodology being formatted by ordinance at a later date...beginning in 2020." Upon questioning by Mayor Matas Mr. McKee clarified that he meant there would be no 2-year term for mayor. He also clarified that "no matter what" the term of mayor will be four years.
Ms. Zavala asked "That first component, is it basically putting in another measure saying 'Would you like a 4-year mayor.'" Mr. McKee clarified that yes, that is what he meant.
Mr. Betts pointed out that the motion would have to come back to the council in written form in time for them to vote on it before the deadline to add items to the ballot.
Attorney Mizrahi clarified that Mr. McKee meant for the 4-year term mayor to be directly elected and that he meant a rotating mayor would serve for only one year at a time.
Mr. McKee now rephrased his proposal, first, whether we should have a rotating mayor and all council seats be for four years, and, second, if not, should the mayor's term be four years. Ms. Zavala and Mr. Betts both said this would require two separate ballot measures, with one able to supercede another. Attorney Mizrahi said she would have to research that.
[There have been several times we've had conflicting statewide items on the ballot that included language saying that if the other measure got more votes, then it would win, and vice versa.]
There was a discussion among council members (Mr. McKee's motion still had not received a second) about how many people would need to vote for a provision for it to be approved. Mr. McKee said that "if you vote to get rid of the mayor, then the other thing becomes void."
Since no one had made any proposal to "get rid of the mayor," it's hard to know what "the other thing" would be. Mr. McKee rephrased it a litte for clarity. "If you voted to get rid of the mayor there's no requirement then to have the mayor with four years."
At this point, let me interrupt to say that I'm disgusted both with how incredibly clumsy Mr. McKee has become with words and that five politicians and a lawyer can't figure out how the vote would work. Let me tell you how it would work. The ballot will have two questions, one for a directly elected 4-year term mayor; the other would rotate the mayorship on an annual basis among the council members. Call them questions 1 and 2.

| | | | |
| --- | --- | --- | --- |
| | Question 1 | Question 2 | Outcome |
| Scenario 1 | >50% | <50% | Question 1 wins |
| Scenario 2 | <50% | >50% | Question 2 wins |
| Scenario 3 | >50% | >50% | Higher votes for 1 or 2 wins |
| Scenario 4 | <50% | <50% | No change, we stay with a 2-year directly elected mayor |
An individual who votes NO on both questions is voting to retain the 2-year term for a directly elected mayor. A person who votes YES on BOTH questions or who does NOT vote on both questions is leaving the decision to the other voters. A YES vote on one question while leaving the other question UNVOTED is a vote in favor of that one question, but it's not as strong as if the voter had also voted NO on the other question.
Mr. Betts proposed approving the rotating mayor proposal now and then considering a separate 4-year term mayor proposal at the next council meeting. Ms. Zavala said she would not be at the next council meeting.
Mr. Betts seconded Mr. McKee's motion. Mr. Betts clarified that the directly elected 4-year mayoral term question would come back at a future meeting.
Ms. Zavala, who clearly needs to study a bit more on California politics, wanted to specify that neither measure would pass if it didn't get more than 50% of the vote. Mr. McKee explained to her that a No vote would be a vote to retain the current system. Ms. Zavala was having none of that. She didn't explicitly say so, but I think she wanted that written into the proposal. [This may go down in future joke books as the first voter referendum in California that included a provision saying that if enough voters didn't approve it, it did not pass.] This was accepted by both Mr. Betts and Mr. McKee, without laughing.
Ms. Pye pointed out how confusing this is for the five council members, saying that if it was delayed a year, people would have more time to discuss it.
City Manager Maynard explained the basic concept of democracy, that if either question got less than 50% it would fail. He said that does not need to be specified in the provision [there goes the joke book opportunity]. Mr. Betts did not understand this. Ms. Zavala was still confused and needed to rehash this.
Mr. McKee understood the matter, but apparently hadn't understood it before. Now he said he was sure the proposal for a directly elected 4-year mayor would get many more votes than the proposal for a rotating mayor, so there's no point in putting the rotating mayor proposal on the ballot.
Why, one must ask, did he cosponsor a measure for a rotating mayor, if he is completely sure that the majority of voters prefer a directly elected mayor?
Mayor Matas thought the voters should still be provided the choice.
Gary Gardner came to the podium to say that the attorney needs to write a new proposal to be brought back to the city council to allow the public to discuss it more fully. [He did not seem to account for the looming deadlines to get items on the ballot.] But then he began a more philosophical point of what should and should not be on the ballot. He cited marriage equality as something that should not be on the ballot. [Quite true, but this is California and putting marriage equality on the ballot was totally legal and I've heard of no viable proposals to limit the power of voter referenda in this state.] He said this change should be initiated by the voters through the initiative process.
I think that may have been a point Ms. Pye was trying to make earlier, although I'm not clear about that. Why this should originate in a petition initiative, neither explained.
Mike Picardi spoke next saying that if the 4-year mayor proposal got a majority then it automatically would override any rotating mayor proposal. He didn't explain why. He did not see these as two competing measures. "One is the extension of the other." [Clearly, he understood these two provisions even less than the four non-Pye members of the council.]
Ted Mayrhofen said he never heard any complaints about the mayor's 2-year term, except from Mayor Weyuker. He said the council was reinventing the wheel and wasting resources on something that is not necessary.
Mr. Betts said that if someone wanted to add a ballot measure through the initiative process they still had time to do so. [Unrealistic nonsense.]
Attorney Mizrahi asked to be allowed to summarize the changes she had heard about this motion to make sure everyone was on the same page.
Rotating mayor proposal only this night.
Directly electing a 4-year term mayor will come back on July 3, to include language explaining that if both measures get more than 50%, the higher vote total wins.
The order of rotation to be adopted by ordinance.
Beginning 2020.
Ordinance controlling the order of rotation to be adopted 6 months prior to November 20 [of each election year].
All seats on the council would be for four years.
Again, Ms. Zavala asked for language to be included stating that if both proposals fail, then the status quo continues.
Approved 4-1, with Ms. Pye voting against.

Palm Springs Airport Commission Nomination
Ms. Parks had been our representative on the airport commission. Ms. Pye had already volunteered, so Mr. Betts nominated her. Approved 5-0.

Second Reading and Adoption of an Ordinance Amending Chapter 17.180 (Medical Marijuana Facilities Operation and Location) of the Zoning Code
This was on the Consent Calendar, but Mr. McKee had pulled it for discussion. The ordinance presented in the agenda included this:
B. There are no changes to the following:
i. Size of structure(s)
ii. Existing or approved grade elevations.
Mr. McKee said the council did not add that. Just before that in the ordinance is this text:
There is a ten (10) percent or less than deviation to each of the following:
i. On-site circulation and parking, loading and landscaping;
ii. Placement and/or height of walls and fences., and structures;
iii. Exterior architectural features, including colors, and/or modification of finished materials that do not alter or compromise the previously approved theme;
iv. The density or intensity of a development project;
Mr. McKee pointed out the difference between 10% of a 50,000 s.f. building and 10% of a 3,000,000 s.f. building. He suggested this be brought back with some provision other than the simple 10%. He suggested 10% up to some limit, 5% up to some higher limit, 2.5% up to yet a higher limit, etc.
Attorney Mizrahi explained that she had merely moved these items in the ordinance. The two items under B had been under A originally, while A originally had said "no changes." Item A was changed to the 10% rule, but the 10% rule wasn't to apply to structure size or grade elevations.
Mr. McKee moved to remove those items under B.
Approved 5-0.
permalink | July 27, 2018 at 11:06 AM | Comments (0)
July 14, 2018
DHS Planning Commission, June 12, 2018
Chair and Vice Chair
Jan Pye having moved on to the city council, Commissioner Gary Gardner nominated Larry Buchanan for Chair. Commissioner Scott De La Torre nominated himself for Vice Chair. They were both elected unanimously, 4-0.

CUP Time Extension International Cannabis Group (formerly GFarma Labs)
This is on the east side of currently unpaved Little Morongo, south of Dillon. This development will have five buildings. Approved 4-0.

Amendment To CUP To Permit Distribution At We Care DHS
This cultivation facility is on the south side Two Bunch Palms Trail between Cabot and Little Morongo. Approved 4-0.

Liquor License For Carniceria Rancho Grande
The store already has a license for beer and wine. As ususal, there are too many liquor licenses out there, so the city must make a finding of "public convenience or necessity." The only time I've seen one of these requests voted down was the one that came from the Shell station at I-10 and Indian. I believe the city was worried that people would buy liquor and then immediately drink it on on the freeway.
A representative of Rancho Grande came to the podium. Commissioner De La Torre asked what sort of liquor they would be selling, and would the liquor be in a locked cabinet or not. The answer is it will be a locking cabinet near the cash register.
Mr. De La Torre moved to approve on the condition that they extend the hours of their security guard to cover all hours that the store is open. Commissioner Gardner suggested that in one year the police prepare a status report on crime in the area around the carniceria that may have resulted from the change in license. Approved 4-0.
permalink | July 14, 2018 at 05:44 PM | Comments (0)
July 13, 2018
Desert Hot Springs City Council, June 5, 2018
STUDY SESSION
Cannabis
Ted Mayrhofen commented that the odor of cannabis in the industrial zone was noticeable.
James Velasquez of VetsLeaf said his business uses an enzyme system to prevent cannabis odors from entering the environment. He encouraged the city to focus on "infrastructure."
Greta Carter spoke next. She said that for a long time she recommended DHS as the place for cannabis developers to invest, but now there are other cities that are preferable. Some cities have committees to help cannabis businesses with their advertising, and to help them organize as trade organizations.
Ryan Fingerhut said that the hotel industry in the Coachella Valley did $5.5 billion in business in 2017. In 2016, the Coachella Valley hotel industry paid $24 million in TOT. He went on to say that DHS saw 2.6% of that TOT. Some of his numbers have got to be wrong. 2.6% of $24 million is $624,000. But we know from the previous City Council meeting that TOT revenue in DHS was more than $1.9 million this fiscal year. I suspect his total figure for the valley ($24 million) is too low. I learned from the recent Question C campaign in Palm Springs that single-family rentals alone bring in more than $6 million TOT to that city. Take that $6 million plus our own almost $2 million in TOT away from $24 million, and you're left with only $16 million TOT for all the hotels in Palm Springs plus all the hotels and single-family rentals for the rest of the valley (outside of DHS). The number is just too low. But, if we assume that the figure of 2.6% is correct, then the total TOT in the valley would be more than $73 million, which is a reasonable figure in my seat of the pants opinion.
Mr. Fingerhut's point was that DHS needs to develop something to attract more visitors here.
John Sclafani from Desert Land Ventures and chair of the Cannabis Advisory Board for DHS, said he had heard that DHS has authorized 11 million square feet of cultivation. He thinks demand needs to be created for this cannabis. He said we need a tax advantage here in order to make exporting cannabis to other parts of California profitable. Also, we must create reasons for people to visit DHS. He said the "advisory board" is open to everyone in the city, not just industry people. He wants to have a wellness R&D center, for example, that will be open to tourists.
Karl Baker spoke next. He said he has seen many plans in DHS fail due to poor planning. Representatives from the city's spas, the water district, the electric company, and long-time DHS residents need to help plan. We can be the Napa Valley of boutique cannabis, he said. DHS needs to create a brand with a well-coordinated plan.
Simone Sandoval from High Road Consulting group spoke in favor of tasting rooms at cultivation sites. She also spoke of Napa Valley and compared the development of micro brew brands with how cannabis could be developed.
Jocelyn Cane representing CV-Cann said the advisory council is in favor of expanding cannabis business in DHS.
Richard Cromwell (the younger) spoke about cannabis testing. He wants testing labs to be able to operate in commercial zones.
Mayor Matas said he would like to fund a strategic planner who understands the cannabis industry.
Councilmember Betts said DHS has had a plan since day one, despite the comments of some members of the public. He said he would be willing to reduce the current cultivation tax ($25 per square foot for the first 3,000 square feet and then $10 per square foot for the remaining space) to a simple $10/s.f. but he would want that to be a trade for jobs. IOW, local hires.
Councilmember McKee said the state is more screwed up on this subject than DHS is. He thinks testing should be okay in either commercial or industrial zones. He supports legalization of cannabis lounges. The city may need to create a special license for that, something similar to a brewpub. He supports sales in hotels & spas.
Mayor Pro Tem Zavala said the city council has been in a reactive position in relation to the cannabis industry. But she feels a strategic plan needs to be devised. She also does not oppose testing labs locating in the commercial zones. She believes, however, that cannabis lounges would be contrary to our push for pedestrian safety. But she's okay with tasting rooms in the cultivation facilities.
Mr. McKee moved to put together a study group of staff, industry and two council members. City Manager Maynard suggested that he put together a study group of staff and industry and present their findings to the city council. He revised that to call it a "task force" with "experts from the marijuana industry" who would sit down with staff to provide suggestions. Ms. Zavala wanted a moderated study session to make a strategic long-term plan for cannabis in DHS. Mr. McKee said the proposal needed an outside consultant. The final motion was for staff to work with the cannabis industry for input while also getting an expert outside consultant for strategic planning. Approved 5-0.

REGULAR SESSION
Farewell to Yvonne Parks
Scott Matas and the rest of the council honored Ms. Parks with a plaque. She moved here in 1994, became active in the Chamber of Commerce and Rotary, and was appointed to the Planning Commission in 1997 where she served for two years. She was reappointed as a Planning Commissioner in 2004 and '05, where she served as Vice Chair. She ran for City Council and won in 2005 — she had run before, but lost. In 2007, she ran for Mayor, won and held that seat until 2013, being re-elected twice. In 2015 she ran for city council again and was elected again as Scott Matas became Mayor, vacating a council seat.

Public Comments
Mike Picardi said the city should look at funding the library. Other cities in the valley fund their county libraries. He also said he agreed with revisions made in the Art in Public Places proposal that would be coming up later on the agenda...but he had to leave the meeting early.
Ted Mayrhofen said the previous mayor Sanchez and current mayor Matas both ignored the Public Safety Commission and started up a Human Rights Committee. He complained that the difference between the two has not been made clear. He claims his own human rights had been violated. He said the Public Safety Commission fell apart years ago and has done nothing. He is a Public Safety Commissioner.
Greta Carter thanks Mayor Matas and Richard Cromwell (the elder) for their support in setting up a cannabis certification program with College Of The Desert. One course will be "compliance," another will be HR, the third will be professional development. They will be offered in DHS. Also, High Road Consulting will be working to get out the vote in the November election. They will be hiring people qualified to take voter registrations.
Judy Shea suggested that COD use $3 million of its bond money to build a computer lab for the new DHS county library.

Replacement for Yvonne Parks
The city council had agreed to consider only candidates who had prior experience as a city council member. Jan Pye was the only person to submit an application. Mr. Betts suggested that city staff should have contacted other potential candidates to let them know of this opportunity. IMO, if a retired city council member didn't know that Ms. Parks was resigning and didn't know that the city council was looking for a replacement, then they would not be somebody I would want on the council. Ms. Zavala moved to approve Jan Pye for the position. Mr. Betts repeated his earlier opinion that someone who would be running for election in November should not be appointed by the city council, and said he would abstain from this vote for that reason. Ms. Zavala's motion was approved 3-0-2 with Mr. Betts and Ms. Parks abstaining. Ms. Pye was immediately sworn in. This is the third time she has been appointed to the city council.

Budget 2018-19 and 2019-20
The primary sources of income for the General Fund are...
Property Tax $3.2 million
Cannabis taxes $2.9 million (25% of which is sequestered into an emergency rainy day fund)
Development fees $2.3 million
Transient occupancy tax $1.9 million
Sales tax $1.6 million
Major sources of income to the Public Safety Fund are...
Public Safety Parcel tax $2.4 million
Utility Users tax $1.9 million
Prop 172 Sales tax $132,600
School Resource Officer reimbursement $121,000
Supplemental Law Enforcement Grant $100,000
The annual costs paid from the Public Safety Fund are...
Police $8.1 million
Animal Control $360,862
Fire $2 million
Danny Porras, Director of Community Development, described some upcoming city projects.
A bridge on Dillon Road to cross the Little Morongo wash. $431,000 in FY '19-'20.
Relocation of bus shelters. $86,400 each in both FY '18-'19 and '19-'20.
Pothole, street striping, sidewalk repairs. $69,120 in FY '18-'19 and $151,200 in '19-'20.
Palm Drive bicycle & pedestrian improvement project; new sidewalks, ADA ramps, new street lights, a median, bike lanes, all between Camino Aventura and Two Bunch Palms Trail. $700,000 in '18-'19 and $326,499 in '19-'20.
Palm Drive from Two Bunch Palms Trail to Pierson Boulevard. New street lights, new traffic lights, signal synchronization. $2.3 million in '18-'19; $1 million in '19-'20.
Desert View sidewalk project from Verbena to Palm Drive. $509,000 in FY '18-'19.
Indian Avenue widening project between I-10 and Dillon Road. Palm Springs, Riverside County and CVAG are involved with this one too. Our share, $291,6000 in '19-'20. Mr. McKee asked Mr. Porras to find out about the widening of the Indian Avenue bridge over the railroad, south of I-10.
Sidewalks on Palm Drive between 8th and 12th Streets. $108,000 in '19-'20.
Upgrade to Palm Drive at I-10 to include palm trees on both sides of Palm Drive (meaning some will be in Cathedral City), sidewalk on the west side and an improved median. $108,000 in '18-'19.
Restriping and slurry seal Mission Lakes Boulevard and Two Bunch Palms Trail. $30,000 in '18-'19.
Replacing overhead street name signs and traffic signal head casings at all 14 intersections with traffic lights. $81,000 in '18-'19.
New city directional signs. $30,000 in '18-'19.
Installation of median curbs on Palm Drive. $81,000 in '18-'19. Mr. McKee said that Mr. Betts told him that in China they sometimes put fences in the median to prevent jaywalking. He wondered if it were possible for us to do. Newsflash for Mr. McKee: cities in the U.S. also put fences in the medians to prevent jaywalking. I've seen it often and am of the opinion that it is the only thing that will put a stop to the slaughter of jaywalkers on Palm Drive.
Citywide asphalt overlay, paving and road reconstruction. $480,000 in '19-'20.
Upgrading sidewalk lights to LED on Palm Drive and Pierson Boulevard. $25,000 in '18-'19.
8th Street storm drain. I'm amazed that this has been delayed this long. I thought everything had been cleared and financing arranged while Rick Daniels was City Manager, but here we are. $1,587,000 in '18-'19 and $1,575,000 in '19-'20. This will run from Mesquite to West. Mr. Porras said it is "in design."
Design (design mind you, not construction) of open channel for Big and Little Morongo Creeks between Pierson and Dillon. $45,000 in '19-'20 and again in '20-'21. The open channel will be designed to hold water. It can be used for recreation. Actually, I'm not really clear what this is.
New playground equipment and park improvements in Tedesco and Mission Springs Parks. $43,200 each in the three fiscal years '18-'19, '19-'20 and '20-'21.
Walking path on Mission Lakes Boulevard at Palm Drive. $212,867 in '18-'19.
Cabot's Museum administrative offices. $43,299 in '18-'19.
Design of a new park south of the city corporation yard. $209,110 in '19-'20.
Completion of the city solar system. Ultimately, these are funds from AQMD, meaning funds from the Sentinel power plant. The solar array is 90% complete now. $496,050 in '18-'19.
IT infrastructure upgrades. $324,000 in '19-'20. Mostly A/V in the new city hall.
City Hall construction. $4,745,000. '18-'19, '19-'20.
The will-it-ever-happen General Plan update. $200,000 in '18-'19 and $150,000 in '19-'20.
Mr. McKee said the marijuana tax set-aside was intended to create a cushion in the event that the city's cannabis revenue suddenly dropped or ended.
Mr. Betts moved to approve the budget as presented with the addition of a $100,000 "place holder" for repairs and upgrades at Wardman Park. The budget surplus, however, is only about $40,0000. Adding a $100,000 item to the budget puts the city in deficit. Mr. Betts argued that all the city needs to do is to reduce the amount of money spent on something else, but he had no suggestion for what should be cut. His motion died for lack of a second. Then Mr. McKee moved to approve the budget as presented. Approved 5-0.

Safety Enhancement Zone
This was proposed to be on Palm Drive between Two Bunch Palms Trail and Camino Aventura. Fines can be doubled for traffic violations in the safety enhancement zone. This item includes two parts: first an ordinance authorizing the city council to establish safety enhancement zones by resolution and, second, the resolution establishing this zone south of Two Bunch Palms Trail.
Mr. McKee noticed that in the paperwork the zone was sometimes described as between Two Bunch and Aventura and sometimes between Pierson and Aventura. Chief Mondary admitted it was his error, that his intention had been to cover the area from Pierson Boulevard to Camino Aventura. Mayor Matas asked if there was a reason not to extend it as far south as Dillon. Mr. Porras responded that it could be extended to Dillon, but they had only studied as far south as Camino Aventura. Mayor Pro Tem Zavala pointed out that the ordinance included more than traffic and pedestrian violations. It includes fireworks, noise, vandalism, littering, public consumption of alcohol, etc.
Ms. Zavala moved for approval with removal of those provisions that are not traffic safety related, and covering the distance from Camino Aventura to Pierson. Mayor Matas wanted the zone extended to Dillon, in order to more fully protect the intersection at Camino Aventura. Ms. Zavala suggested the city should study the stretch from Aventura to Dillon first.
Approved 5-0.
Mayor Matas allowed one public comment after the item closed. A bus driver said she thought the safety zone should start at Dillon Road.

Desert Valley Disposal Assessments
A public hearing to place the annual residential trash bills on the tax rolls. Approved 5-0.

Desert Valley Disposal Delinquent Accounts
This is to place delinquent accounts (not residential) on the tax roll. Approved 5-0.

Streamlining Additional Entitlement Process
This would allow already approved cultivation facilities that are in good standing with the city to add marijuana testing and/or distribution facility to their list of approved activities through administrative action, not city council action.
Mr. McKee expressed his opinion that the standards in the ordinance were not objective, so that any time a developer is excluded from the expedited process, he'll come complaining to the city council.
Mr. Betts moved that the standards in the ordinance be defined as no more than a 10% change, and that a report be made to the city council in 6 months on the results of this ordinance. Approved 5-0.

Amendments to Art In Public Places
The existing ordinance places a cap of $20,000 on the "in-lieu fee." The amendment would remove the cap. Secondly, the amendment would require developers in the industrial zones to ONLY pay in-lieu fees. No longer could they fulfill their AIPP requirement by building art on their property. Thirdly, lighting and landscaping costs would no longer count toward fulfilling the AIPP requirement. Fourthly, it clarified some of the procedures relating to the Cultural and Community Affairs Commission and AIPP.
Daniel Porras summarized the sources of fund in the AIPP to date: $109,662 from commercial development, $80,436 from industrial development, and $90,241 from residential development. Total AIPP revenue from 1/1/2014 to 4/23/2018 has been $280,338.22. He also provided a bit of a pie-in-the-sky estimate for future AIPP revenue IF all 62 cultivator CUPs are fully developed as planned. That would generate $5.2 million in AIPP fees at a rate of 0.75%, the current AIPP rate for industrial development.
No one from the public rose to comment in favor of these amendments. Ryan Fingerhut came to the podium to speak in opposition. He said that these amendments would single out developers in the industrial zone and not let them have a say in the art that is developed at their expense, while commercial and residential developers still get that choice. He pointed out that there are people in the industrial zone all day long, coming and going, eating lunch, entertaining investors, and those people will want to enjoy art as much as anyone else.
A gentleman who didn't identify himself commented that back in January the city council approved a first reading of an ordinance that set the AIPP rate at 0.25%, but there was never a second reading. Now we have this new ordinance. What gives?
Greta Carter cited the tale of the goose that laid the golden eggs.
Mr. Betts asked the city attorney to explain what happened to the earlier ordinance that set the rate at 0.25% and for an explanation of why now other, higher rates are being considered. Ms. Mizrahi explained there was no second reading and no requirement for a second reading...but the ordinance would not become law without approval at a second reading.
Mr. McKee said he supported the 0.25% rate, but only if industrial developers were required to pay the in-lieu fee. He revealed that an item for future city council consideration would be a policy that would allow the tax rate on cultivation to be cut in half in order to help with infrastructure development. City Manager Maynard said not all members of the city council had seen this proposal. Mr. McKee then criticized the art project at VetsLeaf, saying it would be hidden back in a corner away from anyone else. He said that if industrial developers wanted to be able to fulfill their AIPP obligation by building on their own site, then the rate should be more like 0.5%, not 0.25%.
Mayor Pro Tem Zavala said that see, too, thought some of the art was borderline. She said that art installed at industrial sites would not be seen by as many people as art in a median in the city. I don't believe one of the standards of the AIPP ordinance was that the art had to be seen by the maximum number of people. Her arguments could apply just as easily to commercial and residential developers paying an AIPP fee. More people would see their art if it were in the median of, say, Palm or Pierson. Ms. Zamora emphasized the "public" aspect of the art, saying it needed to be where it was easily accessible.
What I see here is a city council, every member of which has some property interest in a residential and/or commercial zone, and who are treating industrial developers as a "them." None of the city council have any financial interest in the industrial zone that I'm aware of. Mr. McKee and Ms. Zamora talk like the industrial zone is way out on the Aleutian Islands. I find myself passing through the industrial zone maybe half a dozen times a week. How do the city council members avoid going there?
Ms. Zamora continued her explanations, never explaining why her opinion would apply only to the industrial zone.
Both Mayor Matas and Mr. Betts cited the rocks that appear to have been just dumped in front of the new county building on Pierson Boulevard as an example of failed AIPP. There is supposed to be landscaping for those rocks.
Ms. Pye moved to approve the amendments as written with the tax at 0.75%. Mr. Betts tried to amend the motion to a tax rate of 0.5%. The motion failed with Ms. Zavala and Ms. Pye voting in favor. Mr. McKee moved to approve the amendments as written with a tax rate of 0.25%. Approved 3-2 with Ms. Zavala and Mayor Matas voting against.

Community Development On-Call Services
Business is picking up at City Hall and, despite new hires, the city is still understaffed and sometimes needs to call in outside help to deal with the volume. The city received statements of qualifications from three firms: PPM Group, Dudek and HCG. Staff recommended going with PPM Group up to $200,000 per year.
Mr. McKee clarified that any money spent on this will come solely from fees, not from tax revenue.
Approved 5-0.

City Council Meeting Schedule
There will be NO city council meetings on the following dates: July 17, August 7, December 18 and election day, November 6. Approved 5-0.
permalink | July 13, 2018 at 08:06 PM | Comments (0)
May 16, 2018
DHS Planning Commission, May 8, 2018
New Commish
The meeting began with the swearing in of new Commissioner James Nindel. This is Mayor Matas' appointment to replace Dirk Voss. Mr. Nindel's application for the position tells us he has lived in DHS for only 9 months. He retired from USAID's Office of Procurement. He has not been on a city board in any city before now. He moved here from St. Augustine, Florida. He said in his cover letter "I believe that DHS should demand (through code enforcement) that boarded-up windows be immediately repaired and bars taken down and replaced with electronic security systems. The trash on vacant lots between buildings on Palm Drive should be picked-up by the land owners and businesses."
The four other Planning Commissioners are Jan Pye (Chair), Peter De la Torre (Vice Chair), Larry Buchanan, and Gary Gardner.

Amendment to the CUP for Snider Cannabis Cultivation Facility
The CUP was originally approved in November 2015. They want to convert 854 s.f. of their operations that were previously a secure storage room and a packaging room to a distribution area. This should not make any difference in their tax payments to the city. The address of the property is 13310 Little Morongo Road, the place with a lot of greenhouses.

After no testimony and no discussion at all, the amendment was approved unanimously.
If I understand correctly, the Planning Commission has final say on CUPs for marijuana businesses, so this decision does not have to be approved by the city council.

Amendment to the CUP for Maraparm DHS California
Maraparm DHS California wants to increase the size of their proposed facility from from 20,664 s.f. to 21,697 s.f. and to rotate the building to take better advantage of the sunlight. Their facility will be located on 15th Street (currently dirt) between Little Morongo and Cabot Road (also dirt there). Their CUP was originally approved in September 2017.
This facility will also have greenhouses. In the original plan the greenhouses were north of the building that will hold all functions other than growing. This very sensible proposal is to rotate the plan 180°, so the building will not cast a shadow on the greenhouses. (Kinda makes you wonder how it ended up the other way to start with.)
The cultivation area of the building will be 17,360 s.f. and will generate $218,600 in cultivation tax revenue annually for the city.
The facility will be on septic until sewers are put in there, but the septic itself is only for ordinary waste. Wastewater from cultivation itself has to be contained separately and not put into the ground.
After no testimony and extremely little discussion by the commissioners, approved unanimously.

Sign Variance for the Harborside Facility
Here is an interesting item, finally. Harborside, the very well known cannabis business in Oakland, will be running the dispensary to be built behind the Arco station at Palm Drive and Paul Road, next to the I-10 interchange. Their CUP was among the very first approved in the city, and it's taken quite a while to get to this stage.
Harborside has very high name recognition among cannabis aficionados.
Founded in 2006 by Steve DeAngelo, Harborside is the most respected and largest cannabis dispensary in the United States. Harborside has over 200,000 registered consumers and was first in the nation to support education for seniors, veterans and families with severely ill children; first in the country to offer CBD-rich cannabis; and the first to treat children with Dravet syndrome. Harborside continues to set an example of diversity and compliance, and is one of the prime advocates of diversity, sustainability and economic justice in the industry.
The sign will display Harborside's logo only, shown below. No green cross; no marijuana leaf.
The overall proposed height is 70 feet. Harborside proposed a 200 s.f. sign rated to withstand 160 MPH winds. City code would require only that the sign withstand 130 MPH winds. The usual height limit for a sign of this type in DHS is 25 feet and the maximum sign area limit is usually 125 s.f. So, Harborside is asking for a variance to allow this sign. A monument sign and the sign mounted on the building were also included in this package. The neighboring Arco sign is 49 feet high and 156 s.f. The Arco sign is further from the highway than the proposed Harborside sign, so the bridge there does not block the view of it. The Harborside sign needs to be higher to avoid being blocked by the bridge.
In the site plan shown below I've highlighted I-10 at the lower left as well as the two possible sites for the sign ("Second Choice" won out). Paul Road runs left to right across the top of this image.

(click for a higher res image)
City staff had proposed reducing the sign size to 160 s.f., but the developer said that it takes so long for a sign like this to be made, they have already ordered it at 200 s.f. The difference in size is not great and if the city insists on the 160 s.f. sign, there will be a delay for some months and extra expense for the developer. It takes 14 weeks from the time it is ordered for the final sign to be delivered. The dispensary's owner said they had done a survey of signs along interstates and 200 s.f. was the biggest they saw, and they saw a lot of them. The sign costs nearly $100,000. He expects 80% of their business to come from those who do not reside in DHS.
They hope to open in July 2018, but it may be early August.
A motion was made to approve subject to moving the sign back away from the highway to the "Second Choice" location as shown on the site map above, and keeping the 200 s.f. sign. Approved unanimously.

Streamlined Process For Amending Entitlements For Cannabis Cultivators
Cultivators, if they want to include manufacturing or distributing or testing facilities, have to come back to the city to get their CUP revised. Normally, this would mean a return to the Planning Commission which is expensive and takes time. Last year an ordinance changed this process so that if they wanted to convert some of their area to manufacturing (and they are in good standing in relation to the city), then city staff could make the revision without a trip to the Planning Commission. The proposed ordinance before the Planning Commission this night was to do the same for distribution and testing.
Ryan Fingerhut from High Road Consulting Group rose to comment in favor of this ordinance. He added, however, that the city also needs to revise their ordinances to permit testing facilities in the commercial zones.
Moved, seconded and approved unanimously with no changes.
permalink | May 16, 2018 at 06:24 PM | Comments (0)
May 13, 2018
Desert Hot Springs City Council, May 1, 2018
Approval of the Agenda
Item 12 on the agenda (in the consent calendar) was to approve the second reading of the development agreement with Desert Land Ventures, who intend to build a large development along I-10 that would include cannabis facilities along with other uses. Mayor Scott Matas said that Desert Land Ventures had asked to have the item pulled and continued until the next council meeting on May 15. Councilmember Russell Betts made a motion to approve the agenda without pulling that item. His motion failed for lack of a second. Councilmember Yvonne Parks moved to approve the agenda, pulling the item and continuing it until May 15. Mayor Pro Tem Anayeli Zavala seconded. Approved 4-1 with Mr. Betts voting against.

Public Comments
Rene Hickey, who has been involved in the operation of the Wardman Park pool for the last several years, disagreed with the negative assessment of the condition of the pool reported by staff at the previous council meeting.
Mike Picardi said the Angel View outlet store on Dillon has installed their public art. The artwork was created by students at Painted Hills Middle School. The Community and Cultural Affairs Commission will present a battle of the bands concert Friday, June 15, 5-9 PM, in Tedesco Park. Additional concerts will take place on the third Friday of July, August and September.
Greta Carter commented on item 17 on the previous city council agenda for April 17. Item 17 was the second reading of an ordinance that clarified that marijuana dispensaries could engage in "light" manufacturing. She asked that the item be returned to a future agenda so that she could explain the details of financial operations caused by that item. She said it created an inequity between dispensaries and cultivators.
Simone Sandoval, who works for High Road Consulting Group, wanted the city council to get moving on permitting cannabis sales in hotels.
Ryan Fingerhut, also of High Road Consulting Group, said the Brown Act made it difficult for him to speak with the city council members. He wanted the city council to have a study session on permitting microbusinesses.
Peter [no last name given] said that his motor vehicle was towed. He told the tow driver to drop the vehicle because his medication was in it, but he did not drop it. He said the tow company had no permit to operate in the city. He wants the city to regulate this. He seemed to suggest it was his HOA that ordered the tow. He said the HOA was controlled by a dictator.
Jan Pye said that public servant recognition week is May 6-12.
Dora de la Cruz expressed her support for a traffic light at Palm Drive and Camino Aventura. She is afraid she will be the target of retribution by the trailer park where she lives.
John Sclafani of Desert Land Ventures expressed his support for a study session dealing with marijuana businesses.
James Velasquez from Vets Leaf also expressed his support for that study session.
City Manager's report
City Manager Charles Maynard had Community Development Director Danny Porras provide the current status of a traffic signal at Palm Drive and Camino Aventura. It was determined that the intersection met all the requirements for a new traffic light. The design should be completed and construction started within two months. It will be the first of more traffic lights that will be installed along Palm. The city will also install medians to eliminate a left turn conflict. The stop line will be place behind the exit/entrance for the mobile home park on the west. They are also looking at being able to double traffic fines and installing additional signs.
Mr. Maynard said that the city is working on two different licenses for canna-tourism. One will be for use in hotels and spas; the second will be for tasting rooms in cultivation sites. He said there will be a study session on the subject within the next month.

Council Member Reports
At a previous council meeting a private developer's proposal to annex a triangle of land on the southwest corner of Little Morongo and Two Bunch Palms Trail into the city (it would be zoned industrial so it could be a site for marijuana cultivation) was discussed. LAFCO may want to make that annexation contingent upon the city also annexing Cholla Gardens, which the city does not want to do because of the expense of upgrading the roads there, among other good reasons. At this meeting, Ms. Parks, who is serving on the LAFCO board, said the item had been continued until the May 24 meeting of LAFCO.

Cholla Gardens is outlined.

Councilmember Joe McKee mentioned an article he had read about Teachers Of The Year (including our own Dr. Brian McDaniel) meeting with Education Secretary DeVoss. I believe this article in Huffington Post is what he was referring to.
Mayor Matas summarized his recent trip to Washington, DC. The city has not been able to afford a lobbyist for a few years. His trip was a trial run with a firm that wants to be retained as our lobbyist. He had 20 meetings in four days with legislators, DOT, DOJ, and Homeland Security. Thirteen of the meetings focused on cannabis.

Amendment to Development Agreement No. 14-16; Green Bond
This development agreement is for a cannabis cultivation site on the south side of unpaved Thomas Avenue east of Little Morongo. The current developer is Green Bond. They want to revise the development agreement to permit manufacturing and distribution in addition to cultivation. The manufacturing area will consist of about 1200 s.f., reducing the cultivation area by that amount, and thereby reducing their tax payment to the city a little.
Mr. McKee pointed out that although these changes could have been made administratively, Green Bond wanted to go the public hearing route, even though its expensive.
There was no public testimony. Ms. Zavala moved for approval, Mr. McKee seconded. Approved 5-0.

Furbee Aquatic Center Professional Services/License Agreement for Swim Programs
USA Management submitted a proposal to manage the Furbee Center this summer for $68,180. The hours of pool operation will be expanded. "During the week, there will be swimming lessons and aquatic programs from 6:30 AM to 11:00 AM. The pool will then be opened for community, open recreational swimming from 12:00 PM to 7:00 PM. On Saturdays and holidays, the pool will be open to community, open recreational swimming from 10:00 AM to 7:00 PM."
Morris Barkley was at the meeting representing USA Management. They will hire locally.
Mr. McKee suggested that the city should begin planning for the summer swim program when the new fiscal year starts in July, rather than the city's habit of waiting until the first of the calendar year. The contract was opened for bidding just in April 2018, limiting the number of firms that could make a bid. He also said that in the past people coming to swim were charged $2.50 to $3.00 a head, which becomes prohibitive for a family with several children. He suggested rates like 25¢ per child or $1 per family.
Mayor Pro Tem Zavala moved to approve, setting the fees at 25¢ per child, 50¢ per adult, or $1 per family and a provision for afternoon swim lessons. Seconded by Mr. McKee. Approved 5-0.

Resolution of Intention to Place Desert Valley Disposal Annual Billing On the Tax Roll
Residential billing for trash removal has been done via the annual property tax bill rather than billing the resident directly for several years now. This item is routinely done annually. This resolution sets the date for the public hearing for June 5, 2018, which is necessary to actually approve all the individual bills and to authorize them to be added to the tax roll.
The price has gone up to $305.84/residence.
Mr. McKee moved for approval, Ms. Zavala seconded, approved 5-0.

Public Art for Vets Leaf
This is a rendering of the public art project that Vets Leaf proposes to erect on their property. This would be placed on the northeast corner of the project at San Jacinto Lane and Cabot Road. In the agenda packet this project is described thusly: "The plans show a 6-foot-high black wrought-iron fence (existing) on which the plaques (approximately 3 feet by 5 feet) will be mounted. Five proposed flag poles (four 30 ft. tall, one 35 ft. tall) will be installed behind the fence and will fly flags of the Marine Corps, the United States, the State of California, POW/MIA, and the Vets Leaf insignia. LED accent lighting will up-light the monument."
If the cultivator were to pay the in-lieu fee to the Art In Public Places fund instead of doing their own project, that fee would be $20,751.65.
Mike Picardi, Chair of the Community & Cultural Affairs Commission (CCAC) which approved this project 4-1, commented. He was the No vote at the CCAC. Part of the legal definition of public art in DHS is that it was created or designed by a professional artist (or plural). This project does not identify an artist. Mr. Picardi feels the project as whole does not meet the defintion of art. He also said that he believes it's not public art because it's on private property. The installation will be behind a fence. Flags, he said, are not art.
The city code allows Public Art to be placed on private property, however, the code also requires the developer to provide evidence "to demonstrate that the public art will be displayed in an area open and freely available to the general public or otherwise provide public accessibility in an equivalent manner based on the characteristics of the public art or its placement on the site."
Mr. Picardi suggested that the city work with the developer so that this display would be installed in Veterans Park. He said the developer is calling this piece a monument which, he said, means it is not art. [This interpretation would mean that the Statue of Liberty, a monument if there ever was one, is not also art.] He went on to say that since it would be on private property, any future owner of the property would be free to tear it down. [This possibility is addressed in the city code, which requires the developer to replace it or contribute equivalent funds.]
Greta Carter spoke next. She has worked with Vets Leaf and Tony Rivera. She had Googled for a definition of art. [The city ordinance defines art for the purposes of Art in Public Places: "Art" or "public art" or "public art project" means an original creation of art that is designed by a professional visual artist or artists. Art includes, but is not limited to, sculpture, mural or portable painting, earthwork, fiber-work, mosaic, photograph, print, calligraphy, any combination of forms of media, furnishings or fixtures.] The defintion she cited said "The expression or application of human creative skills and imagination producing work appreciated primarily for the beauty or the emotional power."
She said that Tony Rivera has put emotional power into this display. Mr. Rivera has passed away. She pointed out that our light industrial zone has received national coverage, so people everywhere are seeing what it looks like.
Ryan Fingerhut represents Vets Leaf. He said that the late Mr. Rivera, rather than simply paying the in-lieu fee, decided to develop this project that would speak to the community about what he was. He pointed out the definition of public art in the ordinance [addressed above]. He also said that he thinks flags are art, since they were designed by someone to express something.
Simone Sandoval, who said she represents Vets Leaf, spoke next. She said the piece is deeply personal. Three of the plaques will memorialize Tony Rivera and two other comrades-in-arms who have passed away. They were all Marines, which is why the Marine Corps gets singled out to have its flag displayed.
James Velasquez, supervisor at Vets Leaf, was next up to the podium. He said this project is his and Mr. Rivera's dream. He said they would move the fence, if that was the problem.
Mr. McKee said "I think it's a memorial. I don't think it's a work of art."
By Mr. McKee's reasoning, the Martin Luther King, Jr. Memorial in DC is not art.

Mr. McKee went on to say "I used to build food processing equipment as an engineer. That's art, then, I guess, if you used the definition you used."
[Wow, this is a great example of a tone deaf politician intentionally misunderstanding basic issues. Was his food processing equipment "appreciated primarily for the beauty or the emotional power?" Or was it appreciated for its efficient functionality? One of those defines art.]
He wants it to be moved to the Veterans Park.
[Why, if it is not art, would it become art if it were to be placed in Veterans Park? Is the level of art here really the core issue, or does the city just want something more in one of its parks?]
Flags, Mr. McKee said, were created as signaling devices in the military. "They weren't created as art at all."
[And therefore, they can never be art, is his logic. Sculptures were created to represent the religious entities. Does that mean every statue in existence now is a religious figure? Tell that to the Russians.]

This is not art, according to Mr. McKee.
Then Mr. McKee repeated what he said before, that public art should not be located in the industrial zone. Developers in industrial zones should be limited to paying the in-lieu fee. [Because no one ever travels through our industrial zone or no one there desires to look at anything but warehouses and fences?]
Mr. Betts said he supports the CCAC and until they "really mess up" they should have the latitude to decide what goes. He did, however, say he thought the proposed fence would not be adequate for the plaques that will be mounted on it. Also, the two renderings in the agenda packet do not look alike. City staff said the flag poles would be behind the fence and the plaques will be mounted to the existing wrought iron fence. Also, there isn't enough space for the landscaping as shown in one rendering. He complained about the abundant litter on Cabot Road and asked for it to be cleaned up.
Sandra Silva-Tello, one of Vets Leaf's owners, came to the podium to address Mr. Betts's concerns. She said they would make adjustments, if necessary, to satisfy city requirements.
Ms. Zavala asked what material will be used in the plaques. Ms. Silva-Tello said they would be bronze. Ms. Zavala said she is in much agreement with Mr. Picardi, that it is, basically, not art. She also agreed with Mr. McKee, that Art in Public Places should be paid for by developers in our industrial zone, but they should not derive the benefit of having it placed on or near their property. But, she said, if they would move the fence to behind the flags and mount the plaques on standalone structures, such as cement blocks, that would be acceptable.
Ms. Parks said she has been very impressed by the obvious improvements in our industrial zone, thanks to the cannabis developers. She thinks it's art.
Mayor Matas said he is very confused by art. He once questioned whether figures made from rusty metal are art, creating a brouhaha.


Art made from rusty metal by Ricardo Breceda, available for viewing in Anza-Borrego Desert State Park.
Mr. Matas said he doesn't decide what art is and that he agrees with Mr. Picardi "half-way." He said he liked this proposal better than some of the other art that has been approved. He thinks the ordinance should be revised to make it clear that landscaping is not part of the art. He said there has been a problem with bronze being stolen, so he suggested Vets Leaf look into a less expensive material.
Mr. Betts moved to approve with the condition that the fence be upgraded to be more fitting for the plaques and that the fence be moved to allow greater access by the public. He added that he agreed with Ms. Parks that art should be placed in the industrial zone.
Approved 4-1 with Mr. McKee voting against.

Filling Vacancy Created by the Resignation of Yvonne Parks
City Clerk Jerryl Soriano laid out the law. The city council could call a special election which would have to be held on the date of a regular election at least 114 days after the call for the election. That would mean the November 6 election day, and since the term expires in December, that would be a wasted effort. Or, the council can appoint someone to fill the spot within 60 days of the date of the resignation. The office cannot be left vacant.
[Mr. Soriano didn't mention this, but when vacancies occurred at the water district, it was said that if the body did not appoint a replacement, then the County Supervisors could step in and make the appointment.] Mr. Soriano suggested that applications for the spot be accepted for the period from May 3 to May 28.
Mr. Picardi encouraged the city council get moving on this as rapidly as possible.
Mr. Betts said the 60-day clock doesn't start until Ms. Parks actually vacates the position. [He's correct about that, IMO, but that doesn't mean the council can't interview candidates prior to that vacancy.]
Mr. McKee pointed out that if they appointed someone with no council experience, it would take them 2 or 3 months to get up to speed. He suggested making the selection from the pool of past city council members who are still in the city.
Ms. Zavala agreed with Mr. McKee, saying that in addition to the experience, they would be appointing someone who had been chosen by the voters at least once.
Mr. Betts said the council should not choose someone who plans to run for city council in the November election. He cited the previous time when Dot Reed was appointed to the council.
Mr. Matas said that in addition to former council members, the pool of candidates should be open to commissioners and former commissioners as well as the general public.
Mr. Betts moved open the application process, provided that candidates do not intend to seek election in November. The motion did not get a second.
Mr. Matas moved to open an application process so the city council could make an appointment at the first meeting in June (June 5). The city attorney is not sure if the interviews could be conducted privately, or must they be private. [Private interviews are permitted for commissioners, so I think this would work the same.] This motion also got no second.
Ms. Zavala made a motion to appoint someone with city council experience. Her motion was seconded by Mr. McKee. This motion was approved with a vote of 4-1 with Mr. Betts opposing. Later, Ms. Parks realized she should have abstained from this vote, so it was revised to 3-1-1.
The motion did not specify the candidates had to have been Desert Hot Springs city council members. It's quite likely we've got one or two retired council members from other cities living here.

Cancel Hearing and Abandon the Proceedings to Annex Rancho Del Oro to the Landscape and Lighting Maintenance District No. 2
This is part of a long story going back to the creation of Rancho del Oro, which was the city's first housing development, in the early 1990s. At that time, details were overlooked, including the need to create a fee levied on the residents to maintain the landscaping on the perimeter of the development. The city has been maintaining that landscaping since then at general taxpayer's expense. Various plans have been put forth, but none seem to garner majority support among the property owners in Rancho del Oro. At some point, if the residents do nothing, the city will have to stop maintaining that landscaping.
Some months ago the city did receive a petition signed by 93 property owners in Rancho del Oro, so action was undertaken to initiate the necessary public hearing process. But now word comes to the city that they should hold their horses. So the city is going to cancel the public hearing process for now, to let the property owners discuss and strategize further. The city plans to continue to subsidize the development with free maintenance. Approved 4-0, Mr. Betts having recused himself because he owns property there.

Amend the Budget To Reflect SB-1
SB-1 will increase funds available to the city for road maintenace. The city is required to submit to the state a list of projects to be funded through SB-1. DHS will receive $483,419. The city is proposing four different projects for that.
$320,000 for the Palm Drive traffic signal and street light project,
$100,000 for sidewalks on Desert View,
$30,000 to re-stripe Mission Lakes Boulevard and Two Bunch Palms Trail,
$33,419 for city-wide asphalt grind and overlay/slurry/road reconstruction.
Approved 5-0.

General Plan Update
Yes, this is the same General Plan Update that the city has been working on since I moved here. City Manager Maynard said public meetings will begin on May 30 (5 PM - 7 PM) at the Carl May.
permalink | May 13, 2018 at 09:10 PM | Comments (0)
February 16, 2018
Desert Hot Springs Planning Commission - 2/13/2018
Commissioners Sworn In
All five commissioners were sworn in for this term. Four of them were familiar incumbents, and the new one (taking Cathy Romero's seat) was Gary Gardner who was appointed by Yvonne Parks. The members of the Planning Commission for this year are: Dirk Voss (Chair), Jan Pye, Scot De La Torre, Gary Gardner and Larry Buchanan.

Cultivation: Cabot Road
First item was a CUP for a cultivation development (33,200 s.f.) on the east side of Cabot Road (map). It will be a 2-story building. The Planning Commission had already approved an identical proposal for the parcel next door, so this one was even more of a slam dunk than the usual cultivation CPU. Approved 5-0. Construction will start in June, the developer said.

Cultivation: Desert Land Ventures
This is the third Really Big Cultivation proposal in DHS that I'm aware of. Really Big as in 123.4 acres, 13 parcels, 1.9 million s.f. of development, some streets, all infrastructure (estimated $30 million - just infrastructure), and it's all going into that blank space along I-10, west of Palm, east of Indian. The proposal is for more than marijuana. The developer plans a 150-room hotel, along with the usual sorts of commercial projects you see around a hotel along the interstate. The approximate location is shown in the aerial view below:

As a Really Big Project, it includes a specific plan, a vesting tentative tract map, and a development agreement.
They want to put a dispensary there too. The city has a list of 16 parties who have been approved to get (or try to get) a CUP for a dispensary. I believe we have 8 dispensaries open. One dispensary has been permitted behind the AM/PM station at Palm and I-10. There is some site preparation there, and I believe at least some of the roads have been paved. That leaves 7 parties who have not started any development and may not yet have gotten a CUP. The Desert Land Ventures developer (he's owned the site since 2006) did not want to have to get in bed with some dispensary owner that he doesn't know. No one suggested the alternative. He could buy out the CUP rights from one of those parties.
The specific plan is flexible so that the developer can determine which parts will be industrial and which commercial. City staff and the commissioners expressed the desire that there be no cultivation on the parcels that are adjacent to I-10. The developer who, BTW, is also developing the new San Diego airport that will be over by Otay Mesa (!!) says he understands and he wants his development to be top notch, so he wouldn't have put cultivation. Those parcels need to have businesses that attract people from the highway. Some of it could be ancillary marijuana businesses, like a bakery, a testing lab, whatever else I can't think of right now.
The Commissioners, recognizing the value of the site, said it would be a window onto Desert Hot Springs, so it needs to look really good. The developer agreed, saying it's in his interests to do just that.
The developer said this development will extend over years and nobody knows what's going to happen to cannabis in the future, and that's one reason for the flexibility in the specific plan.
The part of the site that is north of Varner Road extends into the MSHCP area, but it was said that development of 10% of the area within the MSHCP is permitted! I had never heard that before, and I'm sure there are more strings to it than simply wanting to build in the MSHCP. The developer said they might put solar or wind power there.
Varner Road, which goes through the project, is supposed to be paved to a width of six (6!) lanes. Both the developer and the commission agreed this was excessive to start with, since it just deadends and it will be years before six lanes are needed, so they're going to start with something less (to be negotiated with staff, unless the city council says different). Comparisons were drawn with the "Bridge To Nowhere" (the Alaska one, not the Los Angeles one). Some day (after your prince comes) 20th Avenue will also be paved coming east from Indian. It would make sense, IMO, to connect that with Varner.
Approved 5-0.

Cultivation: Collective Solutions
This is a CUP for a cultivation site of 22,176 s.f. total, in three buildings on 1.26 acres. It will be on currently unpaved 15th Avenue, between Little Morongo and Cabot Road. This will include two 10,000 s.f. greenhouses. There will be a temporary trailer, but that has to be out of there before August 13.
Approved 5-0.

Dispensaries: Special Dispensary Entitlements
Currently, our city ordinances define a dispensary (which must be located in a commercial zone) and cultivation (which must be located in an industrial zone). But what about baking? Tasting rooms? And very small scale dispensing, such as at a hotel? This ordinance attempts to address some of those issues.
It would define light manufacturing as any kind of production of cannabis products using only "chemical synthesis," by which they mean baking or infusing, but absolutely not any extraction.
A Special Dispensary Conditional Use Permit would be created for light manufacturing, hotels that want to dispense cannabis, and cultivators who want to have a tasting room in their facility.
A cultivator's tasting room would be limited to offering samples of products produced on that site only. There can be no on-site sales and consumption; i.e., the tasting is free. Any sales must be "off-site," that is you carry it away with you...like a liquor store, where you can buy alcohol but can't consume it on premises. For existing cultivation facilities, the Director of Community Development would be able to approve the Special Dispensary Conditional Use Permit in most cases.
Hotels could get a Special Dispensary Conditional Use Permit if they want to dispense marijuana. Note that any hotel that serves alcohol cannot also dispense marijuana under California state law. Any sales at a hotel must be for on-site consumption only. No off-site sales. Just like a bar that serves alcohol. You can buy it and drink it, but you can't walk out the door with the glass in your hand (except in New Orleans). No cultivation or manufacturing would be permitted at a hotel.
A Special Dispensary Conditional Use Permit would also allow light manufacturing in a commercial zone. The simple reason for this is that light manufacturing is not nearly as profitable as cultivation and light manufacturers cannot now afford the price of land in our industrial zones. Light manufacturing facilities that already have a CUP (there are some at the cultivation sites) can get a Special Dispensary Conditional Use Permit with approval just by the Director of Community Development in most cases.
Gretta Carter, who represents some cultivators and other cannabis businesses, made a public comment. She said this ordinance is "about 90% there." She suggested that the commercial zone also accept lab testing facilities.
Ryan Fingerhut asked that the ordinance be delayed so that small improvements can be made in it.
Andrew Milks of Brown Dog dispensary said there are safe extraction methods that don't use flammable solvents. He would like "light extraction" to be permitted in commercial zones. He thinks dispensaries should have the right to some light manufacturing.
The Commissioners discussed the issue of intoxicated driving that might result from tasting rooms.
Approved 5-0 with some clarifications of the language in the ordinance.
permalink | February 16, 2018 at 09:48 PM | Comments (12)
February 13, 2018
My First Hummingbird Nest
Just spotted it today when I noticed the future mother flying in exactly the same path twice very close to my house. I'll have to get a ladder to see down into the nest.
UPDATE: I can't get high enough on my ladder to see clear to the bottom of the nest, but for now here's a photo of the mother sitting.

\
permalink | February 13, 2018 at 11:48 AM | Comments (0)
February 6, 2018
Miller High Life/Molotov Cocktail in DHS
Molotov Cocktail Arrest

Support Services Manager Tom Pittenger from Desert Hot Springs Police Department · 34m ago

On 02/05/2018, at approximately 1630 hours, Desert Hot Springs Police Officers were dispatched to a residence in the 66000 block of 2nd St, reference a family disturbance. The occupants of the residence refused to cooperate but after approximately 30 minutes, they exited the residence after police officers conducted a surround and call out due to circumstances noted on scene.

A probation search of the residence was conducted. During the search, Officers located two Molotov cocktails in the kitchen of the residence. Cal Fire Law Enforcement Division responded to assist in the investigation.

Bernadette Noriega (age 49), Jesus Noriega (age 28) and Mario Vigel (age 19) were arrested for PC 18715-Possession of Explosive Device, PC 148(a)-Resist or delay Law Enforcement, PC 273A(a)-Child Endangerment as well as several other related charges. All three subjects were transported and booked into RSO Banning Jail.
permalink | February 6, 2018 at 07:20 PM | Comments (0)
January 28, 2018
Fitness Trackers
Here's the news story about Strava posting a "global heat map" of fitness tracker usage. The news concerns what it reveals about military bases, but I looked at the Strava heat map to see if it told me anything about Desert Hot Springs.

It seems to me that someone (or ones) in Mission Lakes Country Club are doing a lot of exercising. Some of the more heavily used routes around DHS are where cyclists ride, including the upcoming Tour De Palm Springs.
permalink | January 28, 2018 at 03:40 PM | Comments (0)
January 19, 2018
Desert Hot Springs City Council - January 16, 2018
These are some of what I think are the important bits of the January 16, 2018, meeting of the Desert Hot Springs City Council.

Fully Staffed Police Department
Five new police officers were sworn in. Chief Mondary said the police department is fully staffed. I think the definition of fully staffed is "up to the limit authorized by the City Council," because we all know our PD has never been staffed up the level we really need.

AIPP Cut To 0.25% In Industrial Zone
Some people didn't like that the AIPP rules were being assessed fairly for all kinds of property. That is, the value of the art or the amount of the in-lieu fee in effect since the program was approved in 2009 has been 0.5% of valuation for residential property and 0.75% of valuation for commercial and industrial properties.
The proposal was to eliminate the choice of putting a piece of art on site in the industrial zone. Development in the industrial zone would have to pay the in-lieu fee. I am not sure who didn't like it that the art paid for by the industrial developers would be displayed on the property developed. I didn't hear any of the City Council members express an objection to that.
This proposal went to the Planning Commission first, and they didn't like it. I could explain just why the Planning Commission didn't like it if the city's damn website would actually play the audio of that meeting, but it doesn't and they don't upload the audio to Youtube or any of the other several easy, reliable websites that actually play recorded audio flawlessly.
The choice before the City Council seemed to be to follow the Planning Commission's recommendation (leave things unchanged) or to re-insert the language taking the choice away from industrial developers. So imagine our surprise when Mr. McKee suddenly proposed to drop the rate for industrial development from 0.75% to 0.25%! Even more surprising was that Russell Betts immediately agreed to it! Ever since this program was approved, any mention of it would trigger a story-telling by Mr. Betts, in which story he would cast himself as the lonely white knight standing against everybody else who hates art. In reality, support for the AIPP program was widespread and the only discussion was the rates. The proposed rate was an even 1%, I believe, and Mr. Betts will tell you a story about how he had to fight to keep it as high as 0.75%. But now that it is 2018, he easily agreed to a two-thirds reduction in the rate.
Yvonne Parks had said she wouldn't vote for an ordinance that retained the 0.75% rate because she thought it was too high. But when the vote came, she still voted against it, even though the rate had been lowered to 0.25%. The vote was 4-1.
Some of the cannabis developers got up and complained about the surprising costs they've run into, and seemed to think this AIPP was something recently concocted to get more money out of them. In reality, the reason the cannabis developers are running into these expensive surprises is that many of them don't do sufficient due diligence (probably due to lack of experience in real estate) to find out all the expenses before they commit themselves. One cannabis developer argued that since he was having to build a road and put in underground infrastructure he ought to be excused from paying the AIPP. Again it's probably due to inexperience in real estate, but he didn't realize every developer is responsible for all that work and all those expenses. The city didn't come up with any new ideas to get in the way of cannabis development. Quite the contrary, they've now given them a two-thirds fee reduction.
In case you thought that the super-high price of land in our industrial zone would offset this rate cut, the cost of land is not included in the valuation against which the fee is assessed. IOW, it is a percentage of the value of the building only. Once you've removed the land cost, the value of the buildings will be whatever the usual value of such buildings are. The reduction in this fee is, therefore, a genuine cut to the amount of money that we would have expected to come into our AIPP fund.
Mr. McKee said he intended this to be temporary, and the council has asked that the ordinance be brought back before them in about 6 weeks to re-examine the rates. Mr. Betts said he didn't think it needed to be brought back; he was happy with the new 0.25% rate.

Resolution Setting Forth Certain Regulations Pertaining to Dispensaries
This item was removed from the agenda to be brought back at a later meeting. The proposed text in this agenda packet would have permitted a marijuana dispensary to change location, but they would still have to get a new CUP and any other of the usual necessary paperwork. The city started with 19 people who were allowed to seek a CUP and open a dispensary. Three of those people withdrew, leaving 16. Eight of those people have, indeed, opened dispensaries in town. The remaining eight still have all their rights intact, but the resolution would have specified that the right to apply for a CUP and open a dispensary is NOT transferable. The resolution also would have set the limit for cannabis dispensaries in the city at 16.
Here is a handy table provided in the agenda packet which you can use to keep track of the players. Click it for a bigger version.


New (and Re-Appointed) Commissioners
| | | | | | |
| --- | --- | --- | --- | --- | --- |
| | Matas | Parks | Zavala | McKee | Betts |
| CCAC | Michael Picardi | Barbara Eastman | Michael Burke | Untumane Turner | Donna Poyuzina |
| Planning | Dirk Voss | [hasn't decided] | Jan Pye | Larry Buchanan | Scott De La Torre |
| Public Safety | Donna Lozano | Lee Eastman | Nina Duarte | Walt Meyer | Ted Mayrhofen [this is not a typo] |

New Library
Riverside County has proposed to build a completely new library on the vacant land between Aqua Soleil and the new county building at Park Lane and Palm Drive, entirely at County expense. The current library is 3,500 s.f. The proposed library would be 15,000 s.f.
When the current library opened in 1972 the population of the city was less than 3,000 and half of it was senior citizens. The official population is 9 times greater now, and it's 40% kids 18 and under.
This item simply authorizes city staff to continue to work with the county on this. After construction of the new library the old library will be converted to a broom closet, but it won't be big enough to let everybody keep their brooms there.

permalink | January 19, 2018 at 11:05 PM | Comments (0)
December 9, 2017
No Smoke Here

Desert Hot Springs today.
permalink | December 9, 2017 at 05:59 PM | Comments (0)
November 18, 2017
My First 4K Video
Waokiye at Cabot's Museum is the subject for my first 4K video.

I recently acquired a ThiEYE T5e which is $170 at Amazon, but just under $100 at GearBest which is in China. I know buying direct from China is a crapshoot, but a 41% discount is pretty substantial. Reviews of this camera point out that it is genuine 4K, not interpolated from 1080p.
I have a 4K display, but my Mac Mini can't do any better than 1080p, so the only way I can see this in 4K is to connect the camera directly to my monitor and play it from there. I also don't have any software that can output a 4K video, so I can only upload them exactly as shot. Can't even trim off shaky starts or ends without lowering the resolution to 720p.
The video above is on Vimeo, who claims they don't degrade videos. I've also uploaded this video to YouTube which supports 4K, but they degrade the videos somewhat. If you think you can see the difference, here's a chance to do an A/B comparison.
permalink | November 18, 2017 at 04:45 PM | Comments (0)
September 22, 2017
Nude Bowl, With History
permalink | September 22, 2017 at 05:34 PM | Comments (0)
September 14, 2017
A Short, Pointless Life

Dennis Cruz, arrested in DHS in 2010, died yesterday at age 28 in the prison in Corcoran, shanked by a fellow inmate who had chased him into the prison yard.
permalink | September 14, 2017 at 04:43 PM | Comments (0)
August 21, 2017
Ivan Sewell New Commissioner At MSWD
With a unanimous vote, the MSWD board selected Ivan Sewell to take John Furbee's spot on the board until the next election, November 2018. Then, the voters will get a chance to re-elect him to the remaining 2 years of Furbee's term, or elect someone else.

The two other candidates were perennial candidate Malcolm MacLean and Steve Grasha. Mr. Grasha is the inventor of the misting system, which is so ubiquitous here in Coachella Valley, if I understood him correctly. He's also working with the Trump campaign in some capacity and said that after the meeting today, he was heading over to Arizona. He seemed a bit reluctant to bring this up, at first saying he had been working for a candidate for "national office." There being only two elected national offices in this country, it wasn't hard to guess who he meant, but it became clearer when he referenced Arizona and said that he knew his views on who is in the President's office were not popular in DHS. He never named Trump.
I have been disappointed with the MSWD board's reluctance to replace Mr. Furbee before he passed away. We could have had Mr. Sewall working for the public good months ago.
permalink | August 21, 2017 at 04:10 PM | Comments (0)
August 4, 2017
New Riverside County Building

In Desert Hot Springs.
permalink | August 4, 2017 at 11:28 AM | Comments (0)
John Furbee Memorial - August 18
permalink | August 4, 2017 at 11:01 AM | Comments (0)
July 14, 2017
John Furbee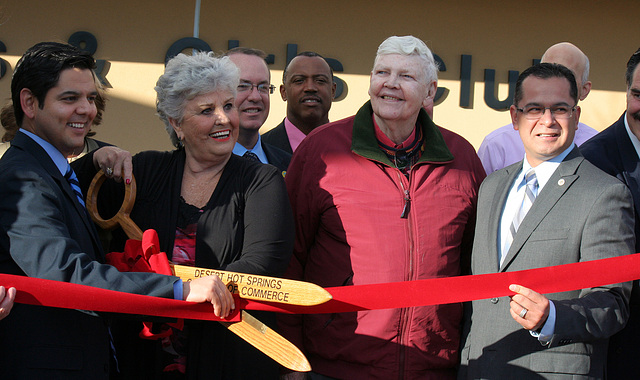 L to R: Rep. Raul Ruiz, Mayor Yvonne Parks, Councilmember Scott Matas, unknown man in back, John Furbee, V. Manuel Perez at the ribbon cutting for the Health & Wellness Center in 2013.
John Furbee - Local Philanthropist, Businessman and Civic Leader Passes Away

Desert Hot Springs, July 13, 2017: It is with tremendous sadness that we announce the passing of John Furbee, a long-time Desert Hot Springs philanthropist, businessman, civic leader and youth supporter. John passed away on July 12, 2017 surrounded by his loving family, following an extended illness.

John Furbee arrived in Desert Hot Springs over 50 years ago, and quickly established the well-known DHS Drug Store. He went on to own and operate several successful businesses within the city and served the community as the President of the Boys and Girls Club and Mission Springs Foundation and sat as Chairman of the Board of both the Desert Hot Springs Planning Commission and Desert Hot Springs Economic Committee.

His commitment and dedication to the city earned him the distinct honor of being named the Senior Inspiration Award Recipient for the City of Desert Hot Springs in 2006 and in 2012 the City Council named the Aquatic Center at the Community Health and Wellness Center the "John H. Furbee Aquatic Center" in his honor. This dedication was based on the significant contributions John made to the community he loved so much, including the donation of the property upon which the facility was built and a significant monetary contribution toward the Center.

John Furbee was a community hero, known for his dedication to the youth, animals, and local charity's. He had a kind heart and will be sorely missed by our entire community.
permalink | July 14, 2017 at 01:13 PM | Comments (2)
June 30, 2017
Some Photos
Some photos not previously shared.

The stage at Long Beach Opera at intermission during The Perfect American.

This is not an old sign.

I've got my eye on this pink Barbie.

Edward Wenzlaff Education Center, formerly Edward Wenzlaff Elemntary School in Desert Hot Springs.

Like it says on the label.