July 10, 2021
Cavendish Ties Mercx
A great summary for American non-cyclists of what's happening with Mark Cavendish on the Tour de France. I believe this is the first time I've seen a stage winner of the Tour openly weeping after his wins. For those blocked by WSJ's paywall:
An Emotional Comeback at the Tour
JASON GAY

On the verge of leaving the sport, Mark Cavendish equals Eddy Merckx's legendary record of 34 stage wins

To appreciate the full picture of what Mark Cavendish is doing right now at the Tour de France—to understand why this story is so thrillingly emotional and unexpected that it's making grown, grizzled cycling fans weepy— you've got to appreciate where Cavendish was, not terribly long ago.

And where was he?

He was all but out of the sport. Done. Kaput. A shell of his former, spandexed self.

There are comebacks in sports, and then there is this one: Mark Cavendish, the 36-year-old missile from the Isle of Man, back from the brink and born anew, winning four stages at the 2021 Tour and tying bike legend's Eddy Merckx's record of 34 stages Friday with a brilliant closing gallop in Carcassonne.

It's a feat so improbable, not even Cavendish was willing to consider it, until maybe a few days ago.

Why would he? A few months back, it would have been outrageous to think Cavendish could even start the 2021 Tour. He hadn't won a stage of cycling's grandest event since 2016. He hadn't even been invited to participate in it since 2018.

A close-to-unbeatable tornado in his 20s, Cavendish fell apart as he entered his mid-30s. He endured bad luck, bad crashes, awkward fits with mediocre teams, and was flattened by successive bouts with the Epstein-Barr virus, which drained his energy and stripped his unshakable sprinter's confidence. Depression reared from the darkness.

A once-swaggering phenom was humbled. The man they call "Cav" collected 30 Tour stage victories by 2016, and then, abruptly, he couldn't win at all. He kept pushing on, turning the pedals, but it became difficult to watch. After a grueling race last fall, he tearfully told a reporter: "That's perhaps the last race of my career."

Please understand: Bike sprinting is an underrated head game. You've got to have ferociously strong legs, yes, and it helps to have some talented teammates to deliver you close to the finish line, but in the final, furious meters, you have to believe, unequivocally, to barrel out of that blurry pack at 45 MPH and gun it for the finish, elbows wide, head over handlebars, brakes be damned.

Cav wasn't sure if he could believe again.

"I was kind of lost in the wilderness," Cavendish told me in April.

The sport had moved on.

"It'd just felt like everybody had given up," he said.

Cavendish had to cobble together his own, last-ditch offer just to stick around. Last winter, he grabbed a lifeline from an old team, Deceuninck-Quick-Step, and a bike sponsor, Specialized, but expectations were minimal. Maybe Cav could help out with the young riders. Maybe he could swipe a victory at a C-list race.

Win stages of the Tour de France? Close the gap with Merckx's 34, a mark which loomed over cycling like DiMaggio's 56?

Ha, ha. No way. It was such a ridiculous proposition that Cavendish grew to loathe being asked about it.

In the spring, he showed a flash of his old self, winning four sprint stages of the Tour of Turkey. It was a stirring moment, enough to walk away from the sport with his head held high, but it wasn't France in July. Cavendish wasn't mentioned in Deceuninck-Quick-Step's Tour de France plans. The team had a strong, younger sprinter in Sam Bennett, who'd won the green jersey as the Tour's top speedster in 2020.

They were set. Cav would again watch the Tour on TV.

Then Cavendish got lucky— lucky in the grim way a cyclist doesn't ever want to be lucky, but fortunate still. Bennett, struggling to rehabilitate from a knee injury, got scratched from the Tour roster. Cavendish was summoned off the bench, less than a week before the start.

And since then, it's been like turning a switch, back to the brilliant old days. Cavendish has stepped into the cockpit of a cycling powerhouse—Deceuninck-Quick-Step is an outfit in which Cavendish has a reigning world champion, Julian Alaphilippe, helping to protect him in the pack, and other teammates have lugged Cavendish through difficult mountain stages. In the sprints, Cavendish barely has to stick his nose into the wind until the closing kilometer.

But you know what? He still has to do it in those closing meters, and he's done it, turning on those diabolical jets everyone presumed were long, long gone. He's been speedy and crafty and calm under pressure. This may not be peak Cavendish cannonball, but in a Tour that has seen some top competition like Caleb Ewan and Peter Sagan depart with injuries, it's been plenty enough.

Cav's joy has been—well—a joy. Late edition Cavendish brims with gratitude, to his teammates, to Deceuninck- Quick-Step boss Patrick Lefevere, to the entire sport, his family, and to his fans who never gave up. It seems he, too, can't quite believe it. The Brash Missile has gone Warm and Fuzzy. A sport is swooning.

Even Eddy seems OK with it. Merckx, aka "The Cannibal," is cycling's Babe Ruth—and, as he recently reminded La Gazzetta dello Sport, he won his 34 Tour stages in an assortment of sprints, mountain climbs and time trials. There's no comparison between what Eddy did and what Cav's doing as a sprint specialist. Still, the 76-year-old respectfully allowed: "He's been through a difficult time and has fallen in love with cycling again. That's a great message for young people in the sport."

It is indeed. And it isn't yet done. More mountains are coming, which will be another slog for Cavendish, but there are a pair of sprint stages late, including a final romp on Sunday, July 18 on the cobbles of the Champs-Élysées. A record-breaker could be coming, but I would caution you that nothing in cycling's ever given, that luck can change in an instant, and you can never count on an outcome, but you already know that. You're watching Mark Cavendish win at the Tour de France again, and it's enough to take anyone's breath away.

Mark Cavendish had to cobble together his own, last-ditch offer just to stick around.
permalink | July 10, 2021 at 11:40 AM | Comments (0)
June 19, 2021
Two AIDS Rides, Two From DC

A narrow, isolated road that was not used on California AIDS Rides after CAR2. It was a great road for bicycling, as it had very little traffic. It narrowed down to a width of just one lane. The trouble was that if a cyclist had an accident and needed medical help, it took forever to get an ambulance and medical crew to them. At least two accidents did happen along here, and the injured riders had to be medevaced. Ektachrome, 1995.

CAR2 riders crossing a little flood, Ektachrome, 1995.

DC Metro in 2001, Kodachrome.

Winter shadows in DC, Kodachrome, 2001.
permalink | June 19, 2021 at 06:59 PM | Comments (0)
June 18, 2021
4-Wheeled One-Ton Bicycle

They mention Torrington once, so that's either Connecticut or Wyoming. I'm pretty sure it's Connecticut.
permalink | June 18, 2021 at 11:50 AM | Comments (1)
June 13, 2021
Descent To The Pacific Coast Highway

This is all fine until you come around one of those curves and find some big road kill or a chunk of a vehicle lying across your path.
permalink | June 13, 2021 at 08:48 PM | Comments (0)
June 8, 2021
Some More Slides

Griffith Observatory, Kodachrome, 1995. This was after completing the California AIDS Ride from San Francisco. My first time in L.A.

This is on the return bike ride I did with Michael from L.A. back to San Francisco on our own. Kodachrome, 1995. This is probably on our first day, which was (IIRC) from Sherman Oaks to Ojai.

The Boston Public Garden, Kodachrome, 1989.

A family plot, but I have no recollection of which cemetery. Kodachrome, 1989.
permalink | June 8, 2021 at 07:33 PM | Comments (0)
May 23, 2021
Four From AIDS LifeCycle 1

Camp at King City for the first AIDS LifeCycle, Ektachrome, 2002.

At one of the rest stops on AIDS LifeCycle, Ektachrome, 2002.

Artichokes seen on AIDS LifeCycle, Ektachrome, 2002.

A mission seen during AIDS LifeCycle, Ektachrome, 2002.
permalink | May 23, 2021 at 10:11 PM | Comments (0)
April 23, 2021
Cycling the Paris Catacombs
permalink | April 23, 2021 at 05:11 PM | Comments (0)
April 17, 2021
Kodachromes From '89 And '90

My Diamond Back on some beach, somewhere, Kodachrome, 1990.

Probably a different beach, Kodachrome, 1990.

Chesapeake Lightship in Baltimore, Kodachrome, 1989.

The Custom House in Boston, Kodachrome, 1989.
permalink | April 17, 2021 at 06:34 PM | Comments (0)
March 10, 2021
Four Kodachromes From The Late '80s

Kodachrome, 1989.

Some members of the bike club on a rainy day. This looks like the water reservoir in Arlington, Massachusetts. That's Sal Sorrenti on the right. Kodachrome, 1987.

I believe this was taken on the last day the Orange Line ran on the elevated tracks along Washington Street. At one of the stations was this young man with a large format camera who was probably hired by the MBTA. Kodachrome, 1987.

Line of people waiting to enter the Statue of Liberty, Kodachrome, 1987.
permalink | March 10, 2021 at 07:08 PM | Comments (0)
March 1, 2021
A Mix

I have no recollection of where I shot this photo, but it's likely in the Boston area. Late 1980s.

Myself in my Brighton kitchen, Kodachrome, 1989.

Tucson, Kodachrome, 1988.

Autumn cycling in New England.
permalink | March 1, 2021 at 08:43 PM | Comments (0)
February 21, 2021
Boston Fools
These two guys went out riding on a semi-frozen stretch of the Charles River in Allston, a neighborhood of Boston. The Charles does not freeze over solid every year, but some years it does. Judging from the conditions in the parking lot alone, it was not cold enough for the river to freeze to a safe thickness. A better place to try this would have been in the Charles River Basin, that is the area from around the BU Bridge downstream to the dam by North Station. These guys were further upstream where there is still a significant current.
Even if they had ignored all the warning signs, just a look at the ice itself should have told them it was unsafe, and they seemed to be trying to ride as close to open water as they could.
permalink | February 21, 2021 at 09:00 PM | Comments (0)
February 18, 2021
Three New England and An Arizona

A saguaro in Arizona, Kodachrome, 1988.

Massachusetts State House on Beacon Hill, Kodachrome, 1989.

Swan boat in Boston's Public Garden, Kodachrome, 1989.

More biking in Vermont, Kodachrome, 1989,
permalink | February 18, 2021 at 05:48 PM | Comments (0)
February 17, 2021
Not Everything Is A Slide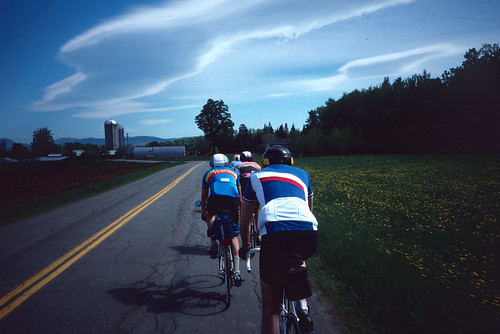 Biking in Vermont, Kodachrome, 1989.

Myself and Michael C. just before the start of California AIDS Ride 4 in 1997. This was our second California AIDS Ride, as you may have guessed from the t-shirts. Scanned from a print.

Close up on some cactus buds, Kodachrome, 1988.

Hiking in California's rolling hills, probably in Alameda County. Kodachrome, 1989.
permalink | February 17, 2021 at 04:48 PM | Comments (0)
December 13, 2020
Four More

George Washington sculpture in Boston's Public Garden, Kodachrome, 1989.

Albany, 1991, Kodachrome.

The Miss Albany Diner in Albany, Kodachrome, 1991.

Myself on the front steps of my Boston condo building, about to set forth on my bike ride to Kansas City, Kodachrome, April 1991.
permalink | December 13, 2020 at 01:25 PM | Comments (0)
September 10, 2020
Half of my photos from my 1991 bicycle tour from Boston to Kansas City
In the course of scanning my old slides I came across some of the slides I shot on my solo bicycle ride from Boston to Kansas City in 1991. I found a loose leaf notebook containing pages 8 through 16 of my slides from that trip (20 slides per page). Pages 1 through 7 are somewhere, but I just haven't come across them yet. These pages cover the span from the Indiana/Ohio border to Kansas City, and include photos from around the Kansas City area. You can see all that I have here. They're not in strictly chronological order, but they tend to go from west to east generally. Below are a few samples:

Pretty obviously a county courthouse, but I have not been able to identify the specific location. It's likely to be in Indiana or Illinois. If you know, tell me!

Mike's Pizza in Royal Center, Indiana, where I had a great lunch.

Central Park torpedo in Henry, Illinois. The most recent Google streetview shows that it is still there.

Also in Henry, Illinois, but I can't find it on streetview now.

2nd Street in Clinton, Iowa, where I lived for three years.

The bike shop in Clinton where I bought my first 10-speed.

Crossing the Mississippi from Illinois to Iowa.

Myself.

Greenfirled, Iowa.

Although this seems to have been very popular in Villisca over a few decades, I can't find it in current streetviews.

Crossing the Missouri River from Missouri to Nebraska I ran into my first other long distance cyclist, heading east.

Entering Kansas from Nebraska.

The Missouri River.

The Liberty Memorial in Kansas City.

Checkout lines at the Walmart Hypermart in Kansas City. This was a Walmart experimental store before there were any Super Walmarts. It was, at the time, the biggest store of any kind I had ever seen and was at least as big as any Super Walmart today.

"The Scout," a sculpture by Cyrus E. Dallin who also sculpted the Paul Revere statue on the Paul Revere Mall in Boston.

I also traveled to the H. Roe Bartle Scout Reservation in southern Missouri. This was our Boy Scout summer camp location.
permalink | September 10, 2020 at 08:01 PM | Comments (0)
August 3, 2019
Los Angeles World Naked Bike Ride Photos for 2019
I rode only the afternoon loop on this year's World Naked Bike Ride in Los Angeles. I had three GoPros, each shooting one photo every five seconds during the ride. Two of the cameras faced rearward and on forward. The complete collection of photos is here. There's an icon for a slideshow near the upper right corner of that page. I tried to sync the clocks on the three cameras, but they don't allow you to set the seconds, so they're out of sync with each other over a spread of a minute or so. The route changed some this year, partly due to construction on the LA River bike path, so if you enjoy looking at these photos for what's in the background, you'll see some different scenery in this year's photos.
What follows are a few of the photos:


I'm pretty sure these two were not together, but while we waited for a traffic light they seemed to mirror each others body language unconsciously.

There were a lot of motorcycle cops along on the ride. They were tremendously helpful and had to stop at least a couple of drivers who thought they could just drive right into us, as if we would magically disappear out of their way.

A naked bystander. Not part of the ride at all, but an observer from the side of the road. I guess we inspired him. Too bad he didn't have a bike!

We entered the LA River bike path at the point where we exited in previous years.

A stop along the LA River bike path.

And we exited the bike path via a little dirt path.

The first time I rode the LAWNBR we went past this church and they called the cops. This is the first time we've ridden by it again. No problems this time.

And then we re-entered the LA River bike path.

We went through this rotary twice, for a total of 360°.

This guy was back with his sign - this year, no typos!
permalink | August 3, 2019 at 10:25 PM | Comments (1)
December 13, 2018
Texas AIDS Ride 1

After just one day of riding, we were hit by a severe thunderstorm in the middle of the night. We grabbed our stuff (excluding tents and bikes) and they transported us to a nearby high school where we hung out for hours in the gym until they bused us from there to what would have been our destination on that second day. No bike ride that day. The photo below is of me in the night as we were evacuating.

A Confederate memorial on the grounds of the state capitol building in Austin.

Tom & John who hosted Michael and me in Houston. John had lived in Boston for a little while around 1980-'81 and I knew him from then.

The Ellis County courthouse in Waxahachie which Michael and I rode through on our way from Dallas to Austin before the ride started. We were rather surprised to suddenly see what seemed an obvious H.H. Richardson in a small Texas county seat. Turns out it was designed by a student of Richardson, James Riely Gordon.

Michael riding right behind me in a pace line. This was shot by a professional photographer who had stationed himself along the route.
Michael and I had flown into Dallas with the plan to stay at the home of my friends Steve & Jeff (formerly of Kansas City) and then bicycle on our own to Austin. TAR would take us from Austin to Houston and then to Dallas. As we headed from Dallas to Austin we tried to follow small tw-lane highways, of course, but in Texas (or at least in this part of Texas) those roads all go either north-south or east-west and a direct route from Dallas to Austin would be something of a diagonal. I-35 would be the direct route, and the inefficiency of our route became annoyingly obvious as we continually crossed and recrossed I-35 on roads that weren't going in the direction we wanted to go. BUT, in Texas the interstates are parallelled on each side with smaller two-lane, two-way roads that I believe are intended mostly for slow farm vehicles. Turns out they are also excellent for bicycling...if you don't mind parallelling an interstate highway. Even at complex highway interchanges, these small roads were designed to carry us through the interchange without risking our lives. It'd be great if every state had the money and space to build roads like these. You can see an example of one of these roads on the right side of the photo below.


Re-assembling my bike at Steve & Jeff's place in Dallas.

Closing ceremonies in Dallas.

At College Station. In 1998 there had been only one President Bush, so there was no need to insert any middle initials to eliminate ambiguity.

My first time seeing cotton growing.

The Dealey Plaza memorial in Dallas.

In Dallas, the banner made for us by Steve & Jeff.

That's Geoff in the shade.

Steve, Michael, myself and Jeff in Dallas.

Geoff who was also from Boston.

Myself with Dan Pallotta, who created the AIDS Rides.
The complete set of photos is here.
permalink | December 13, 2018 at 07:52 AM | Comments (0)
August 12, 2018
LAWNBR 2018 Video Slideshow - ThiEYE Camera
Here's the third of the slideshows of my photos from the Los Angeles World Naked Bike Ride back in June.
permalink | August 12, 2018 at 08:02 AM | Comments (0)
August 6, 2018
Los Angeles World Naked Bike Ride 2018
The Los Angeles World Naked Bike Ride for 2018 took place on June 23. They do it in two loops, the first loop being shorter than the second loop. The day started out completely overcast with a bit of drizzle, temps in the 70s, despite trans-100 temperatures back home in the desert.
I've accumulated a number of action cameras and knew this would be a good opportunity to do some comparisons while getting a ton of photos of the other riders. The complete set of photos is here.
I used four action cameras:
As you will see, quality was all over the place, but the GoPro tended to do the best under the varying lighting conditions. The full sun came out on the second loop.
I have prepared video slideshows of the photos from each camera, but I've only uploaded two three. Due to upload limitations at Vimeo, I won't upload the others until sometime in September. Here are links to the two three that are up:

Los Angeles World Naked Bike Ride 2018 - Lightdow Camera.

Los Angeles World Naked Bike Ride 2018 - GitUp Camera.

Los Angeles World Naked Bike Ride 2018 - ThiEYE Camera.
They both all end when their batteries died. The GoPro had the longest battery life. It was the only camera still running at the end of the first loop. It ran far longer on the second loop than the other cameras, but died just as we came to the intersection of Silver Lake and Sunset Boulevards. Next year I think I may try hooking it up to a USB battery so I can actually photograph the entire ride (for the first time ever).
Below are some of the more interesting shots, IMO.

That's Rocky and his husband.

This guy happened to park next to me. It was his first WNBR.

This guy stayed dressed like this for the whole ride. The ride is clothing optional and a lot of riders wear some clothing, but to be 100% dressed in serious bike rider drag on a fun ride like this seemed weird. Creepy almost. He certainly looks uncomfortable to me.

There were a number of Metro Bikes in use. Some riders covered the seat as they are supposed to; some didn't.

This little guy rode the first loop only and was our only child rider. Usually, we have a few kids, but only one this year. He was accompanied by at least four adults and it looked like they must go on rides together quite a bit. He was a good rider and communicated well with those around him.

The LAWNBR is conducted with the close cooperation and supervision of the LAPD. In prior years they would run us "like a funeral" (in their terminology), meaning they stopped traffic for us at most intersections and gave us right of way. The downside of that is the line of naked riders would stretch out further and further as the faster riders at the front left the slower riders behind, so occasionally the cops would stop all the riders until everybody had caught up. That could mean standing in the street for 10 or 15 minutes sometimes. This year, we were supposed to handle intersections as just ordinary vehicles, with a few exceptions. So a lot of the photos here are shot while we are waiting for a light to turn green. Once we got to Sunset Boulevard on the second loop, and we began the long straight run back to the end of the ride, the cops stopped traffic for us at almost every intersection. Maybe we were behind schedule.

Spiderman's costume lasted the length of the ride pretty well. Sometimes full body paint shows some wear and bare spots before we get to the end.

That's Ed.

You get to see more than just naked bike riders while doing the LAWNBR.

Los Angeles Fire and Police Pensions building.

This guy. I had a brief discussion with another rider about whether the guy knew he had a glaring typo in his sign.

The Victor Clothing mural with Anthony Quinn.

Passing the Bradbury Building.

Coming up on the Dorothy Chandler Pavilion.

Waiting at a light near the LADWP.

Between the Dorothy Chandler Pavilion and Disney Hall.

Electric skateboard. He wasn't with us at the end of the ride, so maybe his battery ran out.

The double-wheeled bike on the right is supposed to float better on sand, the rider said. He brought it from Florida. I have to admit, he never got stuck in any sand during the naked bike ride.

Couldn't find matching shoes or saddle, I guess.

The guy on the phone would later be seen drinking a foamy beverage from a brown bottle. He must've had a supply in his backpack.

The second loop begins.

Metro Bike with seat covered.

Passing Union Station.

We didn't get to go right up the middle of Chinatown this year.

The Los Angeles State Historic Park has re-opened.

This bright red seat might work for that other guy with the bright red trim.

Jim practicing to be a North Korean dictator.

Just so you know I'm not the only nerd on the ride.

The passengers on the Amtrak bus from Oxnard get a special greeting.

These two followed me though an intersection on a yellow light, so for several blocks I had almost nothing to photograph behind me but them.

They held us all at the rotary where we enter the Los Angeles River Greenway Trail.

In the several years I've done the LAWNBR we've approached this intersection from just about every angle, both on sidewalk and on pavement, due to construction. But, finally, all construction is complete. We approached it from North San Fernando Road this year.

Out of the rotary and onto the bike trail.

Dodger Stadium is up on the other side of that hill.

We often see kayakers on the Los Angeles River and water birds, but I don't recall seeing geese before.

A major stopping point on the L.A. River bikepath.

This is where they hold us after we exit the bikepath.

These guys with matching skin tones and bikes.

I think L.A. Tourism should adopt this rider as their new "Welcome To Los Angeles" maiden. Postcards, posters, billboards. They'd love her in Iowa.

It's Los Angeles.
permalink | August 6, 2018 at 07:46 PM | Comments (0)
June 18, 2017
L.A. World Naked Bike Ride Photos

Here's a link to the full size photo if you want to read that tattoo.