January 22, 2018
Slides, Slides and Slides

Reverend Ch's T. Torrey in Mt. Auburn Cemetery, Cambridge, Massachusetts.
"It is better to die in prison with the peace of God in our breasts. than to live in freedom with a polluted conscience.
Torrey's Letter Feb. 7. 1846

Reverend CH'S T. TORREY.
Born at Scituate Nov. 21. 1813
Graduated at Yale College Aug. 1833.
Ordained at Providence
March. 1837.
Arrested at Baltimore
June 24. 1844.
Died in the Penitentiary of that City May 9. 1846

The friends of the American Slave erect this stone to his memory as a Martyr for Liberty.

Sunset view from Kauaʻi. That island on the left is Niʻihau. Kodachrome 1986.

The interior courtyard of the Isabella Stewart Gardner Museum in The Fenway, Boston.

The Connecticut State Capitol, Hartford.

I have no recollection of where this is. Kodachrome, 1987. In 1987 I lived in New England and traveled to Chicago, Washington DC and New York City. If you recognize this place, please leave a comment.

Chicago Water Tower, Kodachrome, 1987.

Alcatraz 1985 on Polapan film.

Sunset behind Beacon Hill in the 1980s.The point of view is the Charles/MGH Red Line station.

Chicago, Kodachrome, probably 1987.

Yellow hibiscus, probably in Hawaii.

Alcatraz, Agfachrome, 1985.

Myself (on the right) and Bob, aboard the Provincetown II ferry between Boston and Provincetown, 1986. IIRC, we just went to P-town for lunch and then came right back to Boston. That was a thing to do back before the higher speed ferries appeared. The ferry would depart Boston about 9 AM, taking about 3 hours to get to P-town. Then you could do whatever until 3 or 3:30 when the return ferry embarked.

Boston General Mail Facility (i.e., main post office) in Boston on Fort Point Channel. This panorama was shot on Kodachrome.

Flowering trees on the Charles River Esplanade, Kodachrome.

Boats on the Charles River with the Longfellow Bridge and Back Bay skyline in the background, 1985.

The dome of the Christian Science Mother Church Annex on Agfachrome, 1985.

Myself (with the camera, duh!) and Dan in Hawaii, 1986. The film is Kodachrome.

Ektachrome, 1985.

Polapan film.

John alongside the Charles River, 1985.

Kodachrome, 1987.

I don't recall where this is, but it must be in New England - probably the Boston area. Kodachrome, 1987.

Steam generation plant on Kneeland Street in Boston.

San Francisco Pride, 1985.

A roof peak on Trinity Church in Boston with the old John Hancock building in the background.

1987.
The complete collection of scanned slide photos can be seen here.
permalink | January 22, 2018 at 07:07 PM | Comments (1)
January 19, 2018
Desert Hot Springs City Council - January 16, 2018
These are some of what I think are the important bits of the January 16, 2018, meeting of the Desert Hot Springs City Council.

Fully Staffed Police Department
Five new police officers were sworn in. Chief Mondary said the police department is fully staffed. I think the definition of fully staffed is "up to the limit authorized by the City Council," because we all know our PD has never been staffed up the level we really need.

AIPP Cut To 0.25% In Industrial Zone
Some people didn't like that the AIPP rules were being assessed fairly for all kinds of property. That is, the value of the art or the amount of the in-lieu fee in effect since the program was approved in 2009 has been 0.5% of valuation for residential property and 0.75% of valuation for commercial and industrial properties.
The proposal was to eliminate the choice of putting a piece of art on site in the industrial zone. Development in the industrial zone would have to pay the in-lieu fee. I am not sure who didn't like it that the art paid for by the industrial developers would be displayed on the property developed. I didn't hear any of the City Council members express an objection to that.
This proposal went to the Planning Commission first, and they didn't like it. I could explain just why the Planning Commission didn't like it if the city's damn website would actually play the audio of that meeting, but it doesn't and they don't upload the audio to Youtube or any of the other several easy, reliable websites that actually play recorded audio flawlessly.
The choice before the City Council seemed to be to follow the Planning Commission's recommendation (leave things unchanged) or to re-insert the language taking the choice away from industrial developers. So imagine our surprise when Mr. McKee suddenly proposed to drop the rate for industrial development from 0.75% to 0.25%! Even more surprising was that Russell Betts immediately agreed to it! Ever since this program was approved, any mention of it would trigger a story-telling by Mr. Betts, in which story he would cast himself as the lonely white knight standing against everybody else who hates art. In reality, support for the AIPP program was widespread and the only discussion was the rates. The proposed rate was an even 1%, I believe, and Mr. Betts will tell you a story about how he had to fight to keep it as high as 0.75%. But now that it is 2018, he easily agreed to a two-thirds reduction in the rate.
Yvonne Parks had said she wouldn't vote for an ordinance that retained the 0.75% rate because she thought it was too high. But when the vote came, she still voted against it, even though the rate had been lowered to 0.25%. The vote was 4-1.
Some of the cannabis developers got up and complained about the surprising costs they've run into, and seemed to think this AIPP was something recently concocted to get more money out of them. In reality, the reason the cannabis developers are running into these expensive surprises is that many of them don't do sufficient due diligence (probably due to lack of experience in real estate) to find out all the expenses before they commit themselves. One cannabis developer argued that since he was having to build a road and put in underground infrastructure he ought to be excused from paying the AIPP. Again it's probably due to inexperience in real estate, but he didn't realize every developer is responsible for all that work and all those expenses. The city didn't come up with any new ideas to get in the way of cannabis development. Quite the contrary, they've now given them a two-thirds fee reduction.
In case you thought that the super-high price of land in our industrial zone would offset this rate cut, the cost of land is not included in the valuation against which the fee is assessed. IOW, it is a percentage of the value of the building only. Once you've removed the land cost, the value of the buildings will be whatever the usual value of such buildings are. The reduction in this fee is, therefore, a genuine cut to the amount of money that we would have expected to come into our AIPP fund.
Mr. McKee said he intended this to be temporary, and the council has asked that the ordinance be brought back before them in about 6 weeks to re-examine the rates. Mr. Betts said he didn't think it needed to be brought back; he was happy with the new 0.25% rate.

Resolution Setting Forth Certain Regulations Pertaining to Dispensaries
This item was removed from the agenda to be brought back at a later meeting. The proposed text in this agenda packet would have permitted a marijuana dispensary to change location, but they would still have to get a new CUP and any other of the usual necessary paperwork. The city started with 19 people who were allowed to seek a CUP and open a dispensary. Three of those people withdrew, leaving 16. Eight of those people have, indeed, opened dispensaries in town. The remaining eight still have all their rights intact, but the resolution would have specified that the right to apply for a CUP and open a dispensary is NOT transferable. The resolution also would have set the limit for cannabis dispensaries in the city at 16.
Here is a handy table provided in the agenda packet which you can use to keep track of the players. Click it for a bigger version.


New (and Re-Appointed) Commissioners
| | | | | | |
| --- | --- | --- | --- | --- | --- |
| | Matas | Parks | Zavala | McKee | Betts |
| CCAC | Michael Picardi | Barbara Eastman | Michael Burke | Untumane Turner | Donna Poyuzina |
| Planning | Dirk Voss | [hasn't decided] | Jan Pye | Larry Buchanan | Scott De La Torre |
| Public Safety | Donna Lozano | Lee Eastman | Nina Duarte | Walt Meyer | Ted Mayrhofen [this is not a typo] |

New Library
Riverside County has proposed to build a completely new library on the vacant land between Aqua Soleil and the new county building at Park Lane and Palm Drive, entirely at County expense. The current library is 3,500 s.f. The proposed library would be 15,000 s.f.
When the current library opened in 1972 the population of the city was less than 3,000 and half of it was senior citizens. The official population is 9 times greater now, and it's 40% kids 18 and under.
This item simply authorizes city staff to continue to work with the county on this. After construction of the new library the old library will be converted to a broom closet, but it won't be big enough to let everybody keep their brooms there.

permalink | January 19, 2018 at 11:05 PM | Comments (0)
December 26, 2017
Slide Restoration
On the left is the slide as it actually appears. It's about 30 years old and I don't know what kind of slide film it is, but I can say for sure it is not Kodachrome. Even though it appears to have faded to just monochrome, there is actually still color info in it and a few clicks in Photoshop, will bring those up. That's the photo on the right.
The photo depicts Boston City Hall, Faneuil Hall, the JFK Building and part of the Quincy Market as viewed from atop the Customs House Tower.
permalink | December 26, 2017 at 09:16 PM | Comments (0)
August 11, 2017
Los Angeles Neon Tours
Recently I went on two different bus tours offered by the Museum of Neon Art in Glendale. We toured on two Saturday nights, starting at 7:30 PM in downtown Los Angeles. The tours, while mostly about neon, become tours of architecture and history as well as drinking and dining suggestions. The buses rarely stop and stand still just where you want them to, but the surprisingly good image stabilization and fast focusing of one of my cheap Canon cameras managed to produce some good images.

Tower Theater, which has been acquired by Apple to become the downtown Apple Store.

Just like it says, in downtown LA.

Neon KFC!

To my utter surprise, I learned this is the oldest gay bathhouse in LA! I'd never heard of it before...nor had any of my friends who I asked. Klyt (I don't know what it stands for) opened in the 1920s on 4th Street not as a gay bathhouse, but evolved into one. How this escaped the 1980s, I can't imagine. My fear of bedbugs will keep me from exploring this one, although I'd really like to check it out.

The Chinatown Chevron must have the highest prices in the state. The price at Furnace Creek this day was only $3.069.

The Bradbury Building.

Angels Flight, which is supposed to return to service in 2018.

2nd Street Tunnel video. Click through to see the video.

Still the tallest building in L.A., IMO.

Eric, the tour guide for the first tour I went on. The guide for the second tour was also named Eric, but looked a little different.

"New Chinatown" is Chinatown, which was moved here in the 1930s to clear way for the construction of Union Station.

"Bendix," of course, but the bus was rolling and by the time I got the camera aimed, this is all I got.

Mayan Theater

The Bradbury Building with its controversial new lighting.

A parking garage at 4th & Main. I think it's just art.
The complete sets of photos can be seen here.
permalink | August 11, 2017 at 12:08 PM | Comments (0)
August 4, 2017
Dore Alley 2017 Photos
A few photos from this year's Dore Alley ("Up Your Alley") in San Francisco.
Many more NSFW images available here.
permalink | August 4, 2017 at 11:26 AM | Comments (2)
June 30, 2017
Some Photos
Some photos not previously shared.

The stage at Long Beach Opera at intermission during The Perfect American.

This is not an old sign.

I've got my eye on this pink Barbie.

Edward Wenzlaff Education Center, formerly Edward Wenzlaff Elemntary School in Desert Hot Springs.

Like it says on the label.
permalink | June 30, 2017 at 10:23 PM | Comments (0)
June 18, 2017
L.A. World Naked Bike Ride Photos

Here's a link to the full size photo if you want to read that tattoo.
permalink | June 18, 2017 at 04:38 PM | Comments (0)
June 17, 2017
Pink Houses
I visited these houses in L.A. that have been painted entirely pink, pending their demolition. NBC had a story about them.
permalink | June 17, 2017 at 07:40 PM | Comments (0)
June 13, 2017
LA World Naked Bike Ride

Actual video of part of the Los Angeles World Naked Bike Ride, 2017.
permalink | June 13, 2017 at 08:29 AM | Comments (0)
May 18, 2017
New York At Stress Levels
permalink | May 18, 2017 at 11:12 PM | Comments (1)
March 6, 2017
P-45: The Studly Mountain Lion King of Malibu
Here's a really interesting New Yorker article about the mountain lions of the Santa Monica Mountains which run from Malibu to Griffith Park. The highways have isolated this area, in terms of mountain lions traveling. P-45, however, was able to cross a highway to get into this genetic island and sow his genes. The article describes the isolation of the mountain lions which may result in their extinction (in the Santa Monica Mountains) within 50 years...which is why a land bridge is going to be built in Agoura Hills.
On this map you can see the underpass at Liberty Canyon that they believe P-45 may have used to get across the 101 and into the Santa Monica Mountains. You can see there are gaps in the residential developments there that would allow a mountain lion to pass through without having to deal directly with humans. This is where the land bridge will be built.

permalink | March 6, 2017 at 08:30 PM | Comments (0)
November 27, 2016
Palm Springs Construction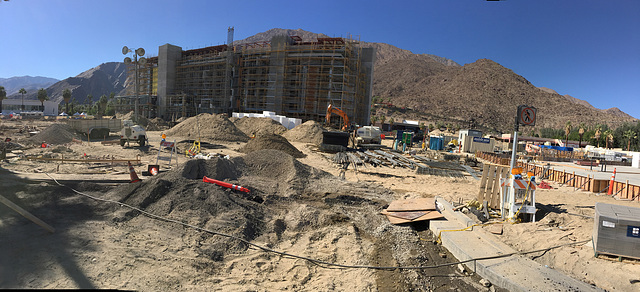 permalink | November 27, 2016 at 02:06 PM | Comments (0)
November 21, 2016
Hotel Cecil
The L.A. Cultural Heritage Commission visited Hotel Cecil on Main Street. The lobby is quite nice. They also took us up to the 14th floor to see a couple of typical rooms. Most rooms do not have baths, so there are shared toilets and showers on each floor. All of the rooms are small; about 11' by 17'. We saw one room that had no bath and it was pretty small, but included a small flat screen TV and a clock radio that included a mount for an iPod (the old Apple connection, not Lightning). Then they showed us a room with a bath. It was still 11' x 17', so they just used almost all the open floor space to put a bathroom (shower, toilet, sink) in there. There was about 18 inches of clearance on either side of the bed, and if there was any furniture besides the bed, I can't recall it. The hotel is now doing business as "Stay On Main." The rooms are very plain,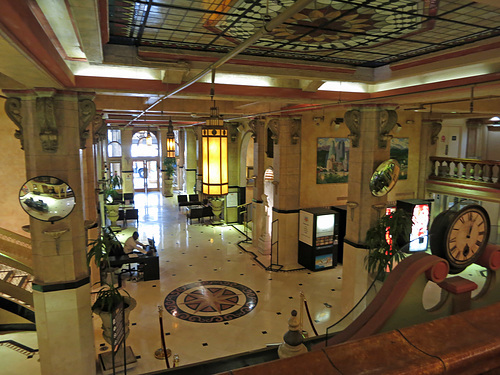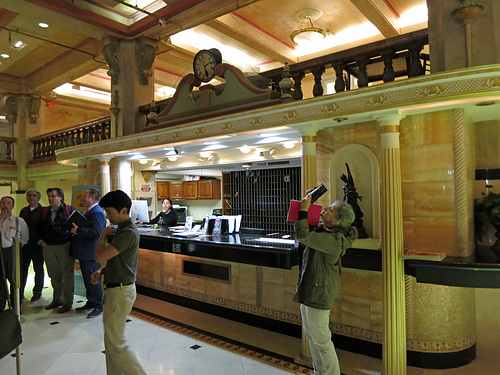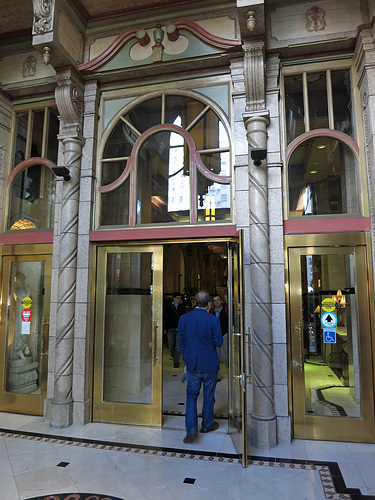 Looking out the window of a 14th floor guest room, this is the view.
More photos of Hotel Cecil can be found here.
permalink | November 21, 2016 at 08:30 PM | Comments (0)
Catalina Swimwear Building
On a tour with the Los Angeles Cultural Heritage Commission. Here's the Wikipedia article for Catalina Swimwear.


The building is live/work lofts. That's one of the Commissioners front and lower center.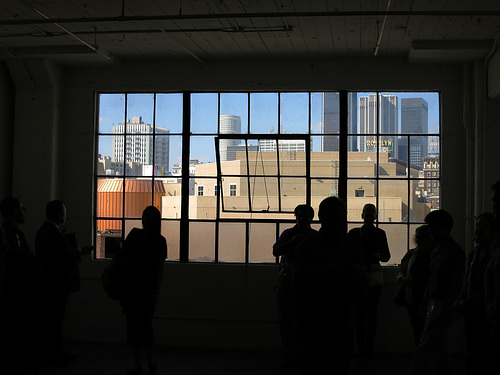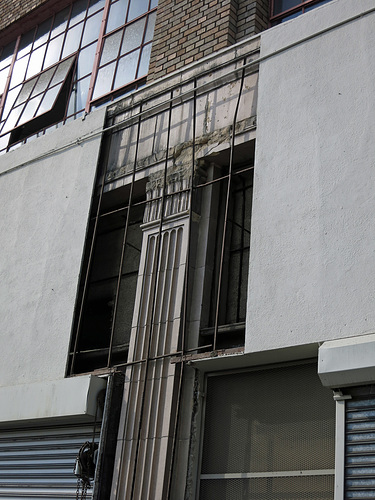 A bit of newer stuff was pulled off to reveal some of the original facade, which will be restore.
More photos of the Catalina Swimwear Building are here.
permalink | November 21, 2016 at 07:07 PM | Comments (0)
Los Angeles Cultural Heritage Commission
On Thursday morning last week I attended a 9 AM meeting of the Los Angeles Cultural Heritage Commission in LA City Hall. They had two things on their agenda that morning: first was to consider designating the Bob and Dolores Hope Estate in Toluca Lake as a monument; second was to go visit and tour Hotel Cecil and the Catalina Swimwear Building. It was the second thing that I came for, but the Bob Hope house issue was very interesting.

Above is the Google Earth view of the estate.
Below is what the public could see from the street.

The place is owned by the Bob & Dolores Hope Foundation. First the staff made its presentation with a slide show and talk all about how ultra famous Bob Hope was. Under Los Angeles law there are two different bases that can justify declaring something a monument. One basis is the usual: great cultural, historical, architectural (etc.) significance. The second is that it was the home of a celebrity. The Bob Hope house was proposed (by a city council member) due solely to the celebrity status. Staff admits it has no cultural, historical, architectural (etc.) significance. In discussion the Commissioners said that in L.A. they obviously are not going to declare every residence of every celebrity a monument or they would consume a significant portion of the housing market. But they agreed that Bob Hope was just about the most famous person in the world.
After the staff report the Foundation got up to make their comments. They were daughter Linda Hope and a couple of other people, one of whom may have been an attorney. They told us quite a different story than staff told. Right off the bat, Linda Hope said they had the wrong address. The correct address is 10346 Moorpark Street. Staff had supplied the address as 10350 Moorpark Street. No points for staff there. Then she went on to explain that while staff had described the house as French Chateau style, only the original house was French Chateau and that Dolores Hope had almost continually added wings and additions so that now the house was some sort hodge-podge of no significance. She also disputed their description of the grounds which staff said included a "one-hole par 3 golf 'course'." Linda Hope said it was only a small decorative thing that could not really be used for golf.
Worse, she said, was that there was no way the Los Angeles public could access the house. In the '90s the Hopes had considered making it into a museum, but quickly learned that since it was in a quiet upscale residential area with narrow streets, there was no way it could be a museum open to the public. So the Hopes' final instructions were to use the estate to help fund the Bob & Dolores Hope Foundation. The intention of the trustees was to sell it. The place had been sitting on the market for ages but not long ago the first decent offer was submitted. That was when the city council member asked that the Cultural Heritage Commission consider the property. The decent offer was immediately withdrawn.
Linda Hope listed all of the memorials to Bob Hope that are scattered over the Los Angeles area. She said each and every one of those was more significant to the legacy of Bob and Dolores Hope than the estate. Later, Commissioners said they were surprised by the list, not realizing there were already so many memorials; so obviously staff didn't do that research either.
A couple of residents got up to also speak against the designation, but the essence of their arguments was that Toluca Lake is a beautiful, quiet community and any kind of monument there would bring traffic, noise and lower property values. The President of the Commission interrupted both of those commenters (!) to tell them that was of absolutely no concern to this Commission.
One Commissioner suggested giving monument status to only the hedge and gate in front of the house, because those were the only things the public would ever see. I was pretty sure that was a joke, but the President went ahead and explained how impractical that would be.
Finally, a Commissioner made the motion to deny monument status and that was approved 5-0. The decision now goes to city council, since it had originated there and city council could overrule this decision.
The meeting was adjourned and we headed out on our field trip.
permalink | November 21, 2016 at 07:04 PM | Comments (0)
August 18, 2016
L.A. World Naked Bike Ride
The Los Angeles World Naked Bike Ride took place on June 11. I had three cameras, each one shooting a still photo every five seconds. One camera was mounted on the handlebars, facing forward; another on my helmet facing backwards, and the last one also facing backwards, but mounted on the rear rack of my bike. That camera takes good video, but only 5 mp photos, so those turned out to be a lot lower quality than I had hoped for.
The complete set of photos is here. These photos are on Flickr, so in order to see them, you must...
Have registered an account at Flickr (it's free and uses your Yahoo ID).
Be logged into that Flickr account.
Have your Flickr safe search settings turned OFF (here).

2nd Street Tunnel.

Andy.

Jeff.

3rd Street Tunnel.

The man with the beard. More photos of him here.

Jeff and I, R to L.

That tight black outfit is body paint.

That's Rocky with the GoPro on his handlebars.

Provocative dresser.

Tim from Boston. Well, Dorchester, but Boston.

Yes, the ride is clothing optional, but this is really overdoing it.

Tim.

Jim.
permalink | August 18, 2016 at 10:36 PM | Comments (0)
July 11, 2016
Aerial Video Of Los Angeles
A bit better than previous ones.

If you go to 1:12 you'll find a segment showing Baldwin Hills Scenic Overlook which I recommend for its great view of the city that isn't the same old view you've seen a million times. Also, it's a great place to exercise...if you've already been exercising.
permalink | July 11, 2016 at 03:27 PM | Comments (0)
June 3, 2016
Santa Monica Photos
Things seen on a Sunday near the Santa Monica downtown Expo Line stop.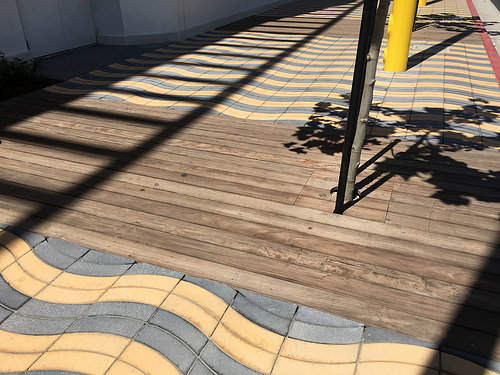 See how nicely they do the trees, with a big expanse of wood with lots of spaces to allow rain (as if it ever rained!) to get to the soil. Also expensive, I'm sure. But how much does it cost to replace dead trees?

I think the Big Blue Bus garage is behind this, or I may just be imagining that for obvious reasons.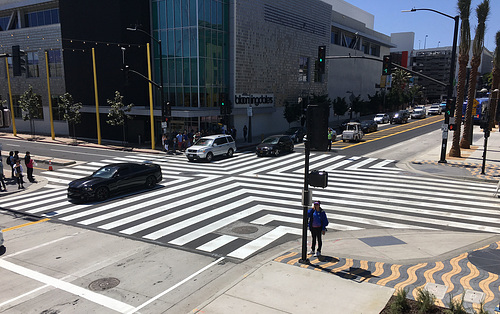 The street intersection at the Expo Line goes all four ways whenever it goes into Walk mode and so, knowing how L.A. drivers are, no expense was spared in slapping paint all over the place. Also, there's a cop on duty.

Back in Los Angeles proper, this is how they've painted the Hollywood & Highland intersection for the same purpose. Photo by LA Great Streets.


Pedestrians streaming away from the Expo train.

This was a bit of a challenge for me. Even when you're walking on this flat surface, your brain tells you its wavy. Easiest solution was to look away.

Simple and durable directions. Now, try to find that in the press of a crowd.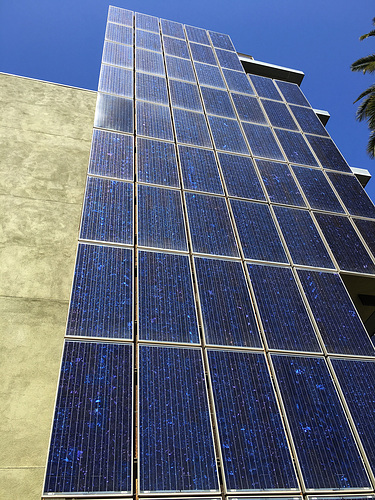 I'd like to see their calculations on the efficiency of putting solar panels in a fixed vertical array like this. Their western wall, where these are mounted, is a lot bigger than their roof.
permalink | June 3, 2016 at 07:57 PM | Comments (0)
April 12, 2016
Toy District
The Los Angeles Toy District is "bounded by Los Angeles Street on the west, Third and Fifth streets on the north and south and San Pedro Street on the east."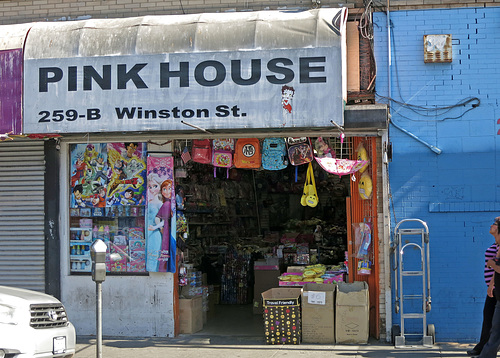 Nothing especially pink in there.

Marijuana supplies.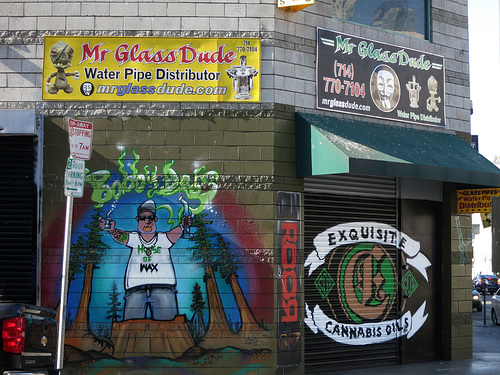 More marijuana supplies.

Where do you stick the firefighter's key?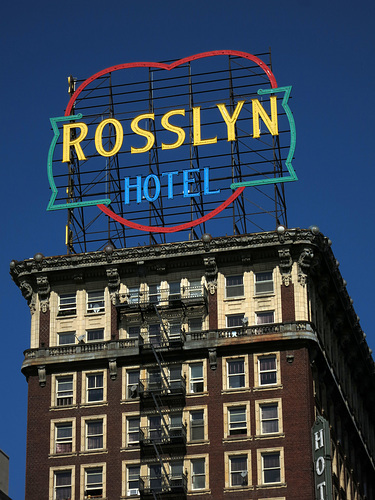 permalink | April 12, 2016 at 07:09 PM | Comments (0)
April 3, 2016
DHS Walmart Petition
I finally got around to reading the Walmart petition. There's no game-playing in it that I can detect. No exemptions from any taxes or fees. In fact, they'll kick in an additional $75,000 on top of the DIF fees. That's supposed to help pay for something at what will be the future intersections of Cactus and Camino Aventura and Claire Avenue—although I don't think $75,000 would cover very much. Here are some of the bits I found interesting:
Permitted to be open 24 hours.
Exterior payphones permitted. Open 24 hours, outside payphones, right across the street from Dos Palmas. Potential for a public safety issue there.
Landscaping will be xeriscape, but they don't say they will conform to MSWD's ordinance on this.
They will need to extend a 1,806 foot sewer line from Camino Idilio.
Palm Drive will be widened to allow for a right-turn lane.
Traffic signals will be installed at Camino Aventura and Palm Drive.
All (or almost all) of the lighting will be LED. There will also be a daylight harvesting system (is that like a sophisticated skylight?) and a computer controlled continuously active system that adjusts lighting up and down.
Waste heat from refrigeration will be captured and used to heat water.
The site will be inspected for desert tortoises and burrowing owls. But they don't make any promises about any other endangered creatures or plants.
They will also observe the usual rules if they discover archaeological artifacts.
Summary: if you want the Walmart, you can sign this petition with a clear conscience. Unless somebody wants to point out some heinous provision in it that I missed.