April 11, 2021
Four On Tri-X Film
These first three images were shot in Hidden Valley in Joshua Tree National Park. All were shot with Tri-X film in February 2021.

This lantana is at home in my own yard.
permalink | April 11, 2021 at 06:48 PM | Comments (0)
April 9, 2021
California Botanic Garden
All of these were shot at the California Botanic Garden in Claremont with a DSLR in March 2021.

Channel Island Bush Poppy.

Rio Grande Velvet Ash.

Fragrant Pitcher Sage.

Fragrant Pitcher Sage.
The complete set of photos from the CBG is here.
permalink | April 9, 2021 at 05:56 PM | Comments (0)
March 18, 2021
Four At Hidden Valley
permalink | March 18, 2021 at 07:19 PM | Comments (0)
February 19, 2021
Elected Officials Surprised When They Pull Their Heads Out Of Their Asses
People are up in arms for obvious reasons after the Oakley Union Elementary School District Board of Trustees revealed their contempt for their constituents, but no one seems to have noticed that in addition to being assholes, they were conducting an illegal meeting by discussing possible restrictions on future public comments. Those who resist resigning should be hit with Brown Act violations.
permalink | February 19, 2021 at 08:11 AM | Comments (0)
February 17, 2021
Not Everything Is A Slide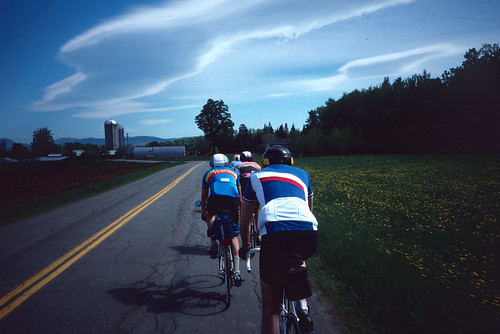 Biking in Vermont, Kodachrome, 1989.

Myself and Michael C. just before the start of California AIDS Ride 4 in 1997. This was our second California AIDS Ride, as you may have guessed from the t-shirts. Scanned from a print.

Close up on some cactus buds, Kodachrome, 1988.

Hiking in California's rolling hills, probably in Alameda County. Kodachrome, 1989.
permalink | February 17, 2021 at 04:48 PM | Comments (0)
December 19, 2020
Four On Ilford Ortho Plus Film
On October 29 this year I did a walkabout in Los Feliz to take photos. Part of it was a walking tour organized by the Museum of Neon Art. Each of these four photos were shot on Ilford Ortho Plus 80 film.

View from Griffith Observatory.
permalink | December 19, 2020 at 08:18 PM | Comments (0)
December 11, 2020
Four At Big Morongo Preserve
These were all shot in Big Morongo Preserve using, again, Rollei Retro 400S, with a red filter IIRC.

Cottonwood tree.

Cottonwood leaves.
permalink | December 11, 2020 at 08:31 PM | Comments (0)
June 27, 2020
MSWD Board Meeting, June 11 & 15, 2020
This report combines the two meetings of the Board of Directors of Mission Springs Water District on Thursday, June 11, and Monday, June 15, 2020.

Water Standby Assessments
Annual assessments on those parcels that don't have a meter, but have a water line running in front of them. Approved 5-0.

Sewer Standby Assessments
Annual assessment on those parcels that are not hooked up to the sewer system, but have a sewer line running in front of them. Approved 5-0.

Addition of Delinquent Accounts to County Tax Rolls
There are two lists of what appear to be delinquent accounts in the agenda packet. There was no discussion of this item, so no one said what the difference was between the two lists, but adding the amounts on both lists gives a total of $57,404.82. Approved 5-0.

Budget for FY 2020-2021
Approved 5-0. Any discussion took place at the budget workshop earlier this month. Video here.
Appropriations limit approved 5-0.
Employee classification plan (no changes from last year) approved 5-0.

Professional Services Contract for Sanderson Landscape Solutions
This is a contract to maintain landscaping and irrigation at 37 sites in the district. Bids were received from four companies:
Sanderson Landscape Solutions: $74,520
So. Cal. Land Maintenance, Inc.: $77,700
JP Tree Care: $91,120
Mariposa Landscapes: $96,169
Approved 5-0.

Professional Services Contract for Southern California Fleet Services, Inc.
This is for maintenance and repair of all 78 district vehicles and other equipment units. The amount of the contract is $100,000.
Approved 5-0.

Contract Agreement with Tryco General Engineering for 8th Street Sewer Line Repairs
The storm drain project on 8th Street, which is a flood control district project, not a water district project, will include a full pavement resurfacing of 8th Street. The water district has inspected its sewer lines (not the newly built storm drain) under 8th Street and found it in need of some repairs. This project is to get those repairs done before the repaving project so that (1) the street looks nice afterward and (2) the water district doesn't have to pay for the repaving.
There were two bids received for this:
Tryco General Engineering: $84,890
Tri-Star Contracting II, Inc.: $85,785
Approved 5-0.

West Valley Water Reclamation Facility Update
This is the new sewage treatment plant that the district will be building south of Dillon Road along Little Morongo Road. Plans are still being reviewed. The district is cooperating with the city, although it is not required to get permits from the city. There are plans for a regional conveyance line which would carry wastewater from somewhere (but not from the Horton Wastewater Treatment Plant) to the new plant. The district needs to acquire easements for this and some of the easements would be on Coachella Valley Conservation Commission land which was described as "not impossible." But partnering with the city for a road easement would be faster and easier.
Director Grasha said he wanted to schedule a meeting of the Engineering Committee (which consists of Director Grasha and Director Sewell) to raise some questions and get some answers. President Wright suggested a workshop so that all five directors could be involved. Director Grasha said he wanted to put together a list of concerns and questions and not feel like he has a timer running against him.
There are no timers at board meetings. If a director has a million questions on an item a board meeting is the place for him to get a million answers, but Director Grasha has been habitually shy about disclosing his opinions in regular board meetings.
Director Grasha expressed his paranoid fear that President Wright didn't want him to have a meeting. Why he allows his perception of President Wright's wishes to control his behavior he has never explained. President Wright said that in addition to a workshop any director can simply telephone staff and get answers to any questions. Director Grasha replied, "Because of the hostile work environment that you've allowed to be created down there, I find it difficult to allow some certain staff members to be around as the popularly-elected director on the board I think I have to protect the public as well as myself and staff. We have a situation that we're better served meeting like this."
At the Monday meeting Danny Friend provided more information. The total cost for the project will be around $50 million. Every month he reports on the two major components of that project which are the plant itself and the conveyance line. Initially, the conveyance line will provide startup flow for the new plant. The line does not, however, connect the two plants.
President Wright repeated her desire for a workshop rather than an Engineering Committee meeting to discuss the plant.
President Wright then moved on to the next item on the agenda, the consent agenda. When she requested a motion, Director Grasha raised his hand, requesting recognition.
Director Grasha: "Hello! Excuse me. Thank you. This has somehow turned into a staff meeting and not a board meeting. Let's try to remember this is a board meeting and not Arden's staff meeting. And that nobody that you spoke about a minute ago is going to be the one to approve or authorize this funding." [No one had been speaking about anyone. The discussion was solely about the new plant.]
"Since the day I got here you've told this board that without this new plant the stress that's on the existing plant is going to overwhelm the system with new connections. Now we're being told that we're not going to be able to use this new plant for that purpose." [The board had heard nothing of the sort.]
"So everything we've heard it's almost like this new bit of information comes in right under the wire after a new 3-year contract is issued and I'm telling you it's offensive to me and if the ratepayers knew what you just did, it would be offensive to them, and it should be offensive to every board member." [There was no new bit of information and "what you just did" was unanimously approve the contract with Tryco General Engineering.]
"You should all be running through that building with on fire after what just happened." [No censorship on my part, either the video recording or Director Grasha dropped a word.]
President Wright: "I don't understand what you're talking about."
General Manager Wallum: "We can explain that. It does take some stress off the plant."
Director Grasha: "Without a conveyance line, you can't connect them." [What a genius he is! This is exactly why the district is building a conveyance line, as the board was just told.]
GM Wallum: "The conveyance line will be built."
Director Grasha: "I'm not and no member of this board should vote to put these ratepayers into debt if you can't connect those two plants. And it would be simple to explain that, but with the microphone off and you going on to another item I can't ask a question about what is exactly the hold up between being able to run that line and how do we overcome that."
GM Wallum: "We'll explain that in the meeting."
Director Grasha: "Then when will the Engineering Committee have the meeting? Do I need to set a time and date, or do you guys want to do it? Because I don't want Nancy running the meeting with Dori Petee with her finger on the mute button. I'm sick and tired of this nonsense."
President Wright: "You know what, we can't talk about it or actually discuss this workshop. I don't know if we can right now, about when or where to have it or if anybody who else wants it besides you..."
Director Grasha: "Why are you so afraid of a committee meeting? You guys have your meetings all the time. I'm not allowed to go to those."
President Wright: "What meetings?"
Attorney: "Hold on. So the board, as I understand it, the decision's been made you're going to have a workshop on this. And then you can have the drilldown at that time, but the Board President is in control of the meeting, and under your rules, runs the meeting. So, it sounds like move on to the next agenda item."
Director Grasha: "I want to have a committee meeting. If she wants to chime in on the Zoom later or even listen on the side she can."
Attorney: "My understanding is you're going to have a workshop on this."
Director Grasha: "And a workshop is run by the President. A committee meeting is run by the chairman of the committee. That would be me. I've got a lot of questions and it's just opening bit of questions"
Attorney: "Well, that's why it's being done as a workshop, because presumably..."
Director Grasha: "Because that way you get to call the cops and escort me out of the building. Nonsense!"
President Wright: "Oh, come on. So we'll have a workshop and we'll decide when later."
Director Grasha: "Add ten grand to the pile I send out in mail against you people. It's disgusting! It's disgraceful, what you're doing."
President Wright: "I'm assuming all the other board members would also like to partake in the workshop. I have not heard any of them say 'No, no!'"

Directors' Comments
Just as President Wright was about to adjourn the Thursday meeting Director Grasha had something to say. "I can't imagine how you would be so calm when he just told you that he won't be able to connect the two plants. You're going to have two isolated plants. Based on what we were just told tonight, 70% of the reason why we're building this plant has just been wiped away, in my view. Not comfortable in getting this community with a hundred-million dollars worth of debt or whatever it is you guys are going to come up with, with a new district headquarters, and all of this other stuff, when you can't interchange between the two facilities. It's ridiculous."
President Wright: "That would be concerning to all of us."
Director Grasha: "Well, I would think so, but you don't seem to show any concern at all. You go through these meetings and as long as Steve doesn't get to talk then that was a good meeting. So here we are, six months from an election and you've got three guys who are probably going to be out on the curb because they won't take their hands off their own necks."
President Wright: "Do us a favor and bring your questions on Monday." She continued to speak, but I couldn't make out what she said because Director Grasha spoke over her.
Director Grasha: "I think we'll do it at the engineering meeting when it's been called."
I'm not going to sit here with a stopwatch to confirm it, but I would estimate that over the past 18 months the one director who has spoken far more than any other director during board meetings is Steve Grasha.
permalink | June 27, 2020 at 07:49 PM | Comments (0)
June 25, 2020
Mission Springs Water District Final Public Hearing on Elections by Division, June 24, 2020
TL;DR: The Board of Directors chose Map 2.
The video of this meeting of the Mission Springs Water District Board of Directors can be viewed here.

Elections by Division
The only significant change from last week's hearing is the presence of the proposed ordinance to put elections by division into place. The ordinance also includes the voting order which will be:
2020 - Divisions 2,3 and 4
2022 - Divisions 1 and 5
The three proposed maps:


Draft - Map 1

Draft - Map 2

Public Comment
Susan Warner commented via telephone. She wanted to know if the proposed divisions were encompassing communities. She said she has lived here only 9 months and doesn't know the area really well yet.
Next, written comments from Chuck Parker were read aloud. He urged the board to slow down. He asked what methods have been used to inform the community of this process. He thinks the process should be stopped until another hearing "several months in the future." He says people will feel left out if the process is rushed.
I'll point out here that this was the second request from the public for the board to go slower. Both requests were made by white men and neither of them acknowledged that slowing the process would mean that the current inequitable system where we elect Directors at-large would continue for another two years. OTOH, the board could approve one of these maps now and things would be much improved for the 2020 election. If there are refinements needed, those can be done when they redistrict in 2021.

Director Grasha made the point that no one asked for this to happen. "It's a mystery to me, how it became before us today. I don't think we'll ever find out the truth."
That's very strange. Director Grasha has been present at every board meeting where elections by division was discussed. He was present for all four of the public hearings. He voted along with the rest of the board in favor of every step of the process along the way. He must have had his memory erased.
He also asked if the board approved elections by division, could that be reversed later.
You don't need a lawyer to answer that one. It's an ordinance. If the board approves an ordinance, the board can also revise or repeal that ordinance...and face the consequences.
Director Grasha said he thought the ordinance itself constituted a change in the maps.
[If the maps are changed, then the board has to publish the revised maps and wait at least seven days for another hearing.]
He said this particular provision in the ordinance is the change: "In the event a vacancy occurs before the expiration of the term of a Director in office at the time this Ordinance takes effect, a person who is appointed or elected by special election to fill such vacancy may reside anywhere within the District." [emphasis added] All of the current members of the board represent the district at-large. If any of them have to be replaced before their terms are up, they will be replaced by another at-large Director. This provision dies a natural death after the 2022 elections, and would only come into play before then if a Director leaves the board.
The attorney clarified these issues in answering Director Grasha. He said that in answer to the question "Who asked for this," it was Director Grasha who asked for this. He was the one who suggested elections by division. President Wright pointed out that Director Grasha had bragged online that he was somehow solely responsible for initiating this process.
Director Grasha said he was happy that this process has moved forward, but he did not bring it to the board. "It was delivered to the board...by, I don't know who. It was brought to the board right after I was called on the front page of the Desert Sun a 'racist'." He believes the other four members of the board have pursued elections by division as part of a scheme whereby they could "chase him off the board." He did not say how this would be accomplished, nor why he thought he would be more effectively chased if there were elections by division. He said there was "egg on every face on this screen," without explaining what that meant.
Director Sewell said that he recalled MSWD started this process right after Desert Water Agency had completed their conversion to elections by division. The MSWD board decided to be proactive and not wait for the inevitable letter from the attorney.
Director Grasha brought up a comment made by President Wright at the previous hearing which was that it was important to keep Mission Lakes Country Club in division 1, which is mostly county. Mr. Grasha said he lives in a [proposed] division where there is only one voter in one square mile. "I'm the only voter," he clarified. I believe Mr. Grasha lives in the Two Springs RV Resort on Indian Canyon. He did not say if he means he is the only registered voter there or that he's the only one who actually votes there. He wanted to know why, if it was important for one community to be in the mostly county district, it was not important for another community to do the same?
The easy answer is that if they created a division that included all the county areas west of the city, the population numbers would be too far off from the constitutionally permitted deviation of 5%. Also, it would put both President Wright and Director Grasha in the same division. If he is trying to say that he would like to run against President Wright, he never makes that clear.
Director Grasha went on, "No one should doubt what is really happening in here. What we're really attempting to do is carve out entire sections of the community from this election cycle to protect one favored board member from having opponents file against him. And those opponents would come from a particular area that have now been written out. They won't have any ... they won't be able to run for office. They won't be able to vote. And I think it's offensive that this board is doing it for that reason. There's no doubt that's what's happening in here. There's no doubt that the reason this is before us is because this district's attorneys caused another district to go in a direction they were forced to go in by our own counsel. And I find that offensive. And I find it offensive we're paying him two-hundred thousand dollars this last month to dump us in this trash can. It's a dumpster fire. It's your fault. And now you're going to have to live with it and for me, all I have to do is drag my trailer across the street."
President Wright had been trying to interrupt him for a while, and finally the attorney brought his rant to an end.
Director Grasha has never made any suggestions or motions to revise the process, to slow it down, or to revise any of the maps. The board has voted unanimously every step of the way, so he is at least 20% responsible for where the board finds itself. I don't know who the "favored board member" is but if I had to make a bet, he's probably referring to Vice President Duncan. How going to elections by division will protect any individual board member, I have no idea and Director Grasha never said. I don't know where this geographical area is that he thinks all the candidates would come from, nor why he thinks they would be denied the right to run and vote in their own division. I think every one of the five divisions has intelligent, interested people who might run for the board now that they know they only have to carry their division, not beat out everyone in at-large races.
The attorney asked the demographer "Mr. Ely, did you create the maps that you created in order to protect one particular board member of Mission Springs Water District?" Mr. Ely answer, "No, I was completely unaware of where any of the board members lived when I created the drafts. The modifications that I made to the drafts were extremely slight in order to put each of the incumbents into a separate district."
The attorney then stated, "That is apparently not an issue and it's not based on fact, that allegation."
Director Grasha, addressing himself to President Wright, said, "I can run in any of the five districts or any of the two districts in this two years and believe me, you're going to have the run of your life. Cause I got nothing else to do, except sit around and figure out ways to stick you with toothpicks."
Director Martin moved to select Map 2. Seconded by VP Duncan. President Wright called for the vote, but Director Grasha wanted discussion. President Wright said that when he's given time for discussion he just rants and raves, so she insisted on the vote. Director Grasha kept trying to talk, so the attorney intervened to remind everyone that the President presides and she had made her decision. Approved 5-0.
Director Grasha moved to approve the ordinance, but wanted to delete the provision whereby an at-large board member would be replaced by another at-large board member, if necessary; and he added a provision to spend up to $25,000 to to inform every resident of the district what division they reside in and that all registered voters are eligible to run, including a copy of the map.
His motion died for lack of a second. The attorney pointed out that the provision to inform the voters doesn't necessarily have to be in this ordinance. The board can approve that later.
Vice President Duncan moved to approve the ordinance as written. Seconded by Director Martin. Approved 5-0.

Notice of General District Election
The standard resolution that every political body in the state has to issue in order for their elections to happen. Approved 5-0.
permalink | June 25, 2020 at 08:57 PM | Comments (0)
June 17, 2020
MSWD Public Hearing on Elections by Division, June 16, 2020
This meeting was the third (of four) public hearings on the subject of electing Mission Springs Water District board members by division.
The three draft maps (PDF) are available here.
The next, and probably final, hearing on this subject will be Wednesday, June 24 at 5 PM. The board will probably select the final map then, and the divisions will be in place in time for the elections in November this year.
To help myself get a quick overview of the differences between the three draft maps, I whipped up this GIF:

David Ely, the demographer, gave an overview of the process, citing the data shown below:


Draft Map 1 data.

Draft Map 2 data.

Draft Map 3 data.
You will see that in all three draft maps there are two Latino-majority divisions, 4 and 5, whether you count by total population, population of voting age or citizen population of voting age. In draft maps 1 and 2, divisions 1 and 3 have white majorities in citizens of voting age, while the biggest demographic in division 2 is whites, they have a slim lead over Latinos. In draft map 3, divisions 2 and 3 have a white majority in citizens of voting age, while in division 1 the white population (citizens of voting age) is 45.9% and Latinos are 38.9%.
The demographer explained that any attempt to create fewer than two Latino-majority divisions would land the water district in federal court.
The overall maps for the entire district can be found in the three PDFs linked above, but all the variations occur right in the city, so the maps below exclude the western part of the district and some of the unpopulated northern area. Here are those three maps:


District Draft - Map 1

District Draft - Map 2
The underlying map used by the demographer has some old street names on it and he uses those names instead of the names we know. "16th Street" is Mission Lakes Boulevard, although west of Indian its name is "10th Avenue." "14th Avenue" is Two Bunch Palms Trail east of Little Morongo.
The demographer pointed out that the borders between divisions are a bit simpler and straighter in draft map 2 than in draft map 1.
Draft map 3 shows greater variation from the other two. In draft map 3 Mission Lakes Country Club goes from division 1 to division 2. Division 1 is extended into the city center so it encompasses the area around Palm and Pierson.

Public Input
Susan Werner submitted a written comment which was read aloud to the board. She resides on Avenue Ladera, which is in division 1 on draft maps 1 and 2, but in division 2 on draft map 3. She prefers draft map 3 because it unifies the communities north of Mission Lakes Boulevard.
Russ Betts also commented. He said he thought this process had been halted by COVID-19. He said this hearing came about rather abruptly, short-circuiting the public hearing process. He said this appeared to be a matter of trying to beat the clock so they could get the decision made in time for it to be effective for the next election. He said it appeared the board was rushing the matter.
Then he raised the issue of whether the directors were carving out divisions that were best suited for themselves. [At this point in the process the directors have had no say in how these draft maps were drawn. The demographer drew them himself, and the demographer is not going to run for the board.] He pointed out an area in draft maps 1 and 2 where the boundary along Mission Lakes Boulevard takes a short detour north to include the houses on the north side of the street between West and Santa Cruz. Mr. Betts said it looked like this had been carved out to include the residence of one director. He did not say (and it never came up later) that he knew with certainty that a director lived there. He called this gerrymandering.
As often happens, Mr. Betts is living inside his head while reality continues around him unnoticed. This process, to establish elections by division, never halted. I have no idea why he thinks that. There were two public hearings before this one and then we were told there would be a gap while the demographer prepared his maps. All through the process the board has made it clear they intended to wrap this up in June so it would be in effect for November.
He objects to rushing this matter, but he must be forgetting the underlying issue that is driving agencies to switch from elections at large to elections by division; and I don't mean the California law that allows a law firm to send a letter and then collect $30,000. No, I mean that across the entire state, people of color have been denied their full voting power by elections at large, when white people constitute the majority in almost every city, county or special district. As an example of the racial bias in at-large voting we don't have to look any further than the board of directors of the Mission Springs Water District. Has any non-white person ever been elected to that board? Certainly none while I've been living here. To avoid "rushing" this matter is to tell the Latinos who live in this district that their voting rights can wait while we dither over just exactly, precisely where we should draw the lines - even though all three of the draft maps as presented meet constitutional muster. Any one of them could be approved and the voting rights of people of color in this district would be improved. But Mr. Betts sees little need for that.
And as for "gerrymandering," if he thinks that's gerrymandering, he has no idea what gerrymandering is. Here are a couple maps focusing on the area of his concern. On these maps it looks like the line follows a road that's between Mission Lakes Boulevard and Avenue Ladera, but that's only the alley behind the houses along those two streets.

Draft 1.

Draft 2.
The demographer said he prepared rough draft maps with no direct input from any board member and without knowing where any board member lives. Then he looked at board member's residence addresses and made minor changes to boundaries so that no two sitting board members would be in the same division. He said this required shifts of no more than a couple hundred people. He said this is common practice and legal. He did not say (and no one ever said) if a board member lived on the north side of Mission Lakes between West and Santa Cruz.
There are some distinctions between cities (and probably counties) and special districts in terms of redistricting. Cities (and counties?) are more restricted in what they can do.
Director Grasha had a question, but he can't just ask a question. His "question" had so many pauses, circumlocutions, tangents, explanations and excuses before he got to his stumbling point, I could have gone and done something useful with my time, like make a sandwich, and missed nothing. Once election by division is set up, if someone wants to file a recall petition, do the petition signatures have to come from that board member's divison only, or from the entire district?
The answer seems pretty clear to me. The signatures would have to come from within that board member's division, otherwise you could have the voters from the other four divisions running a recall against a possibly ethnic minority board member in another division, and that would turn into a federal case real fast. The official answer was they thought the signatures had to come from within the division, but they would check that to be sure. However, all five current board members were elected at large, so until each is re-elected in their division, a recall against one of them would seek signatures from throughout the district without regard for division.
Director Martin said he preferred draft map 2 because the divisions are more geometrically simple, using main thoroughfares for boundaries. Vice President Duncan said he had no preferences, but he liked Director Martins' views on it.
Director Sewell suggested the district put out something like a social media post to encourage district residents to submit their opinions in writing before the next public hearing on the 24th. He like draft map 3, where Mission Lakes Country Club is in the same division as its neighbors to the east, but draft maps 1 and 2 are acceptable to him. President Wright prefers draft map 1, but says draft map 2 is okay. She pointed out that Mission Lakes CC is in the county, and putting it in division 1 which is mostly county would make sense. Division 1 in draft maps 1 and 2 also more closely aligns with Supervisor Hewitt's district than in draft map 3.
Director Grasha asked about a situation where a voter might end up NOT being able to vote for a director through two election cycles. The situation could come up if a voter lives in a division that is not electing a director in November 2020; then the 2020 census data arrives and the district has to adjust the division lines to reflect that; and that voter now finds themself in a different division that had its election in November 2020, so no election in November 2022. That voter would not get to vote for a director until November 2024. The answer boiled down to that's just one of those things that can happen when any district switches to election by division right around the time of the census. It's too bad, but legal and accepted.
Wasn't there a U.S. Supreme Court decision where they said something like the Constitution guarantees elections, but doesn't guarantee perfect elections?
Then Director Grasha asked about the hypothetical case of the division boundaries being redrawn after the new census figures come in, in such a way as to exclude an incumbent director from running for re-election. The attorney dismissed that, saying he didn't think that would be an issue.
No director suggested any changes to any of the three draft maps.
At the next hearing on June 24th (5 PM) the board will, in addition to selecting a map, decide on the chronology of which divisions will be up for votes this November and which will wait until 2022.

My Opinion
I prefer draft map 2 for the same reason as Director Martin, but I would find draft map 1 acceptable. I don't like draft map 3 because it takes division 1, which encompasses a large area that is county, but excludes Mission Lakes CC from it, and then to compensate for the lack of Mission Lakes CC the division dives right into the city center. If we thought, for some reason, that every director had to have some areas in the central urban areas of DHS, then draft map 3 would do it, but nobody expressed any desire to have the divisions laid out that way. To me it seems draft map 3 takes an urban neighborhood that is primarily people of color and dilutes their voting power with the mostly white western areas of the district.
permalink | June 17, 2020 at 10:10 PM | Comments (0)
March 23, 2020
Mission Springs Water District Board Meetings, March 12 & 16, 2020
This is a report on the MSWD Board meetings of March 12 and 16, 2020. I did not attend the meeting on Monday, March 16, and base that part of my report on the video.
Video of the Thursday, March 12 meeting.


Video of the Monday, March 16 meeting.
At both the Thursday and Monday meetings, Director Grasha participated via telephone. Vice President Duncan was absent (excused) from the Thursday meeting.
The Monday meeting began with Grace Gardner speaking by phone. She was not introduced, other than to give us her name, nor was her presentation agendized. Ms. Gardner summarized the federal, state and local rules about dealing with COVID-19. It is now possible for the entire board to participate in board meetings via telephone.

Sewer Connection Financial Assistance Fund
This will be similar to the fund that was set up for AD12, but this one can apply to all future assessment districts. It will be started with $250,000. Loans will be available for both residential and commercial customers. The maximum loan for one residential property is $6,000. The resolution doesn't state a maximum for commercial customers. The board can approve a higher amount. The length of the loan can be up to ten years. The resolution says "Payments shall be included on the utility bill of the improved property." I take that to mean some amount will be added to the water bill monthly. The interest rate will be 5% or the Local Agency Investment Fund yield rate, if higher. Delinquencies will be assessed a 7% penalty and all of that will then go on the tax bill.
Approved 5-0.

Water Supply Assessment For The DHS 109 Industrial Park
The DHS 109 development is east of Little Morongo, west of Atlantic Avenue and north of 16th Avenue. If you know where the self-storage business is on the west side of Little Morongo (in the county), DHS 109 will be east of that, on the other side of the wash. It will include 5.4 acres of light industrial, 17.5 acres cannabis cultivation, 6.6 acres for a power plant (no info on what kind, but I'm guessing it will be natural gas), 25.7 acres of landscaping, 5.7 acres for detention basins and a whopping 49.36 acres for streets and parking. Total water demand will be about 1,800 acre-feet/year, but the developer will set up a water recycling system which will reduce the net water demand to 910 acre-feet/year. The district has sufficient water to supply that.
Approved 5-0.

Public Safety Power Shutoff
The board had asked for an update on Edison's policies on public safety power shutoffs, so Edison sent a couple of reps to explain. This included a visual presentation, so if you want to see that go to 10:15 in the video of the Thursday meeting. Edison is installing more HD cameras in high fire-risk areas. Currently they have about 200 cameras installed. By the end of 2020 they should have camera coverage of 90% of their high fire-risk areas. They are also installing more weather stations. Now they have 400 weather stations. By the end of 2020 they will have over 850 set up. In the past Edison has cleared vegetation back to create a 4-foot buffer. Going forward they will make that a 12-foot buffer. They've begun hardening their grid. That means replacing wooden poles with composite poles in high fire-risk areas. Also, they are beginning to insulate all their bare wire. Insulation will reduce the probability of an ignition point creating a fire by 60%.
Edison has 7 to 10 meteorologists on duty at all times whose job it is to assess threats. They also have fire experts on board who used to work with CalFire or other fire agencies. When winds in an area reach 32 MPH and wind gusts reach 47 MPH then Edison will focus its attention on that area. They try to look four to seven days ahead, if possible, and may "sound an alarm" seven days ahead of an expected event. If a weather event is expected in three days or less, then a team is activated in the emergency operations center. Edison will then begin to notify local agencies and pinpoint a "period of concern." Up to about a year-and-a-half ago Edison did not directly notify water districts, but trusted the local city or county to pass the word on to them. But someone has since pointed out to Edison how important water is for fighting fires, so now water districts get the same notification as cities and counties. Notification is sent out to all customers on any circuit one and two days before any event that Edison thinks may require that circuit to be cut off.
The "period of concern" is when Edison thinks it is most likely that power will be cut off. If power does get cut off, customers should not count on power being restored until 24 hours after the period of concern ends. During those 24 hours Edison will be repairing and inspecting lines.
But, of course, if conditions are moving too fast (such as a wildfire), all those timeframes could be shortened.
With sufficient warning the district can fill reservoirs and move generators to power wells and pumps. The district has permanent generators located at the Horton wastewater treatment plant and at district headquarters on 2nd Street.
Director Martin asked about "hell hydrants" which are temporary water supplies that fire fighting aircraft can use. Staff said MSWD had used something like that in 2006 during a fire in the western part of the district. Here's an article about a fire-fighting base in the Santa Monica Mountains that uses water "pumpkins" that seem to function as I imagine hell hydrants might.

New Meters Project
A little more than 4,700 new water meters have been installed which is about 37% of the total. There are 12 installers and they still expect the job to be completed in June (but that's probably not allowing for any delays that may be cause by the pandemic).
Meters are designed so they cannot overread. As they age, they will tend to underread. This means when a customer gets a new meter, it may look like their consumption has increased, but in reality they were just getting some free unmetered water from the old meter and going forward they will get no more free water.

General Manager's Comments
At the Monday meeting the changes the district was making to deal with COVID-19 were announced. One of the changes was to divide the staff into two halves. Each half would work from home during alternate weeks. MSWD will not shut off any customers, but all the usual billing rules still apply (IOW, there are still late fees, etc.). Director Grasha said he supported this, but thought it could be a slippery slope.

Director's Comments
Director Grasha thanked the staff for their work during this pandemic, and he warned them to try to stay safe.
Director Martin raised the issue of how dirty cash can be, saying he was going to pay for everything using his debit card. Then President Wright made the rather startling revelation that she has no ATM card.
Vice President Duncan said he wanted to remind everyone that what one board member does reflects on the other. He used Director Sewell for an example, saying that if he went out and got a DUI it would look bad for the whole board. It also reflects badly on staff, management and the attorney. If staff does badly, it reflects badly on the board. Then he had a statement to read:
This past Monday, March 9, Steve Grasha posted on Facebook his intent to run against Manny Perez for county supervisor. During the thread of conversation the gentleman told Steve simply "Fix the water," to which he replied "The agency is too corrupt to be fixed. It needs to be disbanded and rolled into the Desert Water Agency. That will be my recommendation to the public." Normally I comment on these things at this point. I'm not going to today because I included this in my defamation of character lawsuit which will be heard tomorrow afternoon, Palm Springs Municipal Court. Secondly, I apologize for the upcoming language, especially to the ladies but I really want everyone to get a true picture of who's representing us. After several pages of comments on that post Dana Reed, a council member from the Indian Wells commented on the conversation by simply saying "That loud noise you hear are cheers from Supervisor Perez's office." To which Grasha replied, and, again, apologize here, "You're one of the morons I want to make sure never gets close to the ribbons of power in this country. You are the most corrupt motherfuckers that ever walked the face of the earth." Didn't say "face," sorry. "Ever walked the earth." That comment was made on Indian Wells council member who has no service with us and has no jurisdiction over us. He simply commented to the Facebook post. That entire conversation also caught the attention of Manny Perez, the current supervisor for the county, who contacted Victoria asking about that conversation and I'm sure wanted to know what the heck was going on here at the district. Again, what one of us do, reflects on us all. Both of those comments made by Grasha are out of line and completely unacceptable. I would like to recommend to this board that we consult with our attorney to find some way to sanction Grasha for these despicable words and actions. This has gone on too long. We cannot leave this the way it's going.
Attorney Pinkney said he would not comment on that.
As President Wright was about the wrap up the open session, in anticipation of moving to closed session, Director Grasha piped up without waiting to be recognized.
I'm glad to know that it's okay with the director that drinking and driving is okay, but having a discussion with a director from another community is not okay.
permalink | March 23, 2020 at 07:18 PM | Comments (0)
March 18, 2020
Shot in the Coachella Valley: "They Made Me A Criminal"
I just happened to run across They Made Me A Criminal (from 1939) on the local OTA movie channel one night a couple of weeks ago. I was surprised to see a sequence that was obviously shot in the Coachella Valley, as Mt. San Jacinto can be clearly identified. I got the DVD from Netflix and grabbed that short bit to share below. After walking to a date grove, star John Garfield settles in romancing the blonde lady who owns the grove and teaching some east coast juvenile delinquents (played by The Dead End Kids) boxing. All is paradise until Claude Rains shows up.
IMDB identifies the shooting location as "Palm Desert, California," but nothing of Palm Desert existed in 1939.

permalink | March 18, 2020 at 05:11 PM | Comments (0)
February 7, 2020
UC Riverside Botanic Gardens
Last weekend I went and explored a little bit of the UC Riverside Botanic Gardens (map). Somehow I had never heard of these gardens until just a few weeks ago. Here are a few of the photos. The complete collection of photos is here.
permalink | February 7, 2020 at 09:36 PM | Comments (0)
February 3, 2020
MSWD Board Meeting, January 16 & 21, 2020
It Starts Early
Link to the YouTube video at 2:38. Before new Board President Nancy Wright called the meeting to order at the Thursday meeting, Director Steve Grasha used his live microphone to announce that he had just been served a subpoena for small claims court. He quoted from the subpoena "I have asked him to stop lying about me multiple times." He told President Wright that this was her problem. New Board Vice President Randy Duncan said "She has nothing to do with that and knows nothing about it."
Then the meeting was called to order.

Public Input
Jeff Bowman commented at the Tuesday meeting. Link to the YouTube video at 5:56.
Madame President, members of the Board. Steve Grasha, during the 2018 campaign you lied and called me a pedophile and a sex trafficker. On 9/23/2019 we went to court and the court found you guilty of libel. You appealed that decision and we went to court again on 12/6. You lost that appeal and the judge wrote in her verdict dated 12/13 the following, and I quote: "The uncontroverted evidence before the court is that defendant Grasha posted libelous material on his Facebook account and under his own name and under the name of Steve Davis. Grasha posted numerous statements unmistakably referring to Bowman as a pervert or pedophile. Having reviewed the photograph, the court finds Grasha's claim regarding the photograph to be outlandish at best. Even assuming that both men are public figures, the court finds that Grasha's statements were libelous and highly damaging to Bowman and that the statements were made without any good faith and that they were made maliciously. Furthermore, it is self-evident that the statements published by Grasha would be highly distressing to their target. Plaintiff Bowman is awarded $10,000 in damages and his court costs of $75."

Steve Grasha, you have not paid me this judgement. Be informed today that I will be pursuing these monies by all legal means possible unless you pay before February third, 2020. Your failure to pay this judgement will land you back in court where you will have to produce a statement of assets and you'll ultimately be forced to pay.

To the rest of the Directors and staff in this room today: Steve Grasha has libeled MSWD. He has boldly claimed that you secretly laundered $300,000 in cash through a nondescript storefront located in a strip mall of Desert Hot Springs, and that you were doing this for years. Please realize that Grasha isn't someone speaking as the public from the podium. He is an elected official. One of you. He has taken the oath to selfishly [sic] uphold the principles of this district. [At this point Mr. Grasha attempted to interrupt, claiming Mr. Bowman's time had elapsed, but YouTube will show you that only 2 minutes and 45 seconds had elapsed. President Wright called him out of order and Dori Petee reminded them that she has the timer.]

Counsel, will you please control your Director? [President Wright said that she had called him out of order and Mr. Bowman thanked her - District Counsel did not respond.] Such a claim, that you've laundered 300,000 in cash must be taken seriously. He must either prove it or be held accountable for such an outrageous attack on the very district he has sworn to protect. Steve, I'll see you in court next Monday. Our second lawsuit.

Elections By District - First Public Hearing
Link to the youTube video at 12:48. MSWD is proceeding with changing to elections by district without waiting for any demand letter to show up from any attorney who wants to claim $30,000. Districting info can be found on the district's website at mswd.org/districting. That includes the Powerpoint presentation given to the directors at the Tuesday meeting which includes maps showing
This hearing and the next are informational only. The second hearing will be during the February board meeting (which should be February 18). David Ely is the demographer the district has retained for this process.
If you were paying attention when the Desert Water Agency went to districts, then you know the drill. The rules are the same. There will be (at least) four public hearings. January 21 was the first. February 18 will be the second. After that, draft maps will be created, then there will be two more public hearings. All draft maps must be published at least seven days before any hearings where they will be discussed. Same for any revised maps. Maps must be published seven days before the board can adopt them.
They will be using census date from 2010 to determine the population of the districts. The most populous district cannot be more than 10% larger than the least populous district. The population of the entire district (as of 2010) is 37,572, so an ideal district would have 7,514.4 residents. We are 53.4% Latino, 36.1% white, 6.5% black and 2.2% Asian. If you count only adult residents or only citizen residents, the ratios change.
The numbers in each colored block on the median income map is the actual median income in that block. "Overcrowding" for the purposes of the map means more than one person per room in a residence. The College Degree map counts any college degree from Associates degree on up. The Census Block map (which is labeled "BG Population") simply shows the total population in each census block.
Director Grasha raised the point that two people surnamed Sanchez have run for the MSWD Board, but were not elected. He then pointed out his high vote total, saying "The idea that people didn't have a fair shot at getting elected seems to be to be not accurate." Unless Mr. Grasha now identifies as Latino, his point seems to be that electing yet another white man to the MSWD Board somehow means districting is not necessary. He went on to say that he now opposed districting unless "People get down here and ask for it."
If the MSWD Board waited to do anything until the public came in and asked for it, they would be doing nothing. At a lot of the board meetings I'm the only member of the public present. Sometimes one or two others show up. If there's any demanding, it's usually for improved customer service.

Board of Directors Handbook
This was discussed in detail at the meeting on December 17, 2019. A few minor revisions were made based on input from the Directors. Director Grasha recused himself from this vote, saying it was subject to litigation. I'm not aware of any litigation around the handbook itself. The subpoena Director Grasha received concerned his behavior not the handbook.
Approved 4-0.

Mid-Year Budget Review
Link to the YouTube video at 14:23. Staff requested an increase in the legal budget of $250,000 and in consulting services of $120,000. Director Grasha asked to know "exactly" what those were for, with an emphasis on "exactly." Finance Director Matt McCue said he could not give an exact explanation, but that perhaps the General Manager could add some detail. Mr. McCue said it had to do with CGMA, meaning the lawsuit against DWA. General Manager Wallum pointed out that was a closed session subject. Director Grasha demanded to know how it could be "out here" if it's a closed session item, obviously failing to understand that ALL budget items are approved (or disapproved) in open, public sessions, not closed sessions. [Welcome to California, Steve!]. District Counsel began to explain, but Director Grasha interrupted him to say that he had attended closed session and he never heard about a budget increase [see my earlier point about budget items being reserved for open session]. Attorney Pinkney explained that they are working on a settlement with DWA. If it is settled, then the expenses won't be so significant. But if the settlement falls apart, it's difficult to predict the expenses.
Director Grasha said that hiring a consultant was both a personnel and policy issue and the board should know what it is. General Manager Wallum said the consultant is Hunt Thornton and they are doing financial analysis in relation to the suit with DWA. The attorney said that the Presidents and Vice Presidents of the MSWD and DWA boards are negotiating the settlement without anyone else present, including legal counsel. Mr. Grasha said "So Randy Duncan is deciding the future of this district without the input of the five members of the board?"
Mr. Grasha's question was answered with a No from General Manager Wallum, President Wright and the attorney, in that order. Attorney Pinkney began to explain further, but Mr. Grasha interrupted him to say "How did it happen, because I can count to three." The attorney asked to be allowed to finish his statement. He went on to explain the board gave him direction at the last closed session and now they will have a meeting based on the direction given in closed session. Mr. Grasha said that having "inexperienced" board members negotiating "is completely outer space." He accused Vice President Duncan of "inventing" the idea of negotiating this way.
Changes in the personnel classification plan also required an additional $94,823. Those changes include elimination of the Administrative and Government Affairs Specialist position and the addition of an Assistant General Manager position. The total number of FTEs remains at 49. Costs allocated to capital jobs have been reduced by $64,620. The net increase for the operating budget then comes to $400,203, a 2.6% increase.
The board had given direction to the General Manager to get an Assistant General Manager at his last evaluation by a board...a meeting that Mr. Grasha did not attend. Mr. Grasha asked if the board "approved" a new position during that evaluation (evaluations take place in closed session). The answer was of course not. During the evaluation, the board instructed the General Manager to get an Assistant General Manager. This item before the board today, the budget revisions, would, in effect, approve the new position, but that seemed to go over Mr. Grasha's head.
Mr. Grasha asked what the salary range would be for the Assistant General Manager. It will be from $220,000 to $272,000. Mr. Grasha asked how many positions pay more than that. The answer was none. Mr. Grasha disagreed, asserting that the General Manager makes more than $220,000. Both Mr. Wallum and Ms. Wright simultaneously answered "No." Ms. Wright explained to Mr. Grasha that they were looking solely at salary, not at the total compensation package. Mr. Grasha said that Mr. Wallum was making more than $300,000. Again, Ms. Wright tried to clarify the difference between salary only and total compensation. Then Mr. Grasha asked "Are we actually going to try to pretend that he's not making over 200 grand a year?" "I am," was Mr. Wallum's response. "Close to 215," he added. Mr. Grasha said he thinks a lot of people make more than $200,000/year.
The capital budget also needed increases totaling $127,000. Those increases are $17,000 for new construction meters, $25,000 for effluent filtration preliminary design review at the Horton plant, $50,000 for the regional urban water management plan and $35,000 for the San Gorgonio Pass Groundwater Sustainability Plan.
Approved 4-1 with Mr. Grasha voting against.
Link to YouTube video at 50:43. After this vote, discussion moved on to the following item, but after a few minutes Mr. Grasha seemed moved to explain his vote. Mr. Grasha said it was wrong to add personnel to the budget in secret. President Wright pointed out that it was not in secret, it was discussed by the board (with Director Grasha present) the previous Thursday in the study session, and on the day of this meeting it was voted on openly and publicly. Mr. Grasha claimed the evidence of the secret meeting was sitting in the audience. I have no idea what he might have meant by that. The additional position that was authorized in the budget vote not five minutes prior was for an Assistant General Manager. No Assistant General Manager was hired in those few minutes. The district does not have an Assistant General Manager. Mr. Grasha was raising his voice. President Wright called him out of order and offered a 5 minute recess so that he could control himself.

Ordinance Amending the Policy on Discontinuation of Service Due to Nonpayment
This reflects changes that are mandatory under state law. Service could not be discontinued before 60 days of nonpayment. Partial payments and payment plans (up to 12 months) may be accepted. The fee for reconnection during normal business hours will be $50; during nonoperational hours it will be $150.
Approved 5-0.

Correspondence
This is the part of the agenda where the board can discuss correspondence the district has received. There was none to discuss this time, but at the Thursday study session Director Grasha said "I have a litigation that I'd like to refer to legal counsel for defense." President Wright responded, "We're not done with the board meeting yet." Attorney Pinkney said he would take a look at it.
Mr. Grasha's request was agendized for closed session discussion at the Tuesday meeting. Both Mr. Grasha and VP Duncan recused themselves from that meeting. The remaining three board members voted 0-3 on providing MSWD counsel to defend Mr. Grasha.

General Manager's Report
Well 28 has been taken completely out of service. Water from that well required uranium treatment, so it was only used as a backup well. Now the uranium treatment has been removed, saving the district a big chunk of money.
About 1,200 water meters have been replaced. That's 10% of the project.

Director's Comments
Link to the YouTube video at 1:40:18. At the Thursday study session VP Duncan said that the papers served on Director Grasha were a personal matter between the two of them, but he had a statement to read which described as his "opinion in defense of the district." He read...
For three months leading up to the October 17 study session, Mission Springs Water District was host to a team of auditors and Certified Public Accountants from the accounting firm of Lund and Guttry, LLP for the annual financial audit which was done in accordance with government auditing standards. During those three months that team of auditors and CPAs interviewed our Finance Director, Matt McCue, a CPA, accounting manager Arturo I-can't-pronounce-his-last-name [Ceja], also a CPA. They had access to our books and records, including accounts receivable, accounts payable, our checking account, our investments, loans, bonds, payroll, budget, cash flows and more. At that October 17 study session Gary Dak, a Certified Public Accountant Lund and Guttry, gave a review of that audit to the Board of Directors. He praised Matt for his impeccable records and for earning the district over a million dollars in our investments over the last year. Gary gave the district a "No opinion" for the audit which, as funny as that sounds, is CPA language for the highest grade possible. [Director Grasha attempted to interrupt at this point]. At the October 21st board meeting the Board of Directors, as it sits here today, voted unanimously in favor of accepting the audited financial statements. On December 20th, 2019, only two months after that very intensive audit, Steve Grasha wrote the following on Facebook: "Why did the Board of Directors of the Mission Springs Water District secretly launder $300,000 in cash through this nondescript storefront located in a strip mall in Desert Hot Springs? The larger question, or why did the owner of this scheme flee to drug cartel-controlled Jalisco, Mexico as soon as I started asking questions about this?" That's the end of his quote. There was some back and forth conversation between Director Grasha and a couple of commenters to which Grasha replied "Because they are on the receiving end. They have been looting the district for years." This is only two months after Director Grasha voted unanimously with the rest of the board to accept that auditor's report. The auditing team of CPAs I mentioned earlier camped out in our offices and conference rooms for three months and gave us an impeccable rating. Steve Grasha made that statement two months later and did not consult with our General Manager, the Finance Director, the accounting manager, the front end manager who handles all our cash, hasn't reviewed any of our books and records, spoke with any of the ladies in customer service and there was nothing about accounts receivable or accounts payable for the district. During the thread of conversation on Facebook Steve also said "Need to get to the truth, no matter what." Steve, the truth of the matter is you are lying. You know it, I know it, and the rest of this board knows it. [Director Grasha attempted to interrupt again.] These are my comments. [President Wright called Director Grasha out of order. Director Grasha said VP Duncan was out of order. President Wright repeated that Director Grasha was out of order, adding "Nobody bothered you during yours."] In fact, you have been successfully sued and proven to be a habitual liar in court. Twice in just the last four months. Three times if you count the appeal you lost where the judge's decision was re-affirmed. Today you've been served with another summons to appear in court and be held accountable for the statements you made to this board on December 20th and several other statements you've made over the past year. Stop lying and become a productive member of this board. You have your seat. You are a Director. Start acting like one. Stop lying about me. Stop lying about this board. And, more importantly, stop lying about Mission Springs Water District. Madame President with your permission I would like to... [Director Grasha tried to interrupt again asking "Would you deny that you wrote a check.". President Wright called him out of order.] I didn't write any check. With your permission I would like to give this to Dori and have it... [Director Grasha interrupted "Then what did they do with the money?"]
Link to the YouTube video at 1:12:33. At the Tuesday meeting Director Sewell said that Director Grasha's statements about a secret meeting are false. The meeting itself was an evaluation of General Manager Wallum (a closed session). Director Grasha had been invited to that meeting; "encouraged" is the word Mr. Sewell used. At this point Mr. Grasha began to interrupt and President Wright called him out of order. Mr. Sewell went on to say that Mr. Grasha declined coming to the meeting because he was new to the district. The decision to encourage the General Manager to hire an assistant was from yet a previous year, before Mr. Sewell was on the board. He said further, "I just want to make sure that we continue to understand that, the five of us, our decision as a whole is what..." Director Grasha began to interrupt again. President Wright called him out of order. Mr. Sewell continued, "Any decision that has been made by this board prior to your arrival, prior to my arrival, to anyone's arrival, we still stick by it until that policy changes."

Public Input
Link to the YouTube video at 1:13:54. Jeff Bowman wanted to comment on the closed session which was scheduled on Tuesday at the end of the open session. Mr. Bowman said that it appeared that Director Grasha was attempting to use the district's counsel for his personal defense. He went on to say that Mr. Grasha has been tearing down the district publicly, destroying the goodwill that MSWD enjoys in the community. Director Grasha, of course, began to interrupt Mr. Bowman's comments. President Wright called him out of order, but Mr. Grasha continued talking. Finally, President Wright asked him to leave. Then he stopped talking. Mr. Bowman continued, addressing his remarks to district counsel, saying he thought it was part of counsel's job to referee these interruptions "and to help our board navigate the waters of somebody that is not fit for public office."
permalink | February 3, 2020 at 09:56 PM | Comments (1)
January 5, 2020
Some Infrared Photos
Most digital cameras filter out infrared light before it gets to the sensor. The early Canon Powershot G cameras (G1, G2 and G3), however, allowed some through. I used to have a G3 and all I needed to do was put on a deep red filter to take infrared photos. But the G3 was stolen. Some years later I acquired a used G2 to do the same thing, but it was old and had a few burned out pixels. Those are easy to fix in editing if you've only got one photo, but it gets pretty tiresome to fix the same 12 tiny specks on every photo if you've got a lot to edit, so I haven't used it in a long time.
Last month, I acquired a Canon G12 from LifePixel that they converted to shoot infrared. They remove whatever internal infrared filter there is and then install an internal deep red filter. I already had a regular G12, so I was completely familiar with the camera and the two cameras could share some equipment. Here are some of the resulting photos:

The Amtrak station in Palm Springs.

Target in Cathedral City.

New housing behind the Target.

At Pioneertown Mountains Preserve.

A cholla at Pioneertown Mountains Preserve.

At Big Morongo Preserve.

At Big Morongo Preserve.

Big Morongo Preserve.

Big Morongo Preserve.

Big Morongo Preserve.

Big Morongo Preserve.

Big Morongo Preserve.

In Desert Hot Springs.
permalink | January 5, 2020 at 08:01 PM | Comments (0)
November 30, 2019
Some Recent Photos

The Camron-Stanford House in Oakland on Lake Merritt.

Also in Oakland.

Alameda County Courthouse in Oakland.

In Palm Springs.
permalink | November 30, 2019 at 08:58 PM | Comments (0)
April 24, 2019
Desert Water Agency Tour
I went on the Desert Water Agency tour of their facilities at Snow Creek, Whitewater and the Mission Creek recharge ponds. Took some photos. Below are most of them.

Snow on Mt San Jacinto.

The weir on Snow Creek where Snow Creek water feeds into the DWA water system.

The weir on Snow Creek.

Flood damaged road at Snow Creek. The car on the other side is staying there until the road is repaired.

Water from the Colorado River Aqueduct flowing to the Whitewater River after having been given a spin in the hydroelectric facility there.

Whitewater River on the left; water from the Colorado River Aqueduct on the right. We're facing downstream.

The hydroelectric generator at Whitewater.

In the hydroelectric facility at Whitewater.

Whitewater viewed from Snow Creek.

A recharge basin at Mission Creek. Mt. San Jacinto in the background.

A pair of recharge basins at Mission Creek.
permalink | April 24, 2019 at 12:23 AM | Comments (0)
April 21, 2019
MSWD Board Meetings, March 14 & 18, 2019
As every month, this meeting took place on two different days with the same agenda on both. I'll summarize the meetings as if they were one.
On Monday the 18th, President Duncan was absent for jury duty.
Public Comments
Karl Baker spoke first. He reported on the most recent Desert Water Agency board meeting, which he had attended. A resident of the Desert Highlands area of Palm Springs spoke in favor of district elections there. Later, he spoke to Mr. Baker and said that the Highlands is not big enough to constitute one district.
Mr. Baker also asked the board to publish the full agenda packet online before each meeting. He also requested that a copy of the district's budget be posted online. [The full agenda packet is, in fact, published online and you will find it at the same place you find the agenda which is at this link: www.mswd.org/board.aspx. The agenda appears there a few days before the Thursday study session. The full agenda packet shows up later, but still before the Thursday study session.]
Jeff Bowman spoke next.
Steve Grasha, your campaign of lies. In that campaign you also did a slick marketing ploy. You created a problem, got a reaction and then solved the problem. This past month you wrote "During the most recent Directors election one re-occurring theme I continued to notice was our agency's need to improve community outreach." Actually, Steve, MSWD has an exceptional community outreach. But, you went out and smeared the district. You did this by going on Facebook and reviving old threads in multiple groups, all of which were several years old where people expressed their issues with MSWD. Then you said, "Vote for me, as I can make things better." Actually, these old issues had been dealt with by staff and the Directors of MSWD, and many customers had fees reduced and/or removed because of the community outreach of MSWD. Steve, you deliberately maligned MSWD so that you could be the hero. Now you are bragging to all that you are helping the customers of MSWD and fulfilling your promise of improving community outreach by giving your first quarterly stipend to the United Way of the Desert. Like your fake credentials of "technical water systems engineer" and fake title of chairman of the Riverside County Leadership Forum, this giving back is your way of calling attention to yourself. "Look at me! I'm fulfilling my promise of solving a problem I created"

The facts are, Steve, the United Fund was started by MSWD years ago, and staff and Directors of MSWD have contributed to this fund over the years without fanfare. They also have sacrificially given to the community with their volunteerism, supporting the holiday parade, Women's Club, Rotary, Cabot's Museum and other civic groups. MSWD has made a difference in our community and has always been a positive, proactive partner with the city. Steve, your gift was not the first nor will it be the last from someone at MSWD. Actually, you did nothing more than what the others have done for years. In fact, you're a newcomer to the community served by MSWD, and you haven't served the people, volunteered or even paid a bill to MSWD. You fit the definition of carpetbagger: someone who moves into a town just to be elected. You really do not care about our city or district. You only care about promoting yourself as demonstrated by your self-centered post about your promise kept.

Engineering Services With Michael Platt Consulting
This is a one-year renewal of the contract for not-to-exceed $100,000. Approved 4-0.

Contract With AES For Seismic Valve Controller Installation
The district has 24 water reservoirs. This contract is for the installation of six controllers for a cost not-to-exceed $140,499.60. A controller will sense seismic activity and act to fully or partially close the valve on a reservoir. When this project is completed, the district will have these controllers on 11 of the reservoirs.
Approved 4-0.

Presentation On Elections By Division
Karl Baker commented, urging the board to move ahead with this. He said it was only a matter of time before it becomes necessary. He predicted that it is only a matter of time before every elected body in California will have to move to elections by district.
"Elections By Division" meaning district elections. This was a presentation by an attorney who also participated in the districting for Palm Springs city elections. A demographer would be retained to get an accurate idea of the population demographics of Mission Springs Water District.
The district could choose to do nothing, but wait for a demand letter to arrive. If a demand letter is received a tight timeframe comes into play, but that can be negotiated with whatever party sent the demand letter. The tight time frame would require the object of the demand letter (MSWD in this example) to adopt a resolution within 45 days indicating the intent to move to district elections. Then the district would have 90 days within which to hold two public hearings no more than 30 days apart. After that, demographic data would be used to draw draft maps. There would then be two public hearings on the maps, those two hearings being no more than 45 days apart. If the maps are revised, then at least 7 more days must pass before the final map vote. Then the board would vote to create the districts and settle with the party who sent the demand letter - and the California Voting Rights Act sets that settlement at $30,000.
If the district initiates the process rather than wait for a demand letter, then the timeframes are easier, and they don't have to pay anyone $30,000 at the end of the process.
General Manager Wallum said he could have a demographer present at the April board meeting.
permalink | April 21, 2019 at 08:43 PM | Comments (0)
April 20, 2019
Desert Water Agency Hearing For Elections By Division Maps, April 15, 2019
The Desert Water Agency board has held two public hearings on proposed maps for election by division. The first hearing was in Desert Hot Springs at the Carl May Center on April 15. The second hearing was the next day at DWA HQ in Palm Springs. I was at the hearing in DHS and this is my summary of that.
I've made my audio recording available on Soundcloud. You can listen to it there or download it; no charge, no registration required.
The three proposed maps that were considered at these hearings can be found here as PDFs.
Interactive Division Map Tool
that you can use to experiment with revising the maps.
Below are links to larger jpeg versions of the three maps.
General Public Comments
Jeff Bowman spoke first, encouraging DWA to allow MSWD to be in control of its own groundwater. He said it is the right thing to do and would save ratepayers in both districts a lot of money.
Karl Baker thanked the board for coming to DHS. He said DHS has been left out for a long time.

Demographer's Presentation
Doug Johnson, from National Demographics, presented the three proposed maps. First there were two informational meetings. Now we're in the second stage, the two hearings on draft maps. The map adopted now will be used in the election in 2020. In 2021, the new census date from 2020 will be used to adjust the map. The 2022 election will use the adjusted map.
The divisions must have equal population (within a couple of percentage points). Federal laws require that neighborhoods made up primarily of people of a "protected class" (Latino, African-American, Asian-American or Native American) not be divided in any way to dilute their voting strength. But federal law also prohibits racial gerrymandering. Race can be a factor in mapping a division, but it cannot be the predominate factor.
The following are goals, but not legal requirements for division maps:
Respect communities of interest
Compact and contiguous with clearly recognizable borders
"Respect voters' choices" or "Continuity in office" (trying to avoid pairing existing board members within the same division)
The demographer displayed a map of the DWA area that showed the seven areas (and their respective 2010 populations) that have been named by the U.S. Census Bureau: Desert Hot Springs, Palm Springs, Cathedral City (the cove mostly), Rancho Mirage (a tiny bit), Whitewater and Desert Edge.
The "pockets" of African-Americans and Asian-Americans throughout the district are not sufficient to really affect the mapping. Latinos and whites are the two big racial groups. It is possible to draw a Latino majority district in the Desert Hot Springs area. Below is a map showing Latino populations (based on the 2010 census) throughout the district.

He showed us the same five district maps from other jurisdictions that were shared at the earlier hearing. You can see them in my write-up of that hearing.

Map A
The demographer described this map as similar to the approach used in Pasadena and Central Unified School District. On this map, divisions 1, 2 and 4 include substantial territories both north and south of the freeway. Division 5, OTOH, is compact and includes eastern Palm Springs as well as the areas of Cathedral City and Rancho Mirage that are part of DWA.
Division 3 sacrifices the goal of contiguity by including this little corner of Palm Springs with North Palm Springs, Dos Palmas and part of Desert Hot Springs that extends clear up to Pierson Boulevard. It seems to me, the interests of that little Palm Springs neighborhood would be much more similar to its immediate neighbors than to the residents of DHS or the desert areas south of DHS.
Map A also divides the City of Desert Hot Springs over three districts. Four, if you count the fact that Mission Lakes CC would be in division 1, paired with much of Palm Springs. The result would be that division 3 is the only one where a DHS resident would have a good shot at being elected, but a board member in division 3 might live in northern Palm Springs, North Palm Springs, or in an unincorporated and unnamed area.
Each proposed map includes a proposed election sequence as well. On Map A it's
2020: Divisions 3 (vacant), 5 (Bloomer & Ewing)
2022: Divisions 1 (Cioffi), 2 (Oygar), 4 (Stuart)

Map B
On this proposed map, divisions 1 and 3 include areas north and south of the freeway. Division 3 has problems here similar to those in Map A. Division 3 includes much of eastern DHS and (non-contiguously) a big chunk of northern Palm Springs, north of Alejo. Safe to say this division will elect no one from the DHS area.
The election sequence proposed with Map B is
2020: Divisions 2 (Vacant), 5 (Ewing & Bloomer)
2022: Divisions 1 (Cioffi), 3 (Oygar & Stuart), 4 (vacant)

Map C
The demographer compared this map to Compton and Glendale. This has two divisions that are entirely north of the freeway. Below you can see division 2 (in blue) surrounded by division 3 (green).
The proposed election sequence for this map is
2020: Divisions 4 (Ewing) and 5 (Bloomer)
2022: Divisions 1 (Oygar, Stuart & Cioffi), 2 (vacant) and 3 (vacant)
Choosing this map would mean that two of the current board members would definitely have to leave the board, unless they decided to move to one of the vacant divisions. Maps A and B would guarantee only one current board member would be forced off. So, while Map C seems to be the most fair to those of us who live north of the freeway, in at least this one respect it would be the most painful for the DWA board to implement.

Public Hearing
Russ Martin, Vice President of the MSWD board, spoke first. He wanted to know where the populations outside of the seven named census areas are counted. The answer is, of course, that everyone is counted where their residence is, but the Census Bureau hasn't come up with names to cover every square inch of America.
Karl Baker came next, saying he wished we could ask questions and get answers before sharing an opinion with the board. Director Cioffi asked if Mr. Martin's question could be answered first.
The demographer said that everybody is counted. He only highlighted the "census designated places." There was no real need for him to include that info initially, IMO, and he couldn't explain this simple concept very well, so why did he even do it? Mr. Martin said he didn't think his question had been answered.
Back to Karl Baker who asked how the proposed election sequences were devised. For example, the proposed sequence on Map C leaves Desert Hot Springs unrepresented on the board until after the 2022 elections. The demographer explained this as giving the choice to the voters as to whether they want that board member re-elected. This is respecting the choices of the voters whose choices have been respected since DWA was created. IMO, then, those of us who have been disrespected by the election process since the creation of the DWA would remain disrespected for another two years.
The demographer said he also tried to put majority-minority districts (i.e., Latino majority districts) on the Presidential election years to encourage voter turnout, because majority-minority districts tend to have lower voter turnouts. He says this, but on Map C, division 2 has a Latino majority, but he proposed delaying its elections until 2022, a non-Presidential election year, while divisions 4 and 5 in white, white Palm Springs would be aligned with the Presidential election.
Mr. Baker paraphrased the demographer's position as one in which he (the demographer) believes the California Voting Rights Act was intended to protect the positions of incumbents for as long as possible rather than to extend the power of voting to underrepresented minorities.
The demographer pointed out that the current five at-large board members remain at-large board members until they are either re-elected or leave the board, and that those at-large board members serve to represent the "unrepresented" divisions that the maps would create. By this logic, we should be delighted with the current arrangement because we are all represented by five at-large board members, giving us a wealth of democracy in that demographer's opinion. But if this is democracy now, what is the point of the California Voting Rights Act?
The next speaker was Sergio (couldn't catch the last name) from Cathedral City. He appreciated the fact that Cathedral City residents were kept in one division on Maps A and B. Actually, they're in one division on Map C, too. He preferred Map B, but he wanted division 4's election to be in 2020, not 2022. He noted also that on Map A, division 5 (which includes Cathedral City) would have its election in 2020.
Director Cioffi asked him to verify that he preferred Map A or B, so long as the division that included Cathedral City had its election in 2020. The Dream Homes neighborhood is part of Cathedral City.
Arden Wallum, General Manager of MSWD, spoke next. He suggested that since the two map hearings are "back to back" the process seemed less open, and possibly the board members had already made up their minds. MSWD has initiated the process to go to elections by division, although not under the threat of a lawsuit, the way DWA and the City of Palm Springs were. Mr. Wallum said "we" would object if Map A were chosen. He did not say who "we" are. Mr. Wallum does not live in the DWA area and as far as I can see, the Mission Springs Water District would have no voice at all in the question of elections by division in DWA, since MSWD is not a voter. He said Map B is better but still "we may object to" it. He considers Map C to be "much better." While it would guarantee only two seats from north of the freeway, that's all any of us really want. There is no desire to elect a majority of three from north of the freeway, although that remains theoretically possible with Map C.
When MSWD holds its public hearings on elections by division, let's see if the General Manager of DWA shows up to comment.
The next speaker was Dieter Crawford, a native of the Desert Highlands neighborhood in northern Palm Springs. He likes Map C. He was involved in Palm Springs' design of their maps. "In Map C, the deviation from the ideal population in district 2 and 3, the majority-minority districts, if you look at the non-Hispanic white population in district 4 and 5 they're almost a thousand people off from the other districts."
Each of the proposed maps includes (scroll down to the 4th page in each PDF) a table of statistics for each resulting division, but they only give different percentages of population for each ethnic group, not actual numbers, so I guess Mr. Crawford did some arithmetic, which I will now attempt to reproduce.
Map C

| | | | |
| --- | --- | --- | --- |
| Division | Pop. | N.H White % | N.H. White Pop. |
| 1 | 18,082 | 54% | 9,764 |
| 2 | 18,419 | 23% | 4,236 |
| 3 | 17,987 | 48% | 8,634 |
| 4 | 17,374 | 72% | 12,509 |
| 5 | 17,455 | 56% | 9,775 |
The differences in non-Hispanic white population in each division is far more than "almost a thousand," so this is probably not the arithmetic Mr. Crawford did, and I don't know what he was referring to. In any case, what does the variation in non-Hispanic white voter populations matter here? Federal law only requires DWA to avoid diluting the voting power of protected classes of people, and non-Hispanic white people are not such a protected class.
Mr. Crawford had some issue with Palm Drive being used to define the western border of division 2 on Map C, but he didn't say what the problem was or what he thought would be better. He said that in division 1 the historic tennis club neighborhood stood out. He said residents of Desert Highlands had more in common with Whitewater, West Garnet and DHS than with residents in the historic tennis club. [On Map C Desert Highlands is in the same division as Whitewater and West Garnet]. He said he thought divisions 2 and 3 on Map C should get their elections in 2020. "I understand that is not in a Presidential year..." he said, but it is, in fact, a Presidential election year.
Karl Baker asked if he could speak again so he could give his opinion. President Stuart ran this by the attorney, who said he didn't see any problem with it. He said he has real issues with Map A. He said divisions that cross the freeway are not forming communities of interest. He said he agreed with almost everything Mr. Crawford said. Mr. Baker went on to say that on Map C, the unrepresented divisions should get their elections first. He said he thinks it is the responsibility of DWA to oversee the aquifers on both sides of the freeway. But that is totally different and separate from DWA's retail operations. He suggested that the retail operations of the agency be broken off into a separate agency with its own five-member board elected solely from the areas where DWA delivers water. He pointed out that in the entire state of California there are only two water districts that have both retail and wholesale jurisdiction within themselves; one is DWA, the other is the Coachella Valley Water District.
Grace Garner from Palm Springs spoke next. She wanted to know the next steps in the process.
President Stuart said the second map hearing would be the next day in Palm Springs. The next required meeting after that would be the one at which the board discusses the maps and selects one. The date for that meeting has not yet been determined.
Director Cioffi said that more hearings are permitted, if the board wishes to hold them. He said he thinks the board could use more public input than they have received.
Gary Gardner, DHS City Council member spoke next. He, too, prefers Map C. He agreed with Mr. Bowman, that a lot of money would be saved if DWA would allow MSWD to be its own groundwater management agency. He made a comparison with the Imperial Irrigation District where all the board members are elected from Imperial County, but the majority of the district's electricity customers are in Riverside County.
Jeff Bowman said he favors Map C because it solves the problem, the problem being giving an equal voice to those north of the freeway. He said Maps A ands B fail to achieve the goals of keeping communities of interest together, contiguous districts, using visibile barriers as boundaries and planned future growth. He agreed with Karl Baker that DWA should probably be broken into two boards for retail and wholesale.

Board Discussion
Director Ewing said that he thinks an important community of interest is ratepayers. He said he is going to be especially interested in attending to and looking at the maps.
I've tried to decode that message. DWA's only ratepayers are its retail customers, so initially I thought "ratepayers" to Mr. Ewing might be a code word for "Palm Springs residents." But, the only time the word "ratepayers" was used in this meeting was in comments asking the board to avoid wasting ratepayer money on legal battles, such as the one between MSWD and DWA over groundwater management. So maybe he meant he was disinclined to continue to pursue that lawsuit.
permalink | April 20, 2019 at 09:15 PM | Comments (1)
March 30, 2019
Ghost Palm in Desert Hot Springs
Part of Desert X.
More photos of Ghost Palm here.