July 16, 2015
New GoPro Mount
The Toyota Tacoma mount seems expensive at first glance, but when you consider it includes an entire Toyota Tacoma, it's not so bad. I do wonder how in the world the designers settled on one spot to put a GoPro attachment. Maybe there are a few attachment points and you can move it around.
One hopes it will be better than this Nissan demonstration where they had to put the camera on top of the driver's head, despite the fact that his neck is all wiggly and flexible. And that car! What good is it when you can't even see over a Jersey barrier (excuse me, K barrier). Get a truck!
permalink | July 16, 2015 at 12:04 PM | Comments (1)
May 28, 2015
Seen In Burbank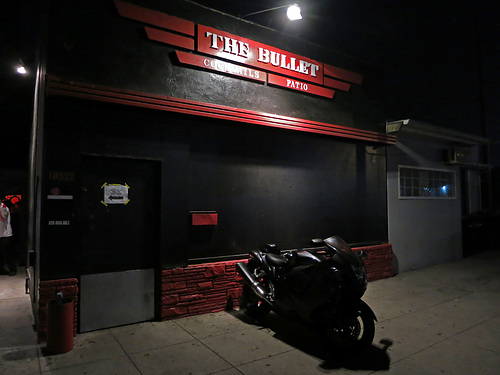 Well, this one is actually North Hollywood.

So why a billboard promoting an event that happened two months ago?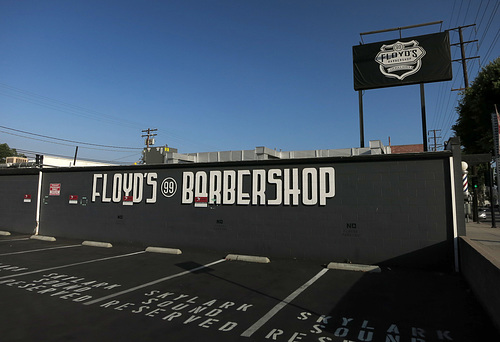 Glad to see he eventually got out of that depressing Mayberry, where nobody's hair ever grew! Did you ever notice that? Was it because of their twice daily haircuts?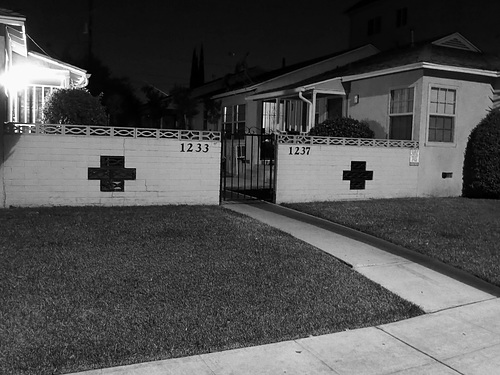 No, those were not green crosses.
permalink | May 28, 2015 at 09:16 PM | Comments (0)
May 3, 2015
Automobile Driving Museum
A week ago I went along with some other guys from Great Outdoors to visit the Automobile Driving Museum in El Segundo. The unique thing about this museum is that they actually take you out for a ride in three of their classic cars.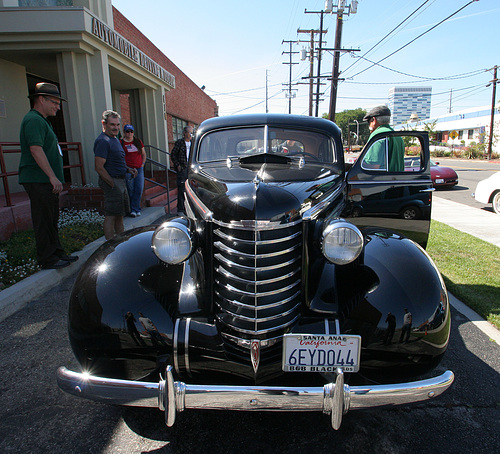 This is the 1937 Olds that I rode in.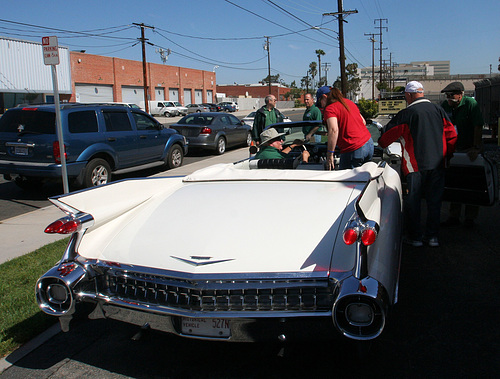 And the 1959 Cadillac.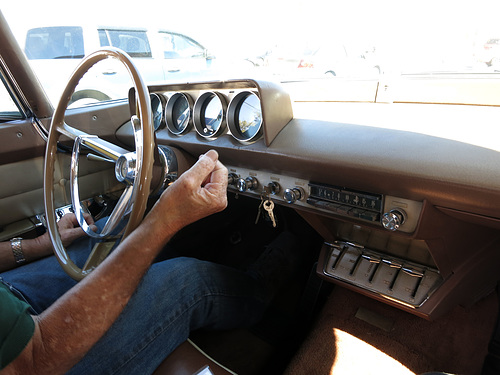 And the 1957 Lincoln Continental, which they told us is 100% original which is why the aging of the paint.
And those three cars brought about this short video:



What a boat! This is the hardtop convertible.

On this Packard the rider's delicate skin is protected from touching rude metal by extending the upholstery to the outside. And then they got air conditioning.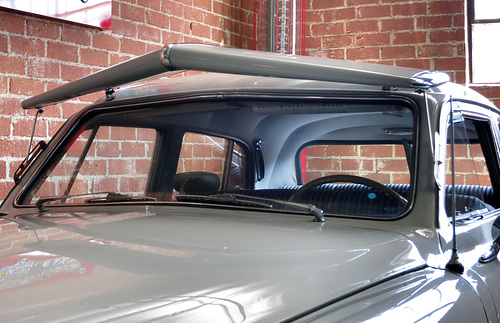 A Studebaker Land Cruiser (1950) with a complex windshield shade canopy. And then somebody thought of tinting windows.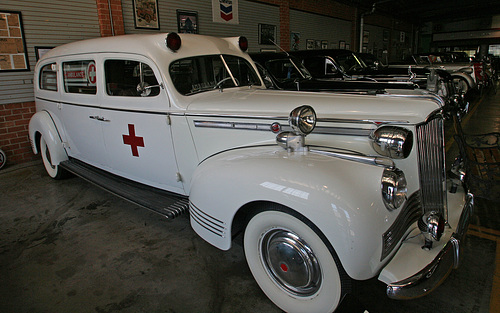 The 1942 Packard Henney ambulance.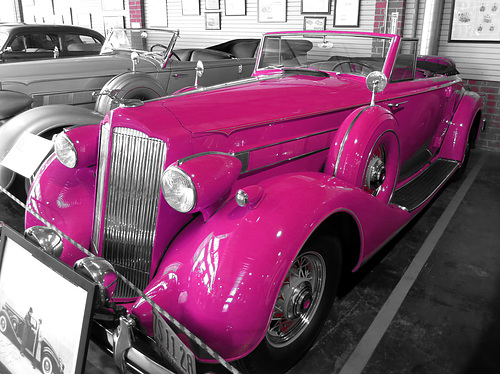 They said you could get it any color, so I did.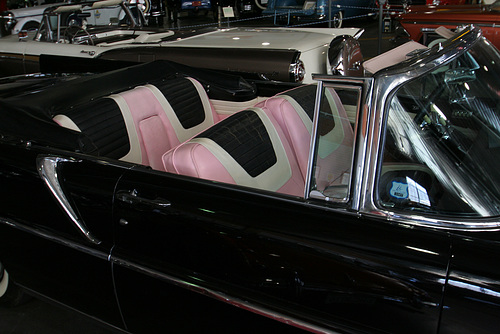 A pink interior which mystified some of the guys.
The complete set of photos is here.
permalink | May 3, 2015 at 11:56 AM | Comments (0)
April 10, 2015
Los Angeles Style
Los Angeles sets the standard for car chases once again.
permalink | April 10, 2015 at 10:36 PM | Comments (0)
February 14, 2015
Pedestrian Safety
They take pedestrian safety very seriously in Russia.

Here's another one where they fight for the rights of bus patrons.
I wonder if Russian police commonly have a-holes express remorse to a video camera as a means of defusing a tense situation.
permalink | February 14, 2015 at 06:12 PM | Comments (0)
November 11, 2014
Avanti

An Avanti parked in Palm Springs. More photos here.
Wikipedia article on the Studebaker Avanti.
permalink | November 11, 2014 at 01:20 PM | Comments (0)
September 17, 2014
Traffic
All I can tell you is that this is not Russia.

permalink | September 17, 2014 at 12:39 PM | Comments (1)
September 13, 2014
Stealth Burnermobile

This is the kind of Burnermobile you need if you want to just drive past all those DUI checkpoints. Photo by Ed.
permalink | September 13, 2014 at 08:51 PM | Comments (0)
June 20, 2014
Long Jump
Guerlain Chicherit goes for the record of the longest car jump: 101 meters, using a very modified Mini. His car and personnel are well-festooned with GoPro cameras set to maximum frames/second, so there's a lot of excellent slow-motion when the car is airborne and landing.

permalink | June 20, 2014 at 12:25 PM | Comments (0)
June 13, 2014
That Volkswagen Concept Is Weak
I mean the concept of using your VW as a GoPro mount. That was so early June 2014.
The new, better idea is an improved remote control device for your GoPro. Up to now you could use either the remote control bought from GoPro or a smartphone or tablet to run your GoPro and see what it sees in real time. The better idea for a remote control? An effin' BMW (or a not quite as effin' Mini). The process still involves an iPhone (they say nothing about Android), but the iPhone is mounted into the BMW's infotainment system "ConnectedDrive." It's been a little while since I sat in a new BMW, but I would guess that being plugged into the onboard system means you can control it with flicks of something on or near the steering wheel or by giving voice commands or perhaps by whistling Bavarian biergarten songs.
permalink | June 13, 2014 at 01:06 PM | Comments (0)
May 7, 2014
Electric Police Motorcycles
Ceres, California, the "Southern Gateway To Modesto," has acquired three American-made electric motorcycles for their Police force courtesy of their local air quality district.

Top speed of 100 MPH. I had no idea what the top speed of a Police motorcycle might be, but Michigan State Police compared a BMW, two Harleys and a Victory. The BMW had the highest top speed of 128 MPH. The electric motorcycles have a range of 90 miles and take 7 hours to recharge. So, they're good for city work and sneaking up on drug dealers who are sneaking around on bicycles, and for creeping down alleys at night without disturbing innocent residents, but probably not the best for a lot of highway patrolling.
The cost of electricity for one recharge is estimated at 90¢. This linked article says the range is 120 miles and a recharge is only 4 hours.
permalink | May 7, 2014 at 08:29 AM | Comments (1)
April 25, 2014
Mullin
Earlier this month I visited the Mullin Automotive Museum in Oxnard to see part of Mullin's collection of Bugattis and art related to the Bugatti family. This collection is open to the public only one or two days a month until the end of this year, then it ends. Advance ticket purchase is required, but it's only $15 for adults.

Back when windscreens were literally wind screens.

A re-imagination.

1925 Bugatti Type 22 Brescia Roadster. Go here to read the story, but basically this was pushed into Lake Maggiore in Switzerland in the late 1930s, suspended by 35-foot chains. The chains eventually failed. The car was found in 1967 resting at the bottom of the lake. In 2009 it was brought to the surface.

Let's hope they bring back the electric running board some day.

Included in the display were several cars from the Schlumpf Reserve Collection. These cars are unrestored. The Schlumpf brothers began collecting cars in the 1950s. They lost control of their collection from 1977 to 1999, during which time the cars sat unprotected in a barn. Go here to read the story.
permalink | April 25, 2014 at 04:59 PM | Comments (0)
April 24, 2014
Easter On Mulholland Highway
There are no accidents in this video, but if you're looking for that sort of thing you can find some by browsing through that photographer's YouTube videos.

permalink | April 24, 2014 at 10:15 AM | Comments (0)
April 13, 2014
Bugatti
Yesterday I journeyed over to the Mullin Automotive Museum in Oxnard to see the Bugattis. There were no handouts, no audio tour, and the explanatory signs mounted on the walls were often very far from the cars. Plus, as far as I could see, the only label on a Bugatti is the Bugatti name and logo itself; no model names. So I gathered very little technical information, which was okay. It meant I could move around a lot more freely because I didn't need to be organized in my photo-taking. Just look, say "wow, and get some photos.
There were docent-led tours. I did not partake because I want to take photos and when the docent-led tour group gathers around a car you can't take very many photos. Nevertheless, I did gather one factoid that I overheard from one docent concerning the vehicle pictured below.

Looks like a carbon-fiber shell.
He was naming some dollar figures that sounded way, way too high for any single vehicle. I thought maybe he was talking about original design costs or how much it cost for a half dozen cars. I drew nearer and heard him say that if you bought this car in Los Angeles County where the sales tax is 9% you'd pay more than $250,000 in sales tax. I leave it to you to do the arithmetic.
Fortunately, the museum is in Ventura County so this little number could be picked up at quite a savings!
Other photos will come eventually. I just wanted to get this factoid written down before I forgot it or thought it was just a dream.
permalink | April 13, 2014 at 11:46 AM | Comments (0)
March 30, 2014
A Distraction
I just found out about an entertaining little controversy that can momentarily distract you from stories about Crimea, Afghanistan or the Affordable Health Care Act.
There's this Ford ad for its electric model:

BTW, French snails produce an excellent manure.

permalink | March 30, 2014 at 12:43 PM | Comments (0)
March 28, 2014
How
How have we gotten along these many years without this?

permalink | March 28, 2014 at 09:18 PM | Comments (0)
March 26, 2014
The Art Of Bugatti
Just opened last week at Mullin Automotive Museum in Oxnard was The Art of Bugatti. The exhibit continues through December 31, 2014.
"If you think about it, there has been no other family like them in the past 500 years—with multiple generations that have had such influence on art and design," said Peter Mullin, an insurance billionaire and collector who has a soft spot for the Art Deco period and its pieces. You could debate that, but what's not disputable is the depth and breadth of this exhibit, which features 27 Bugatti automobiles, the single-largest collection of the luxurious marques ever displayed (many of them from Mr. Mullin's private collection), and a thorough history of the family told through paintings, sculptures, furniture, manuscripts, design sketches and other heirlooms, some on display to the public for the first time.
Peter Mullins is the chairman of Petersen Automotive Museum.

A Bugatti at the Nethercutt Museum.
Advance ticket ($15) purchase required. Open 10 AM to 3 PM on one or two Saturdays each month plus a few other dates. Photography is permitted. No bags of any kind. Docent-led tours at 10:45 AM and 1 PM. Also "Healies and shoes with cleats are not permitted." I think they mean Heelys.

Mullin Automotive Museum, close to the PCH. The building was originally owned by Otis Chandler, publisher of the L.A. Times from 1960 to 1980.
permalink | March 26, 2014 at 06:40 PM | Comments (0)
March 25, 2014
Another Error In Judgement
mumble...mumble...mumble...GoPro...mumble...mumble

permalink | March 25, 2014 at 08:11 PM | Comments (0)
January 24, 2014
One Drive-In Movie Theater To Be Re-opened
It's the dual screen Paramount in (where else?) Paramount.
Here's a link to the Paramount Swap Meet.
permalink | January 24, 2014 at 10:21 AM | Comments (0)
January 7, 2014
That Weather Those Other People Are Having
You know how things shrink as they get colder? I mean everything except water. Observe what it did to this Jeep snow plow: