October 16, 2021
F-150 Taillights
Taillights on new Ford F-150s include a 4-LED display to show how heavily loaded the pickup is. All four LEDs light up on a fully loaded F-150; if it's overloaded, the top LED flashes. So now when you pass an overloaded F-150 on the highway (or they pass you) and you ask yourself, "My, isn't that truck overloaded?" you will be able to confirm the fact by looking at the taillights.
permalink | October 16, 2021 at 08:57 AM | Comments (0)
September 25, 2021
Subaru Uses Nude Bowl For Commercial Advertising
Did they get a filming permit from the city? I doubt it.
Direct link if the embedded video is not appearing for you.
permalink | September 25, 2021 at 12:44 PM | Comments (0)
August 12, 2021
Seen On The Internet
permalink | August 12, 2021 at 07:11 PM | Comments (0)
July 12, 2021
"Eldorado Brougham in Palm Springs"

April 1958 Kodachrome photo by chuck french.
permalink | July 12, 2021 at 06:04 AM | Comments (0)
June 18, 2021
4-Wheeled One-Ton Bicycle

They mention Torrington once, so that's either Connecticut or Wyoming. I'm pretty sure it's Connecticut.
permalink | June 18, 2021 at 11:50 AM | Comments (1)
June 13, 2021
Three From California, and a Boston

San Francisco, 1995.

A Studebaker in San Francisco, 1995.

Davenport, California, on California AIDS Ride 2, 1995.

At Beacon Street and Charlesgate East in Boston, Kodachrome, 2002.
permalink | June 13, 2021 at 07:12 PM | Comments (0)
May 27, 2021
Ordinary Humans Allowed Into Elon Musk's Las Vegas Tunnels

They don't actually get into a tunnel until past the 11-minute mark.
permalink | May 27, 2021 at 08:29 PM | Comments (0)
February 15, 2021
Pink Cadillac — 1968

Photo by ElectroSpark, Kodachrome.
permalink | February 15, 2021 at 11:55 AM | Comments (0)
May 31, 2020
Some Recent Photos (on film)

The city's newest marijuana dispensary.

On Palm Drive at 5th.

The trailer park on 5th Street.
permalink | May 31, 2020 at 05:17 PM | Comments (0)
April 9, 2018
Low Clearance On New York Parkways Results In Bus Crash
Here's the news story about a bus striking a low clearance bridge on the Southern State Parkway on Long Island. "Major David Candelaria of the New York State Police...estimated the height of the clearance to be less than 10 feet." The article says it was an 8-foot clearance, but the signs say 7' 7". I'm really surprised the state police are so far off estimating the bridge height. The parkways in NY state were intended for passenger vehicles only, so designers intentionally made the bridge clearances low in order to discourage any future legislature from opening up the parkways to trucks and buses. Here's an interesting article that discusses the motivations of Robert Moses, who designed this particular parkway, to make these bridge clearances even lower than they are on other New York parkways. The primary accusation made against Moses was that he was rabidly racist (apparently a proven fact) and he didn't want low-income people (who he assumed would be mostly black or Puerto Rican) to come by the busload to the parks and beaches that are connected by the parkways. The author identifies one beach that was obviously designed for bus access, so he thinks the racism story may not be true.
The comments are very interesting. The ones from locals are like "Driver's fault, everyone knows about NY parkways," "Driver's fault, everyone in the northeast knows about NY parkways," or "Driver's fault, there were warning signs." I've been on NY parkways just a few times (when I lived in the northeast), and while I greatly appreciated their aesthetics, I wasn't consciously aware of the bridge heights, so I think there's just a lot of New Yorkers who think everyone knows all about New York.
The article says the bus passengers were returning home from Europe. I assume, therefore, that they were coming from one of the NYC area airports and heading east (the accident site is east of any airports). In fact, it seems most likely they were coming from JFK airport because from JFK you can get on the Belt Parkway from either I-678 or the JFK Expressway. The Belt Parkway then takes you to the Southern State Parkway.
I used Google Streetview to search for warning signs and the photo below shows the first (and only) warning sign that the parkway is for passenger cars only. This is coming from I-678. I could find no similar sign for those coming from the JFK Expressway.


First (and apparently only) warning signs entering Belt Parkway from I-678 leaving JFK Airport.
I used the New York State database of bridge heights that the Post author referenced. You've got to zoom in a lot before it becomes useful. I would expect a state department of transportation database of bridge heights to have both the highest and lowest clearance heights from both directions, a total of four heights. But the NYDOT only lists one height (the lowest) for each bridge. They only distinguish the different heights for either direction if the bridge has two arches. One arch bridges get only one height. IOW, inadequate.
Searching for info on the typical height of intercity buses, I found that the limit is 12 feet, but I didn't find any particular bus models taller than 133 inches (11' 1'). The extra 11 inches is probably a safety margin to allow for heavy snow on the road surface or changes in the height of the road due to repaving. I found a couple of trucker forums where drivers claimed that posted clearances in New York State are 12 inches lower than the real clearance. If those claims are true, then an 11' 1" bus ought to fit under any New York bridge with a labeled clearance of 10' 2", giving a tight one-inch safety margin.
Using that state database and following the route of the bus, the first bridge that appears too low for them is where the Belt Parkway passes under 130th Avenue. The photo below shows that underpass.


NB Belt Parkway under 130th Avenue. The 9' 8" warning sign is the lowest clearance in the right or left lane. If the bus had been in the center lane at this point, the clearance there might have been a nominal 10' 2" or more (11' 2" in reality, if we trust the alleged 12-inch safety margin) and the bus would have cleared it with an inch to spare.
As the bus transitioned from the Belt Parkway to the Southern State Parkway, it would go under the nominally 8' 6" bridge shown below.


First warning sign on EB Southern State Parkway coming from Belt Parkway. If 8' 6" means 9' 6", the clearance over the leftmost lane would need to be at least 17 inches higher than that over the right lane. It's possible.
BTW, the only height clearance warning signs I could find on the parkways were the single signs mounted on each bridge, small and usually white, although some were yellow as shown in the photo above. On entrance ramps I could usually find one standard "No Trucks" sign and two diamond signs showing the clearance of the first bridge to be encountered. The sign on I-678 is the biggest, flashiest warning I could find and even that one says nothing about low clearances. There were no "No Trucks" signs on the parkways, other than a single one at each entrance ramp. There were no "Trucks/Buses Must Exit" signs at any exit.
The next underpass has a nominal clearance of 8' 11", but that sign (white) is obscured by vegetation, as you can see below.


EB Southern State Parkway under Elmont Road. An additional 15 inches of clearance would be needed for an 11' 1" bus (again, assuming the NYDOT actually deducts a 12-inch safety margin from their signs). There might be 15 inches difference between the righthand edge of the road and lanes number 2 or 3 (counting from left to right).
Then we come to Fletcher Avenue where the nominal clearance is 7' 8" which is only one inch higher than the underpass at Eagle Road where the bus accident happened.


EB Southern State Parkway at Fletcher Avenue. Google Streetview sometimes pixelates the height signs because they appear to be similar to license plates, which Streetview routinely pixelates, but the NYDOT database says this one is 7' 8", and that does not appear to be inconsistent with the pixelated sign. There would need to be a whopping 28 inches of additional clearance in lanes 1 or 2 (left to right) for the bus to pass under it, but pass under it the bus did.
Continuing east, the next bridge at Corona Avenue is nominally 9' 3". The next very low clearance bridge is at Franklin Avenue where the nominal clearance is 8' 7". After that the bus passed through four underpasses that seemed to have a nominal height sufficient for the bus to clear. And then they came to Eagle Avenue which is nominally only 7' 7", shown below.


Eagle Avenue bridge across Southern State Parkway, eastbound..

Click to go to the Google aerial view of the interchange of Eagle Avenue and Southern State Parkway.
The photos of the wrecked bus in the Post article show much greater damage on its right side than on its left, so I think it was in the right lane and hit it at 7' 7" (or 8' 7" in reality) which would be about 23 inches lower than the top of the bus.

The bus driver is a professional, so he should have noted the one warning sign he went under when going from I-678 to the Belt Parkway (if indeed that was his route). And he should have known that buses were prohibited from parkways. The bus company is based in New Jersey, so I think it's save to assume they do a lot of driving in New York State. In addition, the driver should have noticed his hairbreadth clearance under some of the bridges before he got to Eagle Avenue. If he'd been paying attention, that alone should have caused him to question the wisdom of his route.
The signage, however, erected by the NYDOT is all consistent with the assumption that every driver knows you can't take a bus (or truck) onto a parkway, and every driver knows there are very low clearance bridges. But that's a bit like the reasoning "but I had the right of way" as you lie dying on the pavement somewhere. Three vehicles a year strike this bridge! How many hit the other very low clearance bridges on this parkway? Construction of the Southern State Parkway began in 1926. It's been 92 years and no one has ever felt the need to upgrade the signage?! "In December [2017], Gov. Andrew M. Cuomo announced a $4.3 million project to install an electronic warning system that detects when oversize vehicles enter parkways." Here's what the NYDOT claims in that article: "An over-height vehicle entering would break the beam, triggering a warning message on a full color LED variable message sign display. The warning would indicate that the vehicle is over height and alerts the driver of impending bridge strikes ahead," but if you look at the photos you'll see the sign falls far short of what they claim.

Full color LED? I don't think so. This is old technology, certainly not any color but amber. I don't think these lights are LED or I wouldn't see so many burned out elements both out on the road and in this photo. If they are truly LED, they could do a lot more with them than simply display crude dots. As for "The warning would indicate that the vehicle is over height and alerts the driver of impending bridge strikes ahead," uh, I don't think so. If the sign in the photo actually does that, it's going to have to scroll three or four message displays to do so, and the offending vehicle will have passed by the sign already. In addition, the sign is placed too late. Is the driver of the truck or bus supposed to back up or do a u-turn across the grass or just stop and call the highway patrol to assist? In the photo it appears that the detector is actually placed AFTER the warning sign, so its only real function would be to alert following drivers to get their cellphones ready to record the expected crash.
The NYDOT seems to work on the assumption there are no stupid or ignorant drivers on their roads. Most other states have learned the folly of that assumption when dealing with potentially life-endangering road hazards. In California there are generous warning signs where stupid or ignorant drivers might do the wrong thing. The bus driver is technically at fault in this case, but the NYDOT is doing less than the minimum to try to mitigate the risks of these low clearance parkway overpasses. The very least they could do is use the standard big yellow signs that are mounted on bridges directly over the roadway...and clear the damned vegetation!
There are at least a couple of low clearance bridges elsewhere in the United States that are routinely struck by high clearance vehicles. Go here to read and view videos about the infamous 11' 8" bridge in Durham, North Carolina. Note the extremely generous warning signs for the stupid or ignorant. Even so, plenty of drama still happens.
permalink | April 9, 2018 at 02:07 PM | Comments (0)
March 8, 2017
Tesloop - Palm Springs to Las Vegas
permalink | March 8, 2017 at 02:46 PM | Comments (0)
February 3, 2017
Finnish Motorcycle Chase
Here's a rare video. It's a police chase (ho hum) but it's motorcycle chasing motorcycle in Finland! With no cuts, this video is almost 34 minutes long, but the first 8 minutes and 15 seconds is nothing but what the cop happened to be doing for the 8 minutes and 15 seconds before he leaped into action. I assume it was a radio call that got him going. I can't see any motorcyclist breaking any obvious traffic rules that would have triggered him. So this video starts at the 8:15 point.

I wish I knew why this guy was being chased. The chase pushes him to make a lot of dangerous maneuvers and the chasing cop copies him in almost every move. Obviously, other people on the road were endangered. But there doesn't seem to be the sort of congestion I'm used to seeing in an American city - neither people nor traffic.
In the video you won't hear the cop relaying his location and direction to dispatch, as you would in America. I don't know of any maneuvers that can be performed by a chasing motorcycle cop to force the other one to stop. Can't do a pit maneuver. So it would seem his only hopes of catching this guy were either he'd run out of gasoline, or he'd make a mistake and crash, or the chased would simply give up, or other police would get ahead of the chase to try to block him off. But help never arrives. At least three times a police van appears ahead of him, sitting in the road. Once it looks like that cop is there only to control traffic while the chase goes through. In the other two appearances, the cops with the vans appear to be doing nothing, but if the chased man wanted to surrender and get a nice ride back to jail, they were there to serve.
Notice the one surprising scene where our cop gets well ahead of the chased, who had stopped in order to avoid an accident. The chased hurriedly gets back into his usual position, even though he had the opportunity there to turn right and go the wrong way on the entrance ramp. That might have given him enough head start to get away.

This is the cop who did the chasing. We don't see him until seconds before the video ends.
I don't want to spoil the ending, but I'll tell you I was surprised at how fast the chased person could run on two legs! He did way better than Americans who try to run from the cops.
permalink | February 3, 2017 at 05:39 PM | Comments (3)
January 16, 2017
"GoPro Ready"
You may recall that a year or two ago Toyota was promoting one of their vehicles as "GoPro ready" because they had simply built in a standard GoPro attachment point somewhere. Pffft! Now Jaguar has come up with a car that really is "GoPro ready." You attach your smartphone to the car via USB (they skip over the part about how iPhone users will handle this) and attach the phone to your camera via Wi-Fi, and then let your camera record your driving. While that goes on, the Jaguar is recording all sorts of details about what the car is doing (speed, RPM, which gear, etc) which is then synched perfectly to the GoPro video. This will be excellent for professional drivers or those who just like to race illegally. Also, you could use it to monitor a teenager.
permalink | January 16, 2017 at 04:08 PM | Comments (0)
December 26, 2016
Petersen Automotive Museum

1936 Bugatti Type 57SC Atlantic. Design created by Jean Bugatti, son of the founder of Bugatti, Ettor Bugatti. In the SC variant, "The 'S' stood for 'Surbaissé' ('Lowered') and the 'C' for 'Compresseur' (a supercharger introduced by Bugatti as a result of customer's desire for increased power)." The body is aluminum. Only four of these were built. One disappeared in France during World War II. Another was hit by a train (!) but has been completely restored. This particular 1936 Bugatti Type 57SC Atlantic was brought to New York City in 1946. The owner drove it from there to Los Angeles. Some time in or after 2003 it was bought by Peter Mullin for a figure greater than $30 million. The fourth vehicle is owned by Ralph Lauren, who paid $40 million for his.

1939 Bugatti Type 57C by Vanvooren. This vehicle was a gift from the nation of France to Mohammed Reza Pahlavi, Prince of Persia, on the occasion of his wedding to Egypt's Princess Fawzia in 1959.

1939 Fiat 508C Balilla converted for CNG. This is said to have been the very first vehicle powered by compressed natural gas.

1948 Cadillac Sedanette Cadzzilla by Hot Rods By Boyd. This unique customization was commissioned by Billy F. Gibbons of ZZ Top.

1948 Davis Divan.

1948 Davis Divan. This is a three-wheeled convertible made by Davis Motorcar Company in Van Nuys in the late 1940s. There were 13 of these made, and 12 of them still exist. The design was based on an earlier three-wheeled car called "The Californian." Later, Gary Davis designed the 3-wheeled Dodge 'Em bumper car which is now ubiquitous in carnivals everywhere. He eventually retired to Palm Springs where he died in 1973.

1955 Chevrolet Biscayne XP-37. This vehicle was created by General Motors to show off its new 265 cubic-inch "Turbo Fire" V8 engine.

1955 Mercury D-528 Concept. The bulging "fins" are functional...and hinged. One is for the spare tire, the other holds the gas tank. This car had Ford's first reverse-sloping retractable rear window. "'Beldone' was a stage name selected by Paramount Pictures for the car's appearance in the 1964 Jerry Lewis movie, 'The Patsy', not an official Ford designation."

Here's a room in the Petersen museum where the unifying theme seems to be "shiny silver." Far to the back, not really visible in this photo, is a shiny gold car.

The chassis of a 2015 Tesla Model S P85D. Below is one with its clothes on.

Evidence of Petersen's attempt to class up its act. This restaurant (in the museum) used to be a Johnny Rocket's. Now it's a Drago.
Many more photos can be seen here.
permalink | December 26, 2016 at 10:39 PM | Comments (0)
December 18, 2016
Keith Haring Exhibit at Petersen Automotive Museum
The five vehicles painted by Keith Haring are on display at Petersen Automotive Museum in L.A. The website doesn't say how long the vehicles will be on display there.

1990 BMW Z1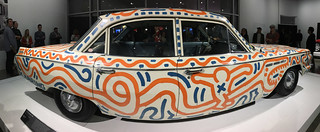 1963 Buick Special

1987 Honda CBR1000F Hurricane

1971 Land Rover Series III

1962 SCAF/Mortarini Mini Ferrari 330 P2 Motorized Child's Automobile
The complete set of photos is here.
permalink | December 18, 2016 at 10:19 PM | Comments (0)
November 14, 2016
This is something to watch
permalink | November 14, 2016 at 11:52 PM | Comments (0)
December 29, 2015
Attention Ferrari Drivers
No matter what the dealer told you, a Ferrari does not give you license to assault a cop.

Unfortunately, we don't get the enjoyment of watching the ultimate punishment: the towing of the Ferrari to a police impound lot.
permalink | December 29, 2015 at 03:02 PM | Comments (0)
December 9, 2015
No Surprise, Kids Don't Learn How To Drive Stick Shifts
But they're willing to engage in naked carjacking, nonetheless. From the Riverside County Sheriff:
Press Release: Carjacking
Agency: Coachella Police
Station Area: Thermal
Incident Date: December 5, 2015 Time: 6:53 p.m.
Incident Location: 85000 Block of Araby Avenue, Coachella
Reporting Officer: Sergeant John Clark

Details:

On December 05, 2015, at 6:53 p.m., Coachella Police responded to a report of an attempted carjacking in the 85000 block of Araby Avenue, Coachella. Officers spoke with the victim, who informed them he was delivering packages for Federal Express and was parked in front of a residence retrieving a package from the back of the delivery truck, when a suspect entered the truck and demanded his keys. The victim gave the suspect the keys and the victim ran to a nearby residence and reported the incident. No injuries were sustained by the victim. The suspect started the delivery truck, but did not know how to operate the vehicle and fled the area on foot, abandoning the victim's vehicle. The suspect was described as Hispanic male adult, 18-20 years, thin build, short hair, and not wearing any clothes.

Update: On December 06, 2015, Coachella police conducted a follow-up investigation and located a subject matching the description of the suspect. Albert Luna, 19 years old of Coachella, was arrested at his residence without incident and booked into the Riverside County jail in Indio for carjacking.

Albert Luna who, in his 19 years, never learned a stick shift, but thought he was up for jacking a FedEx truck...while naked.
permalink | December 9, 2015 at 08:38 AM | Comments (0)
October 23, 2015
Well, This Explains That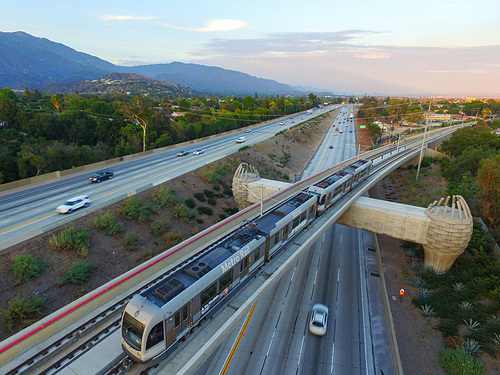 The extension of the Gold Line along the 210. I first noticed this bridge sometime last year, I think. I thought it strange that I couldn't recall noticing the distinctive design, nor could I recall a lot of construction in that area. I thought maybe I had just been paying too damn much attention to traffic. But, now I learn that it is a new bridge and it's for the Gold Line extension.
permalink | October 23, 2015 at 12:21 PM | Comments (0)
October 21, 2015
Stanford's Autonomous DeLorean...
"In our work developing autonomous driving algorithms, we've found that sometimes you need to sacrifice stability to turn sharply and avoid accidents," Gerdes said. "The very best rally car drivers do this all this time, sacrificing stability so they can use all of the car's capabilities to avoid obstacles and negotiate tight turns at speed. Their confidence in their ability to control the car opens up new possibilities for the car's motion. Current control systems designed to assist a human driver, however, don't allow this sort of maneuvering. We think that it is important to open up this design space to develop fully automated cars that are as safe as possible."