March 30, 2019
Ghost Palm in Desert Hot Springs
Part of Desert X.
More photos of Ghost Palm here.
permalink | March 30, 2019 at 07:06 PM | Comments (0)
September 14, 2018
Videos from Burning Man 2018
permalink | September 14, 2018 at 08:04 PM | Comments (0)
May 15, 2018
Photos of the Library of Congress

The ceiling in the grand hall where one enters the Jefferson building.

A bit of the ceiling.

Thomas Jefferson's library.

Naked baseball players on the ceiling of the Library of Congress. I've got another photo showing football players.

Down in the tunnels connecting the Jefferson and Madison (and I'm sure other) buildings.

Some of the floor.

More floor.

Columns at the entrance to the Madison Memorial Building.
Click here to see all 22 of my photos from the Library of Congress.
permalink | May 15, 2018 at 09:04 PM | Comments (0)
March 22, 2018
Slide Photos Of The Past (well, we couldn't have future, could we?)

Somewhere in New England (Maine, most likely).

Walden Pond.

A view of the skyline of downtown Boston from Alewife Station on the Red Line. I think the very white steeple you can see towards the left part of the downtown skyline is a church that used to stand in Porter Square. You can see the Federal Reserve building on the righthand part of the skyline.

My brother's stepdaughter at the wedding between her mother and him in 1986, Fremont, California.

Polaris and the star trails around it. I probably shot this while out camping, which means it's probably Maine.

I can't remember where this is, but I'm tempted to say Chicago. Kodachrome, 1987.

Prometheus in front of the Prudential Center in Boston, 1986.

More New England nature.

The old John Hancock, Back Bay, Boston. Kodachrome, 1986.

The reflecting pool at the Christian Science Center in The Fenway, Boston.Agfachrome, 1985.

Chicago City Hall, Kodachrome, 1987.

The Christian Science Center in Boston. Kodachrome, 1986.

Boston Pride Parade, 1985.
More scanned slide photos can be seen here.
permalink | March 22, 2018 at 07:34 PM | Comments (0)
February 2, 2018
A lot of slides from around 1987, mostly

Chicago, Kodachrome, 1987.

Also Chicago, Kodachrome, 1987. This is probably the last time I saw this sign on the Allerton Hotel. I had always wondered if the Tip-Top-Tap was still a going concern or was it just too expensive to take down those letters. But that was before the internet. Now I can find out without having to actually go to Chicago and ride an elevator to the top. The Tip-Top-Tap opened in the 1920s and closed in 1961. It is used now as a ballroom or meeting room for private parties, but the bar is gone.

Chicago, but I can't identify these buildings. The sleek one is not the Willis Tower. This is 1987 (Kodachrome again). If anyone can identify these buildings please leave a comment or email me.

Ferns in the inner courtyard of the Isabella Stewart Gardner Museum in Boston.

Kilauea Lighthouse, Kauai; Kodachrome 1986.

Kodachrome, 1989. I don't recall where this is.

Lower South Branch Pond, Baxter State Park, Maine; Kodachrome 1987.

The Nantucket Light Ship, Kodachrome, early 1980s.

The Robie House by Frank Lloyd Wright in Oak Park, outside Chicago. 1987, Kodachrome.

The Reserve Channel in Boston on Ektachrome, early 1980s. When I lived in South Boston in the early '80s, I worked downtown at 100 Summer Street, so most mornings I would walk to work (a couple miles) rather than suffer the crowded bus. This was along the way and almost always offered a photogenic view. But it never changed much, either. Sometimes a ship would tie up and stay for more than a year.

The Royal Hawaiian Hotel on Waikiki Beach, Kodachrome, 1986.

On the Charles River Esplanade in Boston looking across the river at MIT in Cambridge. Kodachrome, 1987.

My first visit to the Vietnam Memorial Wall on The Mall in Washington, Kodachrome, 1987. I was quite impressed with the feeling of grief that grows to almost overwhelming levels as I walked down into the memorial and the walls rose higher than my head.

A serendipitous moment at the Art Institute of Chicago, 1987.

Dunes on Cape Cod near Provincetown, Kodachrome, 1987.
permalink | February 2, 2018 at 10:48 AM | Comments (0)
January 18, 2018
Le Sacre du printemps Under The Tree of Ténéré At Burning Man 2017
permalink | January 18, 2018 at 11:27 PM | Comments (0)
November 15, 2017
Sonic Runway in San Jose
The Sonic Runway was an installation at Burning Man in 2016.

permalink | November 15, 2017 at 03:19 PM | Comments (0)
July 10, 2017
Action Figure Family Donation Request
These are photos of the creation of the Action Family Figures, which is taking place right in lovely Palm Springs. I think that you'll agree that, like every great art project at Burning Man, this one will bring about world peace and a transcendent consciousness linking all souls. If not that, it will at least generate surprise. The playa has never seen anything quite like this. It's going to be four mannequins covered with the action figures, Lego people, Muppets and even Happy Meal toys that young Jallen has been acquiring throughout his 50-odd years, 20 of which he has spent as a Burner. Do you see the Viewmaster serving as the eyes for the little boy? Look into the little boy's eyes and you'll see some of Jallen's photos from the last 20 years of Burning Man. Of course, you'll have to come to Burning Man or one of our work parties to do that.
Besides its stunning artistic qualities, this project is what's getting me to Burning Man this year. Now I'm working for the price of my admission. Working on this project will get me a ticket, a vehicle pass and an early arrival pass! If they would throw in a free shower on the playa, it would be an even better deal, but that's not to be this year.
Who are the patrons supporting this Sistine-Chapel-of-the-desert? Uh, well, me...and others, and you should too. I've actually contributed more than the value of the ticket & VP, so now it's your time to join the fun.
Go here to make a donation, and don't shy away from a 4-digit donation. Check out the rewards you get for one of those!
You get real value for those, not just a t-shirt or other souvenir. And Jallen's going to tell me who made contributions.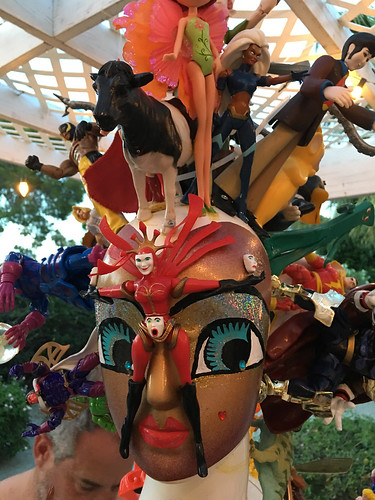 The complete set of photos is here.
permalink | July 10, 2017 at 06:01 PM | Comments (0)
June 17, 2017
Pink Houses
I visited these houses in L.A. that have been painted entirely pink, pending their demolition. NBC had a story about them.
permalink | June 17, 2017 at 07:40 PM | Comments (0)
June 8, 2017
Queer Burner Retreat
Over Memorial Day weekend I returned to Saratoga Springs, this time for what used to be called the "Queer Burner Retreat," but has been renamed to the meaningless "All Of Us." As a result we got one paying guest who feeling the need for a meditative weekend Googled and found Saratoga Springs, which led her to "All Of Us." She read no further, knowing that she must be one of us. She submitted her credit card and showed up to be rather surprised to find a Burner party underway. She stayed one night and then escaped.

Dan Reeves, the artist behind The Journey Project.

About one-quarter of the Journey Project.

My little camp.

The view from my tent door.

The well-known colors of Comfort & Joy, the biggest gay camp at Burning Man.

The jacuzzi, all fresh and clean when I arrived.

After a couple of days of hard use.

On the front porch of the main lodge.

Rand Larson on the left.

A new fire escape and an entirely new deck!
The complete set of photos can be seen here.
permalink | June 8, 2017 at 07:53 PM | Comments (0)
June 2, 2017
The Journey Project at Saratoga Springs


About a quarter of The Journey Project was constructed at Saratoga Springs over Memorial Day weekend for the Queer Burners Retreat. Their fundraising page.
permalink | June 2, 2017 at 08:51 AM | Comments (0)
May 9, 2017
The Gilbert Font

Download links can be found here. At the moment, it's only fully supported in Photoshop CC 2017. But it will work in monochrome on any Mac...and I assume Windows, too.
permalink | May 9, 2017 at 08:59 AM | Comments (0)
May 1, 2017
The Journey at Saguaro Man
Saguaro Man is the annual Arizona regional burn (for Burning Man), and it took place this past weekend. Here's a video that shows you Saguaro Man and highlights The Journey Project which built one-quarter of the project that they are going to put on the playa in August.

More info on The Journey Project which is mostly San Diego based.
permalink | May 1, 2017 at 09:24 AM | Comments (0)
April 22, 2017
Action Figure Family Fundraising Party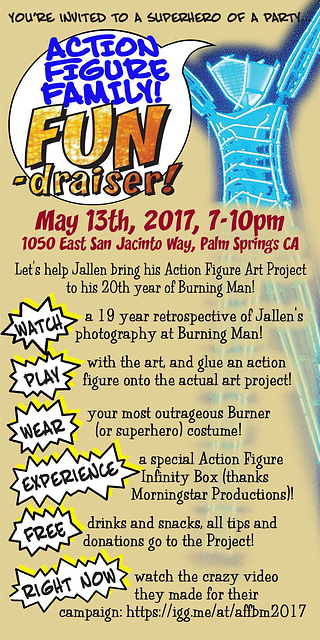 This is a fundraiser for the first art project that I've ever worked on for Burning Man.
Here's the Indiegogo page for donations.
permalink | April 22, 2017 at 11:21 PM | Comments (0)
April 15, 2017
MedMen Cultivation Facility
This coming Tuesday, the marijuana cultivation facility proposed by MedMen will come before the Desert Hot Springs City Council. I wanted to share a few images from their proposal to build at Hacienda and Little Morongo. There's no paved Hacienda on the east side of Little Morongo, but on the west (county) side it's paved and called 13th Avenue.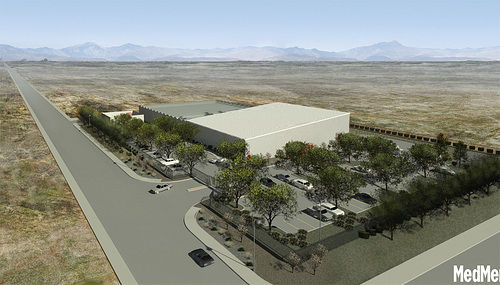 The little red figure on the right of the driveway is the public art contribution.

Here's a closer view. They almost look like penguins, don't they? The artist will be Gerardo Hacer.
The piece will consist of two red metal penguins in origami form. MedMen's COO and cofounder [Andrew Modlin] envisioned a piece that drew upon his own affinity for penguins, which frequent his own original paintings. and functioned as a juxtaposition between penguins' natural habitat and Desert Hot Springs' climate. Furthermore, the penguins' lifelong companionship and partnership is emblematic of our hope to build a lasting relationship with the City of Desert Hot Springs. The installation is red as that is MedMen's signature color.
MedMen broke ground on a cultivation facility in Reno last year.

permalink | April 15, 2017 at 03:55 PM | Comments (0)
April 11, 2017
The 14th Factory
Not long ago I paid a visit to 14th Factory in Los Angeles. I already posted the video. Now here are the still photos.

People waiting to get into the replica "2001" room.

This is their trademark (I guess) which I read as "nine gamma," but that makes no sense, not even in context, so I don't know its significance.

One of the pieces of art was this park.

Pitchforks!

The item on the left resembles a plow.
The complete set of photos is here.
permalink | April 11, 2017 at 08:00 PM | Comments (0)
April 5, 2017
The 14th Factory Videos
These are mostly videos of videos, with one exception.

permalink | April 5, 2017 at 11:30 AM | Comments (0)
February 28, 2017
Amargosa Opera House & Death Valley Junction
I was camping with Great Outdoors at Tecopa Hot Springs this past weekend. One day we took a little drive up to Death Valley Junction to see the Amargosa Opera House. My first visit there. Read all about the opera house and hotel here. Marta Becket died January 30, 2017, at age 92.

Marta Becket.

Amargosa Hotel lobby.

The stove is the only source of heat and was burning with a low fire when we were there.

Death Valley Junction Garage

Historic pink tutu not for sale.
permalink | February 28, 2017 at 11:13 PM | Comments (2)
February 19, 2017
The Broad Museum

Michael Jackson and Bubbles by Jeff Koons

No Arts; No Letters; No Society by Damien Hirst

Norm's, La Cienega, on Fire by Edward Ruscha

The Nazis by Piotr Uklański
These are photographs of actors who played Nazi officers.

The Broad Museum Lobby. The stack of giant plates is simply No Title by Robert Therrien. I think I could come up with a name easily.

Untitled, 1984 by Keith Haring

Under The Table by Robert Therrien

The Broad provides two windows through which you can view their storage area. I've never heard of something like this before. This is the first time I've seen museum storage. I overbrightened this photo to bring out details in the shadows.

Inflammatory Essays by Jenny Holzer

Infinity Mirrored Room-The Souls Of Millions Light Years Away by Yayoi Kusama

Giant Figure (Cyclops) by Thomas Houseago

Balloon Dog (Blue) by Jeff Koons
The complete set of my photos from The Broad are here.
permalink | February 19, 2017 at 02:31 PM | Comments (1)
December 18, 2016
Tom Of Finland Music Video
If you don't already know that this is very NSFW, then you should not follow this link.