« Action Figure Family Donation Request | Main | Speed Check »
July 14, 2017
John Furbee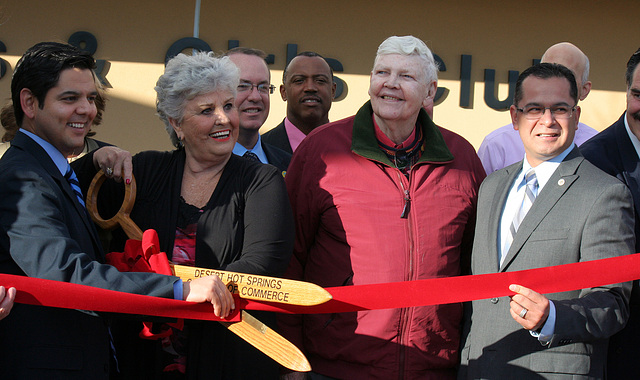 L to R: Rep. Raul Ruiz, Mayor Yvonne Parks, Councilmember Scott Matas, unknown man in back, John Furbee, V. Manuel Perez at the ribbon cutting for the Health & Wellness Center in 2013.
John Furbee - Local Philanthropist, Businessman and Civic Leader Passes Away

Desert Hot Springs, July 13, 2017: It is with tremendous sadness that we announce the passing of John Furbee, a long-time Desert Hot Springs philanthropist, businessman, civic leader and youth supporter. John passed away on July 12, 2017 surrounded by his loving family, following an extended illness.

John Furbee arrived in Desert Hot Springs over 50 years ago, and quickly established the well-known DHS Drug Store. He went on to own and operate several successful businesses within the city and served the community as the President of the Boys and Girls Club and Mission Springs Foundation and sat as Chairman of the Board of both the Desert Hot Springs Planning Commission and Desert Hot Springs Economic Committee.

His commitment and dedication to the city earned him the distinct honor of being named the Senior Inspiration Award Recipient for the City of Desert Hot Springs in 2006 and in 2012 the City Council named the Aquatic Center at the Community Health and Wellness Center the "John H. Furbee Aquatic Center" in his honor. This dedication was based on the significant contributions John made to the community he loved so much, including the donation of the property upon which the facility was built and a significant monetary contribution toward the Center.

John Furbee was a community hero, known for his dedication to the youth, animals, and local charity's. He had a kind heart and will be sorely missed by our entire community.
Filed under Coachella Valley,Desert Hot Springs,Photography | permalink | July 14, 2017 at 01:13 PM
Comments
I love John and will miss him everyday. Always there with a smile and funny comment. He is with his good friend, Ripple now. My thoughts are with his family. How lucky you all were to have him in your family. I am proud to all him a friend for over 20 years. Hold the fort down John, we will be seeing you soon.
Posted by: Stephanie Bodde at Jul 29, 2017 2:21:39 PM
John Furbee loved the City of Desert Hot Springs. He touched our lives with his positive attitude, enthusiastic support for the city and his leadership. Through his many acts of generosity, he led the community as if he was the unnamed Ambassador of the City of Desert Hot Springs. We are all truly grateful to have worked with John.
I met John in 2008 after my company and partners purchased the Skyborne Master Planned Community on the west side of town. We enjoyed John's support for our project. John was always available to meet with anyone, share ideas and promote those that would help move the City of Desert Hot Springs forward.
As an example, two years ago, John stepped up as one of the first donors to the Desert Hot Springs Renaissance Group, a 501 (c) 3 non-profit organization formed to provide grant writing services for the City of Desert Hot Springs at no cost to the City.
With John's passing, it's now time to challenge ourselves to continue John's example by contributing our time and resources as he did, to positively move the City of Desert Hot Springs forward.
Jim Kozak
Jim Kozak is the Developer of Skyborne and President of the Desert Hot Springs Renaissance Group, a 501 (c)3 non-profit organization.
Posted by: Jim Kozak at Jul 15, 2017 8:44:26 PM