« "BLK NUDIST SEEKS COLLEGE AGE BLK NUDIST" | Main | Action Figure Family Fundraising Party »
April 15, 2017
MedMen Cultivation Facility
This coming Tuesday, the marijuana cultivation facility proposed by MedMen will come before the Desert Hot Springs City Council. I wanted to share a few images from their proposal to build at Hacienda and Little Morongo. There's no paved Hacienda on the east side of Little Morongo, but on the west (county) side it's paved and called 13th Avenue.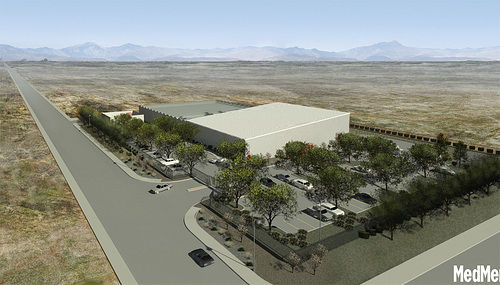 The little red figure on the right of the driveway is the public art contribution.

Here's a closer view. They almost look like penguins, don't they? The artist will be Gerardo Hacer.
The piece will consist of two red metal penguins in origami form. MedMen's COO and cofounder [Andrew Modlin] envisioned a piece that drew upon his own affinity for penguins, which frequent his own original paintings. and functioned as a juxtaposition between penguins' natural habitat and Desert Hot Springs' climate. Furthermore, the penguins' lifelong companionship and partnership is emblematic of our hope to build a lasting relationship with the City of Desert Hot Springs. The installation is red as that is MedMen's signature color.
MedMen broke ground on a cultivation facility in Reno last year.

Filed under Art,Coachella Valley,Desert Hot Springs,Marijuana | permalink | April 15, 2017 at 03:55 PM
Comments