« Forest Lawn - Glendale | Main | Tom Of Finland Music Video »
December 18, 2016
Keith Haring Exhibit at Petersen Automotive Museum
The five vehicles painted by Keith Haring are on display at Petersen Automotive Museum in L.A. The website doesn't say how long the vehicles will be on display there.

1990 BMW Z1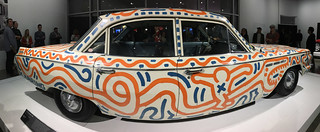 1963 Buick Special

1987 Honda CBR1000F Hurricane

1971 Land Rover Series III

1962 SCAF/Mortarini Mini Ferrari 330 P2 Motorized Child's Automobile
The complete set of photos is here.
Filed under Art,Automotive,Gay Issues,Photography | permalink | December 18, 2016 at 10:19 PM
Comments