« November 2016 | Main | January 2017 »
December 26, 2016
Petersen Automotive Museum

1936 Bugatti Type 57SC Atlantic. Design created by Jean Bugatti, son of the founder of Bugatti, Ettor Bugatti. In the SC variant, "The 'S' stood for 'Surbaissé' ('Lowered') and the 'C' for 'Compresseur' (a supercharger introduced by Bugatti as a result of customer's desire for increased power)." The body is aluminum. Only four of these were built. One disappeared in France during World War II. Another was hit by a train (!) but has been completely restored. This particular 1936 Bugatti Type 57SC Atlantic was brought to New York City in 1946. The owner drove it from there to Los Angeles. Some time in or after 2003 it was bought by Peter Mullin for a figure greater than $30 million. The fourth vehicle is owned by Ralph Lauren, who paid $40 million for his.

1939 Bugatti Type 57C by Vanvooren. This vehicle was a gift from the nation of France to Mohammed Reza Pahlavi, Prince of Persia, on the occasion of his wedding to Egypt's Princess Fawzia in 1959.

1939 Fiat 508C Balilla converted for CNG. This is said to have been the very first vehicle powered by compressed natural gas.

1948 Cadillac Sedanette Cadzzilla by Hot Rods By Boyd. This unique customization was commissioned by Billy F. Gibbons of ZZ Top.

1948 Davis Divan.

1948 Davis Divan. This is a three-wheeled convertible made by Davis Motorcar Company in Van Nuys in the late 1940s. There were 13 of these made, and 12 of them still exist. The design was based on an earlier three-wheeled car called "The Californian." Later, Gary Davis designed the 3-wheeled Dodge 'Em bumper car which is now ubiquitous in carnivals everywhere. He eventually retired to Palm Springs where he died in 1973.

1955 Chevrolet Biscayne XP-37. This vehicle was created by General Motors to show off its new 265 cubic-inch "Turbo Fire" V8 engine.

1955 Mercury D-528 Concept. The bulging "fins" are functional...and hinged. One is for the spare tire, the other holds the gas tank. This car had Ford's first reverse-sloping retractable rear window. "'Beldone' was a stage name selected by Paramount Pictures for the car's appearance in the 1964 Jerry Lewis movie, 'The Patsy', not an official Ford designation."

Here's a room in the Petersen museum where the unifying theme seems to be "shiny silver." Far to the back, not really visible in this photo, is a shiny gold car.

The chassis of a 2015 Tesla Model S P85D. Below is one with its clothes on.

Evidence of Petersen's attempt to class up its act. This restaurant (in the museum) used to be a Johnny Rocket's. Now it's a Drago.
Many more photos can be seen here.
Filed under Automotive,History,Photography | permalink | December 26, 2016 at 10:39 PM | Comments (0)
December 23, 2016
Noiseless.app
The Noiseless app came out last year, but I only discovered it very recently. It's available for $4.99 in the App Store. There is no Windows version.
It's got only one purpose: to reduce visible noise in photos...and to do that with a really easy interface...without making the photo look blobby. I've tried software like this before and found it lacking. Most of the attempts just soften the image; some are so complex they become unwieldy to use. So, perhaps you can imagine my surprise when I discovered that Noiseless worked just about as well as any noise-reduction software I could hope for.
As a demonstration, I grabbed 23 (24 if you have your safe search settings turned off) noisy photos of mine and paired them up with their post-Noiseless versions, putting them all in this album on Flickr. Below are a few samples. Each image below links to a full-resolution version.
Filed under Photography | permalink | December 23, 2016 at 04:17 PM | Comments (0)
December 21, 2016
The Guide To What To Do To Contain Trump For Four Years
I think this may be the workable, practical plan [PDF] to resist Trump that I hoped some knowledgable people would put together before January 20.
It's a guide put together by "former progressive congressional staffers" on how to keep Trump from putting his "agenda" ("whim" might be a better word) into effect. They want to be like the progressive counterpart of the Tea Party, but without all the horrid negative stuff. Their recommendations are pretty basic: pay attention to your Members of Congress, communicate with them, influence them. As former congressional staffers they can advise on the psychology of Members of Congress and how to make the most of that.
And what about the fortunate few like me with two Democratic Senators and a Democratic Representative? Here's their recommendation ("MoC" = "Member of Congress"):
Congratulations! Your Senators and Representative are doing what they should to fight racism, authoritarianism, and corruption. They're making the right public statements, co-sponsoring the right bills, and voting the right way. So how does this change your strategy? Two key things to keep in mind:

1. Do NOT switch to targeting other MoC who don't represent you. They don't represent you, and they don't care what you have to say. Stick with your own local MoCs.

2. DO use this guide to engage with your MoCs locally. Instead of pressuring them to do the right thing, praise them for doing the right thing. This is important because it will help ensure that they continue to do the right thing. Congressional staff are rarely contacted when the MoC does something good — your efforts locally will provide highly valuable positive reinforcement.
And (my personal add) we should avoid internal bickering and focus on the enemy.
» Donald Trump's agenda will take America backwards and must be stopped.

» In order to work together to achieve this goal, we must model the values of inclusion, tolerance, and fairness.
Filed under Politics | permalink | December 21, 2016 at 03:15 PM | Comments (0)
December 18, 2016
Tom Of Finland Music Video
If you don't already know that this is very NSFW, then you should not follow this link.
Filed under Art,Gay Issues | permalink | December 18, 2016 at 10:34 PM | Comments (0)
Keith Haring Exhibit at Petersen Automotive Museum
The five vehicles painted by Keith Haring are on display at Petersen Automotive Museum in L.A. The website doesn't say how long the vehicles will be on display there.

1990 BMW Z1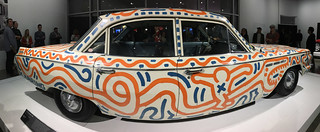 1963 Buick Special

1987 Honda CBR1000F Hurricane

1971 Land Rover Series III

1962 SCAF/Mortarini Mini Ferrari 330 P2 Motorized Child's Automobile
The complete set of photos is here.
Filed under Art,Automotive,Gay Issues,Photography | permalink | December 18, 2016 at 10:19 PM | Comments (0)
December 17, 2016
Forest Lawn - Glendale
Last weekend I went on an actual paid tour of some of Forest Lawn Glendale. I got to see the show in the Hall of the Crucifixion/Resurrection. That's pretty impressive. There is a diorama of the scene of Christ's crucifixion with an interesting history. The diorama of the Resurrection is smaller and much newer and depicts heaven (it's up in the clouds, so it's got to be heaven, right?) as populated with a lot of Christian crusaders. It also includes St. Peter's in Rome, St. Paul's in London and Christ Church in the City of Boston, i.e., Old North Church. I didn't see anything like a Mormon temple there.
I also went into the Great Mausoleum for the first time. This mausoleum has the greatest concentration of celebrities and also the big stained glass Last Supper (so they really enforce the no photos inside rule here). Michael Jackson is interred here, as well as Elizabeth Taylor. I saw Taylor's grave, but didn't notice it was hers because I was distracted by the huge angel atop it.
They've removed the curtain from the Last Supper, so they can't do the big unveil anymore, but they still play the pre-recorded story of its history.

Depicting Michelangelo in his studio with the completed statue of David.

1896 - 2005

The Hall of the Crucifixion/Resurrection.

The Builder's Creed.

"The Republic." This is a scaled down replica of the original which was erected at the World's Columbian Exposition in Chicago in 1893. The original is gone, but there is a replica in Jackson Park in Chicago.
The complete set of photos can be found here.
Filed under Architecture,Photography | permalink | December 17, 2016 at 09:08 PM | Comments (0)
December 16, 2016
Salk Institute
Filed under Architecture,Photography | permalink | December 16, 2016 at 09:48 PM | Comments (0)
Campaign Detritus
Filed under Architecture,Politics | permalink | December 16, 2016 at 12:43 PM | Comments (0)
December 11, 2016
Trump Supporters Still Hating With Their Broken English
Hey there little pussy, let me get my big boy pants on and Really take you on!!! What a snake in the grass you are you lying piece of shit too cowardly to confront me in real life so you do it on Facebook. You are the biggest faggot ass in the world the biggest pussy! My Dick is bigger than yours
Which ain't sayin much! What a true piece of shit you are! Lying Faggot! I hope you meet your karma
SLOWLY AND PAINFULLY
Susan Olsen AKA
Cindy Brady
in her better days.
Filed under Gay Issues | permalink | December 11, 2016 at 06:46 PM | Comments (0)
December 10, 2016
That Hot Air Balloon Crash Last Summer
You probably remember this horrific balloon crash in Texas into powerlines that killed all 16 who were riding in the gondola. Now, the news comes out that the pilot had seven different drugs in his system, and too many of them should not have been consumed simultaneously. Diazepam (Valium), oxycodone (Oxycontin), Ritalin, an antidepressant (not identified in this article except to say it was "not one of the four FAA-approved" antidepressants), cyclobenzaprine (a muscle relaxant) and Benadryl. Further to confirm the pilot's poor judgement skills, he had a record of five alcohol-related incidents with the law, possession of drugs, and driving with a suspended driving license, none of which were reported to the FAA.
One hopes that the balloon company had billions in assets so that the families of the deceased can be adequately compensated, but I'm sure that would be a pointless fantasy.
| permalink | December 10, 2016 at 12:12 PM | Comments (0)
December 9, 2016
Easily Entertained
Filed under Technology | permalink | December 9, 2016 at 02:36 PM | Comments (0)
December 6, 2016
Happiness, I Think
Filed under Marijuana | permalink | December 6, 2016 at 09:33 PM | Comments (0)
Weather Channel tells Breitbart to cut the BS
What is it that right wingers don't like about the facts supporting climate change? They seem to be okay with a round earth orbiting the sun, the proof for which is more abstract than the proof for climate change.
Filed under Science | permalink | December 6, 2016 at 07:02 PM | Comments (0)