« Hotel Cecil | Main | Palm Springs Construction »
November 21, 2016
LA Opera - Akhnaten


Los Angeles Music Center - the Dorothy Chandler Pavilion is on the right.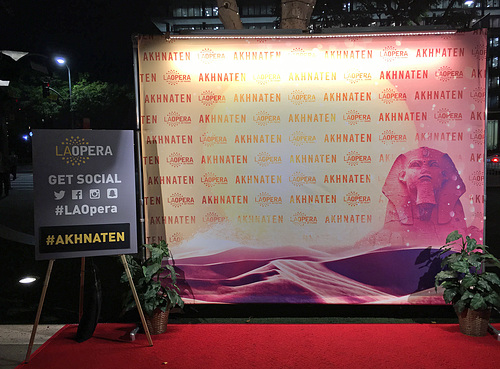 The LA Opera seems a bit heavy handed in promoting social media.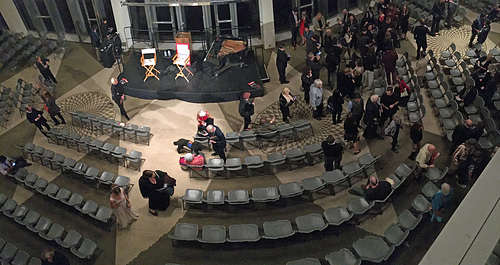 Composer Philip Glass and conductor Matthew Aucoin had a talk in the lobby before the performance. Philip Glass is in the crowd in the upper right with his hand on a lady's shoulder.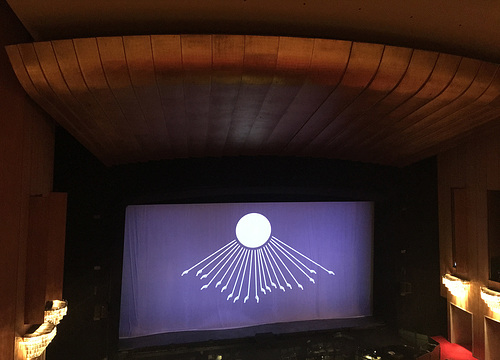 During the intermission after Act II.
More photos from my visit to the LA Opera can be seen here.
Here's the LA Times review of LA Opera's "Akhnaten."
Wikipedia article about the opera.

Here's a short video that gives you a few brief samples of the performance. The jugglers were amazing. Often there was so much action on the stage that you just couldn't follow it all - a sort of five-ring circus. It was great!
If you want a sampling of the music, here is the first 10 minutes and 44 seconds of the opera.
Akhnaten himself is sung by a counter-tenor. Here Anthony Roth Costanzo explains how he prepared.

Akhnaten imposed a monotheistic religion on Egypt during his reign (1353 BC to 1336 BC). His queen was Nefertiti. His son was Tutankhamen. More facts.
Filed under Music | permalink | November 21, 2016 at 10:13 PM
Comments
Costanzo talks about that in his video.
But, yes, for my other readers, Akhnaten first appears on stage completely nude and stays that way for quite awhile. Then you find out that pharoahs don't put their pants on the same way as any other man.
Posted by: Ron at Nov 22, 2016 9:47:08 AM
I was there on Saturday night on the opposite side of the balcony from where your shot was taken. Great production. I'm surprised you didn't mention that Akhnaten makes his entrance nude, or what appeared to be nude from where I was sitting. I did not see Philip Glass on Saturday Night, likely I missed him. I met him in 1971 in Houston, TX, where this opera premiered in 1984. He wasn't famous yet.
Posted by: Ednixon at Nov 21, 2016 11:48:39 PM