« August 2016 | Main | October 2016 »
September 29, 2016
Canndescent Ribbon Cutting
Canndescent is the first cannabis cultivator to go into real operation in Desert Hot Springs, which means it's the first legal cultivation site in California, outside of dispensaries themselves. Boy Scout Troop 1606 brought the American flag and led the Pledge of Allegiance, which the cannabis people thought was a bit unusual. But! One of the Scouts is trying to raise money for a trip to Washington DC for some Boy Scout function. Canndescent covered his remaining financial need with a check for $3,300. I would like to be there when he tells other Scouts how he raised his money.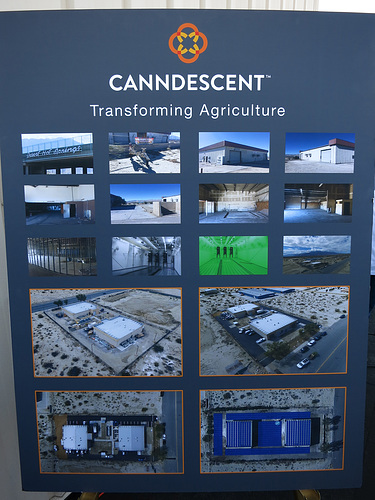 "Transforming Agriculture." I imagine in a few years as the cannabis industry settles down we'll get used to seeing slogans like you'd see in Iowa or any other predominantly agricultural state.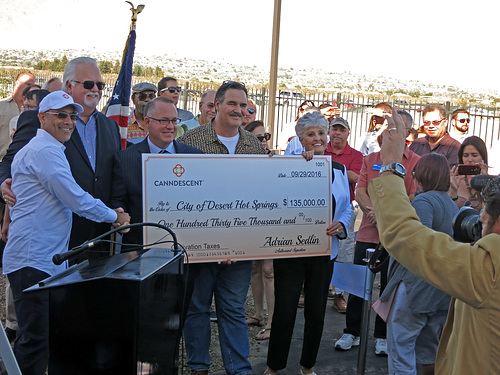 Canndescent also presented the city with its first tax payment of $135,000. The tax rate is based solely on cubic footage of the grow area, so the city doesn't have to wait for a crop to mature and be sold to get taxes. I don't recall if the taxes are paid quarterly or every 6 months, and no one said if this tax payment is one full payment, or does it cover through the end of the calendar year or perhaps the fiscal year? Nevertheless, $135,000 is almost the cost of one cop for one year. So it's a start.


Click for a larger size.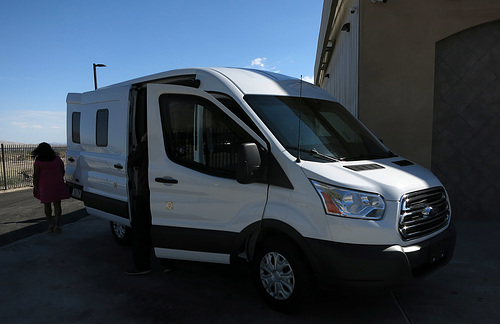 Their armored vehicle which doesn't seem to use CNG.

And it looks like they went all the way to Connecticut to get it.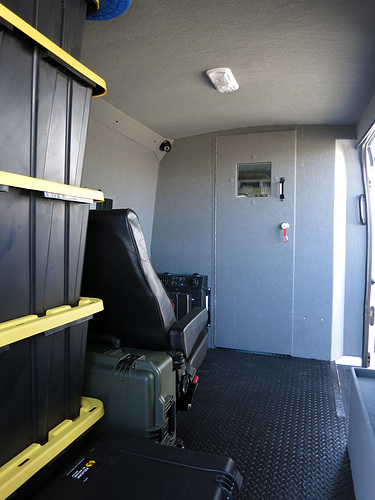 Interior of the vehicle.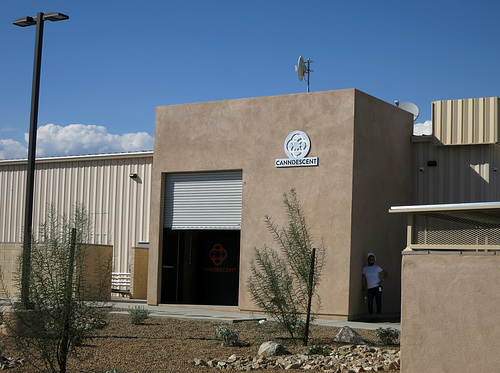 An historical plaque that Canndescent will erect. I suppose this fulfills their "art in public places" requirement. The plaque says:
CANNDESCENT

This marks the site of the first municipally-permitted cannabis cultivator operating in California. On November 5, 1996, California became the first U.S. state to legalize medical cannabis use. On October 21, 2014, Desert Hot Springs became the first city in California to legalize cannabis cultivation. On September 19, 2016, CANNDESCDENT commenced production.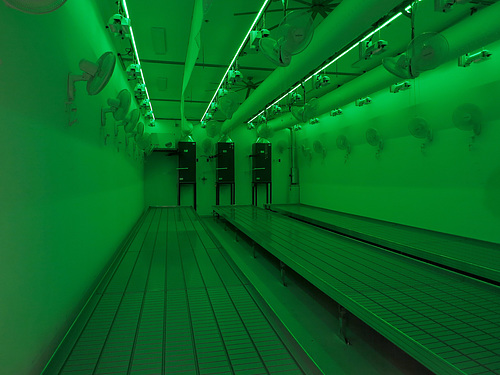 One of their grow rooms (with nothing growing).

Video of the grow room so you can see all the fans and appreciate the resulting noise.
Filed under California,Coachella Valley,Desert Hot Springs,Marijuana,Photography | permalink | September 29, 2016 at 07:17 PM | Comments (0)
Phantom 4 vs. Mavic Pro vs. Hero5 Session - image quality
Spoiler: the Phantom 4 produces the clearest, sharpest images, the Mavic Pro's image is a bit soft, the Hero5 Session has better image quality than the Mavic Pro.

Filed under GoPro,Photography | permalink | September 29, 2016 at 02:42 PM | Comments (0)
"BURNING MAN: LIKE A VACATION, BUT TERRIBLE"
A year old, but very good.

Filed under Burning Man,Gay Issues | permalink | September 29, 2016 at 02:02 AM | Comments (0)
Hero5 Session Is Good!
Filed under GoPro,Photography | permalink | September 29, 2016 at 12:22 AM | Comments (0)
September 28, 2016
Bear This In Mind
A woman is suing Pi Kappa Phi at USC because a drone fell on her head at a party at the frat house in October 2005. The operator of the drone had been hired by Pi Kappa Phi to photograph the party.
Filed under Photography | permalink | September 28, 2016 at 09:23 PM | Comments (0)
September 27, 2016
DJI Smacks Down GoPro
Just a week after GoPro announced their first drone, Karma, DJI (longtime sales leader in drones) has come out with something much better called Mavic Pro. The Mavic Pro appears to fold down smaller than the Karma; it can go 40 MPH (somebody's going to lose an eye!); and it has tracking ability. It's also cheaper than the Karma. The Karma is $800. Add a Hero5 and the total is about $1,200. The Mavic Pro is $999 and includes a camera. You can also exclude DJI's new remote controller and save $250, dropping the price to $749. You can skip the remote controller and operate the Mavic Pro from your smartphone. DJI says the Mavic Pro can hover so steadily and its gimbal is so fantastic that you can use shutter speeds as long as 2 seconds on their camera! I am gobsmacked!
Here's a video which is nicely lower key than a GoPro video.

The only way this is going to be a bad deal is if the camera is crappy...so wait for some reviews first.
UPDATE: A Mavic Pro test video.

It looks like image quality is very good, but a narrower angle than GoPro, which has its pluses and minuses.
Here's a comparison list of features of the Mavic Pro and the Karma.
Filed under GoPro,Photography,Technology | permalink | September 27, 2016 at 09:53 PM | Comments (2)
The Voyage To Mars Using Something Smaller Than A Saturn V
Filed under Science | permalink | September 27, 2016 at 08:53 PM | Comments (0)
September 25, 2016
Joint Meeting Of The City Council & Planning Commission, September 13, 2016
This was a special joint meeting of the City Council and Planning Commission solely to consider an Ordinance Amending Chapter 17.180 "Medical Marijuana Facilities Location." The proposed amendment clarifies and expands the current law. The current law did not address manufacturing (making edibles, packaging product, extraction, etc.). The amendment would put manufacturing in the industrial zones along with cultivation. The amendment also included restrictions on extraction methods. Some extraction methods use flammable solvents.
Testing and distribution facilities are addressed in the amendment, too, and they will be restricted to the industrial zones. The definition of "delivery" is also in the amendment. The existing ordinance is silent about delivery which, I think, made it illegal. Does merely defining it in a zoning ordinance make it legal, in the absence of any sort of restriction? Maybe it does.
Attorney Jennifer Mizrahi first covered some corrections to be made to the proposed amendment. After that, Mayor Pro Tem Joe McKee said that section 17.180.060(d) Operational Requirements needed to be culled because as written it would be too burdensome. Here's my summary of the 12 paragraphs that make up that section:
"Manufacturers are limited to certain equipment, methods, solvents, gases and mediums when creating medical marijuana extracts."
"Medical Manufacturing Facilities with a state license of a Type-6 (non-volatile) or a Type 7 (volatile) classification may be allowed to operate under this Chapter."
All of the usual laws regarding air, water, health and safety apply. The usual permits are required.
Class I and Class II solvents (as defined by the FDA) are forbidden.
But "butanes, ethanol, carbon dioxide, propane, heptane or other solvents exhibiting low to minimal potential human health-related toxicity for extraction, or other methods approved by the State" are okay. Any solvent must be at least 99% pure.
Extraction using hydrocarbons must conform with the standards of the American Society of Mechanical Engineers and with proper ventilation.
If CO2 is used for extraction, that also must conform to ASME standards. And there has to be proper ventilation.
If any other method of extraction is used, there must be proper ventilation and ignition source controls.
"The amount of residual solvent per gram of finished extract cannot exceed 300 parts per million when quality assurance tested."
An exact duplicate of 3 above.
"Manufacturers may use heat, screens, presses, steam distillation, ice water, and other methods of extraction without employing solvents or gases to create kief, hashish, bubble hash, or vegetable oils or fats derived from natural sources, and other extracts."
"Manufacturers using extract to create ingestible products shall only use food-grade ingredients."
Attorney Mizrahi said that in a discussion earlier that day with Mr. McKee he had expressed his desire to get rid of 4, 5, 6, 7, 9, 10, 11 and 12; leaving the "less stringent" requirements.
Council Member Anayeli Zavala said she thought it was important to retain the level of detail in the paragraphs that Mr. McKee wanted to eliminate.
Ms. Zavala also spoke about another provision in the proposed amendment. That provision is 17.180.060(e) which requires marijuana manufacturing facilities to hire a Ph.D chemist to "supervise the design, installation and operation of the facility's systems and manufacturing processes." She asked if the intent was for the chemist to be there only during setup, or is the chemist supposed to supervise on an ongoing basis.
Council Member Russell Betts said he didn't see anything in the proposed amendment that gives the city the ability to shut down a non-confirming business. The attorney assured him that provision was in there. [There's only one thing on the agenda, this proposed amendment, and it's only 10 pages long, but that's still too much for Betts]. The relevant bit is at 17.180.120(d): "Failure to abide by any laws mentioned in this subsection shall constitute a public nuisance and shall subject the medical marijuana facility to revocation of any and all entitlements, licenses and permits." Then again in 17.180.130(b) which begins "A conditional use permit approved for a Medical marijuana Facility may be suspended or revoked for any violation of this Chapter..."
Mr. Betts went on to ask if a testing lab could be safely located in a commercial zone. The amendment is written to restrict them to industrial zones, but his concern is that industrial land has become so expensive here that a lab might benefit from being able to open in a less expensive commercial zone.
Planning Commissioner Dirk Voss said he was ready to approve the amendment now.
Commissioner Paula Terifaj said she thought that labs should be permitted in commercial zones.
When Mayor Matas opened the public hearing, the first speaker was Jeff Ridge. He said that he thought the 99-plant limit for dispensaries should be changed so that cultivation in dispensaries is restricted in some other way, such as square footage or wattage used. He said the 99-mature-plant limit made it very difficult for dispensaries to operate. He also suggested delivery services should be required to have city or county permits from any city or county that bans delivery service before the service can deliver there. The intent would be to keep delivery services from going into cities where they are banned.
Bob Sellen spoke next. He was there representing a new group called DHS Can. He said they think it's good to have laws in place until the new state laws go into effect. He said there is no independent third party testing lab for marijuana.
Gretta Carter spoke in favor of the amendment, saying that until the state regulations come into place, city regulations like this protect the marijuana industry.
Dan Osborne with Clonetics Laboratories said the testing will keep the medicine safe for patients.
Brent Furman expressed support for the amendment. He said Ph.D. chemists are usually brought in after the "crude" oil has been extracted to oversee the refining process.
Andrew Milks supports the amendment. He said he would like to see the 99-plant cap removed. The coming California regulations restrict it by square footage, not by number of plants. The smallest state license will be 5000 square feet. He asked for a matching municipal limit.
Back when the original medical marijuana ordinance was debated and approved, the issue of whether the limit should be by square footage or number of plants was discussed quite a bit. I thought square footage would be a lot simpler to administer, but others said counting plants was easier. Representatives from the marijuana industry commented then that the 99-plant limit was fine and they could certainly work with that. Somehow it is now unusable! Five-thousand square feet is more square footage than any dispensary in town, and I mean the entire dispensary, not just the grow room. Organic Solutions of the Desert, the large dispensary on Ramon in Palm Springs is something closer to 5,000 square feet. Maybe it's a coincidence that Organic Solutions of the Desert is also the stinkiest of the dispensaries in the Coachella Valley.
Michael Dixon said he was concerned at the lack of a reference to the most recent state legislation, SB 837. He has found several inconsistencies between that legislation and the proposed amendment. He said the most qualified people in the marijuana industry are not Ph.D. chemists, but those who have had the most innovation in extraction. The proposed amendment's only quality standards concern potency and residual solvents. More than that needs to be tested. He also said there needs to be consideration of the fact that the amendment's definition of "manufacturer" is so broad it includes the simple re-packaging and labeling of products that goes on at a dispensary.
Nicole Salisbury recommended there be a neutral third party tester, rather than having each cultivator hire their own chemist. She also said that testing labs should be permitted in commercial zones. She expressed dissatisfaction with the 99-plant limit, saying it is too small.
Katy Podine said that the ordinance could be re-amended at any time, so there is no real risk in fast-tracking this amendment. She said that the definition of "manufacturer" was taken directly from state law.
Planning Commission Chair Cathy Romero said the discussions so far all focused on safety and quality and warned against the possibility of over-regulating. She said that if a business in Desert Hot Springs wanted to extract the oils of a lavender plant or frankincense or sandalwood, she doubted that the city would be so concerned with quality and safety.
Commissioner Voss pointed out that the provision in the amendment for a Ph.D. chemist already defines the position as neutral and third-party. Here is that paragraph people have been talking about:
As a condition of obtaining a City-issued medical marijuana regulatory permit and conditional use permit, a licensee of a manufacturing facility desiring to operate under this ordinance shall first verify that the licensee employs or contracts with a person who has a PhD in chemical sciences who shall supervise the design, installation and operation of the facility's systems and manufacturing processes. The licensee shall submit to the City a written statement that he or she certifies under penalty of perjury that the name of the employee/contractor is true and correct. The employee/contractor shall also submit a written statement that he or she certifies under penalty of perjury his or her educational qualifications and verifying that the supervisor is employed full-time to supervise the design, installation and operation of the facility's systems and manufacturing processes.
IMO, since the paragraph permits the chemist to be either an employee or an independent contractor, I have to disagree with Mr. Voss. He cited the fact that the paragraph requires certification. But the only verifications actually required are certifications of the chemist's name, qualifications and that he is employed full time.
Commissioner Andrew Cirner also warned against the risk of over-regulating.
Commissioner Terifaj expressed concern that the city might be approving something that would be in conflict with state law in 2018. The attorney pointed out section 17.180.060(f) [it's identified as "(e)" in the agenda packet due to a typo, but this comes right after the requirement for a chemist] which says state regulations take precedence over city regulations..
State Regulations. In the event the State of California implements health and safety regulations applicable to Medical marijuana Manufacturing Facilities, upon implementation of such state regulations, all Medical marijuana Manufacturing Facilities operators shall immediately implement the state regulations. Should there be a conflict between the provisions of this Chapter and the state regulations, the state regulations shall control.
Ms. Terifaj suggested that the city go ahead and approve the zoning component of this amendment, while forbidding extraction until the state regulations are in place.
Commissioner Voss moved for approval of the amendment, with all of the corrections that the attorney listed. In 17.180.060(e) the reference to full-time employment (for the chemist) would be removed. In item 17.180.060(d) all items would be deleted except for 1, 2, 8 and 10. Here those are for your reference:
1. Manufacturers are limited to certain equipment, methods, solvents, gases and mediums when creating medical marijuana extracts.

2. Medical Manufacturing Facilities with a state license of a Type-6 (non-volatile) or a Type 7 (volatile) classification may be allowed to operate under this Chapter.

8. All other methods of extraction shall be conducted in an environment appropriate to the solvent being used, with consideration to proper ventilation and ignition source controls.

10. All equipment, systems and manufacturing processes must meet or exceed all applicable state and federal requirements and regulations regarding air, water, health and safety, and handling, processing and storage of hazardous materials, solvents, gases and waste. No manufacturing facility shall commence operations or be issued any form of certificate of occupancy without first obtaining all required fire, environmental, health and safety, planning, and building certificates, permits and approvals required under City's Municipal Code and all other applicable county, state and federal regulations
The motion did not change the zoning rule that restricts manufacturing to the industrial zone. Commissioner Cirner seconded the motion. Chair Romero asked Commissioner Voss why his motion did not address the 99-plant limit. He said he feels okay with what we have in place.
The motion was approved 5-0.
Then attention went back to the City Council as they discussed the revised amendment approved by the Planning Commission.
Mayor Matas said he had received information about the dispensaries' problems with the 99-plant limit only the evening before, so he has not had time to fully inform himself on the subject. He said he will organize a subcommittee (himself and Mayor Pro Tem McKee) to meet with the dispensary owners and make sure their voices are heard.
Mr. McKee said that at a later date the council needs to address delivery modifications, the 99-plant limit, and labs in commercial zones.
Ms. Zavala moved to approve with the additional requirement that the Ph.D. chemist is required to visit the facility quarterly. Council Member Yvonne Parks seconded. Approved 4-1 with Mayor Pro Tem McKee voting against.
Filed under Coachella Valley,Desert Hot Springs,Marijuana | permalink | September 25, 2016 at 08:35 PM | Comments (0)
Desert Hot Springs Fall Festival & Fireworks Show
What better to way to kick off the fall season than to get outdoors and attend a family fall festival? It will be a memorable event with carnival rides, a petting zoo, pony rides, face painting, fire trucks to climb on and police cars to sit in, an art gallery show featuring 25 artists, live music with three live bands, tasty food trucks, a Coachella Valley Brewing beer garden and a full professional fireworks display to top off the evening in grand finale festival style.

The event is privately funded by a generous contribution by the Cannabis Alliance Network "DHSCAN" and other private business contributors with a crew of volunteers working to organize and put on the October 1 event in Desert Hot Springs.

"A big shout out goes to all the businesses that helped make this event possible and especially Cannabis Alliance Network who stepped up with a real show of community support," said Councilman Russell Betts.

Betts, who is leading the organizing effort to put on the event, explained that the event, now in its third year, was coming up short on funding and that as soon as DHSCAN became aware of the need, it stepped in to assure the event would go on. "It is actually a greatly expanded event with their help," said Betts.

"Without hesitation our members said this is something we want to do for the community," said President of DHSCAN Jason Elsasser. "DHSCAN is very happy to support what is looking to be a big Desert Hot Springs fun family event and looks forward to this being one of many great events ahead."

The festival also boasts a Hospitality Patio especially for Police Officers, Fire Fighters and their families to enjoy the fall festivities completely free as a form of appreciation for their dedication and service to the community.

Food is provided at a charge by Bruces Cayote Kitchen serving up BBQ and Jolly Polly selling desserts.

The organizers ask everyone to give a hearty thanks to DHSCAN and its members, Desert Valley Disposal, Solar City, MSA Consulting, Desert Pacific Properties and Q&A Associates Law Offices.

For more information, call 760 333-1374. Ask for Russ.



DATE & TIME: SATURDAY, OCTOBER 1 (2 P.M. TO 10 P.M.)


LOCATION: 64949 Mission Lakes Blvds, Desert Hot Springs, CA.
(Corner of Mission Lakes Blvd and Little Morongo Road)FOR THE KIDS – FREE from 2 p.m. to 8 p.m.

Petting Zoo
Pony Rides
Super Mega Slide
Kiddie Chair Swings
Euro Bungee
Face painting

ART SHOW & GALLARY

Featuring the work of 25 artists

LIVE MUSIC – FREE 4 p.m. to 10 p.m.

Desert Country (Country Western)
Gin Piston (Danceable Rock and Roll)
The Brosquitos (Indie Fusion)

FIRE AND POLICE DEPARTMENTS FUN

Climb on a fire truck and in a police car.
Meet Smokey Bear and McGruff

FOOD TRUCKS

BBQ by Bruce's Cayote Kitchen
Desserts by Jolly Polly

FIREWORKS SHOW: 9:30 p.m.

Fireworks by Pyrospectaculars by Sousa.
Filed under Coachella Valley,Desert Hot Springs | permalink | September 25, 2016 at 05:57 PM | Comments (0)
September 23, 2016
The Temple
Filed under Burning Man,Photography | permalink | September 23, 2016 at 04:23 PM | Comments (0)
September 22, 2016
This Is A Good One
This is definitely a step above the usual star-studded political ads.
Filed under Politics | permalink | September 22, 2016 at 03:51 PM | Comments (0)
September 20, 2016
Lower Tech Than A Drone
Filed under GoPro,Photography | permalink | September 20, 2016 at 03:44 PM | Comments (0)
GoPro Karma & Gimbal Test
A pretty good test of the gimbal and image stabilization in the Hero5 (conducted by someone not connected to GoPro) begins at 6:50 in this video. After that he shows what he can do with it without reading or receiving any instruction at all. And then he proceeds to test it over the Hudson River!
Filed under GoPro,Photography | permalink | September 20, 2016 at 03:43 PM | Comments (0)
Terabyte SD Card
SanDisk announced it has created a prettype of a 1 TB SD card. No word on when it might come to market or what the price might be.
Filed under Photography,Technology | permalink | September 20, 2016 at 02:16 PM | Comments (0)
September 19, 2016
Small Coincidence
I was watching this video about the GoPro Hero5 Session when I realized I recognized Chris Farro who shows up at about 27 seconds into the video.


In the video.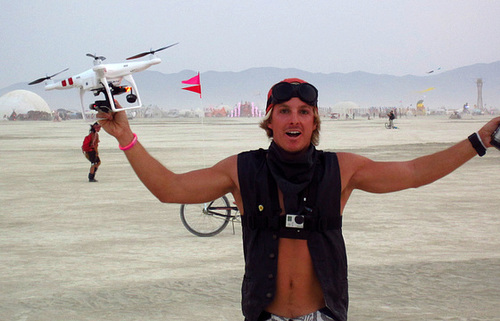 At Burning Man 2013.
Filed under Burning Man,GoPro,Photography | permalink | September 19, 2016 at 07:11 PM | Comments (0)
GoPro Hero5 (and more) announced
GoPro Hero5 Black (does that suggest there will also be a Silver model?) (Oct. 2)
$400
12MP
Voice commands
Video stabilization
Touch display
Waterproof without a case
4K up to 30 fps
1440 up to 80 fps
1080 up to 120 fps
Location capture
Raw
Auto-upload

GoPro Hero5 Session (wait for the reviews to find out if they've sufficiently improved the Session's horrid photo quality) (Oct. 2)
$300
10 MP
Voice commands
Video stabilization
Waterproof without a case
But it comes with a case so you can mount it
Auto-upload
4K up to 30 fps
1440 up to 60 fps
1080 up to 90 fps

GoPro Hero Session (Oct. 2)
$200
8 MP
1440 up to 30 fps
1080 up to 60 fps
Waterproof without a case
But it comes with a case so you can mount it

GoPro Karma drone (Oct. 23)
$800
No propellor guards
Has a stabilizer that can be removed and used handheld. Or you can purchase the stabilizer independently for $300

Omni 360° camera array
$1500 for Omni only; $5000 if you also need to buy the six Hero5 Black cameras. You're paying $583/camera, if you do it that way.
For professional live broadcast. Price not stated.

As before, purchase of a GoPro product does not include trips to Alaska or India, hot air balloons, dramatic music, backstage passes at concerts, a classic VW camper bus, slackline skills, or (most regrettably) beautiful people.
Here's your Apple-style video ad for the Hero5 Black.
And here's the one for the Hero5 Session.
UPDATE: I totally missed this earlier. The Remo, a remote for voice commands; $80.
Filed under GoPro,Photography | permalink | September 19, 2016 at 01:12 PM | Comments (0)
September 16, 2016
Rats
Using dry ice to exterminate rats in their burrows in Boston, Chicago and New York.
Filed under Health | permalink | September 16, 2016 at 09:47 PM | Comments (0)
Name That...
| permalink | September 16, 2016 at 09:38 PM | Comments (0)
What I Would Do With My Tricycle If I Could
Filed under Burning Man,Cycling,Music | permalink | September 16, 2016 at 08:48 PM | Comments (0)
September 15, 2016
Burning Man 2016

Just arrived at our site.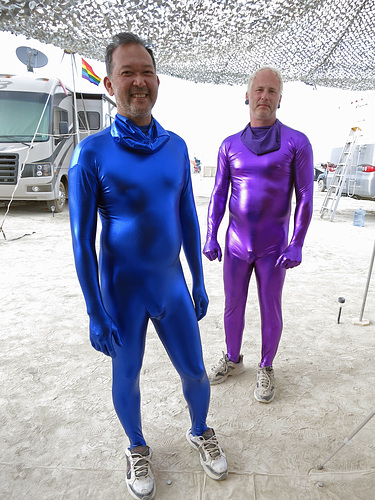 Alex & John in their zentai outfits.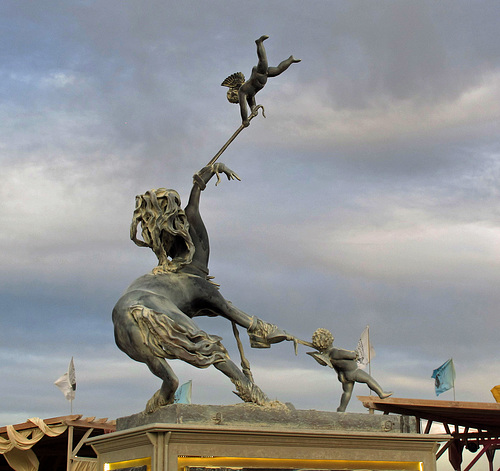 One of four sculptures around the Man base.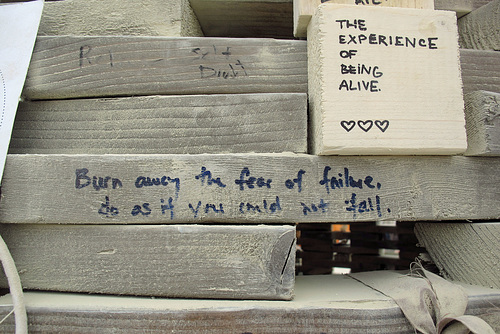 In the Temple.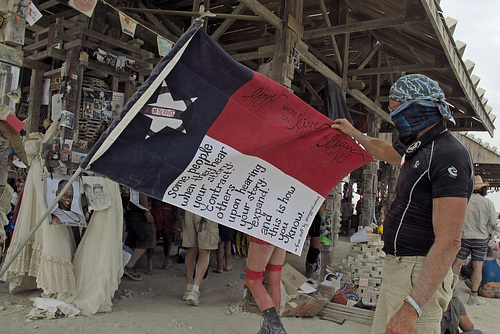 At the Temple.

Where I volunteered to work four 6-hour shifts which were pretty enjoyable.

Lighting up the Man was delayed due to weather, so I was able to get there early enough to see the ceremonial parade bringing the flame from the keyhole at Center Camp to the Man.

Art car.

I believe this was new this year.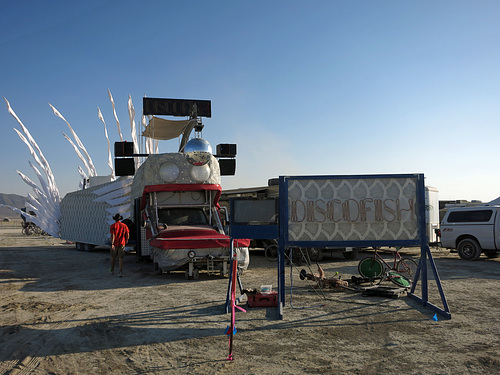 The art car Discofish early in the week, still being put together. They were camped just across the street from us, so I thought that ought to make it really easy for me to get on board and ride this prestigious craft around the playa. Across another street was Hippocampus which has the slightly less exotic Hippocambus that plays only acoustic music. That one would have been even easier to get on as they announced their departures on their excellent PA system. But, no, I never rode either.

Some portion of the tips at Ice goes to family planning in the valley we drive through to get to the Black Rock Desert. I asked somebody how this works and was told that each worker is given a choice: keep all the tips, give all the tips to family planning (or whatever this year's charity is) or split them 50/50.

Inner playa at dusk.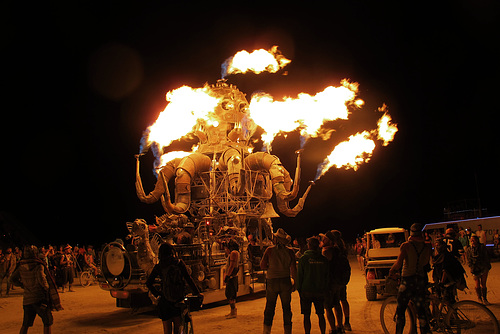 El Pulpo Mecanico.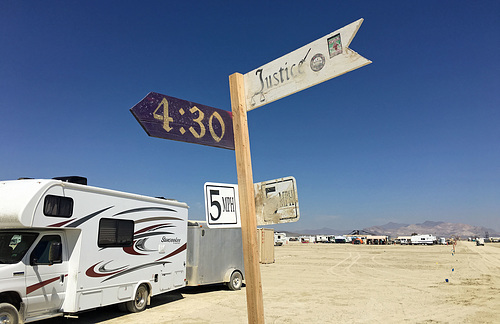 Street signs on our corner.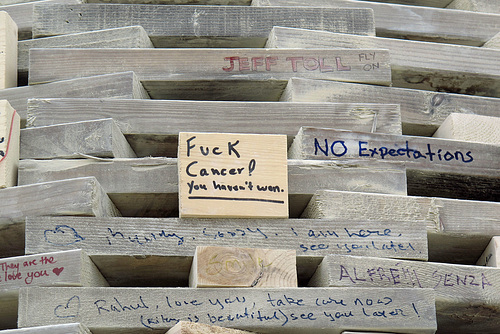 At the Temple.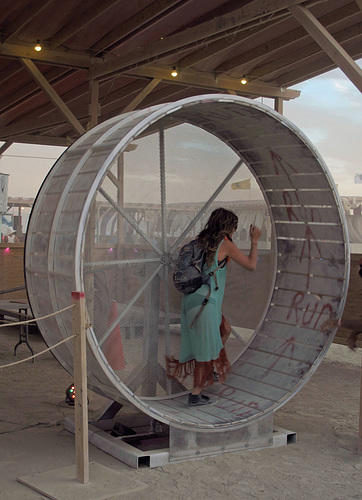 A hamster wheel for humans. It's nothing more than a hamster wheel. It doesn't pump water, grind grain, generate electricity, or anything!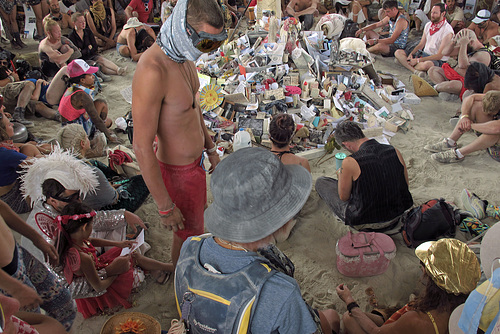 The interior of the Temple. Try to find a seat. Try to walk through! This is the smallest temple interior I've ever seen at Burning Man, despite that on the outside this appeared to be one of the larger temples built. I estimated this interior space at 40 feet by 40 feet.

Somebody made some intaglios out there. Not on any official art list. You just had to stumble across it and know what you were seeing.

Anyone who does the LA World Naked Bike Ride will surely remember June - that's her name, June.

At the beginning of the Naked Pub Crawl. I had never seen anything quite like those shoulder thingies at Burning Man and asked the man about them. He made them and it was the first time he had tried anything like that, he said. My jaw dropped.

The Naked Pub Crawl goes up against a water truck.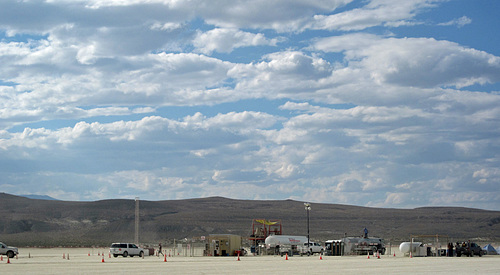 The fuel depot that is beyond 10 O'clock and L. I know this is for art cars, but it may also be the fuel stop for official BM vehicles too. I imagine law enforcement has its own fuel somewhere else. One has to prepare for this place in advance, IIRC. You have to make reservations or pay before coming to the playa or something. It's not like pulling into a Chevron.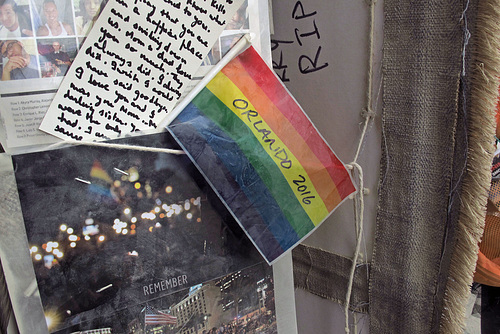 At the Temple.

On the Naked Pub Crawl I spotted this pink Schwinn saddle and asked the nice young man to stand up so I could get a good photo. I spotted this saddle on Amazon just before coming to Burning Man and didn't have the time to buy it...and pink handgrips. Those items have since been purchased and installed, so my trike is even better than it was.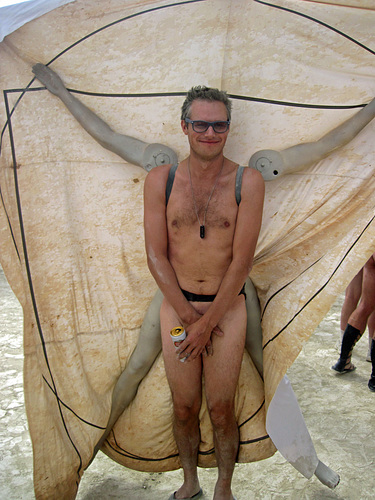 Don't ask me why somebody who wants to do a nude Vitruvian man would cover himself up like this, but he got over it pretty quickly and I have other photos of him.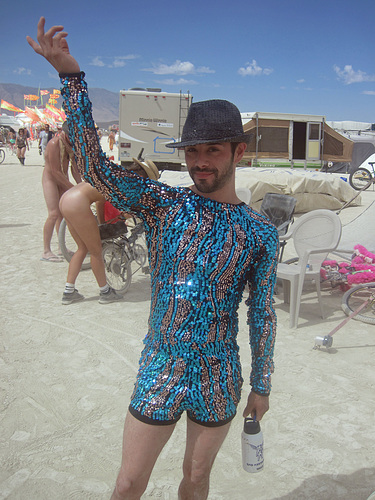 Spotted this little number sashaying around the gayborhood!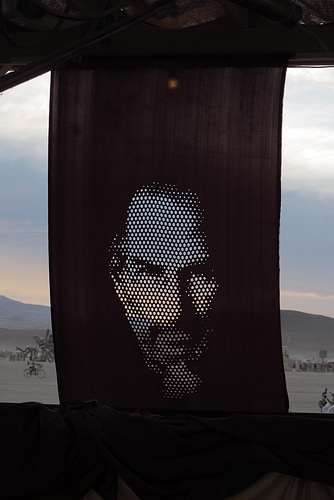 Steve Jobs. This was part of an exhibit of portraits under the Man. Leonardo was also depicted. Everyone else was someone who had been in Apple's "Think Different" advertising campaign, IIRC.

Words to live by.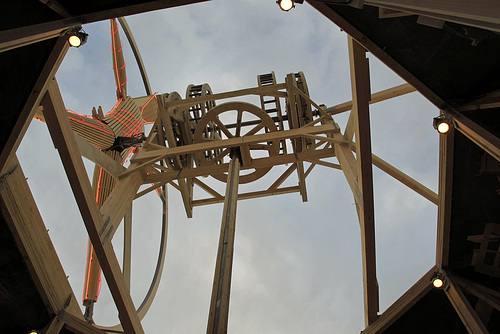 Looking up at the mechanism behind the Man. The Man never worked. It was connected to a wheel at ground level that several people could push to rotate. That motion was to be transferred through these gears to make the man spin! Fab-o idea. But Leonardo wasn't there. Bolts sheared and a finger was lost even before they could open it to Burners. So they just made sure the man was upright and locked everything down. The wheel the Man was mounted in didn't even fall off during the burn and start rolling across the playa. That would have helped with our disappointment.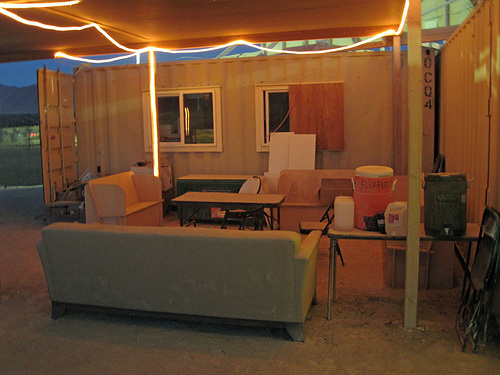 This is the lounge at Box Office where we waited before our shifts and where we ate. All the dust and fresh air you could want, plus cold water. In the storage box in the background there was a kitchen and a storage room for snacks.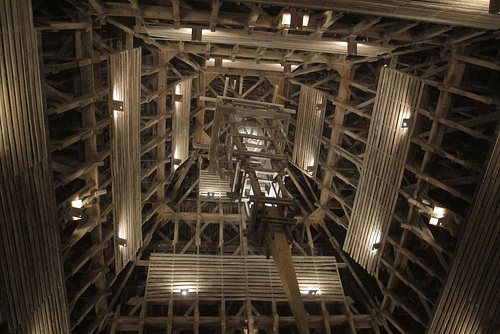 Looking up to the peak in the Temple.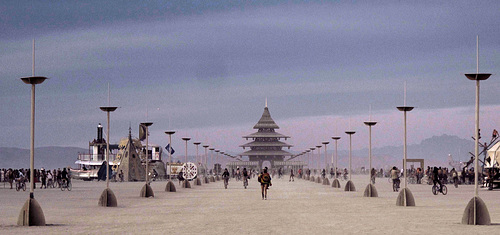 The Temple as viewed from the Man along the 12 O'clock road.
The complete set of photos is here. My videos will come later.
My new tent worked wonderfully. I installed the fan and I believe the interior of my tent may have been more comfortable than any RV in our camp. I noticed RVers sleeping in chairs midday. We need to organize a big napping area. I have never had the interior of any tent so free of dust at Burning Man. The only dust was what I tracked in. I took to leaving the sheet on my air mattress all day long and it was never dusty when I turned in. Usually, one takes his bedding and packs it up somehow during the day, so that it doesn't become dustier...if you're a tent camper, I mean.
The tricycle was a far greater success than I expected! Everyone at BM should have a tricycle if they have the storage and shipping capacity. Once my body fully realized that I didn't need to worry about balance, steering became much easier. I discovered I could now ride and video simultaneously! Expect to see some horrid videos as a result. Any place I wanted to stop, all I had to do was stop pedaling, and just sit. Made it easier to sit out a brief whiteout. You never have to dismount and find a place to lean a trike before you run into wherever you are running in to. The big storage capacity of the trike allows me to pack cameras and a tripod and ride without a backpack. In the past, I've had to choose whether I would go out on the bike or would I do a photo walk. The bike was a big inconvenience when I mostly just wanted to take photos.
Once when I was leaving Box Office to return home, I forgot I had cable-locked one of the rear wheels to the frame. I got about 10 feet. The cable had wrapped itself around the rear axle a few times. Unfortunately, the locking mechanism was cheap enough that it bent, making a normal unlock impossible. The wheel, however, was completely undamaged. I guess it's pretty easy to build superstrong 20-inch wheels, especially since they don't have to be dished. I needed bolt cutters, and my sense was that I would get no help there from the Box Office crew, so I walked next door to the Gate Crew. A nice looking, shirtless man with a handlebar moustache smoking a cigarette was standing in front. I approached and complimented the masculinity of the Gate Crew generally and of this man in particular, and so that's why I came to them to ask for bolt cutters. The nice looking smoker looks at me askance and says, "Yeah, I can help you with that." We walked down to the Gate Crew camp where he found a pair of bolt cutters nearly as big as himself. He explained that no one on Gate Crew could keep track of the combination of the lock on their storage container, so every year they just brought bolt cutters, cut the lock off and bought a new one. Gate.
We came back, he snipped the cable, I gave him a hug and thanks, and that was it. Fortunately for me, I had another pink cable lock back in camp; a Schwinn.
The next night, after my shift at Box Office, I saw that my trike had been moved from where I left it. Somebody had tried to steal it, but had suffered the same problem I did just 24 hours earlier. The new cable lock was wrapped around the axle, but the locking mechanism was undamaged, so I could unlocked it and unwind it. The only damage was a cut to the outer plastic casing of the cable. The wheel was still fine.
I realized that a pink cable lock in the rear alongside all that pink tubing and pink tires, is camouflaged. After that, I only wheel-locked the front wheel, where the lock was obvious.
Klank gave me a shade structure he no longer uses, and I erected it in front of my Costco tent (which my new tent was under). It worked well enough. Once I put a couple of chairs out there, it began to attract Burners. Like ducks seeing a decoy on a pond.
One small improvement I made was to reduce my battery size. I bought this smaller, deep cycle, 12-volt battery. I used it charge my camera batteries and to charge the small 12-volt power packs that ran the fan in the tent. I never attached the solar panels to it, since I saw no need. It weighs only 23 pounds and takes up a space only a little larger than 5" x 7". Much nicer to haul around than the regular deep cycle 12-volt automobile battery, which is even heavier than water. I could probably eliminate the solar panels too, freeing up a little space in the truck. Frank, another of us Burner Buddies, had a similar battery but just half as big that he said was a motorcycle battery.
Working at Box Office was a lot more pleasant than I expected. All the volunteers are friendly and usually helpful. Even more impressive were the Burners coming to window to pick up their will-call tickets. They were so happy, that even people whose debit cards were being declined, remained pleasant to deal with. It was also nice to see that I still know how to get up to show up for work on time, dressed appropriately (there is a dress code: You have to be dressed) and listen to my supervisors. A little to my surprise is that they always use playa names, even on records. When I first introduced myself, they said "No, your playa name." Then they could look me up. My first day on the job I sat next to Brisket, who was very lean. Costumes were not a big thing at Box Office...except for me. I usually made it easy for them to remember my name.
I had two morning shifts (6 AM - noon) and two evening shifts (6 PM - midnight). In the city, Box Office is at 5:45 and E next to Gate Crew, but the Box Office is pretty discreet. I couldn't find it at first.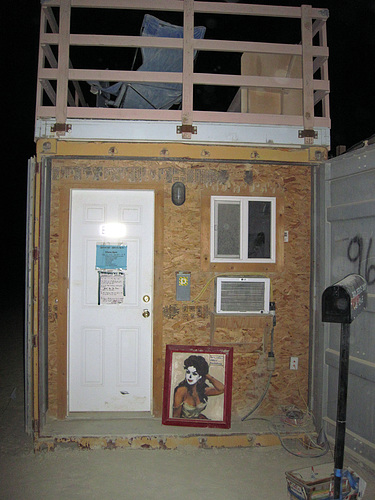 This is what Box Office looks like in the city. It says "Box Office" on the mailbox.
Next door to this is the Lamp Lounge where the decor features regular old table lamps fastened at right angles to uprights, or hanging down from a beam above. I wonder why I haven't seen more of this. There the shift would gather and then, at a sign, walk together down the road, just past Gate Crew to board a yellow school bus. Gate Crew was with us. Or, really, it's Gate Crew's bus and we're with them. The bus moseys at the 5 MPH speed limit out to Greeter's Gate and then through a break in the string of pennants that line the entrance road. The other side of those pennants, I learned, is a Free Zone where there is no speed limit. We would get up a decent speed as we shortcut that long curve that comes after Gate going to the Greeters. There are openings in the pennant string there, too, so we can drive across the entrance road to Gate Crew's headquarters. Box Office crew had to walk all the way, uphill, in the snow, against the wind to the Box Office, but at least we didn't use the same porta-potties as Gate Crew and we had our own kitchen. Not saying that they aren't fine, good-looking, helpful and masculine people in that Gate Crew.
Six hours later we do it in reverse. Once or twice we missed the express bus and took the local, which ran us out to "Point 1," which is the lower left angle of the pentagon. There's a gate there for vehicles that get to skip the entrance road - like cops, official Burning Man vehicles, and I think the Burner Express bus. It's dark and cold out there, but the law enforcement village is not far away.
We got fed while we were on the job. Some sorts of warm meals made their way out from the commissary to the Gate and us. Having these meals seemed to be an important reason for some people volunteering. The quality was like not very good dorm food. But, it was oversalted (at least to my taste) and that made it wonderful! I inhaled that food.
Filed under Burning Man,Photography | permalink | September 15, 2016 at 09:53 PM | Comments (0)