« Here's A Court Transcript For You To Read | Main | Finally! »
July 5, 2016
Pink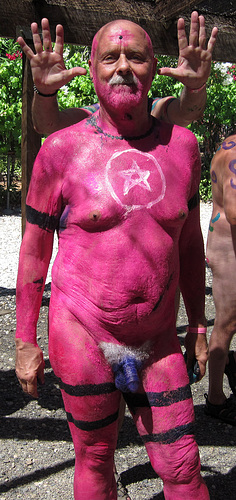 This past week I was at a Billys gathering in northern California. One of the Billys asked me if he could paint my whole body pink. Who am I to say no? Oddly, it was the white paint in my pubic hair that drew the most attention.
Filed under Art,California,Gay Issues,Naturism-Nudism | permalink | July 5, 2016 at 09:20 PM
Comments
Well, the funny thing is that with all the comments on the white pubic hair I couldn't remember how gray my natural pubes were. Actually, they are brown with only a very few scattered gray hairs.
Posted by: Ron at Jul 8, 2016 7:27:22 AM
White paint? I thought that was natural.
Posted by: Dick Prosser at Jul 8, 2016 3:11:42 AM