« Up In The San Bernardino National Forest | Main | Marijuana Cultivation Groundbreaking »
June 3, 2016
Santa Monica Photos
Things seen on a Sunday near the Santa Monica downtown Expo Line stop.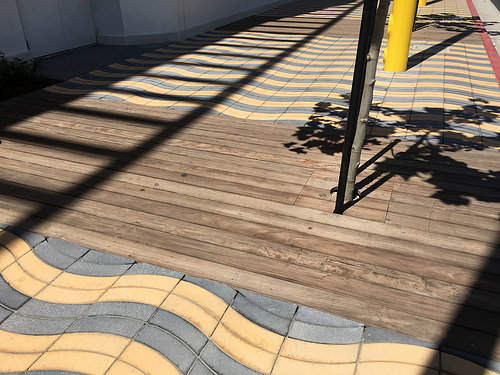 See how nicely they do the trees, with a big expanse of wood with lots of spaces to allow rain (as if it ever rained!) to get to the soil. Also expensive, I'm sure. But how much does it cost to replace dead trees?

I think the Big Blue Bus garage is behind this, or I may just be imagining that for obvious reasons.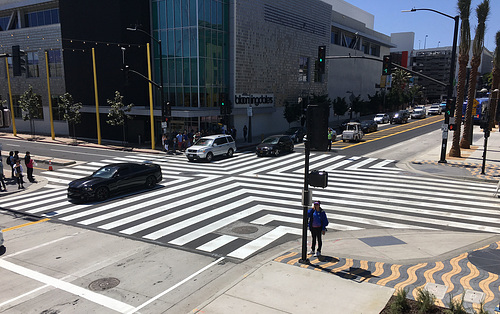 The street intersection at the Expo Line goes all four ways whenever it goes into Walk mode and so, knowing how L.A. drivers are, no expense was spared in slapping paint all over the place. Also, there's a cop on duty.

Back in Los Angeles proper, this is how they've painted the Hollywood & Highland intersection for the same purpose. Photo by LA Great Streets.


Pedestrians streaming away from the Expo train.

This was a bit of a challenge for me. Even when you're walking on this flat surface, your brain tells you its wavy. Easiest solution was to look away.

Simple and durable directions. Now, try to find that in the press of a crowd.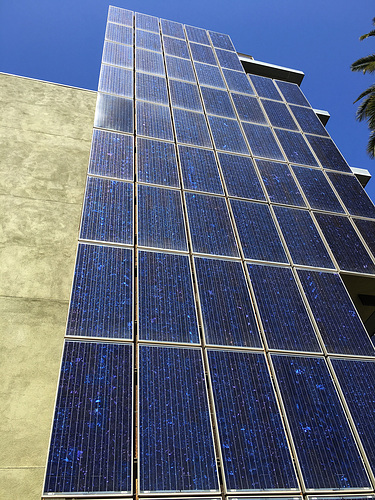 I'd like to see their calculations on the efficiency of putting solar panels in a fixed vertical array like this. Their western wall, where these are mounted, is a lot bigger than their roof.
Filed under California,Cities/Urbanism,Photography,Travel | permalink | June 3, 2016 at 07:57 PM
Comments