« May 2016 | Main | July 2016 »
June 24, 2016
Here's A Court Transcript For You To Read
The Washington Post gives some background but it protects you from the bounty of obscenities. But if you go to the official transcript you can enjoy the whole show. Here's one page of it for a sample.

Filed under Gay Issues,Public Safety | permalink | June 24, 2016 at 08:00 PM | Comments (0)
June 23, 2016
No Way To Behave
In Ohio, a man being sentenced for breaking and entering, safe-cracking, aggravated robbery, abduction and attempted safe-cracking had concealed bottles of urine and feces in his arm sling. After receiving his sentence of 40 years, the criminal attempted to pull out a bottle and assault the judge with it, but court security moved in quickly while he was fumbling for the first bottle. But the thing to watch in this video, is the lady in the background who calmly (and maddeningly slowly) gets her phone up to take a photo of the violence and then is reminded that no photography is allowed in the court room.
Filed under Photography,Public Safety | permalink | June 23, 2016 at 11:18 AM | Comments (0)
June 22, 2016
The Spanish Way Of Dealing With The Father Who Will Not Accept His Gay Son
There is complete nudity in this video, whether you regard that as a plus or a minus.
Filed under Gay Issues,Naturism-Nudism | permalink | June 22, 2016 at 07:01 PM | Comments (1)
June 17, 2016
Wired Remote For GoPro Hero4
It's a Kickstarter for a product that, when attached to the back of your Hero4, allows use of a wired remote, additional power via USB and an external LED indicator. The wired remote can be the traditional handheld type or one operated by biting or by tongue pressure. It's called a GoHawk.
Filed under GoPro | permalink | June 17, 2016 at 11:41 AM | Comments (2)
June 14, 2016
Myself On The LA WNBR
LAWeekly has a good slide show from the Los Angeles World Naked Bike Ride that includes at least two three four photos of me.
Filed under Cycling,Naturism-Nudism | permalink | June 14, 2016 at 08:15 AM | Comments (0)
June 10, 2016
Mike O'Callaghan - Pat Tillman Memorial Bridge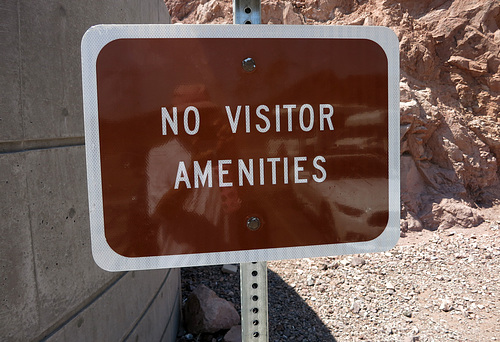 A sign in the parking lot for visitors to the bridge is excessively modest. Not only are there four trangender-friendly restrooms, but the parking lot is paved, there's a paved walkway that takes you to the bridge (imagine if they just let visitors clamber over bare rock), and plenty of informative plaques and signs. there is, however, NO DRINKING WATER here. No gift shop either. And certainly no taco trucks.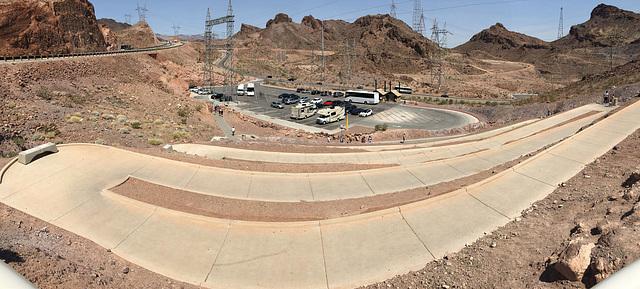 The parking lot for bridge visitors. If you want to use your GPS to find it, the name is "Mike O'Callaghan - Pat Tillman Memorial Bridge," but I found that as long as you're in the general area, a simple "Tillman" will suffice to find it. "General area" includes at least Las Vegas, where my trip started this day. There are stairs not very visible at the right edge of this photo, so if you can walk stairs, the hike is not so long as if you took the ramp. Hey, I only now noticed the little exposed concrete bench in the curve at the left side of the photo. Yet another amenity!
"Hoover Dam Bypass" may also be a good search term to find it.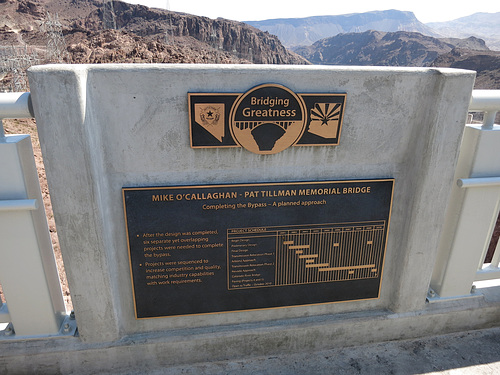 Talk about amenities, when did you ever see a Gantt chart rendered in a bronze plaque before? This is clearly a government project. The bridge must have about a dozen of these concrete forms on which plaques could be mounted. The order must have gone forth to come up with a plaque for every one of them (use up that budget!), so they go into a lot more detail than I've ever seen on plaques.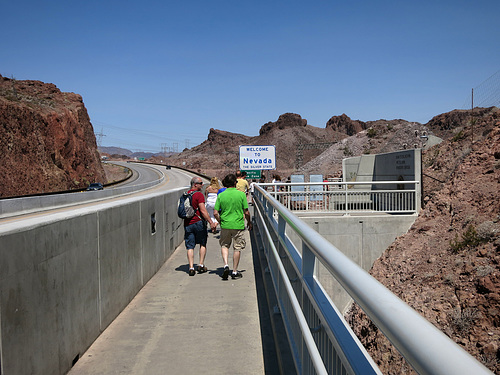 The Nevada end of the bridge.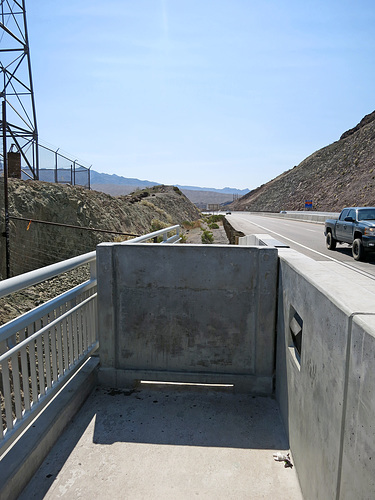 The Arizona end of the bridge. This spot screams out for a brass plaque! No pedestrian access to Arizona. I can see the necessity for this. Unless you've got a nice visitor center with A/C, water and restrooms on the Arizona end, allowing people to simply proceed into the wilderness would, undoubtedly, result in dozens of rescues and the occasional death, as tourists, thinking this is Disneyland, get lost in the rugged terrain. And then there are also the falls to consider. Nope, a relatively cheap concrete wall reduces all those risks substantially. And any young man who thinks he will never die, can easily jump this barrier without having to vandalize any public property.

Looking toward Nevada, you can see the road switchbacking down to the dam itself. I thought when this bridge opened, all unofficial vehicles were banned from atop the dam, but the road seems to be open. Everyone does go through a fairly quick and cursory vehicle inspection before they can proceed to the bridge and dam. I was directed aside there because they saw the storage box in the back of my truck where I keep emergency supplies, like water, a blanket, etc. The officer (is this Bureau of Reclamation jurisdiction?) simply asked me what it was and I told him what I just told you, and he sent me on my way.


Just exactly who Mike O'Callaghan and Pat Tillman were, is the subject of at least four different sets of signs or plaques.

There were some brass inserts on the walkway on the bridge, too. Who got the brass plaque contract for this job?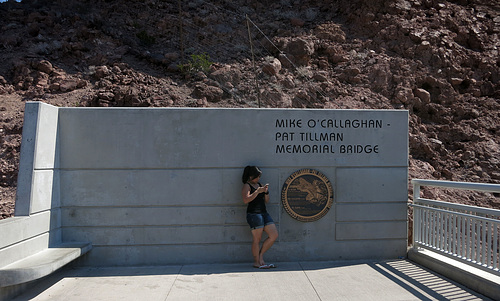 A few photographers were standing alongside me as we all waited for Miss Oblivious to step out of our shot. Look, she isn't even using the shade to make it easier to her phone's screen. I just took this shot and moved on. I wonder if she would object?

This is the only place you get to see any of the exciting guts of the bridge's construction.

On the opposite side of the same walkway.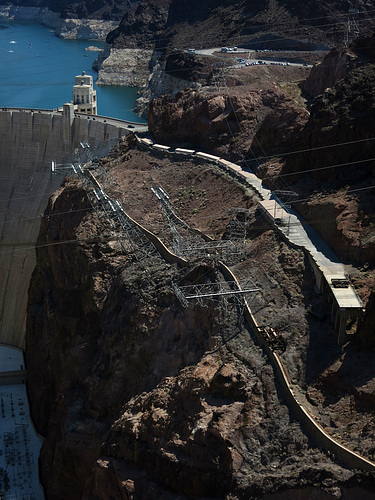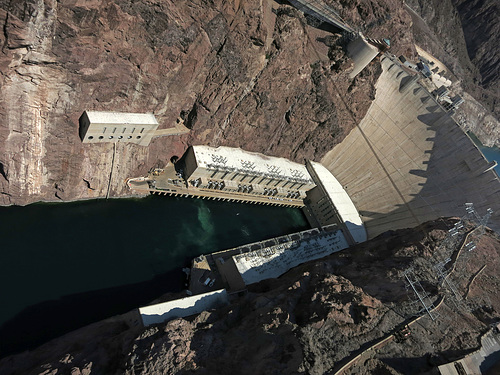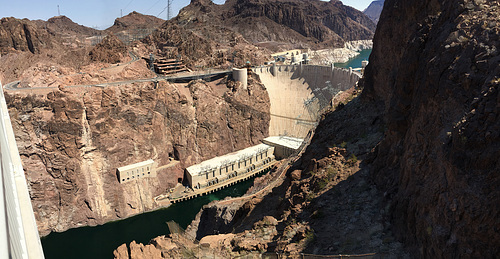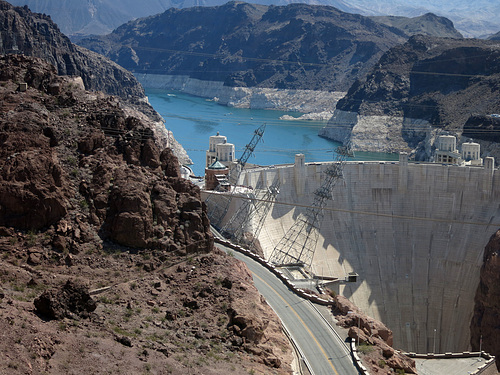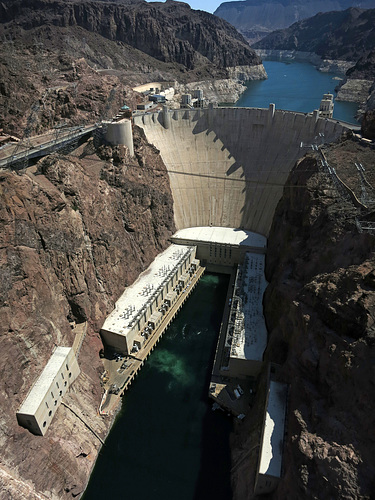 The complete set of photos can be seen here, including photos of every single brass plaque on the bridge!
Filed under Architecture,Photography | permalink | June 10, 2016 at 10:50 AM | Comments (1)
June 8, 2016
Desert Hot Springs City Council Meeting - June 7, 2016
Quick & dirty summary of the June 7, 2016, City Council meeting.

New cop sworn in. Sharon Smith from Beaumont.
Rich Malacoff retiring. He's held various titles, but for the past three years or so, he's been the one person staying in the planning department while his bosses came and went.
The Walmart initiative was adopted by a 4-1 vote with Joe McKee voting against. The only real question on the table was whether to adopt the initiative or send it to the voters. In either case, Walmart would be approved. But if it had been sent to the voters, it would have cost the city $20,000 plus a loss of at least six months of sales tax revenue from Walmart. The petition had been signed by 2,200 people, which is about two-thirds the number who voted in the last city election. Approval of the initiative by the voters was nearly guaranteed. The question for the council members should have been how to respond when the voting public has clearly expressed a preference for Walmart. Under the California constitution, the will of the public (as expressed via the ballot) is supreme. But only Russell Betts addressed this aspect of the issue. Others, especially Joe McKee, continued to talk about the possible negatives and positives of having a Walmart store. That would have been a good discussion while the petition was being circulated. But those 2,200 signatures put it in an entirely different light. Will a council member choose to defy the public will? Joe McKee thought he should.
Desert Valley Disposal's franchise agreement was extended by one year, which means that their annual payment to the city ($100,000) gets increased by $10,000. DVD had already delivered the check for $110,000 to the City Manager, and he had to wait for this vote to deposit it.
The council approved putting DVD billings onto the tax bills of residents. This is an annual vote.
A conditional use permit was approved for a marijuana cultivation site to be operated by GFarmaLabs. The site is located on Little Morongo Road south of Dillon - that is, down that dirt road, which the applicant will have to pave. Ultimately it will be five buildings with a total area of 102,000 sq.ft. The interesting difference about this proposal is that they intend to erect a temporary structure immediately so that they can get some marijuana grown and sold this year, which will help them pay for the permanent structures. Cultivators are not able to get standard bank loans because of the federal laws against marijuana. There was a bit of discussion about the porta-potties that would be on site before the permanent buildings were erected. They will be the more substantive temporary restrooms that are less likely to blow away. They will not be the standard little single booths that we see at most construction sites. The temporary structures can only be there for 18 months. The temporary structures must have the "exterior appearance of a standard rural nursery."
The 2016/17 budget was approved. $1.3 million was put into a genuine reserve fund.
A request for $5000 from Health Assessment and Research for Communities was approved.
The council voted to accept a bid from Swagit Productions to set up a stationary camera system for the Carl May Center. This will allow all meetings to be video-recorded and it will save the city money. The city has been paying about $23,400/year for the current video contract. Bids for a camera system only were:

Swagit - $24,847
Digital Integration - $29,973
Insight - $48,024
GST - $18,627

For an additional $4,980/year Swagit would provide remote switching (i.e., Swagit would switch between various stationary cameras from a remote location), streaming to the internet (this has got to work better than the current SIRE setup), delivering council meeting videos to mobile devices (I imagine this means, loading it onto the council's iPads), integration with SIRE, and an ability to provide statistics. The stationary camera system would require the city to buy the necessary hardware, an expense it does not have under the current contract. City staff amortized that over seven years and the results look like this:

Swagit - $11,530/year
GST - $5,061/year
the existing service - $23,400/year

Swagit was the only bidder who could promise this: "Swagit is hands-free. All video uploading, archiving and indexing is done by Swagit engineers, which means no extra work for jurisdictions. Swagit is the only vendor that gives you the option to let our staff do the work for you." IOW, almost no additional work for the already severely overworked city staff.
Approved installation of a 4-way stop at Little Morongo and Two Bunch Palms.
Approved an ordinance that will permit the city to hire a few (one or two?) qualified people to work around the time of Independence Day and New Year's Day whose sole job would be to locate and cite those using illegal fireworks. The council allocated $5000 for this, and it is unpredictable how much will come back in the form of fines. The police and fire chiefs report that whenever they show up at a location where obviously illegal fireworks are being shot off, there is a total and mysterious absence of people! This makes it hard to issue a citation.
Approved accepting a used bus from Sunline. This is one of the smaller buses used by SunDial. The bus is free. It's a 2012 Ford F450 (running on CNG) with 172,809 miles. The engine was replaced at 145,000 miles. SunLine will provide instruction for the driver. The main intended use is to shuttle seniors to the Senior Center, but it may be used for any other appropriate task. There will be ongoing unspecified expenses. Whether the insurance is paid by for the city or the agency contracted for the Senior Center is "negotiable," according to the city attorney.
Reports by council members and city staff were dispensed with at this meeting.
Filed under Desert Hot Springs | permalink | June 8, 2016 at 06:47 PM | Comments (6)
Marijuana Cultivation Groundbreaking
This took place on Little Morongo, between Two Bunch Palms and Pierson.


The site of the first groundbreaking in Desert Hot Springs for a marijuana cultivation site.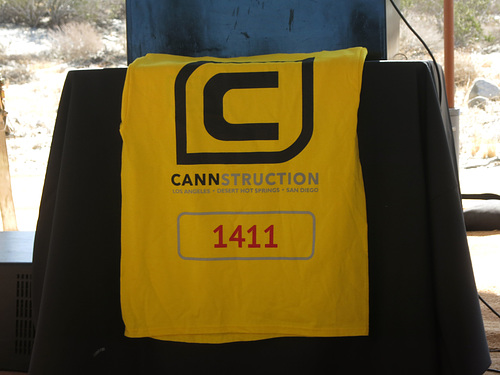 All these t-shirts bore the number 1411, but I don't know the significance of that.

A genuine peace pipe as a gift from the Chamber of Commerce.
Filed under California,Coachella Valley,Desert Hot Springs,Marijuana | permalink | June 8, 2016 at 05:35 PM | Comments (0)
June 3, 2016
Santa Monica Photos
Things seen on a Sunday near the Santa Monica downtown Expo Line stop.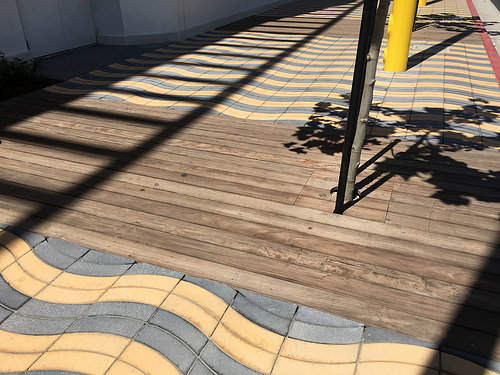 See how nicely they do the trees, with a big expanse of wood with lots of spaces to allow rain (as if it ever rained!) to get to the soil. Also expensive, I'm sure. But how much does it cost to replace dead trees?

I think the Big Blue Bus garage is behind this, or I may just be imagining that for obvious reasons.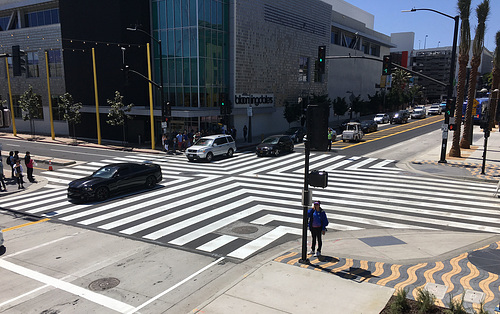 The street intersection at the Expo Line goes all four ways whenever it goes into Walk mode and so, knowing how L.A. drivers are, no expense was spared in slapping paint all over the place. Also, there's a cop on duty.

Back in Los Angeles proper, this is how they've painted the Hollywood & Highland intersection for the same purpose. Photo by LA Great Streets.


Pedestrians streaming away from the Expo train.

This was a bit of a challenge for me. Even when you're walking on this flat surface, your brain tells you its wavy. Easiest solution was to look away.

Simple and durable directions. Now, try to find that in the press of a crowd.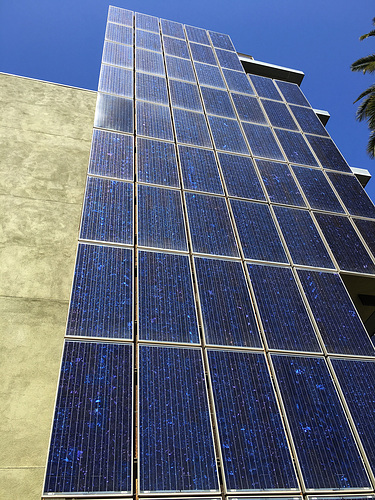 I'd like to see their calculations on the efficiency of putting solar panels in a fixed vertical array like this. Their western wall, where these are mounted, is a lot bigger than their roof.
Filed under California,Cities/Urbanism,Photography,Travel | permalink | June 3, 2016 at 07:57 PM | Comments (0)
Up In The San Bernardino National Forest
Photos from Camp Round Meadow where I camped with CalComMen last weekend. It's at an elevation of about 6,500 feet, so while the desert was getting its first seriously warm weekend, I was up there freezing to death. Specifically, 40s at night.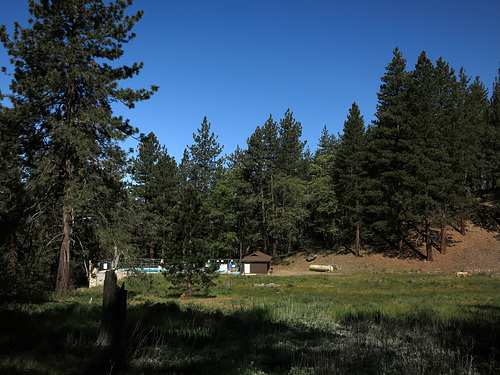 Looking across the field of stinging nettles toward the swimming pool, heated to a comfortable 75°.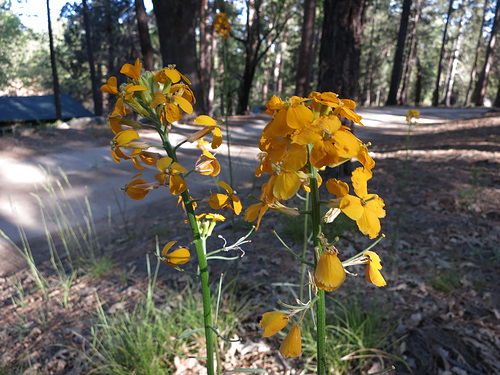 The view from the door of my tent.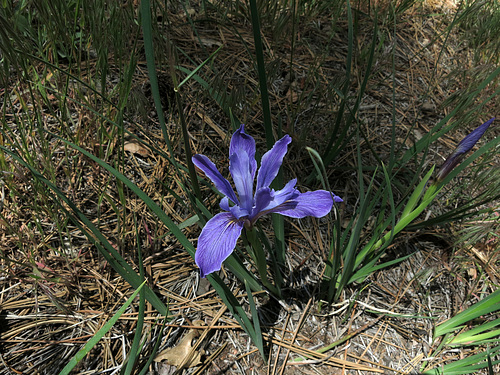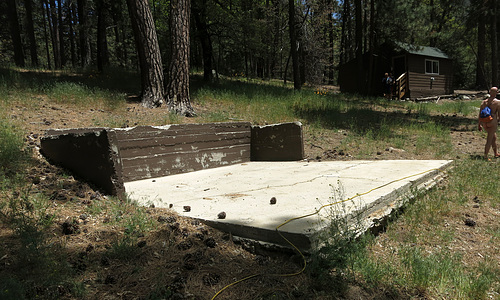 Next time I'm setting up my tent here. It's got electricity and a view!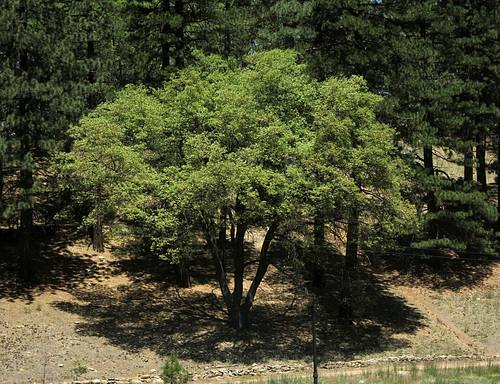 Filed under California,Gay Issues,Photography | permalink | June 3, 2016 at 07:48 AM | Comments (0)