« March 2016 | Main | May 2016 »
April 26, 2016
Drone With Improved Safety
Lightweight, "follow-me," and a safety enclosure. It's not available yet, but they are aiming for a retail price under $600. It does not have image stabilization, which shows in some of these sample shots.

Filed under Photography,Technology | permalink | April 26, 2016 at 07:46 AM | Comments (1)
April 23, 2016
Seeing Clearly Underwater
Here's an article about the children in a Thailand tribe who can see clearly while swimming underwater. The researchers ruled out genetics and have determined that the children learn to voluntarily contract their pupils to their smallest size and change the shape of their lenses. A group of Swedish children learned to do it in one month. The ability disappears in adults.
Filed under Health,Science | permalink | April 23, 2016 at 05:02 PM | Comments (0)
April 22, 2016
Meanwhile, in Palm Springs
A Palm Springs police advisory (with photo). This guy sounds dangerously aggressive.
On Thursday morning 4/21/16 at approximately 3:30 AM, the PSPD Communications Center received a 911 call from a distraught female reporting that a male subject had broke a window to her home in the 2700 block of E Mesquite Ave in Palm Springs, climbed through the window and physically and sexually assaulted her and her husband. The caller further stated that the suspect was still in the house. While on the phone with dispatchers the female caller began screaming that the suspect was attacking her. The woman's husband was able to pull the male off of her and pin him down until police arrived.

Officers arrived at the location within 6 minutes of the call and detained the male inside the residence. The male was identified as:

Thomas Mabe DOB - 5/10/1971 of Palm Springs.

Neither homeowner required medical attention.

During further investigation, officers learned that Mabe broke a window to the home, entered the residence and sexually assaulted the husband and wife.

The homeowners were able to push the suspect away but he remained in the home trying to get dressed. The homeowners and suspect moved into the living room where the wife called 911. While on the phone with 911, the suspect lunged at the wife and physically grabbed onto her while trying to take the phone from her. The husband grabbed the suspect and pinned him down until police arrived to detain him.

Thomas Mabe was recently arrested by PSPD on 3/1/16 for Child Annoyance where he approached a 16 year old girl on foot who was walking to school, made sexual comments to the girl and attempted to grab her when a passerby witnessed the incident and stepped in and rescued the child. PSPD filed the case with the Riverside County District Attorney's Office on 3/2/16 who subsequently filed one count of 647.6(a)(1) PC – Child Annoyance with victim under 18 years old and 1203.2 PC – Violation of Probation.

Thomas Mabe plead guilty and was placed on probation for that incident and released from jail on March 19th.

Mabe was also arrested by PSPD on April 17th for being under the influence of a controlled substance and booked into the Riverside County Jail. He was released from custody the following day on April 18th, 2016.

Mabe was arrested on 4/21/16 for the following charges:

459 PC - Residential Burglary

1203.2 PC - Violation of Probation

243.4 (a) PC - Sexual Assault

667.61 (c)(3) PC - Commit Oral Copulation during course of a burglary

288a(f)(1) PC - Oral copulation while victim asleep

290(b) PC - Failure to register as a sex registrant within 30 days
Filed under Coachella Valley,Public Safety | permalink | April 22, 2016 at 10:45 AM | Comments (0)
April 21, 2016
The Desert Hot Springs Marijuana Meeting
Everything you missed at last night's meeting. For the most part, a very interesting couple of hours. That is I, in the red t-shirt on the left of the screen as the video starts.

"I am a very conservative individual. I have totally done a 180 on my opinion" regarding marijuana, said [Desert Hot Springs Mayor Scott] Matas, who describes himself as a right-of-center registered Republican.
Filed under California,Coachella Valley,Desert Hot Springs,Health,Marijuana | permalink | April 21, 2016 at 07:51 PM | Comments (0)
GoPro goes onstage at Coachella
From a fan's hands to the singer's.

Filed under Coachella Valley,Music,Photography | permalink | April 21, 2016 at 10:15 AM | Comments (0)
April 20, 2016
Got What He Asked For
Here's an unusual and very satisfying story. In Chicago, a young white heavily-tattooed man taunted an elderly black man on the train for 15 minutes using the N-word and trying to get a reaction. And then he got a reaction:

It's hard to say what the best moment was: kicking the kid in the head with orthopedic shoes or the kid crawling off the train at the first stop or the fact that the kid totally pissed himself while it was going on. There's another video on this page where you can confirm the pissed pants.
The cops were there when the white man crawled out of the train, but they didn't seem to be curious enough to get on the train and find out what had happened, so as far as I can determine, all parties remain nameless.
Filed under Public Safety | permalink | April 20, 2016 at 05:29 PM | Comments (0)
April 19, 2016
Cut In Half
The YouTube account of a guy who cuts things in half.
Filed under Photography | permalink | April 19, 2016 at 08:47 PM | Comments (1)
April 17, 2016
Apple Patents Glass Doors
Actually, they've gotten a design patent on large glass doors without handles for their "Next-Gen" stores. The lack of handles will allow crowds of shoppers to flow more smoothly when a new product is released. [sarcasm]

Here you see them in use at the new Apple store in the Chestnut Hill mall. Boston readers are invited to go inspect these and report back on their magical properties. They can't just be doors, can they?
Filed under Architecture,Technology | permalink | April 17, 2016 at 12:53 PM | Comments (1)
April 15, 2016
State Of The City - Desert Hot Springs
The Chamber of Commerce has shared this video of Mayor Matas' first State of the City address [fixed link]. And I get a little cameo role in the first minute!

Filed under Desert Hot Springs | permalink | April 15, 2016 at 04:55 PM | Comments (1)
April 14, 2016
Phil Saviano
I watched Spotlight a couple of weeks ago for the first time and was surprised to see Phil Saviano portrayed as being a sort of tightly strung nutjob. He and I were friends back when I still lived in Boston and I found him to be one of the calmest, most relaxed people I knew. Here's a discussion with Phil Saviano after a showing of the film. The sound quality is poor, but in this video Phil is the Phil I remember.

Filed under Gay Issues | permalink | April 14, 2016 at 10:34 AM | Comments (0)
Nixie Watch
Quite likely, you recall this video from the naked pub crawl at last year's Burning Man. It does contain nudity so, you know, if you don't want to see it, don't click it. It's only to show you this overpowered sound system on a bicycle.

Fast forward to today, and here's Techmoan's review of the new Nixie tube wristwatch.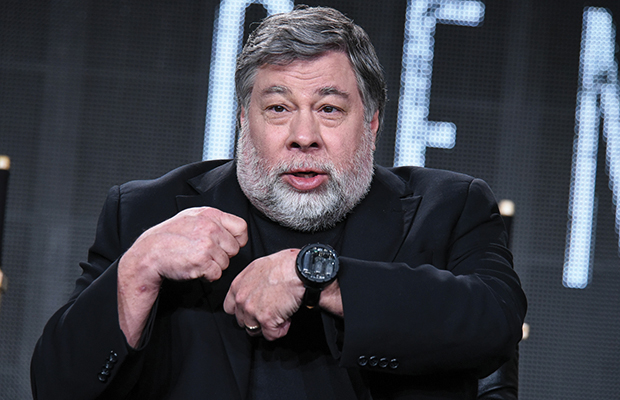 Here's Steve Wozniak showing off his Nixie watch.
From Techmoan's video I jumped to Cathode Corner where you can buy a Nixie watch. Scroll down that page and whadda ya see? The overpowered bike sound system that I videoed above. In short, the Nixie watch designer was on the naked pub crawl with his loud bicycle.
Filed under Burning Man,Cycling,Technology | permalink | April 14, 2016 at 09:43 AM | Comments (0)
April 13, 2016
Three Cultivations Sites And One Dispensary Approved
I listened to last night's meeting of the Planning Commission from my private personal health facility, where I can exercise my right shoulder and hack up my left lung without disturbing the general public. Got to keep track of which marijuana facility is going where.
Last night the commission approved three more cultivation sites and one more dispensary.
Desert's Finest Patient's Cooperative
The dispensary (Lawrence Bynum - Desert's Finest Patient's Cooperative) is going to occupy the long-former location of Thai Palms on the northeast corner of Palm and Acoma. FINALLY, something to fill that blank in a prominent corner location. This is certainly going to be the most visible dispensary right here in the city. The site, which the dispensary will be renting, is connected also to the empty lot just east across the alley. There will be parking in that lot and quite a bit of discussion was about how MUCH of it would be used. There also was a general lamentation about the planning standards of the 1940s and '50s in this town. Yup. That's our legacy.
The site will have no more than one green cross displayed, and that will be painted on the south-facing Acoma side of the building. There will be potted plants along Acoma as well, including a few palm trees.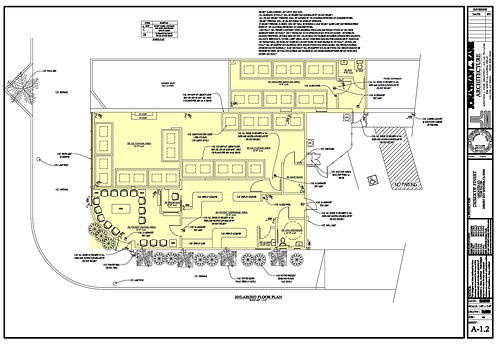 You can see on this interior plan that the dispenary's space includes the area behind the barber shop next door. More than half of the space can be used for cultivation. This is, as far as I can recall, a larger space than at other dispensaries in town, but all the dispensaries are limited to 99 mature plants.
Approved unanimously.
After the approval, there was some discussion about a billboard on Palm that can be seen as you are coming into the city that is promoting a low price at some dispensary. I don't recall seeing that sign, but there did used to be a sign that you could see as you headed south on Palm Drive that advertised "Home of the $5 Gram," but that was for PSA Organica, which is one of the newer dispensaries in Palm Springs. The city attorney explained to the commission what the city was able to control and NOT able to control in public advertising. At least one commissioner thought advertising like that could sully the image of the city as "Dime bag DHS. While it did look like the low class sort of advertising you can find in Los Angeles, I think some price competition between dispensaries could be beneficial to the patients.
DHS Diversified
The first cultivation site on the agenda last night was by Ryan Po of DHS Diversified located at 65441 Two Bunch Palms Trail. That building has been used as a recycling center up to now.
One thing I have not heard is where are the tenants of these industrial buildings that are being snapped up for marijuana cultivation, relocating to? The Pentecostal church surely has enough money from its sale to relocate into a residential area of the city, but the industrial businesses must be leaving town. There are no spare buildings in our industrial zone now, and anyone who tried to buy a site to put up a new building would be competing with the marijuana industry. I hope all these cultivation sites become fully developed and employ as many people has they have been saying they will.
An advantage to going into an existing building, is that electric service is already there. Mr. Po said he has 400 amps, which was plenty.
Approved unanimously
Blue Mango
Kamran Amirianfar for Blue Mango was there last night for two different sites, each requiring a separate CUP. The Planning Commission handled them separately. The first will be at 65118 San Jacinto Lane; the second at 65265 San Jacinto Lane.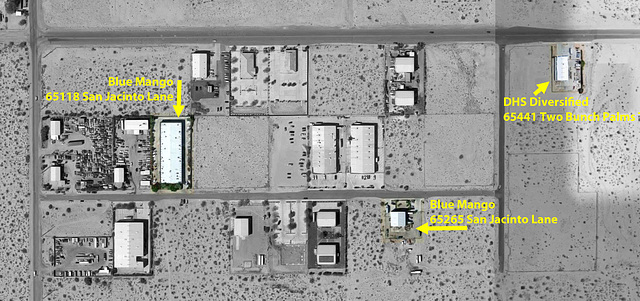 This map shows all three cultivation sites that the Planning Commission addressed last night. Here's a live map link.
The interior of 65118 is divided into 18 separate units which have been rented out to industrial tenants. The interior will be redone to create space for four large cultivation rooms and five smaller rooms for curing, processing, shipping, etc. Chair Romero encouraged them to removed the ficus and palm trees that decorate the street frontage, to be replaced with more drought tolerant plants.
65265 San Jacinto Lane will not require nearly as much work to re-arrange the interior. They'll keep most of the existing interior partitions and have two large, interconnected, double-deck growing rooms. The interior features a mezzanine from which, I imagine, one could gaze across the big spread of green leafy plants, as any farmer likes to do. They will also be cultivating up on the mezzanine.
Both sites were approved unanimously.
Vinyl Fencing
The single non-marijuana item the Planning Commission considered was a request to be permitted to erect vinyl fencing on top of existing "retaining walls" between new homes in the Gallery Vista Santa Fe homes at the northern end of Sonora Drive. The agenda packet describes them as "retaining walls," but it seems unlikely there would be an actual retaining wall between each house, unless they were built on a fairly steep hillside. Nevertheless, the fencing was proposed only between the newest homes (which I think are Coachella Valley Housing Coalition sweat equity homes). There would be no vinyl fencing facing the street.
The Planning Commission rejected the request.
Filed under Coachella Valley,Desert Hot Springs,Health,Marijuana | permalink | April 13, 2016 at 02:54 PM | Comments (0)
April 12, 2016
Toy District
The Los Angeles Toy District is "bounded by Los Angeles Street on the west, Third and Fifth streets on the north and south and San Pedro Street on the east."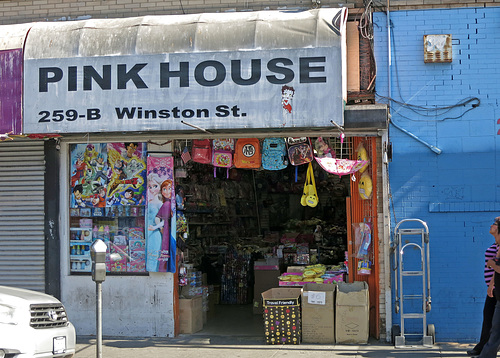 Nothing especially pink in there.

Marijuana supplies.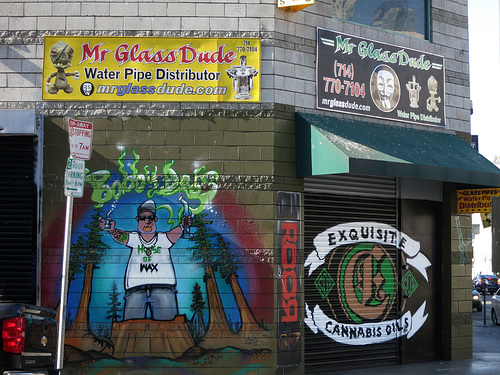 More marijuana supplies.

Where do you stick the firefighter's key?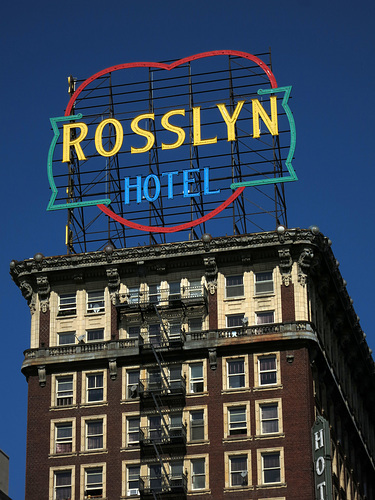 Filed under Architecture,Cities/Urbanism,Photography | permalink | April 12, 2016 at 07:09 PM | Comments (0)
April 9, 2016
B-52s To Qatar
The US Air Force has deployed B-52 bombers to join the battle against ISIS. But they will not be doing any carpet-bombing. Awww. That always produces such dramatic video imagery.
| permalink | April 9, 2016 at 07:59 PM | Comments (0)
April 8, 2016
GoPro Not Included
Filed under Technology | permalink | April 8, 2016 at 10:59 PM | Comments (0)
"Stupid" seems to be the word for this
Mr. De-Jesus rolled his red pickup truck up in front of a property on Foxdale, in full view of the security camera facing the street. Then he stole "multiple" televisions from that property, loading them into the rear of his red pickup truck. Then he drove his red pickup truck over to the pawn shop. So when our police went to visit the pawn shop to see if the TVs had shown up there, voila! They were all sitting there in the red pickup truck.

April 6, 2016

Burglary and Possession of Stolen Property Arrests

On 04/06/2016, at approximately 0853 hours, DHSPD Police Officers responded to the 11000 block of Foxdale Dr. regarding a residential burglary where multiple televisions were reported stolen. Officers obtained video surveillance footage of a red Ford pickup truck in front of the location at the time the victim's burglary alarm was activated. Another reporting party advised seeing a suspicious red Ford pickup truck in the area a few minutes later. Officers conducted an area check for the vehicle and located a similar vehicle at a local pawn shop with multiple televisions in the tailgate. Officers contacted Pedro De-Jesus and four other delinquent juveniles.

Investigation and further evidence revealed they were all in possession of the stolen property and connected to the burglary. Pedro De-Jesus and the four other juveniles were arrested and booked into Riverside County Jail and Juvenile Hall. There is some other outstanding property located that did not belong to the victim. If anyone has any further information regarding this case please contact Officer Perez. (DHSPD Case# 1604D-1391)
Filed under Desert Hot Springs,Public Safety | permalink | April 8, 2016 at 10:28 AM | Comments (0)
April 4, 2016
How Much Would You Pay For A Randomizer?
The TSA bought an app that randomizes a simple binary choice: left or right. You could do it with a magic 8 ball, but that's not expensive enough. TSA paid IBM $1.4 million for this randomizer.
See the randomizer in use so you can fully appreciate its sophistication.

Filed under Travel | permalink | April 4, 2016 at 07:57 PM | Comments (0)
April 3, 2016
DHS Walmart Petition
I finally got around to reading the Walmart petition. There's no game-playing in it that I can detect. No exemptions from any taxes or fees. In fact, they'll kick in an additional $75,000 on top of the DIF fees. That's supposed to help pay for something at what will be the future intersections of Cactus and Camino Aventura and Claire Avenue—although I don't think $75,000 would cover very much. Here are some of the bits I found interesting:
Permitted to be open 24 hours.
Exterior payphones permitted. Open 24 hours, outside payphones, right across the street from Dos Palmas. Potential for a public safety issue there.
Landscaping will be xeriscape, but they don't say they will conform to MSWD's ordinance on this.
They will need to extend a 1,806 foot sewer line from Camino Idilio.
Palm Drive will be widened to allow for a right-turn lane.
Traffic signals will be installed at Camino Aventura and Palm Drive.
All (or almost all) of the lighting will be LED. There will also be a daylight harvesting system (is that like a sophisticated skylight?) and a computer controlled continuously active system that adjusts lighting up and down.
Waste heat from refrigeration will be captured and used to heat water.
The site will be inspected for desert tortoises and burrowing owls. But they don't make any promises about any other endangered creatures or plants.
They will also observe the usual rules if they discover archaeological artifacts.
Summary: if you want the Walmart, you can sign this petition with a clear conscience. Unless somebody wants to point out some heinous provision in it that I missed.
Filed under California,Cities/Urbanism,Coachella Valley,Desert Hot Springs,Politics | permalink | April 3, 2016 at 10:18 PM | Comments (0)
Los Angeles Public Wi-fi
There was a half-million dollar grant to provide free public Wi-fi in areas of Los Angeles. The company setting it up said "it had deployed free Wi-Fi hot spots at eight parks and 16 community Wi-Fi networks." "The [Los Angeles] Times checked seven parks and 11 network locations, finding no Wi-Fi at any of them."
Filed under Cities/Urbanism,Web/Tech | permalink | April 3, 2016 at 08:41 PM | Comments (0)
Art In Downtown L.A.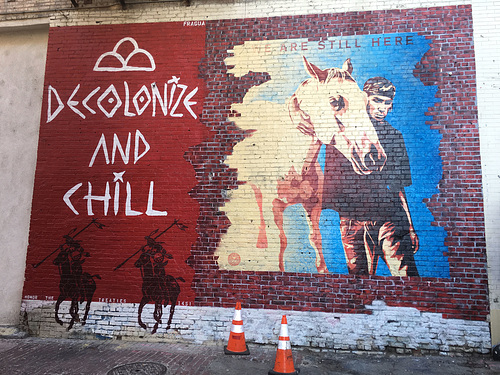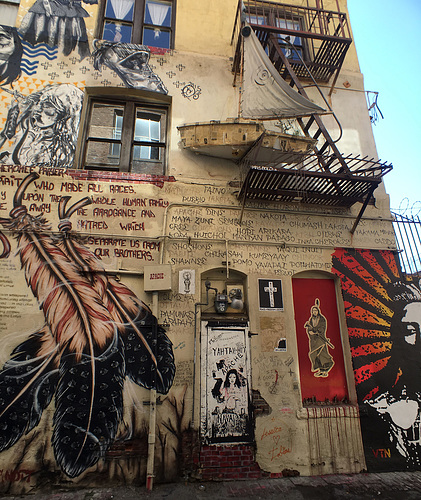 More photos from this alley as well as photos inside the adjoining artist's studio can be seen here.
Filed under Art,Cities/Urbanism,Photography | permalink | April 3, 2016 at 06:05 PM | Comments (0)