« February 2016 | Main | April 2016 »
March 29, 2016
How Many Hands Did They Think This Guy Had?
Math problem: if the man is accused of driving naked, drinking, and masturbating, how many hands does the witness see (allegedly)? The tricky world of press freedom and judicial limits placed on it somewhere in Britain—Thanet, maybe, if that's a place.
Filed under Public Safety | permalink | March 29, 2016 at 09:27 PM | Comments (0)
Bequinox 2016 Photos
I've got all my photos from Bequinox edited and uploaded here. Some samples: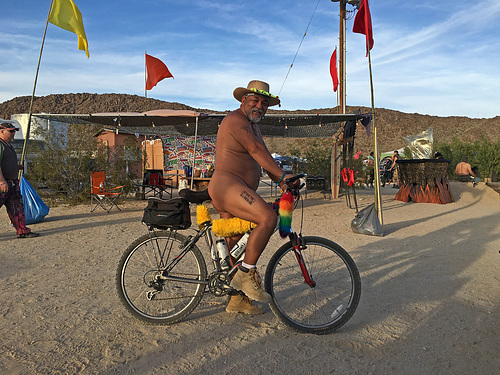 Andy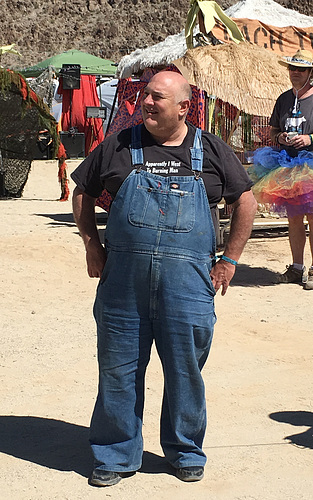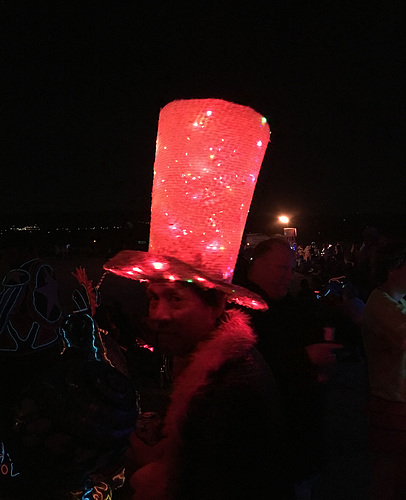 At the burn on Saturday night.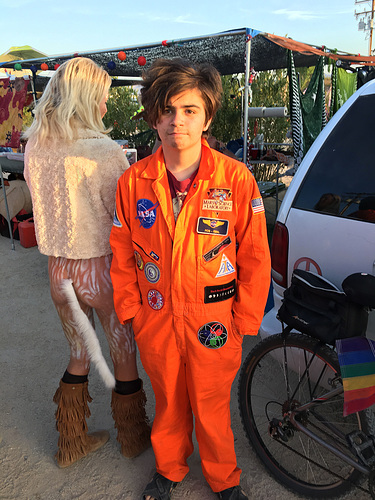 I didn't realize how young this guy was until after I took this photo. He seemed to be stumped when I asked him if I could take his photo. "Whadda ya mean?" he asked.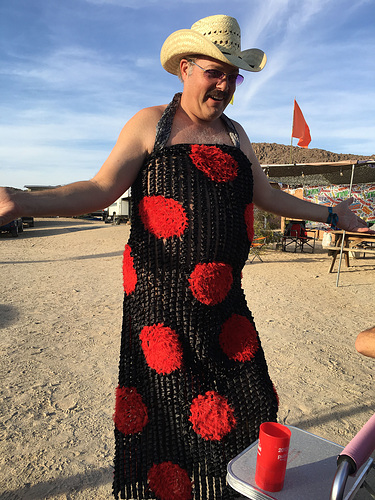 Brian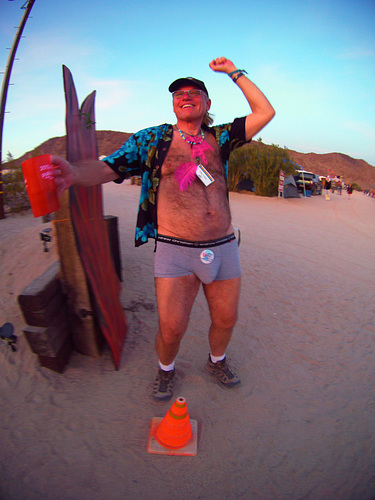 Ed L. who will be a Burning Man virgin this year.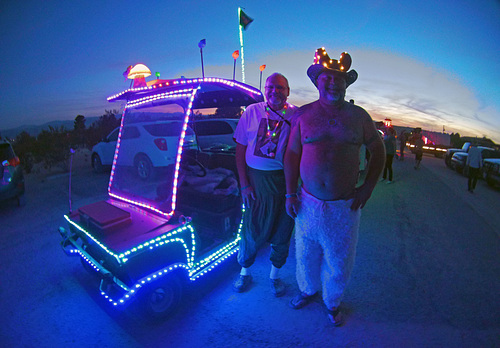 George and Tony and their art car.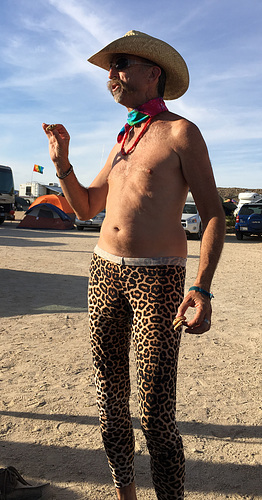 Jim. Of course, we're all familiar with the story of how he found this leopard outfit at the Dollar General in Hawthorne, Nevada, where all the finest Burner ladies acquire their wardrobe.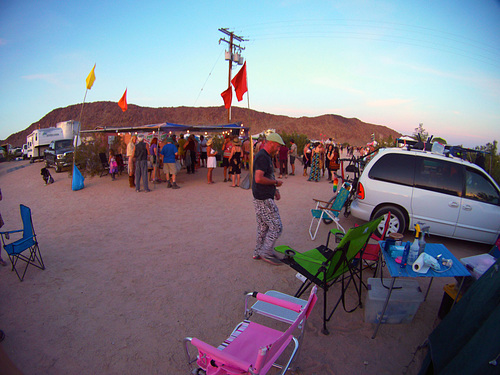 This is the view from our vantage point while the Nacho Daddies were in full action. We spotted a lot of fun stuff.

For example.

The robot was friendly to children and adults.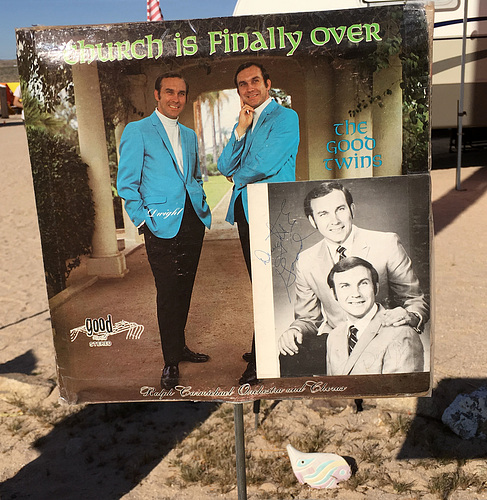 "Church Is Finally Over" for these twins.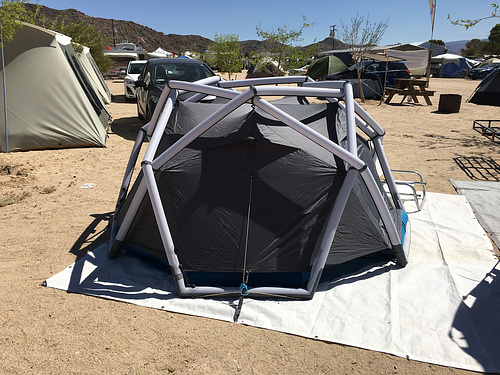 I'd seen these Heimplanet tents online, but this was my first in person. That outer skeletal structure is inflated.
Filed under Burning Man,California,Naturism-Nudism,Photography | permalink | March 29, 2016 at 07:34 PM | Comments (0)
Public Indecency Charge
The original mugshot from the DHS Police (left) was so poor, I thought some Dreamscoping was called for. Definite improvement. Mr. Paulsen is accused of standing out in the middle of the street in broad daylight and masturbating. He gets another 5 minutes of infamy for that.
Filed under Desert Hot Springs,Public Safety | permalink | March 29, 2016 at 05:16 PM | Comments (0)
San Diego Police Chief Wants To Get Sued
Or, so it would seem. Video from police-worn body cameras is released to the public on an ad hoc basis as determined by the Chief and Mayor in San Diego. In response to a memo from the city attorney stating that the city council could establish a written policy for those releases, Chief Shelly Zimmerman said no thanks, she'll continue to just make it up in her own head as she goes along. Hello lawsuit.
Filed under Public Safety | permalink | March 29, 2016 at 09:01 AM | Comments (0)
March 26, 2016
He's Got Maille

Some kind person at Bequinox loaned some maille to this young man. It felt so good, he wore it all day long.
Filed under Naturism-Nudism | permalink | March 26, 2016 at 06:59 PM | Comments (0)
March 2016
I just want to emphasize that this is March of 2016, because we've found an actual Sheriff in Missouri who had never heard of using butane to make an extract from marijuana. And they even put it in candy!
He's a Sheriff in LaClede County, right in the heart of southern Missouri.
Here's another video of the sheriff in which he claims highs from marijuana edibles lasts for two to three days! He also considers the presence of Gummi bears and butane in the same vehicle, to be reasonable cause.
The trouble with calling marijuana oil "marijuana honey" is that there is real marijuana honey; i.e. regular ol' bee honey with regular ol' green marijuana bits infused in it.
Filed under Marijuana | permalink | March 26, 2016 at 04:34 PM | Comments (0)
It's Come To This Point
Finally, someone has taken what is allegedly ISIS videos and turned them into something funny by liberally mistranslating the dialogue.

| permalink | March 26, 2016 at 11:02 AM | Comments (0)
March 25, 2016
More Bequinox Videos
Filed under Burning Man,California,Photography | permalink | March 25, 2016 at 10:20 PM | Comments (0)
March 24, 2016
The Bequinox Robot
And I got to find out how iMovie handles video where I go crazy and hold the phone in portrait mode.

Filed under Burning Man,California,Photography,Technology | permalink | March 24, 2016 at 10:19 PM | Comments (0)
Skyborne Liens
While listening to the March 15 city council meeting I was surprised to learn that Council Member Betts had come to consider me such a worthy expert on financial assurance that he read my opinion that I wrote in 2008 on D.R. Horton's request to replace their bonds with a lien.
It's just too bad that Mr. Betts didn't read the relevant posting from Ron's Log. That would be this one from 2010 which deals with the arrangement that is currently in place. This is the deal with the current owners. The difference between the two offers is that the deal that is in effect requires the developer to get new bonds to get rid of the lien. Otherwise, they can do nothing. No one mentioned a provision like that in the 2008 offer from D.R. Horton.
Filed under Desert Hot Springs | permalink | March 24, 2016 at 08:50 PM | Comments (4)
March 23, 2016
Cop BS
We've all seen videos of cops making the mistake of trying to stop someone from videoing them, even when they are at a distance and not interfering. But I've never seen anything like this! NYC cop actually chases down a motorcyclist for the sole reason of wearing a GoPro camera. That was it. Says you can't have GoPros.

I don't think this is going to end until we see at least one video of cops doing every single possible stupid thing on camera.
Filed under Public Safety | permalink | March 23, 2016 at 12:03 PM | Comments (0)
March 22, 2016
Recent Photos
A few photos that have accumulated recently.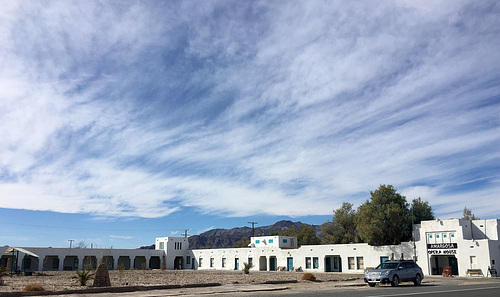 Amargosa Opera House in Death Valley Junction.

Simi Dabah "signature" on one of the new sculptures in Desert Hot Springs.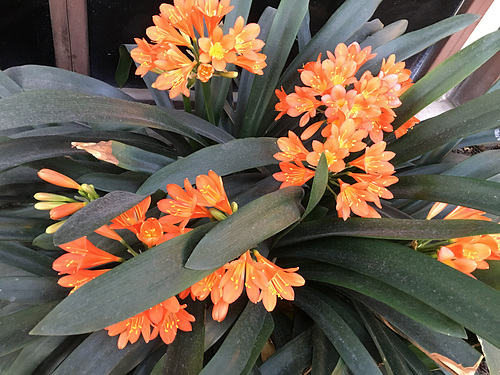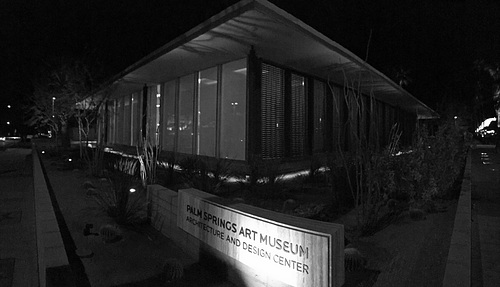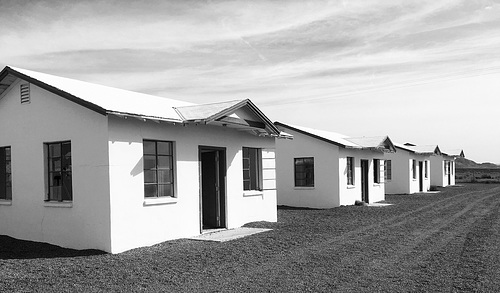 Amboy, California, on Route 66.
Filed under Photography | permalink | March 22, 2016 at 10:24 AM | Comments (2)
March 16, 2016
Public Art

A mural in Santa Monica.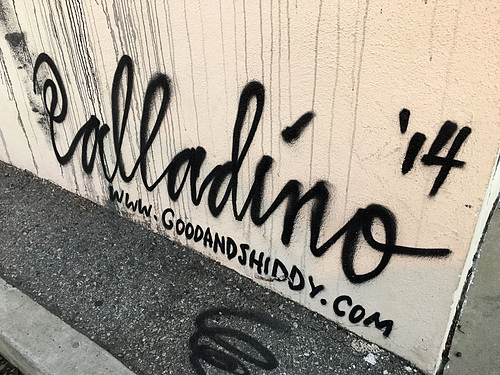 The artist's signature. His website.
Filed under Art,Photography | permalink | March 16, 2016 at 08:40 PM | Comments (0)
March 14, 2016
Made In USA
This very well made little documentary is in the style of the classic factor tour films, but it builds very slowly like Ravel's Bolero. However, there is no "key change," if you get my drift, if you know what I mean, wink wink, nudge nudge.

from Nikias Chryssos on Vimeo.
Filed under Film/Movies | permalink | March 14, 2016 at 09:57 PM | Comments (1)
Total Waste Of Perfectly Good Pepper Spray
We've seen several instances of police misdeeds documented on video because some cops are taking a long time to realize there are cameras EVERYwhere now. You would think, though, that a police officer would know that motorcyclists have more GoPros than any other travelers on the highway. Fort Worth PD Tracey Knight learned that the hard way.
Filed under GoPro,Public Safety | permalink | March 14, 2016 at 09:11 PM | Comments (0)
March 13, 2016
DHS Planning Commission - March 8, 2016
Box Score
Dispensaries approved: 3
Total dispensaries approved: 12
Dispensaries open: 5
Dispensaries denied: 1 (technically a continuation, but it's going to be denied)
Cultivation facilities approved: 1
____
Dirk Voss presiding at first, as Chair Cathy Romero was late, but Ms. Romero arrived before the Commission had even approved the agenda.
City Manager Magaña and Financial Director Tanner spoke at length about the budget and taxes. After years of underspending and cutbacks, whaddayaknow, there's a lot of critical stuff that's going to start failing. Like staff, even. And some taxes are going to expire. [My editorial: meanwhile the City Council (well, three of 'em) have voted not to even study new or revised taxes.] But I'll spare you the really bad news.
As with last month's report, just the marijuana:
Benno Pabst and Valley Compassionate Care
This is a proposed CUP for a medical marijuana dispensary at 11522 Palm Drive, which is the southeast corner of 4th and Palm, the old chiropractor's office which is 1,207 square feet. Parking for 6 vehicles is proposed to be on the south side of the building (where there may also be a mural) with access via the alley. Four head-in parking spaces on 4th will be eliminated.
Commissioner Cirner recused himself due to a possible conflict of interest.
Benno Pabst was not present this night for health reasons, but his representative was there and spoke. Pabst owns the building outright.
There was a lot of discussion about the parking. Staff had first laid it out with diagonal parking so that patients would drive in from the alley and exit on Palm Drive. The Commission thought it would seem more sensible to drivers coming up Palm Drive to reversed that. Now, the thing I wonder about is left turns from southbound traffic. That entrance on Palm Drive is only 25 feet away from 4th Street.
Approved 4-0.
Yes, there will be two dispensaries directly across the street from each, so there will be no need to run across Palm Drive at night wearing dark clothes, right? And that ought to solve the problem of left turns too.

Lisa Lozano and Stephanie Bodde and Desert Hot Springs Dispensary
Another proposed CUP for a medical marijuana dispensary. This one was continued from last month. You may recall that potential neighbor Rose Mortuary raised objections about inadequate parking. There were other issues as well.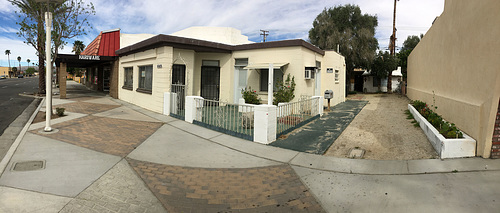 Chair Romero said that she could see all of the issues she had with this CUP had been addressed.
Thomas Moen, manager of Rose Mortuary, said he was concerned a dispensary could conflict with his business. Parking only in the street is still an issue.
Michelle and Michael Lally both expressed their support for medical marijuana generally, and spoke well of Stephanie Bodde. Mr. Lally also criticized Rose Mortuary, saying they both serve the same community, one in life and one in death.
David Lally (son of Michelle and Michael, if you hadn't guessed) talked about the tax benefits to the city. He described the personal experience with medical marijuana by a friend.
Jordan Bratonburg, owner of Rose Mortuary, also shared a personal experience in his family. He was concerned that some of his clientele would be offended by the proximity of the dispensary.
The applicant said that her security guard would not let her clients park in the Rose Mortuary parking lot.
Vice Chair Voss said that he, too, was concerned about the parking situation, especially the lack of a designated handicapped parking space. He also wanted to clarify what will happen with the small house in the rear of the property. He said this is the wrong location for a dispensary.
Commissioner De La Torre said he agreed with Mr. Voss.
Commissioner Terifaj said these were all the same issues brought up last month and that she, too, thought it was a poor location for the dispensary.
Rich Malacoff asked the Commissioners to specify which findings in the prepared CUP the Commission would determine had not been met. Then staff would use that information to craft a legal resolution of denial and bring it back next month. Staff prepared only the positive resolution of approval for the agenda packet, not wasting time on a negative just in case.
Ms. Terifaj cited the parking issue as the reason to deny.
The applicant came back to the podium to say that an elderly gentleman lives in the house in the rear and that he is a member of her collective. She does not want to kick him out so that she can tear down the house for parking. She was not aware of any problems with parking until this meeting. (It did come up as an issue the previous month, though.)
The Chair reopened the public hearing at the suggestion of the city attorney.
The applicant said she had an informal parking survey done at the Brown Dog dispensary which is east of Palm on Pierson. Over the course of a week there was only one time during the day when there were three cars there and the overlap was for only two minutes. In the evenings there would sometimes be as many as three cars there. She expects the same traffic at her dispensary. Street parking would handle that small amount.
Vice Chair Voss moved to continue this until next month at which time staff will have prepared the proper denial paperwork. Approved 5-0.

Eduardo Rivera and D.H.S. Alternative Healing Corporation
How about another CUP for a medical marijuana dispensary? This one is also continued from last month (and the month before that, IIRC). The continuance was to allow a neighbor to come in and comment on this. No changes have been made from last month. This one is going to be at 66328 Pierson Boulevard.
>
Unfortunately, the aggrieved neighbor did not show up. There were no public comments at all.
Vice Chair Voss moved to approve with the additional requirement that there be no neon lighting. Approved 5-0.

Dino Sogoyan - Desert Hot Springs, Collective, Ltd.
This item is a CUP for a medical marijuana dispensary to be located at 66292 Pierson Boulevard. That's just to the east of Wiefels Mortuary.
The monument sign in front of the building will have to be upgraded to meet current sign standards. The applicant is buying the property and said he plans to tear down that monument sign.
Commissioner Cirner moved to approve with the additional requirement that they come up with a different color scheme (and no neon). Approved 5-0.

Adrian Sedlin - Canndescent, MBC
This is for a CUP for a marijuana cultivation facility at 65334 Two Bunch Palms Trail, which is currently occupied by an auto repair business and tire recycling business. The two buildings are about 4,800 square feet each.
The applicant says he hopes to be operating by June 15.
Vice Chair Voss moved to approve with the addition of a ban on neon signs. Approved 5-0.

Other Things
The Planning Commission also approved a design review and development permit for a warehouse and retail facility for Angel View on Dillon Road.
They also appointed Andrew Cirner to the Arts District Committee.
Filed under California,Cities/Urbanism,Coachella Valley,Desert Hot Springs,Health,Marijuana | permalink | March 13, 2016 at 09:47 AM | Comments (1)
March 7, 2016
Excavating A Wasp Nest
Pretty interesting, no magic about it. You just have to have a protective suit on that you rely on completely.

Filed under Science | permalink | March 7, 2016 at 11:29 PM | Comments (0)
California County History
Here's an interesting interactive map that displays the history of county lines in California. I only know the southern counties well, so that's what I paid attention to.
1850 - San Diego County was HUGE!
1851 - Los Angeles and Mariposa Counties get big chunks of San Diego County.
1852 - Tulare County carved out of Mariposa County.
1853 - San Bernardino County carved out of Los Angeles County.
1866 - Kern County created from pieces of Los Angeles and Tulare Counties. Inyo County is carved out of Tulare County.
1872 - Ventura County carved out of Santa Barbara County. Boundaries adjusted between San Bernardino, Inyo, Kern, Tulare, San Luis Obispo and Monterey Counties to give us that nice straight line running from the Pacific to Nevada. Is that the defining line between northern and southern California?
1889 - Orange County carved out of Los Angeles County.
1893 - Chunks of San Bernardino and San Diego Counties taken to create Riverside County.
1907 - Imperial County carved out of San Diego County.
Filed under California,History | permalink | March 7, 2016 at 05:33 PM | Comments (0)
The I-10 Express Lanes
Back in January I had my first opportunity to use the express lanes on I-10 heading into Los Angeles and, boy, I was impressed! The regular lanes were a parking lot while I passed them doing 80 MPH. Last weekend I used them again and discovered congestion pricing. The first time I drove them, it cost me $2.60. This past weekend it was only $1.10! Cheaper than a bus ride! You have to have Fastrak, but getting set up with a Fastrak device costs you nothing at all. Sign up online, linking it to a credit card, and everything gets mailed to you. Stick it on your windshield and you don't have to think about it again, unless you have more passengers. You can set it to say you're solo, have two in the car, or more than two. Pricing may vary. I got it initially for the bridge tolls in the Bay Area. There is no way to pay your toll in person on the Golden Gate anymore. It's either Fastrak or go online afterwards and pay it.
This video picks up where I'm transferring from southbound 605 to westbound 10 which is where the express lanes begin. If they can ever extend them further east, that will be wonderful! The predictable permanent backup on I-10 begins east of the 605.
The thing to note in this video is that the regular lanes of I-10 on my right are mostly a parking lot, while I'm staying in the 70-80 MPH range. This is one of the very few places where I think the leftmost lane is where you should do most of your driving, while passing on the right. This gives you a buffer of one lane most of the time between you and the parked cars. One stupid driver opening his door, unaware of the faster traffic immediately to his left, and everything goes to hell.
As it approaches downtown there is a split between I-10 and 101. I've only followed the 101 branch. It crosses the L.A. River and puts you on Alameda Street right at Union Station. There's an entrance right there to get you back on the 101. But in this video I exited the express lane just before the bridge over the river. Would've been faster to stay in the express lane.
An interesting thing about the congestion pricing is that if the average speed in the express lanes drops below 45 MPH, Fastrak customers will no longer be permitted to enter, as the lanes will be reserved for those vehicles qualifying for HOV status.
Filed under California,Cities/Urbanism,Travel | permalink | March 7, 2016 at 12:01 PM | Comments (1)
March 6, 2016
"you won't be building a quantum computer and putting it on your desktop anytime soon"
Why does that sound like one of those quotes we'll all be knowingly chuckling over 20 years from now? MIT builds a 5-atom quantum computer. And, oh yeah, the University of Innsbruck in Austria helped.
I predict that with a few more atoms the computer will become self-aware and design quantum computers that anyone can build on his or her own desktop.
Filed under Science,Technology | permalink | March 6, 2016 at 10:40 PM | Comments (0)