« Excavating A Wasp Nest | Main | Total Waste Of Perfectly Good Pepper Spray »
March 13, 2016
DHS Planning Commission - March 8, 2016
Box Score
Dispensaries approved: 3
Total dispensaries approved: 12
Dispensaries open: 5
Dispensaries denied: 1 (technically a continuation, but it's going to be denied)
Cultivation facilities approved: 1
____
Dirk Voss presiding at first, as Chair Cathy Romero was late, but Ms. Romero arrived before the Commission had even approved the agenda.
City Manager Magaña and Financial Director Tanner spoke at length about the budget and taxes. After years of underspending and cutbacks, whaddayaknow, there's a lot of critical stuff that's going to start failing. Like staff, even. And some taxes are going to expire. [My editorial: meanwhile the City Council (well, three of 'em) have voted not to even study new or revised taxes.] But I'll spare you the really bad news.
As with last month's report, just the marijuana:
Benno Pabst and Valley Compassionate Care
This is a proposed CUP for a medical marijuana dispensary at 11522 Palm Drive, which is the southeast corner of 4th and Palm, the old chiropractor's office which is 1,207 square feet. Parking for 6 vehicles is proposed to be on the south side of the building (where there may also be a mural) with access via the alley. Four head-in parking spaces on 4th will be eliminated.
Commissioner Cirner recused himself due to a possible conflict of interest.
Benno Pabst was not present this night for health reasons, but his representative was there and spoke. Pabst owns the building outright.
There was a lot of discussion about the parking. Staff had first laid it out with diagonal parking so that patients would drive in from the alley and exit on Palm Drive. The Commission thought it would seem more sensible to drivers coming up Palm Drive to reversed that. Now, the thing I wonder about is left turns from southbound traffic. That entrance on Palm Drive is only 25 feet away from 4th Street.
Approved 4-0.
Yes, there will be two dispensaries directly across the street from each, so there will be no need to run across Palm Drive at night wearing dark clothes, right? And that ought to solve the problem of left turns too.

Lisa Lozano and Stephanie Bodde and Desert Hot Springs Dispensary
Another proposed CUP for a medical marijuana dispensary. This one was continued from last month. You may recall that potential neighbor Rose Mortuary raised objections about inadequate parking. There were other issues as well.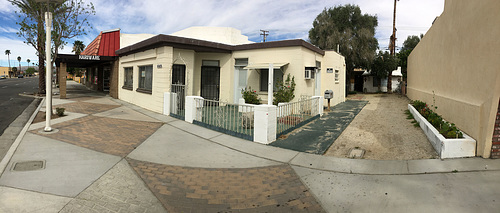 Chair Romero said that she could see all of the issues she had with this CUP had been addressed.
Thomas Moen, manager of Rose Mortuary, said he was concerned a dispensary could conflict with his business. Parking only in the street is still an issue.
Michelle and Michael Lally both expressed their support for medical marijuana generally, and spoke well of Stephanie Bodde. Mr. Lally also criticized Rose Mortuary, saying they both serve the same community, one in life and one in death.
David Lally (son of Michelle and Michael, if you hadn't guessed) talked about the tax benefits to the city. He described the personal experience with medical marijuana by a friend.
Jordan Bratonburg, owner of Rose Mortuary, also shared a personal experience in his family. He was concerned that some of his clientele would be offended by the proximity of the dispensary.
The applicant said that her security guard would not let her clients park in the Rose Mortuary parking lot.
Vice Chair Voss said that he, too, was concerned about the parking situation, especially the lack of a designated handicapped parking space. He also wanted to clarify what will happen with the small house in the rear of the property. He said this is the wrong location for a dispensary.
Commissioner De La Torre said he agreed with Mr. Voss.
Commissioner Terifaj said these were all the same issues brought up last month and that she, too, thought it was a poor location for the dispensary.
Rich Malacoff asked the Commissioners to specify which findings in the prepared CUP the Commission would determine had not been met. Then staff would use that information to craft a legal resolution of denial and bring it back next month. Staff prepared only the positive resolution of approval for the agenda packet, not wasting time on a negative just in case.
Ms. Terifaj cited the parking issue as the reason to deny.
The applicant came back to the podium to say that an elderly gentleman lives in the house in the rear and that he is a member of her collective. She does not want to kick him out so that she can tear down the house for parking. She was not aware of any problems with parking until this meeting. (It did come up as an issue the previous month, though.)
The Chair reopened the public hearing at the suggestion of the city attorney.
The applicant said she had an informal parking survey done at the Brown Dog dispensary which is east of Palm on Pierson. Over the course of a week there was only one time during the day when there were three cars there and the overlap was for only two minutes. In the evenings there would sometimes be as many as three cars there. She expects the same traffic at her dispensary. Street parking would handle that small amount.
Vice Chair Voss moved to continue this until next month at which time staff will have prepared the proper denial paperwork. Approved 5-0.

Eduardo Rivera and D.H.S. Alternative Healing Corporation
How about another CUP for a medical marijuana dispensary? This one is also continued from last month (and the month before that, IIRC). The continuance was to allow a neighbor to come in and comment on this. No changes have been made from last month. This one is going to be at 66328 Pierson Boulevard.
>
Unfortunately, the aggrieved neighbor did not show up. There were no public comments at all.
Vice Chair Voss moved to approve with the additional requirement that there be no neon lighting. Approved 5-0.

Dino Sogoyan - Desert Hot Springs, Collective, Ltd.
This item is a CUP for a medical marijuana dispensary to be located at 66292 Pierson Boulevard. That's just to the east of Wiefels Mortuary.
The monument sign in front of the building will have to be upgraded to meet current sign standards. The applicant is buying the property and said he plans to tear down that monument sign.
Commissioner Cirner moved to approve with the additional requirement that they come up with a different color scheme (and no neon). Approved 5-0.

Adrian Sedlin - Canndescent, MBC
This is for a CUP for a marijuana cultivation facility at 65334 Two Bunch Palms Trail, which is currently occupied by an auto repair business and tire recycling business. The two buildings are about 4,800 square feet each.
The applicant says he hopes to be operating by June 15.
Vice Chair Voss moved to approve with the addition of a ban on neon signs. Approved 5-0.

Other Things
The Planning Commission also approved a design review and development permit for a warehouse and retail facility for Angel View on Dillon Road.
They also appointed Andrew Cirner to the Arts District Committee.
Filed under California,Cities/Urbanism,Coachella Valley,Desert Hot Springs,Health,Marijuana | permalink | March 13, 2016 at 09:47 AM
Comments
Just a slight correction...I have had the same location address since the beginning of the application process. I preformed my due diligence prior to using it. I was informed on 2 occasions that any issues with this property were grandfathered in. You can imagine my surprise to be informed at the planning committee meeting that everything is grandfathered in but parking. This is what I was referring to when I stated I just found out there was an issue. If I knew there was a parking issue, I would not have invested to keep this address for the last 2 years. I complied with everything the City Council required. If the Planning Department had additional requirements, it is only good business to make them known beforehand. The planning department presented several alternatives to solve my locations issues, all being rejected by the planning committee. Considering I was misinformed, I have invested a sizable amount to retain this location, application fees, legal fees, etc. based on the information received from planning. I also have 300 letters of recommendation, 30 of them being local business owners. I am the only applicant that actually has assisted over 170 local patients use medical cannabis for pain relief for no cost, these are your neighbors and friends. I am having a hard time believing that the illegal dispensary the city spent money to shut down, was approved the very same night they decided to axe mine. My dispensary was going to support our community. This is bad business and a total lack of compassion for the most helpless of our community - the real patients the 1996 Compassionate Use Act was written for. I argue that a parking space means more than than our communities health. I am responsible for suggesting that the city make cultivation licences available for additional income. The city took my advise, I read they are expecting $400,000 to be paid in fees alone. I guess the joke is on me.
Posted by: Stephanie Bodde at Mar 18, 2016 3:31:09 PM