« December 2015 | Main | February 2016 »
January 29, 2016
A Low-Priced Worthy Competitor For GoPro
The Gitup Git2. On Amazon for only $160
. Or at B&H for the same price.

Can do 1080p at 60fps or 1440p at 30fps. Rear display. 16MP still photos; can even shoot raw. Digital image stabilization. Even allows control of shutter speed (1/30 up to 1 minute), ISO and white balance. GoPro mount on the waterproof case. Can be used as a dashcam. It has a configurable button that can be set for exposure lock, white balance lock, exposure lock and white balance lock, microphone mute/unmute, or stabilization on/off. Includes a wide dynamic range option.

Filed under GoPro,Photography,Shopping | permalink | January 29, 2016 at 03:01 PM | Comments (0)
Some Dreamscope Pictures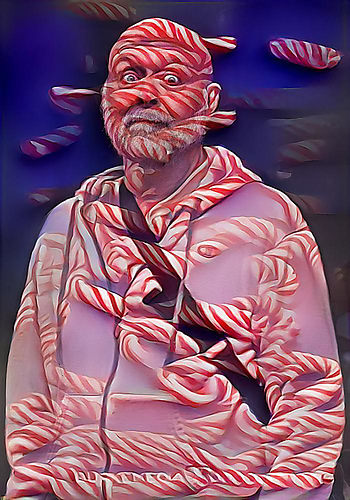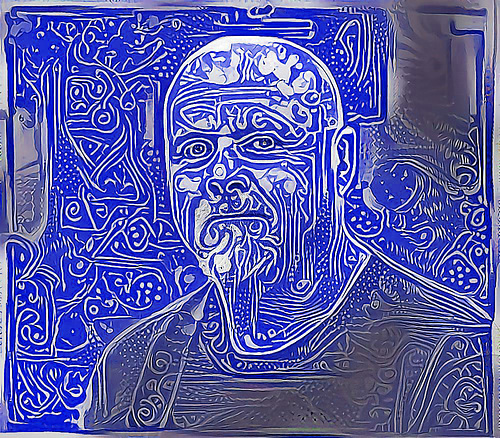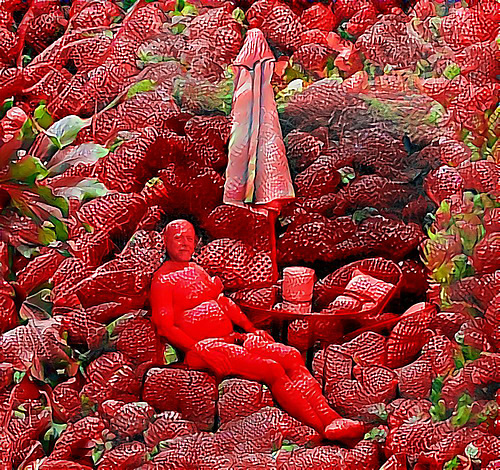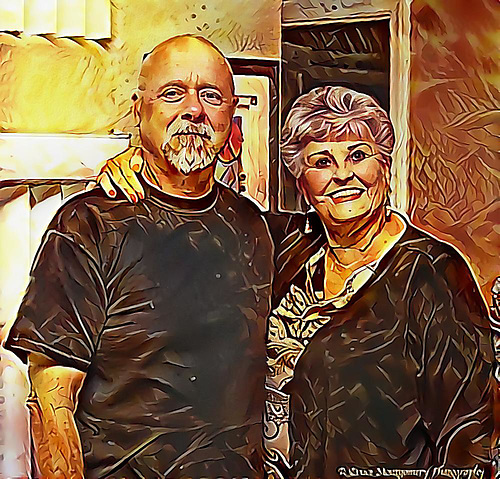 Yvonne Parks and I at a meeting during her 2013 campaign for re-election as Mayor.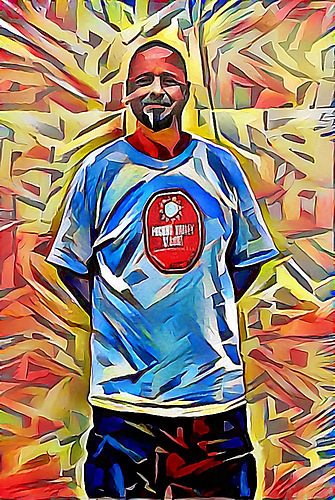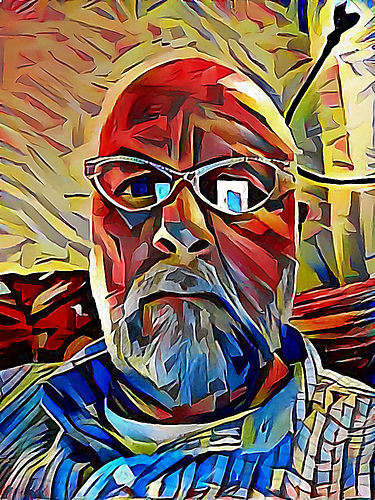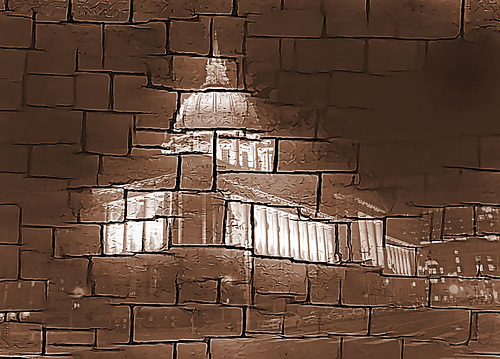 San Francisco City Hall.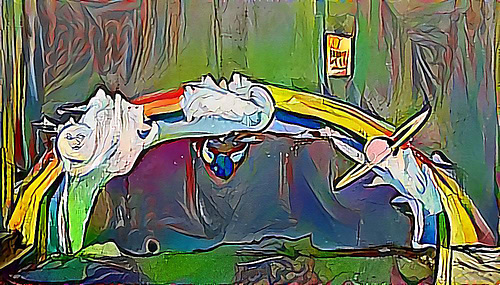 At Storrie Garden in San Francisco.
Filed under Photography | permalink | January 29, 2016 at 12:06 PM | Comments (1)
January 28, 2016
Fall River Police
After illegally seizing a man's iPhone after he videoed a cop working a traffic detail, Fall River (Massachusetts) cops inadvertently wiped and reset the iPhone to factory settings by wrongly guessing at the passcode 10 times. It sounds like their forensic team thought it was some kind of malicious magic perpetrated by the Wizard George Thompson. So I guess no one at Fall River Police owns an iPhone. The ten-wrong-passcodes feature is something that comes with iOS and can be turned on or off by the user...and this is the very thing it is designed for.
Another feature on the iPhone which is switched on by default, is automatic background uploading of photos and videos. Either Wizard Thompson had that turned off, or the phone never got a Wi-fi signal for long enough to upload the video.
Filed under Libertarianism,Photography,Public Safety | permalink | January 28, 2016 at 07:57 PM | Comments (0)
360° CicLAVia

A few shots from a fixed point plus one shot in motion on the Culver City - Venice CicLAVia last August.
Filed under Cycling | permalink | January 28, 2016 at 12:41 PM | Comments (0)
January 27, 2016
Burner Buddy View

A view of Black Rock City from atop one of the RVs in our Burner Buddy camp. Photo by KC Later (AKA "Rocket") who you can see in the lower part of the photo.
Filed under Burning Man,Photography | permalink | January 27, 2016 at 03:27 PM | Comments (2)
January 21, 2016
This Is How It Burns
Video shot right up at the very ignition of the Temple at the 2015 Burn. I've never seen it close up like this, and I don't expect I will ever be able to get that close in person.

Filed under Burning Man | permalink | January 21, 2016 at 12:08 PM | Comments (0)
Burning Man Art

Sometimes art from the playa goes away to live in strange lands, like Reno. Photo by Danger Ranger.
Filed under Burning Man | permalink | January 21, 2016 at 11:31 AM | Comments (0)
Burning Man and its Intellectual Property
Festival Concierge Services is a company that Burning Man has been fighting with for a couple of years over its use of Burning Man trademarks. "We believe strongly that paying upfront for a prescribed, curated experience that doesn't require individual effort misses the mark and erodes Burning Man culture, and it's absolutely not okay to sell people 'the Burning Man experience' as a vacation package." It's okay for people to pay money upfront for services (or actual material objects) at Burning Man. Almost every camp pools money and shares resources to some degree. The flight I got to ride in 2014, I paid for well in advance. What Burning Man doesn't like is insular, non-involved camps. Maybe there are such camps made up of lower income people, but who knows? How would you find them? But the insular, non-involved camps set up by rich people are not so hard to find. When you see a dozen identical quarter-million dollar RVs all lined up neatly together, you sort of have a clue.
But it's cleaner and neater to go after intellectual property theft, so that's what they've been doing with FCS which is still using Burning Man's IP. But that's not really what I wanted to write about it. What I want to show you is the FCS "survival kit."
Backpack hydration kit
Headlamp
A set of walkie-talkies
Two pair of goggles
Six "headwear scarf wraps" (looks like, but is not a bandana)
Dust mask
Steel mug
Ten (10!) Spiral notebooks
Three bottles of hand sanitizer
Wingman multi-tool (now we're talkin')
A 24-pack of AA batteries
A dozen Sharpies!
A little first aid kit
Eye lubricant
Aspirin (are they expecting their customers to have heart problems? why not acetaminophen or ibuprofen?)
Two bottles of nasal spray
Three lip moisturizers
800 baby wipes
Two spray bottles of sunblock
55 yards of "duck" tape
Forty ear plugs
[I think it's assumed that food, water, alcohol, and costumery will be provided by the luxury camp the customer buys into]
They will you sell you that whole survival pack for $500! And they openly state that includes a 30% markup for their "services." Someone could easily set up a competing service simply by going to the Reno Walmart, buying all the equivalent items and then selling the bundle to rich people for some price lower than $500. You'd have to promote it so that the rich people understand that a visit to Walmart at the height of Burning Man shopping insanity is a part of the whole culture of Burning Man. Don't actually use the word "slumming," but communicate that somehow. You may also need to point out that Walmart carries a good selection of organic fruits and veggies to avoid scaring away the shy ones.
Filed under Burning Man,Shopping | permalink | January 21, 2016 at 10:26 AM | Comments (1)
January 20, 2016
The latest NBC/WSJ Presdential Election Poll
Numbers from the latest Hart Research Associates/Public Opinion Strategies paid for by NBC and Wall Street Journal. I never like the way any press or media digest and spit out the results of surveys, so I went to the source and did some of own digestion and spitting, so maybe you want to clean up afterward.
800 registered voters; 400 Republican primary voters plus 400 Democratic primary voters.
"Now I'm going to read you the names of several public figures, groups and organizations, and I'd like you to rate your feelings toward each one as very positive, somewhat positive, neutral, somewhat negative, or very negative. If you don't know the name, please just say so."
| | | |
| --- | --- | --- |
| | Pos | Neg |
| Barack Obama | 47 | 42 |
| Bill Clinton | 45 | 36 |
| Hillary Clinton | 40 | 49 |
| Bernie Sanders | 38 | 31 |
| George W. Bush | 37 | 43 |
| George W. Bush | 37 | 43 |
| Marco Rubio | 31 | 29 |
| Ted Cruz | 31 | 35 |
| Ben Carson | 30 | 35 |
| Donald Trump | 29 | 58 |
| Chris Christie | 24 | 36 |
| Jeb Bush | 19 | 46 |

Asked of those who would vote in the Democratic primary: "If the next Democratic primary for president were being held today, which one of the following candidates would you favor?"

| | |
| --- | --- |
| Clinton | 59 |
| Sanders | 34 |
| O'Malley | 2 |

Voters who said they would vote in the Democratic primary were asked whether they perceive the following individuals as very liberal, liberal, moderate, conservative or very conservative. I'll just list the top one for each.

| | | |
| --- | --- | --- |
| Hillary Clinton | Moderate | 48 |
| Sanders | Very Liberal | 41 |
| Obama | Moderate | 44 |
| Bill Clinton | Moderate | 48 |

Again, the following question was limited to those who said they would vote in the Democratic primary. "...would you prefer a president that is more liberal or less liberal, or about the same as..." the following individuals.

| | | |
| --- | --- | --- |
| Obama | About the same | 56 |
| Bill Clinton | About the same | 55 |
No earth shaking surprise there. The majority of Democrats like Obama and Bill Clinton.

Republican primary voters were asked if they could see themselves supporting each of the following individuals for the Republican nomination. I'm just going to list the Yeses.

| | |
| --- | --- |
| Cruz | 71 |
| Rubio | 67 |
| Trump | 65 |
| Carson | 60 |
| Christie | 48 |
| Fiorina | 45 |
| Jeb Bush | 42 |
| Huckabee | 36 |
| Paul | 32 |
| Kasich | 28 |
| Santorum | 26 |
But as to which candidate they want to get the Republican nomination, Trump comes out on the top when they ask the question a few different ways. BUT, if they eliminate all the candidates other than Cruz and Trump, Cruz comes out on top with 51%, Trump gets 43%. Between Rubio and Trump the Republican primary voters prefer Trump at 52%, Rubio at 45%.

How Republican primary voters view the following individuals on the very liberal to very conservative scale.

| | | |
| --- | --- | --- |
| Trump | Moderate | 35 |
| Jeb Bush | Moderate | 44 |
| Cruz | Very Conservative | 47 |
| George W. Bush | Moderate | 41 |

Republican primary voters were asked "Would you prefer a president that is more conservative or less conservative, or about the same as George W. Bush?" "About the same" got 43%. Again, the earth does not tremble.

And now we get down to the Presidential election.

| | |
| --- | --- |
| Trump/Clinton | 41/51 |
| Rubio/Clinton | 46/47 |
| Cruz/Clinton | 45/49 |
| Trump/Sanders | 39/54 |
Sanders has been correct that according to the polls he could defeat the likely Republican candidate better than Clinton.

"Has what you have seen, read, or heard so far during the Republican [or Democratic] presidential nominating process made you feel more favorable or less favorable toward the Republican [or Democratic] Party?" The majorities in each party both said it has had no impact on how they feel about their own party. But the results from all registered voters comes out differently. These are the top categories.

| | | |
| --- | --- | --- |
| Republican Party | Less Favorable | 42 |
| Democratic Party | No Impact | 54 |

Those who will vote in the Republican primary still strongly support "the traditional definition of marriage as being between one man and one woman" (65%) and the NRA (62%). 33% say they are strong supporters of the Tea Party.
They gave more choices to those who said they would vote in the Democratic primary! There is strong support for immediate action to address climate change (67%), 62% strongly consider themselves environmentalists, 61% strongly support the gay rights movement, 54% are strong supporters of unions, and 50% are strong supporters of Black Lives Matter. Only 26% are strong supporters of "the traditional definition of marriage as being between one man and one woman" and 3% are strong supporters of the Tea Party!

11% of all surveyed did NOT vote in the Presidential election of 2012; 33% did not vote in the 2014 Congressional election. Those are pretty big numbers that could shift almost all of the results of the survey.

29% of those surveyed said they were employed in the "Professional/Managerial" category; only 5% were stay at home parents; 25% said they were retired. Those do not look like representative figures. Those seem to be people who might have the time to answer a lengthy survey. Other categories were white collar (17%), blue collar (17%), student (2%), unemployed (3% - "thanks Obama"), and 2% who are not sure if they are currently employed.
20% say their highest education level was a high school diploma, 26% have a four-year college degree. Only 2% say they dropped out of high school.
45% of those surveyed said they support or lean towards the Democratic party. 39% said Republican. Liberal 26%, moderate 37%, conservative 34%.
79% of those surveyed live in "non-union households."
24% never attend religious services; 34% say they attend weekly.
Household income: under $50,000 36%; $50,000-$100,000 32%; more than $100,000 27%.
Filed under Politics | permalink | January 20, 2016 at 07:26 PM | Comments (0)
January 19, 2016
Stereo Images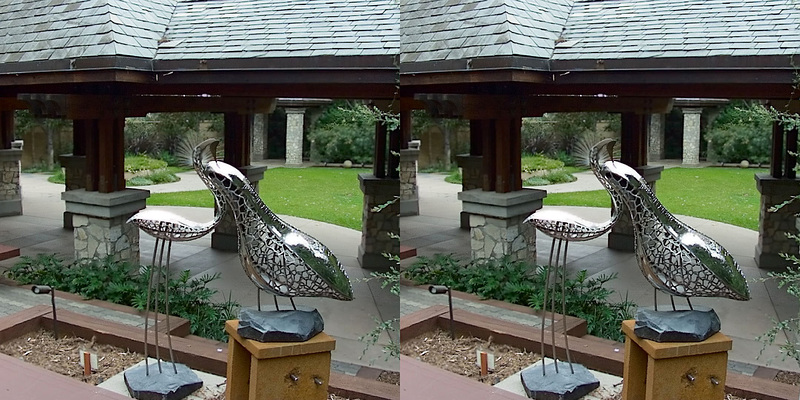 I shot some stereo images at the L.A. County Arboretum last spring and just forgot I had them. Re-discovered them minutes ago. The complete set is here.
Filed under California,Photography | permalink | January 19, 2016 at 08:00 PM | Comments (0)
More Los Angeles Photos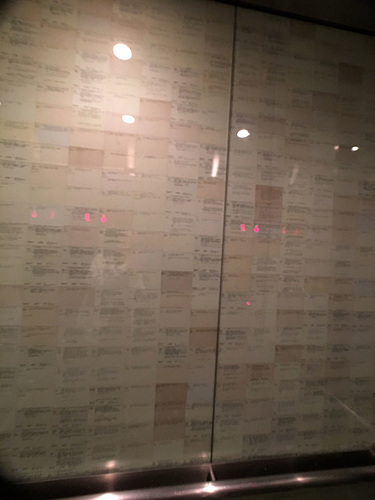 The walls of a couple of elevators in the L.A. Public Library are covered entirely in old cards from card catalogs.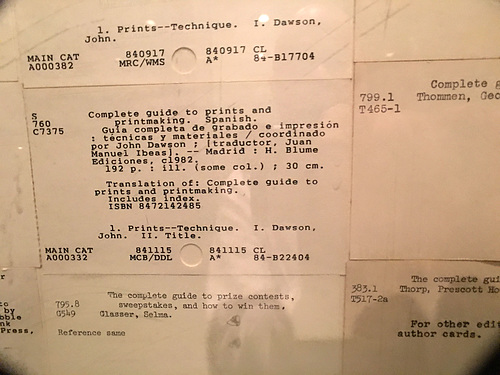 See? Real cards.

The elevator has a glass panel through which you can see they've even mounted old cards in the shaft itself.

Some floor tile in the LA Public Library.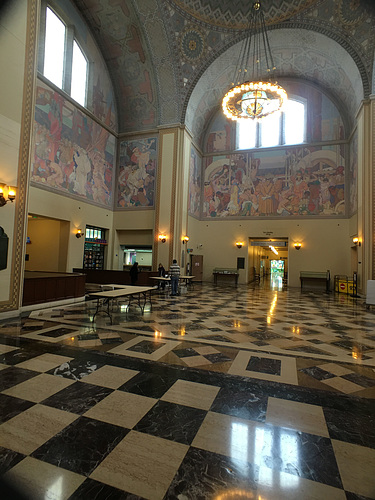 The rotunda in the LAPL.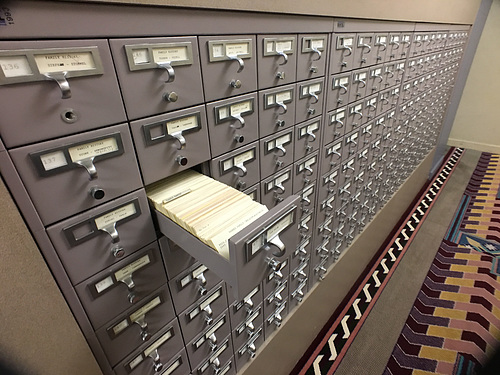 A functioning card catalog in the genealogy department.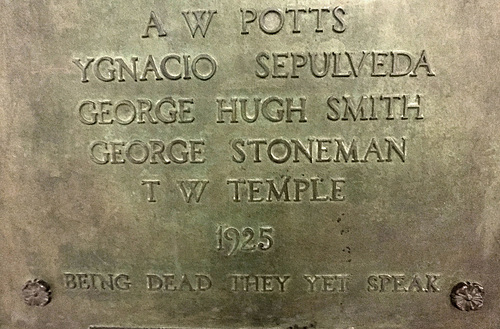 "Being dead they yet speak." Apparently a wave of zombyism wiped out the city fathers in the 1920s.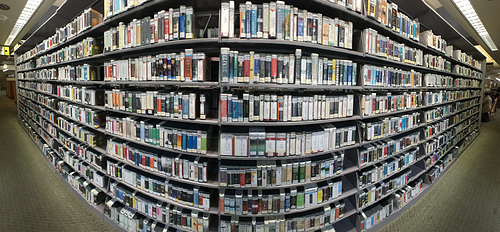 Audiobooks.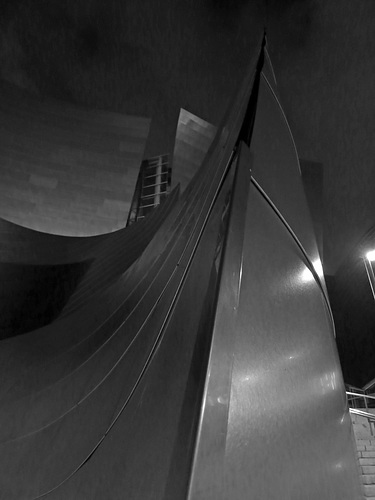 Disney Hall.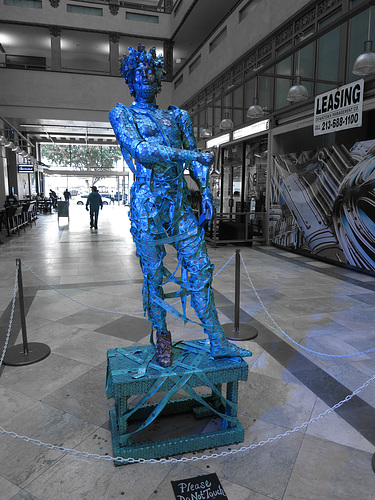 In the Spring Street Arcade.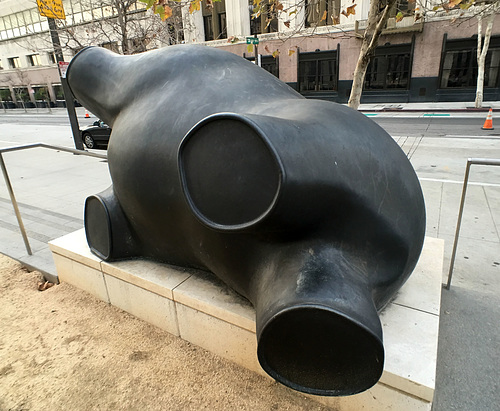 One of the sculptures on Spring Street next to LAPD headquarters. These were created by Peter Shelton.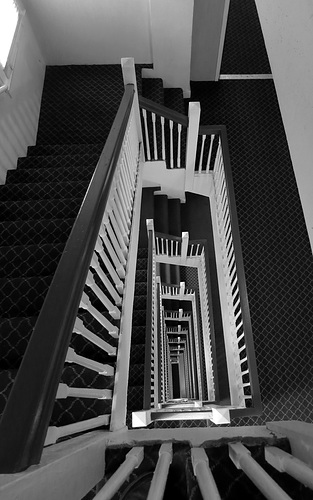 Old hotel stairway.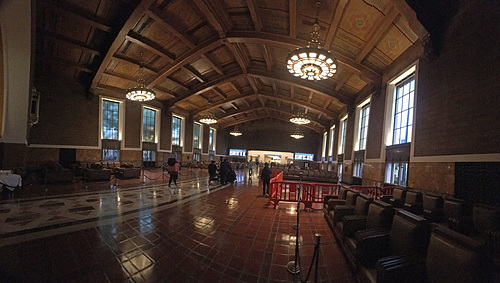 Union Station - iPhone panorama.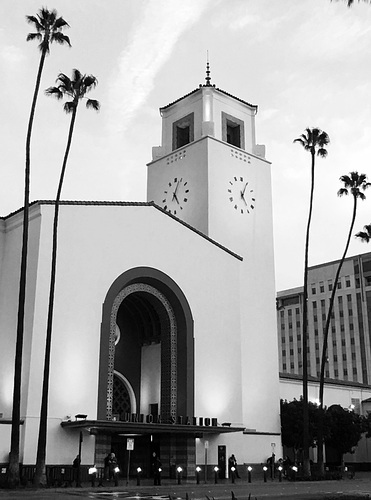 Union Station.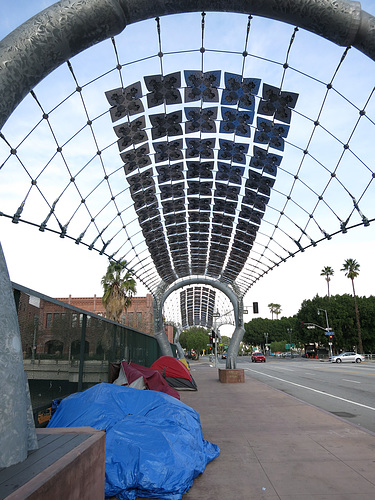 This is that very noticeable public art on the Los Angeles Street bridge over the 101 downtown. Here's a news article all about this art. The process to get it done began in 2006. The art supports its own weight (rather than resting on the bridge) through a deep foundation that can't be seen.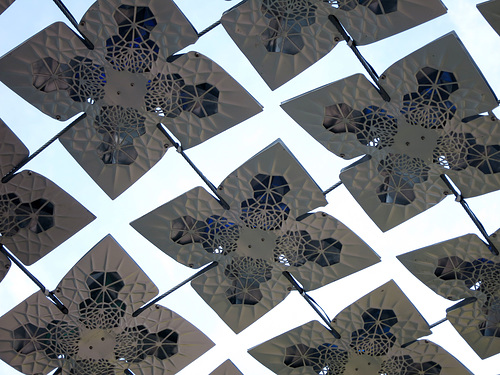 Detail of the art on the bridge.
The article says the art is on Main Street, but Google backs up my observation that it's on Los Angeles Street.


Metro Rail observes its 25th anniversary with this display in Union Station. For comparison, here are the same numbers from NYC (which did not abandon it's mass transit rail system in the 1950s): 6,384 rail cars, 422 stations, 660.75 miles of rail.

At 5th and Spring Streets.

On 8th Street.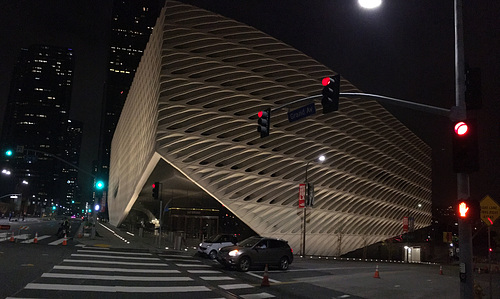 The Broad Museum.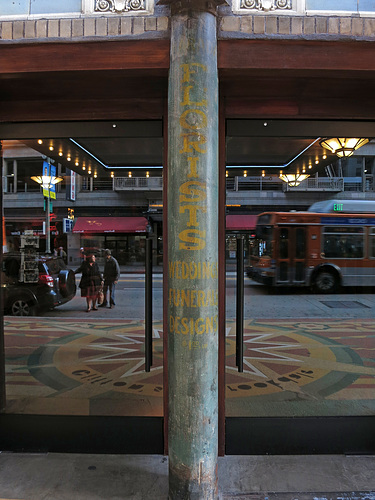 This is an easily overlooked detail uncovered in the rehab of Clifton's Cafeteria. Right between the two entrance doors. There used to be a florist shop there. This sign pre-dates 1931, when Clifton's opened.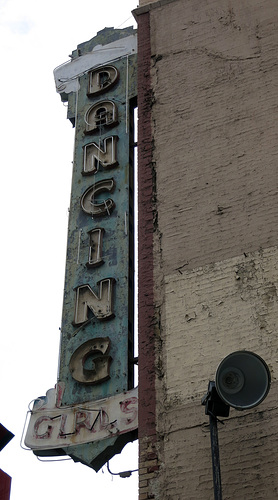 "Dancing Girls!"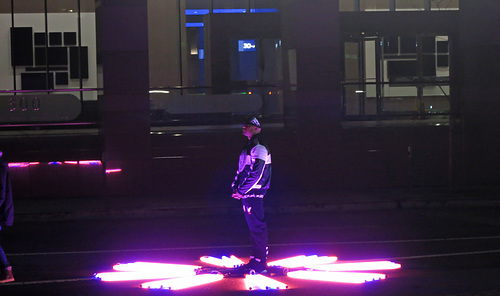 On Grand Avenue at about midnight some filming was about to happen. This guy just stood there surrounded by blue and red fluorescent tubes. There was one camera on a crane and a couple of guys with the camera. Off to the side were another couple of guys keeping an eye on the generator (which was noisier than permitted at Burning Man). There wasn't any filming actually happening. Everybody just seemed to be waiting and collecting their pay.

Filed under Architecture,California,Photography | permalink | January 19, 2016 at 07:34 PM | Comments (1)
January 18, 2016
153 Years
There's an exhibit of historic photos at the LA Public Library on the subject of the Emancipation Proclamation, the March on Washington, and the 53 years since the march.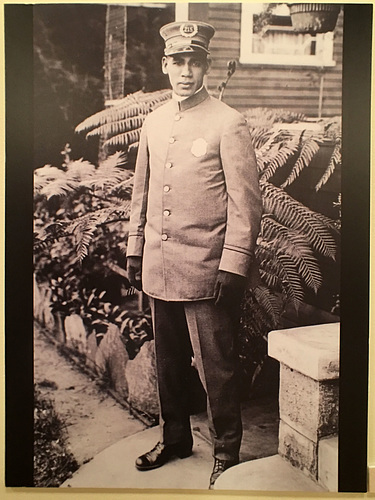 LAPD, 1915.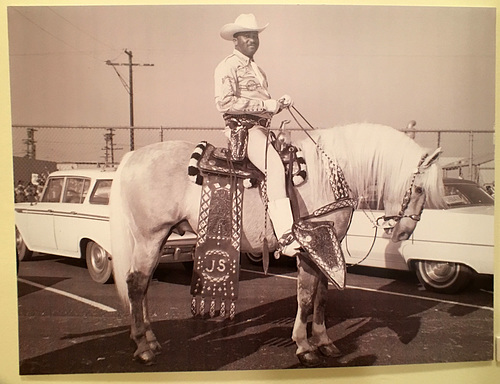 Watts Christmas parade.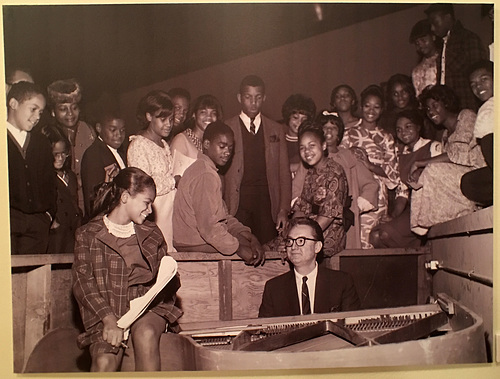 Steve Allen hanging out at the Ebony Showcase Theatre in 1966.

At Inkwell Beach in 1931. Inkwell Beach was the 200 yards of Santa Monica Beach where blacks were allowed to hang out. Here's a Google satellite view showing the location today. It's where lifeguard stand 20 is.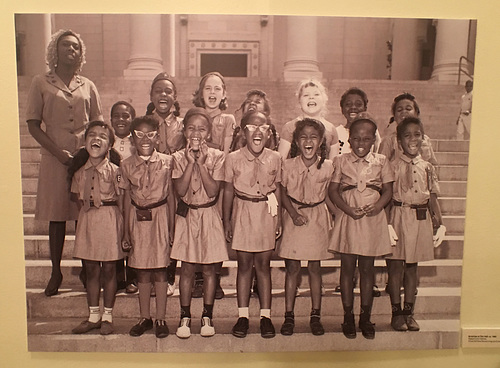 Visiting city hall in 1963. Check out the stylish eyeglasses!

"Dr. Josie Bain, the southern area superintendent of Los Angeles City Schools makes remarks during the groundbreaking for Loren Miller Elementary School on West 77th Street, near Hoover Street, in 1969." Sure, but check out the hairdo! I think she may have a radar antenna up there.
Filed under History | permalink | January 18, 2016 at 09:21 AM | Comments (0)
January 17, 2016
Forty-Six Years Together
Filed under Gay Issues | permalink | January 17, 2016 at 12:55 PM | Comments (0)
A Dutch Burgin

This is mostly in Dutch, but it's understandable, nonetheless.
Burning Man has not announced either ticket prices or ticket dates yet, as they are still chewing over the new Nevada "entertainment" tax. But they have promised to give us some facts real soon now. One of the suggestions is just to blow the whole thing off this year. And that suggestion was not dismissed out of hand.
Filed under Burning Man | permalink | January 17, 2016 at 10:59 AM | Comments (6)
January 14, 2016
Desert Hot Springs Veterans Committee
The Desert Hot Springs Veterans Committee invites the Veterans of Desert Hot Springs to participate in a discussion scheduled for Saturday, January 16, 2016 from 11:00 AM - 12:00 PM at the Carl May Community Center.
This event aims to gather a true accounting of Veterans within the community, while providing a forum to collaborate and discuss the unique concerns of the veteran population, and services needed to address these concerns.
Topics of discussion include: Health, Employment, Food and Shelter, Housing and Homelessness. Event Speakers include: Desert Hot Springs Mayor, Scott Matas; Desert Hot Springs Veterans Committee Chair, Jeff Horton; and Desert Hot Springs Veterans Committee Vice-Chair, Bill Cook.
WHERE: The Carl May Community Center; 11711 West Drive; Desert Hot Springs, CA 92240
WHEN: Saturday, January 16, 2016; 11:00 AM - 12:00 PM
Filed under Desert Hot Springs | permalink | January 14, 2016 at 08:16 PM | Comments (0)
Follow Up On Sungrow
A month ago, allegations were made that the Sungrow dispensary seemed to be violating the law. Tonight, Chief Mondary gave a report to the Public Safety Commission on what was found at Sungrow. He also told us that Detective Larry Essex was going to become the department's marijuana expert.
The police found that the dab bar was not operational when they got there. The rules on that were pointed out to the dispensary's management. There was a slushee machine, but it was also not operational and will not become operational until the county health department issues a permit. The Chief did not say if Sungrow was going to seek a health permit. They found other violations, but it is not yet clear if they are administrative or criminal in nature. The city attorney has written to Sungrow to advise them on what the police found that needs correcting.
The Chief also checked the record of calls for service from the two operating dispensaries. There have been 31 from Sungrow, but it's not always possible to pin every call on Sungrow, since there are other businesses in the shopping center. Four reports have been filed by police:
An attempted burglary of the dispensary.
Battery.
Disturbing the peace. That involved a person who was kicked out of the dispensary (with no medicine) who then created a disturbance in the parking lot.
Informational.
At Brown Dog there have been 13 calls for service and only two reports filed:
Trespassing.
Informational.
Filed under Desert Hot Springs,Marijuana,Public Safety | permalink | January 14, 2016 at 08:13 PM | Comments (0)
This Is Real, So Godwin's Law May Not Be Invoked
In San Diego County (USA), Cliften Korsch had the usual selection of weapons necessary to protect his home and to fuel whatever his gun fantasy is: "a handgun, shotgun, assault rifle, hunting rifle." Sheriff's deputies arrested him because he allegedly threatened a maintenance worker at his apartment complex with a billy club. As he was being booked he began to speak in his native German. Even though Mr. Korsch is a U.S. veteran, a deputy forced him to watch a YouTube video of speeches by Hitler. "According to the case summary, the deputy told CLERB investigators that because he didn't understand German, he had no idea what Hitler was saying." For all he knows, Hitler was discussing art, or reminiscing about his mother, or telling the audience where the fire exits, restrooms and childcare could be located there at Nuremberg.
Mr. Korsch filed several complaints against the deputies, but only one was sustained:
Misconduct/Procedure – Deputy 3 played an internet video of "Adolf Hitler" hate speeches.
Recommended Finding: Sustained
Rationale: The complainant stated that Deputy 3 played video and audio of speeches from Adolf Hitler talking about killing Jews, and other non-Germans, while he was being processed for booking. Deputy 3 reported that the complainant was very agitated and yelling loudly in German while at the Patrol Station, so he elected to play a YouTube video of Adolf Hitler speaking to a large crowd. Deputy 3 said he did not understand German, and therefore did not know the content of the speeches. The act, which served no legitimate purpose, was in violation of Sheriff's Policies and Procedures 2.4, Unbecoming Conduct; 2.22, Courtesy; 2.30, Failure to Meet Standards; 2.36, Use of Department Equipment; 2.48, Treatment of Persons in Custody; and 2.53, Discrimination. The act did occur and was not justified.
Filed under Public Safety | permalink | January 14, 2016 at 02:22 PM | Comments (0)
January 13, 2016
Lithium & Water
I had a vague recollection about lithium reacting with water to create a potentially dangerous situation, like this:

And that's what I thought of when I watched this video about the unfortunate situation of being the owner of a brand new hoverboard. But I guess sometimes nothing happens.

Notice when he opens the box at the beginning, the packing material is cracked on the right end. Is that an indication this was dropped on that end?

Filed under Science | permalink | January 13, 2016 at 10:24 PM | Comments (0)
Historic SpaceX Launch and Landing
SpaceX staff is exuberant over the successful controlled return and landing of the first stage of the Falcon 9 rocket last month. This particular video was released just a few days ago.

Filed under Science | permalink | January 13, 2016 at 10:03 PM | Comments (0)
PG-Rated Site For Sex Toys
An Israeli rabbi has started a website that sells sex toys AND is acceptable to ultra-orthodox Jews. No nudity, no profanity.
Here's the site, BeBetter2gether. Besides toys it includes a good chunk of sex education too.

Filed under Health | permalink | January 13, 2016 at 09:25 PM | Comments (0)