« Finally, Something North America Can Sell To The Chinese At High Profit | Main | 60 Minutes Visits Apple »
December 21, 2015
Two More Marijuana Cultivation Facilities Approved
Two more medical marijuana grow facilities came before the City Council on Tuesday, December 15. Both were approved unanimously (4-0, Joe McKee was absent because he is in China). Here's the one-hour video of that portion of the meeting.

The first one, brought forward by Oxford Properties, will be on the northeast corner of Little Morongo and Dillon. Initial construction will be four buildings of 47,850 sq. ft. each. The next 16 buildings will be 50,600 sq. ft. each. The grand total will be 1,001,000 sq. ft. which will cover 65% of the 35 acre lot. All 20 buildings are expected to be built within five years, but they may take up to ten years. The buildings will be 50 feet high. Construction will begin "immediately."
The developers will be required to improve Dillon Road along their frontage. But on Little Morongo, the misplaced power poles prevent full improvement. The Development Agreement will require the developer to participate in a "regional effort" to improve and widen Little Morongo. The discussion and vote on the Development Agreement for this property were put off to the next council meeting because the Public Safety Mitigation fee had not yet been negotiated.
I think it's interesting to note that the original landscape plan called for cholla cactus! Good for security, I bet. But the ALRC cut out the cholla.
The development is in the Coachella Valley Water District, not Mission Springs.

This is how the site will be laid out. This is 20 long buildings with their short sides facing Little Morongo. Little Morongo runs across the bottom of the drawing. North is to the left.
The traffic analysis showed that no traffic light will be necessary at the intersection of Little Morongo and Dillon, but the developer will be required to pay his share of that expense into a reserved fund that will be used to pay for traffic lights when they are needed.
There was discussion about the nearly hopeless problem of the power poles that were placed in the right of way. Moving one pole is said to cost $200,000. Counting poles using Google Earth I come up with 76 poles between Dillon Road and Mission Lakes Boulevard. That would mean a total cost of about $15,200,000! I wonder what the cost and challenges would be for the city to shift the right of way to the west sufficiently far that the poles can stay where they are, but be out of the right of way. I imagine the biggest challenge doing that would be encroaching on Dr. Shah's shopping center at Mission Lakes and Little Morongo. City Manager Magaña said that one issue that needs to be resolved first is completion of the General Plan update, which will tell the city how wide the right of way on Little Morongo should be.
The developer said he became interested in medical marijuana when his mother developed cancer. He has a delivery service and cultivation facility in the Inland Empire and a dispensary in Santa Ana. He said grading will commence in January 2016. He said their facilities recapture 70% of the water they use. When the project is complete he estimates it will employ 1,000 people.
The developer of another cultivation site got up to comment and said that his top concern and the top concern of other cultivators is security. He said that the proposed Oxford Properties project is massive and ambitious. He said it has gotten on the radar of the federal DEA. Desert Hot Springs is becoming known nationally as one of the few places to allow cultivation. He said that this must be done right, or all of the marijuana industry could suffer.
The applicant returned to the podium and said they are working with a firm made up of ex Navy Seals and Secret Service along with the head of security at the Commerce Casino.
The attorney for the project came to the podium to say they had already reached out to elected officials and regulatory officials in Washington, DC, to discuss this project and to insure it is within guidelines. It is his opinion that the feds are "comfortable" with this.
Councilmember Betts asked for a 5 minute recess so he could get his questions about the power poles clarified by a member of staff. Mayor Matas would not recess the meeting, saying that all of Mr. Betts's questions had already been answered. Mr. Betts then walked to the backroom with a staffer for that discussion while the meeting proceeded.
Councilmember Parks asked the developer to clarify if the claimed 1,000 jobs would be construction jobs. The developer said that he wasn't counting the construction jobs in that figure of a 1,000. Add those in and the number will be even higher. He said the 1,000 jobs will be full time and each building will have 50-60 employees. A member of the developer's team said that the marijuana cultivation facility will pay better than Walmart. Phase I will be four buildings. Councilmember Zavala asked if most of the employees would be Desert Hot Springs residents. The applicant said he hoped so, and that he was considering setting up a training facility to train new employees. Many of his employees in other facilities were completely new to the industry when hired, he said. In response to another question from Ms. Zavala, the developer said that each building will take about 6 months to complete.
I've got to say that the speed of development promised by this developer and other marijuana developers is rather astonishing, after years of hearing about reasons for delay from other developers of other types of properties.
Mr. Betts came back from his discussion to say that he would vote No on the CUP, because he couldn't figure out what they were going to do in the way of street improvements along Little Morongo—this despite the fact that it had been explained repeatedly that the developer will put in curbs and sidewalks and build driveways from Little Morongo onto his property. The developer suggested putting K-rails (jersey barriers) around the bases of the power poles there, saying he has seen that done in other cities—Brea, specifically. Mr. Betts said he was told that nothing would be paved except the driveways. A member of the developer's team got up and said they would pave everything if the city asked them too, but they just could not move the poles. Mr. Betts said he wanted the curb and sidewalk to be on the street side (west) of the poles, not on the development side (east) of them. The developer could not say Yes enough times in response to this. Years from now, if the poles ever get moved, then the curb and sidewalk would be torn up and moved. The developer has said they have agreed to every request from the city. Mayor Matas said that staff had heard Mr. Betts's concerns quite well and he didn't think Mr. Betts would have a problem getting what he wanted.
Ms. Parks made the motion to approve the CUP (the development agreement will come to the council later). Approved 4-0.

The second marijuana cultivation facility under consideration this night will be a new building on 2.14 acres on the southwest corner of Two Bunch Palms Trail and Cabot Road (Map). That is just east of the tire and auto repair businesses there. The applicant is Bunch Palms Trail, LLC, John Van Beek. Not Two Bunch Palms Trail. Just Bunch Palms Trail. It will be a single 2-story building (up to 37 feet high)) covering a total of 43,161 sq. ft., which is only 46% of the site. It will include four greenhouses (5,914 sq. ft. each). The greenhouses will be screened by the other buildings, so they will not be visible from the street. The site will be surrounded by a wrought iron or tubular steel fence (the applicant had proposed chain link, but the Planning Commission changed that). Water at this site will be delivered by MSWD, of course.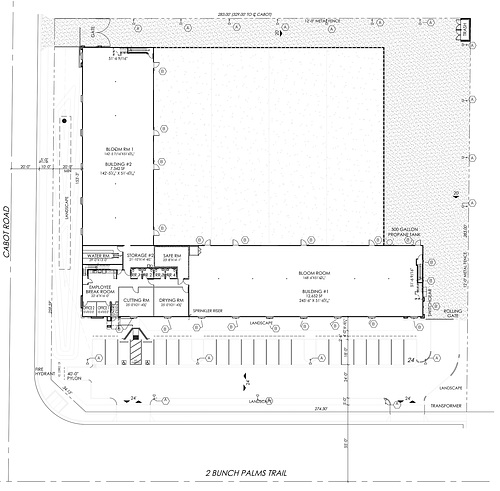 North is down on this plan. Two Bunch Palms runs left and right across the bottom of the drawing. I noticed this plan includes a Safe Room. If that's been on the plans of other marijuana businesses, I haven't noticed it.
Councilmember Betts asked for a view of the property that showed a car. He said if he could get that, then that would save him having to ask "all these questions." He said that's what he's used to looking at. I myself can't say that I recall a car being shown on proposed plans like these.
Mayor Matas asked if the greenhouses would be open to the air. Mr. Malacoff said they would be sealed. Mr. Matas revised his question to ask if they would ever be opened for ventilation. Someone in the audience called out "Yes." The applicant then came to the podium and said that the greenhouses would be opened for air circulation. Mr. Matas asked where the smell would go then. The applicant said that as air is drawn into the greenhouses and then blown back out, it will be "ozonated" (ozonized?) so no odor will be detectable. In addition there will be carbon filters.
The applicant described this as a "small facility" and said they could be up and running and paying taxes in 6 months.
Mr. Betts moved to approve the CUP and continue the development agreement and mitigated negative declaration until the January 19 meeting. Approved 4-0.
* * * *
I must add that the way Mr. Matas ran this meeting is a VAST improvement over what we've been accustomed to. Not only did he keep things moving along very efficiently, but there were no spats or quarrels. Even Lew Stewart showed him respect and refrained from insulting...at least for this meeting.
The meeting included a study session at 3 PM and a presentation from Mission Springs Water District from 5:30 to 6 PM, when the regular meeting began. You can get those in the full video here. The study session was audio only, but is included in the YouTube video.
Filed under Desert Hot Springs,Marijuana | permalink | December 21, 2015 at 12:27 AM
Comments
I've been straggling on starting my first marijuana plant I have no idea that planting would be this complicated, a lot of things to consider. I'm trying to grow this https://www.gyo.green/cannabis-seedbanks/crockett-family-farms-cannabis-seeds I decided to grow my own just for personal use and it's been very effective on treating my chronic back pain

Posted by: walaasds at Nov 28, 2018 1:45:19 PM
Ron, you are doing such a great service for DHS in these postings and notes...thank you.
Posted by: Paul Miller at Dec 21, 2015 9:15:01 AM