« October 2015 | Main | December 2015 »
November 30, 2015
Los Angeles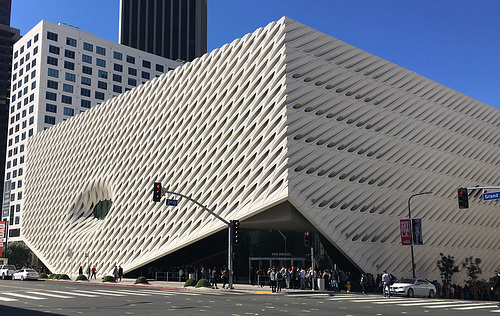 The Broad is now open, the tickets are free, and the lines appear to be long.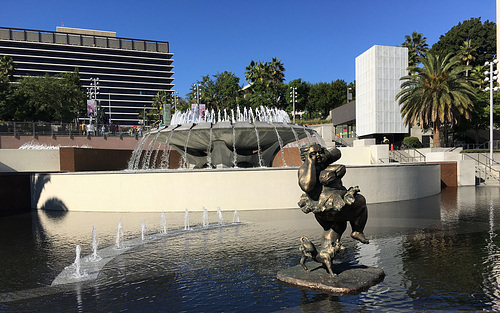 In Grand Park with the LADWP in the background.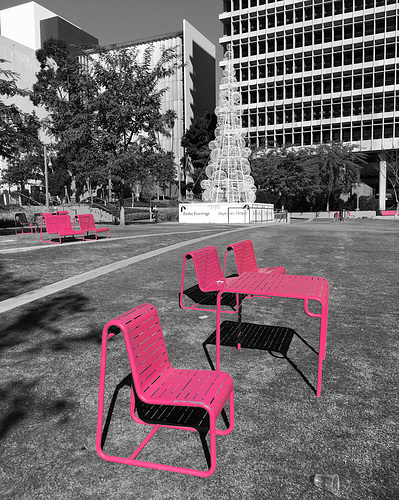 Grand Park.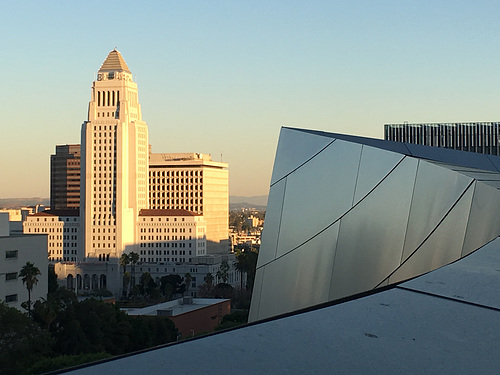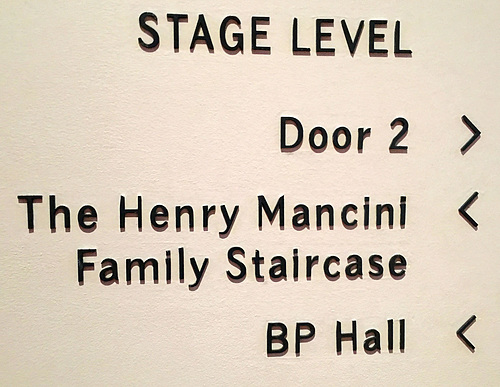 In Disney Hall.
Filed under Architecture,Cities/Urbanism,Photography | permalink | November 30, 2015 at 07:31 AM | Comments (1)
November 26, 2015
DHS Mayoral Election Decided By November 3 Ballots
The agenda for the city council meeting on December 1 includes details on how the voting went in each precinct, for each candidate, mail-in or walk-in. The last time I looked at this, I think about two-thirds of the votes in Desert Hot Springs were by mail. 71% of the ballots were cast by mail in this most recent election. One might think, then, that the outcome was pretty much decided before the traditional November 3 ballot. And you would be mostly right. Comparing mail-in totals with ballot totals below, one sees that the November 3 ballot moved Richard Duffle from last place to next to last, and it determined the mayoral outcome. Sanchez had the majority of mail-in ballots, but Matas got enough votes on the 3rd to defeat him.
You will also see that Zavala picked up a somewhat disproportionate number of votes on the 3rd, but they didn't change the ranking of the council candidates. Horton gained the smallest number on November 3 and slipped down to last place.
IOW, the increased campaigning in the last two weeks before November 3 is probably worth it in order to hold on to or grab a victory.
NOV 3
MAIL-IN
TOTALS
Matas
443
32%
959
68%
1402
Sanchez
357
27%
982
73%
1339
TOTALS
800
29%
1941
71%
2741
Betts
275
25%
813
75%
1088
Zavala
362
35%
674
65%
1036
Parks
201
27%
552
73%
753
Buchanan
189
27%
524
73%
713
Jaime
186
28%
489
72%
675
Duffle
105
29%
252
71%
357
Horton
91
26%
258
74%
349
TOTALS
1409
28%
3562
72%
4971
Mayor & Council
GRAND TOTALS
815
29%
1995
71%
2810
Filed under Desert Hot Springs,Politics | permalink | November 26, 2015 at 05:06 PM | Comments (4)
How Many People Does It Take To Cash A Stolen Check?
In Desert Hot Springs the number must be greater than three.
Filed under Desert Hot Springs,Public Safety | permalink | November 26, 2015 at 12:35 PM | Comments (0)
November 25, 2015
"The Insanity Of Your Stupidity"
Scott Matas explains his opposition to the so-called "Good Wage Ordinance" at the November 17, 2015 city council meeting. Scott Matas is the new Mayor, to be sworn in on December 1. You can perhaps see why I thought it was so important to replace the current mayor.

Filed under Desert Hot Springs,Politics | permalink | November 25, 2015 at 11:58 AM | Comments (3)
November 24, 2015
Good Deal On Kindles This Week
$50 for a Kindle this week
. That's the version with "special offers" which is nothing more than a static ad that appears as your screen saver after you've stopped reading. If that's too much for you, $20 more gets you a Kindle without that.
Even the somewhat nicer Paperwhite Kindle is available for $100 ($20 off).

Filed under Books,Shopping | permalink | November 24, 2015 at 08:52 AM | Comments (0)
November 23, 2015
City Meeting Courtesies
Here's the story of a medical marijuana dispensary applicant being rejected in Santa Barbara. The objections from the citizens were the usual baseless, uninformed stuff. But it was rejected for a wacky parking lot solution and inconsistencies in the application. I'm sure it didn't help that the applicant, who was either ignorant of proper decorum or who had gotten so angry he just didn't care, tried to shut up the Planning Commissioner who was explaining why his application would be rejected.
We had a developer come before our Planning Commission and our City Council with an attitude like that, but he wasn't opening a dispensary and he was an experienced real estate developer. I can understand that marijuana dispensary applicants are not usually knowledgable in how city government works, but you would think anyone should understand that being rude to the people who can approve or disapprove your business is not going to work in your favor.
Filed under Marijuana | permalink | November 23, 2015 at 10:36 AM | Comments (0)
November 19, 2015
Wanted For Attempted Homicide
CITY OF DESERT HOT SPRINGS
POLICE DEPARTMENT
Dale Mondary, Chief of Police

DESCRIPTION OF INCIDENT: Attempted Homicide/Arrest Warrant

On 11-12-15 at approximately 3:00 pm, there was a shooting at Tedesco Park in Desert Hot Springs. The victim was shot once and was severely injured. The victim is currently in stable but serious condition.

There were multiple eye witnesses and the investigation identified the shooter as Efrain Hyman. Efforts to locate Hyman have not been successful and he is on the run.

Desert Hot Springs Detectives have filed the case with the Riverside County District Attorney's Office and have obtained a warrant for Hyman's arrest with a cash bond of $1,000,000.

Anyone who knows the whereabouts of Hyman is encouraged to notify the police of your local jurisdiction or contact the Desert Hot Springs Police Department. Please do not attempt to contact Hyman or take any other action, as he is considered armed and dangerous.

Anyone with additional information regarding this investigation please contact the Desert Hot Springs Police Department and ask to speak with Detective Larry Essex. (760) 329-6411 ext 322. Email: lessex@dhspd.com Citizens can also call Valley Crime Stoppers at (760) 341-7867.
Filed under Coachella Valley,Desert Hot Springs,Public Safety | permalink | November 19, 2015 at 11:06 PM | Comments (0)
November 17, 2015
An Unusual Burning Man Video
Black and white with calm, pleasant piano music. All bits are from 2015.

Filed under Burning Man,Photography | permalink | November 17, 2015 at 04:29 PM | Comments (0)
November 15, 2015
Tired Of Seeing The Interiors Of The Mouths Of Wild Animals?
Then here's something more domestic.

Filed under GoPro | permalink | November 15, 2015 at 08:55 PM | Comments (0)
You'll Love This
Technology that allows phones and tablets to detect what ads you watch on TV and then set up for some customized advertising on your mobile unit. An ultrasonic sound is inserted into the TV ad and then heard by your mobile. Some apps use it and the developer will not disclose which ones. The user is not permitted to opt out.
Here are some workarounds:
Don't watch any TV that has advertising.
Watch TV with the sound off relying on captions.
Use headphones to listen to TV.
Put your mobile devices far enough from your TV that they can't hear it.
Filed under Technology | permalink | November 15, 2015 at 07:56 PM | Comments (0)
The Burning Man Of Ice Fishing
And they still have the freedom to fly a drone.

Filed under Burning Man,Sports | permalink | November 15, 2015 at 07:28 PM | Comments (0)
November 13, 2015
Coming Next?
Here's an Indiegogo for a company that dreams of being the next GoPro, like so many have, but this one is interesting. A 3D stereoscopic action camera and accessories. Think of a GoPro with a full 180° lens and then double it. The LucidCam.

A sample, sort of. I'm able to form a crosseye-ed 3D image in the middle of these.


Filed under GoPro,Photography,Technology | permalink | November 13, 2015 at 09:17 PM | Comments (0)
November 11, 2015
Blending In With The Californians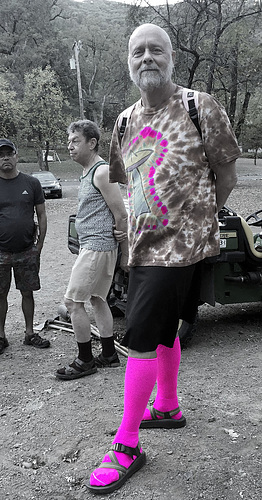 Filed under California,Photography | permalink | November 11, 2015 at 09:50 AM | Comments (0)
November 8, 2015
Rockhaven Sanitarium
I went on a tour of Rockhaven Sanitarium for women in Glendale yesterday. It was founded by Agnes Richards, a nurse, in 1923 at a time when there were as many as 20 sanitariums in the area. It was operated by Agnes Richards until 1967, when she turned it over to her granddaughter Patricia Traviss who continued to operate it until 2001, when it was sold to a nursing home chain. Five years later it was closed when it became obvious that meeting ADA standards would be financially impossible. The City of Glendale bought it in 2008. Since then the city has done little with the site, not having the money to renovate it nor the will to just get rid of it.
It was a place for women with mild to moderate "nervous disorders," and featured none of the tortures that one would normally see in an insane asylum of that time. It's two most famous residents were Billie Burke and Gladys Pearl Monroe Baker, the mother of Marilyn Monroe.
The docents told of some spooky happenings at the place. A face seen behind a curtain that was pulled back from a window on the second floor of a building that was empty; small objects (a rosary, a valentine card, for example) simply appearing where it had never been before. The contents of the site were well documented when the city bought it. Even though old photos of the place show a piano, no piano is listed in the city's inventory. One day, when the docents opened the garage where they have stored statuary and other vulnerable items, there was the piano. I could believe the small things were pranks played by one of the docents, but the appearance of the piano is quite a stretch. How many ghosts does it take to move a piano?
An hour long video about Rockhaven.
The Crescenta Valley Water District is putting in a well on the site.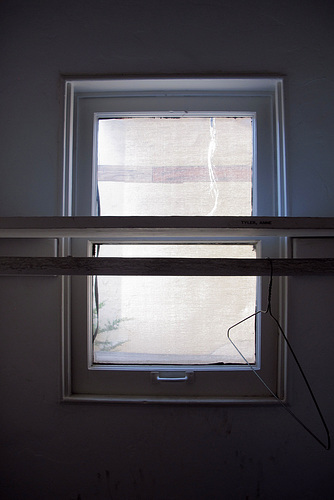 The closet window through which Marilyn Monroe's mother escaped using rope made from bed sheets. She had a much larger window in her room that would have been much easier to go through. The drop from the closet window to the ground below was about 6 feet. IOW, she was a drama queen.

According to this illustration germs used to be much larger back in the 20th century.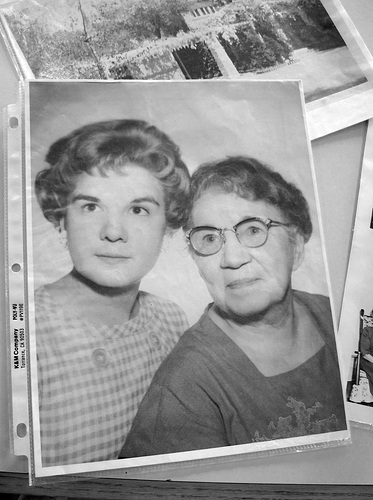 Patricia Traviss and Agnes Richards

The Rose house existed on the site before Richards created the sanitarium. She had it lifted and turned to face into the inner courtyard of the sanitarium.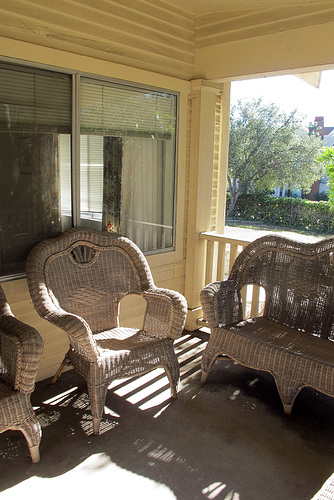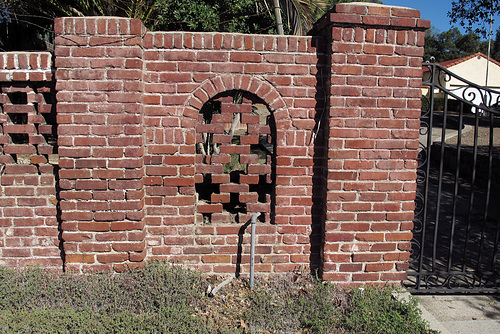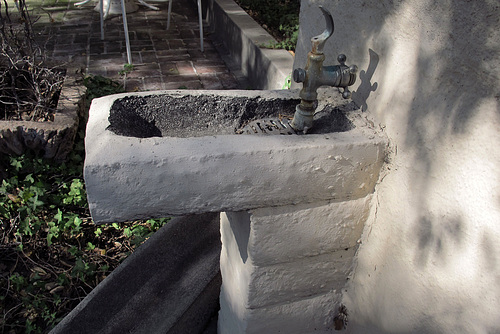 A drinking fountain.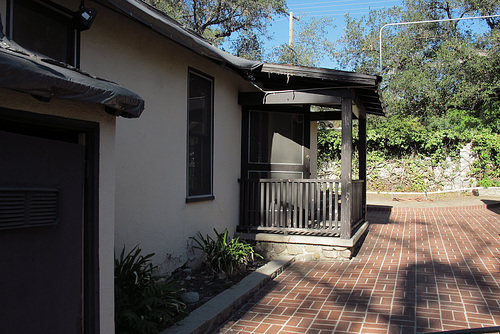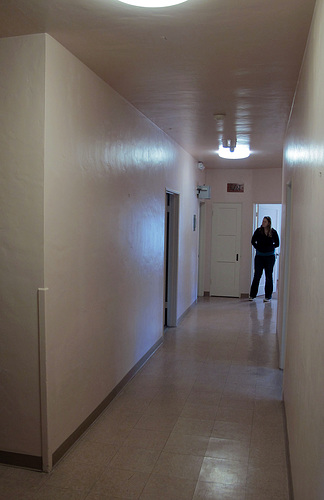 The walls are pink.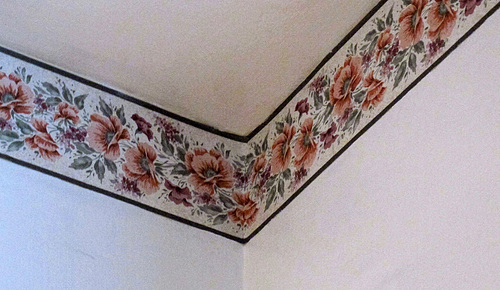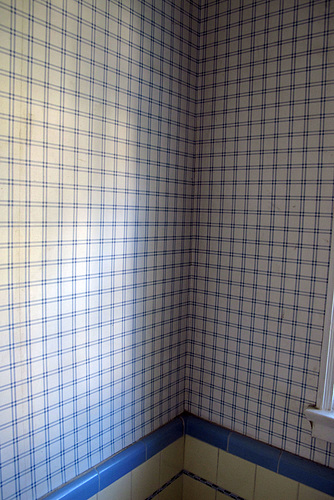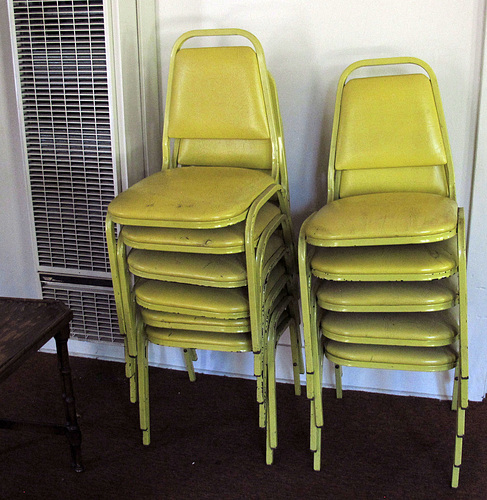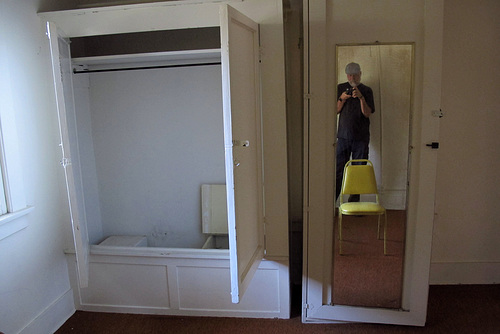 A Murphy bed.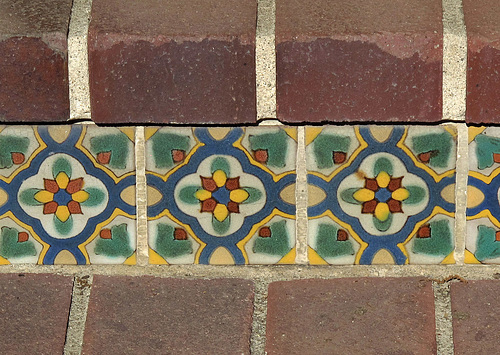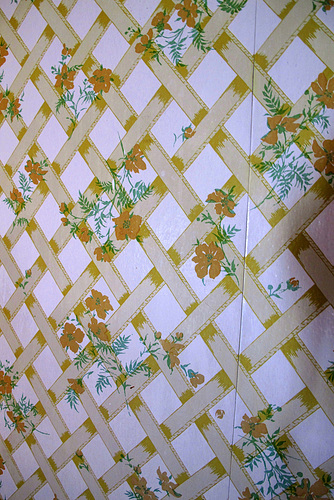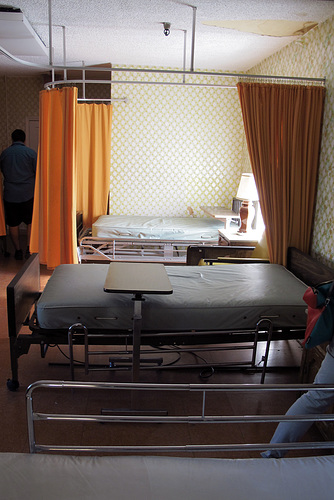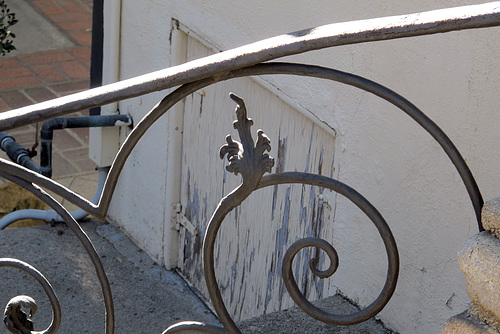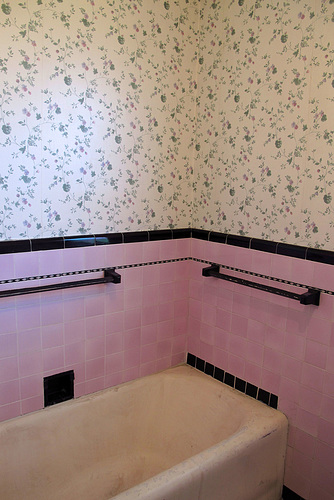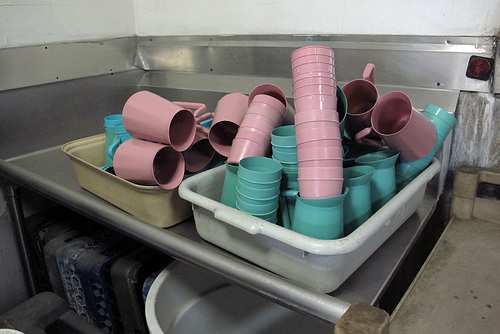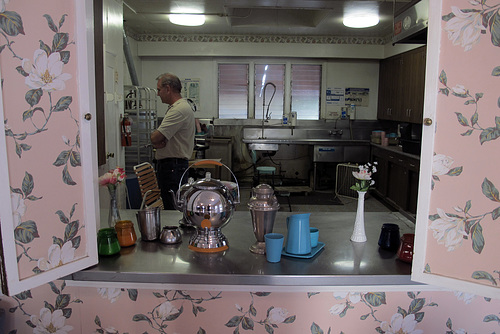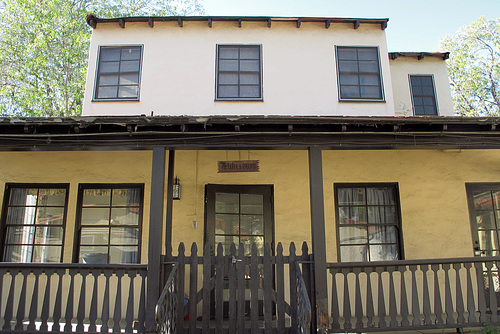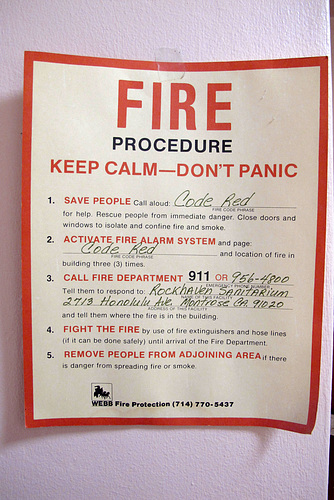 "The Lady of Rockhaven" by Gladding, McBean.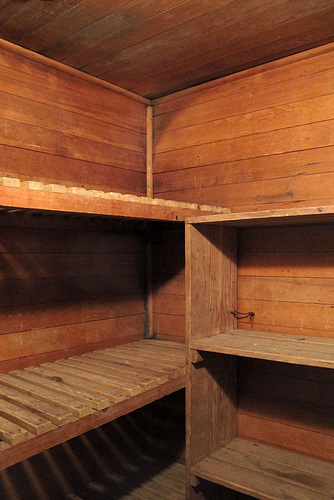 The walk-in cooler which could obviously be converted easily into a sauna for small people.
More of my photos from Rockhaven Sanitarium are here.
Filed under Architecture,Health,History,Photography | permalink | November 8, 2015 at 05:08 PM | Comments (3)
November 7, 2015
In Glendale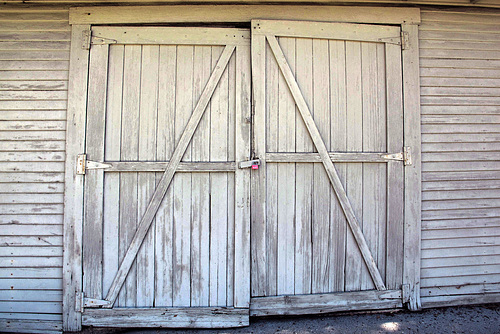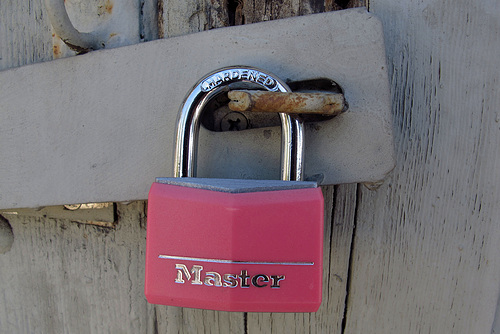 Filed under Photography | permalink | November 7, 2015 at 08:45 PM | Comments (0)
November 6, 2015
Wexler House For Sale
Filed under Architecture,Coachella Valley | permalink | November 6, 2015 at 07:58 PM | Comments (0)
Desert Hot Springs Election Results (November 9, 2015 1:19 PM)
These should be the final results.
There are still some ballots to be counted so the numbers could shift, but I think it's unlikely the outcome will change. The only real surprise to me is that Asia Horton came in at the bottom. She had some good solid endorsements.
For Mayor
SCOTT MATAS*
1,402
51.15%
ADAM SANCHEZ
1,339
48.85%
Total
2,741
100.00%
For Council
RUSSELL BETTS*
1,088
21.89%
ANAYELI ZAVALA*
1,036
20.84%
YVONNE PARKS*
753
15.15%
LARRY BUCHANAN
713
14.34%
JEANETTE JAIME
675
13.58%
RICHARD B. DUFFLE
357
7.18%
ASIA HORTON
349
7.02%
Total
4,971
100.00%
In short, the new council appears to be Scott Matas, Joe McKee, Russell Betts, Yvonne Parks and Anayeli Zavala.
Filed under Desert Hot Springs | permalink | November 6, 2015 at 11:50 AM | Comments (0)
November 4, 2015
UAVs in China
China is rushing right ahead preparing for a drone boom without wasting time on all that pesky regulation. Well, some regulation I guess. You've got to have a license. This will provide an excellent opportunity for American regulators and insurance companies to learn all the ways things can go wrong at much less expense and risk to Americans. Go China.
Filed under Technology | permalink | November 4, 2015 at 08:45 PM | Comments (0)