« September 2015 | Main | November 2015 »
October 26, 2015
Mission Lakes Country Club

From a few years ago. Can someone estimate the date based on the surrounding construction? Photo by Michael Rymer.
Filed under Cities/Urbanism,Coachella Valley,Desert Hot Springs,Photography | permalink | October 26, 2015 at 08:42 AM | Comments (1)
October 25, 2015
Marijuana Real Estate
In central Denver 9% of the industrial buildings are now being used to grow marijuana. That comes to at least 3.7 million square feet. But one person says that those facilities are not being fully utilized yet, so he thinks the market will cool for a bit.
The article includes an interesting map of all the marijuana grow facilities in Colorado. There are 487 in the Denver area. As you click on the numbers the map zooms in and you begin to see that some small areas of the city have large numbers of grow facilities.
Filed under Cities/Urbanism,Marijuana | permalink | October 25, 2015 at 10:10 PM | Comments (0)
October 23, 2015
Hitchcock/Kubrick
The Red Drum Getaway. This is great stuff.
Filed under Film/Movies,Photography | permalink | October 23, 2015 at 09:33 PM | Comments (0)
Well, This Explains That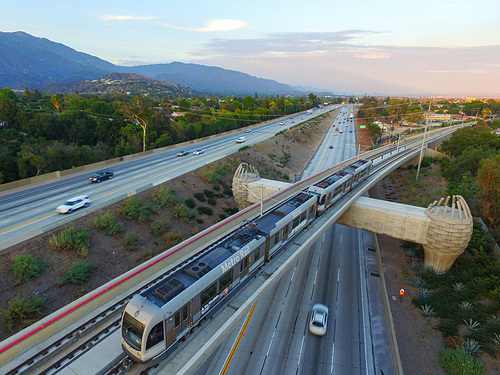 The extension of the Gold Line along the 210. I first noticed this bridge sometime last year, I think. I thought it strange that I couldn't recall noticing the distinctive design, nor could I recall a lot of construction in that area. I thought maybe I had just been paying too damn much attention to traffic. But, now I learn that it is a new bridge and it's for the Gold Line extension.
Filed under Architecture,Automotive,California,Cities/Urbanism,Travel | permalink | October 23, 2015 at 12:21 PM | Comments (0)
Eldridge Cleaver
I finally found the grave of Eldridge Cleaver. Before today I knew only the general area where he was buried in Mountain View Cemetery in Altadena. But the description in this book helped quite a bit. Then this photo made it pretty easy. To assist anyone else looking for his grave, here are the coordinates: N34° 11.070' W118° 08.724' and a map:

Filed under History | permalink | October 23, 2015 at 01:11 AM | Comments (0)
October 21, 2015
Stanford's Autonomous DeLorean...
"In our work developing autonomous driving algorithms, we've found that sometimes you need to sacrifice stability to turn sharply and avoid accidents," Gerdes said. "The very best rally car drivers do this all this time, sacrificing stability so they can use all of the car's capabilities to avoid obstacles and negotiate tight turns at speed. Their confidence in their ability to control the car opens up new possibilities for the car's motion. Current control systems designed to assist a human driver, however, don't allow this sort of maneuvering. We think that it is important to open up this design space to develop fully automated cars that are as safe as possible."
Filed under Automotive,Technology | permalink | October 21, 2015 at 04:54 PM | Comments (0)
October 20, 2015
DEA Gets Hand Slapped
Last year Congress tacked the Rohrabacher-Farr amendment onto the budget:
Sec. 538. None of the funds made available in this Act to the Department of Justice may be used, with respect to the States of Alabama, Alaska, Arizona, California, Colorado, Connecticut, Delaware, District of Columbia, Florida, Hawaii, Illinois, Iowa, Kentucky, Maine, Maryland, Massachusetts, Michigan, Minnesota, Mississippi, Missouri, Montana, Nevada, New Hampshire, New Jersey, New Mexico, Oregon, Rhode Island, South Carolina, Tennessee, Utah, Vermont, Washington, and Wisconsin, to prevent such States from implementing their own State laws that authorize the use, distribution, possession, or cultivation of medical marijuana.
The DEA has pigheadedly insisted on misinterpreting that simple paragraph. While Congress intended it to mean DEA should keep their hands off of legal medical marijuana, the DEA interpreted it to mean only that they couldn't interfere with activities of the state government! They have been denounced by a few members of Congress for this.
And today, a court has ordered the DEA to comply with the law and butt out. The written decision is here.

The Government's contrary reading so tortures the plain meaning of the statute that it must be quoted to ensure credible articulation. Specifically, the Government contends that Section 538 proscribes

"the use of appropriated funds to 'prevent' states from 'implementing their own' medical marijuana laws. Such prohibited uses could include for example, federal actions that interfered with a state's promulgation of regulations implementing its statutory provisions, or with its establishment of a state licensing scheme. However, such uses do not include CSA enforcement actions againt individuals or private businesses because such actions do not prevent a state from implementing its own laws....[T]here is no evidence in the record that California has been impeded in any way in implementing its own State laws during the thirteen years the permanent injunction at issue has been in effect."
Filed under Marijuana | permalink | October 20, 2015 at 10:56 PM | Comments (0)
Tesla Autopilot
With a nervous guy in the driver's seat.

Filed under Automotive,Technology | permalink | October 20, 2015 at 10:39 PM | Comments (1)
Coconut Harvesting
I never knew (or imagined) that 99% of the coconuts harvested in Thailand are picked by monkeys. Pigtailed macaques, to be specific. They've been doing it for 400 years. Here is a video showing some monkeys training and working.
Naturally, there's a group in America that are accusing the coconut farmers of abuse, but the Americans have never visited any of the coconut plantations, however they've seen Youtube videos and we all know if it's on Youtube, it must be true. They don't link to any of those videos on their website. They seem to be opposed to the use of monkeys for any kind of work on general principle. Dogs? Horses? Oxen? Are they opposed to them working too?
Filed under Food and Drink | permalink | October 20, 2015 at 10:25 PM | Comments (1)
October 19, 2015
Ah, Sweet Slumber!

Photo by Rafe Cookinghamus. Makes ya wanna go to Burning Man, don't it?
Filed under Burning Man,Photography | permalink | October 19, 2015 at 10:21 PM | Comments (0)
The Gamble House
The Gamble House. "Originally intended as a winter residence for David and Mary Gamble, the three-story Gamble House is commonly described as America's Arts and Crafts masterpiece." (Wikipedia)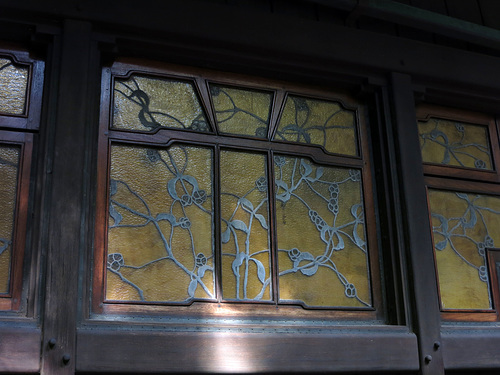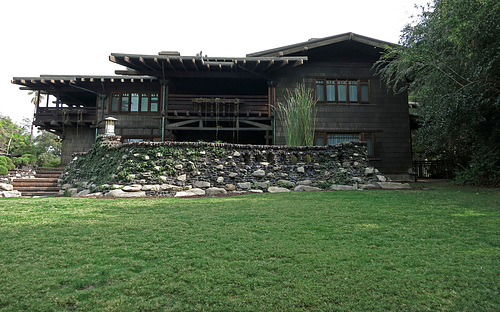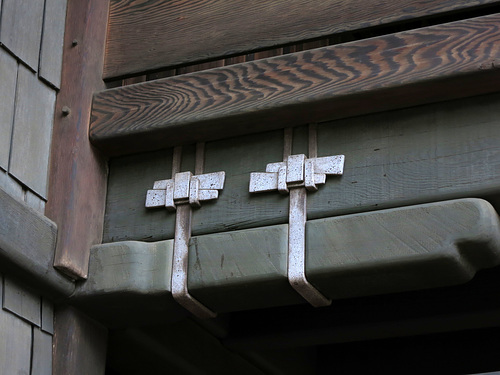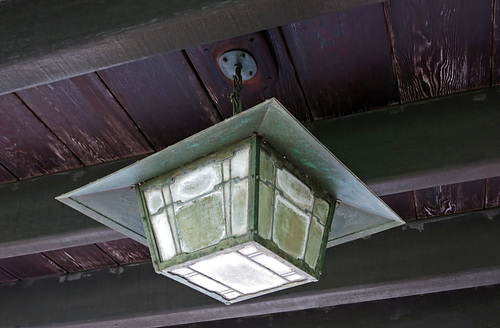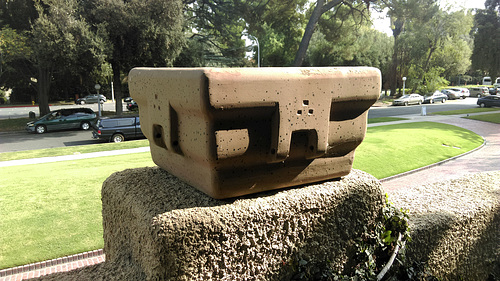 Filed under Architecture,History,Photography | permalink | October 19, 2015 at 04:11 PM | Comments (1)
October 17, 2015
Downtown Los Angeles

As seen from Baldwin Hills Scenic Overlook.
Filed under Architecture,Cities/Urbanism,Photography | permalink | October 17, 2015 at 10:03 AM | Comments (0)
October 16, 2015
Possible Cause For Alzheimer's Identified
A just-published study in which they found fungal material in the brain and blood vessels of patients being treated for Alzheimer's. None of the individuals in the control group had fungal material in their brains. And the good news is "Moreover, antifungal treatment in two patients diagnosed with AD reversed clinical symptoms."
Further developments along this line should be very interesting!
Filed under Health | permalink | October 16, 2015 at 08:21 PM | Comments (0)
Angelus Rosedale Cemetery
A few photos from Angelus Rosedale Cemetery in Los Angeles.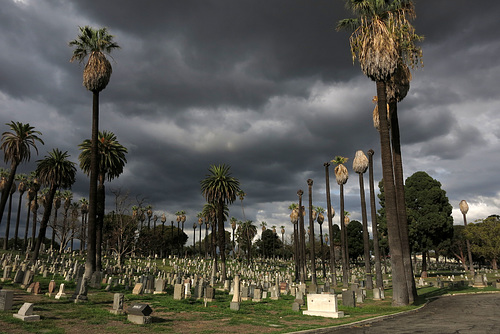 Veteran of the "SP AM WAR."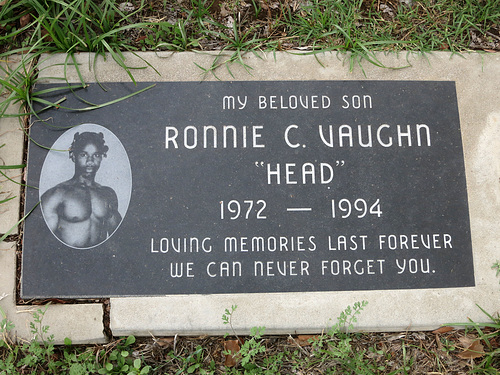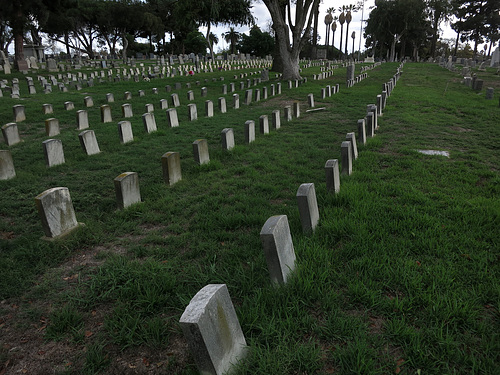 Filed under History,Photography | permalink | October 16, 2015 at 07:38 PM | Comments (0)
Two Busted For Stolen Water Meter & More
On 10/15/2015 Desert Hot Springs Officers responded to the 66300 block of 3rd St. regarding a stolen water meter and subjects trespassing into a vacant house. Officers were unable to contact any of the subjects who fled prior to their arrival. On 10/16/2015 officers went back to the location to conduct a property check and located two subjects trespassing in the house. The subjects were identified as Jeffery Claghorn and Steven Pupp; they were arrested for possession of stolen property as well as multiple other felony charges. Both Claghorn and Pupp also had outstanding felony warrants for their arrest, they were booked into Riverside County Jail.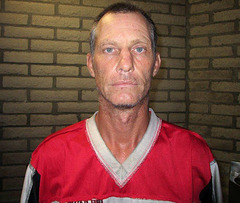 Jeffery Claghorn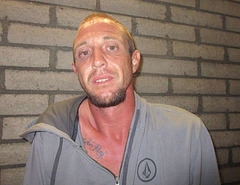 Steven Pupp
Filed under Coachella Valley,Desert Hot Springs,Public Safety | permalink | October 16, 2015 at 06:54 PM | Comments (0)
GoPro & Speeding Motorcyclists
Just because you're smart enough NOT to put your GoPro video of yourself going WAY over the speed limit on social media, it still might be used as evidence against you. Two guys doing 118 MPH right in front of God, a state trooper and everybody. GoPro was seized at the scene...and then the police had to get a warrant before looking at the contents.
Filed under Automotive,GoPro,Public Safety | permalink | October 16, 2015 at 02:35 PM | Comments (1)
October 14, 2015
Wildwood Retreat
A few weeks ago I spent a pretty fabulous weekend at the Wildwood Retreat in the hills above Guerneville. I'd never been to Guerneville or Wildwood before. It's full of trees! And it rains!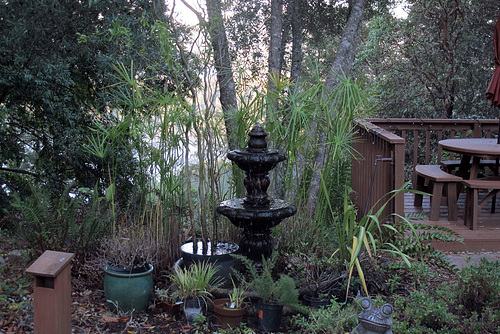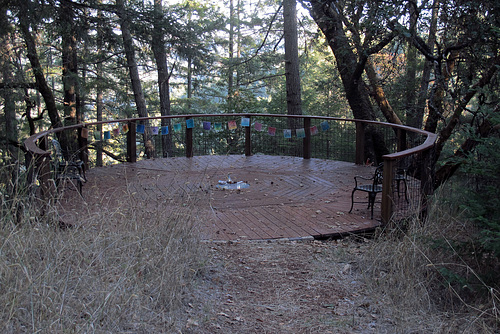 Part of the Wildwood Memorial Grove.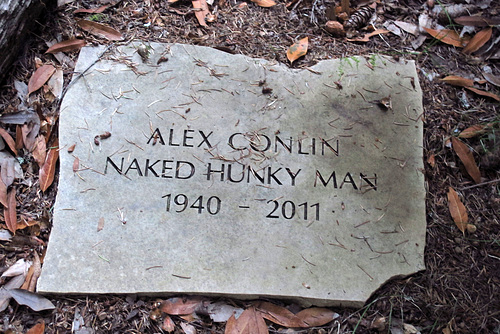 In the Wildwood Memorial Grove.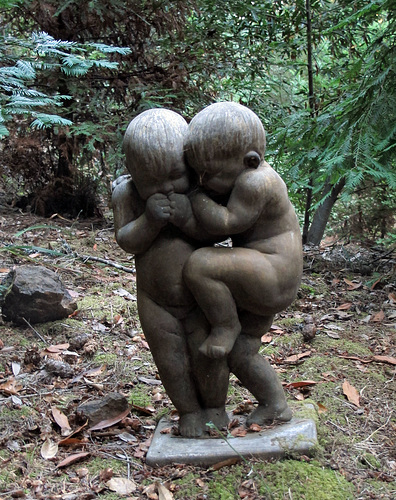 Experienced Wildwood campers told me the fog would fill the valleys below during the night, but even expecting that, at first glance I thought I was seeing a lake when I walked out there on my first morning.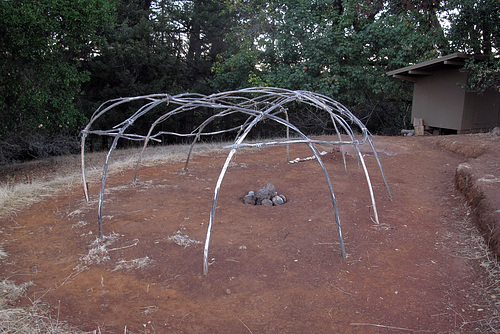 The skeleton of the sweat lodge. This was my first time ever doing a sweat lodge and, man, was it hot! Wish I had a thermometer so I could make an objective comparison to a Finnish sauna. It was a great experience with seven guys and one woman (the leader). She said she could have fit 20 guys in the sweat lodge!


The campgrounds. Nicely level, but it seemed odd to hear the wooden sound if I dropped something inside my tent.

Under the cloth is an effigy that Kirk Prine puts together over the course of a year. It will be burned on the winter solstice at Baker Beach.
Here, Kirk Prine explains in this video. Besides this, he's a fabulous facilitator for a variety of psycho-circles (or whatever you might call that head stuff).
More of my Wildwood photos can be seen here.
Filed under California,Gay Issues,Photography | permalink | October 14, 2015 at 11:03 AM | Comments (0)
Burning Man Virgins Speak
Quotes from several Birgins (Burgins?).
"Everything here is extraordinary, larger than life, like an awesome movie—super strange and weird but totally familiar and wonderful. "
"I was a part of something so big, so overwhelming, and so beautiful that I was speechless often."
"The Temple—now that blew me away. That was more powerful than I could almost bear."
"The veil on reality was finally lifted… and burned."
" I thought I was too old to experience anything new in myself and I was wrong. I was more open, more honest, more direct, more real."
"Fuck, it is beautiful."
"Mind blowing art and camps. One truly felt like Alice falling through the rabbit hole."
"After surviving the first 10-hour whiteout dust storm and after 10 days in this desert, I felt transformed or initiated into a new community of likeminded souls."
"The desert's harsh conditions gleefully pulverized every item 'made in China' within minutes of trying to use it. We were woefully underprepared for the freezing nights. Our bike chains and locks clogged with dust. Our weatherproof camera and RV's cabin lights stopped working on the second day, and our only generator and water pump failed on the third, all never to return."
"I'll never forget the excitement I had watching the Serpent Mother spew flames for the first time amid the cheers of her creators, or the nervous yelling and precarious movements of the Thunderdome being dropped delicately into place by a massive crane. Thoughts becoming things… this was the miracle I came to witness."
"It was geographically larger than I'd imagined, and despite the spectacle of the playa at night, much of what I experienced was kind of simple and immediate (playing the piano at Elliott's Bike Repair; being on an ice run and a woman walks onto the road with a plate, 'Would you like a grilled cheese sandwich?')."
"Burning Man told me it's OK to stand up and say how you feel. Burning Man showed me who I could really be. Burning Man showed me a world I had always wanted to be in but had never known existed."
"Every second was so immediate and unpredictable we found it comically useless to mentally prepare for anything."
"The days or nights I rode into the playa on my own, were some of the most magical times of my life."
"I felt like my real life was there and I had to return to a life I didn't belong to anymore."
"You'll see gorgeous stars shine and an amazing sunrise which will brighten up your day. They were right; you'll never be the same again."
We've already been told 2016 will be windier, dustier, colder and wetter than any previous year. Worse, it won't be as fun or creative. You should stay in the default world and pay bills.
Filed under Burning Man | permalink | October 14, 2015 at 10:42 AM | Comments (0)
Hairwashing Machine

He's got a patent in China (does that mean anything?). And this is better than washing with your hands because...why?
It would be good for somebody lacking two arms, if its whole operation can be designed to be worked by something other than hands.
Filed under Technology | permalink | October 14, 2015 at 12:49 AM | Comments (0)
Planning Commission Approves Three MJ Cultivation Sites
Three proposed marijuana cultivation facilities came before the Planning Commission tonight for conditional use permits and development agreements. All three were approved unanimously with little or no changes by the Commission. The development agreements must also be approved by the City Council.
The first one was Clonenetics Laboratory which is buying the United Pentecostal Church buildings at 65241 San Jacinto Lane, which is one block south of Two Bunch Palms Trail in the industrial zone.

Initially cultivation will take place only in the westernmost building there. In about 18 months the congregation will move to a new location, after which the marijuana cultivation will take place in all the buildings. The total area is said to be 23,250 square feet in the agenda, but the cultivator says the area used for growing will not exceed 22,000 square feet, the limit set in the new state law. The church had asked for a chain link fence with those strips of screening material so that the cultivation facility will not be visible from the church. City staff wanted that chain link fence to be wrought iron or steel pipe. Although chain link is permitted by the city code in industrial zones, city staff is insisting on wrought iron fences on the visible sides of an industrial development. This facility will be required to put wrought iron fences on the front and two sides, but will be allowed to use chain link at the back. At this meeting I didn't hear anyone ask if a wrought iron or steel tube fence could be made opaque to satisfy the concern of the church. But in the end the Planning Commission decided to let them go with the temporary chain link fence.
The next place was the biggest of the three—381,053 square feet on the northeast corner of Two Bunch Palms and Little Morongo. This is actually going to be five equal sized buildings, each of which is subdivided into three condominiums, each of which will limit growing to 22,000 feet or less. So it will 15 different cultivators all in one area. The developer said the marijuana from there will go mostly to Los Angeles and San Diego and says that it won't come anywhere close to satisfying demand. There was a lengthy discussion about how traffic signals are paid for by private developers who will be partly reimbursed by other developers over a ten year period. There will have to be a traffic signal at Two Bunch Palms Trail and Little Morongo some day. It has been years since the Planning Commission approved anything requiring a traffic light. It was probably Skyborne in 2004, so naturally most of the current Commissioners were unfamiliar with the process.
The third cultivation site is a little bit north on Little Morongo Road at the intersection the rather grandiosely named Kranshire Boulevard. On the map you can see that in the county (west side of Little Morongo) it's called Kranshire Road and in Desert Hot Springs it's just dirt - not even a dirt road, but just dirt.

This one will have three separate buildings, each with big greenhouses. Yes, greenhouses in the desert. Total square footage will be 180,900. Nobody asked how that will conform with the 22,000 sg.ft. limit, but maybe it will be subdivided like its neighbor to the south. The only change the Planning Commission wanted was more landscaping along Little Morongo, so they approved it with the provision that staff and the developer go back to the Chair of the ALRC to negotiate a few less parking spaces, so that a few more trees could be put in. The developer had proposed the floor in the greenhouses themselves be a compacted aggregate, because a standard concrete floor would overheat the greenhouses in the summer. Staff wanted concrete. The Planning Commission went with the compacted aggregate.
One of the public speakers said he had heard that were 38 more proposed cultivation sites in the pipeline for DHS, the only city in the state that is permitting this at this time.
The proposed revisions to the Skyborne development agreement were approved unanimously.'
The proposed ordinance to increase the minimum sizes of new homes was soundly denied 5-0, after hearing strongly negative comments from many members of the public. A speaker from one of the two bulder's associations said that current building costs are around $200/sq.ft. The increase in minimum size of a 2-bedroom house from 1,200 to 1,400 square feet would add at least $40,000 to the costs.
The proposal (IMO) shows the same wrong thinking as the proposed Good Wage ordinance. There are not nearly enough jobs in DHS for DHS residents. Raising the minimum wage would discourage the creation of new jobs in DHS. Almost no one is building single family homes in DHS. Increasing the minimum square footage would assure that fewer will be built, especially since the trend is towards smaller homes. The Skyborne development agreement included a provision for an active older adult section which would have smaller lots and smaller houses than the rest of Skyborne.
Craig Ewing, formerly of the City of Palm Springs and currently sitting as a director with the Desert Water Agency has been hired to work 20 hours a week to work solely on medical marijuana development.
Rio Ranch is still a going project and is in plan check right now.
Pierson Professional Plaza is stalled (like, we needed to be told?), probably due to finances. They did grade the site without establishing the proper security bonds, so now they've got a code violation issue to resolve too.
Filed under Desert Hot Springs,Marijuana | permalink | October 14, 2015 at 12:40 AM | Comments (2)