« August 2015 | Main | October 2015 »
September 28, 2015
Burn Night 2015
From early evening right down to circling the fire at the end.

Filed under Burning Man,Photography | permalink | September 28, 2015 at 06:58 PM | Comments (0)
September 27, 2015
A Brief Look At The Candidates
The CV Independent asked ten questions of the candidates in Desert Hot Springs:
Filed under Desert Hot Springs | permalink | September 27, 2015 at 09:30 AM | Comments (0)
September 26, 2015
Interactive High-Res Image Of The Temple Of Promise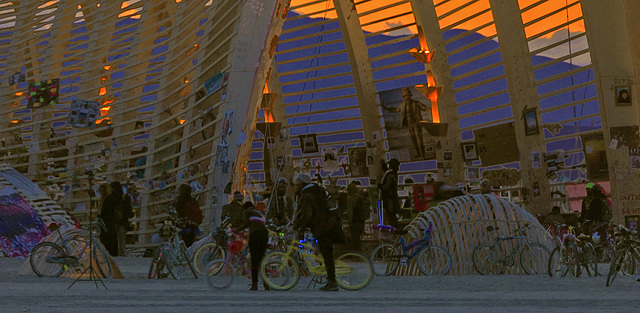 This is a small sample from the 420-megapixel panorama.
Filed under Architecture,Burning Man,Photography | permalink | September 26, 2015 at 08:33 PM | Comments (0)
Burner Buddies Are Solid Green
On the MOOP map, that is. This was especially critical for us, as this was our first year as a theme camp. We have to get good scores on EVERYthing in order to be invited back as a theme camp next year and enjoy the few privileges of that title.
To find our camp on the linked low-res (but large) image, find 4:30 and move out along it to the 4:30 Plaza, which is pretty easy to see. We are three blocks further out than that...or just count two blocks in from the outer end of 4:30.
With the incredible winds we experienced this year, de-MOOPing was quite a challenge. The areas in front of the porta-potties became a mess, and I had to limit myself to picking up MOOP just in our camp as well as upwind and downwind from our camp. If I had tried to pick up every piece of MOOP I saw, I would have done little else but that.
Filed under Burning Man | permalink | September 26, 2015 at 03:52 PM | Comments (0)
September 25, 2015
The Temple Of Promise
I visited the Temple of Promise only three times during the week: Sunday night when it had almost no memorials in it and was very disappointing; Saturday morning when it was full of memorials it seemed to have been transformed from a structure of just wood, copper and bolts into a real Temple; and then on the night of the Temple burn. Here are pictures from all three visits.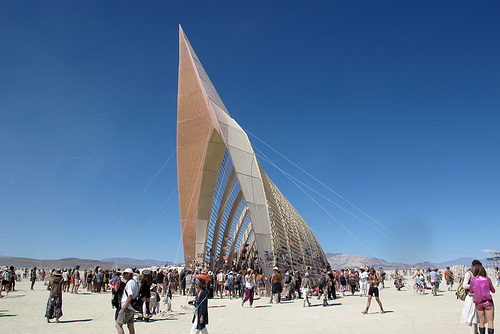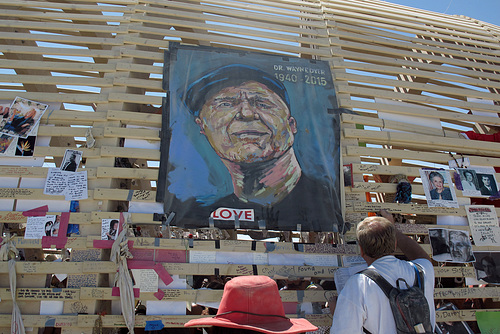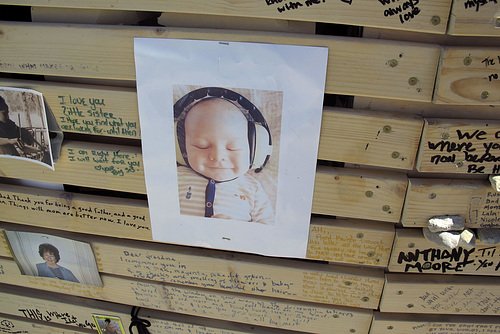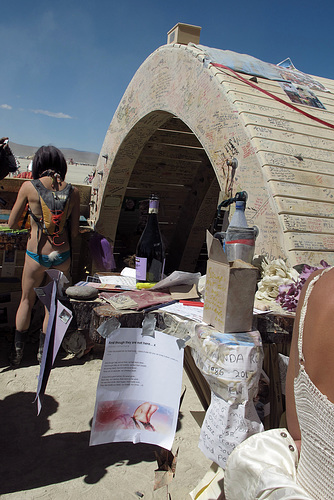 This is the small end of the Temple. I believe that there are the same number of boards coming to an end here as at the opposite big end.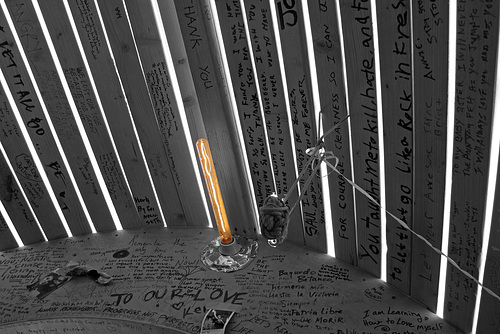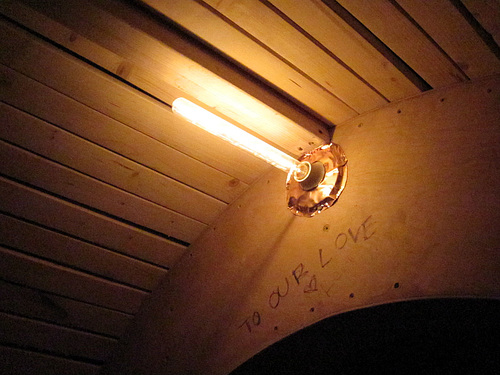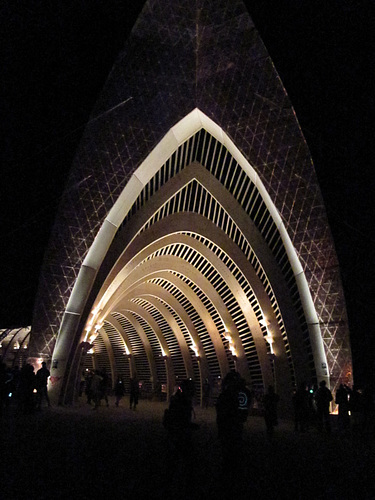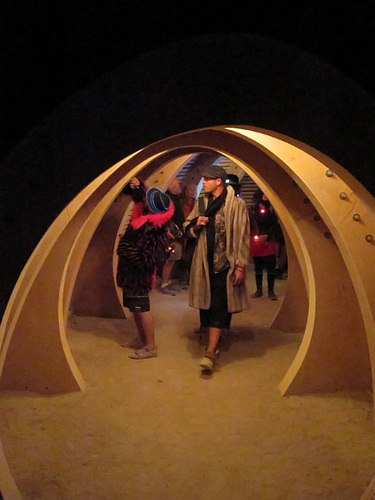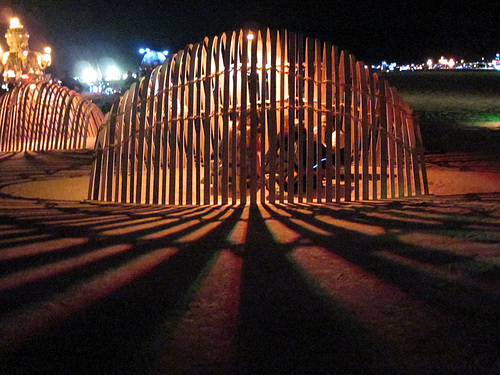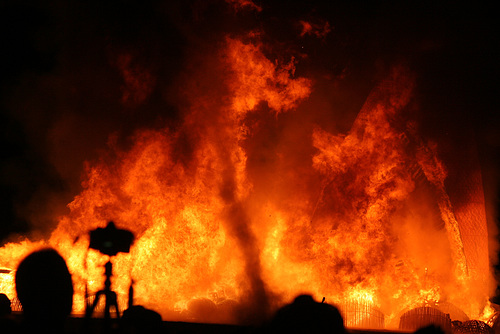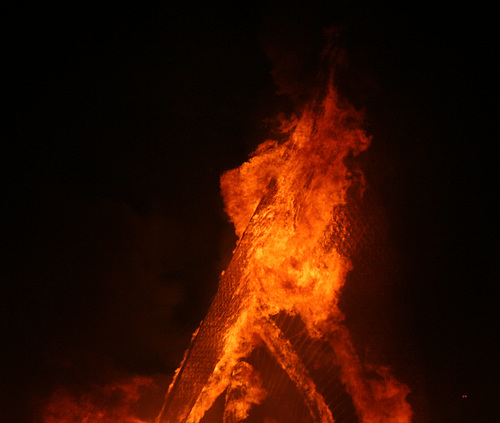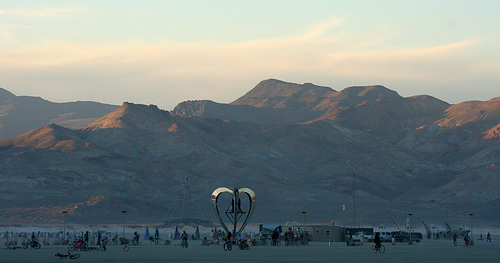 On the way to the Temple on the evening of the burn.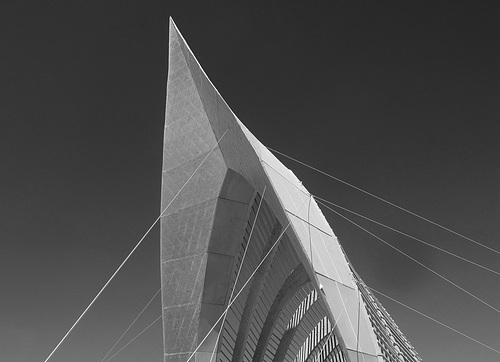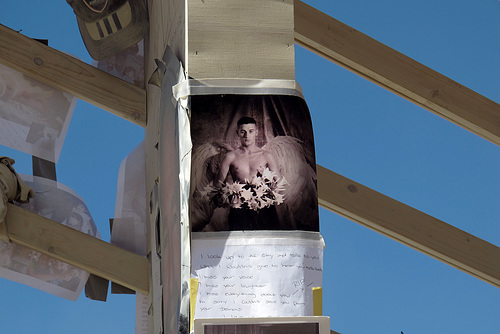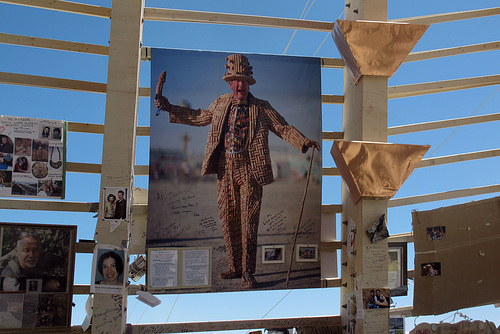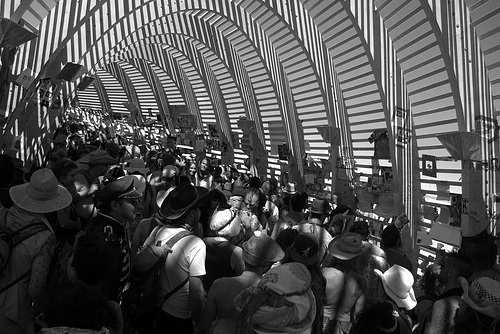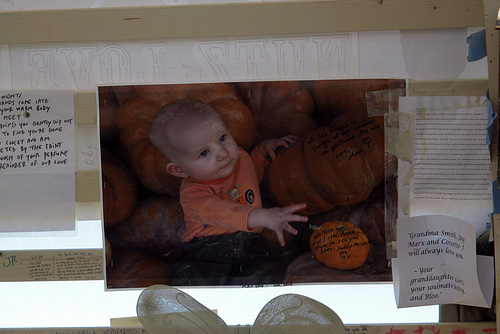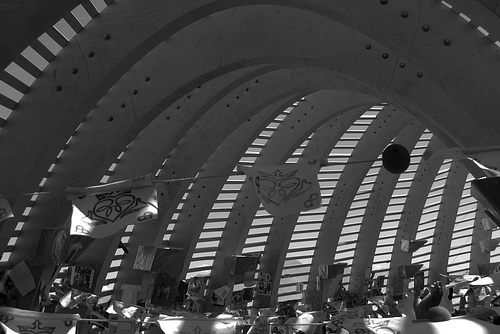 More of my photos of the Temple of Promise can be seen here.
Filed under Architecture,Burning Man,Photography | permalink | September 25, 2015 at 11:04 AM | Comments (0)
September 24, 2015
Monkey Chant
This year at Burning Man I got to fulfill my desire to participate in a monkey chant. The monkey chant is also known as "Kecak". The monkey chant is taught Monday through Thursday at HeeBee GeeBee Healers and then on Friday they do a big monkey chant in Center Camp. I was unable to make it to the big event on Friday because that's when we host our party at Burner Buddies. The chant requires a lot of physical activity as well as mental alertness as the changes come unpredictably.
Here's a longish video of the monkey chant in Center Camp in 2014. It's not too different from practice chants done earlier in the week. I suppose they expect a lot of newbies to join the chant, so some of what you see is teaching the chant. The action begins to pick up after the 4 minute mark.

Ideally, we would have made it look like something created by Hollywood choreographers, like this scene from The Fall which is possibly the most beautiful movie ever made.


Filed under Burning Man,Film/Movies,Music | permalink | September 24, 2015 at 05:32 PM | Comments (0)
Wider Than Any L.A. Freeway

Twelve lanes of traffic going no faster than 10 MPH and people pay $400 each for the privilege of packing onto it with tens of thousands of others and sitting there for hours. It's worse than the 210 in Pasadena at rush hour. Photo by EspressoBuzz.
Filed under Burning Man,Photography | permalink | September 24, 2015 at 04:41 PM | Comments (0)
The Hunt Is On!
Kim Davis is playing the favorite game of bigots, this particular variation being "I have gay friends." She claims she has already denied a marriage license for a gay friend.
So the hunt has begun to find her gay friend(s). If you are her gay friend, major media want to interview you. If you are scummy enough, you can probably sell your story.
Maybe she met her gay friend(s) in jail, so I hope the media don't overlook that place.
Filed under Gay Issues,Religion | permalink | September 24, 2015 at 04:28 PM | Comments (0)
September 23, 2015
Make Your GoPro Better
Think of all the advances in digital photographic engineering over just the last decade or so that have made powerful but tiny cameras, like the GoPro, possible. There seems to be just one last step to make your tiny GoPro perfect: make it bigger. The Exo GP-1 is a box about the size of an old classic 35mm camera that you put your GoPro (3 or 4) into. Besides looking cool to the hipsters, this improves its ergonomics and provides some new features not found on the tiny GoPro, including: a plain optical viewfinder (glass that you look through - what will they think of next?), a cold shoe mount (which is like a hot shoe mount, but without electricity), the ability to mount filters over the lens (the biggest advantage, IMO), and a leather strap.
I would like to see an A/B comparison test done at Burning Man. There is a significantly vocal but tiny minority of Burners who regard cameras on the playa as evil, and the GoPro is the most evil of them all. It's as though they believe it's the camera itself that is offending their sense of privacy or their sense of immediacy or their offended sense that someone is enjoying the Burn in a way different from theirs!
So have a Burner hand-carrying a naked GoPro walk into an encampment or large art piece or Center Camp and start taking photos or videos. Observe the reactions of other Burners. Then have another Burner come in with his GoPro wrapped up to look like a cousin to a Leica, shoot photos and videos and observe the reactions.
My hypothesis is that you will discover plain ol' anti-GoPro bigotry.
BTW, on Kickstarter you can donate US$155 to get one of these with a strap. They expect the retail price to be US$185.
Filed under GoPro,Photography | permalink | September 23, 2015 at 06:05 PM | Comments (0)
Some More Burning Man Photos By Me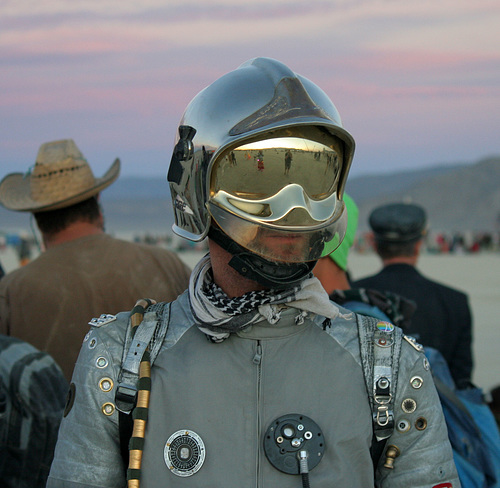 Waiting for the Temple burn.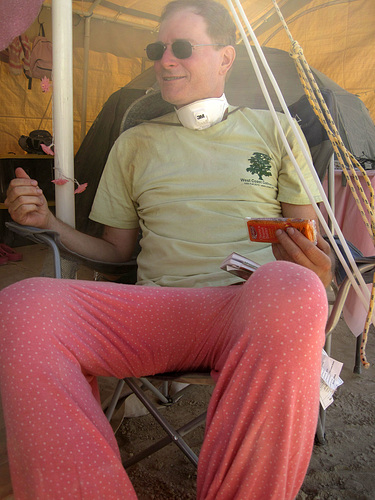 Jonathan wearing the only warm, long pants he had—which I gave to him—on our coldest morning.

Jeff enjoying the Burner Buddies cocktail party on the windiest, dustiest afternoon we had.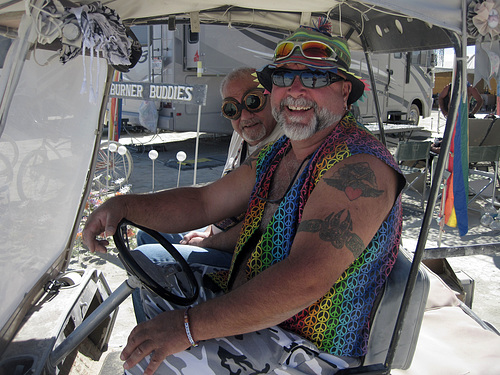 George & Tony, back to front.

When a dust storm sweeps through your cocktail party, you just keep dancing.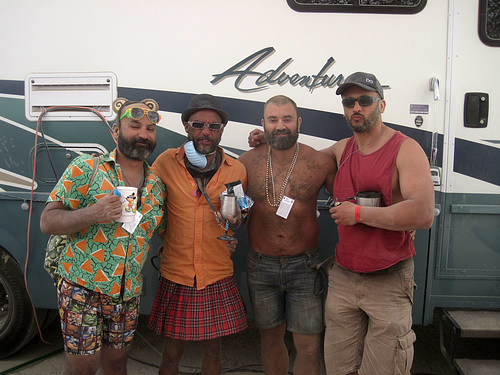 Visitors from Camp Hey Girl Hey: Vicente, Jeff, Aussie 1, Aussie 2.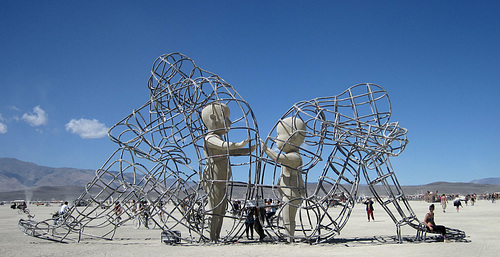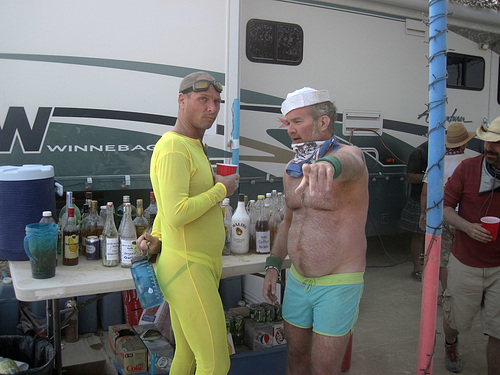 Burner Buddie Bartender Andy (right) tells Dave (left) who is from New Hampshire, believe it or not, who made those infused vodkas.
Filed under Burning Man,Photography | permalink | September 23, 2015 at 07:26 AM | Comments (0)
September 22, 2015
Believe It Or Not!
The California Republican party has removed all the anti-gay language from its platform.
I just checked my calendar and, yes, it IS 2015.
It is not a coincidence that the Log Cabin Republicans are being permitted to participate in the California Republican party now.
Filed under California,Gay Issues | permalink | September 22, 2015 at 10:15 PM | Comments (0)
Old Cazadero Road
Old Cazadero Road is the 5½ mile road from Guerneville up to the Wildwood Retreat Center. A look at the map suggested this road might be a good opportunity for a video, and I was right.
Filed under California,Photography,Travel | permalink | September 22, 2015 at 10:18 AM | Comments (0)
Three Bay Area Bridges
I did some driving this past weekend.
Filed under Architecture,Automotive,California,Photography,Travel | permalink | September 22, 2015 at 12:13 AM | Comments (0)
September 16, 2015
Video From The Naked Pub Crawl
Don't get too excited, though. I shot this short video to show you the incredibly powerful sound system somebody had mounted on his bicycle:

Filed under Burning Man,Cycling,Music | permalink | September 16, 2015 at 03:45 PM | Comments (0)
September 15, 2015
Surprises at Burning Man
Of course Burning Man is full of surprises, but I'm talking about the sorts of surprises you don't expect to see even at Burning Man.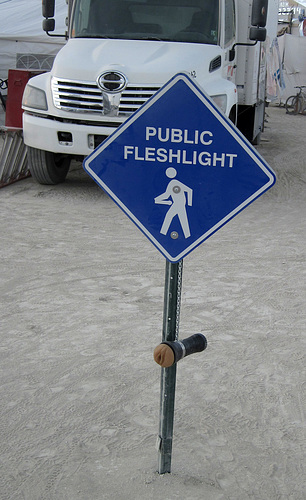 Here, the public fleshlight. What a wonderful gift and community service. It was right on the roadside.
Another surprising thing I saw was a Burner riding a bike in moderate wind while carrying a fully inflated air mattress. This was on Saturday so there were motor vehicles on the road too, making their way to the exit. He held the mattress crossways in front of himself, so as to maximize air resistance and wingspan. He rode as steadily as if he did this every day.
Filed under Burning Man,Photography | permalink | September 15, 2015 at 11:58 AM | Comments (0)
We Have Rain
One line spoken very quickly that I didn't get the first time viewing is "The dispensaries are going to close."
Filed under California | permalink | September 15, 2015 at 11:51 AM | Comments (0)
About The Black Rock City Airport
Filed under Burning Man | permalink | September 15, 2015 at 09:58 AM | Comments (0)
Aerial Views Of Burning Man
Here's a collection of stills and videos from this air of this year's Burning Man. This photographer, however, uses a more traditional remote-controlled aircraft. Not one of the newer popular quadcopters.
Filed under Burning Man,Photography | permalink | September 15, 2015 at 09:34 AM | Comments (0)
Billion Bunny March
The Billion Bunny March is one of the more popular events at Burning Man - probably because all it involves is the least bit of costumery and a willingness to wander around and yell out in the wide open. You start with your bunny ears and then stand in line to get made-up, but you can only be made-up if you recite the bunny oath and jump in the air like a bunny. I guess if you can't jump, you'll have to rely on other burners to throw you in the air.
Go here to see a photo of the bunny oath that I did not shoot.
After you get made-up (and get a drink) you mill about like bunnies do. There is some tradition that Elmer Fudds come in among our herd. Some of them carry sticks bearing a carrot on a string to tempt us, so some of the bunnies go off on a paranoid bent regarding anyone wearing any sort of orange. Eventually the Burning Man Marching Band leads us up 6 o'clock to a piece of art called "Hare Today" which was a giant magician's hat made of wood with two giant rabbit ears sticking up out of it. Our "leaders" seized it, mounted to the top, and with a bullhorn ranted to the gathered crowd about bunny rights and the protection of bunny-dom, I guess. It wasn't easy to hear with the bunny art car behind us blasting music, but the exact content was unimportant. We were just supposed to yell when our cue came.
Then we proceeded as a group toward the Man. What happens to those who went all the way through the maze and mounted the Man's surrounding platform, I don't know. We (Jeff, Vicente and I) got hung up in the area where we met Animal Control. These people run around with little "dog tags" on chains and hang them around the necks of any bunny who does not have one. Kids are involved at this point and are often the ones to chase and catch the bunny while mom or dad carries a bunch of tags.
And then there come the sharks. It doesn't have to make sense, but people in shark costumes descend on the bunnies and "eat" them. Lots of kids are involved in that because it's easy. All you have to do is run at any bunny. The bunny's responsibility is to just run away. So it looks sort of like a giant chaotic game of "Tag," except there are multiple "its" and you don't know always know who they are (not all sharks are in costume) and people are dressed as bunnies and sharks and people are screaming and running around like crazy but you do want to get your animal control tag and the bunny art car is still blasting its music and the Elmer Fudds are still trying catch us and it's dusty as hell and the sun is about to set. Afterwards when I looked at my photos I told Jeff "These photos make the Billion Bunny March look dull!" Gotta be there.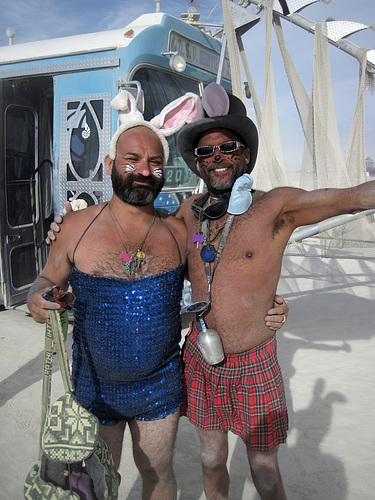 Vicente and Jeff showing off their bunny make-up which was applied in the bus behind them, which I didn't realize until I started reviewing these photos was about three vehicles ahead of me when exiting Burning Man several days later. It was no speed demon and along highway 447 it pulled over, appearing to be in some distress...and that was the last I saw of the bunny bus.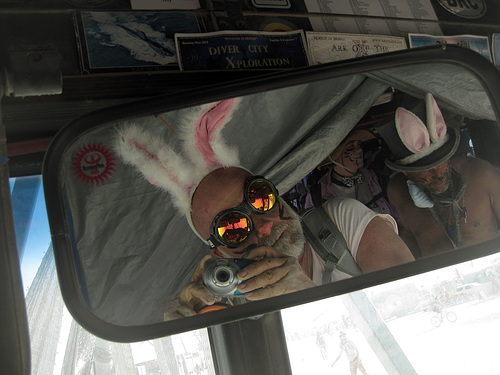 Here I am in the bus just after getting my make-up.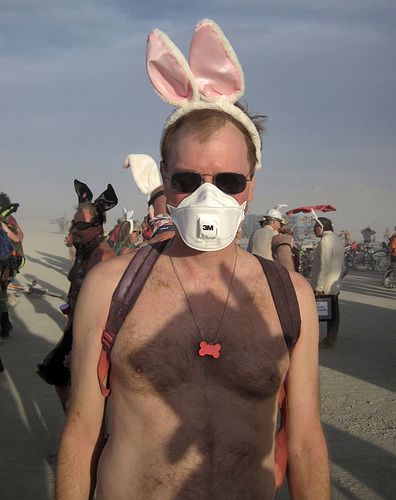 Jonathan, a Burner Buddie. Hard to tell if he got the make-up or not, but he got his animal control tag.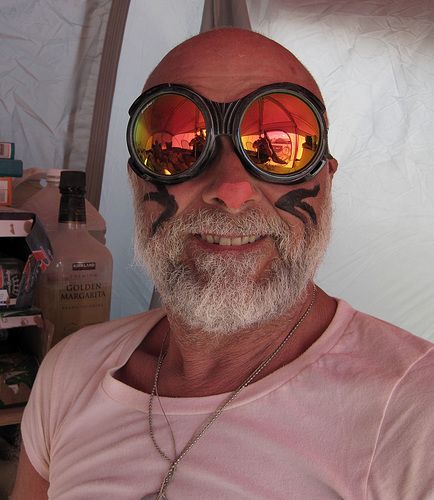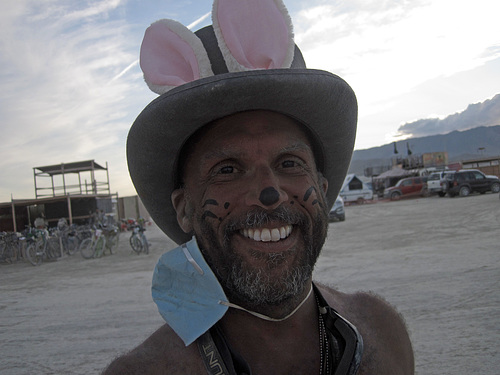 Now I notice that Jeff got a black nose while I got a pink one. Is this some sort of racial stereotyping?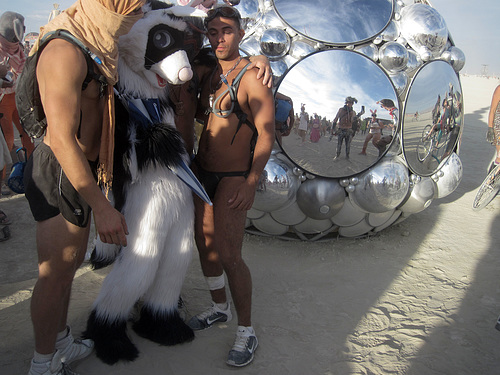 Not long after this shot I had a special moment with the attractive young man when I went to shake hands with him. "Animal Control" came along to tag him at the same moment, so we just ended up holding hands for about 30 seconds while that happened, then went our separate ways. We never spoke to each other. And, upon close examination, I found my reflection in this photo. I'm the one with bunny ears.
More Billion Bunny March photos here.
Filed under Burning Man,Photography | permalink | September 15, 2015 at 09:08 AM | Comments (0)
September 14, 2015
Some Early Burning Man Photos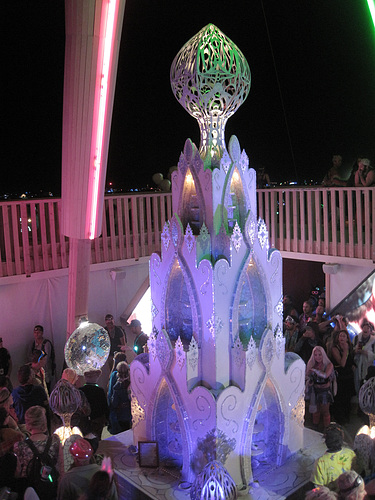 A thing that was under the Man. Not sure how it was intended, but they left it in there for the burn and it held up a long time (pics coming later).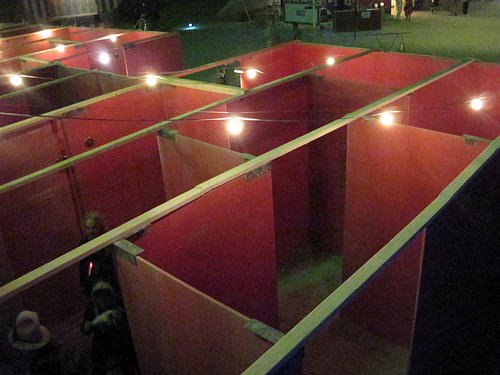 To get to the Man himself, you had to go through this maze. There were no deadends, but that doesn't mean it was easy. Nevertheless, I was one of the first ones to get to the center when they first opened the Man on Sunday night. In the course of running through the maze, one could come upon rooms that were decorated in various themes. One of them was a parody of an Apple store.
One of my concerns was fire safety. But someone else pointed out to me that in two places there were emergency handles that when pulled opened a clear exit from the center to the outside. That wouldn't help, however, with someone suddenly overcome with claustrophobia or who needed a porta-potty immediately.

Looking up a leg of the Man.

The view from our camp before general opening day. We are at Jolly looking along 4:30 towards the center of the city. You can see the Man in the distance. The closer sculpture is in the plaza at 4:30 and G. New this year are satellite medical centers (on the right in this photo) on 4:30 and 7:30. This required our porta-potties to be bumped one block further out, putting them much closer to us, and ruining the perfect symmetry of porta-potty placement across the city. When wandering home late at night, one can roughly gauge distance and location by counting porta-potty locations.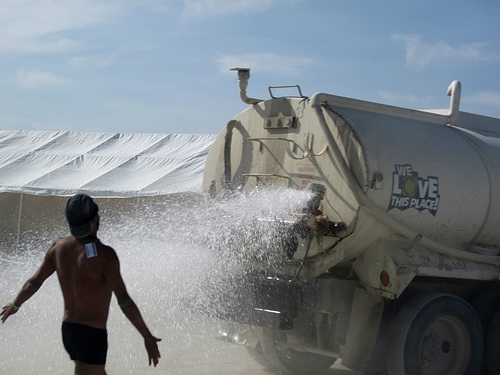 Jeff trying to catch up to a water truck.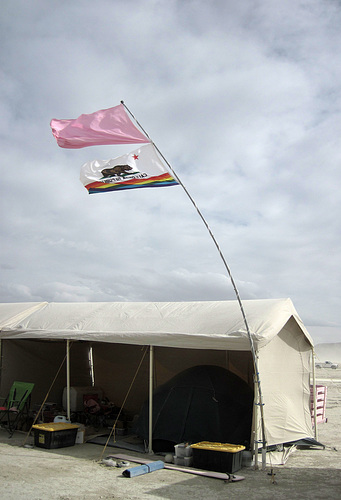 My shade structure. The tent I slept in is the dark dome shape inside. Neither the shade structure nor the flagpole suffered any failures during the high winds we experienced.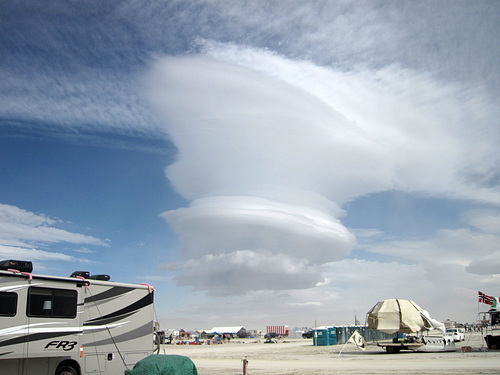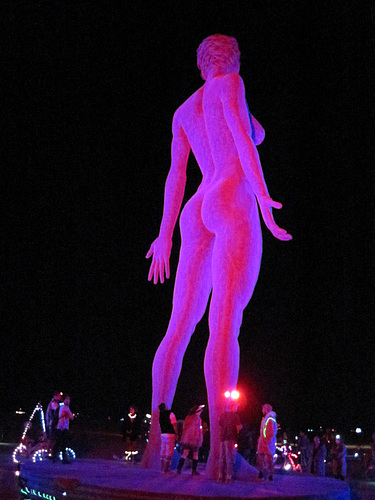 "R-Evolution" by Marc Cochrane. This is third in his series of giant female sculptures. The first one went to Treasure Island, but has been removed due to damage from the salt air. The second one is going to San Leandro, much to the excitement of some residents. I don't know what the plans are for number three, if any.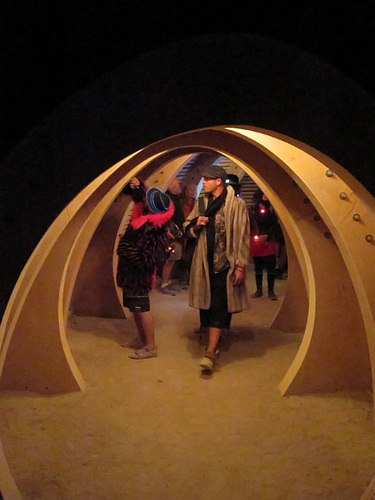 The Temple of Promise at the small end.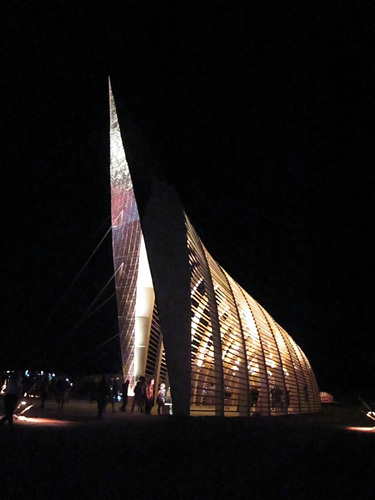 The big end of the Temple of Promise.
There are more photos here, and I will be adding even more over time.
Filed under Burning Man,Photography | permalink | September 14, 2015 at 07:07 PM | Comments (0)