« July 2015 | Main | September 2015 »
August 31, 2015
Burning Man 2008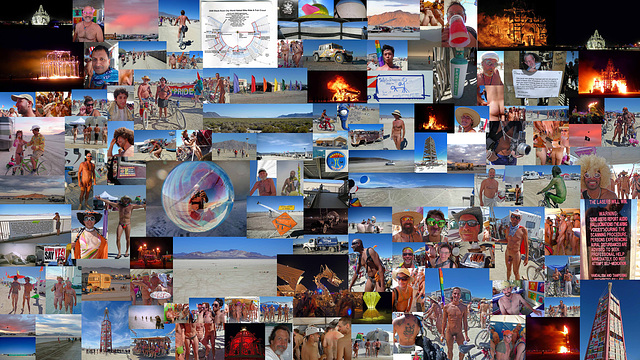 "2) Gifting: Burning Man is devoted to acts of gift-giving. The value of a gift is unconditional. Gifting does not contemplate a return or an exchange for something of equal value."
Filed under Burning Man,Naturism-Nudism,Photography | permalink | August 31, 2015 at 06:00 AM | Comments (0)
August 30, 2015
Burning Man 2007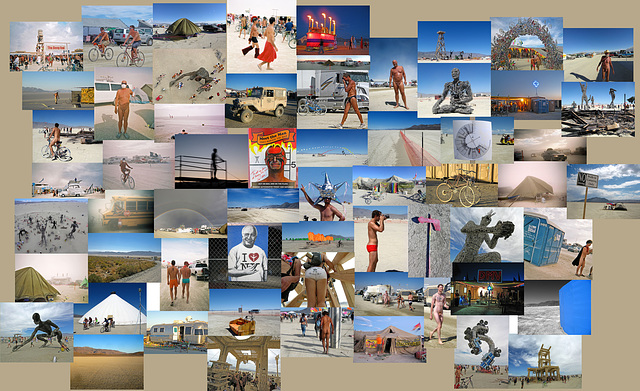 If you are seeing this, then the gates have opened for 2015 Burning Man.
First of Burning Man's Ten Principles: "1) Radical Inclusion: Anyone may be a part of Buring Man. We welcome and respect the stranger. No prerequisites exist for participation in our community."
Filed under Burning Man,Naturism-Nudism,Photography | permalink | August 30, 2015 at 10:00 AM | Comments (0)
August 27, 2015
Vamos A La Playa
Filed under Burning Man | permalink | August 27, 2015 at 12:00 PM | Comments (0)
Scott Matas For Mayor
Scott's been playing a nice, polite, low-key campaign so far; so I was glad to get a campaign email from him that shows he plans to campaign on a realistic level. So glad, I'm just going to copy that email here:
Now is the time for the Desert Hot Springs residents to understand the difference between Council Member Scott Matas and Mayor Adam Sanchez. Scott Matas has a strong plan of action to lead Desert Hot Springs back to recovery from the last several years of financial difficulty.

Scott's five (5) point plan includes:

New Jobs & Strengthening Our Economy.
Enhancing Our Public Safety
Balancing Our Budget
Supporting Programs for Our Youth & Seniors
Improving Our Quality of Life


Scott Matas is a man of integrity and honesty who will have an open door policy with all residents of this community.

Adam Sanchez's plan "Keep Moving Forward."

No Economic Plan
No Public Safety Plan
No plan to increase income to the city
Plans to attend every "PHOTO OP" possible


Mayor Sanchez has a history of failure and unethical behavior since he came to Desert Hot Springs:

Terminated from every job he has had since he moved to Desert Hot Springs. FAILURE
As Mayor negotiated and accepted a $10,000.00 to $100,000.00 job with the first Medical Marijuana Company to receive a license, after making several votes to legalize Medical Marijuana sales in Desert Hot Springs. UNETHICAL
Ran for Mission Springs Water District – Not Elected (4th out of 5 candidates) FAILURE
Ran for City Council in 2005 – Not Elected FAILURE
Ran for City Council Special Election in 2007 – Not Elected FAILURE
Ran for Mayor 2007 – Not Elected FAILURE
Elected to the City Council in 2011 and failed to accomplish one campaign promise. FAILURE
Elected Mayor in 2013 (by 13 votes) [Was it 13? I thought it was 12. Maybe Scott is just being generous - Ron]


As Mayor Adam Sanchez has FAILED:

To balance the 2014/2015 Budget - (June 24, 2014 City Council Meeting)
To balance the 2015/2016 Budget – (June 16, 2015 City Council Meeting)
To have a Cash Reserve in 2014/2015 Budget - (June 24, 2014 City Council Meeting)
To have a Cash Reserve in 2015/2016 Budget – (June 16, 2015 City Council Meeting)
To establish any Economic Growth
To increase income to the city. (Two tax initiatives failed)
To develop any new retail business (except Medical Marijuana Shops.)
To reduce Crime
To show respect for fellow Council Members


Don't let PHOTO-OPS fool you into believing Adam Sanchez has accomplished anything except take credit for other people's hard work!!

WE DON'T NEED TWO MORE YEARS OF FAILED LEADERSHIP IN DESERT HOT SPRINGS.

CALL OR EMAIL SCOTT MATAS
AT
Ph: 760-200-7428 ♦ Em: swmatas@gmail.com

OR
CALL OR EMAIL DAVE NUNN – CAMPAIGN CHAIR
AT
Ph: 760-671-6904 ♦ Em: optigov85@aol.com

Let us know how you can help. We can use people to deliver flyers to homes and businesses, make telephone calls, assemble material, put signs in your yard or property, have a meet & greet, and register non-voters.

LET'S MAKE DESERT HOT SPRINGS THE COMMUNITY WE CAN ALL BE PROUD OF

VOTE SCOTT MATAS AS OUR NEXT MAYOR.
If I were going to quibble, I might point out that Sanchez has improved his own personal economy by getting that job he has. So at least one person's position has improved in the last two years.
Sanchez, in his billboard campaign, does a thing that I think is a problem with DHS thinking — maybe it goes on everywhere, but I never became aware of it until I moved here. And that is assigning complete responsibility for some failure or some success on one individual alone. He is claiming it was he alone who got the city budget to the barely survivable point where it is now. Funny, I thought I saw four other members of the City Council on the dais discussing and voting on it. I suspect there are some ingenious people on city staff that brought forward cost-cutting suggestions.
But the most obvious involuntary assistance in getting the budget in line came from the employees of the city, especially the police. Even with sudden, gigantic pay cuts there was no strike, no slowdown, no sudden mass resignation. Of course, over the months most employees have left; and many of the best left first, as that is the nature of things, leaving behind the very loyal.
Sanchez should find it difficult to campaign on public safety issues. If he is the only one who saved the city budget, then he is the only one who cut police pay, and he is the only one responsible for our now weakened police force.
You know the best way to start improving public safety? Propose a public safety tax the voters will approve, get it passed, restore full pay and benefits to the police, hire more police.
Filed under Desert Hot Springs,Politics,Public Safety | permalink | August 27, 2015 at 10:52 AM | Comments (0)
August 26, 2015
Pumpkin Spice Latte M&Ms Get Free Advertising On Snopes
Snopes' verdict is that they do exist, they do.
I pop one into my mouth, chew, and then immediately shovel a whole handful into my gaping maw. Regardless of your religion's stance on the existence of the Great Pumpkin, you'd better believe that these suckers are real -— real tasty, that is.
If you're expecting the strong, earthy, bitterness of espresso, you'll be disappointed. Instead, the coffee taste of the chocolate here is a sweet, lightly nutty java experience with faint caramel notes. Accompanied by a tinge of cocoa and a heaping helping of milk chocolate's dairy creaminess, it's akin to one of those bottled Starbucks Chocolate Mocha Frappuccinos.
The reviewer says he found his at a Target store.
Filed under Food and Drink | permalink | August 26, 2015 at 03:24 PM | Comments (0)
DUI Checkpoint In DHS Friday, August 28
From our DHS Police Department:
Desert Hot Springs Police Department will be conducting a DUI/Drivers License Checkpoint on August 28th, 2015, at an undisclosed location within the city limits between the hours of 8:00 p.m. and 3:00 a.m.
DUI Checkpoints are placed in locations based on collision statistics and frequency of DUI arrests affording the greatest opportunity for achieving drunk and drugged driving deterrence. Locations are chosen with safety considerations for the officers and the public.

Drivers caught driving impaired can expect the impact of a DUI arrest to include jail time, fines, fees, DUI classes, other expenses that can exceed $10,000 not to mention the embarrassment when friends and family find out.

Funding for this checkpoint is provided to Desert Hot Springs Police Department by a grant from the California Office of Traffic Safety, through the National Highway Traffic Safety Administration.
Filed under Desert Hot Springs,Public Safety | permalink | August 26, 2015 at 02:01 PM | Comments (0)
This Is Real (Depending On Your Definition Of "Real")
They are asking for money and in-kind support to finish this musical.
Filed under Burning Man,Music | permalink | August 26, 2015 at 12:32 PM | Comments (0)
August 25, 2015
Burning Man Getting Real
John Curley reports that the Man is up (but still missing his head), the Temple is looking like the Temple it's going to be, and center camp has all its walls up (actually, center camp has no walls). Major art works are coming up nicely. The bugs are gone. Temps are predicted to stay below 90° all week long. There's just the matter of smoke from wildfires.
Follow the link above for many photos.
Filed under Art,Burning Man | permalink | August 25, 2015 at 06:56 PM | Comments (0)
MIT Outdoes Itself
Lossless data file storage system. By which I mean, an OS under which you would never lose data due to non-human error. How could this be possible? Dunno. Ask somebody at MIT. I'm just pointing out the news article.
If they can do this, why haven't they invented the perfect lossless electric battery yet?
| permalink | August 25, 2015 at 12:10 PM | Comments (0)
WTF Inglewood?
The city of Inglewood, California, tried to copyright its Youtube videos of city council meetings. Was this done because someone had found a way to turn city council meetings into a commercial product and make fat profits on the backs of the lean and hardworking city government? Oh, hell no! Some horrible, horrible citizen was editing copies of those videos in order to make political criticism of the mayor! Well, we can't be having that in America, now can we?
A federal judge has ruled against Inglewood in this matter. Probably taking no more than five seconds to come to his decision.
Using a MacBook laptop, Teixeira taught himself to upload meeting videos to iMovie. He added text and narration to lambaste Inglewood Mayor James T. Butts Jr. The rookie producer distributed the DVDs at no charge. Later, he posted his work to YouTube.
See?! If you let that kind of shit go on, who knows what could happen. Maybe the mayor won't get re-elected and then where would the world be?
BTW, whoever is the law firm retained by the city of Inglewood should be avoided by other cities who do not want to be dragged into losing embarrassing civil suits.
Filed under Politics | permalink | August 25, 2015 at 12:07 PM | Comments (0)
Congress, Used Car Salesman, Comcast
Maybe sometimes a cable company does something right? Maybe. Wait and see. Comcast says it will upgrade its fiber system so that residential users can get 2 Gb/sec internet service. It'll start at 1 Gb/sec, but the technology will support 10 Gb/sec download and 1 Gb/sec upload speeds.
$300/month, plus installation and activation fees of up to $1,000.
Google Fiber in Kansas City provides "only" 1 Gb/sec and charges $70/month. Installation is $300, but if you commit for a year the installation charge is waived. So, even though slower, I would still prefer Google Fiber over Comcast. And, living here in DHS, I will probably be faced with that choice in 10 or 20 years. Planning ahead.
Filed under Web/Tech | permalink | August 25, 2015 at 11:58 AM | Comments (0)
Shocked, So Shocked I Tell You, We Need A Committee
Some people have suddenly noticed that Burning Man is not a green environmentally-friendly event. Duh. That was obvious to me my first time, and that was even the year the theme was "Green" or environmentalism, or something like that. Burning Man has never claimed to be low-carbon, nor green. The philosophy of "Leave No Trace" does not include a requirement that we all carpool in Priuses (Prii?). It doesn't mean all of our fires and explosions have to be powered by non-fracked natural gas.
In terms, then, of 70,000 people going on non-green summer vacation, how would Burning Man compare to, say, Disneyland or Las Vegas or even visiting Yellowstone or Yosemite? They're probably all in the same general neighborhood in terms of carbon footprint per capita. But that author decided to pick on Burning Man - probably because she knows all the haters are going to be on her side from the git go.
Some Burners have listened to her and created a petition on Change.org that seeks to create a committee. Yes, really. It's a petition to create a committee. We know how this might turn out. A committee will or will not be created. End of story, now let's plan for the next Burn!
It would be a real challenge to start organizing an educational effort to try to get the 70,000 attendees to alter their behavior in order to reduce their carbon footprint. But a petition to organize a committee, you can do that in less than 15 minutes and you'll still have time to put the kids in the SUV and drive to the beach.
In many of the more distant cities, Burner groups collectively rent trucks to haul most of their gear to the playa, allowing individual Burners to choose more environmentally friendly ways of getting themselves to the playa: small cars for example, or flying into Vegas or Reno to catch the Burner Express bus (is flying more environmentally friendly than driving from, say, NYC?), or renting vans for carpooling. The Burning Man organization might be able to facilitate the creation of similar hauling collectives in the big closer cities where most Burners come from.
Filed under Burning Man | permalink | August 25, 2015 at 10:00 AM | Comments (0)
August 24, 2015
Thunderdome In Spherical Virtual Reality
This is the best video for conveying the atmosphere of Thunderdome. You can scroll around, up and down, while the video is running. And that's Thunderdome. Too bad they didn't get them chanting "Two may enter, one may leave." And while we're wishing for that, how come Tina Turner has never come to Burning Man and put in an appearance at the Thunderdome?

Obviously, a lot of stuff at Burning Man was inspired by the earlier Mad Max films, but the most recent Mad Max seemed to be inspired by Burning Man.
This is not the latest Mad Max. This was made from Mad Max Beyond Thunderdome.

Filed under Burning Man,Film/Movies,Music,Photography | permalink | August 24, 2015 at 09:53 PM | Comments (0)
August 23, 2015
Another Botched Police Raid
In Worcester, Massachusetts, it was a police raid at the wrong address, the sort of thing we've seen lots of times. There was the usual police behavior - verbally abusing the naked female resident of the apartment while pointing guns at her...and her daughters.
"District Attorney Joseph Early said that state police acted on the 'best intelligence' available." A person as educated as a District Attorney must be should know that best intelligence does not necessarily mean good intelligence. They were acting on information from a confidential informant.
The person the police were seeking did used to live in that apartment, but this innocent family had been living there since May. The apartment had been raided back in September 2014. The DA said the man they sought "had been in the dwelling days before." Neighbors said he had moved out in February 2015.
The young mother, who had been searched while still nude by a female officer who questioned the necessity of searching a nude person, said that "Before they left, one (officer) said, 'We treated you with respect.'"
But what really makes this different from the other wrong address raids is that the person sought by the police had been arrested two weeks earlier at the address he has on all of his court documents, which is not the address the cops raided.
More info here. You may also note that they swore at every innocent person they encountered, including a neighbor who looked out his door to find out what all the noise was about.
I wonder what that "confidential informant" thinks of this. Maybe he's laughing to himself.
Filed under Public Safety | permalink | August 23, 2015 at 06:43 PM | Comments (0)
August 22, 2015
Burner Bike In Motion
On the mean streets of Desert Hot Springs.
Filed under Burning Man,Cycling,Desert Hot Springs | permalink | August 22, 2015 at 10:22 PM | Comments (0)
Burner Bike
I re-did the lights on my Burner bike this year. There are two strips of LED lights, one white, one pink - although the pink washes out in these photos. There is also a thin wire strand of pink LEDs. All powered by two rechargeable 12-volt batteries in the bag under the seat.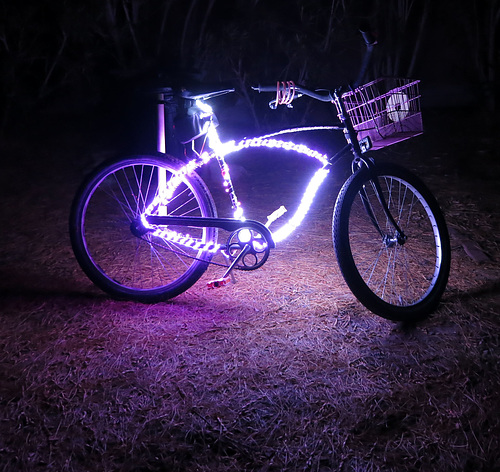 Filed under Burning Man,Cycling | permalink | August 22, 2015 at 09:38 PM | Comments (0)
John Brown
An article in the San Diego Union Tribune about John Brown, former Mission Springs Water District Director and Executive Director of Family Services of the Desert.
Q: How did you establish the first HIV/AIDS clinic in L.A.?

A: Back in 1984, when I was the Executive Director of The Los Angeles Gay and Lesbian Community Center, we were running an STD clinic primarily for gay men. Dozens started showing up with what, at the time, was being referred to as GRID, Gay Related Immune Disease. We started treating them as best we could with no actual targeted funds. That year West Hollywood became a city, and one of the first things the new city council did was allocate funds to us for the care of these people, soon the city of Los Angeles stepped up with help.
Q: What is one thing people would be surprised to find out about you?

A: Before coming to San Diego, I was an elected member of the Mission Springs Water District (in Desert Hot Springs) for seven years. I have a real passion for water management as well as a depth of knowledge and hope I can find a way to use that for the benefit of San Diego.
Wouldn't surprise anyone in Desert Hot Springs.
Filed under Desert Hot Springs,Gay Issues | permalink | August 22, 2015 at 08:44 PM | Comments (0)
Naked Performance Festival
Biel, Switzerland, is hosting naked performances as part of the Body and Freedom Festival.
Video of a performance piece done in Biel last year.
Filed under Art,Naturism-Nudism | permalink | August 22, 2015 at 07:05 PM | Comments (0)
3D Printing With Glass
A team from Mediated Matter and MIT's Department of Mechanical Engineering developed this precision technique.
Some of the objects created will go on display at the Cooper Hewitt, Smithsonian Design Museum on Fifth Avenue in New York City next year.
Filed under Art,Technology | permalink | August 22, 2015 at 04:51 PM | Comments (0)
Driving Skills
Now I know why those dashcams are so very productive, capturing those scenes of bizarre driving misbehavior: A lot of people learned how to drive at tank school!

Filed under Automotive | permalink | August 22, 2015 at 11:47 AM | Comments (0)