« June 2015 | Main | August 2015 »
July 31, 2015
"I don't think any person on earth has been corrupted by a giant penis car"
Those are the naive words of Larry Harvey, as quoted in this Washington Post article about bringing kids to Burning Man. It goes into a little more depth with parents and kids than most of the kids-at-Burning-Man articles, with a focus on the Black Rock Scouts.
"I like Burning Man better than Disney World," says 11-year old Lucy Bartlett, who was busy earning her photography badge during our brief talk. "Burning Man has a million different things and every year it's different. You have no idea what your experience is going to be like. But at Disney World, everything is pre-manufactured."
Filed under Burning Man | permalink | July 31, 2015 at 07:38 AM | Comments (1)
July 30, 2015
Temple to "Mazu: Goddess of the Empty Sea"
Charlie Nguyen has organized a crew to build a Buddhist temple at Burning Man.
I'm sure there have been many temples for specific religions at Burning Man, but they may have been small or even located in the residential zone (you know how religious organizations like to ignore zoning restrictions), because I don't remember anything on this scale dedicated to just one religion. Thank goodness this first one is Buddhist so nobody freaks out.
Filed under Burning Man,Religion | permalink | July 30, 2015 at 09:46 AM | Comments (0)
July 29, 2015
Every Night At Burning Man...
Filed under Burning Man | permalink | July 29, 2015 at 08:11 PM | Comments (0)
The Way It Was
A 17 minute video by ABC of Burning Man in 1997.

The most noticeable difference to me is the lack of people. This was before they settled on the clockface layout of the city. It shows Burners at a couple of the hot springs, but they can't do that anymore.
Filed under Burning Man,History | permalink | July 29, 2015 at 06:24 PM | Comments (0)
Tour de France GoPro Highlights
Filed under Cycling,GoPro,Photography | permalink | July 29, 2015 at 05:56 PM | Comments (0)
July 28, 2015
Meanwhile In Patterson
A political brouhaha has erupted in Patterson, California, that centers on City Council member Sheree Lustgarten. Since I came into this at the tail end, I've arranged the links below into chronological order. The dates are the dates of the newspaper where the information is published. Why those sometimes seem to be out of order is probably some quirk of how articles are dated.
October 7, 2010, Lustgarten running for City Council answered a questionnaire from the local newspaper saying "I am troubled by the level of division we have seen on the City Council in the last couple of years. While it's not realistic to expect that the mayor and City Council members are going to agree on the approach to every issue, I do think we need to recapture a level of civility that has been lost at times in recent years."
"Civility and tone can go a long way toward bridging some of the divisions, real or perceived, that have arisen in recent years. ...We can have civil discussions about the issues we collectively face, and even when we disagree, we can and should be able to do so in a respectful way."
January 16, 2013, Lustgarten says that when she answered this question from the Modesto Bee "Have you or a business you owned or had principal interest in ever filed bankruptcy?" with a No, she had merely misunderstood the question. She has had two bankruptcies and a foreclosure, all of which she attributed to a 10-year abusive marriage.
January 10, 2013, Lustgarten said she answered the question No because she thought the 10-year legal limit for financial records had been reached. In other words, she knew she was answering it incorrectly because she thought she couldn't get caught, but it turns out she just can't count.
July 17, 2013, in a letter to the editor Lustgarten criticized the City Council for purchasing a property "as is" without getting a structural engineering inspection. This occurred before she was elected. The purchase price was $650,000. But she also suggests that keeping the real estate purchase process strictly in closed session was an attempt to cover up the mistakes. State law requires real estate negotiations to be conducted in closed session.
July 16, 2013, a former member of the City Council blamed the mistakes in that real estate purchase on city staff who did not follow council instructions. The former Council member also pointed out that Lustgarten was at that time involved in a closed session real estate negotiation the city was conducting.
March 5, 2014, Lustgarten became Mayor Pro Tem after she nominated herself
April 3, 2014, Lustgarten is friends with Dominic Speno, the owner of Best Western Villa Del Lago Hotel in Patterson. Speno has some grievances with the city about his plans for use of some vacant land. The city had sued Speno for $175,000 in unpaid TOT. Speno had counter-sued. A former City Council member witnessed Lustgarten speaking with Speno for half an hour and assumed that the two were speaking about matters discussed in closed-session City Council meetings. Lustgarten says she was there only to get the recipe for crab chowder from the hotel's chef. Her meeting with the chef was unwitnessed. She said she and Speno talked about promoting tourism.
June 19, 2014, in a letter to the editor, Lustgarten says the fact that a reporter had been unable to reach her was entirely the fault of the rude reporter, not her. All the troubles at the Senior Center were the fault of a small group of seniors who "inexplicably attempted to undermine" the efforts to improve the center.
In 2014 Lustgarten ran for Mayor.
January 8, 2015, Lustgarten claimed that the City Manager notified the other four City Council members when the investigation was initiated, but did not notify her.
July 13, 2015, the investigative report was released to the public. "After the completion of this investigation, Lustgarten left several emotionally charged, threatening and/or profane messages for city representatives, special legal counsel Shelline Bennett said, including a threat directed towards a fellow council member."
"The city has filed for a workplace violence restraining order against Lustgarten as a result of these threatening messages."
July 13, 2015, the investigative report. Lustgarten refused to participate in the investigation (which began about a year ago) until January 2015, after the complete investigation report was handed over to legal counsel for the city. Then she indicated a desire to cooperate, but the interview was not conducted until May because of her foot-dragging.
One of the allegations in the report (page 33) is that Lustgarten would regularly discuss closed-session information publicly at a weekly Sunday breakfast with six or eight women. The accuser said she advised Lustgarten to stop that behavior, but it continued.
There are repeated allegations that she grabbed bingo cards away from seniors. And that she treated a volunteer rudely during the "ice cream crisis." This was when the Senior Center was going to hold an ice cream social and its freezers failed just when they were packed full of ice cream. I wonder why no one investigated for possible sabotage.
One person who was interviewed by the investigator accused a local reporter of printing hearsay. I wonder if that person understands what a newspaper is.
There is a racial element to the troubles at the Senior Center, but, just relying on the investigative report, it's hard to tell how deep it runs. One woman who is African-American is accused of "playing the race card" too readily, and she sits off with a group of women who keep themselves apart from the other seniors.
The real scandal is that their bingo balls are wearing out, so they don't pop up on an entirely random basis. Some seniors, having figured this out, are selecting bingo cards they know have a higher chance of winning. Rather than buy new balls, the situation was resolved with a rule that no one could use the same bingo cards over and over.
Both sides are clearly polarized. Lustgarten's supporters describe her as pure as snow, while her accusers are nothing but filthy, vile liars.
The investigation found that it was true that Lustgarten behaved in such a way that it left seniors feeling bullied, intimidate, or belittled. But she did not violate the city's discriminatory harassment policy. There were two other findings, but they were both redacted.
July 14, 2015, the Patterson City Council unanimously voted (Lustgarten was absent) to request Lustgarten's resignation. In lieu of resignation they approved these provisions:
Request that she submit to a fitness for duty examination;
Request that she pay back roughly $5,000.00 in legal fees the City has paid on her behalf;
Not pay any further legal fees on her behalf related to the Senior Center investigation;
Request that she cease visiting the City Hall and Senior Center;
Request that she participate in one-on-one training, including, but not limited to, training regarding the prevention of discrimination, harassment, retaliation and abusive conduct in the workplace;
Direct Councilmember Lustgarten to exclusively communicate with the City Manager or City Attorney in written or electronic form regarding all City business;
Direct City Staff to prepare a resolution to formally admonish her at the next Council meeting;
Direct City Staff to prepare a censure ordinance for the next Council meeting;
Remove Councilmember Lustgarten from any appointed position of authority on the Senior Board Recommendation Committee and any advisory role regarding Senior Center decisions;
Remove Councilmember Lustgarten from any appointed position of authority on any City boards or commissions and strip her of any advisory role regarding City affairs; and
Request that she refrain from any further harassing, bullying, or retaliatory conduct.
I wonder if they actually intend to try to keep her from speaking directly to the City Manager or City Attorney at a City Council meeting.
July 23, 2015, "the court has granted the city a workplace violence restraining order against the councilwoman." Lustgarten said "I feel that this resolution is inappropriate. Primarily, I feel this way because the investigation report was based on a series of totally false, completely unfounded and unsubstantiated claims made by a group of seniors."
Yup, the simple old "they're all liars" defense.
Filed under Desert Hot Springs,Politics | permalink | July 28, 2015 at 08:25 PM | Comments (1)
How They Make Recycled Water

Photo by eyair.
| permalink | July 28, 2015 at 08:51 AM | Comments (0)
Unicorns, Storytelling and Music
Unicorns, storytelling and music are all united as one in this art project that will be on the playa for Burning Man. A ridable unicorn with speakers. Music can be DJed to the speakers, or a storyteller can speak into a nearby microphone and take you on a fantasy trip with your trusty unicorn.
Um, also they would like some money. A big part of the expense is bringing the unicorns all the way from New York. Yeah, New York. Who knew that's where the best unicorn ranches are? A full grown unicorn will eat a lot of candy rainbows to get clear across the country, and those candy rainbows ain't cheap.
Filed under Burning Man | permalink | July 28, 2015 at 08:00 AM | Comments (0)
"Solid And Fluid Minerals Program"
The BLM's solid and fluid minerals program is so enjoyable, it's where you get promoted to if you've been really, really wonderful in working with Burning Man. At least that's how I interpret BLM's decision to move Gene Seidlitz from the General Director of the Winnemucca District. Mr. Seidlitz is the man responsible for that ridiculous request for a luxury camp at Burning Man. His supervisors had a confab with him some weeks ago and he has been out of touch with the media since then. But now he's gotten his promotion to oversee a state-wide operation. For at least 120 days anyway.
And I also suppose that Robert Towne must have been so successful at retirement, they felt it was necessary to promote him to the position of Acting Winnemucca District Manager - for 120 days, probably. A 40-year veteran of the BLM, I'm sure he knows which squeaky wheel is supposed to get what kind of grease.
News story in the Reno Gazette-Journal.
Neil Kormze, national Director of the BLM used to work for the Senator from Nevada, Harry Reid and Harry Reid is on the side of us stinkin', lazy hippies, so things will, I'm sure, go favorably for us Burners.
Filed under Burning Man | permalink | July 28, 2015 at 07:27 AM | Comments (0)
July 27, 2015
Gateway To The Black Rock Desert
Where the West Begins, a 16-minute documentary on the Greater Metropolitan Gerlach Area, where the Black Rock Desert begins and Black Rock City shimmers on the horizon (if by "shimmer" I mean "enveloped in brown dust").
Filed under Burning Man | permalink | July 27, 2015 at 10:06 PM | Comments (0)
Final Stage Of The Tour de France Seen Through GoPro Lenses
Filed under Cycling,GoPro,Photography | permalink | July 27, 2015 at 08:09 PM | Comments (0)
A Realistic Picture Of Desert Hot Springs
Brian Blueskye refutes some of the nonsense that is attributed to Desert Hot Springs, but he does it without sugarcoating anything.
While Desert Hot Springs has its problems, the city is packed with potential, especially with people flocking from Los Angeles and finding Riverside and Redlands to be too expensive; eventually, the reasonable real estate prices here will attract them. The city is addressing issues such as crime, and is working on attracting businesses.
Filed under Desert Hot Springs | permalink | July 27, 2015 at 07:57 PM | Comments (1)
Payoff From The Rain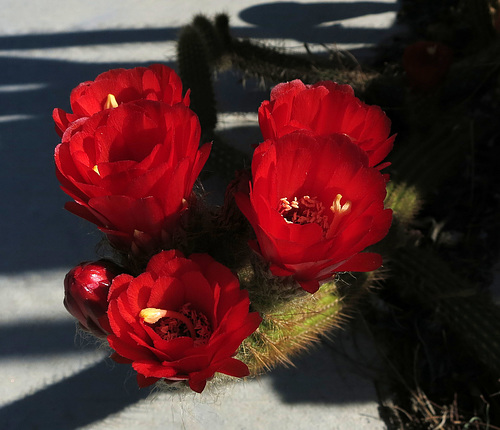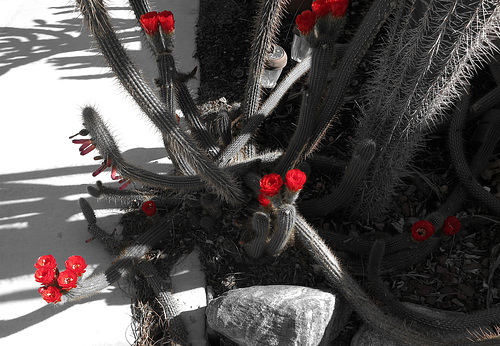 Filed under Cactus,Coachella Valley,Photography | permalink | July 27, 2015 at 07:48 PM | Comments (0)
New Camp Chair
I've never had a camp chair with so many features, the shelf, pockets, a carrying strap, and a cylinder of fabric on the back of the seat that the manufacturer suggests is for an umbrella, but I think I could use it for a flag pole, or just drive a long stake through it so nobody can move my chair. A veritable throne.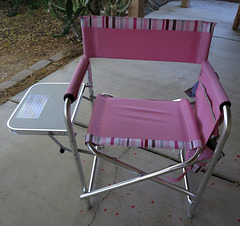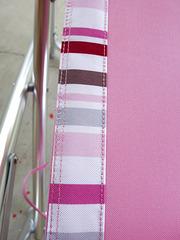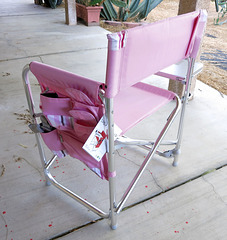 Filed under Burning Man | permalink | July 27, 2015 at 07:14 PM | Comments (0)
Going Where No Farmer Has Gone Before
At Burning Man this year we will have kale, cucumbers and tomatoes growing right on the playa...inside a converted Airstream trailer. This enclosed garden "uses 95% less water than conventional farming, it's two times faster, it doesn't use pesticides."
Filed under Burning Man,Food and Drink | permalink | July 27, 2015 at 07:10 PM | Comments (0)
New Burning Man Info
This year, Burner Buddies, my camp at Burning Man, will be an officially placed theme camp. We've never done that before and it brings certain privileges, benefits and responsibilities. None of which involve drugs or money, but we enjoy them nonetheless.
Turns out, one thing we get is access to a Facebook page just for our sector of Black Rock City. You can never join too many Facebook pages, am I wrong? Someone in that group has compiled a partial list (we're not on it yet) of camps in that sector (which is 4 o'clock to 5:30 o'clock) and I thought I would share them because it's a little interesting to see how many there are and what their names are. This does not include all the theme camps yet and it does not include any unplaced, just-normal camps, which is what we've been since 2007 through 2014.

4:00 & A: Winner Winner Chicken Dinner
4:00 & B: Camp Hot Mayo
4:00 & C: Dusty Poon Saloon
4:00 & C: Spanky's Wine Bar
4:00 & D: Baconeers
4:00 & E: Harmonic Convergence Camp, Harmonic Cafe, and Harmonic Healing Center
4:00 & F: Sacred Spaces Village

4:15 & B: Shotski Wanderlust
4:15 & C: BRCU
4:15 & C: Camp Titicaca
4:15 & C: Academy of Arts & Sciences
4:15 & D: The Flamingo Trap
4:15 & D: Homeslice
4:30 & D: Brand UR Ass 'N More
4:15 & D: Twisted G-spot
4:15 & D: Flamingo Trap
4:15 & E: Astral Headwash
4:15 & E: Bar Fallover
4:15 & E: Community Improvement Association (CIA)
4:15 & E: L melon O P
4:15 & E: Planetarium Aquarium
4:15 & E: The Future
4:15 & F: Camp Chomp and Stomp
4:15 & F: What Would You Do For A Pickle? Camp
4:15 & G: PolyParadise
4:15 & G: Coulrophobia Camp
4:15 & G: Oontz Pouch
4:15 & G: Things That Swing (TTS)

4:30 & Esplanade: Club Neu Verboten

4:30 Portal & Esplanade: Art of Such N Such
4:30 Portal: Kamp Suckie Fuckaye
4:30 Portal: Cosmic Giggle
4:30 Portal & A: The Cabana Club

4:30 & A: Black Rock Power CO-OP , Saints & Sinners, And Then There's Only Love, Brain freeze.
4:30 & A: Pluderground
4:30 & B: Cohesion
4:30 & B: Nåårsførtown Village
4:30 & C: Camp Safari
4:30 & D: BuddhaCamp @ the Lotus Dome
4:30 & E: Funk Pirates

4:30 Plaza: Camp Do Nothing
4:30 Plaza: Uli Baba & the Horny Thieves
4:30 Plaza: Termination Dust Hole
4:30 Plaza: Elliot's Bicycle Service & Piano Bar
4:30 Plaza: KavAquatic

4:30 & I: Parasol Mafia
4:30 & J: Scrabble Camp
4:30 & J: Wonder Camp

4:45 & Esplanade: Planet Earth

4:45 & A: RhythmWave
4:45 & B: Cafe Surprise
4:45 & C: Camp...in Bed
4:45 & C: Ignited States Ski Patrol
4:45 & C: The Twisted Swan Celtic Pub (formerly the Dusty Swan)
4:45 & C: Camp Wetspot
4:45 & C: Octothorpe
4:45 & C: Fresh Squeezed! - (Art & Lemonade)
4:45 & D: Home Rule Village (IAMU, Pedal Pies, Gold Star, 3SP, and Iguana Chill)
4:45 & E: Turkey Camp
4:45 & F: Loveland
4:45 & F: Rootpile
4:45 & F: The Pink Spot
4:45 & G: Hippocampus
4:45 & G: The Mothership
4:45 & G: Virgin Hooper Camp
4:45 & G: In Dust We Trust

5:00 & A: Shady Lady Saloon
5:00 & A: BRC HOA Village (Bare Chested Baristas, Bearwhalea, Dr Carl's Dept of Collections, Grey Matter, Prismaticamp, Rejuvenation, Spank the Monkey Bar and Lounge, Super Friends Synaesthesia, Trashistan)
5:00 & B: Ancient Cult of the Alligator
5:00 & D: Clusterf*ck United
5:00 & E: Captain Pump's Raiders
5:00 & F: Camp Cacao
5:00 & G: Cosmic Casbah

5:15 & Esplanade: False Profit

5:15 & C: Boom Boom Womb (formerly Camp New Year at 430&I)
5:15 & C: ZaZen
5:15 & C: ICU Emerge-n-See In-Tents-IV Care Unit & Sparkle Pony Corral
5:15 & D: Spirit Dream
5:15 & E: Hushville
Filed under Burning Man | permalink | July 27, 2015 at 04:09 PM | Comments (0)
Huckabee Triggers Godwin's Law
"...to the door of the oven." No one can fail to understand that Huckabee was calling Obama the new Hitler. Hence, Godwin's Law: "'As an online discussion grows longer, the probability of a comparison involving Nazis or Hitler approaches 1' —​ that is, if an online discussion (regardless of topic or scope) goes on long enough, sooner or later someone will compare someone or something to Hitler or Nazism."
"once such a comparison is made, the thread is finished and whoever mentioned the Nazis has automatically lost whatever debate was in progress."
IOW, Huckabee loses now and must withdraw from the race.
Filed under Politics | permalink | July 27, 2015 at 01:45 PM | Comments (0)
July 24, 2015
Eliminating Animal Control
Alton, Illinois, cut animal control out of its 2015/16 budget. So the burden of animal control fell on the police. A report was released this week saying Alton police officers took a dog "they called wounded and vicious" to the city yard where they shot him twice with a 12 gauge shotgun and then twice more with their .40 caliber hand guns.
THEN they scanned what was left of the dog for a microchip, and yes it was chipped. Standard procedure is to scan for the chip while the dog is still alive so the owner can be contacted before any irreversible action is taken.
The City Council is reinstating animal control.
Filed under Desert Hot Springs | permalink | July 24, 2015 at 10:29 PM | Comments (0)
July 22, 2015
DUI Checkpoint In DHS Friday Night
Desert Hot Springs Police Department will be conducting a DUI/Drivers License Checkpoint on July 24th, 2015, at an undisclosed location within the city limits between the hours of 8:00 p.m. to 3:00 a.m.

The deterrent effect of DUI checkpoints is a proven resource in reducing the number of persons killed and injured in alcohol or drug involved crashes. Research shows that crashes involving an impaired driver can be reduced by up to 20 percent when well-publicized DUI checkpoints and proactive DUI patrols are conducted routinely.

In California, this deadly crime led to 802 deaths in 2012 because someone failed to designate a sober driver. Nationally, the latest data shows nearly 10,000 were killed by an impaired driver.

Officers will be looking for signs of alcohol and/or drug impairment with officers checking drivers for proper licensing delaying motorists only momentarily. When possible, specially trained officers will be available to evaluate those suspected of drug-impaired driving. Recent statistics reveal that 30 percent of drivers in fatal crashes had one or more drugs in their systems. A study of active drivers showed more tested positive for drugs that may impair driving (14 percent) than did for alcohol (7.3 percent). Of the drugs, marijuana was most prevalent, at 7.4 percent, slightly more than alcohol. According to the National Highway Traffic Safety Administration (NHTSA), checkpoints have provided the most effective documented results of any of the DUI enforcement strategies, while also yielding considerable cost savings of $6 for every $1 spent. Nearly 90 percent of California drivers approve of DUI Checkpoints are placed in locations based on collision statistics and frequency of DUI arrests affording the greatest opportunity for achieving drunk and drugged driving deterrence. Locations are chosen with safety considerations for the officers and the public.

Drivers caught driving impaired can expect the impact of a DUI arrest to include jail time, fines, fees, DUI classes, other expenses that can exceed $10,000 not to mention the embarrassment when friends and family find out.

Funding for this checkpoint is provided to Desert Hot Springs Police Department by a grant from the California Office of Traffic Safety, through the National Highway Traffic Safety Administration, reminding everyone to report a drunk driver – Call 9-1-1.
Filed under Desert Hot Springs,Public Safety | permalink | July 22, 2015 at 12:44 PM | Comments (0)
Giant Interactive Tesla Coil - what could go wrong?
2000 amps, 700 volts. Worth a look to admire Mr. Baritone Beardman (AKA "Matt F.", I think).
Filed under Art,Burning Man,Music | permalink | July 22, 2015 at 11:30 AM | Comments (0)