« Close Counts In Horseshoes | Main | BELIEVE Sells For $70,000 »
June 18, 2015
Lake Fire
There's a photo here that was taken this morning that shows a view of the smoke of the fire as seen from near Toro Peak, which is south of the fire.
Here's a webcam pointed at the fire.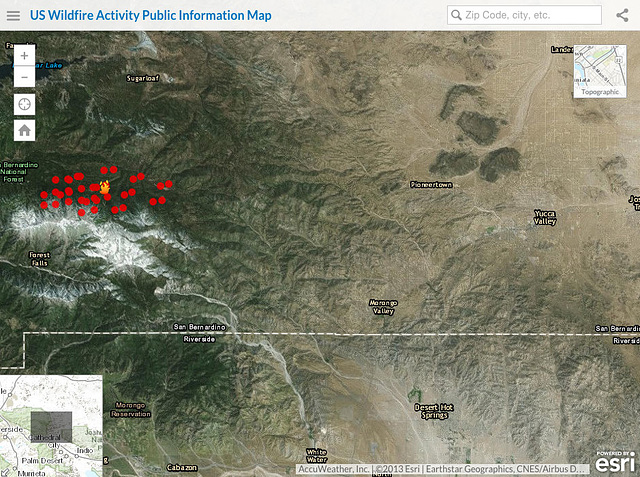 A map showing the location of the fire relative to Desert Hot Springs which is in the lower right of this map.
Filed under California,Coachella Valley,Desert Hot Springs | permalink | June 18, 2015 at 10:52 AM
Comments
To hell with Toro Peak. Look at the map above. You can see it's a lot closer than 60 miles. The media may be reporting the actual traveling distance, because they have to file for reimbursement for travel mileage after they file their report.
Priorities!
Posted by: Ron's Log at Jun 19, 2015 9:29:56 AM
The media reported the fire as 60 miles from DHS, it's almost 20 miles from here to Toro Peak.
That was my math adding up.
Seems closer today with all the smoke cover and smell.
I wish the firefighters safety.
Posted by: Russ A at Jun 19, 2015 9:07:23 AM
There's only one Toro Peak. Who said 80 miles??
Posted by: Ron's Log at Jun 18, 2015 12:54:35 PM
Pardon me for again being ignorant, but I thought Toro Peak is in the Santa Rosa's?
I've been 4-wheeling up to Toro peak this year, it's above Palm Desert. Yes?
That fire looks closer than 80 miles away in that film.
Is there another Toro Peak?
Posted by: Russ A at Jun 18, 2015 12:33:23 PM