« May 2015 | Main | July 2015 »
June 30, 2015
U.S. Has The 2nd Largest Population Of Native Spanish Speakers In The World
52.6 million, they say, while Spain has only 46 million. Mexico takes the top spot with 121 million. The U.S. Census estimates that the U.S. will surpass Mexico by 2050, when they expect the number of native Spanish speakers in the U.S. to have become 138 million.
Filed under English | permalink | June 30, 2015 at 09:56 PM | Comments (0)
Why Did The SFGMC Cross The Street?
The answer is there is inadequate (like nearly none, I am told) backstage area at Nourse Hall because it was originally a high school auditorium, so the chorus does its dressing across the street in Davies Symphony Hall. Then, a few minutes before the performance, they cross the street. Since one is not permitted to video their performances, this is a rare opportunity to video most of the members of the chorus while they are in performance dress.

Jeff shows up at the 1:00 mark, but you'll have to pick him out on your own. That's Vicente who comes up to give me a hug at 1:40.
Filed under Gay Issues,Music | permalink | June 30, 2015 at 09:40 PM | Comments (0)
New Property Of Graphene Discovered
Shine a laser or just strong light on it, and it moves. Researchers don't yet know how that works, but think it's possible the laser builds up an electron charge on the graphene until the electrons are released in one direction. They also don't know why the electrons would be released that way, rather than randomly. But even without knowing why, one can see that this could be a pretty fabulous technology to build fuel-less spacecraft able to travel forever.
Filed under Technology | permalink | June 30, 2015 at 07:25 PM | Comments (0)
Putting Siri To Shame
That's what Soundhound's voice recognition software can do (maybe). It's currently available only in beta, only for Android. Watch this video to see how quickly it responds to complex, but challenging questions:

Filed under Technology | permalink | June 30, 2015 at 07:17 PM | Comments (0)
Artificial Spider Silk
Bolt Threads has the process and $40 million to make it commercially. Fabrics made from the artificial silk should hit the market in 2016.
Filed under Technology | permalink | June 30, 2015 at 07:11 PM | Comments (0)
Meanwhile, On The Other Side Of Market Street
I turned away from videoing the trans parade, and what do I see but Critical Mass coming from the other direction. This effectively shut down Market Street completely for a little while.

Filed under Cities/Urbanism,Cycling | permalink | June 30, 2015 at 05:45 PM | Comments (0)
Trans Parade
In most big cities pride parades are organized for communities that are within the greater community that is represented in the one big Pride parade. Leather, people of color, lesbian, and trans are some that come to mind. Last Friday, after leaving the marriage rights celebration in the Castro, I was riding an F train inbound until it encountered the Trans Pride parade at Dolores Street. There was no way to keep the parade from spilling onto the trolley tracks, so that became the end of the line. This meant I got to walk along with the parade for awhile, until I got up to the front and shot this little video.

Filed under Gay Issues | permalink | June 30, 2015 at 02:32 PM | Comments (0)
Marriage Rights Celebration Interpretive Dance
Or something like that. Here's a video of a dancer giving an interpretation of the Supreme Court decision on marriage rights at the celebration in the Castro this past Friday evening.

The celebration was still being set up, so there was plenty of room for this dance. You saw that the dance started right at 18th and Castro, but after being upstaged by two mere men who merely got married, the dance was moved a half block to the center of Castro Street.
Filed under Art,Gay Issues | permalink | June 30, 2015 at 02:09 PM | Comments (0)
June 27, 2015
Pink Party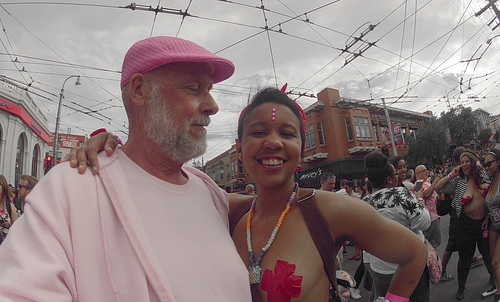 I have had a number of people come up and ask about my GoPro, saying they had never seen or heard of such a thing - and all of them have been women, like this young lady.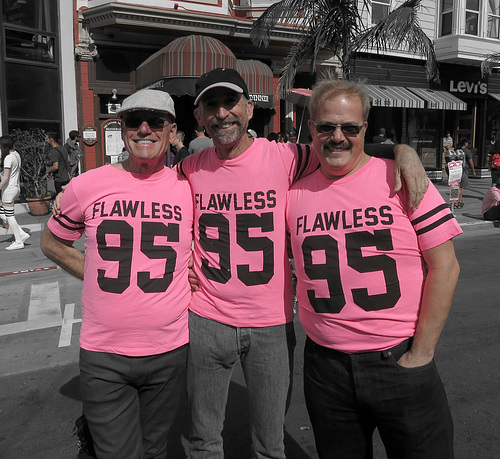 Look at these flawless Palm Springs boys I found at the Pink Party. They got the shirts and matching real Converse sneakers in correct sizes! At Ross. This morning.
Filed under Gay Issues,GoPro,Photography | permalink | June 27, 2015 at 06:40 PM | Comments (0)
Marriage Equality Celebration in the Castro
I got there early yesterday as they were setting up and I stuck around for only about the first half hour of the actual celebration. It was cold and windy and the sun was about to set. But I got some photos.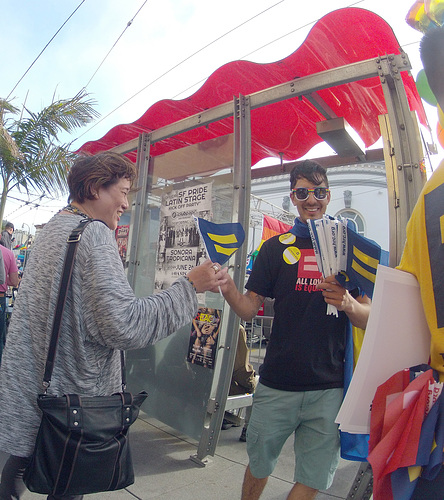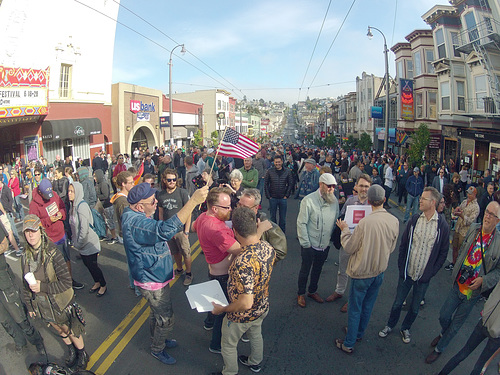 Filed under Gay Issues,Photography | permalink | June 27, 2015 at 02:54 PM | Comments (0)
Youtube Celebrates
Filed under Gay Issues | permalink | June 27, 2015 at 01:13 PM | Comments (0)
Thomas
Scalia is an entertaining troglodyte, but Clarence Thomas is sick - and I don't mean that the good way. He shares his opinion of the dignity of slaves and the dignity of victims of the Holocaust.
Human dignity cannot be taken away by the government. Slaves did not lose their dignity (any more than they lost their humanity) because the government allowed them to be enslaved. Those held in internment camps did not lose their dignity because the government confined them. And those denied governmental benefits certainly do not lose their dignity because the government denies them those benefits. The government cannot bestow dignity, and it cannot take it away.
Filed under Gay Issues | permalink | June 27, 2015 at 01:06 PM | Comments (0)
"tear our clothes off, fill the streets and party like hell"
That's Steve Lopez's recommendation as a response to Scalia's removal of California from the West.
It's a good recommendation for just about any issue.
Ryan Grim at the Huffington Post went doggedly in search of a "hippie."
Neil Cousins, a 61-year-old man from Alexandria protesting nuclear weapons outside the White House, said he had come to this very park in the 1970s for pot smoke-ins, but added that there really haven't been hippies around since the Grateful Dead stopped touring. He was nonetheless willing to offer a judgment on Scalia's assertion that marriage abridges rather than expands intimacy. "I've known it to have both reactions," he ruled. "Scalia is a big knucklehead."
Filed under Gay Issues | permalink | June 27, 2015 at 12:56 PM | Comments (0)
Jim Obergefel Has A Fan
A fan who calls at opportune moments.

The boy from Cincinnati makes his official statement here.
Filed under Gay Issues | permalink | June 27, 2015 at 12:24 PM | Comments (0)
Frank Kameny In Labor Hall Of Honor
Frank Kameny filed the first civil rights appeal based on homosexuality with his employer, the U.S. Civil Service in 1957. He lost. He went on to become a co-founder of the Mattachine Society. In 1965 he organized the first gay protest at the White House. He was the first openly gay candidate for Congress in 1971.
"In 1975, his long search for a gay service member with an impeccable record to initiate a challenge to the military's ban on homosexuals culminated in protege Leonard Matlovich, a Technical Sergeant in the United States Air Force with 11 years of unblemished service and a Purple Heart and Bronze Star, purposely outing himself to his commanding officer on March 6, 1975."
Kameny died in 2011.
And this week he was inducted into the Department Of Labor's Hall of Honor. The Hall of Honor is intended as a "showcase highlighting the life-changing contributions that a unique group of people have made on the American way of work."
Filed under Gay Issues,History | permalink | June 27, 2015 at 11:58 AM | Comments (0)
Rainbows
How was it that this one song resonated so deeply with me when I was only 8?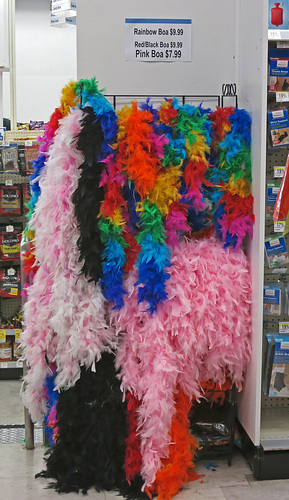 Pink boas $2 cheaper than other lesser colors at the Walgreen in the Castro.
Yesterday as I was walking through San Francisco's Civic Center wearing my accustomed attire (clothes, I mean), a man on a bicycle passing me called out "It's been a good day for the pink team!"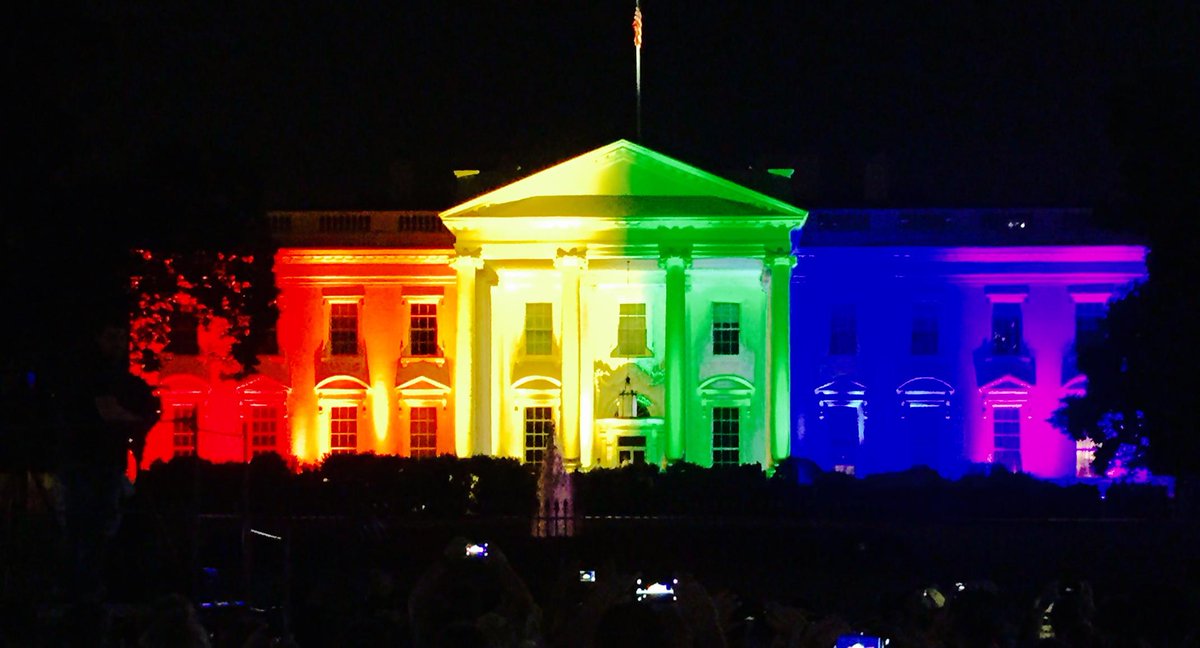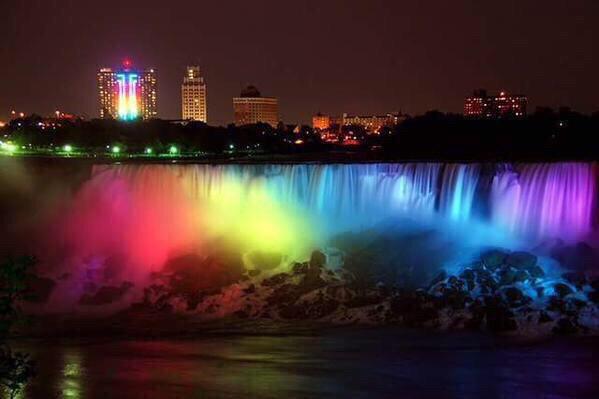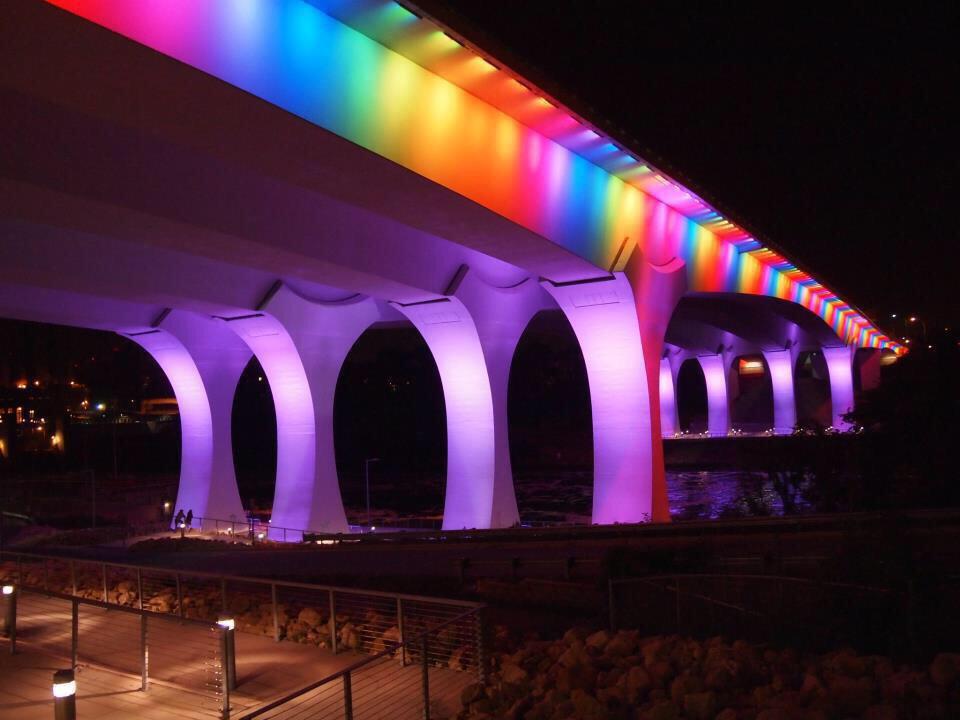 The new I-35 bridge in Minneapolis.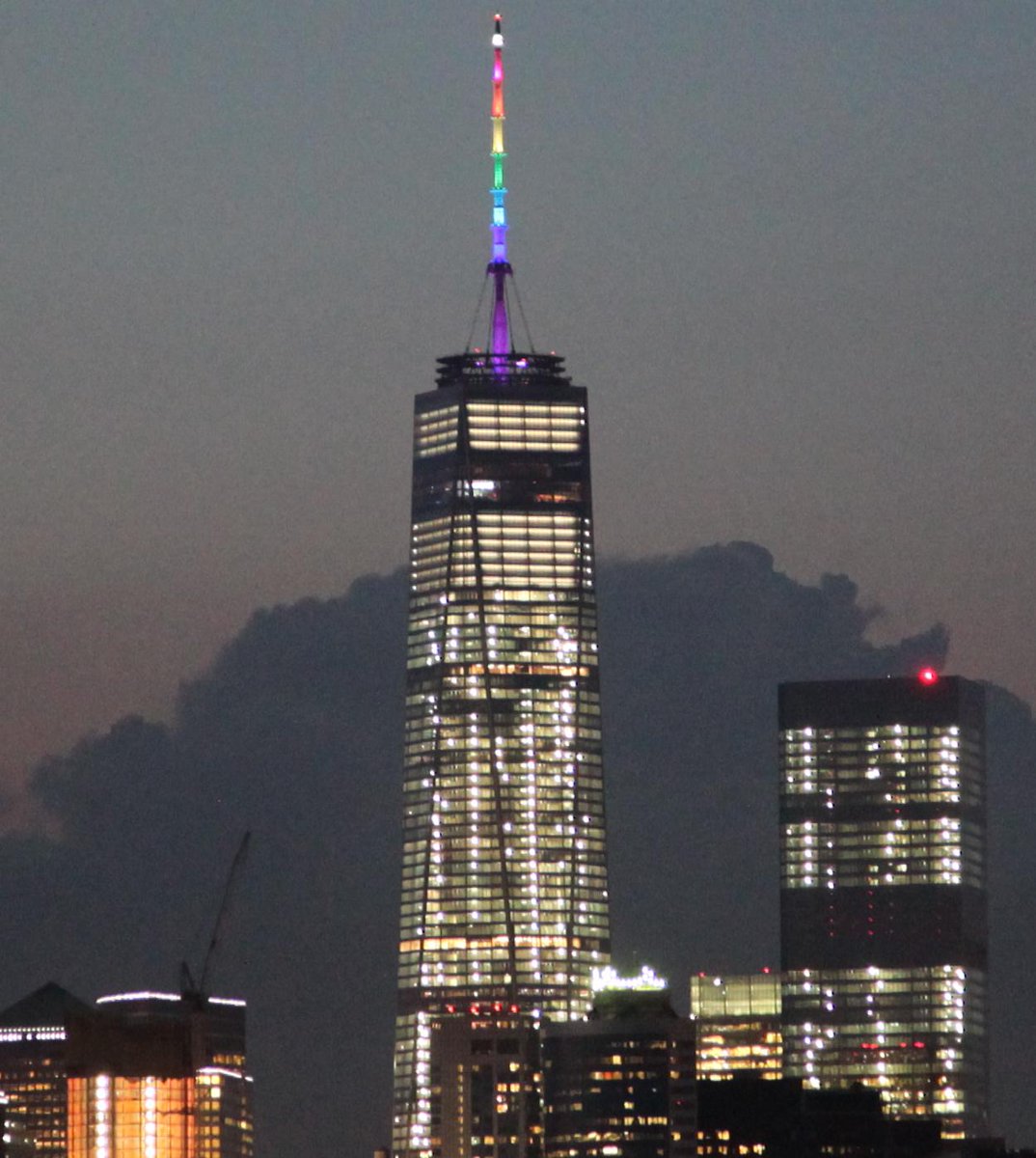 World Trade Center.

In St. Louis.

Kansas City.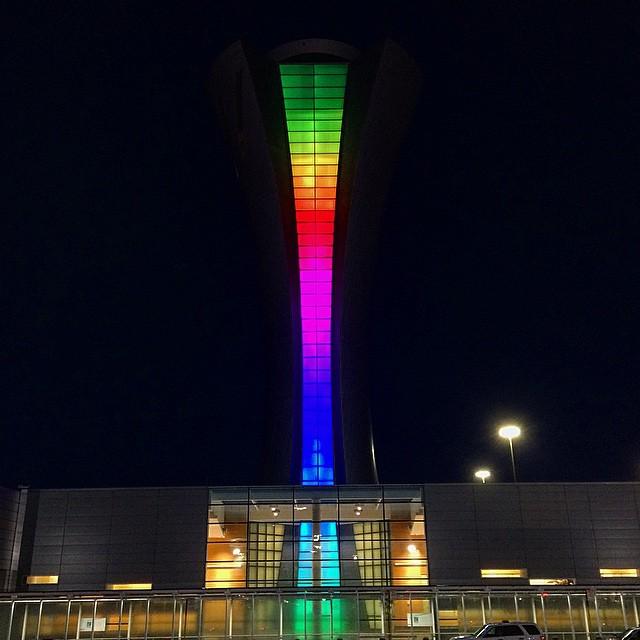 SFO control tower.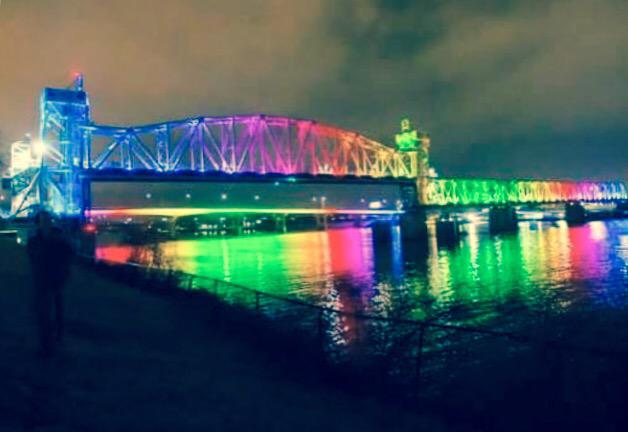 Little Rock.
Filed under Gay Issues,Music,Photography | permalink | June 27, 2015 at 11:24 AM | Comments (0)
June 26, 2015
Obergefell V. Hodges
What a title to go into history. But in all the celebration, don't overlook the dissent from Justice Nutjob which begins on page 72 of the PDF of the Supreme Court's decision. In it he bemoans the fact that the Justices do not represent a cross section of the United States (like we hadn't already noticed that decades ago). He says that on the court there is "Not a single South-westerner or even, to tell the truth, a genuine Westerner (California does not count)." What is the ultimate western state if not a western state? Heaven maybe? A dry heaven, perhaps.
He seems to think that intimacy is greater if you have more sexual partners. (Does his wife know this?) First he quotes from the majority decision:
"The nature of marriage is that,through its enduring bond, two persons together can find other freedoms, such as expression, intimacy, and spirituality." (Really? Who ever thought that intimacy and spirituality [whatever that means] were freedoms? And if intimacy is, one would think Freedom of Intimacy is abridged rather than expanded by marriage. Ask the nearest hippie.
"Hippie?" What planet has he been living on? Possibly worse, he dropped a closing parenthesis and no one on his staff caught it.
Filed under Gay Issues | permalink | June 26, 2015 at 02:24 PM | Comments (0)
Pride Weekend in San Francisco

San Francisco City Hall last night.
Filed under Gay Issues | permalink | June 26, 2015 at 02:06 PM | Comments (0)
David Best's Hayes Valley Temple
Tonight, in Patricia's Green at Linden and Hayes Streets in San Francisco, David Best will open his Hayes Valley Temple to the public. It's the same temple that he constructed there in 2005. David Best built the first temple at Burning Man and has built the majority of temples there since then. I'm pretty sure they're not going to burn this one.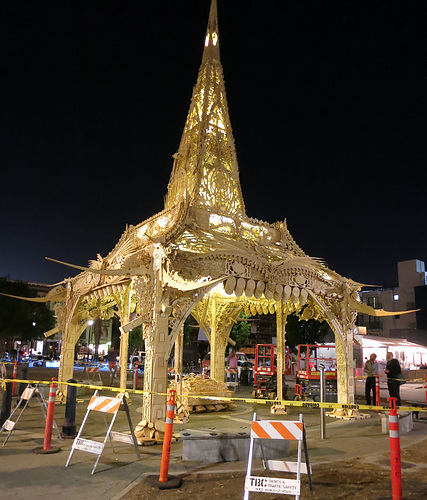 Filed under Art,Burning Man,Religion | permalink | June 26, 2015 at 02:05 PM | Comments (0)
June 25, 2015
Military Veterans Honored At Burning Man
Camphellnback will be displaying art that is "borrowed or donated from our own campers, as well as independent artists and art therapy programs at active military and veteran hospitals." And they will create a 32-foot Memorial Wall:
Our Memorial Wall is a space where we leave the names of our own friends and family who served their country. Our visitors are welcome to write messages to their loved ones or those veterans they did not know but still appreciate.

At the end of the event, the wall will be disassembled and brought to the temple, where it will be burned as a symbolic way to say good bye or let go of the pain, hardship or burden that we carry for our lost comrades and family.
Camp Hellnback is seeking donations of material, tickets, and money.
Filed under Art,Burning Man | permalink | June 25, 2015 at 08:33 PM | Comments (0)