« March 2015 | Main | May 2015 »
April 30, 2015
ACLU California Video App
The California ACLU is making available an app that allows one to upload a video of a police encounter directly to the ACLU. You can also configure it to lock your phone as soon as the video is complete, which will prevent browsing by the police, but won't stop the old fashioned smash-the-phone-on-the-pavement technique.
The app is called "Mobile Justice - California" and is available for iOS and Android.
Filed under Libertarianism,Photography,Public Safety,Web/Tech | permalink | April 30, 2015 at 04:40 PM | Comments (0)
April 28, 2015
This Morning's Chat In Washington
"'If Sue loves Joe and Tom loves Joe, Sue can marry him and Tom can't,' [Chief Justice] Roberts said. 'Why isn't that a straightforward question of sexual discrimination?'"
Yeah, why not, exactly?
Filed under Gay Issues | permalink | April 28, 2015 at 11:43 AM | Comments (0)
Again
A simple story: gay, closeted legislator votes repeatedly against a bill that would have added "sexual orientation" to the state's anti-discrimination law, so he gets outed. His username on Grindr is "Top Man!"
I don't need to tell you what party he belongs to, do I? The last Democrat to come out this way was Barney Frank - and when that happened, Ronald Reagan was still President (by which I mean it was a loooooong time ago).
Filed under Gay Issues | permalink | April 28, 2015 at 09:56 AM | Comments (1)
April 25, 2015
What IS Burning Man
Oh, we keep asking that and giving and getting the non-answer, like "It is like trying to describe the experience of listening to music, while watching an experimental film that is about making a film about making a film about making art, while getting your painfully sunburned back rubbed with coconut oil." And all that has to be explained to someone who is blind and deaf.
Devon takes his turn at the answer.

Experiencing a city built on creativity, built on self-expression, built on participation, does something to the participator. It allows a freedom not often nurtured elsewhere in the world. It says yes to how you choose to express, which can create something special within you. When you are not afraid of being judged, when you are not afraid of being seen, when you are not afraid to be who you are, you might discover just that, who you are.
Even if the structure itself was the most beautiful place you've ever seen, or you had one of the most beautiful experiences of your life within it, you won't be able to hold onto the place where it happened, it will be burned. So you will have to look inside yourself for the experience. Not outside.
Filed under Burning Man | permalink | April 25, 2015 at 05:09 PM | Comments (0)
April 24, 2015
No Shit, Sherlock
The Oklahoma Geological Survey, a government agency, has announced that it "considers it very likely that the majority of recent earthquakes, particularly those in central and north-central Oklahoma, are triggered by the injection of produced water in disposal wells." IOW, fracking. But it's not fracking alone that does it, or North Dakota would be experiencing the same huge leap in earthquake activity.
"These earthquakes swarms are occurring over a large area, about 15% of the area of Oklahoma, that has experienced significant increase in wastewater disposal volumes over the last several years."
"Most of the earthquakes in Oklahoma are occurring within crystalline basement, deeper than most oil and gas operations. However, reactivation of deeper basement faults from water injection/disposal at shallower depths is often observed in cases of triggered seismicity."
"The majority of wastewater disposal is targeted for injection in the Arbuckle formations, which closely overlie the crystalline basement."
Compare this map of earthquakes greater than 2.5 over the last 30 days in Oklahoma with this map of known faults in Oklahoma. It looks to my layman's eyes that the quakes are occurring in an area well away from the major faulted areas.
Filed under Science | permalink | April 24, 2015 at 10:21 AM | Comments (0)
April 23, 2015
City Council Meeting On April 28
The Desert Hot Springs City Council is holding a special meeting on this coming Tuesday, April 28. The only item on the agenda is to consider a resolution that will allow proposed, but not yet approved, dispensaries to change their proposed locations. The resolution, as written, would also permit those not yet approved dispensaries to request their proposals be considered by the City Manager and the Planning Commission. It's not clear to me what the Planning Commission would do. Would they actually go so far as to approve a CUP but hold it in abeyance until the City Council increases the numerical limit on dispensaries?
A very interesting part of the agenda packet is a map put together at the request of the City Council. It shows all the proposed locations for dispensaries. It also shows 1,000-foot buffer zones around schools, churches, and recreation facilities. The resolution says nothing about changing buffer zones. The only one we have now is a 600-foot buffer around schools.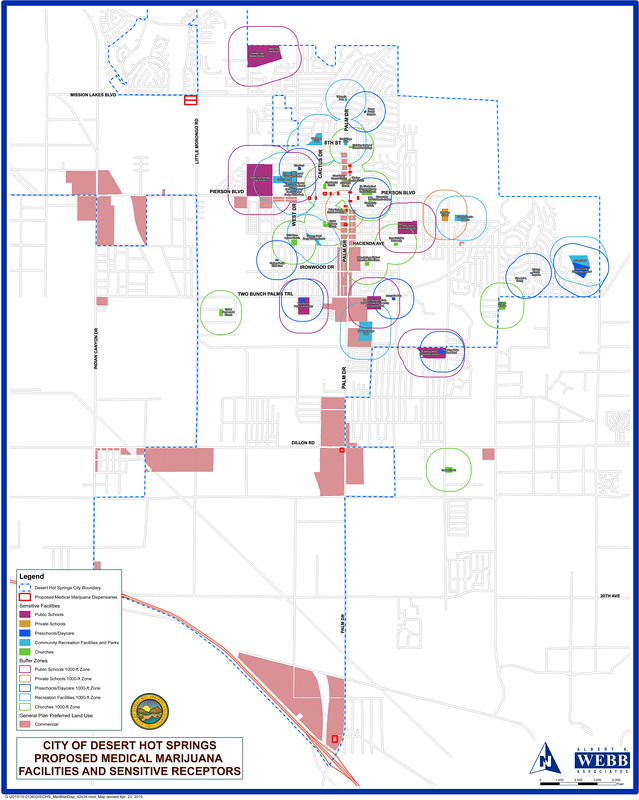 Click for a much larger version.
The dispensary locations are the annotations in red. The very large buffer zones do leave some commercially zoned areas available for dispensaries, but none around Palm & Pierson. There couldn't be any north of Estrella. It looks like the western side of Palm between Ironwood and Two Bunch Palms Trail would be open...and there is open land there. Most of the K-Mart shopping center is outside any buffer zones. Large commercial areas that are well outside any buffer zones are Indian and Pierson, Dillon and Palm and the south side of Dillon going west from Little Morongo. I think a dispensary next to the Roadhouse (or whatever its current name is) would do well. The map does not go as far west as highway 62, but the area around Pierson and 62 is also zoned commercial.
I'm curious about what appears to be a little commercial zone near Hacienda and Agua Cayendo Road. This Google map satellite view shows what certainly looks like residences filling that unusual commercial zone. Is that little bit of ink a mistake?
I also want to draw attention to Christ Lutheran Church at its old location. Are there still some church activities going on there? The new location is not shown at all. You would think the number of times Paul Miller has gotten up to talk about the new location of the church, at least one member of the city staff would pick up on it.
Filed under Desert Hot Springs,Marijuana | permalink | April 23, 2015 at 08:58 PM | Comments (0)
April 22, 2015
Coming Down To April 28
April 28 being, of course, the date the U.S. Supreme Court will finally hear oral arguments on same-sex marriage issues. But you knew that, didn't you. So the poor Supremes have been inundated with amicus briefs that I'm sure have kept the court clerks ROTFL. Some of the knowledge that has been shared by Republican leaders and other troglodytes:

Filed under Gay Issues | permalink | April 22, 2015 at 09:48 AM | Comments (0)
At The World Trade Center
515 years compressed into 52 seconds on the elevator to the top of 1 World Trade Center revealing an architectural history of American urban development:

Filed under Architecture,History | permalink | April 22, 2015 at 08:00 AM | Comments (0)
April 21, 2015
Office Life
Filed under GoPro,Photography | permalink | April 21, 2015 at 10:19 AM | Comments (1)
Two Interesting Things In This Story
This story: man invites salesman into apartment; man gets naked without so much as a "by your leave;" offended salesman departs. But those aren't the interesting parts.
Interesting parts:
The undressed man, Colin Maher, "said his religion requires him to be naked." Unfortunately for Mr. Maher, this story took place in Oklahoma where the state is not as enlightened as Indiana where this sort of statement would, assuredly, cause the police to immediately back off and release the perp who expressed his sincere belief that his rights were being substantially burdened. I think that would cover the window he kicked out of police car, too, if he can work it into his religion fast enough.


But the real eye-grabber in the story is that the salesman was a door-to-door magazine salesman! Yes! Those are from back when we used to get eggs and bread delivered to our front door twice a week. Unless "magazine salesman" is a new euphemism for something like "marijuana dispensary operator," then this unnamed salesman actually walks from residence to residence to sell, face to face, subscriptions to stacks of paper that would be brought to the subscriber's home on a regular basis by the postal service. The subscriber would entertain himself for a time by perusing the magazine, even though it contained no audio or video files, just text and still photos. Once the subscriber finished perusing the magazine he just set it aside and either kept it or threw it into the regular household trash as there are almost never any environmental hazards in a magazine. So, rather than being able to return the used magazine to get a discount on the upgrade price of next month's magazine, you just get a whole 'nother magazine delivered and the process repeats. The cycle continues without end until either the landfill or the subscriber's home is completely filled. If it's the subscriber's home, then some distant relatives will come along and commit the subscriber to a facility where no magazines are delivered, thus bringing about healing or death, whichever comes first.
Filed under Libertarianism,Naturism-Nudism,Public Safety,Religion | permalink | April 21, 2015 at 09:24 AM | Comments (2)
April 20, 2015
Old Video From The Nude Bowl
I'm pointing out this video shot at the Nude Bowl mostly for the quality of the videography. This was shot before the pool was filled in (which was before I moved here in 2003) and, judging from the video quality, it had to be shot with a professional quality videotape camera. If there was digital video of this quality way back then, it would have been cutting edge expensive stuff that you probably wouldn't haul out to the desert. But I could be wrong about some part of that.
Anyway, good quality video:

Filed under Coachella Valley,Desert Hot Springs,Photography,Sports | permalink | April 20, 2015 at 01:06 PM | Comments (0)
April 18, 2015
3.2 Shake
I was sitting outside in the usual quiet night of Desert Hot Springs when a ripple went under me. 3.2, 9 Km northeast of Desert Hot Springs - just a tad to the right of Long Canyon:

Filed under Coachella Valley,Desert Hot Springs | permalink | April 18, 2015 at 09:47 PM | Comments (0)
April 17, 2015
44-Way Jump
Forty-four skydivers jump and assemble themselves into an, uh, assemblage and then break apart, all in less than a minute and 40 seconds. The first question you should be asking yourself is how do you get 44 people up there and able to jump simultaneously without using a large commercial or military aircraft.

Filed under GoPro,Photography,Sports | permalink | April 17, 2015 at 04:02 PM | Comments (0)
Stabilizer For GoPro
Designed to work with standard GoPro mounts (so it should be usable for lots more than Just GoPros), the Stabcam looks almost as stable as a chicken's head.
Gizmodo article. Stabcam hasn't even started its Kickstarter yet, so it'll be a while before these are available on the market.
Filed under GoPro,Photography | permalink | April 17, 2015 at 02:39 PM | Comments (1)
April 14, 2015
That Griffith Park Cougar
P-22 has gotten himself more publicity by wandering out of Griffith Park and taking of residence in the crawl space under a home in Los Feliz. The map below shows the outlines of that neighborhood, according to Google.

Filed under California,Cities/Urbanism | permalink | April 14, 2015 at 12:03 PM | Comments (1)
April 13, 2015
How They Do It In Holland
In order to cleanse your palate, here's how they take down violent criminals (home invaders, in this case) in the Netherlands.

It does look like the perps surrender almost too readily, although there is that one being held down by an officer pressing his knee into his back. But it is of note that only one cop is holding him down and there's a remarkable lack of punching and kicking.
Filed under Public Safety | permalink | April 13, 2015 at 05:09 PM | Comments (4)
Professional Broadcast Link For GoPro Cameras
First, you might need to know whichever version you get, it's gonna cost you $7,500. It's called Herocast and will provide a professional quality to your GoPro cameras so that you can use them live - presumably in a sporting event, but public TV might like to put one on the end of a trombone in a symphony performance.
Filed under GoPro,Photography,Technology,Television | permalink | April 13, 2015 at 04:55 PM | Comments (0)
Special City Council Meeting to Address Recent Crime Incidents
City of Desert Hot Springs

Special City Council Meeting to Address Recent Crime Incidents

Mayor Adam Sanchez has called a Special Meeting and the community is invited to join the City of Desert Hot Springs to address recent crime incidents. This meeting will provide an opportunity for members of the community to discuss their concerns with the City Council, Police Chief and City Staff. From this discussion we hope to develop an action plan through a Mayor's Advisory Committee to address the increased crime in the community. All community members are invited to participate in the discussion. Mayor Adam Sanchez said, "The City Council takes the current crime affecting our community seriously. We need to work together in a united front to reduce crime."

What: Special City Council Meeting
When: Thursday, April 16, 2015
Where: Carl May Community Center/Council Chamber; 11711 West Drive; Desert Hot Springs, CA 92240
Time: 6:00 P.M.

Further discussion will take place at the City Council meeting scheduled for Tuesday, April 21, 2015 at 6:00 P.M. at the Carl May Community Center.
Thank you!

Any questions regarding this press release should be directed to Mayor Adam Sanchez at asanchez@cityofdhs.org.
I'm sure the Mayor has invited all the members of the Public Safety Commission to be present as well, but they just forgot to put that in the press release. They've said repeatedly that they don't intend to sideline the Public Safety Commission, as they sideline the Public Safety Commission.
Filed under Desert Hot Springs,Photography | permalink | April 13, 2015 at 04:35 PM | Comments (0)
Express Your Inner Baboon
How's this for high concept advertising? You don't get a single spec. You get the brand name, 3DR, but is there a model name? How much? Can I buy it? All irrelevant questions. There is only one question: How cool can you be?

I'm sure your first thought was the same as mine: what, they couldn't use the opening of "Also Sprach Zarathustra?" Why not? Too trite? I find that hard to believe. My/your second thought would be "Where is that place?" "That place" is Spaceport America in New Mexico:
BTW, if that one scene was meant to suggest Mars, a quadcopter would need to be redesigned to fly with lower gravity and less atmosphere, ya know, so if you volunteer for Mars mission you'll want to pack your conversion kit. Something to do on the long voyage.
Filed under GoPro,Photography | permalink | April 13, 2015 at 11:42 AM | Comments (0)
April 12, 2015
Low Desert Rock Supply
Last week the Community and Cultural Affairs Commission convened one hour early at Low Desert Rock Supply on Dillon to see what they could offer in the making of an appropriate "welcome to DHS" sign.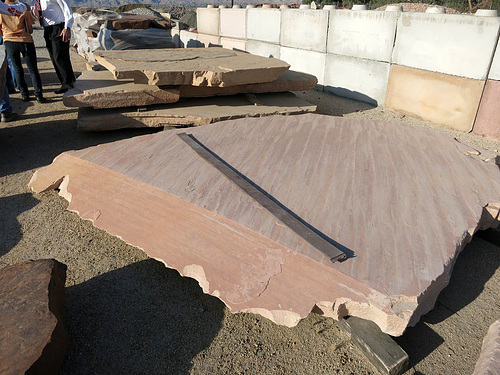 This rock was considered to be just the thing for a welcome sign.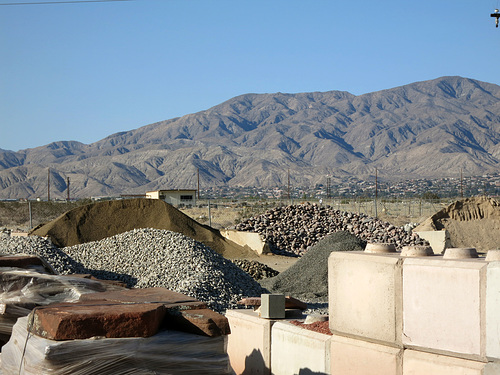 Looking back toward the city.

The proprietor.
Filed under Art,Desert Hot Springs,Photography | permalink | April 12, 2015 at 05:40 PM | Comments (2)