« February 2015 | Main | April 2015 »
March 29, 2015
Coachella Valley MMJ Dispensary Map
The Desert Sun has produced an accurate map of the legal medical marijuana dispensaries in the Coachella Valley; including both those that are open and those that will open soon.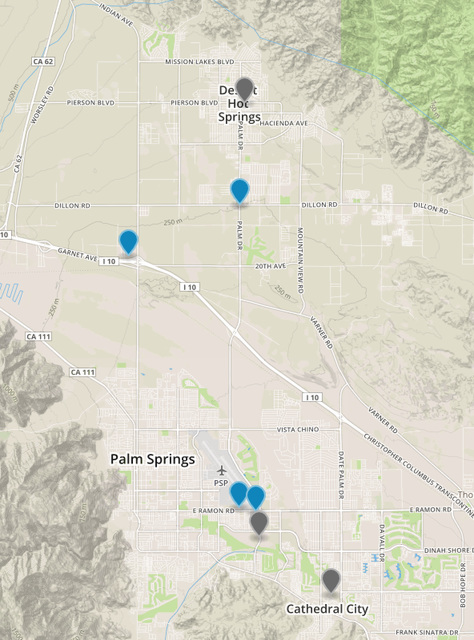 IOW, they left off the one that's going to be near Paul and Palm (at I-10) because that one won't open very soon. The blue markers are open dispensaries; gray ones are yet to open.
Filed under Coachella Valley,Desert Hot Springs,Marijuana | permalink | March 29, 2015 at 01:31 PM | Comments (4)
March 28, 2015
Marmol Talk
I went to hear Leo Marmol speak at the art museum on the subject of preservation and its tangled web. The second half of the event had us scurrying over to the Architecture and Design Center - the Santa Fe Federal Savings and Loan building at Baristo and Palm Canyon. 98% of the attendees at the lecture drove those three blocks. Less than a handful of us walked.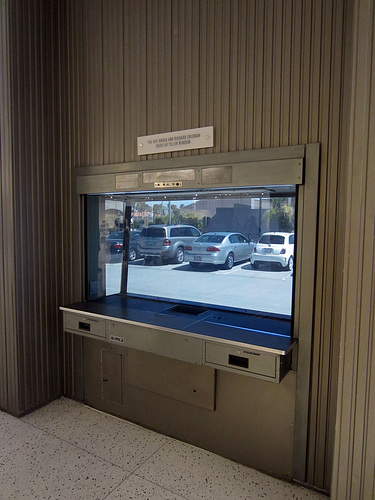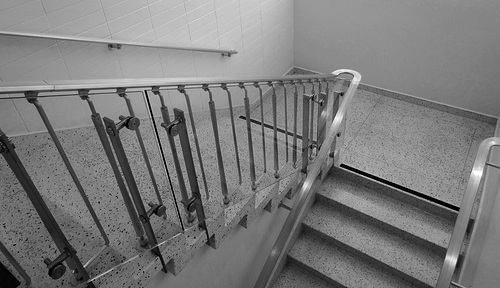 The stairs and the handrail are original. The glass wall was added behind the railing because the gaps were wider than current building codes permit.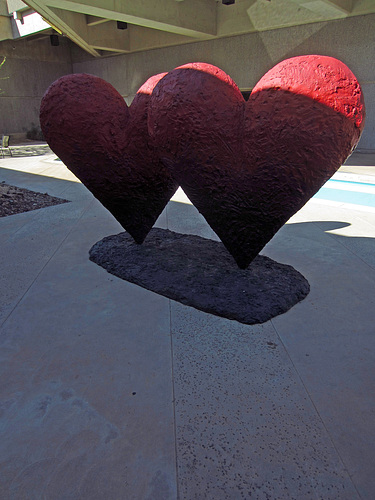 Meanwhile, back at the art museum.
Filed under Architecture,Art,Coachella Valley,Photography | permalink | March 28, 2015 at 09:19 PM | Comments (0)
March 26, 2015
Palm Springs Air Museum
Filed under Coachella Valley,Photography | permalink | March 26, 2015 at 10:33 PM | Comments (0)
North Shore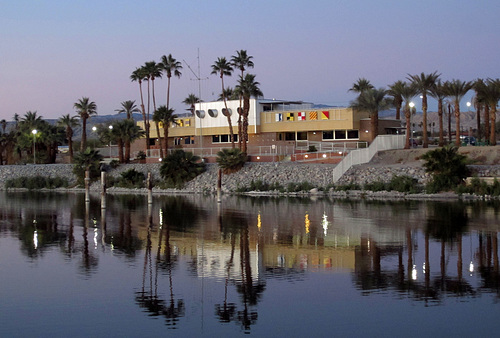 The Marina.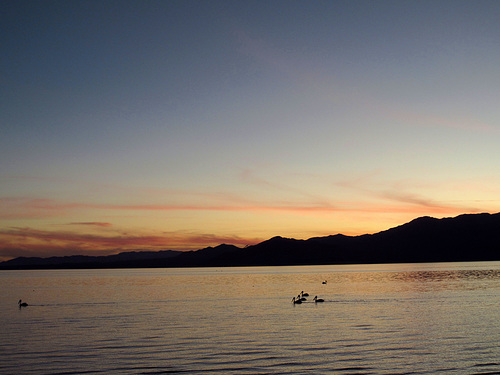 The Salton Sea.
Filed under Architecture,California,Coachella Valley,Photography | permalink | March 26, 2015 at 10:29 PM | Comments (1)
BEquinox
Burners organize regional burns in addition to the big mama on the Black Rock Desert. Last weekend the Los Angeles regional burners organized BEquinox at the Joshua Tree Lake Campground which is 4 or 5 miles north of highway 62, a bit east of the town of Joshua Tree. It had all the essentials of Burning Man except for the size. The population was capped at 999, because in San Bernardino County when you go over 999 you have to get a lot of permits. A lot of my fellow burners from Burner Buddies were there. Tickets were only $100. It's a great introduction to the spirit of Burning Man for those who have yet to attend the original.
But no matter how good a regional burn is, there is nothing anywhere that comes close to your first vision of the inner playa at Burning Man at night when your brain tries to deny what your eyes see. But art, gifting and fire - BEquinox has that in abundance.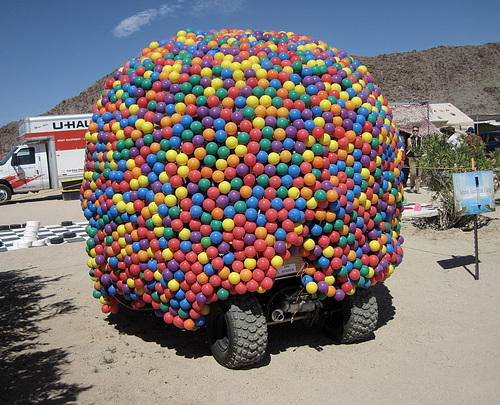 There were art cars, but none as big as the biggest at Burning Man.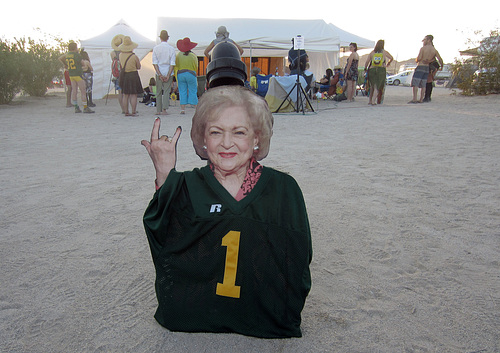 There were celebrities sorta.

Creative costumes.

Some things at BEquinox were better than anything seen at Burning Man, such as this "Hellfire Yoga" which was also called "Satanist Yoga" or "Heavy Metal Yoga." It was hilarious, especially when the leader ordered everyone to join him in the mantra "Die, hippie, die." Fun for the whole family.


It's not entirely flat, so not everything is visible in this photo, but it pretty much encompasses the whole place.

The upgraded water fountain robot. A big hit on the Black Rock Desert a few years ago.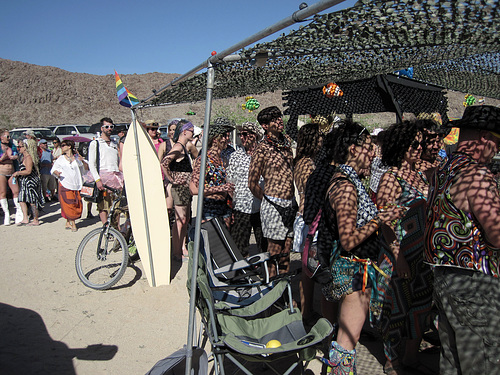 Nacho Daddies (by Steve and Wes) and Gay Cards (by Ed and Pete) were here, generated big crowds, and encouraged people to drop by at all hours to find out when they would be open again.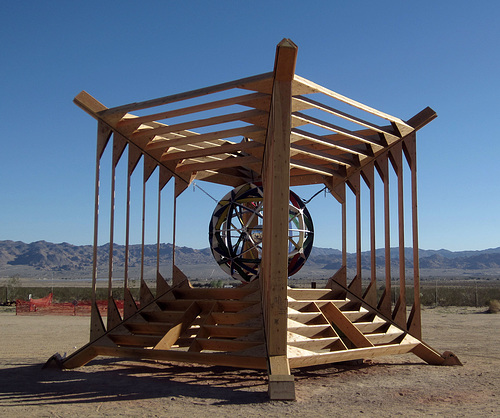 Earthstar, destined to burn on Saturday night.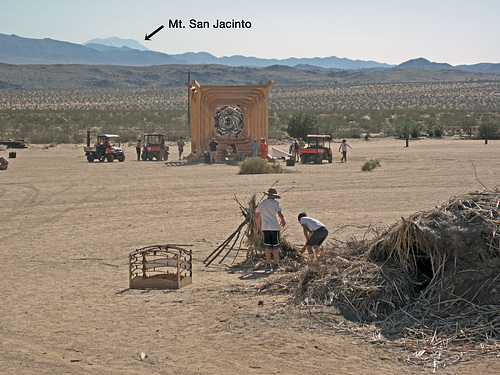 We were only 40 minutes away from Desert Hot Springs and you could see the tops of both Mt. San Jacinto and Mt. San Gorgonio from BEquinox.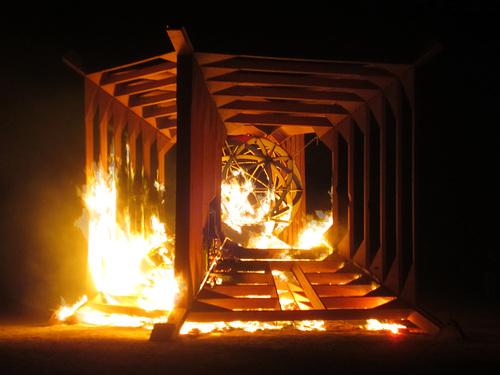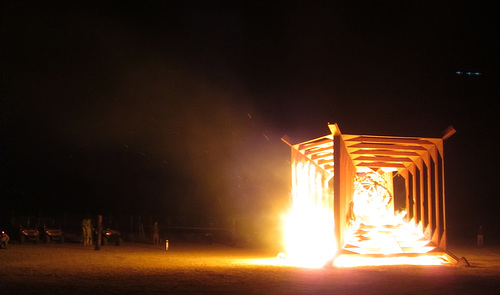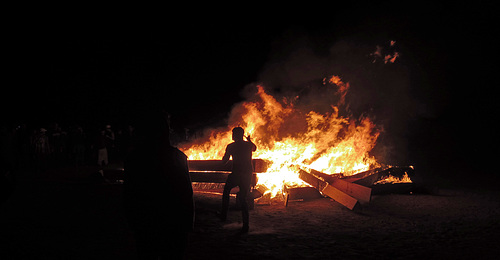 The whole set of photos is available here.
Filed under Burning Man,Photography | permalink | March 26, 2015 at 10:14 PM | Comments (0)
"Probable Cause"
The Fair Political Practices Commission made a couple of findings of probable cause in the matter of Russell Betts. I've heard these findings misinterpreted by more than one person.
First, they explain "probable cause."
Please note, a finding of probable cause does not constitute a finding that a violation has actually occurred. The respondents are presumed to be innocent of any violation of the Political Reform Act unless a violation is proved in a subsequent proceeding.
And then it goes on with two findings of probable cause:
In the Matter of Russell Betts, 12/289: After a hearing on January 13, 2015, probable cause was found to believe Respondent committed the following violations of the Act:

Respondent Russell Betts, in or about March 2011, as a member of the City of Desert Hot Springs City Council, used or attempted to use his official position to influence governmental decisions regarding the installation of a barricade, in which he had a financial interest because he owned real property within 500 feet of the property which was the subject of the governmental decision, in violation of Government Code Section 87100.
Respondent Russell Betts, on or about September 18, 2011, as a member of the City of Desert Hot Springs City Council, used or attempted to use his official position to influence a governmental decision regarding a development agreement to develop an upscale restaurant in city owned property in downtown Desert Hot Springs, in which he had a financial interest because he held a leasehold interest in real property within 500 feet of the property which was the subject of the governmental decision, in violation of Government Code Section 87100.
Most readers will recognize that latter item was part of Jason Simpson's harassment complaint against Betts and Rick Daniels' letter of complaint.
Filed under Desert Hot Springs,Politics | permalink | March 26, 2015 at 08:32 PM | Comments (1)
Music For My Gang Posse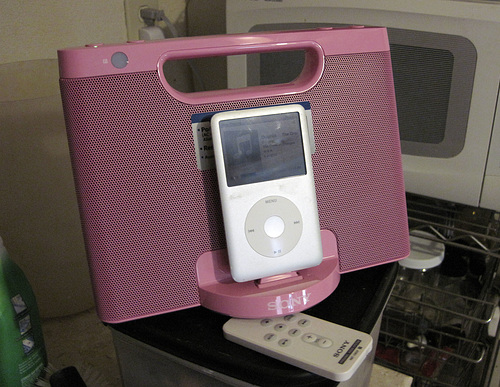 Check it out; this is going to be my new sound system for my bike at Burning Man. Picture me and my posse roaming the playa while this thing booms out the soundtrack to "The Sound Of Music" and other appropriate gang posse tunes. Yes, we will have to avoid big sound camps and stick pretty close together so we can all hear it - but that's just how we roll.
I'm looking for some nursery rhymes set to upbeat music for this. All music suggestions are welcome...but some may be scoffed at.
Before anybody points it out, I will have to gaffer tape the iPod to the Sony dock to make sure it doesn't pop off and become a victim of playa bike traffic.
Filed under Burning Man,Music | permalink | March 26, 2015 at 01:18 PM | Comments (2)
Solar Eclipse Two Ways
If you want to see and hear how ordinary, non-TV professionals respond to the solar eclipse, you'll want to watch this video shot by Frank Jernigan in Norway. A GoPro would be about the least appropriate camera for a solar eclipse, IMO, but when he pans around to show you the crowd out there on the ice, don't they look just like penguins wearing puffy coats and toting cameras?! Very fun video despite or because of the technical issues. Don't tell me you wouldn't say stupid things, too, if you were watching totality from Norway.

Filed under GoPro,Photography,Science | permalink | March 26, 2015 at 08:21 AM | Comments (1)
March 23, 2015
Gotta Draw The Line
Sure, you can have all the guns and marijuana you want and you can use your computer like an 8-lane highway for porn, but our gummint still wants to protect you from your TV. As I understand it, WDBJ in Virginia pointed a camera for three seconds at the website of a woman who was volunteering for the rescue squad. The station's staff failed to note a little video ad for porn videos somewhere on the edge of the screen.
The FCC has proposed a fine of $325,000.
For the sake of clarity the FCC report includes this helpful description: "the Station broadcast an image of sexual activity involving the graphic display of an erect penis being stroked during a news report about a former adult film star who had joined a local volunteer rescue squad."
But that's not entirely all. The FCC has described some other things that could be seen in that news report, including "other images of the woman who is the subject of the story displayed at various times during the report, including one in which she appears to be sitting on a bed, wearing a bra." Oh no! Where is Chicken Little to spread the word!

Filed under Libertarianism,Naturism-Nudism | permalink | March 23, 2015 at 09:42 PM | Comments (3)
March 22, 2015
Hang Gliding Into Burning Man
I had no idea you could cover this sort of distance while hang gliding. This is a 100-mile drive via highways.

Filed under Burning Man,GoPro | permalink | March 22, 2015 at 08:44 PM | Comments (0)
March 19, 2015
Salton Sea?
An excerpt from the new documentary Breaking Point.

Silly Californians. I first heard of the Salton Sea in the 1960s when the highly educational The Monster That Challenged The World was broadcast on channel 9 in Kansas City. I thought "Salton Sea" was a ridiculous fictional name made up for the movie. Click here to watch the mandatory "punishing the sinners" scene that appears in every horror movie which was shot on location at the Salton Sea. Young Jody will never disrespect her mother again. One might bear in mind that this preceded Jaws by 18 years.
Filed under California,Film/Movies,History | permalink | March 19, 2015 at 02:52 PM | Comments (0)
March 18, 2015
Another Homicide
CITY OF DESERT HOT SPRINGS POLICE DEPARTMENT

INCIDENT: PC 187 / Homicide
DATE/TIME OF INCIDENT: March 17, 2015 – 9:10 PM
LOCATION: Intersection of Desert View Ave. / Verbena Dr., City of Desert Hot Springs

NARRATIVE
On Tuesday, March 17th, at 9:10 PM, Officers were dispatched to the intersection of Desert View Ave. and Verbena Dr. for calls of shots heard in the area. Upon arrival, officers found a male juvenile victim. The victim was transported to Desert Regional Medical Center where he succumbed to his injuries.

If anyone has information about the incident they are urged to contact the Desert Hot Springs Police Department at (760) 329-2904.
Filed under Desert Hot Springs,Public Safety | permalink | March 18, 2015 at 10:35 AM | Comments (0)
March 17, 2015
Presbyterian Church (USA) Votes For Same-Sex Marriage
The vote reported in the N.Y. Times stands at "87 presbyteries in favor, 41 against and one tied." The church has 171 presbyteries and 87 puts the vote just above 50%; but it's 67% of the presbyteries who have reported their vote. "'Finally, the church in its constitutional documents fully recognizes that the love of gays and lesbian couples is worth celebrating in the faith community,' said the Rev. Brian D. Ellison, executive director of the Covenant Network of Presbyterians, which advocates gay inclusion in the church."
But the opposition has been heard from too. "Paul Detterman, national director of The Fellowship Community, a group of conservatives who have stayed in the church, said: 'Our objection to the passage of the marriage amendment is in no way, shape or form anti-gay. It is in no way intended as anything but concern that the church is capitulating to the culture and is misrepresenting the message of Scripture.'"
And we all know that if it's in scripture, its interpretation can never change. We've seen this in the Presbyterian church (and other churches) before.
In the Civil War the church split over the issue of slavery. From the "Minutes of the General Assembly of the Presbyterian Church in the Confederate States of America":

In the first place, we would have it distinctly understood that, in our ecclesiastical Capacity, we are neither friends nor the foes of slavery, that is to say, we have no commission either to propagate or abolish it. The policy of its existence or nonexistence is a question which exclusively belongs to the state. We have no right, as a church, to enjoin it as a duty or to condemn it as a sin. Our business is with the duties which spring from the relation; the duties of the masters, on the one hand, and of the slaves, on the other.
It goes on at length to point out all of the parts of the Bible that support slavery. But that wasn't good enough for the Confederate Presbyterians. They claimed that slavery improved the lot of Africans who were captured and brought here as slaves: "a gracious providence that they have been brought in such numbers to our shores and redeemed from the bondage of barbarism and sin."
They don't express an opinion on those African-Americans who were born into slavery, possibly of Presbyterian parents, who did not need to be redeemed from the bondage of barbarism and sin.
There's a lot more pretzel logic there, if you want to try to follow it. But really there's no need to go back in history. Just listen to those good church people who are not in anyway whatsoever anti-gay (not a bit, why some their best friends...etc.) but just have to adhere to what the Scripture says. Because you know that never, ever changes.
Polygamy, slavery, stonings, racism, genocide. It's all in the good book.
Filed under Gay Issues,Religion | permalink | March 17, 2015 at 08:28 PM | Comments (0)
March 16, 2015
Does This Surprise Anyone Over The Age Of 35?
"[D]espite having the highest levels of educational attainment of any previous American generation, these [ages 16-34] young adults on average demonstrate relatively weak skills in literacy, numeracy, and problem solving in technology-rich environments compared to their international peers." A study comparing young Americans with people of the same age in 21 other technology-rich nations showed that despite more years of schooling than ever, American youth are trailing way behind other nations:
"In literacy, U.S. millennials scored lower than 15 of the 22 participating countries. Only millennials in Spain and Italy had lower scores."
"In numeracy, U.S. millennials ranked last, along with Italy and Spain."
"In PS-TRE [problem solving in technology-rich environments], U.S. millennials also ranked last, along with the Slovak Republic, Ireland, and Poland."
When I read "problem solving in technology-rich environments" I interpret it as "do you know how to Google on an iPad?"
The further one reads in this report, the more obvious it becomes that we should study what Italy and Spain are doing, and then do the opposite.
| permalink | March 16, 2015 at 12:54 PM | Comments (0)
The Free Market
In libertarian wet dreams, free markets mean a greater supply, higher quality and lower price - generally. And sometimes that happens. Like, frinstance, marijuana. A couple of legal states plus lots of medical marijuana states means the market is a little freer than it was. And now, the United States may become an EXporter of marijuana. The Mexicans are in a buying mood.
Filed under Libertarianism,Marijuana | permalink | March 16, 2015 at 12:27 PM | Comments (0)
March 14, 2015
Hiking The Presidio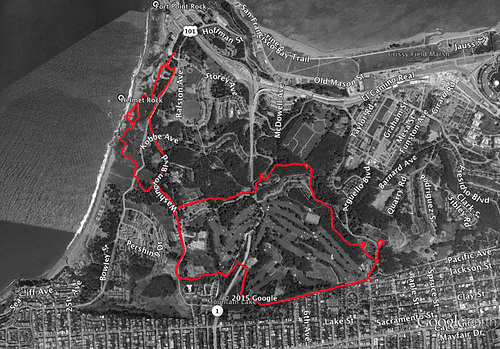 The San Francisco National Cemetery.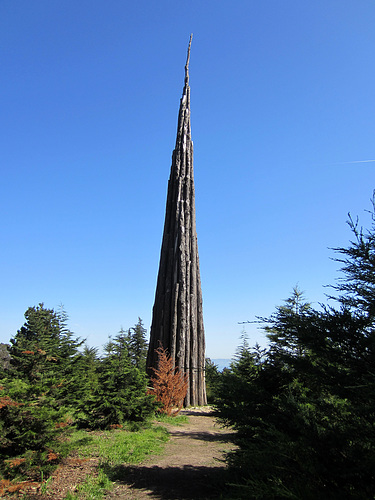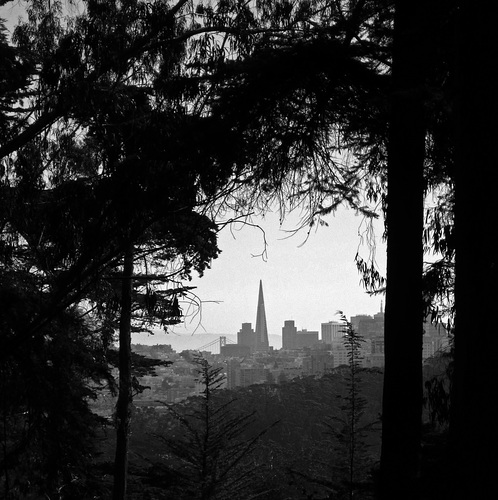 I'm sure this little gap in the foliage is not accidental.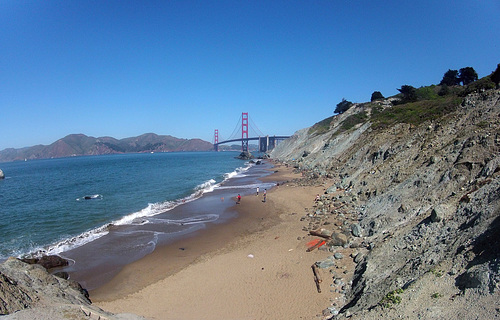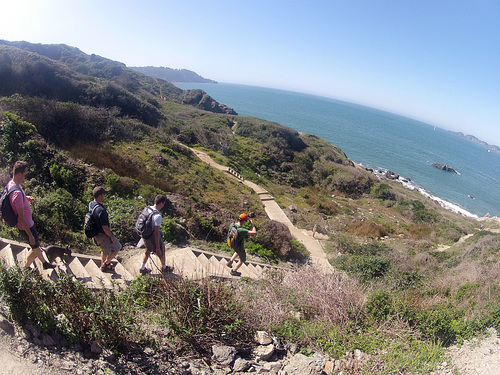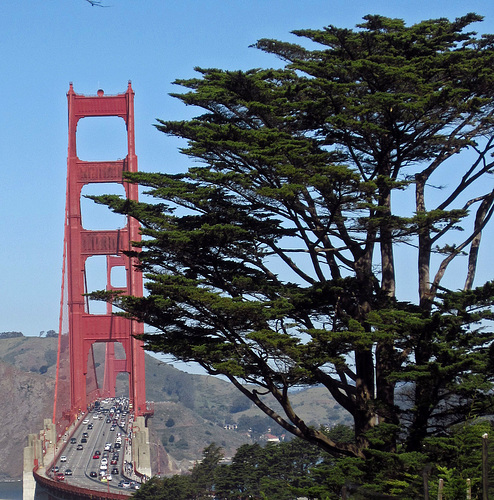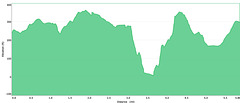 The complete set of photos is available here.
Filed under California,GoPro,Photography | permalink | March 14, 2015 at 02:56 PM | Comments (0)
Last Night's DUI Statistics
CITY OF DESERT HOT SPRINGS POLICE DEPARTMENT

INCIDENT: DUI Checkpoint
DATE/TIME OF INCIDENT: March 13, 2015, 8:00 PM
LOCATION: 13700 Palm Drive

NARRATIVE

On Friday March 13, 2015, Desert Hot Springs Police Department conducted a DUI Checkpoint at 13700 Palm Drive. The following is the statistical data:

Vehicles Through Checkpoint: 638 vehicles
Vehicles Screened: 608 vehicles
Vehicles not screened: 35 vehicles
Vehicles sent to secondary: 40
SFSTs [Standardized Field Sobriety Test] conducted: 6
DUI Arrests: 5
Citations Issued: 7 (12500, 16028(A), 14601.1(a))
Vehicles towed: 7
Filed under Desert Hot Springs,Public Safety | permalink | March 14, 2015 at 11:16 AM | Comments (0)
March 13, 2015
Getting To And Hiking The Alexander Zuckermann Bicycle-Pedestrian Path
While I was up in the San Francisco Bay area last weekend, I went over to the east bay and hiked that portion of the new Bay Bridge Trail that is open to the public. Officially it is the Alexander Zuckermann Bicycle-Pedestrian Path. The part everyone is excited about is the path that is constructed along the new eastern span of the Bay Bridge which will eventually allow bicyclists and pedestrians to have direct access to Yerba Buena Island and Treasure Island. Currently, public access to the path stops just as it gets to the suspension portion of the bridge just east of the Yerba Buena tunnel.
But you don't get to bike or walk on that new path unless you find one of the trailheads in the real world environments of Emeryville or Oakland...or the bus stop on the Bay Bridge itself. The bus stop has been there all along, I'm sure, primarily to serve Caltrans employees who work on the bridge. Go to ACTransit.org if you want to figure out how to take advantage of the easy way.
The Bay Bridge's own website offers up a nearly useless map. The map has been shrunk so that no street names are readable with no link to a readable version. Your tax dollars at work. TrailLink has a better map, but you have to register to use it, and it only shows one entry point - the one I used. The Oakland Wiki has a similar map and you don't have to register to use it.
The trailhead that I did not go to is in Oakland at 37.82198, -122.301379, AKA the parking lot at Maritime Street and Burma Road.
The trailhead I did go to is in front of the Emeryville IKEA store at 37.829521,-122.292555. The current imagery at that link puts it in shadow, but it's there. The trailhead on the easterly (IKEA) side of Shellmound Street is for pedestrians and bicycles. Over on the westerly side of the street is another access point that joins the bike path that goes along there. They join immediately after the easterly branch crosses beneath the Shellmound/40th Street viaduct.
There are several bus routes that will take you right to the trailhead (or to IKEA, which is its own kind of hike):
Or, you can do like I did, and just walk the 1.8 miles from MacArthur BART. Head west on 40th Street. As you near the trailhead, 40th will go up on a viaduct that curves to the right and comes down as Shellmound Street. The trailhead is RIGHT THERE to your right. Even the blind can't miss it. If you get to the first driveway for IKEA, then you have gone too far! Turn around! Walk back the way you came a hundred feet or so and wake up and pay attention to the world around you. How in the hell did you miss that?
There is also a crosswalk at that first IKEA driveway which you can use to cross over Shellmound Street to get to the twin trailhead on that side of the street, but why expose yourself to traffic like that? The IKEA, BTW, offers restrooms and water fountains, but comes up pretty short in the hiking supply department. I'm sure you could find a water bottle in there, if you wanted to take the time to look for it. There is a Trader Joe's about half a mile north and you will have passed various retail opportunities on 40th Street.
Once you get to that IKEA trailhead, this video will give you some idea of what you could see along the path:

Here's a link to all my still photos from the hike which was about 10 miles round trip from the MacArthur station. Samples: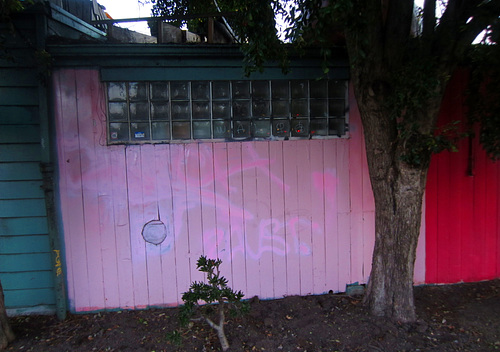 On 40th Street in Oakland.


A Hudson in Emeryville.

A Porsche, also in Emeryville.

Pixar Studios in, you know, Emeryville.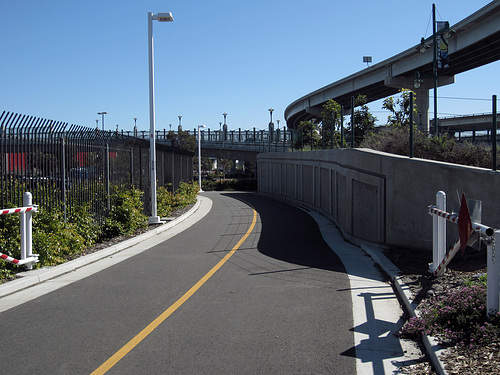 The very beginning of the trail where it curves under the Shellmound Street viaduct.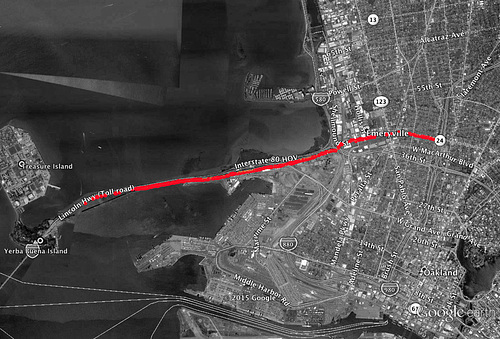 Five-ish miles from MacArthur Station to the limit of the path.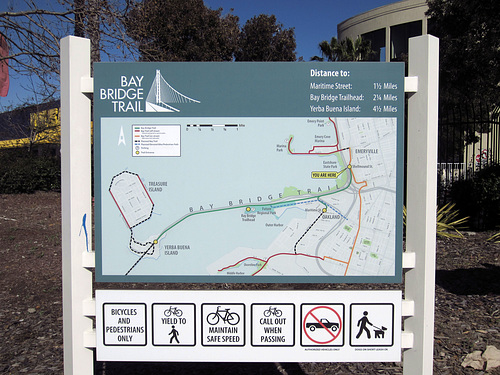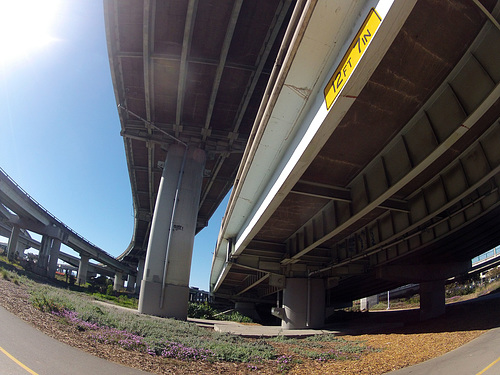 You hike under a lot of elevated highways at first.

Currently the path is open from 7 AM to 6 PM and they say that CHP begins clearing it at 4:30. I was on there after 4:30 and saw no sign of CHP, but a couple of local police (or sheriff's deputies) bicycled up the bridge about then. This photo was taken at about the spot where the path from Oakland joins the path from Emeryville.

There is a sign at these porta-potties saying they are the last ones before the bridge. That is not true.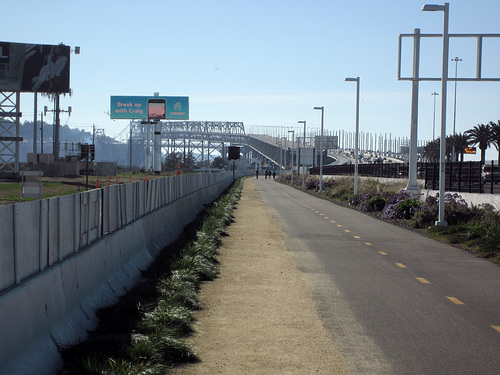 This is the AC Transit bus stop shelter on the Bay Bridge.

FYI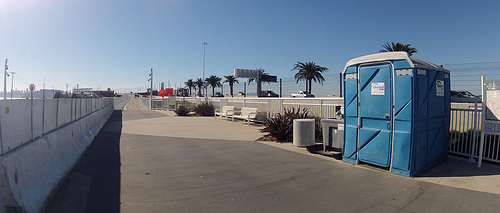 This is the last porta-potty before the bridge. I didn't spot anyplace to get potable water anywhere along the trail, so bring all you need.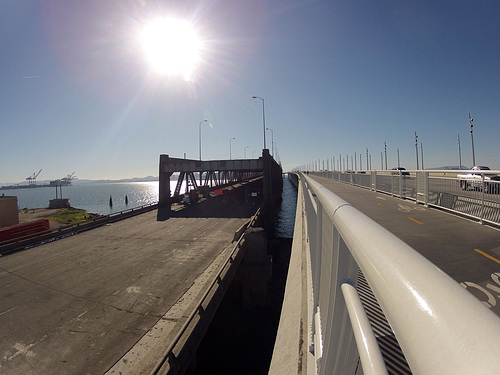 What's left of the old bridge on the left.

Lighting for the path on the bridge comes from these tubes situated about a foot above the pavement.

Closer to the raw end of the old bridge.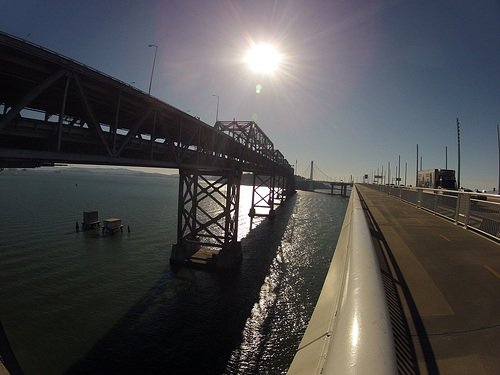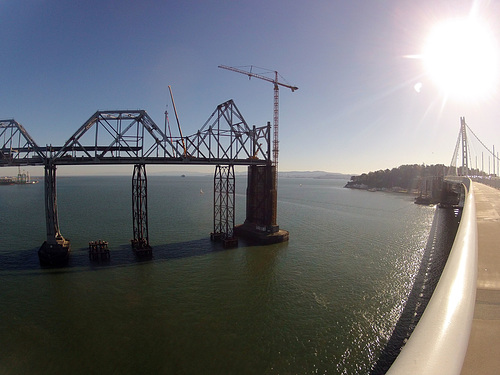 The other end of the old bridge.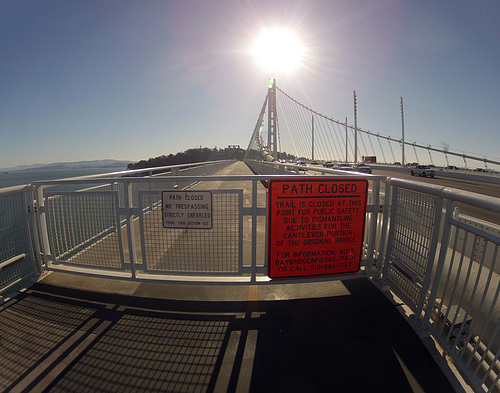 As far as you can go for now. Access to the islands is supposed to happen this summer.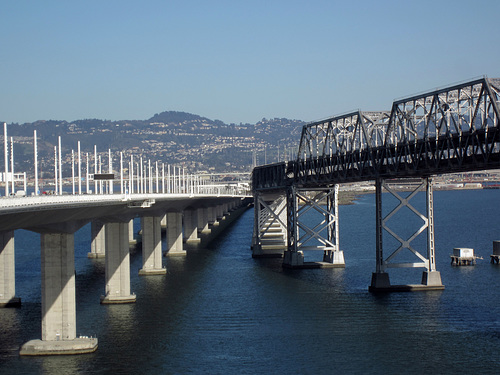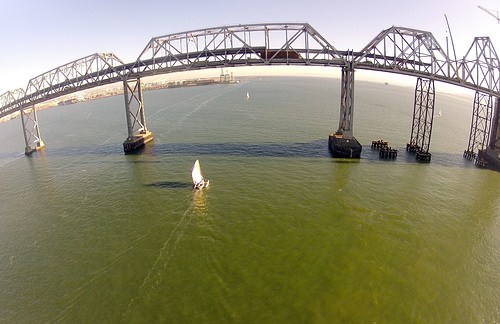 Old equipment under the old Bay Bridge atop one of the support towers. It looks electrical and I wondered why this equipment needed to be this far out from the shore.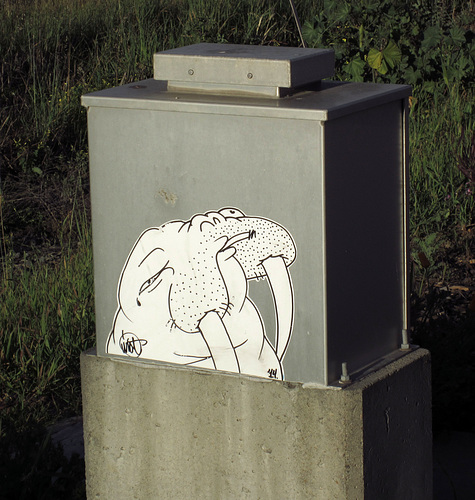 Lots of landscaping along the way before you get to the bridge. Under the biggest snarl of overpasses there is a riparian habitat with all the plants and animals one might expect to find there - except not a lot of water fowl. Of course, buried beneath those highways I don't know how an egret is going to see it, much less get to it.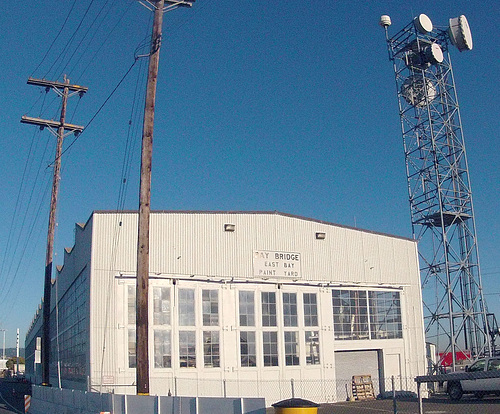 This seems to be the access to the tunnel out to the toll booths. I did not descend. There were no signs telling me to stay away or inviting me in.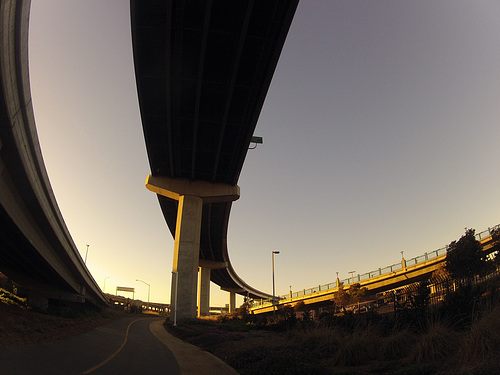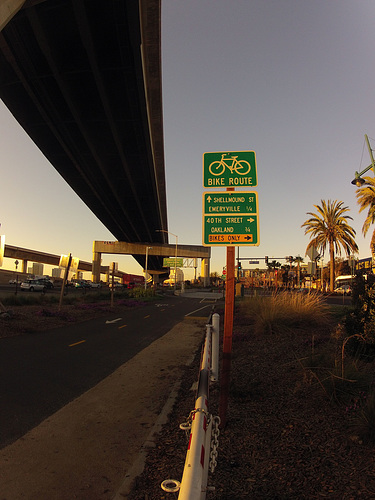 Returning, I followed the branch to the westerly side of Shellmound Street.

On the viaduct facing east on 40th into Emeryville and Oakland. Pedestrians on one side (north and east), bicycles only on the other side.
Filed under Architecture,California,Cities/Urbanism,Cycling,GoPro,Photography,Travel | permalink | March 13, 2015 at 06:55 PM | Comments (1)
March 12, 2015
April 28
That's the day the U.S. Supreme Court has scheduled to hear arguments on the constitutionality of same-sex marriage bans in four states.
And the libertarian Cato Institute has filed its brief supporting marriage equality with the Supreme Court. Their brief includes quotes from members of the House and Senate who proposed the Fourteenth Amendment.
Filed under Gay Issues | permalink | March 12, 2015 at 10:28 PM | Comments (0)
DUI Checkpoint In Desert Hot Springs, Friday, March 13
CITY OF DESERT HOT SPRINGS POLICE DEPARTMENT

DUI/Drivers License Checkpoint Planned on Friday, March 13th

Desert Hot Springs Police Department will be conducting a DUI/Drivers License Checkpoint on March 13th, 2015 at an undisclosed location within the city limits between the hours of 7:00 p.m. to 3:00 a.m.

The deterrent effect of DUI checkpoints is a proven resource in reducing the number of persons killed and injured in alcohol or drug involved crashes. Research shows that crashes involving an impaired driver can be reduced by up to 20 percent when well-publicized DUI checkpoints and proactive DUI patrols are conducted routinely. In California, this deadly crime led to 802 deaths in 2012 because someone failed to designate a sober driver. Nationally, the latest data shows nearly 10,000 were killed by an impaired driver.

Officers will be looking for signs of alcohol and/or drug impairment with officers checking drivers for proper licensing delaying motorists only momentarily. When possible, specially trained officers will be available to evaluate those suspected of drug-impaired driving. Recent statistics reveal that 30 percent of drivers in fatal crashes had one or more drugs in their systems. A study of active drivers showed more tested positive for drugs that may impair driving (14 percent) than did for alcohol (7.3 percent). Of the drugs, marijuana was most prevalent, at 7.4 percent, slightly more than alcohol. According to the National Highway Traffic Safety Administration (NHTSA), checkpoints have provided the most effective documented results of any of the DUI enforcement strategies, while also yielding considerable cost savings of $6 for every $1 spent. Nearly 90 percent of California drivers approve of DUI checkpoints.

DUI Checkpoints are placed in locations based on collision statistics and frequency of DUI arrests affording the greatest opportunity for achieving drunk and drugged driving deterrence. Locations are chosen with safety considerations for the officers and the public.

Drivers caught driving impaired can expect the impact of a DUI arrest to include jail time, fines, fees, DUI classes, other expenses that can exceed $10,000 not to mention the embarrassment when friends and family find out. Funding for this checkpoint is provided to Desert Hot Springs Police Department by a grant from the California Office of Traffic Safety, through the National Highway Traffic Safety Administration, reminding everyone to 'Report Drunk Driver – Call 9-1-1'.
Filed under Desert Hot Springs,Public Safety | permalink | March 12, 2015 at 10:32 AM | Comments (0)