« January 2015 | Main | March 2015 »
February 28, 2015
If I Had A GoPro Hero 3, 3+ or 4
I'd be all over this. A super-extended battery for those camera models. As I write this, there are still a few rewards available which will get you one of these batteries for $1 + $6 shipping! Once those are gone, you'll have to donate $35 to get one of the batteries.
This is a Kickstarter campaign and it has far exceeded its goal.
I found this video to be a little confusing. The Limefuel Epic is a battery backpack. The Limefuel Epic on its own is said to be able to power your GoPro for 7 to 12 hours. It includes a custom shell back to accommodate that big thing. It's bigger than the camera. You do not need to go around with the battery backpack plugged into a bigger separate power source. Why they put that view into the video, I don't know.

Filed under GoPro,Shopping,Technology | permalink | February 28, 2015 at 02:37 PM | Comments (0)
February 27, 2015
Google Architecture
While Apple builds its giant new ivory tower in Cupertino, Google says it plans to take an entirely different approach:

You can see some images of the proposed structures here.
The lead architect, Bjarke Ingels, has a TEDx Talk here.
Apple vs. Google vs. Amazon vs. Facebook Campus Wars.
Filed under Architecture,California,Technology | permalink | February 27, 2015 at 02:17 PM | Comments (0)
February 26, 2015
Record Price For A F.L. Wright House
The John Storer Residence at 8161 Hollywood Blvd has sold for $6.8 million. Google map. Wikipedia.
By the early 1980s, the house had fallen into a dilapidated condition before being acquired in 1984 for $800,000 by motion picture producer Joel Silver. Silver, who has produced such films as Lethal Weapon, Die Hard and The Matrix, began a restoration project in 1984. The restoration was carried out under the supervision of Wright's grandson, Eric Lloyd Wright, and Martin Eli Weil, past president of the Los Angeles Conservancy. One of the challenges in the restoration effort was to develop a formula to duplicate the structure's concrete blocks. Ultimately, replacement blocks were made using soil from the backyard mixed with cement to conform to Wright's concept of "organic architecture." In addition to restoring the house, Silver also restored the original landscaping and built a pool that had been planned but had not been built. Eric Wright worked with Silver in completing elements included in the original plans. The restoration project won awards from the California Council of the American Institute of Architects and the Los Angeles Conservancy. In 2005, The New York Times wrote that the Storer House "is widely considered the best-preserved Wright building in Los Angeles."
Filed under Architecture,History | permalink | February 26, 2015 at 10:00 PM | Comments (0)
CV Link Route Identification Workshop #1
Tonight was the first of two community meetings in Desert Hot Springs to discuss the route and other aspects of the proposed CV Link as it may extend to Desert Hot Springs. The second meeting will be Monday, March 2, 6 PM, Carl May Center.
I'll just share the audio with you without comment:

The discussion wandered across many subjects not directly relevant to the CV Link, including access to Joshua Tree National Park. I want to share this map with you to give you an idea of the location of major landmarks north of the city, since these seem to be pretty slippery in the minds of many.


The locations drawn on the map are rough approximations. The blue squiggles from left to right are Big Morongo Canyon, Little Morongo Canyon, Long Canyon. The thin green line represents an approximation of the western boundaries of Joshua Tree National Park. The yellow spot is Black Rock Campground. The pink areas are what are labeled as Lower and Upper Covington on the National Geographic map of Joshua Tree National Park.
But if one is considering access from Desert Hot Springs into the park, one must be aware of the wilderness areas in the park:
The darker areas are designated as wilderness. The red lines are the paved roads. As you can see, the wilderness areas butt up against the entire western boundary of the park. The first break in wilderness as you travel along Dillon away from Desert Hot Springs is at Berdoo Canyon, where you can see they've carved that road out of the wilderness areas. At its narrowest, the Berdoo Canyon gap is more than half a mile wide.
What is wilderness, you may ask. The National Park Service explains it to you here.
Designated wilderness is the highest level of conservation protection for federal lands. Only Congress may designate wilderness or change the status of wilderness areas. Wilderness areas are designated within existing federal public land. Congress has directed four federal land management agencies—U.S. Forest Service, Bureau of Land Management, U.S. Fish and Wildlife Service, and National Park Service—to manage wilderness areas so as to preserve and, where possible, to restore their wilderness character.

The Wilderness Act prohibits permanent roads and commercial enterprises, except commercial services that may provide for recreational or other purposes of the Wilderness Act. Wilderness areas generally do not allow motorized equipment, motor vehicles, mechanical transport, temporary roads, permanent structures or installations (with exceptions in Alaska).
People can recreate in wilderness, though in most places individuals do so without mechanical transport. Visitors may hike, fish, camp, watch wildlife, photograph, or hunt (where legally authorized).
Those wilderness areas will remain a permanent challenge to connecting DHS to JTNP in the big way that I think some people envision. Can we get Congress to carve a chunk out the wilderness to foster the economic development of Desert Hot Springs? How persuasive do we think Congressman Ruiz is? As it stands now, Desert Hot Springs could be the stepping off point for hiking trails into the park, but that's about it.
Filed under Coachella Valley,Cycling,Desert Hot Springs,Health,Politics,Sports,Travel | permalink | February 26, 2015 at 09:22 PM | Comments (2)
The Beauty Of Los Angeles
A good video of downtown L.A. shot with a drone that shows off a lot of the architectural detail and murals that people either can't see, don't see or take for granted.

Filed under Architecture,Art,California,Cities/Urbanism,Photography | permalink | February 26, 2015 at 02:35 PM | Comments (0)
Good News!
You know how you thought that when you died and went to heaven you'd be able to have unlimited Girl Scout cookies all year long? The good news is that now you don't have to die! Coming soon, the Girl Scout Cookie Oven ($60) and cookie mixes ($7). It comes with the Thin Mint mix, and you will be able to buy mixes for Trefoils, Samoas, Do-si-dos, Chocolate Chip, Sugar, Oatmeal and Tagalongs.
The oven will be available in time for Christmas 2015. The press release gives the prices for the mixes as $15 each! If that's the case, it would be cheaper to just steal a truckload of Girl Scout cookies and rent a big cold storage place to keep them in. If money means nothing to you, there will also be a Girl Scout Cookie Stand for $80 with which you can, like, sell cookies. I would suggest you just get something like this basic folding card table for under $38
, take it out to the curb in front of your house and sell your homemade Girl Scout cookies until the trademark police come along and shut you down.

Filed under Food and Drink | permalink | February 26, 2015 at 01:37 PM | Comments (0)
Music Video In DHS
Shot at the DHS Spa hotel and other sites in Desert Hot Springs, this video has been on Youtube since September, but I hadn't seen any mention of it until Michael Burke posted it on the Desert Hot Springs Neighborhood Group.

Filed under Coachella Valley,Desert Hot Springs,Music | permalink | February 26, 2015 at 01:08 PM | Comments (1)
February 24, 2015
"These times of beautiful weather"
The La Quinta Police are of the opinion that our recent high winds, rain and temperature drop constitute "beautiful weather." I think they may need some younger detectives.
The La Quinta Police Department would like to remind our residents that cooler overnight temperatures can bring the potential for increased residential burglaries and prowlers in our neighborhoods.

The lower seasonal temperatures can create the urge to sleep with our doors and windows open, or to leave our windows unsecured while absent on day trips or working away from the house. It's during these times of beautiful weather; a greater opportunity for criminals to steal items from inside our home exists. The cooler weather also brings the potential for criminals to prowl our neighborhoods looking for easy access into our homes.

The police officers who protect La Quinta take every step to help citizens safeguard their personal safety and valuables by making frequent patrols of our business centers and neighborhoods. The following list provides steps every resident can take to help La Quinta police officers make our city an unfriendly place for criminals.


Keep your garage door completely closed when inside or away from your home. Make a habit of checking and closing your garage door before you prepare for bedtime each night.
Never leave for the day, or sleep overnight, with any doors into your home open or unlocked.
Ideally, you should never leave for the day or sleep with your windows unlocked and open. If you have the urge to allow our beautiful weather into your home, consult your security professional or local hardware store to learn how you can purchase and install window locks.
Be vigilant of strange activity or people near your home. People looking over backyard fences, walking from window-to-window around the outside of homes, staying close to landscape bushes or lingering in the shadows around homes can be indicators of criminal activity. La Quinta police officers work hard to represent you well and want you to report any strange activity you see in your neighborhood to them by calling 9-1-1 immediately.
Be vigilant of strange circumstances around your home. Window screens or fence padlocks which have been inexplicably cut or removed from your home, outside light bulbs which are unscrewed from the socket or removed entirely, and unexplained damage to window or door locks can be indicators of criminal circumstance.


La Quinta police officers take pride in their investigation of criminal circumstances around your home and ask that you notify them by calling the non-emergency dispatch center at (760) 836-3215.
One urge I did not have last night was to open up my windows and doors.
Filed under Coachella Valley,Public Safety | permalink | February 24, 2015 at 11:51 AM | Comments (4)
February 22, 2015
Kirk Cameron's Big Night
Razzies for worst picture, worst actor, worst screenplay and worst screen combo were awarded to Kirk Cameron's Saving Christmas.
The film has achieved the remarkable distinction of a 0% critics' rating on RottenTomatoes. Even the user reviews put it at only 31% approval.
On Metacritic, the numbers are different: 18% critics' rating (which is better), but only 1.6 (out of 10, IOW 16%) from ordinary viewers. All of the 5-star reviews from viewers sound like they were written by the same person, as they call claim radical transformations of the viewer. Like this one:
ATHEISTS: when you go to see this movie, do NOT go with your preconceived notions about Christianity. I went with mine and, well....I can in all honesty...they were utterly shattered. Kirk Cameron's speech to Christian in the car is so moving, so compelling, so convicting...I was brought to my knees in a moment of cognitive dissonance in which I ultiamately renounced my atheism because of an overwhelming desire to surrender my life to Jesus. I'm serious, guys. This film changed my life. And I really can;t say that about any other films.
Amazing. All these centuries of searching for the magic cure for atheism only to discover it in a really bad American movie. Makes you wonder why there aren't any good movies that shatter atheism.
Filed under Film/Movies,Religion | permalink | February 22, 2015 at 02:39 PM | Comments (0)
February 21, 2015
DJI Phantom Near Desert Hot Springs
Shot on the outskirts of Desert Hot Springs - except for one segment with big boulders that must be in the high desert - the videographer tested his GoPro Hero3+ on the DJI Phantom 2 quadcopter with the H3-2D gimbal.

Filed under Coachella Valley,Desert Hot Springs,GoPro,Photography | permalink | February 21, 2015 at 04:49 PM | Comments (0)
February 20, 2015
Getty Villa
Yesterday, Jeff and I visited the Getty Villa - the one overlooking the Pacific - not the Getty Center, which is the one overlooking the 405 and the rest of Los Angeles. This was the first time at the Villa for both of us.
If you were one of those students who excelled in learning to identify corinthian, ionic and doric columns, then the Getty Villa will be your opportunity to show off that knowledge.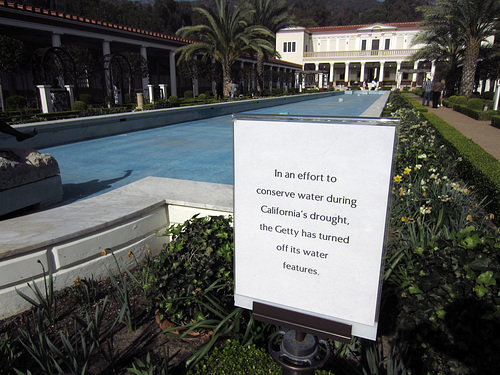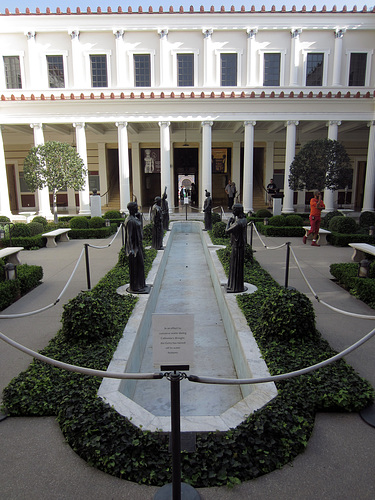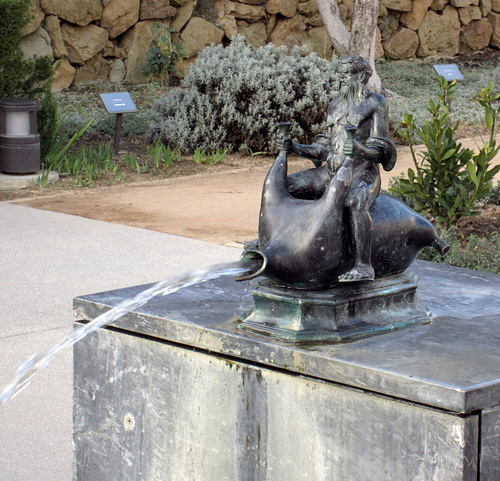 But the fountains in the gardens are still running.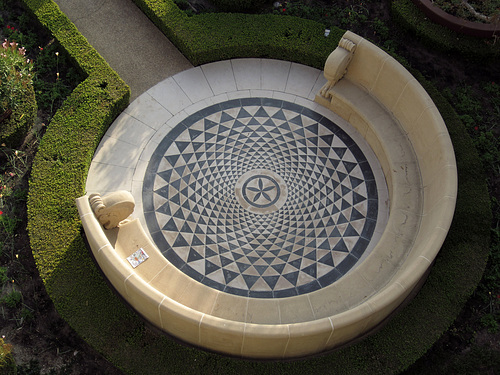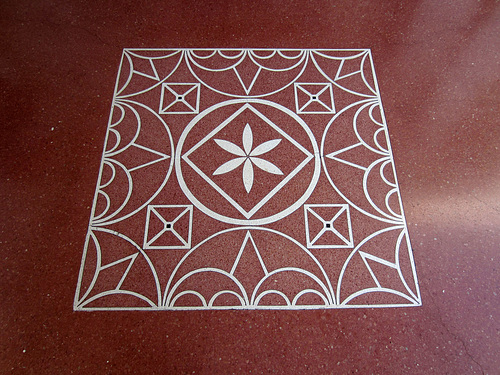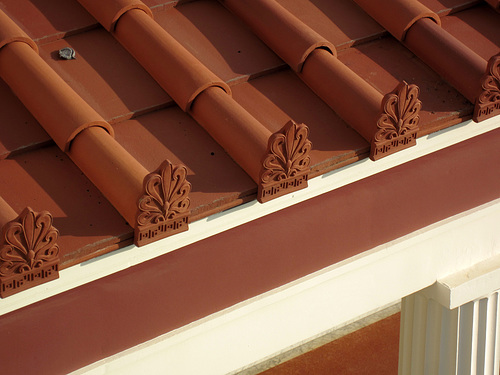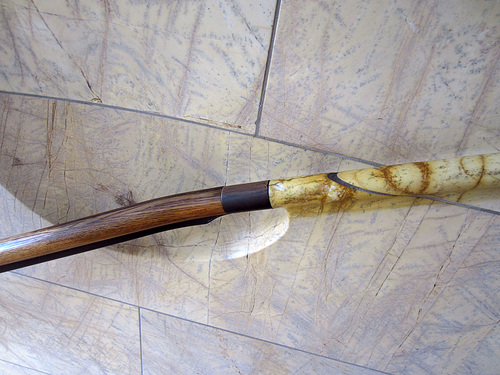 Handrail on a stairway.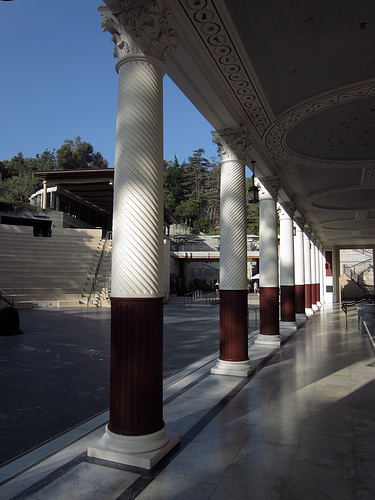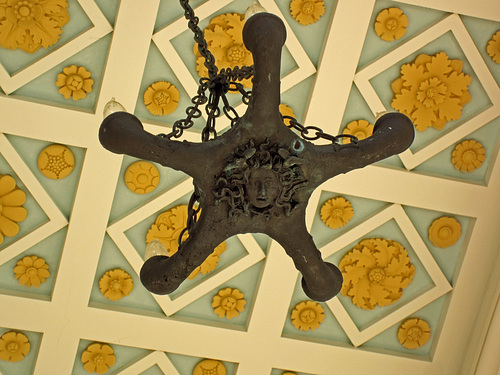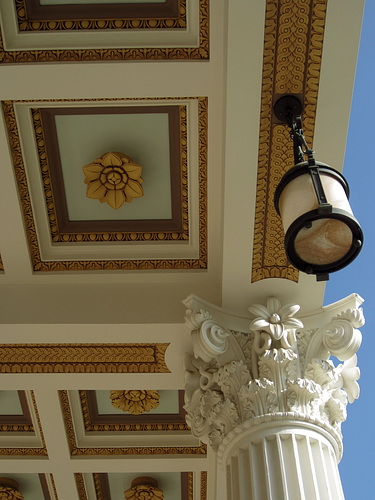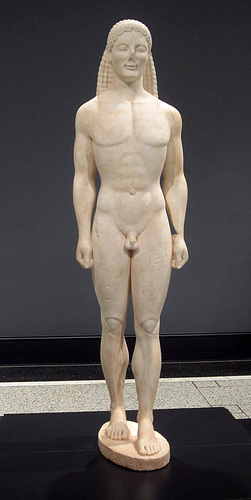 The complete set of photos is here.
Filed under Architecture,Art,History,Photography | permalink | February 20, 2015 at 09:05 PM | Comments (0)
Los Angeles City Hall Observation Deck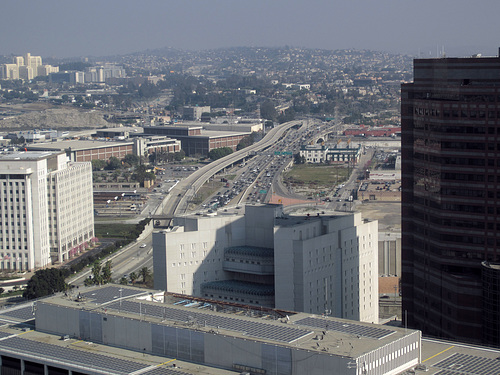 A view of the US 101 linear parking lot.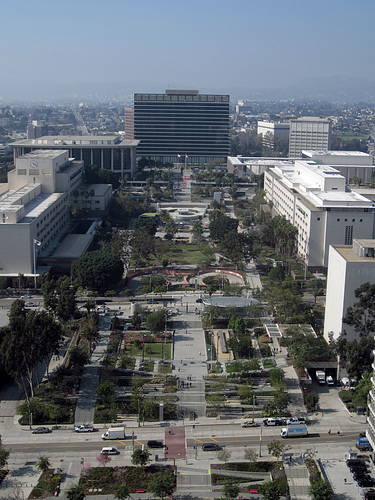 West of City Hall is its equally tough sister agency, the LADWP. You can see the Dorothy Chandler Pavilion cowering in front of the LADWP, a bit to the left.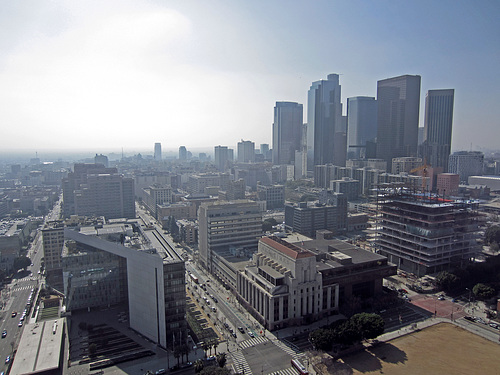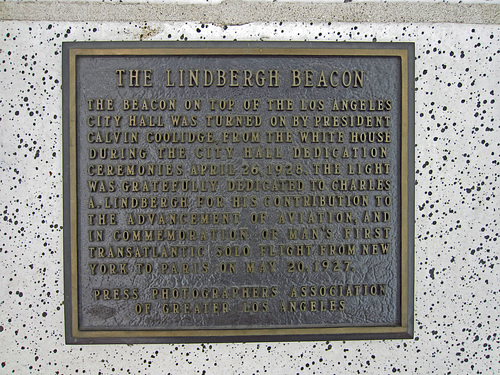 The Lindbergh Beacon

The beacon on top of the Los Angeles City Hall was turned on by President Calvin Coolidge from the White House during the City Hall dedication ceremonies April 26, 1928. The light was gratefully dedicated to Charles A. Lindbergh for his contribution to the advancement of aviation, and in commemoriation of man's first transatlantic solo flight from New York to Paris on May 20, 1927.

Press Photographer Association of greater Los Angeles.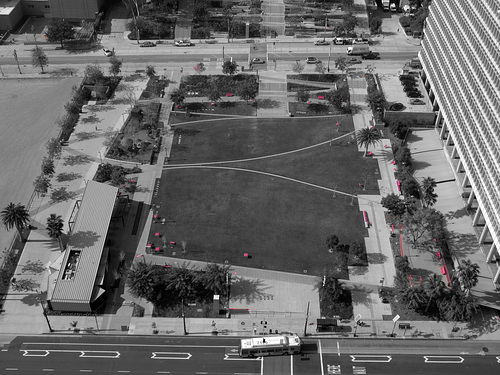 In the park just west of City Hall, the park furniture is bright pink, as it should be. You may need to click the image to get the full-res version in order to appreciate the pink highlights.

They've got some very nice elevators in LA City Hall.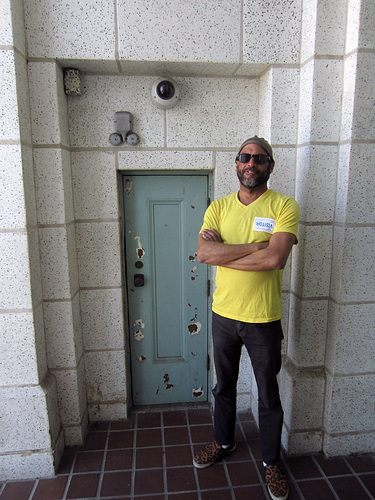 Jeff guards the door to make sure no trolls emerge.
See more of these photos here.
Filed under Architecture,California,Cities/Urbanism,History,Photography | permalink | February 20, 2015 at 12:43 PM | Comments (0)
February 16, 2015
Lesley Gore, 1946-2015

"Gore died Monday, February 16, 2015 at the New York-Presbyterian Hospital in Manhattan, of cancer." Lesley Gore came out in 2005. You Don't Own Me.
It's My Party. This is the one you know even if you don't think you know Lesley Gore.
Filed under Gay Issues,Music | permalink | February 16, 2015 at 01:33 PM | Comments (0)
February 15, 2015
View-Master Gets An Update
Mattel is going to give the old View-Master a substantial update. But they've partnered with Google for this update, so the new View-Master is going to be quite different. Instead of a disc of photographs, you insert your Android phone into the viewer. There's an app, of course, and you can use either "experience reels" for data, or just download it.
There is probably very little truth to the rumor that Hasbro has teamed up with Apple to create a new fourth dimension which will be visible only by using their new viewer. The really novel thing about the Hasbro/Apple viewer is that by using the 4th dimension, they will actually be able to have Steve Jobs do the presentation when they release the viewer to the public.
Filed under Photography,Technology | permalink | February 15, 2015 at 08:32 AM | Comments (0)
February 14, 2015
Pedestrian Safety
They take pedestrian safety very seriously in Russia.

Here's another one where they fight for the rights of bus patrons.
I wonder if Russian police commonly have a-holes express remorse to a video camera as a means of defusing a tense situation.
Filed under Automotive,Public Safety | permalink | February 14, 2015 at 06:12 PM | Comments (0)
"That scar on the map of America"
That scar is the State of Mississippi, according to Anthony Walton in his book, Mississippi: An American Journey. In 2011 three white men lynched a black man in Jackson, Mississippi. Before sentencing, U.S. District Judge Carlton W. Reeves delivered a lengthy speech on the history of lynchings in Mississippi. The speech included some surprising statistics.
"[o]f the 40 martyrs whose names are inscribed in the national Civil Rights Memorial in Montgomery, AL, 19 were killed in Mississippi"
One historian estimated that between 1882 and 1968 4,742 blacks were killed in lynchings in the U.S. That number exceeds the 1,401 prisoners who have been executed legally since 1976. It's more than the estimate 1,700 who died on 9/11/2001. It's greater than the number "killed in Operation Iraqi Freedom and more than twice the number of American casualties in Operation Enduring Freedom — the Afghanistan conflict."
The sadness of this day also has an element of irony to it: Each defendant was escorted into court by agents of an African-American United States Marshal, having been prosecuted by a team of lawyers which includes an African-American AUSA from an office headed by an African-American U.S. attorney — all under the direction of an African-American attorney general, for sentencing before a judge who is African-American, whose final act will be to turn over the care and custody of these individuals to the BOP [Federal Bureau of Prisons] — an agency headed by an African-American.
It's probably not entirely coincidental that Judge Reeves was the one who declared Mississippi's ban on same-sex marriage to be unconstitutional. If you are trying to figure out what that shield on each man's shirt is for, they say "West Pulaski Fire Dept."
Filed under Gay Issues,History | permalink | February 14, 2015 at 05:35 PM | Comments (0)
The View From Ol' Razorback - 2014
Three years in a row now, Jason Phipps has spent a substantial part of his time at Burning Man climbing Trego Peak (Ol' Razorback) on the east side of Black Rock City in order to make fabulous timelapse videos. This year it's got more variety, with quite a few bits showing the wind and weather patterns on the playa. Also, he's either got better lenses or the air was clearer this year. It might actually be the latter.
You will not be able to miss the three powerful green lasers that shined across the city every night, illuminating three big green dots on the slopes of Trego Peak.

Filed under Burning Man | permalink | February 14, 2015 at 12:10 PM | Comments (0)
February 13, 2015
Greater Depths Of Stupidity Than Previously Known To Humans Have Been Found In Alabama
This amazingly stupid graphic has been brought to you by a group what calls itself Sanctity Of Marriage Alabama.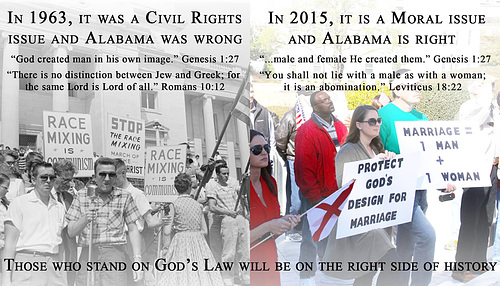 Their website. Their Facebook page.
The group claims that the Alabama Attorney General has appealed the decision of U.S. District Court Judge Granade. Actually, he has said he will appeal to the 11th Circuit Appeals Court. He did ask the U.S. Supreme Court for a stay of the decision; a request they denied. The group also says Governor Bentley "has promised to oppose the ruling and stand on the Constitution he vowed to uphold," but in this news article it sounds like the Governor's main concerns are image and jobs: "I don't want Alabama portrayed in a negative light because when it's portrayed in a negative light, it hurts me recruiting jobs into Alabama. And so I'm hurting families when I can't help people get a job in this state."
Filed under Gay Issues,Religion | permalink | February 13, 2015 at 03:49 PM | Comments (1)
Updated Aerial Views Of Apple Campus Construction
In January, 4K with a GoPro Hero4.

Filed under Architecture,GoPro,Photography | permalink | February 13, 2015 at 10:36 AM | Comments (0)
Found In The Wrong Hands Last Night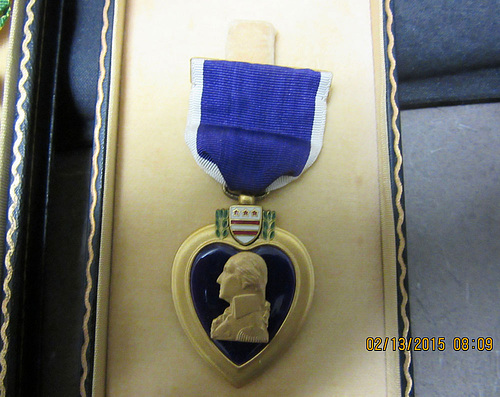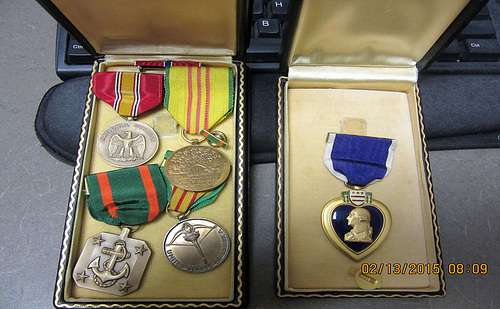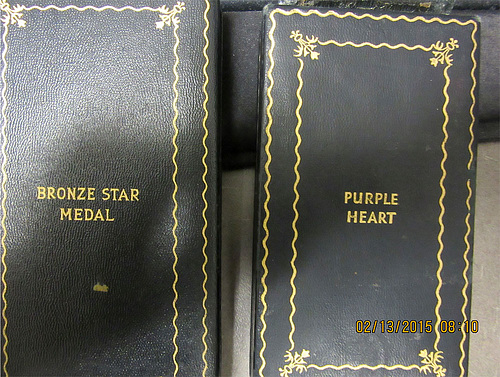 DESCRIPTION OF INCIDENT: Possession of Stolen Property

On 2-13-15, officers of the Desert Hot Springs Police Department arrested two females who were in possession of a stolen vehicle. One of the suspects had Vietnam era military medals in her possession. The medals were in two different cases. One case has "Bronze Star Medal" on the front the other has "Purple Heart" written on the front. The case with that is labeled Bronze Star Medal has four different medals in it and the one with Purple Heart; has a Purple Heart medal.

The Desert Hot Springs Police Department is seeking the American Hero these medals belong to, and want to reunite them with the rightful owner. Anyone who has knowledge of who might own the medals please call the department at the numbers listed below.

Anyone with additional information regarding this investigation please contact the Desert Hot Springs Police Department and ask to speak with Sergeant Larry Essex. (760) 329-6411 ext 322. Email: lessex@dhspd.com Citizens can also call Valley Crime Stoppers at (760) 341-7867.
Filed under Coachella Valley,Desert Hot Springs,History,Public Safety | permalink | February 13, 2015 at 08:48 AM | Comments (1)