« October 2014 | Main | December 2014 »
November 29, 2014
Hoodies
I'm sure we've all noticed that the stores that sell souvenirs for tourists will have stuff bearing the name "Palm Springs" even in Desert Hot Springs. Well, take a look at what I found at Walgreen's today:


They're marked $19.99 but ring up as $9.99 at the cash register. They were in only two colors: that sort of raspberry pink I bought (similar to that raspberry house on Cactus Drive) and fire engine bright yellow-green. That yellow-green color will make the wearer a little bit more visible in bad lighting, so if you know a chronic jaywalker, this might be a gift for them.
They are in men's adult sizes. I saw XXL, XL and L. I didn't dig through all of them, stopping when I found an XL. There is a limited supply and I don't see any reason why they wouldn't sell out of these pretty quickly. I mean, every City Council member is going to get at least one, right?
Made in Honduras and imported via Mexico.
Filed under Coachella Valley,Desert Hot Springs,Shopping | permalink | November 29, 2014 at 05:23 PM | Comments (1)
Heading Out The Cottonwood Exit
While leaving Joshua Tree National Park on Thursday, I mounted the GoPro on the front of my truck and photographed the road from Park Boulevard to the Cottonwood exit. Made this video from the photos:

If you think that the views along that road are so beautiful you want to see every single photo, then go look at this video which the same thing, but slowed down to only 2 fps.
Filed under California,Photography | permalink | November 29, 2014 at 05:03 PM | Comments (1)
November 28, 2014
Crown Prince Lookout?
Yesterday, Thanksgiving, I went up to Joshua Tree and did a little hike near Jumbo Rocks. I was trying to find the Crown Prince Lookout that I thought we did not find last April. I might have gotten there - or not. I was in the area that the hiking guides point to, but I didn't find any indication of any sort of human encampment there at all. Last April a few of the guys hiked to the top of those rocks east of where I hiked today, and they did find some 20th century manmade stuff up there. Anyway, there were pictures: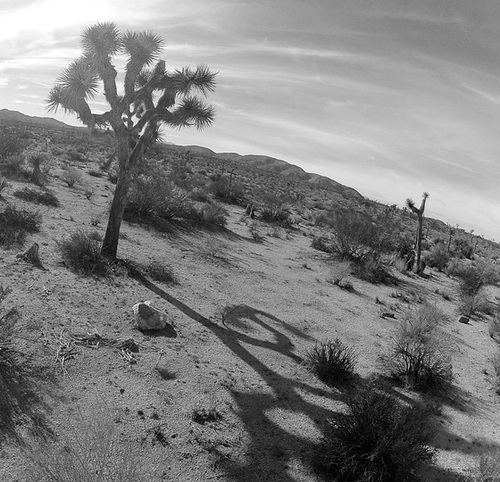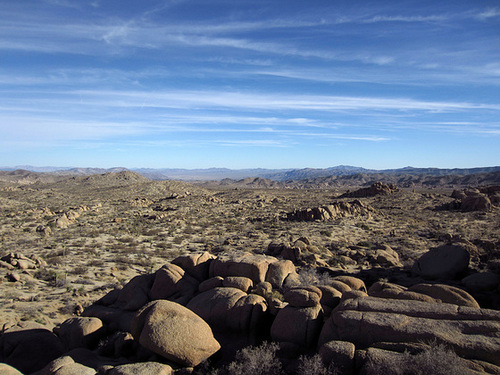 This might be part of the view from Crown Prince Lookout.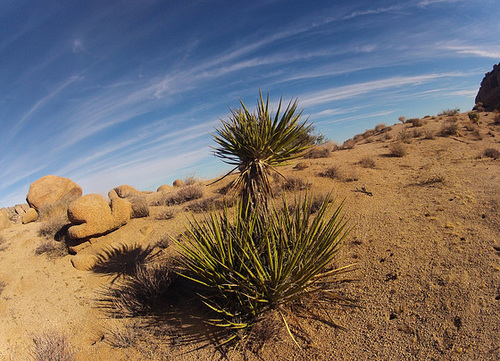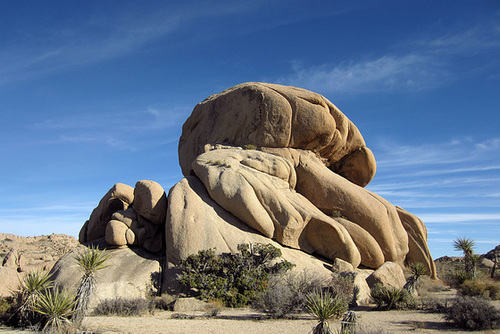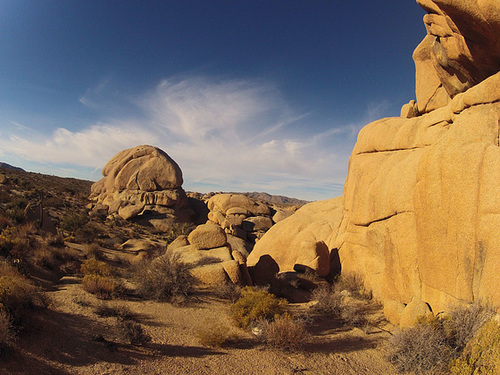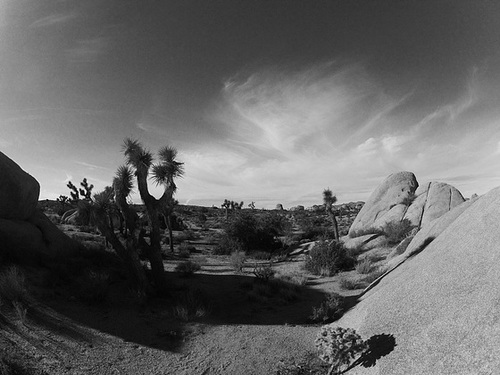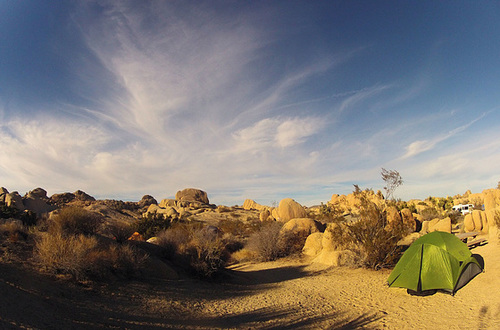 Traipsing through somebody's camp in the Jumbo Rocks campground.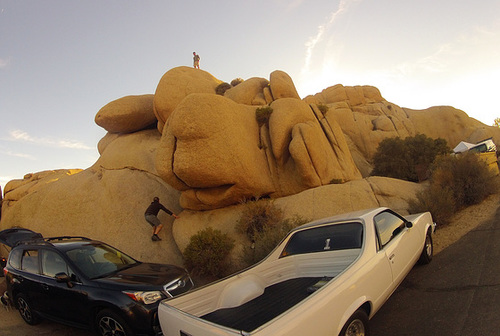 Park & Climb.
The complete set of photos is here. Or this link will get you a slideshow of the complete set.
Filed under California,GoPro,Photography | permalink | November 28, 2014 at 09:20 PM | Comments (1)
November 26, 2014
DHS Planning Commission - 11/26/2014 - a quick report
6:18 PM the meeting began late because Commissioner Parker was late.
Less than 2 minutes later Commissioner Gray proposed an urgency item for the agenda. It would be to select a new Chair. One of the requirements for an urgency item is that the matter came to the attention of the Commission some time after the agenda was published. Former Chair Gerardi announced his resignation from the Commission well before November 20, so this could not possibly be an urgency item. But that determination is to be determined by the Commission. Attorney Quintanilla was present, but he wasn't going to stop them. It was hardly necessary to appoint a new Chair. Vice Chair Sobotta, who has had plenty of practice chairing the meeting, was present. Any new Chair would have served only at this meeting and the beginning of the December meeting. New Chairs are chosen in December. A unanimous vote of all four sitting Commissioners. Commissioner Romero said that she thought it would be more appropriate to wait for the City Council to appoint a new Commissioner (which could happen as early as next week) and then let that new Commissioner participate in electing the new Chair. Seeing that he couldn't get a 4-0 vote, Commissioner Gray withdrew his motion.
At about 7½ minutes into the meeting they were to consider approving the agenda. Commissioner Parker had a technical problem with his display and couldn't read the agenda. He said he couldn't vote to approve it if he couldn't read it. This seems a sure indication to me that he didn't bother to read it before he came to the meeting.
At 9½ minutes the Commission moved on to approving minutes from past meetings. There was quite a backlog, so they had minutes from eight meetings going back as far as the April 2013 meeting. Commissioner Gray moved to table that so that each Commissioner could submit their own minute corrections to staff outside of this meeting. But before his own motion could be voted on Mr. Gray proceeded to discuss them. Specifically, he objected to the fact that each of his public comments are summarized in one sentence, for example: "Dean Gray, resident, spoke of the lack of code enforcement." He wanted his full 3-minute comment to be summarized. Public comments are reduced to one or two sentences in the minutes for the City Council as determined by a resolution of the City Council. It saves staff time and reduces the possibility of an error in the written minutes. The audio recording is available for anyone who needs a fuller report. Everybody's comments, not just Mr. Gray's, are condensed like that.
Then the discussion moved on to seeking an explanation as to why there was such a backlog of unapproved minutes. There was also the question of how many meetings remain for which minutes have not been approved.
Finally, after discussing the minutes for 16 minutes, the vote to table them so they could skip discussing them in order to save time at this meeting was approved 4-0.
Next on the agenda (26 minutes into the meeting) was a discussion of upcoming capital projects by the Mission Springs Water District. Danny Friend and John Soulliere were there to discuss the next steps in the sewer project, the upcoming expansion of the Horton Waste Water Treatment Plant and the attempt to organize a financing mechanism to allow the property owners around the I-10/Indian interchange to pay for construction of the sewer system that they need in order to fully develop that area.
43 minutes into that presentation Commissioner Parker asked a question about odor and got an answer. First, Mr. Friend tried to answer him followed by another answer from Mr. Soulliere. Mr. Parker then asked if the sewer project around Indian and I-10 would be paid for by raising the water bills for the rest of us, thereby indicating that he had somehow totally missed the rather big and obvious point that Mr. Soulliere had been making about the challenges of putting together a financing structure that would allow the property owners of that area to pay for their own sewer system. I'm not going to transcribe it, but here's the recording of that part of the meeting.

Commissioner Parker took deep offense at these words. About an hour and a half later during Commissioner reports (the staff from MSWD had left long before this point) Mr. Parker had this to say:

At an hour and seventeen minutes into the meeting the Commission moved on to the next agenda item: a discussion about banner regulations with Heather Coladonato from the Chamber of Commerce. A business can display a temporary banner for a maximum of four 30-day periods in a calendar year. The periods may be consecutive. A business pays a fee for approval of each banner, so using one sign for consecutive periods saves the business some fees.
Finally at an hour and twenty-eight minutes the Commission got to the one item on the agenda that I think would be of wide interest to the residents and voters of the city: a discussion of possible revisions concerning parking on streets and on private property, on driveways and off, with an eye given to RV parking; and possible revisions in driveway regulations; and possible revisions in the code regarding fences. While I know the public loves to hear urgency ordinances, discussions of minutes, and how to put together a financing district for sewer construction it's things like parking, RVs, driveways and fences that really bring out crowds of pitchfork-carrying citizens.
Five minutes into this discussion Commissioner Gray expressed his concern that the subject could "take a while." Senior Planner Richard Malacoff acknowledged that it could. Mr. Gray said he had read it already and he proposed they just vote it up or down rather than going through each proposed change one by one. Otherwise "it could take all night." Nevertheless, the discussion continued. The greatest share of time was spent discussing how wide a side yard should be in order to legally park an RV on it.
About an hour later after discussing mostly RV parking, but also a little bit of driveways, the decision was made to table the RV elements indefinitely while Mr. Malacoff sought input from code enforcement. Fencing will be brought back at the next Planning Commission meeting which is currently expected to be December 9.
They decided to continue the next item on the agenda, "Rules and Responsibilities of the Planning Commission," to the next meeting.
From there they moved into Commissioner and staff reports, which consumed another 42 minutes. Mr. Gray encouraged staff to stay up to date on the minutes. He also pressed to have the results of the applications for marijuana dispensaries and cultivation sites brought to the Planning Commission meeting in two weeks even after Alex Meyerhoff explained that they had only today done the first scoring of the applications (some were grossly incomplete, he said) and that they needed to check their scoring and they needed to verify everything on all the applications and when that is all brought to the Planning Commission it will be a public hearing and in order to have a public hearing on December 9 they would have to send out the notices tomorrow and staff was not prepared to do that. Mr. Meyerhoff did not mention one of my big concerns, and that's that some of the applicants can afford very good attorneys and if city staff makes an error while rushing this process, the city can be sure to hear about it from some of those attorneys. I think doing it right will make everyone happier, even if it delays things a month or two (or three).
Commissioner Parker said he didn't see the email notifying him of this meeting so he didn't pick up his agenda packet last Thursday. Then he whined about wanting Mr. Malacoff to hold his hand more or to wait on him more or to generally coddle his unwillingness to make an effort. IOW, there was no indication that Mr. Parker would take any responsibility to occasionally check the city calendar to find out about city meetings the way all the rest of us do. Being a Commissioner I suppose he's above all that.
Three hours and 14 minutes, all told, and the one item that people are genuinely concerned about was left incomplete.
Filed under Desert Hot Springs | permalink | November 26, 2014 at 01:03 AM | Comments (4)
November 25, 2014
New At Cabot's Pueblo
BIG CHANGES at the PUEBLO
New Tour - New Experience Announcing our new Signature Tour beginning on December 2nd.

You'll experience Cabot's Pueblo Museum in a whole new way! There is so much to learn about the man responsible for the settling of the Coachella Valley. Do you think the Valley would be the same if Cabot hadn't made it his home?

New rooms open to the pubic for viewing!

Many haven't been open in decades. Cabot's Office and Artist sleeping quarters and drawing space are open for viewing. More rooms will be open soon!

Walk around the beautiful grounds.

We've been hard at work creating peaceful paths and gardens throughout the grounds for you to enjoy. Make sure you see the Alter in the Wilderness - Meditation Garden (it's also the perfect place for a wedding or special event!)

Remind yourself why there is No Place Just Like this Place.

Few people have left as indelible a legacy on the Coachella Valley as Cabot Yerxa. When you tour his remarkable hand-built 5,000 sf Pueblo you experience how his life changed the Valley. His stories will inspire you.

Cabot's Pueblo Museum is open Tuesday through Sunday between 9:00 AM and 4:00 PM. Guided tours are offered every half hour.
Filed under Art,Desert Hot Springs,History | permalink | November 25, 2014 at 10:09 PM | Comments (0)
The Future Has Arrived

This...THIS is the genuine, real, official poster for the current crew on the International Space Station. Your jetpack and flying car will be available for pick-up in the first week of December. The crew includes two Americans, three Russians and one from the European Space Agency who is, to be specific, Italian.
Have I mentioned that the ISS will be landing on the Black Rock Desert next August? Oh yeah, you gotta be there.
Filed under Art,Science | permalink | November 25, 2014 at 12:42 PM | Comments (0)
Mission Creek Preserve
While Joshua Tree National Park is our literal backyard, we do have another backyard over in the Mission Creek Preserve (not to slight our yet-another backyard in the Big Morongo Canyon Preserve). Yesterday, "Nobody Hikes In L.A." (a website dedicated to disproving its title) did a bit on the Mission Creek Preserve. The author describes the popular hike from the gate to the Pacific Crest Trail down in Whitewater Canyon.
Filed under Coachella Valley,Desert Hot Springs | permalink | November 25, 2014 at 12:18 PM | Comments (1)
November 23, 2014
Great Los Angeles Walk 2014
This year's Great Los Angeles Walk was all in the San Fernando Valley, proceeding from Warner Center mostly along Ventura Boulevard easterly to Lankershim Boulevard and then north to the North Hollywood Red/Orange Lines station. The organizer measured it at 17.12 miles, but I think his distances are car miles and, therefore, straighter and shorter than pedestrian wandering miles. My GPS said my mileage was 18.8. All of it was in Los Angeles proper, but the neighborhoods included Woodland Hills, Tarzana, Encino, Sherman Oaks, Studio City and North Hollywood.

The route also traversed this neighborhood I've marked in green for which I could find no name. It's bordered by Toluca Lake, West Toluca Lake, Studio City, Universal City and North Hollywood. If anyone can give me a name, I'd appreciate it.

The route, plain and simple, left to right.

A little rotation and perspective. North is to the right in this image and we walked from top to bottom.
A big plus for some people this year was that the beginning and end of the route were close to the Orange Line Busway, making it easy to put your vehicle at one end or the other and get back to it fairly easily after the walk. I have some advice, however, for tourists who follow after me and come to the North Hollywood station for their fist time to catch the Orange Line. That large structure with a big orange arch over the entrance to the escalators that go underground to the ticket machine area where the highlight color is orange and to the waiting platform which is also highlighted with orange where you will see NO signs at all bearing the word "Red;" yeah, that place is NOT the Orange Line. It's the Red Line and your first clue that you have gone in the wrong entrance will come after you pay your fare and proceed to the waiting platform where you will see that either side of the platform will take you to Union Station and you would get there on a train that runs on rails. So, not the Orange Line. If you're looking for the Orange Line, it's across the street. There is one sign at the Red Line station with one arrow pointing to your right as you exit the Red Line station, but it doesn't indicate that you need to cross the street. Over there is a sort of nondescript bus shelter where you will see no color orange and there are no signs saying "Orange," until you get right into the station and look at the maps. The buses are, however, labeled with the word "Orange" and have some orange trim. This will only help you if a bus is there and you can see it from across the street.
IOW, the Metro's system designer must have worked for Boston's MBTA before coming here.
And while I'm on it, I have a few more observations about the Orange Line. As expected, every sign is in both Spanish and English, except for the warning labels on the poles next to the rear doors that tell you not to hold onto them. Those are only in Spanish. Both poles, left and right, have Spanish warnings. Are we to assume that English speaking people don't ever grab those poles or that they never ride standing up?
The names of stops on the Orange Line are announced once and once only. For some reason, the recorded voice always drops slightly when speaking the actual name, so that I could almost never understand it. Simultaneously, the electronic message display at the front (which is far less sophisticated than the ones they use on ordinary buses) will also display the name of the next stop once and once only at the same time as the recorded announcement. Then the display goes blank. Why it can't be continuously displaying the name of the next stop until it's needed for something else is something I don't know.
When you're waiting in a station and the electronic display shows you the times of the next three Orange Line buses coming, those are not the times of the next three buses coming. That is only a list of the scheduled times. You might as well look at your paper schedule. There seems to be no communication link between the Orange Line buses and the Metro system so that passengers might be able to realistically gauge their travel times. Every other transit system I've encountered that electronically shows train or bus times uses real times based on real feedback, not simply a display of scheduled times.
Despite all of that I somehow managed to traverse the distance from North Hollywood to Warner Center where our walk began. The walk was far less interesting than my three previous walks which all started in central L.A. and headed to Santa Monica, routing us through a range of economic levels and historical architecture. Ventura Boulevard in the San Fernando Valley is fairly much homogenous.

The Fernando Award obelisk in Warner Ranch Park where we organized. The Fernando Awards are given as recognition for volunteerism in the San Fernando Valley.

The Fleetwood Center was never a car dealership.

This unusual building heralded a view to the east that let us know our walk was going to be downhill for the next 15 or 16 miles as we descended towards the L.A. River.

Casa de Cadillac.

Note the curb feelers.

The small building on the left is the Blue Velvet Beauty Boutique on Lankershim Boulevard.

Detail from a mural in North Hollywood.

The mural on Floyd's Barbershop in Sherman Oaks.

I never saw this before: a sign spinner for a medical marijuana doctor.

I'm not as impressed by the claim of "real falling snow" (you can just rent that from Hollywood) as I am by the idea of a 7-foot Hanukkah puppy. This is a Hanukkah tradition I'd not heard of before.

The Valley's Miracle Mile is not quite as impressive as the one on Wilshire Boulevard, but I'm sure they are trying really hard.

Memorial to Thomas G. Taylor who died fighting a fire at this location which is now a Wells Fargo bank. The full story is here and there you will find the photo of the firefighter's 9-year old son which was the basis for the image on the memorial that wraps around the corner to the right. Here's a recent news story. The fire was started by an arsonist who, as of 2013, was still in prison.

"Vape" - new dictionary word of the year. On a related note, while I was waiting for the Orange Line bus a fairly stereotypical medium-sized old lady, wearing her everyday cloth coat, and carrying some shopping whipped out her vape device, took a big draw, and exhaled a cloud of smoke that was obviously from cannabis. Then she put it away.

Related to that is this sign I saw on Lankershim Boulevard. If it needs explaining, an ounce is 28.3495 grams. Marijuana traditionally has been sold in "eighths," an eighth of an ounce, which is about 4 grams. This dispensary claims their 8ths somehow contain 6 grams, which is all fine and good, but it's what they charge for that eighth that matters, isn't it?

This was the goal at the end of the walk. Not exactly the ocean view from Santa Monica, is it? In fact, I would have passed this by except there were about a dozen walkers hanging out there chatting and taking photos.
My complete set of photos is here. Other walkers are sharing their photos in this Flickr pool.
Filed under Cities/Urbanism,Photography | permalink | November 23, 2014 at 05:45 PM | Comments (2)
November 22, 2014
The Votes Are In
The final results for this month's election have been posted. Here are the numbers for the three tax measures in Desert Hot Springs.

Measure HH (MJ cultivation tax)
Yes
2,102
67.76%
No
1,000
32.2%
Total
3,102
100%
Measure II (Tax on sales of MJ)
Yes
2,242
72.23%
No
862
27.77%
Total
3,104
100%
Measure JJ (Sales tax)
Yes
1,371
44.04%
No
1,742
55.96%
Total
3,113
100%
The small difference in outcomes for HH and II is a little curious. Were there thoughtful people who supported the tax on cultivation, but opposed the tax on sales? Or was there some sort of confusion?
Filed under Desert Hot Springs,Marijuana | permalink | November 22, 2014 at 04:15 AM | Comments (2)
November 20, 2014
Trust But Verify
Sure, the South Coast Air Quality Management District has put up a new air quality sensor in Desert Hot Springs, but they're the gummint and who trusts them. Why not stick up your very own air quality sensor?
Friday, November 21, the SCAQMD will host a conference called "My Air Quality: Using Sensors to Know What's in Your Air." The workshop will be at their HQ in Diamond Bar from 9 AM to 5 PM that day.
Manufacturers have begun marketing air monitoring sensors to measure air pollution, and local environmental groups and the public are considering them as inexpensive options to independently evaluate local air quality. The purpose of this forum is to share the latest information on monitoring and sensor technology, their various applications, and their limitations. This workshop will feature experts from various governmental and academic institutions, the private sector and community groups. The SCAQMD encourages anyone interested in this topic to attend this open discussion on sensor performance and data quality as well as sensor issues confronting agencies and proposed next steps.

Topics will include:

Available Sensor Technology, Performance and Data Quality
Community Projects, Sensor Development and Applications
Sensor Technology Demonstration and Posters
Filed under California,Coachella Valley,Desert Hot Springs | permalink | November 20, 2014 at 10:41 AM | Comments (0)
November 19, 2014
Montana, No Stay
Federal Judge Brian Morris has declared Montana's ban on same sex marriage to be unconstitutional. Much of the reasoning is based on Latta v. Otter, which is binding in the 9th Circuit. The decision issued today included no stay, so marriage licenses should be flowing now.
Judge Morris is a new one. He was appointed to the seat last year and confirmed by the Senate in December 2013. Before this position he was on the Montana Supreme Court, an elected position.
Filed under Gay Issues | permalink | November 19, 2014 at 08:37 PM | Comments (0)
Bryan Cranston/Aaron Paul/and that girl from "Seinfeld"
This was posted on YouTube August 19, so maybe I missed it then due to preparations for Burning Man:

Filed under Television | permalink | November 19, 2014 at 12:21 PM | Comments (0)
November 18, 2014
DHS Animal Hospital Offering Discount Services
The Animal Hospital of Desert Hot Springs is proud to announce a new service we're providing to accommodate the needs of residents throughout the Coachella Valley so they can comply with Riverside County Animal Licensing requirements at an affordable price.

What we provide by appointment is a three service bundled package at competitive and affordable pricing. This package includes Spaying or Neutering, Microchip and Rabies Vaccination. Riverside County Animal Licensing requires these procedures for all dogs. We also offer a similar special bundled package for cats.

Dogs (Spay/Neuter, Microchip & Rabies Vaccine)
1-25 lbs: $150.00
26-50 lbs: $160.00
51-75 lbs: $170.00
76-100 lbs: $180.00
100 + lbs: $190.00


Cats (Spay/Neuter, Microchip & FVRCP Vaccine)
Female: $120.00
Male: $110.00


We pride ourselves on providing quality health care for your animals at competitive and affordable pricing. Our goal is to work collaboratively with local communities and County agencies to assist in the health & wellness and safety of our pets.

For an appointment please call (760) 251-1400. Appointments available Monday through Friday from 8:00am to 3:00pm.
They are also offering deals on just spay/neuter, just vaccination, or just microchipping. And there's a "10% discount on services for Active Military and Senior Citizens."
They are at 13700 Palm Drive. You know, the place with the big dog, cat and tortoise mural. Call ahead 760-251-1400 to make an appointment. Their website: animalhospitaldhs.com
Filed under Desert Hot Springs | permalink | November 18, 2014 at 08:55 PM | Comments (1)
Indian Canyon Curve

The western edge of Desert Hot Springs. Photo by Michael Rymer.
Filed under Coachella Valley,Desert Hot Springs,Photography | permalink | November 18, 2014 at 01:11 PM | Comments (0)
November 17, 2014
Harvard Beats Yale
Maybe the title should be "Social Advice For Those Who Refuse To Watch The NFL."
The movie is Harvard Beats Yale 29-29. Available on disc from Netflix or you can stream it from Hulu.
If you are one of those people who can't stand watching NFL football, but have been socially ensnared into a group of friends that do that and you don't have the spine or cojones to abandon your friends, then my suggestion may be for you. Harvard Beats Yale 29-29 is a movie about football (and Vietnam and the Ivy League and "Doonesbury" and Meryl Streep as a college girl and even Tommy Lee Jones) but it is not about the NFL. Not at all. Maybe the NFL gets mentioned once.
It's a documentary with a lot of talking heads. But they are Harvard and Yale graduates who are the talking heads, so they know how to complete sentences and synthesize abstract comparisons and otherwise display their skill in using multiple brain cells simultaneously. Like I said, it's not about the NFL.
But in addition to the talking heads they've got good film of the game. The game where Harvard and Yale played to a 29-29 tie, that is. The Wikipedia article for the film says that the game footage "was a color kinescope of the WHDH telecast." I would guess that the kinescope was made at the time the game was broadcast, or shortly thereafter and the kinescope was recorded on Kodachrome film, because the colors are very good. The film includes instant replays and they appear to be genuine, so either WHDH used videotape or the producers of the film faked them up very well. Then there is the play-by-play dubbed over by Don Gillis, an actual sportscaster who was with Boston's WHDH (and WCVB) from 1962 to 1983 - and after that he continued to host their candlepin program through 1996. In case it needs explaining, "candlepins" is not a different New England name for bowling. It's actually a slightly different game. I never played it, so all I know is that the pins are a lot skinnier than bowling pins.
The game itself has a short Wikipedia article, too.
The setup is this: Harvard and Yale have their "crosstown rivalry" going in New England. It's 1968, the Tet offensive was earlier in the year, Harvard and Yale are both undefeated. The Yale quarterback Brian Dowling, incidentally, had not played in a single losing game since he was in 7th grade. This is the last game of the season. Harvard had a weak coach and a mostly inexperienced team, having lost many of its experienced players to either graduation or the war. The Harvard quarterback that actually brought them to the tie, Frank Champi, was 25 years old and had already served in Vietnam.
Everybody knows how the game turned out because it's right there in the title, but it's how they got there and people's reactions to it (then and still today!) that make the film. I hope it's not a spoiler to tell you that with 42 seconds remaining in the last quarter Yale was ahead with a score of 29-13.
What makes the film work for me is that when they show game footage, all you see is football. There's grass (grass!), two teams, the crowds on the sidelines and the crowds in the stadiums. There are no commercial signs anywhere. Nothing at all is sponsored by Coca-Cola or Marlboro or Chevrolet. There is not even an ad for Narragansett lager. There is no jumbotron. No electronic markings appear magically on the field. There is no ticker running at the bottom of the screen. The fans do not do "the wave." There are no stupid announcers. Just one knowledgable announcer. It's like, you know, watching football. All that and what seems to have been a genuine, life altering, spiritual transformation that affected both teams and still affects them now.
Some info for those who did not walk the earth with the dinosaurs: there was a time when football games could end in a tie, and in 1968 college football did have the two-point conversion after touchdown.
If your friends insist that you have to watch football with them, you can get yourself off the hook by showing them this film. They might even thank you.
Addendum: 1968 was the "good old days" for some people, and that may mean less commercialism and more sportsmanlike behavior. But the other aspects to the "good old days" are clear in this film too. Both teams are all white, as far as I can tell, and both schools were still men only. Yale went coed the next year, 1969, but Harvard didn't go coed until 1977.
Filed under Film/Movies,Sports | permalink | November 17, 2014 at 12:53 PM | Comments (0)
November 15, 2014
DHS Public Safety Commission - 11/13/2014
The first part of the November 13, 2014, meeting of the Public Safety Commission meeting was a joint meeting with the City Council. There was a fascinating discussion on the function of the Commission and how it relates to the City Council. Following that was yet another scintillating presentation by Riverside Animal Control and a discussion of licensing and enforcement (nobody's getting fined, so calm down!). It was as scintillating as the other two or three times this subject has come up in the last year. The audio recording has not yet been posted on the city's website, but I'm sure that after it is you will want to spend a couple of satisfying hours listening to it.
I, however, am going to skip over all that good stuff and just go right to the police report delivered by Chief Maynard during the last hour of the meeting after the City Council had left. Fire Chief Tomlinson was not present, so there was no fire report.
Police
Chief Maynard said that the money budgeted by the City Council for Animal Control will run out by the end of March 2015. If their [disastrous] licensing campaign had continued, it would have raised $100,000 to offset the city's costs. [But then, of course, the Carl May would be jammed full of angry residents.] Animal Control is working with the city to try to get us through this fiscal year.
In October the Police Department began using its traffic safety grant to do some traffic enforcement. The grant, received close to the end of the month, was for $124,000. About $70,000 of that is earmarked for overtime. The remainder is for equipment, which will include DUI checkpoints and saturation patrols, traffic enforcement, distracted driver enforcement, pedestrian safety [my suggestion is two big nets arrayed at night in the middle of Palm Drive, one by Stater Bros., the other by Vons, that will be used to ensnare those chronic darkly dressed jaywalkers], and warrant service operations targeting DUI offenders.
In October the DUI saturation patrol on October 22 made 18 traffic stops, issued 17 citations (speed and failure to stop), performed two field sobriety tests, and one arrest for an unlicensed driver. Warrant service resulted in three arrests. While doing the distracted driver enforcement they made 12 stops and issued 11 citations for texting or talking on a handheld phone while driving.
Chair Bowman asked if they turned up any felons with outstanding warrants when making these traffic stops. The Chief replied, "The problem with traffic enforcement in Desert Hot Springs is that you can't make two or three car stops without winding up taking somebody to jail."
He said Mayor Pro Tem Betts participated in a ride-along and praised the professionalism of the officers.
On October 13 there was a midday robbery at MetroPCS. The perpetrator pulled a gun on the employee who gave him cash from two cash registers, a total of $650. The suspect walked away and has not been located yet. He was described as a black male, 6'1", 150 lbs., wearing a black hat with white lettering, a blue Polo-type shirt with a Polo emblem and the number "3" on the right shoulder. There are no current leads.
On October 24 at 9 PM Desert Regional contacted our Police to report that they had a 5-week old infant with rib fractures, a separated shoulder, and a broken clavicle. The child was, of course, taken by Child Protective Services. Charges are being filed on the parents who are on Osprey Lane, according to the Chief.
In the afternoon of October 28 officers responded to a residence on Desert View where a woman had given birth at home. "The newborn had not been seen by medical staff." The mother said the baby was born the day before. The baby was taken to Desert Regional and Child Protective Services took custody. This is the second time this woman has done this.
On October 30 in the afternoon a dad on parole was teaching his son how to use a shotgun. That included mishandling the gun so that it fired while they were inside their garage. Both of them were wounded, but not too seriously. They both went to Desert Regional and Dad was arrested (felon and parolee in possession of a firearm).
In October there were 24 reports of shots fired - but no one was hit. On the night of October 4 a man approached a soon-to-be victim at 1st and Mesquite and asked for a cigarette. When the perpetrator turned around and began fumbling at his waistband (as if grabbing a gun, I presume, not that he was trying to undress) the innocent party ran into his home. After that he heard one shot, but officers could not find any shell casings or impact locations.
Late on October 7, at the apartment complex at 66900 Ironwood, there was a report that three shots had been heard. They did not see the shooter, but the victim was in his apartment asleep when his sliding glass door shattered. The bullet was found lodged in an interior wall. The victim had no gang affiliations, so the police think it was a case of bad aim.
On October 15 there was a shooting in the 66600 of 4th Street. The victim said the shooter was a member of the 12th Street gang who fired from a moving car. The victim refused to provide any additional information, but he is a gang member himself so he threatened retaliation.
On October 23 at Palm and Pierson, a person was stopped on Pierson at the red light. He was approached by an adult black female who said a man was trying to hurt her. While the victim was keeping his attention on the female, a black male approached from the driver's side and put a machete to the driver's throat while demanding money. The female opened the passenger side door and took the driver's cellphone. The victim also gave them $200. Both perpetrators fled easterly.
On November 1, late at night, in the 66700 block of Buena Vista, officers found a stolen vehicle. They conducted surveillance. A man got into the stolen car and drove away. The officers attempted to make a car stop, but the driver did not comply. He was pursued through the north end of the city, eventually stopping on Avenida Ladera where the man was arrested. The "man" was 15 years old.
Late at night on November 8 in the 13400 block of Mountain Top numerous shots were fired. Thirty shell casings and large amounts of blood were found in the road. No victim was present. Witnesses said two rival Hispanic groups crashed a party there and faced off in the road. One victim, a West Drive gang member, turned up at Desert Regional and another (from Coachella) was at Eisenhower. Initially this case was called in as a loud party about an hour before the shooting. Two officers and a Sergeant were on duty that night and they were tied up on calls that had a higher priority than a report of a loud party.
Chief Maynard said this is a city where officers want to work. Despite the challenges and the huge pay cut, we have a contingent of officers who love the city, he said. There are others who want to work here, but the lack of a decision by the City Council as to whether the city will contract with the Sheriff or continue to have a Police Department hangs like a pall over the hiring process. "We are unable to recruit qualified personnel," the Chief said.
The Chief reminded us that the Sheriff's Department had presented a bid to the City Council, but the City Council has not acted on it. More than a third of the sworn personnel left the Police Department. There are six people in the process that may lead to being hired.
The Chief said the Sheriff's bid was not completely comprehensive. Last week our Chief submitted five pages of questions to Chief Deputy John Anderson.
The Chief has developed a budget for the Police Department for 2014/15 so that there will be a real budget to compare to the Sheriff's bid. He and City Manager Magaña met with the City Manager of Coachella to discuss the 17% increase in their cost for law enforcement services by the Sheriff's office. The Coachella City Manager said it is not unusual for the Sheriff to require an 8% to 10% increase every year. Often those increases come in the middle of a fiscal year and are retroactive to the beginning of the fiscal year.
Chief Maynard's budget for 14/15 would provide for 29 police officers, six full-time and one part-time non-sworn positions, and would provide a payscale for the Chief and Commander that would allow the city to attract the type of Chief and Commander we deserve. The grand total of all expenses for the police in his proposed 2014/15 budget is $6.5 million. That allows them to put a Sergeant, three officers, and a 2-person roving team on the streets, seven days a week. There would be four Detectives, the Detective Sergeant, and one civilian support services manager (who would be less expensive than a second Commander). That civilian support services manager would be in charge of evidence, CSI, the Community Service Officer, the Community Resource Officer, the records clerks (one FT, one PT) and a full time administrative assistant.
The Sheriff's Department has said their $5.9 million basic bid is out the window. The bid now would be about 12% higher (that would put it at about $6.6 million). The Sheriff's bid did not include the ongoing costs that the city must pay whether we have the Sheriff or the Police Department. Chief Maynard's budget of $6.5 million does include all of those expenses. He said he has a page-long list of these expenses. They include ERICA (until 2023), the police vehicles lease for the next two years at $120,000/year, graffiti abatement also at $120,000/year, and more.
Chief Maynard's budget includes two positions funded by PSUSD: the school resource officer and a Prop 109 probation/parole officer. Those are included in the $6.5 million figure. The full expense of the probation/parole officer is funded by the PSUSD. The school resource officer is also fully funded...at the low pay that our officers now make. If the Sheriff's Department were to provide a school resource officer, the full cost would go up about $40,000. When you look at the full cost (not just salary) of a Sheriff's Deputy and one our Police Officers, the Sheriff's Deputy costs $50/hour more than our Police. That's using our current pay rates (which are severely cut).
Chief Maynard has also asked Chief Deputy Anderson to be present when he makes his presentation to the City Council so that everything is as transparent as possible. He said he wants the council to make a decision soon [before his 960 hour limit is reached, I'm sure]. He will try to bring it to the City Council at their December 2 meeting, but he also would bring it before the Public Safety Commission first, which would mean a special meeting for them later this month. He said both the officers and the community need an answer to this; Sheriff or Police.
Vice Chair Meyer said that when San Jacinto was considering contracting with the Sheriff's Department they had two or three meetings of their Public Safety Commission first, to allow people from the community to come to voice their concerns and get their questions answered.
The Chief said his $6.5 million includes a realistic amount of overtime. He intends to be able to render a genuine apples-to-apples comparison.
Vice Chair Meyer said that the Sheriff's Department has plenty of staff to put together answers to the questions Chief Maynard has sent to them. If they don't have an answer within a week, "then there's a problem," he said.
The Commission informally agreed to hold their next meeting on Thursday, November 20 at 6 PM. They hope to have it at the Carl May Center, but if there is a conflict it may be held elsewhere. Check the city's website for the official location and time.
Moving on to other matters, the Chief said he believes they have a suspect in the tagging of the Orca Mural...now they just need some evidence to prove it.
At a previous meeting Mr. Meyer said he had discussed a line item in the old police budget with Councilmember McKee that seemed to indicate overtime had been budgeted at $1.3 million, which is a figure that is far too high. Chief Maynard has researched that and determined that in previous years OT, comp time, and leave buyout were all rolled into one line of the budget and that could be $1.3 million.
Further, the Chief said that the passage of Prop 47 will cause more problems for law enforcement.
Commissioner Reports
Commissioner Lavy asked to add an item to a future agenda so that the Commission could discuss the parcel tax again, possibly as a non-special tax this time - that is, not designated for public safety and requiring only a simple majority for approval. Chair Bowman agreed.
Commissioner Eastman said the CERT program is really growing among the high school students.
Commissioner Stephens said that she has observed people in the flood channel in Hacienda Heights at night. The fences that should keep people out have been torn down.
Filed under Desert Hot Springs,Public Safety | permalink | November 15, 2014 at 04:38 PM | Comments (4)
November 14, 2014
The Orca Mural
On Two Bunch Palms Trail next door to the middle school, by John Coleman.
Filed under Art,Desert Hot Springs | permalink | November 14, 2014 at 12:36 PM | Comments (1)
Bungee Jumping Without A Bridge
All you need is a hot air balloon, some rope and, apparently, a GoPro or two - in 4K.

If you prefer wetter photography, here is a hydroplane race with multiple GoPros - but not 4K.
Filed under GoPro,Photography,Sports | permalink | November 14, 2014 at 09:22 AM | Comments (0)
Child Annoyance
CITY OF DESERT HOT SPRINGS POLICE DEPARTMENT

DESCRIPTION OF INCIDENT: Child Annoyance, Attempted Abduction

On 11-13-14, at approximately 1300 hours, a 10 year old male child was accosted by a subject as he walked through an open desert lot on his way home from school. The suspect emerged from a stand of palm trees and told the victim to come to him. The victim ran and the suspect gave chase, however the suspect tripped and fell, allowing the victim to escape.

The location of the incident is the open desert south of the intersection of Verbena and Hacienda. The suspect was described as an Hispanic Male, 26-28 years old, with a thin to average build, approximately 5-8. He was bald headed and had a scar over his left eye. He was wearing a black long sleeve t-shirt with blue Dickie jeans that were torn. He appeared to be transient.

Desert Hot Springs Police would like to remind parents to educate their children on safety practices while walking to and from school. Remind them to always walk with others and never alone. If approached by a stranger make a lot of noise to draw attention and run away. Attempt to find a teacher, a police officer or someone they know. If none of those are available, try to find a woman who is walking her kids or is with kids and ask for help.

Anyone with additional information regarding this investigation please contact the Desert Hot Springs Police Department and ask to speak with Detective Larry Essex. (760) 329-6411 ext 322. Email: lessex@dhspd.com Citizens can also call Valley Crime Stoppers at (760) 341-7867.
Filed under Desert Hot Springs,Public Safety | permalink | November 14, 2014 at 09:10 AM | Comments (0)
November 12, 2014
Wild Mustangs In 4K
GoPro 4K video shot on the Mustang Monument Wild Horse Eco-Resort & Sanctuary.

Filed under GoPro | permalink | November 12, 2014 at 04:18 PM | Comments (0)