« More Log Cabin BS | Main | "The Island" at North Shore »
March 28, 2008
Nude Bowl
Here's an article in the OC Weekly (June 9, 2005) about pool skating (skateboarding in empty swimming pools), and specifically about the "Nude Bowl" which was in the western extremity of Desert Hot Springs until it was filled in.
"I believe I heard of it when I lived in Texas," says [Huntington Beach pro skater Dave] Reul, who moved out here after high school and first skated the Nude Bowl in 1986 as part of a skate crew featured in the BBC video Life's a Beach. "That was my first experience of it . . . it was such a good pool, it was really in good shape—really good, really wide-open, good transitions, good coping. But the best thing was the location, just because it's up on top of this hill away from everything and you have to kind of four-wheel drive to get up there, so the best thing was the location and then the freedom that goes along with being able to skate as much as you want whenever you want and just having a view of the city right below you and knowing that nobody's going to hassle you.

"It was such an adventure to get there . . . we'd all meet up at about midnight and we'd skate till morning . . . and it would get really hot at about nine o'clock in the morning, so you'd just leave then and pretty much just not sleep. It's a lot of car crashes, leaving there."
The article says the City of Desert Hot Springs had the pool filled in, but that in 2000 Reul rented a backhoe to empty it out. They replaced the pool's coping. After skating the renewed pool, the article says, "off-duty police officers came back and shot up the pool with machine guns again. Later, they were prosecuted for this and other offenses." Reliable local sources were surprised to hear this version of events. The city filled in the pool again.
The "Nude Bowl" started out as the swimming pool for a nude resort in the hills west of Desert Hot Springs. Some other people's photos: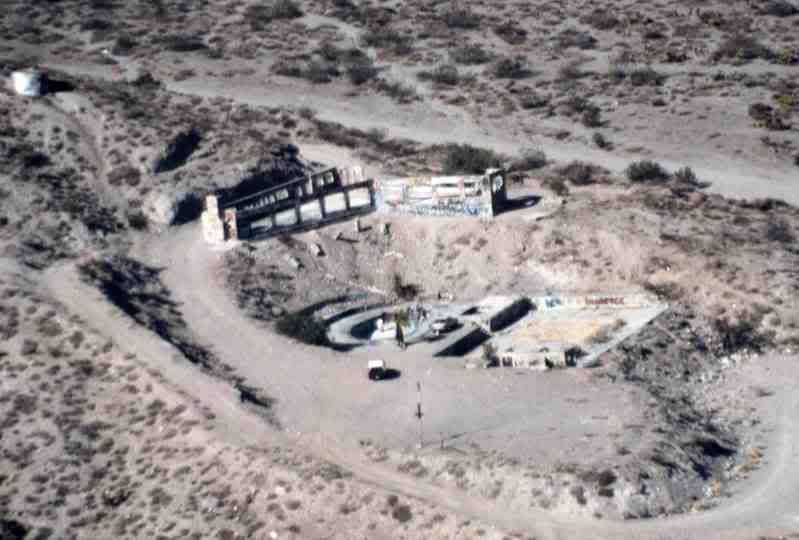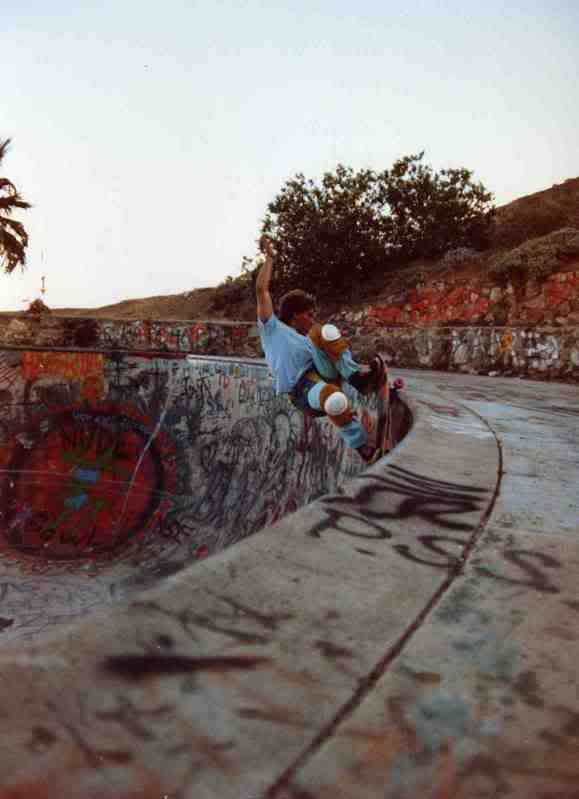 Photo by john gill.

Photo by pete_d.

Photo by Kyle Harper.

Photo by Kyle Harper.

1989 photo by spiralstares.

1988 photo by Luis Liz and Paloma.

1998 photo by hutchphoto.

1998 photo by hutchphoto.
I first heard about this spot as the "nudist colony" a few years ago when Karl Baker was on the committee identifying trails and trailheads around Desert Hot Springs in order to begin to protect access to them. New housing developments were threatening access to several of them. The gigantic Highland Falls development with two 18-hole golf courses began to be built directly across the road that had been used for access to the nudist colony and Nude Bowl. Work on that development has been suspended, but the site is not abandoned. Water trucks and a backhoe for dust control are still there.
Some photos of the Nude Bowl included enough background scenery to help me guess its approximate location. Jeff Bowman of the Desert Hot Springs Historical Society gave me a few hints on how to get to it. So yesterday I set forth. I stayed outside the walls of Highland Falls to avoid trespassing. There is no trail and the vegetation is thick - for the desert, that is. Here's the area we're talking about:

The route I followed: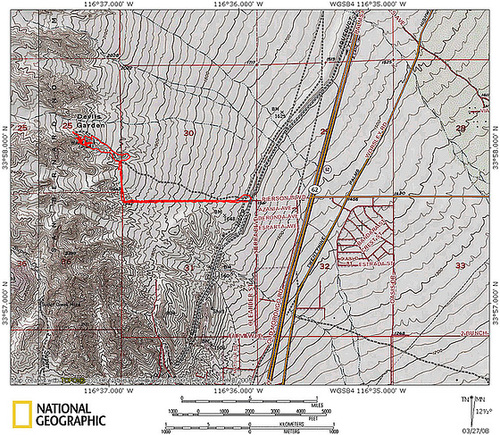 And what I found there:



Panoramic view of Desert Hot Springs and Coachella Valley from above the Nude Bowl.

Old building foundation.


The beginnings of a new building foundation.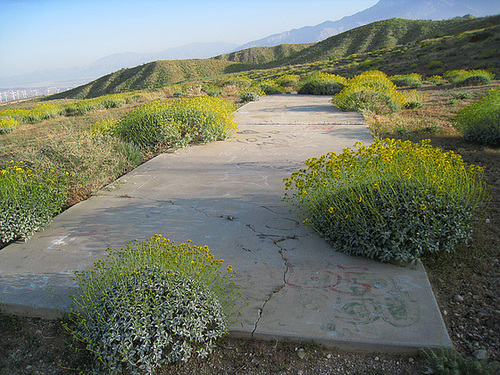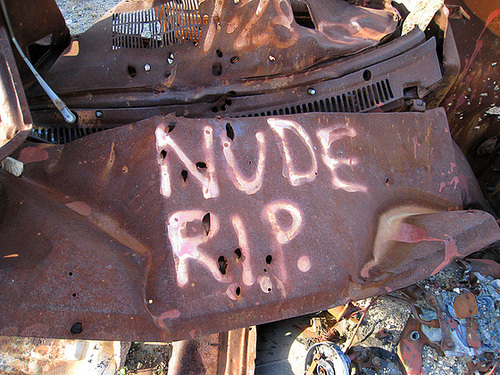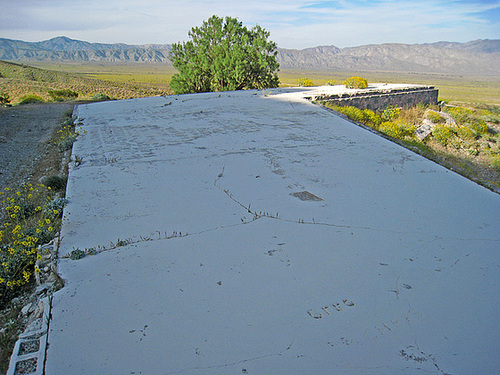 Old building slab.

Collapsed chimney.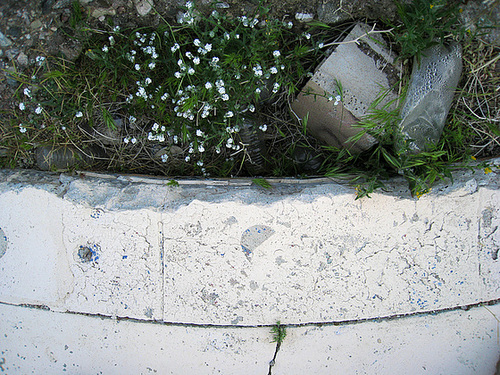 The lip of the old swimming pool.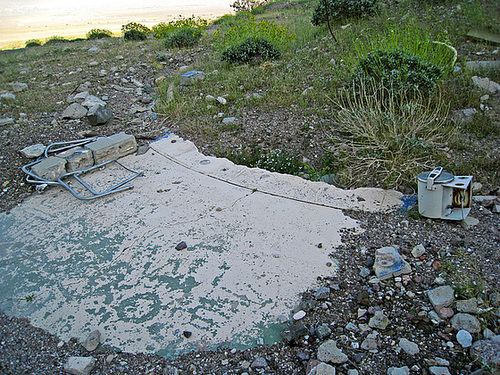 Some of the deck of the old pool.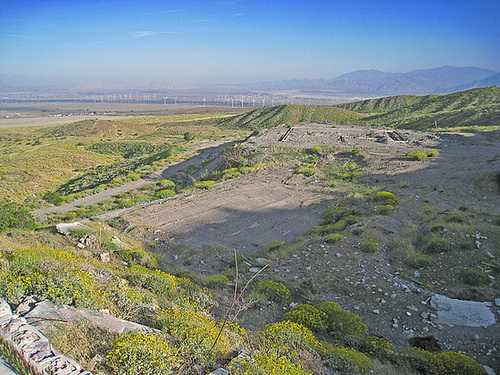 The pool is in the lower right of this photo.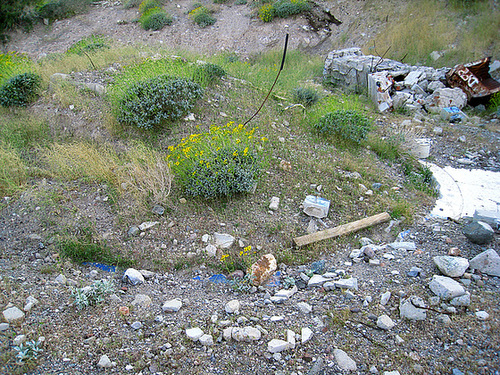 That's the pool now, just a pile of dirt.
I have many more photos here taken during the hike, including flowering cactus, yucca and joshua tree, along with some views of Highland Falls.
Jeff Bowman of the Desert Hot Springs Historical Society is looking for more info on this place.
Back in the 1960s to mid 1970s Desert Gardens Ranch (aka Desert Garden Nudist Resort, Nudist Colony or Nude Bowl) was in operation. It was located at the very west end of Pierson Blvd. across Highway 62 in the foothills. At some time the resort closed its doors and in the late 1970's and from the 1980s and into the 1990's skateboarders frequented the closed / abandoned facilities. They dug out the old pool (several times!) and proceeded to ride their skateboards in the pool in what they called the "nude bowl." Currently the Palm Springs skateboard park has a replica of this famous nude bowl. Like the other research projects, we'd like to have any stories, pictures, articles, etc. of this location.
If you have information to share contact Jeff Bowman at [email protected].
Filed under Coachella Valley,Desert Hot Springs,Photography | permalink | March 28, 2008 at 12:17 PM
Comments
I found some info on the original place
https://ozzieausband.wordpress.com/2020/04/24/origins-nude-bowl/
Posted by: Shane Danford at Dec 5, 2022 9:14:09 PM
Bobby Lane - I recently discovered that I have a bunch of photos of that Red Temple Spirits / Crash Worship show at the Nude Bowlfrom 1988-89.
[email protected]
Posted by: Ivan at Jan 26, 2016 11:40:18 PM
Oh, and my email is
[email protected]
Posted by: Ivan at Jan 26, 2016 11:27:14 PM
Ron,
if you read this, and you can get your hands on that nudist magazine from 1964 that you mention below in your May 1, 2008 post (the one that has the photos of the Desert Garden Ranch nudist resort), PLEASE PLEASE scan the photos and post them!
And PLEASE send me an email when you do if at all possible. I've been wanting to see those photos for 26 years! It is a serious historical matter!! You're the only one who can do it!
Thanks, Ivan
Posted by: Ivan at Jan 26, 2016 11:10:26 PM
The first photo at the top of this page was shot by me when I was flying around in my brother's plane when he lived in DHS and my mother lived in Hemet. We were on our way to Hemet abd took a few passes over because my friends were supposed to be out there skating. The 2nd photo down is a pic of me that my wife took in about 1987. I skated there a LOT in the early 80's to around 1991 and have tons of pics still, including a POWEREDGE mag cover of Lance Mountain. Long Live the Nude Bowl.
Posted by: Jay V at Jan 11, 2016 10:03:58 AM
2nd pic from top is Jay Vonesh. Photo taken by Julie Vonesh.
Posted by: Julie Vonesh at Dec 21, 2015 1:27:26 PM
Its important to rememeber that nothing lasts... everything changes. That one section of the lip of the pool remaining is actually something to appreciate. Better that than have some golf course planted on top of it with no sign of where the Bowl once was.
Posted by: milo janus at Jan 31, 2013 12:23:25 PM
Thanks so much for posting all of this. I have such great memories of watching the Nude Bowl session in Wheels of Fire. I'd watch that video everyday after school to get myself all psyched up to go skate. Always dreamed of seeing the Nude Bowl in person but at 14 years old, this Jersey boy wasn't able to make it all the way there. Those were great times, and its nice to relive them a bit. Thanks.
Posted by: milo janus at Jan 31, 2013 12:20:39 PM
Ivan,I was at that show,I came up from SD with Crash Worship,the other band who played that night.On another trip we saw Wool,Boob and Meatwagon came up from SD.My best friend skated the bowl in the dark.five hits.
Posted by: Bobby Lane at Mar 7, 2011 11:09:24 PM
RON DUDE!
You HAVE TO scan that 1964 article about Desert Garden Ranch nudist colony and post it! Is it Nudist Newsfront Vol. 1 No. 3??
That is important history that may be lost - the Desert Hot Springs Historical Society mentions it
http://www.dhshistoricalsociety.com/desert_garden_ranch_nude_bowl.htm
but nobody has posted the photos - please scan & post it if you can!
Does anyone have a photo of the old gateway to the ranch? It was stone pillars with a wrought iron arch over the road as I recall. Post it if you have one!
I saw Red Temple Spirits play a show there with some other late 80's psych-trance bands in around '89. One of the most memorable shows I've ever been to (even though I can't remember who the other bands were right off hand) - dudes skating the pool while freaks and punks watched the psychedelic show going on among the ruined pillars above...people shooting automatic weapons in the canyon behind to the north. One of the great places in California.
Posted by: ivan at Aug 21, 2010 8:15:38 PM
ps that pic of the old rusted car with rip on it was me that was the last time i was up there
Posted by: james hardwick at Aug 13, 2010 1:42:39 PM
this is the spot where i learned how to do 5-0 and smith grinds i know so many people that have memories of that place id be happy to do an interview or a documentry or somthing it means to much to me to just let it die with a wimper
Posted by: james hardwick at Aug 13, 2010 1:40:21 PM
The Highland Falls project is one of those ubiquitous projects where no one is keeping an eye on things.
There is no way to drive to the Nude Bowl. You've seen the fences, and I assure you I don't have wings. You can fill in the blanks.
Camping there would be very interesting. It would be safe, that's for sure. You'd probably want to avoid showng any light after dark.
I should do a return visit earlier in the day than my other visit so I can get better light for photos.
Posted by: Ron's Log at Oct 28, 2009 9:41:43 PM
I used to frequent the nude bowl back in the late 90's and was very upset when it was filled. I was even more upset when the roads were blocked by the new residential/golf plans. I decided to see what the current status was last weekend. I found that there is no longer a guard or guard gate for the construction site though it says no trespassing. I made it to the original entrance/road and noticed all the fencing. I would love to go back and camp there. Your photos brought back a lot of great memories. Do you have any info on the current site. Did you hop the fence or is there a way to drive through. I have a 4x4. Any info would be greatly appreciated. I'm a big fan of the Salton Sea as well and your photos are great.
Thanks,
Greg
Posted by: Greg Hayes at Oct 28, 2009 9:32:51 PM
I am a local (late 80's), who skated there regularly. . .can you give more info on the magazine or scan it? I would love to find pictures of the place before it was abandoned.
Posted by: Robert Stone at Feb 23, 2009 1:03:14 AM
Holy crap I have not seen the colony in years as a kid I used to go out there and skate sad to see it like that
Posted by: Liam at Feb 6, 2009 6:25:36 PM
$100 to ship a rock to Australia? Not much profit in it for me, is there?
Just today I saw a nudist magazine from about 1964 that had a feature article with lots of pictures on the nude resort that used to be there. Amazing photos of naked people with a tiny Desert Hot Springs in the distance.
Posted by: Ron's Log at May 1, 2008 10:51:26 AM
wow I stumbled upon your page whilst looking for info on the "nude bowl"... though Ive never been there (I live in Australia) I find that place indeed nostalgic as it was featured in many of the 80's skateboard videos I watched as a child.
Anyway thanks for sharing... much appreciated!
Oh and if you plan on going back there anychance of scoring me a cool looking graffitied rock from the bowl ruins... Id swing you $100 bucks for it? :D
Posted by: Phil at May 1, 2008 2:44:21 AM
Spencer Tunick, donde estas? - Ron once again you succeed in making Desert Hot Springs seem exotic and fascinating.
Posted by: interglossa at Mar 29, 2008 7:34:00 AM