July 14, 2016
Outback Logic Siesta4
I've just received a tent that was designed specifically for the weather conditions at Burning Man, the Outback Logic Siesta4. The reflective exterior is actually a rain fly that is permanently attached to the tent inside. Every vent on it can be sealed to keep out dust. It has two ports where you can insert an electric fan. I have one fan on order. The floor is 7'6" square and I can almost stand up straight in it, so it must be about 5'10" high. Staking it is required in order to get it to hold its shape.
I set it up in the wind and that was easier than setting up my Cabela's Alaskan Guide Geodesic tent in the wind. But the only way to test it against Burning Man strength winds would be to move it out to some open desert on the west side of the city, and I'm not going to do that.
No instructions came with it, and I made only one false start. There are only four fiber glass poles, but they are two lengths, so you've got to lay them all out to be sure you pick the right one.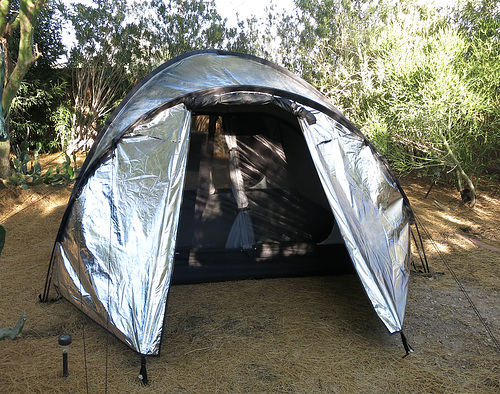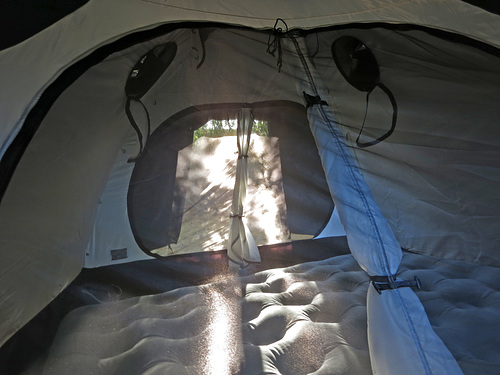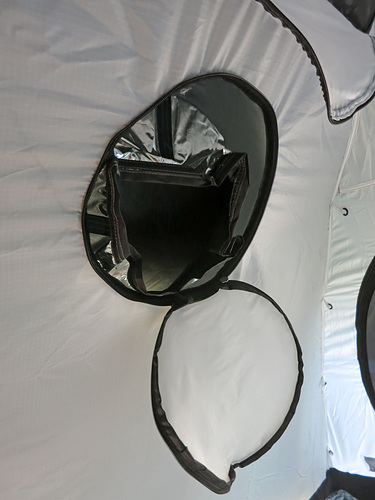 One of the fan ports.
permalink | July 14, 2016 at 07:31 PM | Comments (2)
May 13, 2016
Jerkshirt
permalink | May 13, 2016 at 10:10 PM | Comments (0)
March 3, 2016
DHS Walmart Taking The Initiative Route To Approval
Mayor Scott Matas has announced that Walmart will present an initiative to the city. The City Council can either adopt the initiative or send it to the voters in November.
permalink | March 3, 2016 at 10:04 PM | Comments (0)
February 14, 2016
Discounts On MacBooks
B&H Photo is selling various MacBooks at $300 to $350 off.
1.2 GHz, 512 GB, Space Gray, $1,249
Same model, but Silver or Gold, $1,299
1.3 GHz, 512 GB, Silver, Space Grey, $1,399
Same model but in grey, $1,449
permalink | February 14, 2016 at 03:40 PM | Comments (0)
January 29, 2016
A Low-Priced Worthy Competitor For GoPro
The Gitup Git2. On Amazon for only $160
. Or at B&H for the same price.

Can do 1080p at 60fps or 1440p at 30fps. Rear display. 16MP still photos; can even shoot raw. Digital image stabilization. Even allows control of shutter speed (1/30 up to 1 minute), ISO and white balance. GoPro mount on the waterproof case. Can be used as a dashcam. It has a configurable button that can be set for exposure lock, white balance lock, exposure lock and white balance lock, microphone mute/unmute, or stabilization on/off. Includes a wide dynamic range option.

permalink | January 29, 2016 at 03:01 PM | Comments (0)
January 21, 2016
Burning Man and its Intellectual Property
Festival Concierge Services is a company that Burning Man has been fighting with for a couple of years over its use of Burning Man trademarks. "We believe strongly that paying upfront for a prescribed, curated experience that doesn't require individual effort misses the mark and erodes Burning Man culture, and it's absolutely not okay to sell people 'the Burning Man experience' as a vacation package." It's okay for people to pay money upfront for services (or actual material objects) at Burning Man. Almost every camp pools money and shares resources to some degree. The flight I got to ride in 2014, I paid for well in advance. What Burning Man doesn't like is insular, non-involved camps. Maybe there are such camps made up of lower income people, but who knows? How would you find them? But the insular, non-involved camps set up by rich people are not so hard to find. When you see a dozen identical quarter-million dollar RVs all lined up neatly together, you sort of have a clue.
But it's cleaner and neater to go after intellectual property theft, so that's what they've been doing with FCS which is still using Burning Man's IP. But that's not really what I wanted to write about it. What I want to show you is the FCS "survival kit."
Backpack hydration kit
Headlamp
A set of walkie-talkies
Two pair of goggles
Six "headwear scarf wraps" (looks like, but is not a bandana)
Dust mask
Steel mug
Ten (10!) Spiral notebooks
Three bottles of hand sanitizer
Wingman multi-tool (now we're talkin')
A 24-pack of AA batteries
A dozen Sharpies!
A little first aid kit
Eye lubricant
Aspirin (are they expecting their customers to have heart problems? why not acetaminophen or ibuprofen?)
Two bottles of nasal spray
Three lip moisturizers
800 baby wipes
Two spray bottles of sunblock
55 yards of "duck" tape
Forty ear plugs
[I think it's assumed that food, water, alcohol, and costumery will be provided by the luxury camp the customer buys into]
They will you sell you that whole survival pack for $500! And they openly state that includes a 30% markup for their "services." Someone could easily set up a competing service simply by going to the Reno Walmart, buying all the equivalent items and then selling the bundle to rich people for some price lower than $500. You'd have to promote it so that the rich people understand that a visit to Walmart at the height of Burning Man shopping insanity is a part of the whole culture of Burning Man. Don't actually use the word "slumming," but communicate that somehow. You may also need to point out that Walmart carries a good selection of organic fruits and veggies to avoid scaring away the shy ones.
permalink | January 21, 2016 at 10:26 AM | Comments (1)
January 7, 2016
Save $250 On A MacBook Pro
The mid-range MacBook Pro (13-inch, 2.7GHz Dual-core Intel Core i5, Turbo Boost up to 3.1GHz, 256GB flash storage) is $1499 from Apple. Somebody on eBay is selling that model for $1249.99 (so you actually save only $249.01).I don't know the seller at all. But if you want to try saving some money and then tell me about it later, I'd appreciate it.
permalink | January 7, 2016 at 07:18 PM | Comments (0)
December 29, 2015
You Can Get Anything At Amazon
You can buy cow dung patties from Amazon India.
2.2 Kg of cow dung for ₹99 (about US$1.49).
1.6 Kg of cow dung for ₹419 (about US$6.32). This must be of superior quality, but nothing like that is claimed.
This fine quality stuff can be had at the price of ₹249 for about 1 Kg (US$3.76)


The camel in the background raises my suspicions. What if they are selling camel dung as cow dung?
If you're buying cow dung from Amazon, you might as well also buy cow urine. Or, for the squeamish, powdered cow urine in capsules.
Each of those items has customer reviews, some real, some joke.
permalink | December 29, 2015 at 05:27 PM | Comments (0)
December 21, 2015
60 Minutes Visits Apple
permalink | December 21, 2015 at 10:31 AM | Comments (1)
December 20, 2015
Finally, Something North America Can Sell To The Chinese At High Profit
Air. Yup, just air...Canadian air right now, but I'm sure we can find some pristine air in America too. Vitality Air is canning (using absolutely no preservatives or artificial ingredients whatsoever) air at Banff, Alberta, and Lake Louise which is also in Alberta. Their website says "we capture the best of air and oxygen, and managed to put it into a lightweight yet highly durable aluminum bottle for your convenience." I was a bit confused. Further study of their website showed me that the sentence should read like this: we capture the best of air and oxygen, and manage to put them into lightweight yet highly durable aluminum bottles for your convenience. IOW, it's not air enriched with more oxygen. You can buy a bottle of air, or you can buy a bottle of oxygen.
Your basic starter can holds 80 one-second squirts of air. They offer that online for $20 Canadian. The article doesn't say what it sells for in China, but it does say that 1000 bottles of their next shipment of 4000 bottles to China have been pre-sold. IOW, it's selling like an Apple product. I think if Vitality Air could afford just a smidgen of marketing advice from Apple, they could get that retail price up to a couple hundred dollars at least. Of course, at that price there would have to be some sort of tie-in with iOS and Apple Watch.
What a great way to get some our money back from China. They have a rapidly emerging big middle class, which can buy only so many iPhones. Let's sell 'em something they don't make themselves and we've got almost unlimited quantities of. Grand Canyon air? Mt. Denali air? Let's even try selling them some District of Columbia air to see just how gullible they really are!