September 28, 2016
Bear This In Mind
A woman is suing Pi Kappa Phi at USC because a drone fell on her head at a party at the frat house in October 2005. The operator of the drone had been hired by Pi Kappa Phi to photograph the party.
permalink | September 28, 2016 at 09:23 PM | Comments (0)
September 27, 2016
DJI Smacks Down GoPro
Just a week after GoPro announced their first drone, Karma, DJI (longtime sales leader in drones) has come out with something much better called Mavic Pro. The Mavic Pro appears to fold down smaller than the Karma; it can go 40 MPH (somebody's going to lose an eye!); and it has tracking ability. It's also cheaper than the Karma. The Karma is $800. Add a Hero5 and the total is about $1,200. The Mavic Pro is $999 and includes a camera. You can also exclude DJI's new remote controller and save $250, dropping the price to $749. You can skip the remote controller and operate the Mavic Pro from your smartphone. DJI says the Mavic Pro can hover so steadily and its gimbal is so fantastic that you can use shutter speeds as long as 2 seconds on their camera! I am gobsmacked!
Here's a video which is nicely lower key than a GoPro video.

The only way this is going to be a bad deal is if the camera is crappy...so wait for some reviews first.
UPDATE: A Mavic Pro test video.

It looks like image quality is very good, but a narrower angle than GoPro, which has its pluses and minuses.
Here's a comparison list of features of the Mavic Pro and the Karma.
permalink | September 27, 2016 at 09:53 PM | Comments (2)
September 23, 2016
The Temple
permalink | September 23, 2016 at 04:23 PM | Comments (0)
September 20, 2016
Lower Tech Than A Drone
permalink | September 20, 2016 at 03:44 PM | Comments (0)
GoPro Karma & Gimbal Test
A pretty good test of the gimbal and image stabilization in the Hero5 (conducted by someone not connected to GoPro) begins at 6:50 in this video. After that he shows what he can do with it without reading or receiving any instruction at all. And then he proceeds to test it over the Hudson River!
permalink | September 20, 2016 at 03:43 PM | Comments (0)
Terabyte SD Card
SanDisk announced it has created a prettype of a 1 TB SD card. No word on when it might come to market or what the price might be.
permalink | September 20, 2016 at 02:16 PM | Comments (0)
September 19, 2016
Small Coincidence
I was watching this video about the GoPro Hero5 Session when I realized I recognized Chris Farro who shows up at about 27 seconds into the video.


In the video.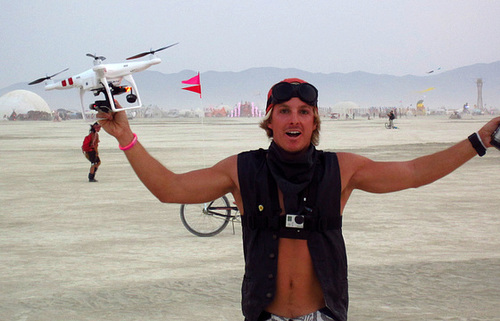 At Burning Man 2013.
permalink | September 19, 2016 at 07:11 PM | Comments (0)
GoPro Hero5 (and more) announced
GoPro Hero5 Black (does that suggest there will also be a Silver model?) (Oct. 2)
$400
12MP
Voice commands
Video stabilization
Touch display
Waterproof without a case
4K up to 30 fps
1440 up to 80 fps
1080 up to 120 fps
Location capture
Raw
Auto-upload

GoPro Hero5 Session (wait for the reviews to find out if they've sufficiently improved the Session's horrid photo quality) (Oct. 2)
$300
10 MP
Voice commands
Video stabilization
Waterproof without a case
But it comes with a case so you can mount it
Auto-upload
4K up to 30 fps
1440 up to 60 fps
1080 up to 90 fps

GoPro Hero Session (Oct. 2)
$200
8 MP
1440 up to 30 fps
1080 up to 60 fps
Waterproof without a case
But it comes with a case so you can mount it

GoPro Karma drone (Oct. 23)
$800
No propellor guards
Has a stabilizer that can be removed and used handheld. Or you can purchase the stabilizer independently for $300

Omni 360° camera array
$1500 for Omni only; $5000 if you also need to buy the six Hero5 Black cameras. You're paying $583/camera, if you do it that way.
For professional live broadcast. Price not stated.

As before, purchase of a GoPro product does not include trips to Alaska or India, hot air balloons, dramatic music, backstage passes at concerts, a classic VW camper bus, slackline skills, or (most regrettably) beautiful people.
Here's your Apple-style video ad for the Hero5 Black.
And here's the one for the Hero5 Session.
UPDATE: I totally missed this earlier. The Remo, a remote for voice commands; $80.
permalink | September 19, 2016 at 01:12 PM | Comments (0)
September 15, 2016
Burning Man 2016

Just arrived at our site.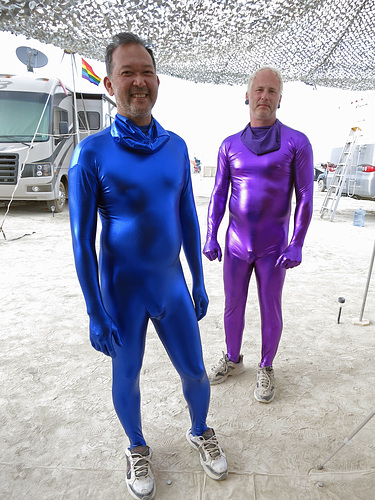 Alex & John in their zentai outfits.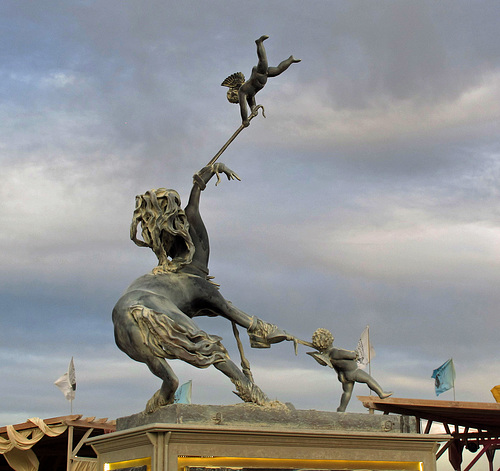 One of four sculptures around the Man base.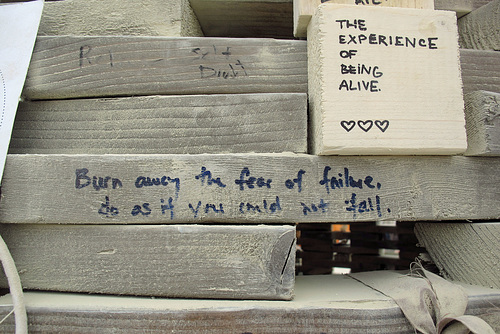 In the Temple.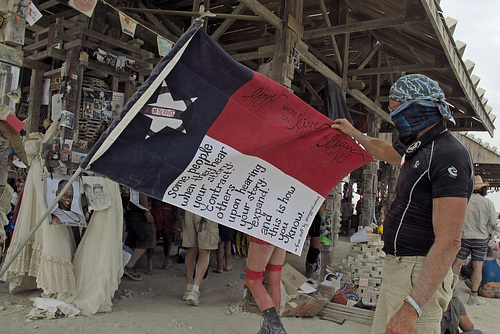 At the Temple.

Where I volunteered to work four 6-hour shifts which were pretty enjoyable.

Lighting up the Man was delayed due to weather, so I was able to get there early enough to see the ceremonial parade bringing the flame from the keyhole at Center Camp to the Man.

Art car.

I believe this was new this year.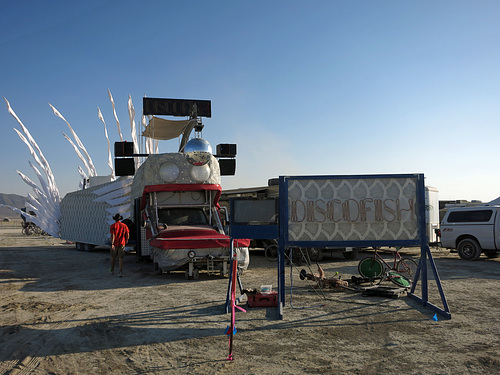 The art car Discofish early in the week, still being put together. They were camped just across the street from us, so I thought that ought to make it really easy for me to get on board and ride this prestigious craft around the playa. Across another street was Hippocampus which has the slightly less exotic Hippocambus that plays only acoustic music. That one would have been even easier to get on as they announced their departures on their excellent PA system. But, no, I never rode either.

Some portion of the tips at Ice goes to family planning in the valley we drive through to get to the Black Rock Desert. I asked somebody how this works and was told that each worker is given a choice: keep all the tips, give all the tips to family planning (or whatever this year's charity is) or split them 50/50.

Inner playa at dusk.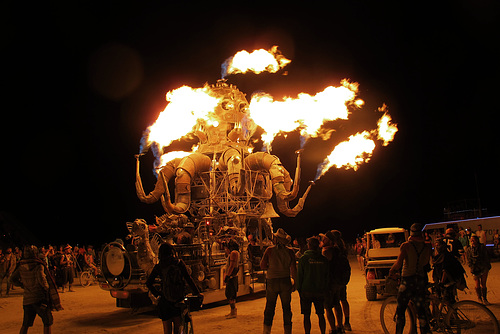 El Pulpo Mecanico.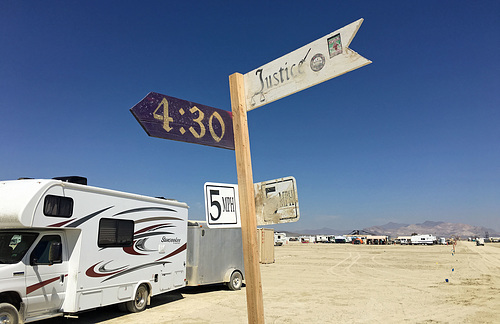 Street signs on our corner.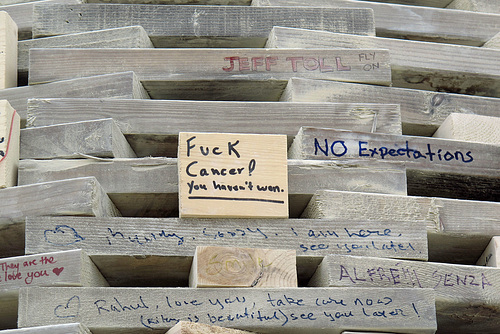 At the Temple.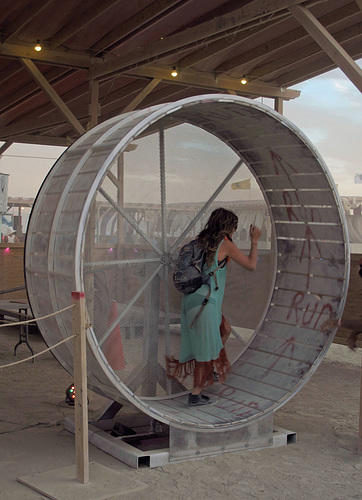 A hamster wheel for humans. It's nothing more than a hamster wheel. It doesn't pump water, grind grain, generate electricity, or anything!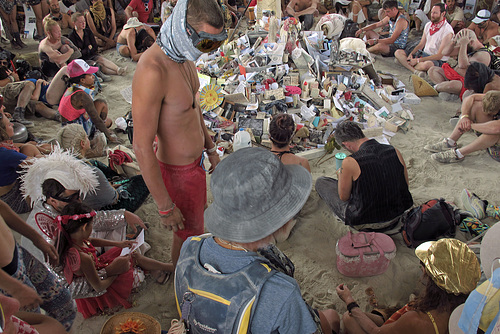 The interior of the Temple. Try to find a seat. Try to walk through! This is the smallest temple interior I've ever seen at Burning Man, despite that on the outside this appeared to be one of the larger temples built. I estimated this interior space at 40 feet by 40 feet.

Somebody made some intaglios out there. Not on any official art list. You just had to stumble across it and know what you were seeing.

Anyone who does the LA World Naked Bike Ride will surely remember June - that's her name, June.

At the beginning of the Naked Pub Crawl. I had never seen anything quite like those shoulder thingies at Burning Man and asked the man about them. He made them and it was the first time he had tried anything like that, he said. My jaw dropped.

The Naked Pub Crawl goes up against a water truck.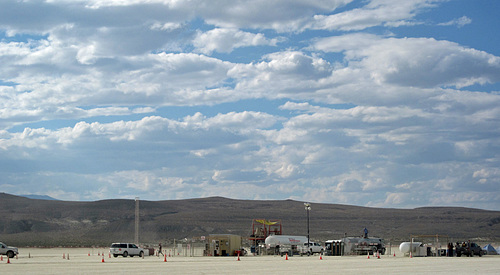 The fuel depot that is beyond 10 O'clock and L. I know this is for art cars, but it may also be the fuel stop for official BM vehicles too. I imagine law enforcement has its own fuel somewhere else. One has to prepare for this place in advance, IIRC. You have to make reservations or pay before coming to the playa or something. It's not like pulling into a Chevron.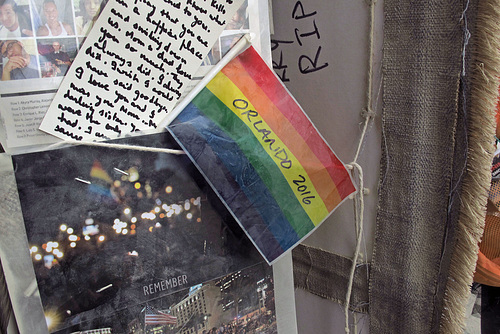 At the Temple.

On the Naked Pub Crawl I spotted this pink Schwinn saddle and asked the nice young man to stand up so I could get a good photo. I spotted this saddle on Amazon just before coming to Burning Man and didn't have the time to buy it...and pink handgrips. Those items have since been purchased and installed, so my trike is even better than it was.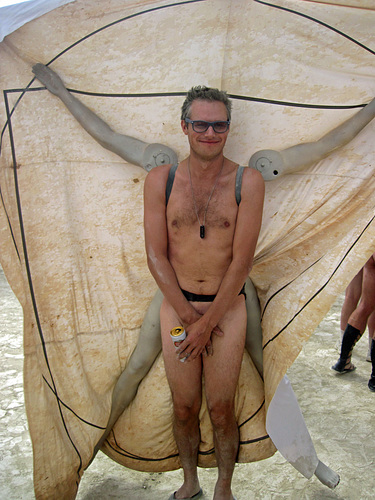 Don't ask me why somebody who wants to do a nude Vitruvian man would cover himself up like this, but he got over it pretty quickly and I have other photos of him.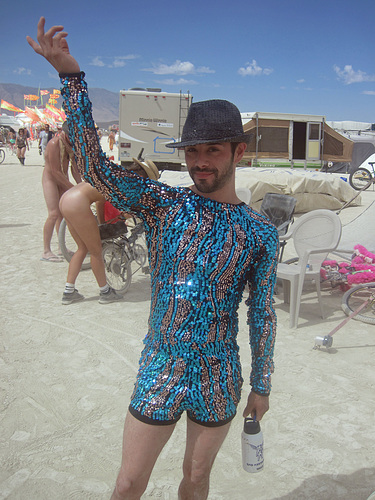 Spotted this little number sashaying around the gayborhood!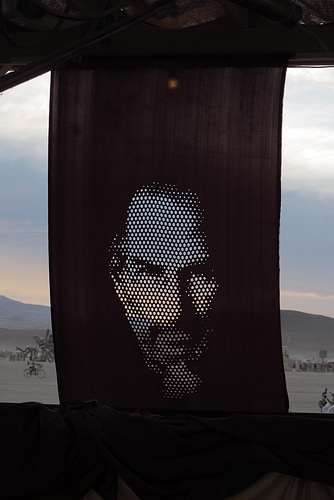 Steve Jobs. This was part of an exhibit of portraits under the Man. Leonardo was also depicted. Everyone else was someone who had been in Apple's "Think Different" advertising campaign, IIRC.

Words to live by.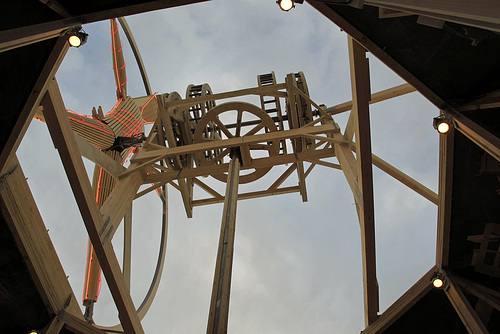 Looking up at the mechanism behind the Man. The Man never worked. It was connected to a wheel at ground level that several people could push to rotate. That motion was to be transferred through these gears to make the man spin! Fab-o idea. But Leonardo wasn't there. Bolts sheared and a finger was lost even before they could open it to Burners. So they just made sure the man was upright and locked everything down. The wheel the Man was mounted in didn't even fall off during the burn and start rolling across the playa. That would have helped with our disappointment.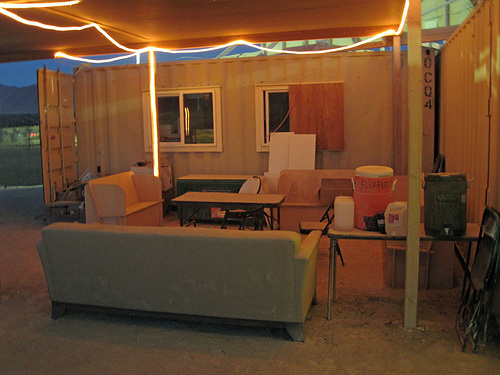 This is the lounge at Box Office where we waited before our shifts and where we ate. All the dust and fresh air you could want, plus cold water. In the storage box in the background there was a kitchen and a storage room for snacks.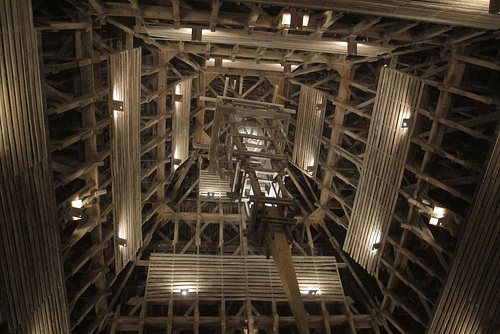 Looking up to the peak in the Temple.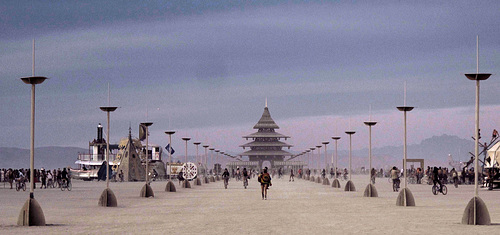 The Temple as viewed from the Man along the 12 O'clock road.
The complete set of photos is here. My videos will come later.
My new tent worked wonderfully. I installed the fan and I believe the interior of my tent may have been more comfortable than any RV in our camp. I noticed RVers sleeping in chairs midday. We need to organize a big napping area. I have never had the interior of any tent so free of dust at Burning Man. The only dust was what I tracked in. I took to leaving the sheet on my air mattress all day long and it was never dusty when I turned in. Usually, one takes his bedding and packs it up somehow during the day, so that it doesn't become dustier...if you're a tent camper, I mean.
The tricycle was a far greater success than I expected! Everyone at BM should have a tricycle if they have the storage and shipping capacity. Once my body fully realized that I didn't need to worry about balance, steering became much easier. I discovered I could now ride and video simultaneously! Expect to see some horrid videos as a result. Any place I wanted to stop, all I had to do was stop pedaling, and just sit. Made it easier to sit out a brief whiteout. You never have to dismount and find a place to lean a trike before you run into wherever you are running in to. The big storage capacity of the trike allows me to pack cameras and a tripod and ride without a backpack. In the past, I've had to choose whether I would go out on the bike or would I do a photo walk. The bike was a big inconvenience when I mostly just wanted to take photos.
Once when I was leaving Box Office to return home, I forgot I had cable-locked one of the rear wheels to the frame. I got about 10 feet. The cable had wrapped itself around the rear axle a few times. Unfortunately, the locking mechanism was cheap enough that it bent, making a normal unlock impossible. The wheel, however, was completely undamaged. I guess it's pretty easy to build superstrong 20-inch wheels, especially since they don't have to be dished. I needed bolt cutters, and my sense was that I would get no help there from the Box Office crew, so I walked next door to the Gate Crew. A nice looking, shirtless man with a handlebar moustache smoking a cigarette was standing in front. I approached and complimented the masculinity of the Gate Crew generally and of this man in particular, and so that's why I came to them to ask for bolt cutters. The nice looking smoker looks at me askance and says, "Yeah, I can help you with that." We walked down to the Gate Crew camp where he found a pair of bolt cutters nearly as big as himself. He explained that no one on Gate Crew could keep track of the combination of the lock on their storage container, so every year they just brought bolt cutters, cut the lock off and bought a new one. Gate.
We came back, he snipped the cable, I gave him a hug and thanks, and that was it. Fortunately for me, I had another pink cable lock back in camp; a Schwinn.
The next night, after my shift at Box Office, I saw that my trike had been moved from where I left it. Somebody had tried to steal it, but had suffered the same problem I did just 24 hours earlier. The new cable lock was wrapped around the axle, but the locking mechanism was undamaged, so I could unlocked it and unwind it. The only damage was a cut to the outer plastic casing of the cable. The wheel was still fine.
I realized that a pink cable lock in the rear alongside all that pink tubing and pink tires, is camouflaged. After that, I only wheel-locked the front wheel, where the lock was obvious.
Klank gave me a shade structure he no longer uses, and I erected it in front of my Costco tent (which my new tent was under). It worked well enough. Once I put a couple of chairs out there, it began to attract Burners. Like ducks seeing a decoy on a pond.
One small improvement I made was to reduce my battery size. I bought this smaller, deep cycle, 12-volt battery. I used it charge my camera batteries and to charge the small 12-volt power packs that ran the fan in the tent. I never attached the solar panels to it, since I saw no need. It weighs only 23 pounds and takes up a space only a little larger than 5" x 7". Much nicer to haul around than the regular deep cycle 12-volt automobile battery, which is even heavier than water. I could probably eliminate the solar panels too, freeing up a little space in the truck. Frank, another of us Burner Buddies, had a similar battery but just half as big that he said was a motorcycle battery.
Working at Box Office was a lot more pleasant than I expected. All the volunteers are friendly and usually helpful. Even more impressive were the Burners coming to window to pick up their will-call tickets. They were so happy, that even people whose debit cards were being declined, remained pleasant to deal with. It was also nice to see that I still know how to get up to show up for work on time, dressed appropriately (there is a dress code: You have to be dressed) and listen to my supervisors. A little to my surprise is that they always use playa names, even on records. When I first introduced myself, they said "No, your playa name." Then they could look me up. My first day on the job I sat next to Brisket, who was very lean. Costumes were not a big thing at Box Office...except for me. I usually made it easy for them to remember my name.
I had two morning shifts (6 AM - noon) and two evening shifts (6 PM - midnight). In the city, Box Office is at 5:45 and E next to Gate Crew, but the Box Office is pretty discreet. I couldn't find it at first.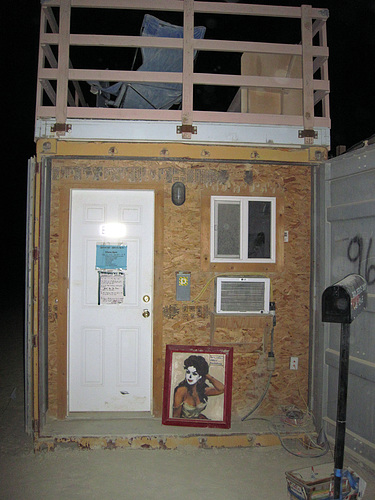 This is what Box Office looks like in the city. It says "Box Office" on the mailbox.
Next door to this is the Lamp Lounge where the decor features regular old table lamps fastened at right angles to uprights, or hanging down from a beam above. I wonder why I haven't seen more of this. There the shift would gather and then, at a sign, walk together down the road, just past Gate Crew to board a yellow school bus. Gate Crew was with us. Or, really, it's Gate Crew's bus and we're with them. The bus moseys at the 5 MPH speed limit out to Greeter's Gate and then through a break in the string of pennants that line the entrance road. The other side of those pennants, I learned, is a Free Zone where there is no speed limit. We would get up a decent speed as we shortcut that long curve that comes after Gate going to the Greeters. There are openings in the pennant string there, too, so we can drive across the entrance road to Gate Crew's headquarters. Box Office crew had to walk all the way, uphill, in the snow, against the wind to the Box Office, but at least we didn't use the same porta-potties as Gate Crew and we had our own kitchen. Not saying that they aren't fine, good-looking, helpful and masculine people in that Gate Crew.
Six hours later we do it in reverse. Once or twice we missed the express bus and took the local, which ran us out to "Point 1," which is the lower left angle of the pentagon. There's a gate there for vehicles that get to skip the entrance road - like cops, official Burning Man vehicles, and I think the Burner Express bus. It's dark and cold out there, but the law enforcement village is not far away.
We got fed while we were on the job. Some sorts of warm meals made their way out from the commissary to the Gate and us. Having these meals seemed to be an important reason for some people volunteering. The quality was like not very good dorm food. But, it was oversalted (at least to my taste) and that made it wonderful! I inhaled that food.
permalink | September 15, 2016 at 09:53 PM | Comments (0)
September 13, 2016
Frenetic
A lot of images from Burning Man buzzed together.

permalink | September 13, 2016 at 01:42 AM | Comments (0)
360° At Burning Man
This is the first worthwhile use of 360° video I've seen.

permalink | September 13, 2016 at 01:35 AM | Comments (0)
August 18, 2016
L.A. World Naked Bike Ride
The Los Angeles World Naked Bike Ride took place on June 11. I had three cameras, each one shooting a still photo every five seconds. One camera was mounted on the handlebars, facing forward; another on my helmet facing backwards, and the last one also facing backwards, but mounted on the rear rack of my bike. That camera takes good video, but only 5 mp photos, so those turned out to be a lot lower quality than I had hoped for.
The complete set of photos is here. These photos are on Flickr, so in order to see them, you must...
Have registered an account at Flickr (it's free and uses your Yahoo ID).
Be logged into that Flickr account.
Have your Flickr safe search settings turned OFF (here).

2nd Street Tunnel.

Andy.

Jeff.

3rd Street Tunnel.

The man with the beard. More photos of him here.

Jeff and I, R to L.

That tight black outfit is body paint.

That's Rocky with the GoPro on his handlebars.

Provocative dresser.

Tim from Boston. Well, Dorchester, but Boston.

Yes, the ride is clothing optional, but this is really overdoing it.

Tim.

Jim.
permalink | August 18, 2016 at 10:36 PM | Comments (0)
August 8, 2016
Camp Photos From This Weekend
This past weekend I went to the northern California CMEN gathering. I had never been to this gathering before. This was its third year. The location was about midway between Reno and Sacramento. Some photos of the campground.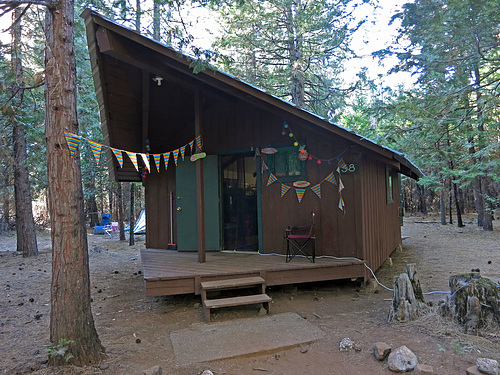 My tent was behind this cabin. You can see it poking out on the left.

My new tent, showing the roof vents propped open.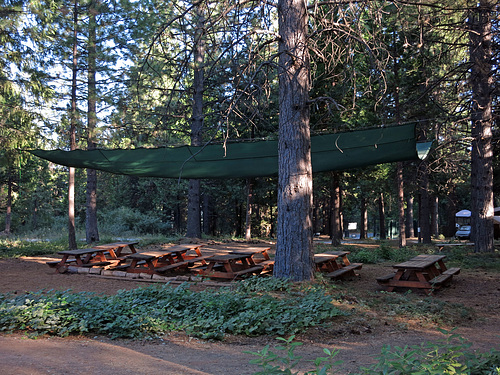 The outdoor dining area.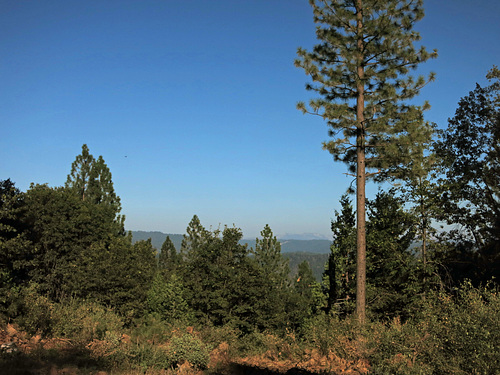 The view from the dining hall.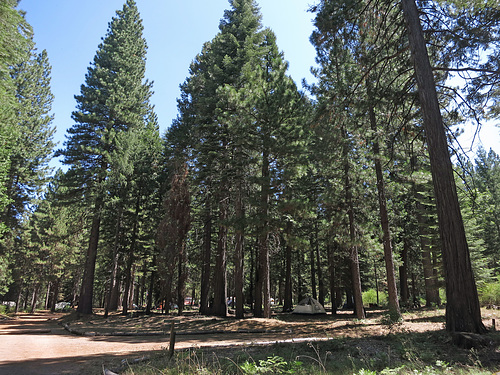 This is the most crowded camping area I could find. Can you see the tents? This is at the eastern end of the camp. My tent at the western end was almost a mile away.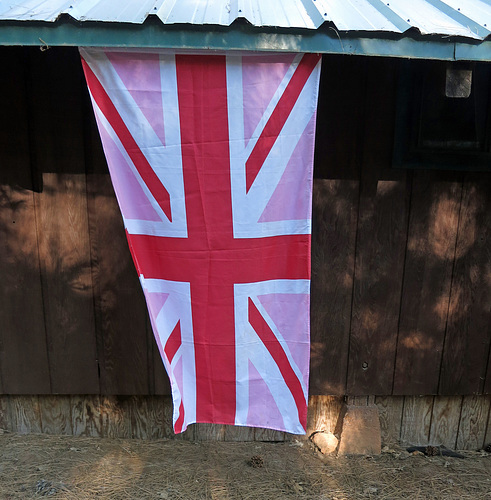 You know I want one of these.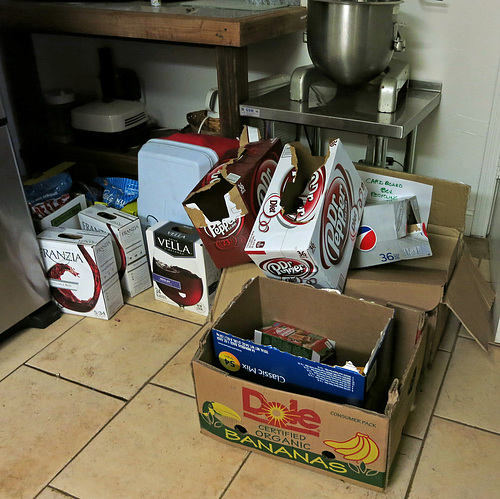 My volunteer job was keeping one particular building neat and clean. Allegedly, four other people had signed up for the same job, but somehow it was always me who washed the floor or crushed the boxes for recycling.
The complete set of photos is here.
permalink | August 8, 2016 at 06:55 PM | Comments (0)
June 23, 2016
No Way To Behave
In Ohio, a man being sentenced for breaking and entering, safe-cracking, aggravated robbery, abduction and attempted safe-cracking had concealed bottles of urine and feces in his arm sling. After receiving his sentence of 40 years, the criminal attempted to pull out a bottle and assault the judge with it, but court security moved in quickly while he was fumbling for the first bottle. But the thing to watch in this video, is the lady in the background who calmly (and maddeningly slowly) gets her phone up to take a photo of the violence and then is reminded that no photography is allowed in the court room.
permalink | June 23, 2016 at 11:18 AM | Comments (0)
June 10, 2016
Mike O'Callaghan - Pat Tillman Memorial Bridge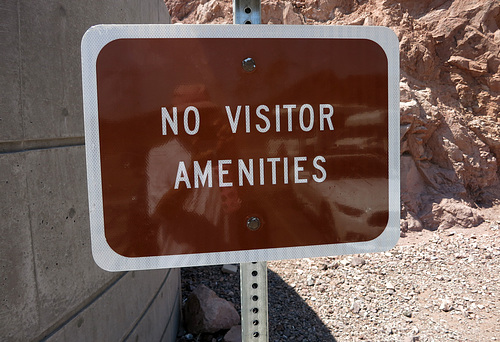 A sign in the parking lot for visitors to the bridge is excessively modest. Not only are there four trangender-friendly restrooms, but the parking lot is paved, there's a paved walkway that takes you to the bridge (imagine if they just let visitors clamber over bare rock), and plenty of informative plaques and signs. there is, however, NO DRINKING WATER here. No gift shop either. And certainly no taco trucks.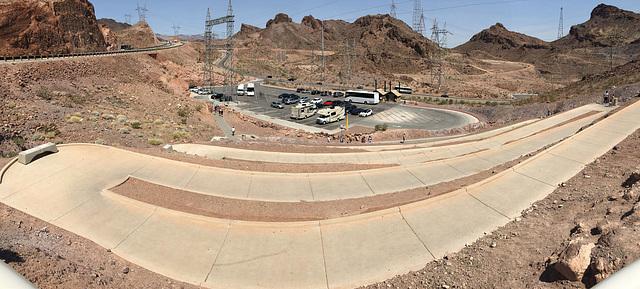 The parking lot for bridge visitors. If you want to use your GPS to find it, the name is "Mike O'Callaghan - Pat Tillman Memorial Bridge," but I found that as long as you're in the general area, a simple "Tillman" will suffice to find it. "General area" includes at least Las Vegas, where my trip started this day. There are stairs not very visible at the right edge of this photo, so if you can walk stairs, the hike is not so long as if you took the ramp. Hey, I only now noticed the little exposed concrete bench in the curve at the left side of the photo. Yet another amenity!
"Hoover Dam Bypass" may also be a good search term to find it.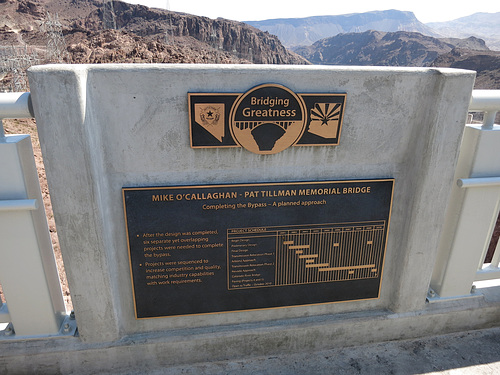 Talk about amenities, when did you ever see a Gantt chart rendered in a bronze plaque before? This is clearly a government project. The bridge must have about a dozen of these concrete forms on which plaques could be mounted. The order must have gone forth to come up with a plaque for every one of them (use up that budget!), so they go into a lot more detail than I've ever seen on plaques.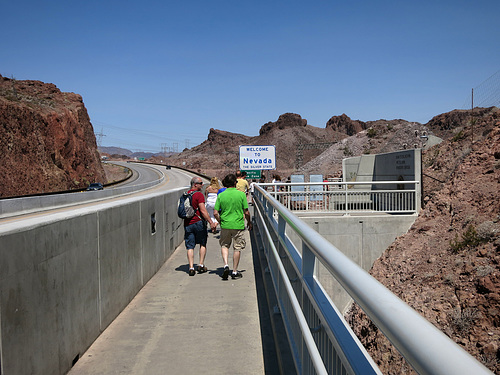 The Nevada end of the bridge.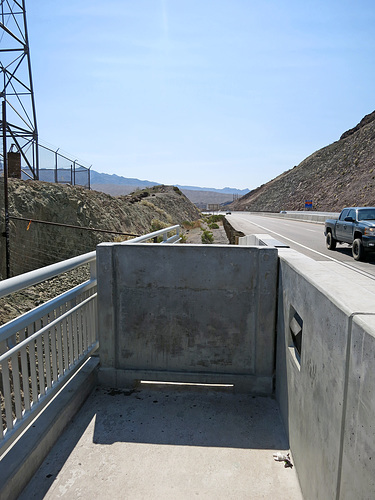 The Arizona end of the bridge. This spot screams out for a brass plaque! No pedestrian access to Arizona. I can see the necessity for this. Unless you've got a nice visitor center with A/C, water and restrooms on the Arizona end, allowing people to simply proceed into the wilderness would, undoubtedly, result in dozens of rescues and the occasional death, as tourists, thinking this is Disneyland, get lost in the rugged terrain. And then there are also the falls to consider. Nope, a relatively cheap concrete wall reduces all those risks substantially. And any young man who thinks he will never die, can easily jump this barrier without having to vandalize any public property.

Looking toward Nevada, you can see the road switchbacking down to the dam itself. I thought when this bridge opened, all unofficial vehicles were banned from atop the dam, but the road seems to be open. Everyone does go through a fairly quick and cursory vehicle inspection before they can proceed to the bridge and dam. I was directed aside there because they saw the storage box in the back of my truck where I keep emergency supplies, like water, a blanket, etc. The officer (is this Bureau of Reclamation jurisdiction?) simply asked me what it was and I told him what I just told you, and he sent me on my way.


Just exactly who Mike O'Callaghan and Pat Tillman were, is the subject of at least four different sets of signs or plaques.

There were some brass inserts on the walkway on the bridge, too. Who got the brass plaque contract for this job?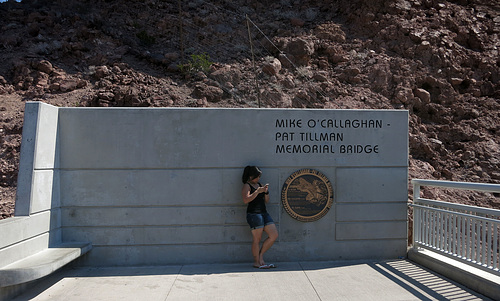 A few photographers were standing alongside me as we all waited for Miss Oblivious to step out of our shot. Look, she isn't even using the shade to make it easier to her phone's screen. I just took this shot and moved on. I wonder if she would object?

This is the only place you get to see any of the exciting guts of the bridge's construction.

On the opposite side of the same walkway.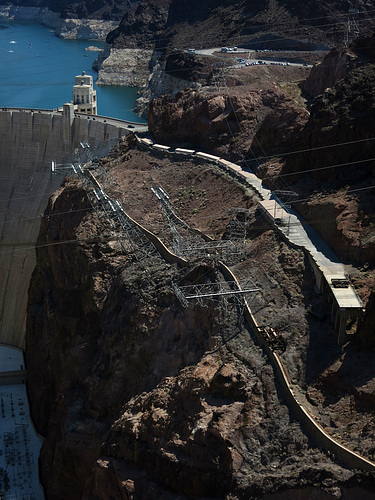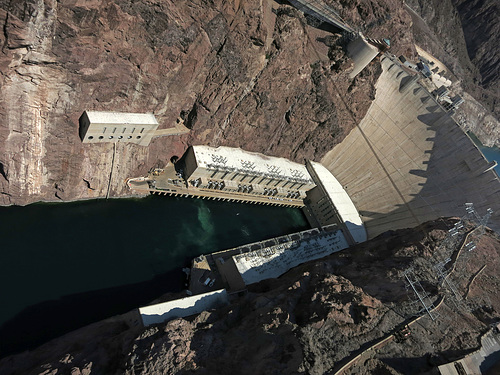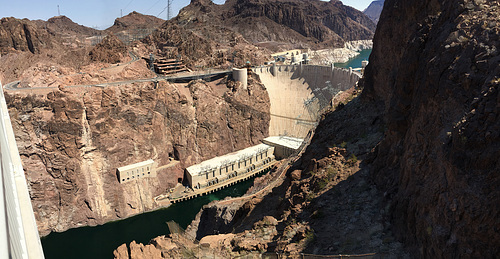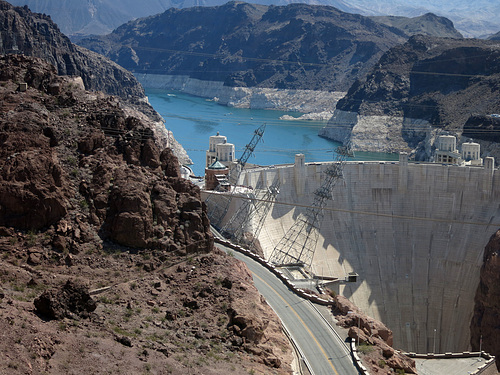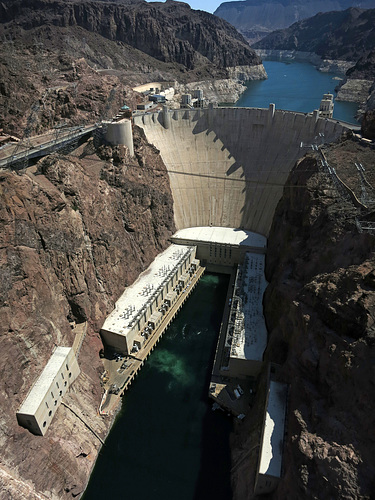 The complete set of photos can be seen here, including photos of every single brass plaque on the bridge!
permalink | June 10, 2016 at 10:50 AM | Comments (1)
June 3, 2016
Santa Monica Photos
Things seen on a Sunday near the Santa Monica downtown Expo Line stop.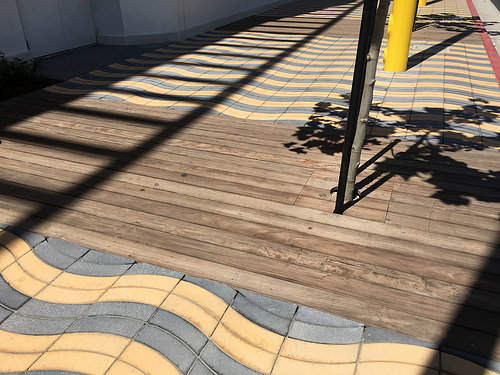 See how nicely they do the trees, with a big expanse of wood with lots of spaces to allow rain (as if it ever rained!) to get to the soil. Also expensive, I'm sure. But how much does it cost to replace dead trees?

I think the Big Blue Bus garage is behind this, or I may just be imagining that for obvious reasons.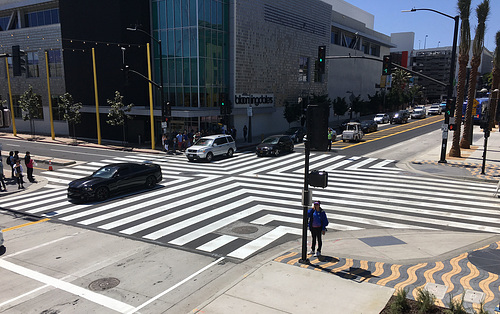 The street intersection at the Expo Line goes all four ways whenever it goes into Walk mode and so, knowing how L.A. drivers are, no expense was spared in slapping paint all over the place. Also, there's a cop on duty.

Back in Los Angeles proper, this is how they've painted the Hollywood & Highland intersection for the same purpose. Photo by LA Great Streets.


Pedestrians streaming away from the Expo train.

This was a bit of a challenge for me. Even when you're walking on this flat surface, your brain tells you its wavy. Easiest solution was to look away.

Simple and durable directions. Now, try to find that in the press of a crowd.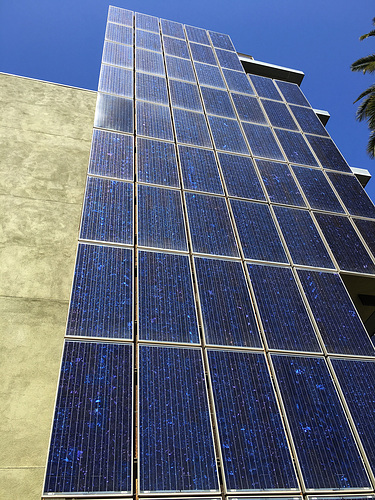 I'd like to see their calculations on the efficiency of putting solar panels in a fixed vertical array like this. Their western wall, where these are mounted, is a lot bigger than their roof.

Please excuse my stupid finger in the view. I want you to notice how they handle their public education campaign.
permalink | June 3, 2016 at 07:57 PM | Comments (0)
Up In The San Bernardino National Forest
Photos from Camp Round Meadow where I camped with CalComMen last weekend. It's at an elevation of about 6,500 feet, so while the desert was getting its first seriously warm weekend, I was up there freezing to death. Specifically, 40s at night.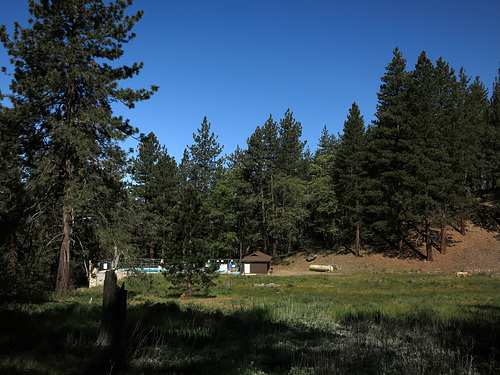 Looking across the field of stinging nettles toward the swimming pool, heated to a comfortable 75°.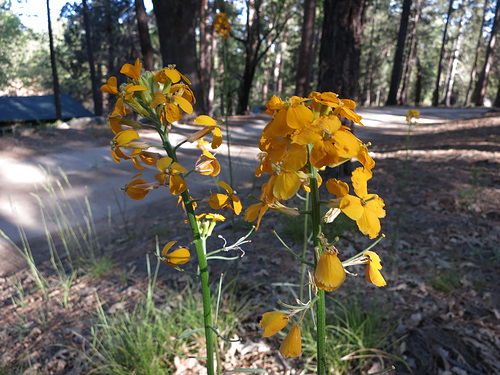 The view from the door of my tent.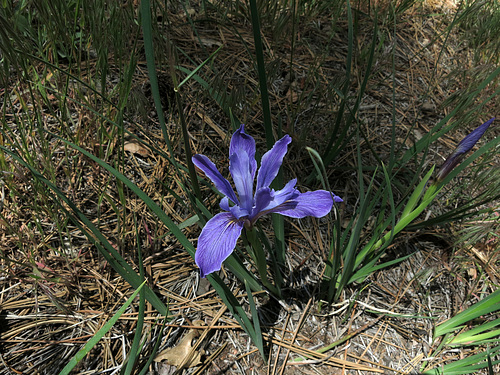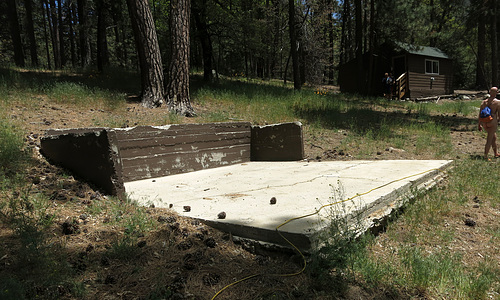 Next time I'm setting up my tent here. It's got electricity and a view!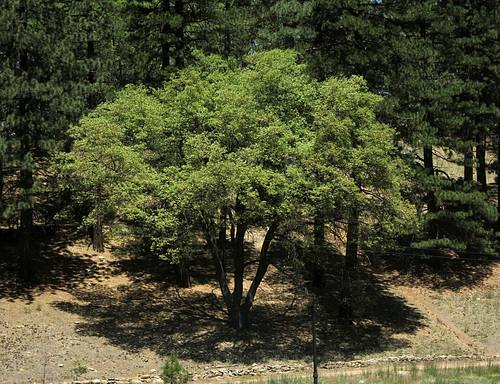 permalink | June 3, 2016 at 07:48 AM | Comments (0)
May 26, 2016
Of Male Bonding And Friendship
This is the first video from GoPro that includes other brands of cameras.

permalink | May 26, 2016 at 09:28 PM | Comments (2)
May 12, 2016
LG Action Camera
LG has announced a new action camera. Specs are a bit meager, but it doesn't look like it shoots 4K. But, it's claim to fame is that it's able to stream your video via 4G. No longer will you have to wait until you get within range of some Wi-fi as you are shooting some police on civilian action to share with the world. Will also be handy in revolutions, but never to be used at a nude function. The price is supposed to be comparable to a GoPro, which hardly narrows that down.

permalink | May 12, 2016 at 07:24 PM | Comments (0)
May 4, 2016
Rocket Video
UP Aerospace Inc.attached a lot of GoPros to a rocket they launched last November. One camera is on one of the stages jettisoned from the main rocket. This allowed them to catch clear images of the rest of the rocket just sitting there in space like a 1950s science fiction magazine. Here's the video.