December 7, 2017
Slides, More Slides

Tanglewood, 1983, Agfachrome.

Sears warehouse building in The Fenway, Boston, Agfachrome, 1985.

The Nantucket Light Ship, Kodachrome.

Construction of the MBTA Back Bay Station in Boston, 1986.

Copley Square, Boston, Kodachrome, showing Trinity Church and the two John Hancocks.
permalink | December 7, 2017 at 04:31 PM | Comments (0)
December 5, 2017
Slide Scans

Shadows of the World Trade Center in 1985.

The old John Hancock building in Boston.

The (newer) John Hancock Tower in Boston.

MIT in 1987, Kodachrome.
permalink | December 5, 2017 at 10:44 AM | Comments (0)
November 27, 2017
Slides From The 1980s

At the Art Institute of Chicago, 1987, not Kodachrome. Artist was Charles Green Shaw.

1987 Kodachrome.

The Statue of Liberty's torch, Kodachrome, 1987.

Elevated Green Line stop at North Station, Boston, Kodachrome, 1987.

The Longfellow House in Cambridge, Massachusetts, Kodachrome, 1987.

Ektachrome, 1987.

Chicago skyline 1987.

Power plant in Cambridge, Massachusetts, where Western Avenue crosses the Charles River, Kodachrome, 1987.

Tanglewood, Lenox, Massachusetts, Agfachrome, 1983.

The Paramount Theater facade on Washington Street in Boston, 1986.

Kodachrome, 1987, probably in Provincetown, Mass.
permalink | November 27, 2017 at 08:04 PM | Comments (0)
November 24, 2017
Yet More Slides

This looks like Iowa, but I can't be more specific than that. Dates from 1983.

Tanglewood 1983 on Agfachrome. The camera the woman is using looks like an Olympus XA. I went through a couple of those.

Hawaii on Kodachrome, 1986.

I have no idea where this is, but if I had to guess I'd guess that it's at Alcatraz. Agfachrome, 1985.

Sunset in Hawaii, Kodachrome, 1986.

The Brooklyn and Manhattan Bridges, 1985.

This is another Polaroid instant slide, but this one is color, Polachrome. The subject is in Boston.
You can see more of my slide photos by clicking this link.
permalink | November 24, 2017 at 07:34 PM | Comments (0)
November 23, 2017
More Slides

Hunt Drugs was the best photography store in Boston when I lived there and it still exists. They've expanded to several other locations, and it looks from here like they've dropped the drug store half of the business. It was an odd store. Probably three-quarters of the floor space was for photography while the other quarter was regular drug store stuff.

The Statue of Liberty in 1985.

Ektachrome.

I can't recall where this house is, or its significance. But I can safely say it's in New England. If you can identify it, please let me know.

This is a Polapan Polaroid instant slide. The building is probably in New York City. A little more info about the film can be found here. Here's a video about the use of the film.

Frog Pond in the Boston Common, 1983.

The Christian Science Mother Church Annex in Boston; publishing house in the background.

This bridge is for sale.

Boston's Back Bay in 1985 viewed from Cambridge.
permalink | November 23, 2017 at 10:04 AM | Comments (0)
November 21, 2017
Old Slides
I have a load of good slide photos from before the turn of the century that I have never shared digitally. I used to have a good slide scanner, until it stopped working years ago. I've finally acquired another scanner, and have set forth to scan some old slides. Here are a very few. Some, but not all, are Kodachrome. So far, my Ektachrome and other E6 slides are holding color well.

Kauai in 1986, this must be Waimea Canyon, but I will accept corrections.

Also on Kauai in 1986, we were up in the mountains and had been out hiking. All the dirt there is very sticky red mud and we were covered with it. So we decided it was much more sensible for all of us to hose each other down out in the yard of the mountain house, rather than waiting for each to use the only shower in the house. That's me in front, behind me left to right are Chuck, Bob & Alden. Alden has not gained weight since then.

Somewhere in New England, 1986.

Kodachrome, fershur.

I'm pretty sure this is Muddy River in Boston or Brookline.

A winter scene I do not miss.

Boston University Chapel with the Martin Luther King, Jr. memorial in front.
permalink | November 21, 2017 at 08:45 AM | Comments (1)
November 18, 2017
My First 4K Video
Waokiye at Cabot's Museum is the subject for my first 4K video.

I recently acquired a ThiEYE T5e which is $170 at Amazon, but just under $100 at GearBest which is in China. I know buying direct from China is a crapshoot, but a 41% discount is pretty substantial. Reviews of this camera point out that it is genuine 4K, not interpolated from 1080p.
I have a 4K display, but my Mac Mini can't do any better than 1080p, so the only way I can see this in 4K is to connect the camera directly to my monitor and play it from there. I also don't have any software that can output a 4K video, so I can only upload them exactly as shot. Can't even trim off shaky starts or ends without lowering the resolution to 720p.
The video above is on Vimeo, who claims they don't degrade videos. I've also uploaded this video to YouTube which supports 4K, but they degrade the videos somewhat. If you think you can see the difference, here's a chance to do an A/B comparison.
permalink | November 18, 2017 at 04:45 PM | Comments (0)
October 7, 2017
President Clinton Library
On my way to Tennessee I stopped in at the Clinton Library in Little Rock, Arkansas.
The complete set of photos is here.
permalink | October 7, 2017 at 06:54 PM | Comments (0)
October 4, 2017
Whispering Oaks
Over the last 10 days or so, I traveled to and camped at Whispering Oaks, a clothing optional campground in Tennessee. Some photos:

My tent. As you can see, nothing like Burning Man.

At a far corner of the property.

The central area of Whispering Oaks.

Babbling Brook at Whispering Oaks, Tennessee.
permalink | October 4, 2017 at 08:57 PM | Comments (0)
September 21, 2017
A Few Of My Burning Man 2017 Photos

Dusk on Sunday, just before the Temple burn.

Atlas, of the Action Figure Family, had this little surprise for those Burners who were sufficiently curious to open the door on his crotch.

Inside the chest of Atlas. Quite remarkably, there was no vandalism of the Action Figure Family, as far as I could see. Someone did steal the mini-Etch-a-Sketch, but it wasn't attached to anything and I kind of expected it to disappear.

Jacky at the end of the week.

Jallen arriving at the scene of the art.

Our address tag, sort of.

On the big master map at the Artery.

My tricycle on the evening of the Temple burn.

Beginning to disassemble the Tree of Ténéré. This was one of the two brightest pieces of stationary art on the playa. (The Flower Tower was the other one.)

Map of the placed theme camps along the 4:30 axis. Burner Buddies are in pink.

You can tell this is the boy's bike because the tires are pink.
permalink | September 21, 2017 at 05:27 PM | Comments (0)
September 7, 2017
The Action Figure Family on the playa

This photo by Pat M. shows how the Action Figure Family looked after a few days on the playa of the Black Rock Desert.

Andrew Jorgensen's photo of the Action Figure Family at twilight. Here's a link to the Rolling Stone article with more pictures of other art projects at Burning Man.

The Action Figure Family crew (Palm Springs Branch). L to R, top row: John, Jallen; bottom row: myself, Dennis. The fifth member, Stitch, is the San Francisco branch and primarily helped with dealing with Indiegogo and other financing attempts.
permalink | September 7, 2017 at 08:04 PM | Comments (0)
August 21, 2017
NASA Photo Of The Eclipse
permalink | August 21, 2017 at 11:23 PM | Comments (0)
August 11, 2017
Los Angeles Neon Tours
Recently I went on two different bus tours offered by the Museum of Neon Art in Glendale. We toured on two Saturday nights, starting at 7:30 PM in downtown Los Angeles. The tours, while mostly about neon, become tours of architecture and history as well as drinking and dining suggestions. The buses rarely stop and stand still just where you want them to, but the surprisingly good image stabilization and fast focusing of one of my cheap Canon cameras managed to produce some good images.

Tower Theater, which has been acquired by Apple to become the downtown Apple Store.

Just like it says, in downtown LA.

Neon KFC!

To my utter surprise, I learned this is the oldest gay bathhouse in LA! I'd never heard of it before...nor had any of my friends who I asked. Klyt (I don't know what it stands for) opened in the 1920s on 4th Street not as a gay bathhouse, but evolved into one. How this escaped the 1980s, I can't imagine. My fear of bedbugs will keep me from exploring this one, although I'd really like to check it out.

The Chinatown Chevron must have the highest prices in the state. The price at Furnace Creek this day was only $3.069.

The Bradbury Building.

Angels Flight, which is supposed to return to service in 2018.

2nd Street Tunnel video. Click through to see the video.

Still the tallest building in L.A., IMO.

Eric, the tour guide for the first tour I went on. The guide for the second tour was also named Eric, but looked a little different.

"New Chinatown" is Chinatown, which was moved here in the 1930s to clear way for the construction of Union Station.

"Bendix," of course, but the bus was rolling and by the time I got the camera aimed, this is all I got.

Mayan Theater

The Bradbury Building with its controversial new lighting.

A parking garage at 4th & Main. I think it's just art.
The complete sets of photos can be seen here.
permalink | August 11, 2017 at 12:08 PM | Comments (0)
August 4, 2017
Dore Alley 2017 Photos
A few photos from this year's Dore Alley ("Up Your Alley") in San Francisco.
Many more NSFW images available here.
permalink | August 4, 2017 at 11:26 AM | Comments (2)
July 14, 2017
John Furbee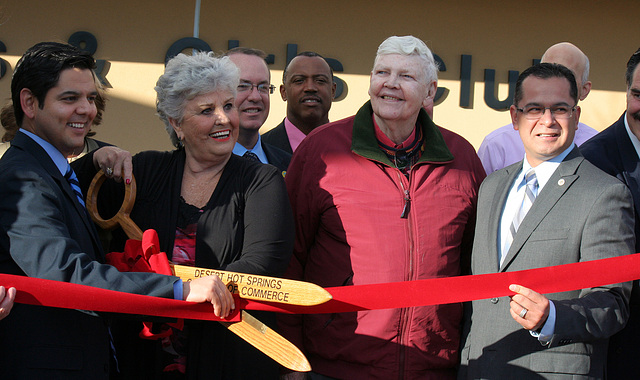 L to R: Rep. Raul Ruiz, Mayor Yvonne Parks, Councilmember Scott Matas, unknown man in back, John Furbee, V. Manuel Perez at the ribbon cutting for the Health & Wellness Center in 2013.
John Furbee - Local Philanthropist, Businessman and Civic Leader Passes Away

Desert Hot Springs, July 13, 2017: It is with tremendous sadness that we announce the passing of John Furbee, a long-time Desert Hot Springs philanthropist, businessman, civic leader and youth supporter. John passed away on July 12, 2017 surrounded by his loving family, following an extended illness.

John Furbee arrived in Desert Hot Springs over 50 years ago, and quickly established the well-known DHS Drug Store. He went on to own and operate several successful businesses within the city and served the community as the President of the Boys and Girls Club and Mission Springs Foundation and sat as Chairman of the Board of both the Desert Hot Springs Planning Commission and Desert Hot Springs Economic Committee.

His commitment and dedication to the city earned him the distinct honor of being named the Senior Inspiration Award Recipient for the City of Desert Hot Springs in 2006 and in 2012 the City Council named the Aquatic Center at the Community Health and Wellness Center the "John H. Furbee Aquatic Center" in his honor. This dedication was based on the significant contributions John made to the community he loved so much, including the donation of the property upon which the facility was built and a significant monetary contribution toward the Center.

John Furbee was a community hero, known for his dedication to the youth, animals, and local charity's. He had a kind heart and will be sorely missed by our entire community.
permalink | July 14, 2017 at 01:13 PM | Comments (2)
June 30, 2017
Some Photos
Some photos not previously shared.

The stage at Long Beach Opera at intermission during The Perfect American.

This is not an old sign.

I've got my eye on this pink Barbie.

Edward Wenzlaff Education Center, formerly Edward Wenzlaff Elemntary School in Desert Hot Springs.

Like it says on the label.
permalink | June 30, 2017 at 10:23 PM | Comments (0)
June 18, 2017
L.A. World Naked Bike Ride Photos

Here's a link to the full size photo if you want to read that tattoo.
permalink | June 18, 2017 at 04:38 PM | Comments (0)
June 17, 2017
Pink Houses
I visited these houses in L.A. that have been painted entirely pink, pending their demolition. NBC had a story about them.
permalink | June 17, 2017 at 07:40 PM | Comments (0)
June 8, 2017
Queer Burner Retreat
Over Memorial Day weekend I returned to Saratoga Springs, this time for what used to be called the "Queer Burner Retreat," but has been renamed to the meaningless "All Of Us." As a result we got one paying guest who feeling the need for a meditative weekend Googled and found Saratoga Springs, which led her to "All Of Us." She read no further, knowing that she must be one of us. She submitted her credit card and showed up to be rather surprised to find a Burner party underway. She stayed one night and then escaped.

Dan Reeves, the artist behind The Journey Project.

About one-quarter of the Journey Project.

My little camp.

The view from my tent door.

The well-known colors of Comfort & Joy, the biggest gay camp at Burning Man.

The jacuzzi, all fresh and clean when I arrived.

After a couple of days of hard use.

On the front porch of the main lodge.

Rand Larson on the left.

A new fire escape and an entirely new deck!
The complete set of photos can be seen here.
permalink | June 8, 2017 at 07:53 PM | Comments (0)
May 18, 2017
New York At Stress Levels