March 31, 2017
Mountain View Mausoleum
In early March I went on a tour of Mountain View Mausoleum in Altadena. This is part of Mountain View Cemetery, but separated from it by a road.

This landing was used in an Ozzy Osbourne video and is supposed to stand in as Michael Jackson's site of interment in an upcoming film.
Ozzy Osbourne in Mountain View Mausoleum.


The main corridor.

An empty crypt being used for storage.

My primary reason for going on this tour was to see this hall.

The designer of this mausoleum.

A Spanish-American war veteran.
June 4, 1898, [Dr. Schuyler C. Graves] was appointed, by President McKinley, as major and brigade surgeon, to serve, during the recent war with Spain, in the First brigade, Third division, Fourth army corps, on the staff of Brig-Gen. Jacob Kline, and did duty at Tampa and Fernandina, Fla., and at Huntsville, Ala., and then, hostilities having come to a lull, was granted a leave of absence, after which he was honorably discharged from service.
The complete set of photos can be seen here.
permalink | March 31, 2017 at 06:19 PM | Comments (0)
March 29, 2017
Good Nude Bowl Video
permalink | March 29, 2017 at 05:28 PM | Comments (1)
March 13, 2017
Joshua Tree Moonrise
I shot this in Joshua Tree National Park this past Saturday. When you buy (and register) a GoPro camera, you get access to GoPro's library of royalty-free music, including the over-wrought stuff you hear in a lot of GoPro videos. So I thought it might be fun to waste some of that here.

permalink | March 13, 2017 at 02:39 PM | Comments (0)
February 28, 2017
Amargosa Opera House & Death Valley Junction
I was camping with Great Outdoors at Tecopa Hot Springs this past weekend. One day we took a little drive up to Death Valley Junction to see the Amargosa Opera House. My first visit there. Read all about the opera house and hotel here. Marta Becket died January 30, 2017, at age 92.

Marta Becket.

Amargosa Hotel lobby.

The stove is the only source of heat and was burning with a low fire when we were there.

Death Valley Junction Garage

Historic pink tutu not for sale.
permalink | February 28, 2017 at 11:13 PM | Comments (2)
February 19, 2017
The Broad Museum

Michael Jackson and Bubbles by Jeff Koons

No Arts; No Letters; No Society by Damien Hirst

Norm's, La Cienega, on Fire by Edward Ruscha

The Nazis by Piotr Uklański
These are photographs of actors who played Nazi officers.

The Broad Museum Lobby. The stack of giant plates is simply No Title by Robert Therrien. I think I could come up with a name easily.

Untitled, 1984 by Keith Haring

Under The Table by Robert Therrien

The Broad provides two windows through which you can view their storage area. I've never heard of something like this before. This is the first time I've seen museum storage. I overbrightened this photo to bring out details in the shadows.

Inflammatory Essays by Jenny Holzer

Infinity Mirrored Room-The Souls Of Millions Light Years Away by Yayoi Kusama

Giant Figure (Cyclops) by Thomas Houseago

Balloon Dog (Blue) by Jeff Koons
The complete set of my photos from The Broad are here.
permalink | February 19, 2017 at 02:31 PM | Comments (1)
January 14, 2017
SpaceX Launch And Landing This Morning
If you don't want to watch the whole thing, start it at 22:25 which may seem a bit early, but I think you'll find it entertaining. There's some great photography on this 100% successful mission that launched from Vandenburg. Cameras on the first stage give you a few glimpses of much of the coast of California (mostly clear everywhere, it seems) as it ascends. You also get to watch the perfect descent from the POV of the first stage. The second stage gets screen time too.

Maybe I've just missed it before, but the speedometer constantly displayed in the upper right is new to me. I notice that the speedometer and the altimeter both have red lines. What happens if it red lines? It's not going to throw a rod. Does it mean it's overreached and achieved escape velocity? Milky Way here we come?
permalink | January 14, 2017 at 02:07 PM | Comments (0)
January 13, 2017
Photospots
Photospots is supposed to point out popular photography spots. It does this using only the photos at 500px. Do you know anyone who uses that site? I don't. It seems to me that the mapping is based on some inaccurate data. For instance, the photo below is alleged to have been shot in City Hall Plaza in Boston. Some photos are tagged with the location of the subject rather than the location of the photographer.
The map has no search function that I can find. The only way to navigate is to zoom out and scroll. Continuing to look around in Massachusetts, there are no photos at Tanglewood. No photos from Provincetown. All of the photos shot on Cape Cod seem to have been taken in East Barnstable, except for one in Chatham. In New York City, only two photos were taken in Times Square. In Washington DC there are only three photos of the Washington Monument, one of which is located just a half block east of Dupont Circle! And the Jefferson Memorial is in the same place! No photos of the Lincoln Memorial. Zero photos of the Jefferson Memorial in the right location.
Moving on to the Coachella Valley, only one photo has been taken there and it's of the windmills along Indian north of Palm Springs. There are no photos of Coachella and only one photo of the Salton Sea, which is mislocated.
There are no photos of anything in Hollywood. None of the Griffith Observatory. There are four pictures of the Santa Monica pier, but only one of them is tagged on the pier. The others indicate the pier is at the intersection of Lincoln and Santa Monica Boulevards! No photos in or within a 3-mile radius of Disneyland, including Angel Stadium. No photos of the Hearst Castle. There are many photos of the Golden Gate Bridge, but almost all of them put the location of the bridge in the Civic Center. There are no photos of the UC Berkeley campus.
Maybe it works better in Europe where an entire 10 photos of the Eiffel Tower are identified, and all of them in the correct location! There are only eight photos shot at the Louvre and they include one of the Mona Lisa.
In Rio there are no photos of the Christ The Redeemer statue. In Egypt there is only one photo of a pyramid (but it's got a camel in it too!). In Jerusalem there are only five photos and none of them are of any landmark that I recognize. One photo in Bethlehem of men walking down the street. In Japan there are three photos of Mt. Fuji.
IOW, not ready.
permalink | January 13, 2017 at 01:35 AM | Comments (0)
December 26, 2016
Petersen Automotive Museum

1936 Bugatti Type 57SC Atlantic. Design created by Jean Bugatti, son of the founder of Bugatti, Ettor Bugatti. In the SC variant, "The 'S' stood for 'Surbaissé' ('Lowered') and the 'C' for 'Compresseur' (a supercharger introduced by Bugatti as a result of customer's desire for increased power)." The body is aluminum. Only four of these were built. One disappeared in France during World War II. Another was hit by a train (!) but has been completely restored. This particular 1936 Bugatti Type 57SC Atlantic was brought to New York City in 1946. The owner drove it from there to Los Angeles. Some time in or after 2003 it was bought by Peter Mullin for a figure greater than $30 million. The fourth vehicle is owned by Ralph Lauren, who paid $40 million for his.

1939 Bugatti Type 57C by Vanvooren. This vehicle was a gift from the nation of France to Mohammed Reza Pahlavi, Prince of Persia, on the occasion of his wedding to Egypt's Princess Fawzia in 1959.

1939 Fiat 508C Balilla converted for CNG. This is said to have been the very first vehicle powered by compressed natural gas.

1948 Cadillac Sedanette Cadzzilla by Hot Rods By Boyd. This unique customization was commissioned by Billy F. Gibbons of ZZ Top.

1948 Davis Divan.

1948 Davis Divan. This is a three-wheeled convertible made by Davis Motorcar Company in Van Nuys in the late 1940s. There were 13 of these made, and 12 of them still exist. The design was based on an earlier three-wheeled car called "The Californian." Later, Gary Davis designed the 3-wheeled Dodge 'Em bumper car which is now ubiquitous in carnivals everywhere. He eventually retired to Palm Springs where he died in 1973.

1955 Chevrolet Biscayne XP-37. This vehicle was created by General Motors to show off its new 265 cubic-inch "Turbo Fire" V8 engine.

1955 Mercury D-528 Concept. The bulging "fins" are functional...and hinged. One is for the spare tire, the other holds the gas tank. This car had Ford's first reverse-sloping retractable rear window. "'Beldone' was a stage name selected by Paramount Pictures for the car's appearance in the 1964 Jerry Lewis movie, 'The Patsy', not an official Ford designation."

Here's a room in the Petersen museum where the unifying theme seems to be "shiny silver." Far to the back, not really visible in this photo, is a shiny gold car.

The chassis of a 2015 Tesla Model S P85D. Below is one with its clothes on.

Evidence of Petersen's attempt to class up its act. This restaurant (in the museum) used to be a Johnny Rocket's. Now it's a Drago.
Many more photos can be seen here.
permalink | December 26, 2016 at 10:39 PM | Comments (0)
December 23, 2016
Noiseless.app
The Noiseless app came out last year, but I only discovered it very recently. It's available for $4.99 in the App Store. There is no Windows version.
It's got only one purpose: to reduce visible noise in photos...and to do that with a really easy interface...without making the photo look blobby. I've tried software like this before and found it lacking. Most of the attempts just soften the image; some are so complex they become unwieldy to use. So, perhaps you can imagine my surprise when I discovered that Noiseless worked just about as well as any noise-reduction software I could hope for.
As a demonstration, I grabbed 23 (24 if you have your safe search settings turned off) noisy photos of mine and paired them up with their post-Noiseless versions, putting them all in this album on Flickr. Below are a few samples. Each image below links to a full-resolution version.
permalink | December 23, 2016 at 04:17 PM | Comments (0)
December 18, 2016
Keith Haring Exhibit at Petersen Automotive Museum
The five vehicles painted by Keith Haring are on display at Petersen Automotive Museum in L.A. The website doesn't say how long the vehicles will be on display there.

1990 BMW Z1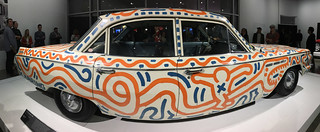 1963 Buick Special

1987 Honda CBR1000F Hurricane

1971 Land Rover Series III

1962 SCAF/Mortarini Mini Ferrari 330 P2 Motorized Child's Automobile
The complete set of photos is here.
permalink | December 18, 2016 at 10:19 PM | Comments (0)
December 17, 2016
Forest Lawn - Glendale
Last weekend I went on an actual paid tour of some of Forest Lawn Glendale. I got to see the show in the Hall of the Crucifixion/Resurrection. That's pretty impressive. There is a diorama of the scene of Christ's crucifixion with an interesting history. The diorama of the Resurrection is smaller and much newer and depicts heaven (it's up in the clouds, so it's got to be heaven, right?) as populated with a lot of Christian crusaders. It also includes St. Peter's in Rome, St. Paul's in London and Christ Church in the City of Boston, i.e., Old North Church. I didn't see anything like a Mormon temple there.
I also went into the Great Mausoleum for the first time. This mausoleum has the greatest concentration of celebrities and also the big stained glass Last Supper (so they really enforce the no photos inside rule here). Michael Jackson is interred here, as well as Elizabeth Taylor. I saw Taylor's grave, but didn't notice it was hers because I was distracted by the huge angel atop it.
They've removed the curtain from the Last Supper, so they can't do the big unveil anymore, but they still play the pre-recorded story of its history.

Depicting Michelangelo in his studio with the completed statue of David.

1896 - 2005

The Hall of the Crucifixion/Resurrection.

The Builder's Creed.

"The Republic." This is a scaled down replica of the original which was erected at the World's Columbian Exposition in Chicago in 1893. The original is gone, but there is a replica in Jackson Park in Chicago.
The complete set of photos can be found here.
permalink | December 17, 2016 at 09:08 PM | Comments (0)
December 16, 2016
Salk Institute
permalink | December 16, 2016 at 09:48 PM | Comments (0)
November 27, 2016
Palm Springs Construction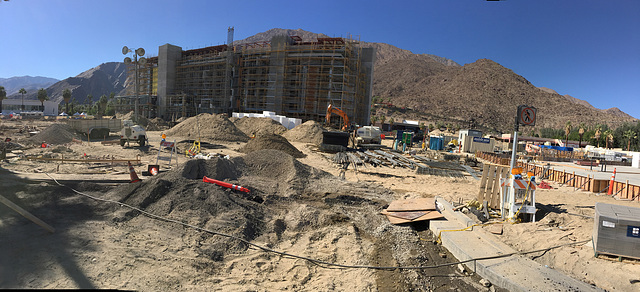 permalink | November 27, 2016 at 02:06 PM | Comments (0)
November 14, 2016
Drones, Chapter 2
There are enough drones in a sufficient number of hands now, it became inevitable that they'd finally be used for some real nitty gritty. This is not pleasant to watch and it's got some really good swearing, but there's no blood or gore…or even sex!

permalink | November 14, 2016 at 11:46 PM | Comments (0)
October 31, 2016
You're Not Going To Want A GoPro Karma
Compared to the DJI Mavic Pro.

permalink | October 31, 2016 at 03:14 PM | Comments (1)
October 6, 2016
The Temple Burn
My video of my ride from the Burner Buddies camp out to and around the Temple on the night of its burn. This was shot entirely from a camera mounted on my tricycle's handlebars.

permalink | October 6, 2016 at 07:43 PM | Comments (0)
Yet Another Mavic Pro Review
This one talks a little bit about focus and why some people may think the image from the Mavic is "soft."

permalink | October 6, 2016 at 07:32 PM | Comments (0)
October 4, 2016
Another Mavic Pro Review
An entertaining review of the Mavic Pro which is also very informative. Also, lots of L.A. scenes.

permalink | October 4, 2016 at 08:21 PM | Comments (2)
September 29, 2016
Canndescent Ribbon Cutting
Canndescent is the first cannabis cultivator to go into real operation in Desert Hot Springs, which means it's the first legal cultivation site in California, outside of dispensaries themselves. Boy Scout Troop 1606 brought the American flag and led the Pledge of Allegiance, which the cannabis people thought was a bit unusual. But! One of the Scouts is trying to raise money for a trip to Washington DC for some Boy Scout function. Canndescent covered his remaining financial need with a check for $3,300. I would like to be there when he tells other Scouts how he raised his money.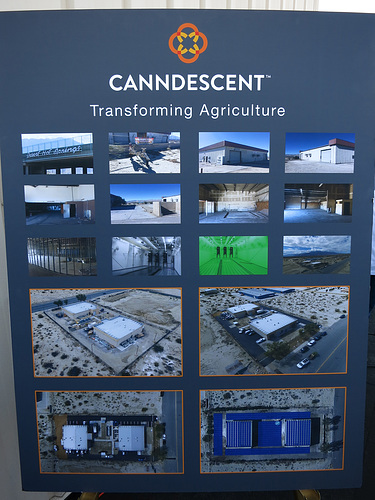 "Transforming Agriculture." I imagine in a few years as the cannabis industry settles down we'll get used to seeing slogans like you'd see in Iowa or any other predominantly agricultural state.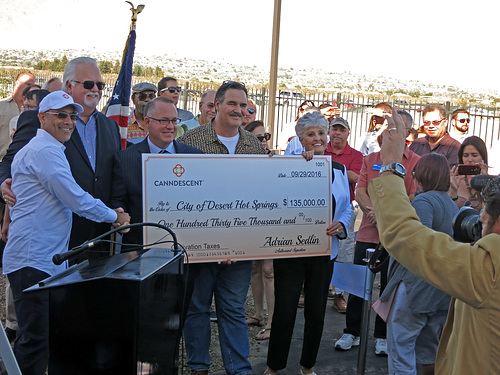 Canndescent also presented the city with its first tax payment of $135,000. The tax rate is based solely on cubic footage of the grow area, so the city doesn't have to wait for a crop to mature and be sold to get taxes. I don't recall if the taxes are paid quarterly or every 6 months, and no one said if this tax payment is one full payment, or does it cover through the end of the calendar year or perhaps the fiscal year? Nevertheless, $135,000 is almost the cost of one cop for one year. So it's a start.


Click for a larger size.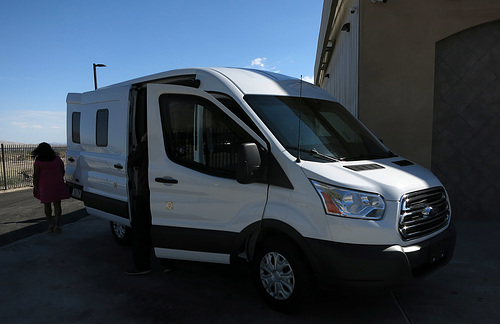 Their armored vehicle which doesn't seem to use CNG.

And it looks like they went all the way to Connecticut to get it.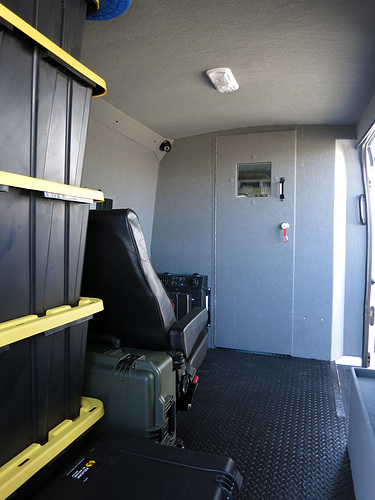 Interior of the vehicle.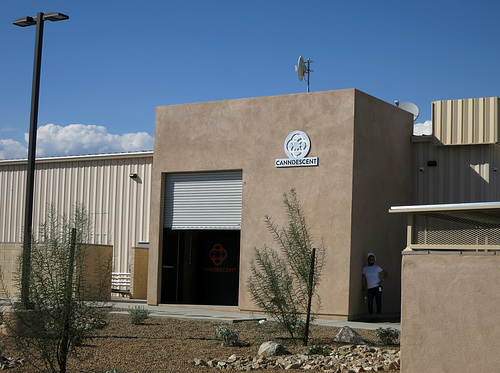 An historical plaque that Canndescent will erect. I suppose this fulfills their "art in public places" requirement. The plaque says:
CANNDESCENT

This marks the site of the first municipally-permitted cannabis cultivator operating in California. On November 5, 1996, California became the first U.S. state to legalize medical cannabis use. On October 21, 2014, Desert Hot Springs became the first city in California to legalize cannabis cultivation. On September 19, 2016, CANNDESCDENT commenced production.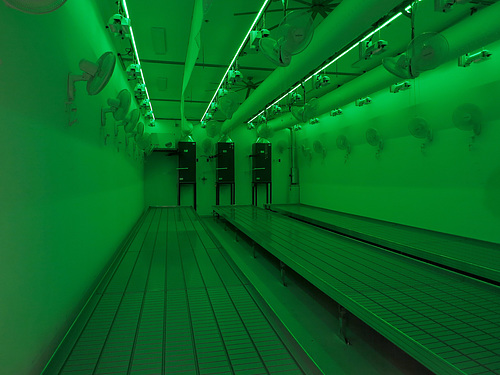 One of their grow rooms (with nothing growing).

Video of the grow room so you can see all the fans and appreciate the resulting noise.
permalink | September 29, 2016 at 07:17 PM | Comments (0)
Phantom 4 vs. Mavic Pro vs. Hero5 Session - image quality
Spoiler: the Phantom 4 produces the clearest, sharpest images, the Mavic Pro's image is a bit soft, the Hero5 Session has better image quality than the Mavic Pro.