August 11, 2017
Los Angeles Neon Tours
Recently I went on two different bus tours offered by the Museum of Neon Art in Glendale. We toured on two Saturday nights, starting at 7:30 PM in downtown Los Angeles. The tours, while mostly about neon, become tours of architecture and history as well as drinking and dining suggestions. The buses rarely stop and stand still just where you want them to, but the surprisingly good image stabilization and fast focusing of one of my cheap Canon cameras managed to produce some good images.

Tower Theater, which has been acquired by Apple to become the downtown Apple Store.

Just like it says, in downtown LA.

Neon KFC!

To my utter surprise, I learned this is the oldest gay bathhouse in LA! I'd never heard of it before...nor had any of my friends who I asked. Klyt (I don't know what it stands for) opened in the 1920s on 4th Street not as a gay bathhouse, but evolved into one. How this escaped the 1980s, I can't imagine. My fear of bedbugs will keep me from exploring this one, although I'd really like to check it out.

The Chinatown Chevron must have the highest prices in the state. The price at Furnace Creek this day was only $3.069.

The Bradbury Building.

Angels Flight, which is supposed to return to service in 2018.

2nd Street Tunnel video. Click through to see the video.

Still the tallest building in L.A., IMO.

Eric, the tour guide for the first tour I went on. The guide for the second tour was also named Eric, but looked a little different.

"New Chinatown" is Chinatown, which was moved here in the 1930s to clear way for the construction of Union Station.

"Bendix," of course, but the bus was rolling and by the time I got the camera aimed, this is all I got.

Mayan Theater

The Bradbury Building with its controversial new lighting.

A parking garage at 4th & Main. I think it's just art.
The complete sets of photos can be seen here.
permalink | August 11, 2017 at 12:08 PM | Comments (0)
August 4, 2017
Dore Alley 2017 Photos
A few photos from this year's Dore Alley ("Up Your Alley") in San Francisco.
Many more NSFW images available here.
permalink | August 4, 2017 at 11:26 AM | Comments (2)
July 14, 2017
John Furbee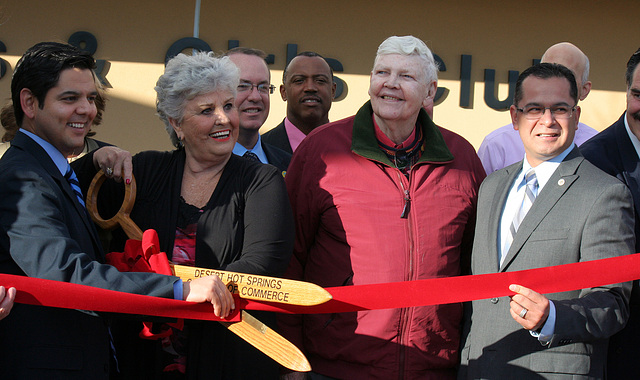 L to R: Rep. Raul Ruiz, Mayor Yvonne Parks, Councilmember Scott Matas, unknown man in back, John Furbee, V. Manuel Perez at the ribbon cutting for the Health & Wellness Center in 2013.
John Furbee - Local Philanthropist, Businessman and Civic Leader Passes Away

Desert Hot Springs, July 13, 2017: It is with tremendous sadness that we announce the passing of John Furbee, a long-time Desert Hot Springs philanthropist, businessman, civic leader and youth supporter. John passed away on July 12, 2017 surrounded by his loving family, following an extended illness.

John Furbee arrived in Desert Hot Springs over 50 years ago, and quickly established the well-known DHS Drug Store. He went on to own and operate several successful businesses within the city and served the community as the President of the Boys and Girls Club and Mission Springs Foundation and sat as Chairman of the Board of both the Desert Hot Springs Planning Commission and Desert Hot Springs Economic Committee.

His commitment and dedication to the city earned him the distinct honor of being named the Senior Inspiration Award Recipient for the City of Desert Hot Springs in 2006 and in 2012 the City Council named the Aquatic Center at the Community Health and Wellness Center the "John H. Furbee Aquatic Center" in his honor. This dedication was based on the significant contributions John made to the community he loved so much, including the donation of the property upon which the facility was built and a significant monetary contribution toward the Center.

John Furbee was a community hero, known for his dedication to the youth, animals, and local charity's. He had a kind heart and will be sorely missed by our entire community.
permalink | July 14, 2017 at 01:13 PM | Comments (2)
June 30, 2017
Some Photos
Some photos not previously shared.

The stage at Long Beach Opera at intermission during The Perfect American.

This is not an old sign.

I've got my eye on this pink Barbie.

Edward Wenzlaff Education Center, formerly Edward Wenzlaff Elemntary School in Desert Hot Springs.

Like it says on the label.
permalink | June 30, 2017 at 10:23 PM | Comments (0)
June 18, 2017
L.A. World Naked Bike Ride Photos

Here's a link to the full size photo if you want to read that tattoo.
permalink | June 18, 2017 at 04:38 PM | Comments (0)
June 17, 2017
Pink Houses
I visited these houses in L.A. that have been painted entirely pink, pending their demolition. NBC had a story about them.
permalink | June 17, 2017 at 07:40 PM | Comments (0)
June 8, 2017
Queer Burner Retreat
Over Memorial Day weekend I returned to Saratoga Springs, this time for what used to be called the "Queer Burner Retreat," but has been renamed to the meaningless "All Of Us." As a result we got one paying guest who feeling the need for a meditative weekend Googled and found Saratoga Springs, which led her to "All Of Us." She read no further, knowing that she must be one of us. She submitted her credit card and showed up to be rather surprised to find a Burner party underway. She stayed one night and then escaped.

Dan Reeves, the artist behind The Journey Project.

About one-quarter of the Journey Project.

My little camp.

The view from my tent door.

The well-known colors of Comfort & Joy, the biggest gay camp at Burning Man.

The jacuzzi, all fresh and clean when I arrived.

After a couple of days of hard use.

On the front porch of the main lodge.

Rand Larson on the left.

A new fire escape and an entirely new deck!
The complete set of photos can be seen here.
permalink | June 8, 2017 at 07:53 PM | Comments (0)
May 18, 2017
New York At Stress Levels
permalink | May 18, 2017 at 11:12 PM | Comments (1)
May 9, 2017
Joshua Tree National Park this past weekend
These photos are mostly from Wonder Valley, but some are around Intersection Rock.

In line at the West Entrance.
The complete set of photos is here.
permalink | May 9, 2017 at 09:06 PM | Comments (0)
May 1, 2017
The Journey at Saguaro Man
Saguaro Man is the annual Arizona regional burn (for Burning Man), and it took place this past weekend. Here's a video that shows you Saguaro Man and highlights The Journey Project which built one-quarter of the project that they are going to put on the playa in August.

More info on The Journey Project which is mostly San Diego based.
permalink | May 1, 2017 at 09:24 AM | Comments (0)
April 26, 2017
Burning Man Wrap-Up Video - 2016
I have had bits and pieces of video from last year's Burning Man just kicking around so I made this video with them. Some of the bits you've seen before, probably, but not all. The music is "Riw Akoii" by MigloJE.

permalink | April 26, 2017 at 06:16 PM | Comments (0)
April 11, 2017
The 14th Factory
Not long ago I paid a visit to 14th Factory in Los Angeles. I already posted the video. Now here are the still photos.

People waiting to get into the replica "2001" room.

This is their trademark (I guess) which I read as "nine gamma," but that makes no sense, not even in context, so I don't know its significance.

One of the pieces of art was this park.

Pitchforks!

The item on the left resembles a plow.
The complete set of photos is here.
permalink | April 11, 2017 at 08:00 PM | Comments (0)
April 5, 2017
The 14th Factory Videos
These are mostly videos of videos, with one exception.

permalink | April 5, 2017 at 11:30 AM | Comments (0)
March 31, 2017
Mountain View Mausoleum
In early March I went on a tour of Mountain View Mausoleum in Altadena. This is part of Mountain View Cemetery, but separated from it by a road.

This landing was used in an Ozzy Osbourne video and is supposed to stand in as Michael Jackson's site of interment in an upcoming film.
Ozzy Osbourne in Mountain View Mausoleum.


The main corridor.

An empty crypt being used for storage.

My primary reason for going on this tour was to see this hall.

The designer of this mausoleum.

A Spanish-American war veteran.
June 4, 1898, [Dr. Schuyler C. Graves] was appointed, by President McKinley, as major and brigade surgeon, to serve, during the recent war with Spain, in the First brigade, Third division, Fourth army corps, on the staff of Brig-Gen. Jacob Kline, and did duty at Tampa and Fernandina, Fla., and at Huntsville, Ala., and then, hostilities having come to a lull, was granted a leave of absence, after which he was honorably discharged from service.
The complete set of photos can be seen here.
permalink | March 31, 2017 at 06:19 PM | Comments (0)
March 29, 2017
Good Nude Bowl Video
permalink | March 29, 2017 at 05:28 PM | Comments (1)
March 13, 2017
Joshua Tree Moonrise
I shot this in Joshua Tree National Park this past Saturday. When you buy (and register) a GoPro camera, you get access to GoPro's library of royalty-free music, including the over-wrought stuff you hear in a lot of GoPro videos. So I thought it might be fun to waste some of that here.

permalink | March 13, 2017 at 02:39 PM | Comments (0)
February 28, 2017
Amargosa Opera House & Death Valley Junction
I was camping with Great Outdoors at Tecopa Hot Springs this past weekend. One day we took a little drive up to Death Valley Junction to see the Amargosa Opera House. My first visit there. Read all about the opera house and hotel here. Marta Becket died January 30, 2017, at age 92.

Marta Becket.

Amargosa Hotel lobby.

The stove is the only source of heat and was burning with a low fire when we were there.

Death Valley Junction Garage

Historic pink tutu not for sale.
permalink | February 28, 2017 at 11:13 PM | Comments (2)
February 19, 2017
The Broad Museum

Michael Jackson and Bubbles by Jeff Koons

No Arts; No Letters; No Society by Damien Hirst

Norm's, La Cienega, on Fire by Edward Ruscha

The Nazis by Piotr Uklański
These are photographs of actors who played Nazi officers.

The Broad Museum Lobby. The stack of giant plates is simply No Title by Robert Therrien. I think I could come up with a name easily.

Untitled, 1984 by Keith Haring

Under The Table by Robert Therrien

The Broad provides two windows through which you can view their storage area. I've never heard of something like this before. This is the first time I've seen museum storage. I overbrightened this photo to bring out details in the shadows.

Inflammatory Essays by Jenny Holzer

Infinity Mirrored Room-The Souls Of Millions Light Years Away by Yayoi Kusama

Giant Figure (Cyclops) by Thomas Houseago

Balloon Dog (Blue) by Jeff Koons
The complete set of my photos from The Broad are here.
permalink | February 19, 2017 at 02:31 PM | Comments (1)
January 14, 2017
SpaceX Launch And Landing This Morning
If you don't want to watch the whole thing, start it at 22:25 which may seem a bit early, but I think you'll find it entertaining. There's some great photography on this 100% successful mission that launched from Vandenburg. Cameras on the first stage give you a few glimpses of much of the coast of California (mostly clear everywhere, it seems) as it ascends. You also get to watch the perfect descent from the POV of the first stage. The second stage gets screen time too.

Maybe I've just missed it before, but the speedometer constantly displayed in the upper right is new to me. I notice that the speedometer and the altimeter both have red lines. What happens if it red lines? It's not going to throw a rod. Does it mean it's overreached and achieved escape velocity? Milky Way here we come?
permalink | January 14, 2017 at 02:07 PM | Comments (0)
January 13, 2017
Photospots
Photospots is supposed to point out popular photography spots. It does this using only the photos at 500px. Do you know anyone who uses that site? I don't. It seems to me that the mapping is based on some inaccurate data. For instance, the photo below is alleged to have been shot in City Hall Plaza in Boston. Some photos are tagged with the location of the subject rather than the location of the photographer.
The map has no search function that I can find. The only way to navigate is to zoom out and scroll. Continuing to look around in Massachusetts, there are no photos at Tanglewood. No photos from Provincetown. All of the photos shot on Cape Cod seem to have been taken in East Barnstable, except for one in Chatham. In New York City, only two photos were taken in Times Square. In Washington DC there are only three photos of the Washington Monument, one of which is located just a half block east of Dupont Circle! And the Jefferson Memorial is in the same place! No photos of the Lincoln Memorial. Zero photos of the Jefferson Memorial in the right location.
Moving on to the Coachella Valley, only one photo has been taken there and it's of the windmills along Indian north of Palm Springs. There are no photos of Coachella and only one photo of the Salton Sea, which is mislocated.
There are no photos of anything in Hollywood. None of the Griffith Observatory. There are four pictures of the Santa Monica pier, but only one of them is tagged on the pier. The others indicate the pier is at the intersection of Lincoln and Santa Monica Boulevards! No photos in or within a 3-mile radius of Disneyland, including Angel Stadium. No photos of the Hearst Castle. There are many photos of the Golden Gate Bridge, but almost all of them put the location of the bridge in the Civic Center. There are no photos of the UC Berkeley campus.
Maybe it works better in Europe where an entire 10 photos of the Eiffel Tower are identified, and all of them in the correct location! There are only eight photos shot at the Louvre and they include one of the Mona Lisa.
In Rio there are no photos of the Christ The Redeemer statue. In Egypt there is only one photo of a pyramid (but it's got a camel in it too!). In Jerusalem there are only five photos and none of them are of any landmark that I recognize. One photo in Bethlehem of men walking down the street. In Japan there are three photos of Mt. Fuji.
IOW, not ready.