September 22, 2017
Nude Bowl, With History
Filed under Coachella Valley,Desert Hot Springs | September 22, 2017 at 05:34 PM | Comments (0)
September 21, 2017
A Few Of My Burning Man 2017 Photos

Dusk on Sunday, just before the Temple burn.

Atlas, of the Action Figure Family, had this little surprise for those Burners who were sufficiently curious to open the door on his crotch.

Inside the chest of Atlas. Quite remarkably, there was no vandalism of the Action Figure Family, as far as I could see. Someone did steal the mini-Etch-a-Sketch, but it wasn't attached to anything and I kind of expected it to disappear.

Jacky at the end of the week.

Jallen arriving at the scene of the art.

Our address tag, sort of.

On the big master map at the Artery.

My tricycle on the evening of the Temple burn.

Beginning to disassemble the Tree of Ténéré. This was one of the two brightest pieces of stationary art on the playa. (The Flower Tower was the other one.)

Map of the placed theme camps along the 4:30 axis. Burner Buddies are in pink.

You can tell this is the boy's bike because the tires are pink.
Filed under Burning Man,Photography | September 21, 2017 at 05:27 PM | Comments (0)
September 14, 2017
A Short, Pointless Life

Dennis Cruz, arrested in DHS in 2010, died yesterday at age 28 in the prison in Corcoran, shanked by a fellow inmate who had chased him into the prison yard.
Filed under Desert Hot Springs,Public Safety | September 14, 2017 at 04:43 PM | Comments (0)
September 7, 2017
The Action Figure Family on the playa

This photo by Pat M. shows how the Action Figure Family looked after a few days on the playa of the Black Rock Desert.

Andrew Jorgensen's photo of the Action Figure Family at twilight. Here's a link to the Rolling Stone article with more pictures of other art projects at Burning Man.

The Action Figure Family crew (Palm Springs Branch). L to R, top row: John, Jallen; bottom row: myself, Dennis. The fifth member, Stitch, is the San Francisco branch and primarily helped with dealing with Indiegogo and other financing attempts.
Filed under Burning Man,Photography | September 7, 2017 at 08:04 PM | Comments (0)
August 21, 2017
NASA Photo Of The Eclipse
Filed under Photography,Science | August 21, 2017 at 11:23 PM | Comments (0)
Ivan Sewell New Commissioner At MSWD
With a unanimous vote, the MSWD board selected Ivan Sewell to take John Furbee's spot on the board until the next election, November 2018. Then, the voters will get a chance to re-elect him to the remaining 2 years of Furbee's term, or elect someone else.

The two other candidates were perennial candidate Malcolm MacLean and Steve Grasha. Mr. Grasha is the inventor of the misting system, which is so ubiquitous here in Coachella Valley, if I understood him correctly. He's also working with the Trump campaign in some capacity and said that after the meeting today, he was heading over to Arizona. He seemed a bit reluctant to bring this up, at first saying he had been working for a candidate for "national office." There being only two elected national offices in this country, it wasn't hard to guess who he meant, but it became clearer when he referenced Arizona and said that he knew his views on who is in the President's office were not popular in DHS. He never named Trump.
I have been disappointed with the MSWD board's reluctance to replace Mr. Furbee before he passed away. We could have had Mr. Sewall working for the public good months ago.
Filed under California,Coachella Valley,Desert Hot Springs | August 21, 2017 at 04:10 PM | Comments (0)
August 11, 2017
Los Angeles Neon Tours
Recently I went on two different bus tours offered by the Museum of Neon Art in Glendale. We toured on two Saturday nights, starting at 7:30 PM in downtown Los Angeles. The tours, while mostly about neon, become tours of architecture and history as well as drinking and dining suggestions. The buses rarely stop and stand still just where you want them to, but the surprisingly good image stabilization and fast focusing of one of my cheap Canon cameras managed to produce some good images.

Tower Theater, which has been acquired by Apple to become the downtown Apple Store.

Just like it says, in downtown LA.

Neon KFC!

To my utter surprise, I learned this is the oldest gay bathhouse in LA! I'd never heard of it before...nor had any of my friends who I asked. Klyt (I don't know what it stands for) opened in the 1920s on 4th Street not as a gay bathhouse, but evolved into one. How this escaped the 1980s, I can't imagine. My fear of bedbugs will keep me from exploring this one, although I'd really like to check it out.

The Chinatown Chevron must have the highest prices in the state. The price at Furnace Creek this day was only $3.069.

The Bradbury Building.

Angels Flight, which is supposed to return to service in 2018.

2nd Street Tunnel video. Click through to see the video.

Still the tallest building in L.A., IMO.

Eric, the tour guide for the first tour I went on. The guide for the second tour was also named Eric, but looked a little different.

"New Chinatown" is Chinatown, which was moved here in the 1930s to clear way for the construction of Union Station.

"Bendix," of course, but the bus was rolling and by the time I got the camera aimed, this is all I got.

Mayan Theater

The Bradbury Building with its controversial new lighting.

A parking garage at 4th & Main. I think it's just art.
The complete sets of photos can be seen here.
Filed under Architecture,California,Cities/Urbanism,History,Photography | August 11, 2017 at 12:08 PM | Comments (0)
August 4, 2017
New Riverside County Building

In Desert Hot Springs.
Filed under Architecture,Coachella Valley,Desert Hot Springs | August 4, 2017 at 11:28 AM | Comments (0)
Dore Alley 2017 Photos
A few photos from this year's Dore Alley ("Up Your Alley") in San Francisco.
Many more NSFW images available here.
Filed under California,Cities/Urbanism,Gay Issues,Naturism-Nudism,Photography | August 4, 2017 at 11:26 AM | Comments (2)
John Furbee Memorial - August 18
Filed under Coachella Valley,Desert Hot Springs | August 4, 2017 at 11:01 AM | Comments (0)
July 17, 2017
Speed Check
If you enjoy watching the military jets over the greater Death Valley area, you may like this story.

Filed under California,Technology | July 17, 2017 at 09:42 PM | Comments (0)
July 14, 2017
John Furbee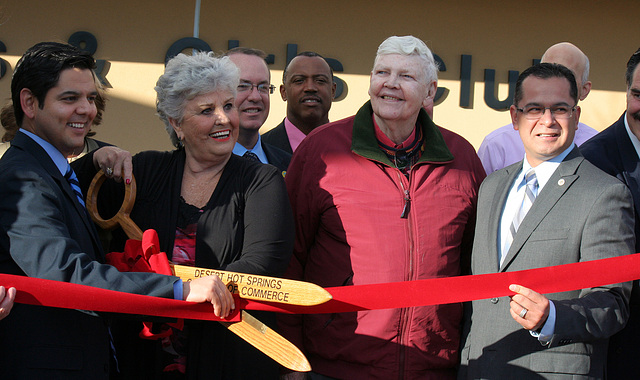 L to R: Rep. Raul Ruiz, Mayor Yvonne Parks, Councilmember Scott Matas, unknown man in back, John Furbee, V. Manuel Perez at the ribbon cutting for the Health & Wellness Center in 2013.
John Furbee - Local Philanthropist, Businessman and Civic Leader Passes Away

Desert Hot Springs, July 13, 2017: It is with tremendous sadness that we announce the passing of John Furbee, a long-time Desert Hot Springs philanthropist, businessman, civic leader and youth supporter. John passed away on July 12, 2017 surrounded by his loving family, following an extended illness.

John Furbee arrived in Desert Hot Springs over 50 years ago, and quickly established the well-known DHS Drug Store. He went on to own and operate several successful businesses within the city and served the community as the President of the Boys and Girls Club and Mission Springs Foundation and sat as Chairman of the Board of both the Desert Hot Springs Planning Commission and Desert Hot Springs Economic Committee.

His commitment and dedication to the city earned him the distinct honor of being named the Senior Inspiration Award Recipient for the City of Desert Hot Springs in 2006 and in 2012 the City Council named the Aquatic Center at the Community Health and Wellness Center the "John H. Furbee Aquatic Center" in his honor. This dedication was based on the significant contributions John made to the community he loved so much, including the donation of the property upon which the facility was built and a significant monetary contribution toward the Center.

John Furbee was a community hero, known for his dedication to the youth, animals, and local charity's. He had a kind heart and will be sorely missed by our entire community.
Filed under Coachella Valley,Desert Hot Springs,Photography | July 14, 2017 at 01:13 PM | Comments (2)
July 10, 2017
Action Figure Family Donation Request
These are photos of the creation of the Action Family Figures, which is taking place right in lovely Palm Springs. I think that you'll agree that, like every great art project at Burning Man, this one will bring about world peace and a transcendent consciousness linking all souls. If not that, it will at least generate surprise. The playa has never seen anything quite like this. It's going to be four mannequins covered with the action figures, Lego people, Muppets and even Happy Meal toys that young Jallen has been acquiring throughout his 50-odd years, 20 of which he has spent as a Burner. Do you see the Viewmaster serving as the eyes for the little boy? Look into the little boy's eyes and you'll see some of Jallen's photos from the last 20 years of Burning Man. Of course, you'll have to come to Burning Man or one of our work parties to do that.
Besides its stunning artistic qualities, this project is what's getting me to Burning Man this year. Now I'm working for the price of my admission. Working on this project will get me a ticket, a vehicle pass and an early arrival pass! If they would throw in a free shower on the playa, it would be an even better deal, but that's not to be this year.
Who are the patrons supporting this Sistine-Chapel-of-the-desert? Uh, well, me...and others, and you should too. I've actually contributed more than the value of the ticket & VP, so now it's your time to join the fun.
Go here to make a donation, and don't shy away from a 4-digit donation. Check out the rewards you get for one of those!
You get real value for those, not just a t-shirt or other souvenir. And Jallen's going to tell me who made contributions.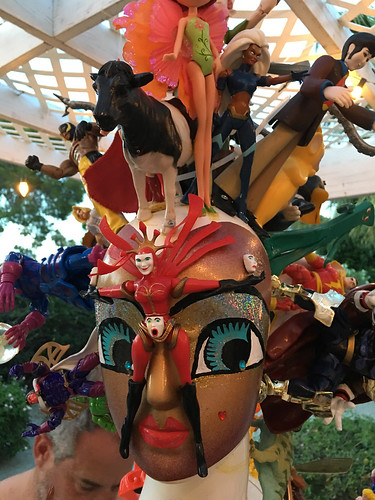 The complete set of photos is here.
Filed under Art,Burning Man,Coachella Valley | July 10, 2017 at 06:01 PM | Comments (0)
June 30, 2017
Some Photos
Some photos not previously shared.

The stage at Long Beach Opera at intermission during The Perfect American.

This is not an old sign.

I've got my eye on this pink Barbie.

Edward Wenzlaff Education Center, formerly Edward Wenzlaff Elemntary School in Desert Hot Springs.

Like it says on the label.
Filed under Architecture,California,Cities/Urbanism,Coachella Valley,Desert Hot Springs,Photography | June 30, 2017 at 10:23 PM | Comments (0)
June 29, 2017
Chicago Police Charged
Once, when I expressed an opinion that the very small number of bad cops were being protected by a much larger number of "good" cops who kept silent or assisted in cover-ups, I was told by a retired cop that I "watch too many movies." Uh-huh.
Filed under Public Safety | June 29, 2017 at 11:32 AM | Comments (0)
June 20, 2017
Desert Hot Springs Planning Commission - June 13, 2017.
Commissioner De La Torre was absent and one seat is vacant, so there were just three commissioners present.
11940 Palm Drive

Over the years I've heard a lot of reasons why nothing could be done about this building at 11940 Palm Drive which I have considered the worst eyesore in the city since I moved here, 13 years ago. Black mold so serious that the only complete demolition could deal with it. Demolition couldn't be immediate because cellphone towers on the roof would have to be moved. We can't locate the owners. As the Inland Empire's largest dovecote, we would have to get permission from the US Department of Interior to kill all those birds. Okay, just kidding about that last one.

Evidence that the city at least sicced Code Enforcement on the building in 2010. There was some improvement in the property following that.
Turns out none of that is true. All the building needed was an investor willing to pour money into it, and we've got one now, thanks to marijuana!
The matter of a conditional use permit for that building as a medical marijuana dispensary came before the Planning Commission last Tuesday night. The applicant (Stephanie Bodde and Desert Hot Springs Dispensary) had previously applied for a CUP for a dispensary at 66406 Pierson. That application was turned down at the March 8, 2016, Planning Commission. The main issue was lack of parking and the fact that nearby Rose Mortuary also objected to it. I thought that was the least we'd hear of them, but they went and found a better location.
There will be no other tenant in the approximately 6,000 s.f. building. The site has 20 parking spaces, two more than the minimum required. Entrance and exit will use the east entrance. The north and south doors are for emergency use only. Most of the second floor will go unused.
Chair Voss said that some residents may be concerned that too many dispensaries are concentrated in this area, but he went on to say that every dispensary in town moved into a substandard building and improved it. I think the two dispensaries in the Mission Lakes shopping center are pretty obvious exceptions to that. The IVTHC dispensary at 11555 Palm Drive opened in a fairly new building. But he's right about all the others. He wanted to make some changes to the external appearance of the building at 11940 Palm Drive to make it look better. He likes the new paint color that you see on the building now (brown), but he wants one additional color to be used, so it isn't just one big blob of brown. He would like to see more landscaping. He would like to see window treatments with wrought iron, and rock treatments on the exterior. He said he was going to leave the details of these matters to be hashed out between the applicant and city staff. The chainlink fencing will be removed (of course) and Mr. Voss would like to see a combination of block and wrought iron wall erected.
Commissioner Larry Buchanan said the building was erected in 1985 by Jack Webb for his real estate office.
Approved unanimously.

Other Planning Commission Actions
The city approved the Ho Ho Express Private Fueling Station to be located on Little Morongo south of Dillon a couple of years ago. The project has been delayed because the Coachella Valley Water District required them to build a 1½ mile water line. They were before the Planning Commission only to get a one-year extension of their entitlements. This was approved unanimously.

That Distribution Center to be constructed on the east side of Indian between 18th and 19th is still identified as a "Distribution Center" on city paperwork, even though the site will now be marijuana cultivation. Originally approved by Riverside County, several time extensions have been granted the project. This evening they came before the Planning Commission seeking another extension to November 2017. An extension will keep their mitigated negative declaration valid, so they can avoid having to go through a CEQA process. Approved unanimously.

Another marijuana cultivation project, Desert Grow, to be located on the north side of Palomar Lane in a site that has not been previously developed was approved 2-0-1 with Commissioner Buchanan abstaining.

Still another marijuana cultivation project, Din Cultivation, will be located on the southeast corner of Palomar Lane and Little Morongo, also previously undeveloped. This one was approved 3-0.

For a change of pace, the Commission then took up a proposal for a marijuana cultivation facility, Kim Cultivation, on undeveloped land on the north side of Palomar Lane, but further east than Desert Grow. This was approved 3-0.

Next, to really mix things up, the Commission considered a marijuana cultivation project located not on Palomar Lane. This one, MIRO, LLC or Desert Springs Cultivation, will be on San Gorgonio Lane. Approved 3-0.

Victor Muñoz brought a proposal for the Starlite Lodge Motel to the Planning Commission. The Starlite Lodge Motel is located on Palm Drive, a bit south of Hacienda, across the street from the Stater Bros. parking lot. He proposes to remodel and expand the existing one-story building and erect a new two-story building on a parcel south of the one-story building. The bus stop located there will not be moved. The developer says that they expect to do well because there is no motel in that area, and it's close to a lot of restaurants. That motel at Palm and Ironwood which has been undergoing incremental improvements for years does not seem to be a competitive threat.

Approved 3-0.

The next item was a proposal to allow Post and wire fencing, not to exceed 48 inches in height, \along the perimeter of vacant property. "Post and wire," I take it, is legalese for chainlink fencing. The intent is to discourage illegal dumping on vacant parcels. Approved 3-0.

DHS Properties which already has approval for a marijuana cultivation site on Two Bunch Palms Trail returned to the Planning Commission only to get an amendment to their Development Agreement to permit extraction and manufacturing at the location. Approved 3-0.

Commissioner Romero asked if there is a moratorium on new residential construction in the Hot Water Overlay zone. Community Development Director Daniel Porras said he doesn't think there's a Hot Water Overlay zone (see, he's still new), but he would find out if there is a moratorium. Mr. Porras thought she had it confused with the Spa Zone sign toppers.
Filed under Coachella Valley,Desert Hot Springs,Marijuana | June 20, 2017 at 10:17 PM | Comments (0)
June 18, 2017
L.A. World Naked Bike Ride Photos

Here's a link to the full size photo if you want to read that tattoo.
Filed under Cities/Urbanism,Cycling,Naturism-Nudism,Photography | June 18, 2017 at 04:38 PM | Comments (0)
June 17, 2017
Pink Houses
I visited these houses in L.A. that have been painted entirely pink, pending their demolition. NBC had a story about them.
Filed under Architecture,Art,Cities/Urbanism,Photography | June 17, 2017 at 07:40 PM | Comments (0)
June 13, 2017
LA World Naked Bike Ride

Actual video of part of the Los Angeles World Naked Bike Ride, 2017.
Filed under Cities/Urbanism,Cycling,Naturism-Nudism | June 13, 2017 at 08:29 AM | Comments (0)
June 8, 2017
Queer Burner Retreat
Over Memorial Day weekend I returned to Saratoga Springs, this time for what used to be called the "Queer Burner Retreat," but has been renamed to the meaningless "All Of Us." As a result we got one paying guest who feeling the need for a meditative weekend Googled and found Saratoga Springs, which led her to "All Of Us." She read no further, knowing that she must be one of us. She submitted her credit card and showed up to be rather surprised to find a Burner party underway. She stayed one night and then escaped.

Dan Reeves, the artist behind The Journey Project.

About one-quarter of the Journey Project.

My little camp.

The view from my tent door.

The well-known colors of Comfort & Joy, the biggest gay camp at Burning Man.

The jacuzzi, all fresh and clean when I arrived.

After a couple of days of hard use.

On the front porch of the main lodge.

Rand Larson on the left.

A new fire escape and an entirely new deck!
The complete set of photos can be seen here.
Filed under Art,Burning Man,California,Gay Issues,Photography | June 8, 2017 at 07:53 PM | Comments (0)