June 2, 2017
The Journey Project at Saratoga Springs


About a quarter of The Journey Project was constructed at Saratoga Springs over Memorial Day weekend for the Queer Burners Retreat. Their fundraising page.
Filed under Art,Burning Man | June 2, 2017 at 08:51 AM | Comments (0)
May 21, 2017
Take 20 Minutes And Listen
It's great to hear a southern politician explain the truth of the history of the Confederacy and racism.

| May 21, 2017 at 09:21 PM | Comments (0)
May 18, 2017
New York At Stress Levels
Filed under Cities/Urbanism,Photography | May 18, 2017 at 11:12 PM | Comments (1)
May 9, 2017
Joshua Tree National Park this past weekend
These photos are mostly from Wonder Valley, but some are around Intersection Rock.

In line at the West Entrance.
The complete set of photos is here.
Filed under California,Photography | May 9, 2017 at 09:06 PM | Comments (0)
The Gilbert Font

Download links can be found here. At the moment, it's only fully supported in Photoshop CC 2017. But it will work in monochrome on any Mac...and I assume Windows, too.
Filed under Art,Gay Issues,Technology | May 9, 2017 at 08:59 AM | Comments (0)
May 2, 2017
Now It Becomes Just Plain Murder
Dallas police officers who, using a rifle, shot and killed the 15-year old passenger in a moving vehicle said the car was backing up toward the police at high speed. But that was more than 24 hours ago. Now the Police Chief has admitted the car was moving , away from the cops and not in any sort of aggressive manner. The cops had been called to the neighborhood for a complaint about a loud party.
"The statement said officers fired on the car after they heard gunfire from an 'unknown altercation.'"
A random gunshot from somewhere is always perfect justification for shooting at the first thing that moves, no matter what it is.
UPDATE: The Police Chief actually used the workd "misspoke" in his explanation.
Filed under Public Safety | May 2, 2017 at 01:32 AM | Comments (0)
May 1, 2017
The Journey at Saguaro Man
Saguaro Man is the annual Arizona regional burn (for Burning Man), and it took place this past weekend. Here's a video that shows you Saguaro Man and highlights The Journey Project which built one-quarter of the project that they are going to put on the playa in August.

More info on The Journey Project which is mostly San Diego based.
Filed under Art,Burning Man,Photography | May 1, 2017 at 09:24 AM | Comments (0)
April 26, 2017
Desert Hot Springs Public Safety Tax Survey
The two public safety taxes in Desert Hot Springs are set to expire in a couple of years, so, as before, the city hired a firm to survey the residents on how they saw things. They've published three documents from that survey which are available on the city's website. Here's one, the press release:
A recently commissioned independent survey shows 70% of respondents approve of the job the City of Desert Hot Springs is doing to provide city services. "We are thrilled that residents can see our hard work paying off. We appreciate their feedback very much," said City Manager and retired Police Chief Charles Maynard.

Amid nearly $10 million in state takeaways, the current administration and Council have avoided bankruptcy, reduced a $6 million deficit, maintained emergency reserves, and took [sic] steps to improve transparency. In March, the City was assigned an "A" rating with a stable outlook from Standard and Poor's for the 2017A and 2017A-T lease revenue bonds. Their Report cited strong fiscal management, budgetary performance, and liquidity as crucial factors for the positive rating.

"We must continue this momentum to secure our City's ongoing financial stability, safety and quality of life. We have taken decisive action to improve fiscal stability and public safety," continued City Manager Maynard. The City's overall crime rate has decreased 18 percent in the past year.

Constituents are particularly interested in maintaining and preventing cuts to public safety, including crime investigation and prevention, recruiting and retaining experienced police officers, increasing drug house investigations, and maintaining anti-gang and anti-drug programs.

"This community input is invaluable as we continue to work to decrease crime in Desert Hot Springs. Reducing and preventing crime, drugs, and gangs not only makes us safer, but more attractive to businesses that can revitalize our City. While we have reduced our overall crime rate, we must stay focused on patrolling our neighborhoods, anti-gang programs, cracking down on parole violators and monitoring sex offenders, even as the state continues to put more offenders back on our streets," elaborated Police Chief Dale Mondary.

The independent community survey was conducted March 24-30 by the highly respected opinion research firm Fairbank, Maslin, Maullin, Metz & Associates (FM3 Research).

Constituents also overwhelmingly perceive there is a need for additional local funding with 87% saying there is "great" or "some" need. A majority, 57%, say there is "great" need.

Constituents expressed interest in the concept of continuing local, voter-approved funding to maintain and prevent cuts to public safety services with percentages as high as 77%. Existing, voter-approved local funding provides $5 million dollars annually for police officers and emergency response dispatchers, anti-gang enforcement operations, graffiti removal, code enforcement, and other public safety services. By law, all funds are specifically used only for Desert Hot Springs public safety services and are critical to the safety and survival of the City.

The City will continue to solicit feedback from the community about their public safety budget priorities. Residents can provide input and get more information by visiting: www.cityofdhs.org/Public_Safety_Conversation
Another document is a Powerpoint presentation summarizing the findings.
The survey consisted of 271 interviews conducted by landlines, cell phones and on-line. Seventy percent of respondents say they either strongly or somewhat approve of the city's work to provide services. Eighty-seven percent say there is a either a great need or some need for more funding for the city.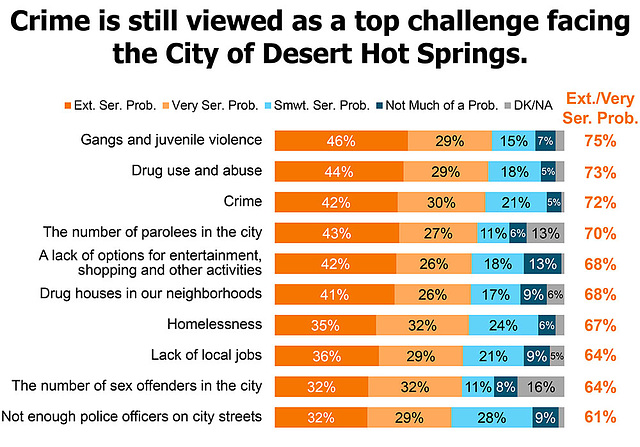 Summarizing these issues, from top to bottom, they are
public safety
public safety
public safety
public safety
not much to do [economy?]
public safety
economy
economy
public safety
public safety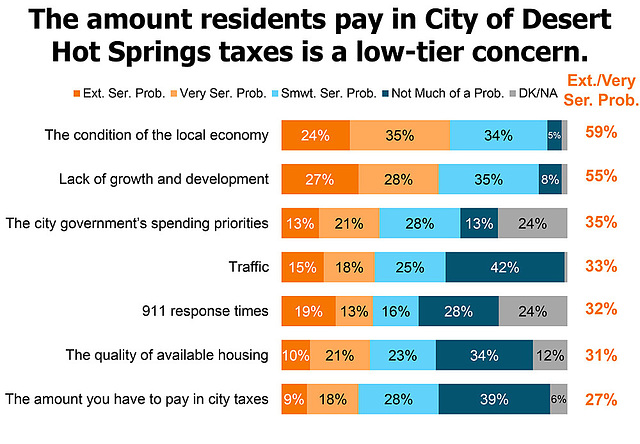 Of these seven issues, local taxes are the least concern.
Compared to ten years ago, residents now are more concerned about parolees, crime, gangs and juvenile violence. They have become less concerned about city taxes, the number of police officers, the number of sex offenders and the condition of the local economy.
Here's the language that would describe an increase in the utility users' tax, which is currently 7%.
To maintain and increase rapid police, fire and 911 emergency response times; police training, recruitment/retention; and crime investigation; and to hire additional police officers to patrol streets, shall the City of Desert Hot Springs increase its existing, voter-approved utility users' tax by 2%, raising approximately $714,000 [additional] annually, until ended by voters, with independent citizens' oversight, annual audits and all fund required to stay local?
I want to point out that the proposal is not to raise the UUT by 2%, but by two percentage points to 9%. An increase of only 2% would change the rate of the UUT to only 7.14%.
67% of likely voters said they would definitely or probably vote yes or were undecided but "lean yes." The no vote came to 29%, with 5% genuinely undecided and not leaning.
Here's the text for an extension of the public safety parcel tax:
To prevent essential public safety services cuts such as police/emergency response, anti-gang/drug, youth violence prevention and sex offender/parolee monitoring programs, shall the City of Desert Hot Springs extend its existing, voter-approved public safety measure providing approximately $2 million annually at the current rate of $135 per single-family residence, until ended by voters, requiring citizens review, audits, all funds to stay in Desert Hot Springs, with no tax increase for these parcels?
Note that this survey question does not say what will be done with the public safety parcel taxes for hotels, multi-family housing, commercial or industrial parcels. I imagine they would be considering increasing those, but they don't say that. But the question as is generates a 77% yes rate, which includes 54% definitely yes, 18% probably yes and 4% undecided but leaning to yes. 17% answered no. Six percent undecided. If they restrict the answers to likely voters, the yes rate increases to 78%; the no rate stays at 17%.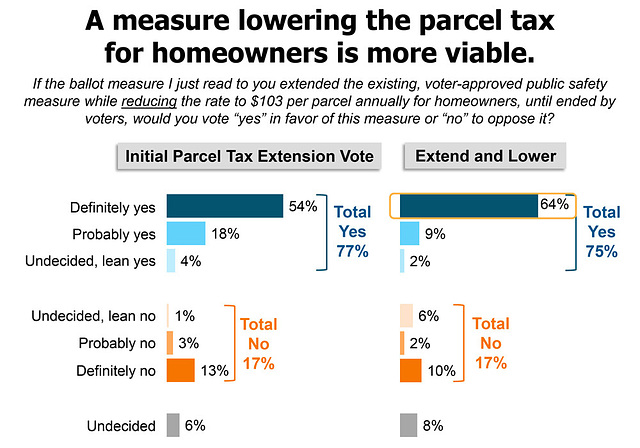 Check out the heading for this page and then look at the data. Offering a tax cut lowers the total yes vote from 77% to 75%, but those answering definitely yes rose from 54% to 64%. 73% say they definitely or probably would vote for a tax cut, which is one point more than the definites and probablies for holding the rate at its current level. The undecided, but lean yes drops from 4% to 2%, but the those who say they are undecided but lean towards no added to those who are simply undecided goes up from 7% to 14%. I'd say the two offers are equally viable, which is pretty surprising to me.
Democrats give the parcel tax proposal an 83% yes rate, Republicans a 75% yes rate and independents 63%.
Latinos support it at the rate of 92%(!) while whites support it at the rate of 71%.
Homeowners support the parcel tax measure at the rate of 73%, while 83% of renters support it.
The measure draws support ranging from 74% to 79% regardless of how long the voter has been residing in DHS.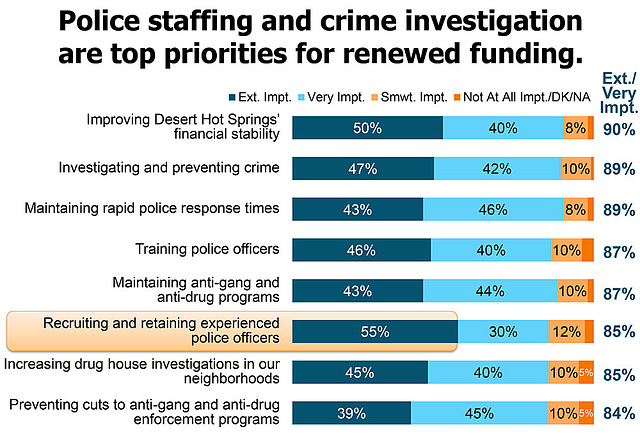 Check out that highlighted item, "Recruiting and retaining experienced police officers." While overall support for that is a tad lower than the five items listed higher, those who answered "extremely important" rose to 55%, the highest rated "extremely important" issue.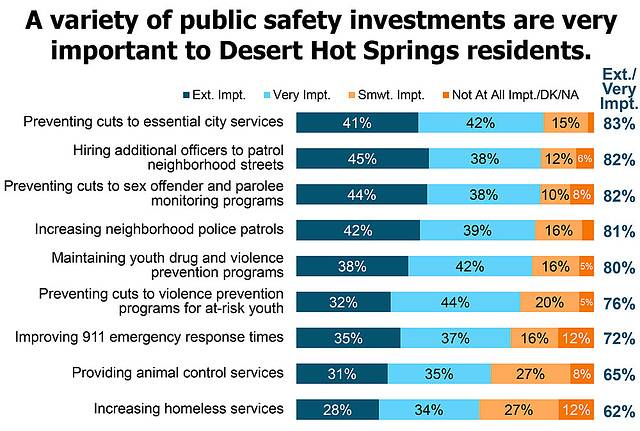 Filed under Coachella Valley,Desert Hot Springs | April 26, 2017 at 07:55 PM | Comments (0)
Burning Man Wrap-Up Video - 2016
I have had bits and pieces of video from last year's Burning Man just kicking around so I made this video with them. Some of the bits you've seen before, probably, but not all. The music is "Riw Akoii" by MigloJE.

Filed under Burning Man,Photography | April 26, 2017 at 06:16 PM | Comments (0)
April 22, 2017
Action Figure Family Fundraising Party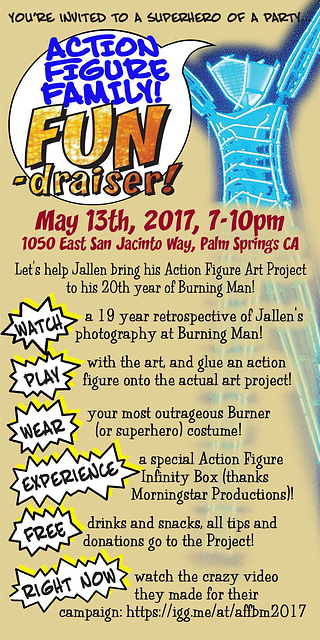 This is a fundraiser for the first art project that I've ever worked on for Burning Man.
Here's the Indiegogo page for donations.
Filed under Art,Burning Man,Coachella Valley | April 22, 2017 at 11:21 PM | Comments (0)
April 15, 2017
MedMen Cultivation Facility
This coming Tuesday, the marijuana cultivation facility proposed by MedMen will come before the Desert Hot Springs City Council. I wanted to share a few images from their proposal to build at Hacienda and Little Morongo. There's no paved Hacienda on the east side of Little Morongo, but on the west (county) side it's paved and called 13th Avenue.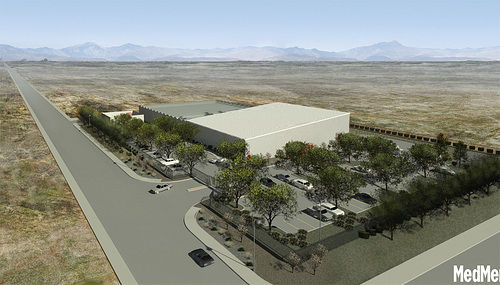 The little red figure on the right of the driveway is the public art contribution.

Here's a closer view. They almost look like penguins, don't they? The artist will be Gerardo Hacer.
The piece will consist of two red metal penguins in origami form. MedMen's COO and cofounder [Andrew Modlin] envisioned a piece that drew upon his own affinity for penguins, which frequent his own original paintings. and functioned as a juxtaposition between penguins' natural habitat and Desert Hot Springs' climate. Furthermore, the penguins' lifelong companionship and partnership is emblematic of our hope to build a lasting relationship with the City of Desert Hot Springs. The installation is red as that is MedMen's signature color.
MedMen broke ground on a cultivation facility in Reno last year.

Filed under Art,Coachella Valley,Desert Hot Springs,Marijuana | April 15, 2017 at 03:55 PM | Comments (0)
April 14, 2017
"BLK NUDIST SEEKS COLLEGE AGE BLK NUDIST"

The headline says "spring break." The body of the ad says it will be for the summer. But the real question is why a house sitter needs to have a "great body" and why do they have to be college age? Something's a bit fishy, even though they require their house sitter to be honest.
Filed under Naturism-Nudism | April 14, 2017 at 07:56 PM | Comments (0)
April 11, 2017
The 14th Factory
Not long ago I paid a visit to 14th Factory in Los Angeles. I already posted the video. Now here are the still photos.

People waiting to get into the replica "2001" room.

This is their trademark (I guess) which I read as "nine gamma," but that makes no sense, not even in context, so I don't know its significance.

One of the pieces of art was this park.

Pitchforks!

The item on the left resembles a plow.
The complete set of photos is here.
Filed under Art,Film/Movies,Photography | April 11, 2017 at 08:00 PM | Comments (0)
To Report Graffiti In Joshua Tree National Park: jotr_graffiti@nps.gov
Joshua Tree National Park as well as many other parks across the country, has experienced a notable increase in visitation in recent years. With that increase also means an increase of graffiti and acts of intentional vandalism within the park. Superintendent David Smith says, "99% of visitors are respectful and truly appreciate the pristine scenery the park has to offer. Unfortunately there are visitors who feel it necessary to damage what Mother Nature has produced."

The park, in its efforts to more closely monitor and mitigate graffiti, is asking for the public's help and providing some easy ways for visitors to aid in the process. Park officials ask visitors to report incidents of graffiti that they encounter to a new email address, jotr_graffiti@nps.gov. In addition, new graffiti reporting forms will be available at park visitor centers and entrance stations. Keep in mind, when reporting graffiti; to provide a good, detailed description of the location. Photos and GPS coordinates are also very helpful in order to insure a quick response.

Joshua Tree National Park is a magical and unique landscape. Your vigilance and taking a few moments to report graffiti that you happen upon will insure that the park stays that way.

Filed under California | April 11, 2017 at 06:56 PM | Comments (0)
April 5, 2017
The 14th Factory Videos
These are mostly videos of videos, with one exception.

Filed under Art,Photography | April 5, 2017 at 11:30 AM | Comments (0)
April 4, 2017
Burning Man Census 2016
The Black Rock City census for 2016 has been released. I suspect the results are not accurate because completion of a census form is entirely voluntary and, I imagine, birgins are more likely to fill one out than veterans. But the BRC census people insist they know their statistics and can correct for the sampling bias. Maybe they are right. Anyway, I want to point out just a few of the interesting bits in the census that I noticed.

39.3% of the Burners in 2016 were birgins, which is consistent with prior years. 4.2% had been to Burning Man 8 to 10 times...that includes me.
Only 1.3% of Burners were under age 20.
72.5% of Burners had attended college.
3.4% had an income above $300,000.
The median household income (back in the default world) was $94,200.
56.8% male, 41.4% female, 1.8% fluid/both/neither.
8.8% said they were sexually attracted to either mostly or exclusively the same sex. 7.8% identify as gay or lesbian. (I thought it would be higher).
35.9% were not in a committed personal relationship (i.e., married or something like that).
1.1% of Burners identified themselves as black. 4.3% as Hispanic/Latino. (I thought it would be higher).
6.7% reside in Canada; 5.5% in Europe.
In the U.S. 48.5% of Burners resided in California. New York was the second most popular state of residence at 8.1%. Nevada was 5.7%, in 4th place behind Washington.
Only 2.8% named Spanish as their primary language, while 3.7% claimed French! 2.2% Russian.
46.5% "spiritual, not religious." 24.8% atheist (hoo boy!). 14.7% agnostic. 6.1% "religious." (I had no idea!)
Breaking it down by religious denomination shows Burners were 7% Catholic, 2.6% Protestant, 6.4% Jewish, 4.6% other Christian, Buddhist 1.9%.
89.6% arrived at the gate by motor vehicle. 1.1% flew into the landing strip.
18.8% came in an RV (I thought it would be higher). 47.3% arrived by car, pickup truck or SUV. 0.8% came in a semi with trailer.
Most popular reason to come to Burning Man? Survey says "To see/experience the art" at 62.5%! 3.7% said it was to consume intoxicants. "Bucket list" was 10.2%. "To grow or connect spiritually" was 21.6%
91.8% said they enjoyed Burning Man either "extremely" or "a lot." 0.1% said "not at all."
94.4% absolutely or probably intend to come back. 0.4% said they would absolutely not be back.
81.6% sort their trash at Burning Man.
Power sources include batteries (54.1%), a camp generator (46%), solar (40.1%). 4.3% get it from the Black Rock City grid. Burning Man, using diesel generators, supplies electricity via buried cables to a few select camps and installations...how did you think they got the lights on the Man to work?
64.3% were in a placed (i.e. theme) camp.
52.6% of those not in placed camps said they chose their location based just on where they could find space.
34.7% were in camps with a population of 50 to 199.
32.6% came with at least one family member.
28.4% stayed in an RV or camper-trailer. I guess it just seems like there are more RVs than that because each one takes up so much more space than a tent.
66.7% spent $1000 to $5000 on Burning Man, exclusive of ticket price.
On average, each Burner spent $635 in Nevada, mostly on food and lodging. 0.9% spent more than $5000 in Nevada.
39.4% got a ticket in an open sale from Burning Man. 3.1% got their ticket from a stranger.
2.5% paid more than face value for a ticket. 1.7% paid less than face value and 7.8% received theirs as a gift.
Filed under Burning Man | April 4, 2017 at 06:58 PM | Comments (0)
March 31, 2017
Mountain View Mausoleum
In early March I went on a tour of Mountain View Mausoleum in Altadena. This is part of Mountain View Cemetery, but separated from it by a road.

This landing was used in an Ozzy Osbourne video and is supposed to stand in as Michael Jackson's site of interment in an upcoming film.
Ozzy Osbourne in Mountain View Mausoleum.


The main corridor.

An empty crypt being used for storage.

My primary reason for going on this tour was to see this hall.

The designer of this mausoleum.

A Spanish-American war veteran.
June 4, 1898, [Dr. Schuyler C. Graves] was appointed, by President McKinley, as major and brigade surgeon, to serve, during the recent war with Spain, in the First brigade, Third division, Fourth army corps, on the staff of Brig-Gen. Jacob Kline, and did duty at Tampa and Fernandina, Fla., and at Huntsville, Ala., and then, hostilities having come to a lull, was granted a leave of absence, after which he was honorably discharged from service.
The complete set of photos can be seen here.
Filed under Architecture,Photography | March 31, 2017 at 06:19 PM | Comments (0)
March 29, 2017
Good Nude Bowl Video
Filed under California,Coachella Valley,Desert Hot Springs,Photography | March 29, 2017 at 05:28 PM | Comments (1)
March 15, 2017
All Of MST3k
Here are reviews and a ranking of all 176 episodes of Mystery Science Theater 3000. Here's the #1 episode:
1. Ep. 910, The Final Sacrifice, 1990

Movie pain meter: Low
Best riff: Troy, to grizzled old prospector: "You knew my father?" Servo: "KNOW him? He was delicious!"

We're finally here: The #1 episode of MST3k of all time. If you've actually been reading this piece from start to finish, the quality of the light outside has almost certainly changed since you begun. Perhaps you started before lunch, and the sky is now purpling with a beautiful sunset: The kind of sunset that Zap Rowsdower would stare into pensively, while thinking "I wonder if there's beer on the sun." Yes, that's the name of our Canadian hero: Zap Rowsdower. The dumbest, and thereby most unforgettable name in cinema history. He teams up with a young, snarling-faced kid named Troy to take on an evil cult that wants to revive an ancient, powerful Canadian lost civilization that "ruled this one acre for a week; nobody knew." The dynamic between the Larry Csonka-worshiping, irritating Troy, who is searching for the cause of his father's death, and the beer-swilling drifter Rowsdower is the stuff of MST3k legend. Every minute of screen time is packed to the gills with more memorable moments than you can possibly summarize, from eye-rolling "Canadian villain Garth Vader" to grizzled old prospector Mike Pipper, whose tortured voice is a source of constant riffing. It showcases the incredibly obscure, geeky sense of humor that is at the heart of this show, such as Servo's comparison of Pipper to Haile Selassie, the last emperor of Ethiopia. I mean honestly—what show has both the knowledge and the faith in its audience to make jokes about Ethiopian history? What show on TV, before or since, has had such depth and breadth to its sense of humor, and drawn on so many different influences? What other show can make you laugh so hard, but simultaneously teach you so much, and give you a greater appreciation for cinema itself?

That's why MST3k is the greatest TV comedy of all time. And by extension, I suppose that makes The Final Sacrifice the greatest TV comedy episode of all time. Long may it reign.
Filed under Film/Movies,Television | March 15, 2017 at 09:08 PM | Comments (0)
March 13, 2017
Joshua Tree Moonrise
I shot this in Joshua Tree National Park this past Saturday. When you buy (and register) a GoPro camera, you get access to GoPro's library of royalty-free music, including the over-wrought stuff you hear in a lot of GoPro videos. So I thought it might be fun to waste some of that here.

Filed under California,Music,Photography | March 13, 2017 at 02:39 PM | Comments (0)