October 4, 2017
Whispering Oaks
Over the last 10 days or so, I traveled to and camped at Whispering Oaks, a clothing optional campground in Tennessee. Some photos:

My tent. As you can see, nothing like Burning Man.

At a far corner of the property.

The central area of Whispering Oaks.

Babbling Brook at Whispering Oaks, Tennessee.
permalink | October 4, 2017 at 08:57 PM | Comments (0)
August 4, 2017
Dore Alley 2017 Photos
A few photos from this year's Dore Alley ("Up Your Alley") in San Francisco.
Many more NSFW images available here.
permalink | August 4, 2017 at 11:26 AM | Comments (2)
June 18, 2017
L.A. World Naked Bike Ride Photos

Here's a link to the full size photo if you want to read that tattoo.
permalink | June 18, 2017 at 04:38 PM | Comments (0)
June 13, 2017
LA World Naked Bike Ride

Actual video of part of the Los Angeles World Naked Bike Ride, 2017.
permalink | June 13, 2017 at 08:29 AM | Comments (0)
April 14, 2017
"BLK NUDIST SEEKS COLLEGE AGE BLK NUDIST"

The headline says "spring break." The body of the ad says it will be for the summer. But the real question is why a house sitter needs to have a "great body" and why do they have to be college age? Something's a bit fishy, even though they require their house sitter to be honest.
permalink | April 14, 2017 at 07:56 PM | Comments (0)
January 2, 2017
Tecopa Update
I'm just home from three nights of camping at Tecopa Hot Springs. The water there is as odorless as the hot water in Desert Hot Springs. Below is a comparison of the minerals between DHS and Tecopa.
Information on the Desert Hot Springs Aquifer came from Two Bunch Palms Resort. The numbers for Tecopa's hot mineral water came from Delight's. Units are PPM. ND = "Not Detected." I would appreciate it if anyone who can fill in a blank spot would leave a comment with the data.
DHS Aquifer
(hot)
Tecopa
Aluminum Oxide
ND
0.2
Bicarbonate
39
668
Calcium
31
7.2
Chloride
120
371
Fluoride
6.2
2.4
Hydrogen-ion Activity (ph)
8.4
7.5
Iron Oxide
ND
0.094
Magnesium
ND
9.7
Silica
0.53
Sodium
300
725
Sulphate
470
497.5
Lithium
0.24
Lead
4
Boron
9.2
Selenium
8
Potassium
22.3
Arsenic
0.24
Carbonates
ND
45.2
Another difference that I only noticed this time (although it's never changed) is that in Tecopa, they are pumping a LOT of water into the hot tubs, 24 hours a day. I couldn't give you an objective estimate of gallons per minute, but I'll say that in DHS the flow of the water into and out of any particular hot tub is pretty subtle. The owner of the place could tell you if the water is flowing, otherwise you'd probably never notice. At the county baths in Tecopa the water is gushing into the first tub and roaring as it pours out of the second tub on its journey back into the ground. You have to really speak up to be heard over the water.
I counted the cinder blocks so I can tell you that the second tub at Tecopa is 16 feet long...and after that I forgot to do any more counting. I'd estimate the width at 10 feet. I didn't count any cinder blocks in the first tub, but it's roughly the same volume. One night when I was there, someone slapped what looked like a plastic bucket lid over the drain (which is just a 6-inch hole) in the second pool. This completely stopped the outflow and made it possible to talk at a normal volume. Over a period of about half an hour I watched the water level rise about six inches. With another couple of inches it would have started to run out into the dressing area. They pulled that plug off when they left.
Tecopa is showing astounding (for Tecopa) signs of prosperity for such a tiny, remote, and harsh town. There's a brewery. My big question was: What is the source of their water? There is no drinking water aquifer there. All the springs are hot mineral springs. Here's what I found on their website: "Now, we hearken back to the days when miners lived there and brewed their own beer with the same artesian water which flows daily from the natural springs." Maybe they run it through reverse osmosis to bring it closer to potability...or maybe not! For those Tecopans who drink more beer than water, this could be a risk.
The Bistro restaurant is still there, but I hear it's gone through a number of personnel changes. The food is still good (AMAZINGLY good for this outpost of civilization). I had the pork chops. All the guys said that the night before the pork chops were wonderful. Mine were dry and overcooked. They do pizza and there is no additional charge for additional toppings! Pig out! The best thing about the place, though, is the people. They are seriously understaffed (especially on New Year's Eve), but all the staff are really great. Service is slow, but very willing to customize to your pleasure. Prices are not bad at all ($21 for those pork chops). When I was there it was almost like being at a party. On their menu you will find a few dishes with scorpions in them. I asked, so I can tell you the scorpions are canned in alcohol in Thailand, so they come into the U.S. as food and it's about as safe as eating a dead Thai scorpion can be. When someone orders a scorpion dish, it's a big show...and not like those restaurants where the entire staff turns out to sing you a really bad birthday song. One of the staff comes out carrying a bullhorn and an instant camera (you know, nueva Polaroid style) along with the food. She'll ask you to hold the scorpion in front of your open mouth while she takes a picture. I was told they have no flavor, but are crunchy and fairly hard to chew, according to three local experts, ages 6, 7 and 8. They all ate scorpions that night. For some this was a repeat adventure. And then they came over and wanted to tell us their ages! There's a lot of screaming, cheering and applauding when a scorpion is successfully swallowed.
A scorpion eater is supposed to write his name on the instant photo and then it gets pinned up to their wall of fame.
There was a table of four young people, two men, two women, seated boy-girl-boy-girl, so if I were to stereotype I'd guess heterosexual dates. The men ordered a scorpion dish (ice cream and some cake in a big bowl), one took a selfie as he held it in front of his mouth—and then he put it back into the ice cream! He didn't swallow! The other guy didn't eat one either, so we got to find out what happens with failures like this. The nice lady with the bullhorn announces to the room "We've got a couple of chicken shits right here!" and the crowd goes wild.
BTW, this is a BYO alcohol place.
Further up the road, there is now a McNeal's BBQ at the entrance road to Delight's. Some of us went there this morning for breakfast. They have a very brief menu, but the waitress named off a list of other dishes they had that was longer than the menu. They should probably just print out new menus every day on plain 8½x11. The staff was great...as staff seems to be everywhere in Tecopa. Outside of Burning Man, I've never seen such a bunch of hardworking, nice, and apparently quite honest people.
But the food at McNeal's. Urgh. I had the brisket sandwich. In Kansas City a barbecue brisket sandwich is a couple of slices of white sandwich bread laid out side by side on a plate, topped with a big pile of sliced brisket with some dill chips and something like coleslaw on the side. At Gates BBQ in Kansas City that would cost you $5.75. It might be more than some people can eat. At McNeal's where all the meat is smoked for 15 hours, the brisket sandwich (their only other meat option is pulled pork - no chicken, no ribs) was a hamburger bun laid open face on top of which was shredded cabbage with no dressing at all (they called it "coleslaw") and a small amount of cubed brisket (I've never seen it cubed) that was dry and not very flavorful. Ten bucks. The pulled pork looked like a much better deal and the guys who ordered that said they thought it was very good. They got a much larger quantity of meat and sauce.
I didn't notice the most obvious lack at the table until someone asked the waitress for barbecue sauce!! She brought out one cold bottle of a thin red sauce. I put some on my brisket and it didn't seem to add flavor or moisture. At any other barbecue restaurant I would have tasted a couple of straight spoonfuls of the sauce, but I didn't even think of it, I was already so disappointed with what I had.
I'd say go there and try it. Mine was so bad it had to have been a fluke. They had been closed the day before, so my brisket may have been left from Saturday night. Order anything but the brisket (they have vegetarian choices) and just enjoy the Tecopa ambiance. They've got a big screen TV and play music (possibly satellite) and there's a large area of the floor that's clear, just about the right amount of space if some people wanted to dance.
I was there for three nights with Great Outdoors. I was the only one in a tent, my nice windtight tent, not the lightweight cool one I took to Burning Man, so I was always comfortable in there. But most of the time it was too cold (and sometimes windy) to sit outside. There was always, of course, the hot water tubs across the street. The cost of camping ($22/night for a spot with electricity) includes unlimited usage of the hot water tubs. One night we held a potluck dinner inside the RV that had the biggest popout. I brought my last package of Hydrox cookies. Most of the guys had never heard of them...and they were all of an age that the original Hydrox should have been available in their yoots. Maybe Sunshine Biscuit company was not entirely nationwide.
The county-owned campground and hot tubs use this website: tecopahotspringscampground.com which is not to be confused with the Tecopa Hot Springs Resort (tecopahotsprings.org) next door.
Neglected to mention for those new to the subject, the county hot tubs are sex-segregated with mandatory nudity. Very popular with immigrants from Korea, but it's not at all in the style of a Korean spa. Besides the group tubs, there is a third private hot tub room that is handicapped accessible and can be rented by anyone for their private enjoyment.

Here's your county campground on the west side of the roadway, and your county hot tubs on the east side and a bit to the northish. I never knew until I looked at this aerial view that the county tubs had one outdoor tub in back...or on the women's side.
permalink | January 2, 2017 at 09:54 PM | Comments (3)
August 18, 2016
L.A. World Naked Bike Ride
The Los Angeles World Naked Bike Ride took place on June 11. I had three cameras, each one shooting a still photo every five seconds. One camera was mounted on the handlebars, facing forward; another on my helmet facing backwards, and the last one also facing backwards, but mounted on the rear rack of my bike. That camera takes good video, but only 5 mp photos, so those turned out to be a lot lower quality than I had hoped for.
The complete set of photos is here. These photos are on Flickr, so in order to see them, you must...
Have registered an account at Flickr (it's free and uses your Yahoo ID).
Be logged into that Flickr account.
Have your Flickr safe search settings turned OFF (here).

2nd Street Tunnel.

Andy.

Jeff.

3rd Street Tunnel.

The man with the beard. More photos of him here.

Jeff and I, R to L.

That tight black outfit is body paint.

That's Rocky with the GoPro on his handlebars.

Provocative dresser.

Tim from Boston. Well, Dorchester, but Boston.

Yes, the ride is clothing optional, but this is really overdoing it.

Tim.

Jim.
permalink | August 18, 2016 at 10:36 PM | Comments (0)
July 19, 2016
Public Nudity
A man who is so offended by casual public nudity, he slows down and engages with some naked men on the street in Toronto. I must point out that his Youtube username is "christsforgiveness."

On the website of christsforgiveness.com it says
CFM has evangelists all around the world that have been trained in the CFM style of Evangelism and are impacting souls and planting churches.
The cameraman who made the video above must be showing us some of "CFM style of evangelism." And they wonder why so many gays don't like Christian churches.
The law on public nudity in Canada is a bit unclear, but similar to the laws in much of the United States. If the naked person is not engaging in lewd behavior, then there's no problem.
Here's another video that shows Christ's Forgiveness Ministry preaching at Toronto gay pride. Observe the reaction of the people passing by. There is no reaction. He draws not a single listener. He might as well have been invisible and silent.
permalink | July 19, 2016 at 01:07 PM | Comments (0)
July 8, 2016
Finally!
For those young men who are confused by demonstrations using bananas, zucchinis or sausages, Ellis Lacy uses the best sort of phallus: his own erect penis. No ambiguity there.

permalink | July 8, 2016 at 01:42 PM | Comments (2)
July 5, 2016
Pink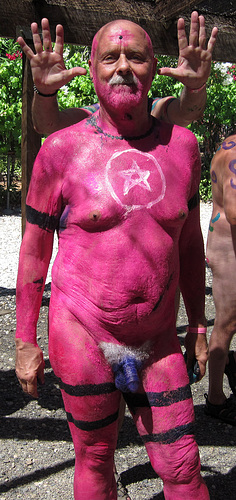 This past week I was at a Billys gathering in northern California. One of the Billys asked me if he could paint my whole body pink. Who am I to say no? Oddly, it was the white paint in my pubic hair that drew the most attention.
permalink | July 5, 2016 at 09:20 PM | Comments (2)
June 22, 2016
The Spanish Way Of Dealing With The Father Who Will Not Accept His Gay Son
There is complete nudity in this video, whether you regard that as a plus or a minus.
permalink | June 22, 2016 at 07:01 PM | Comments (1)
June 14, 2016
Myself On The LA WNBR
LAWeekly has a good slide show from the Los Angeles World Naked Bike Ride that includes at least two three four photos of me.
permalink | June 14, 2016 at 08:15 AM | Comments (0)
March 29, 2016
Bequinox 2016 Photos
I've got all my photos from Bequinox edited and uploaded here. Some samples: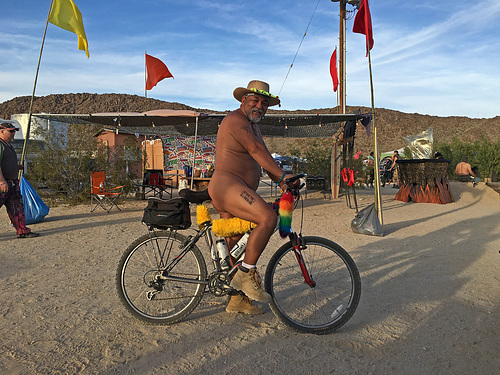 Andy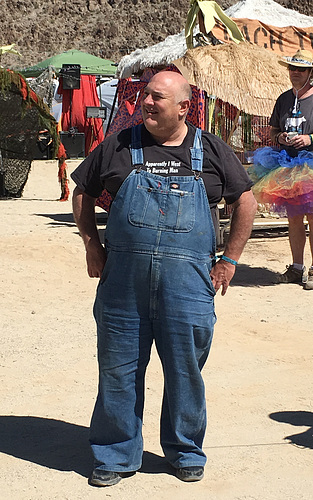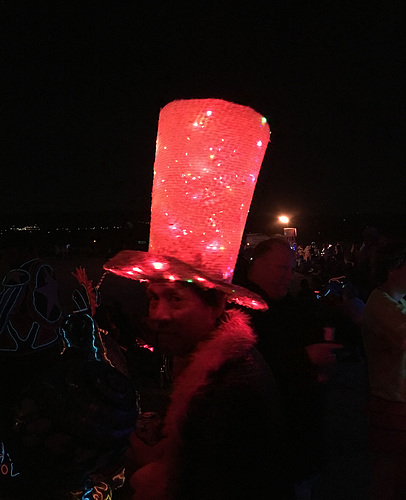 At the burn on Saturday night.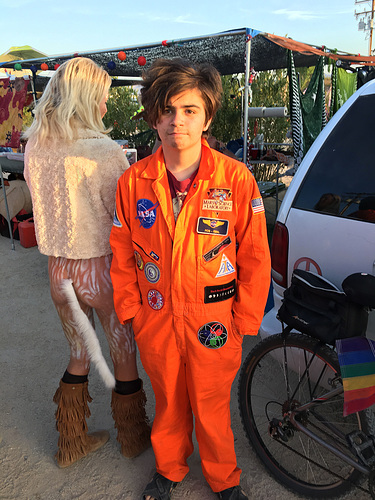 I didn't realize how young this guy was until after I took this photo. He seemed to be stumped when I asked him if I could take his photo. "Whadda ya mean?" he asked.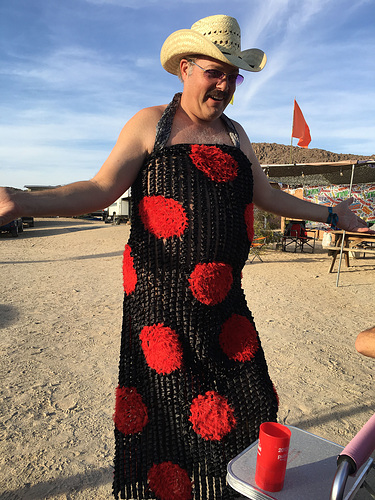 Brian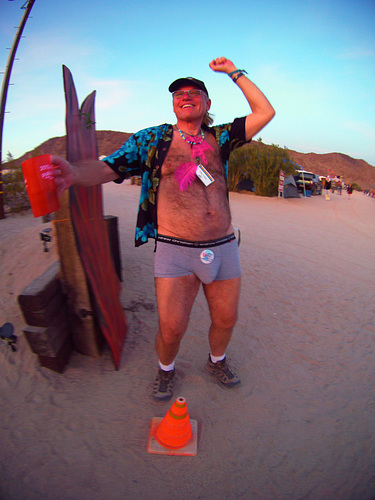 Ed L. who will be a Burning Man virgin this year.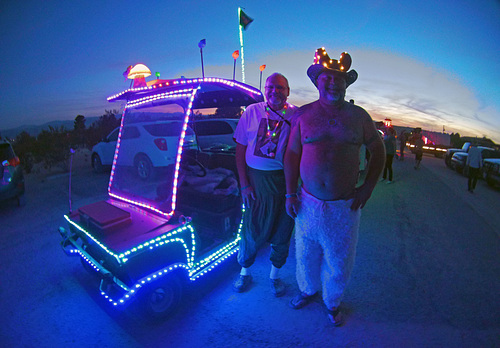 George and Tony and their art car.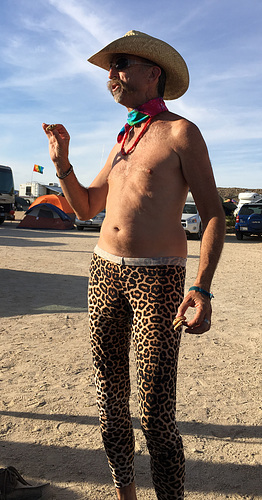 Jim. Of course, we're all familiar with the story of how he found this leopard outfit at the Dollar General in Hawthorne, Nevada, where all the finest Burner ladies acquire their wardrobe.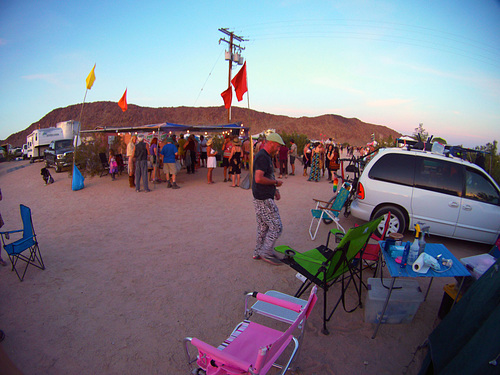 This is the view from our vantage point while the Nacho Daddies were in full action. We spotted a lot of fun stuff.

For example.

The robot was friendly to children and adults.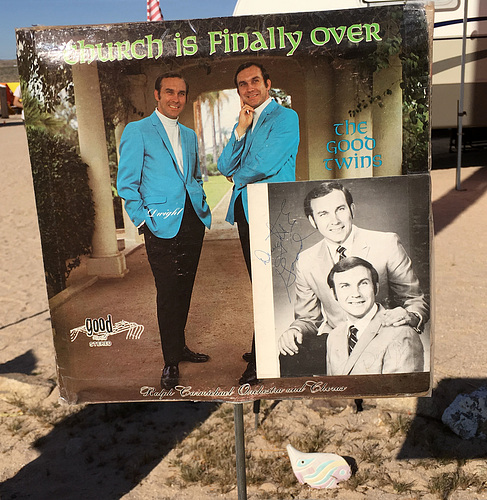 "Church Is Finally Over" for these twins.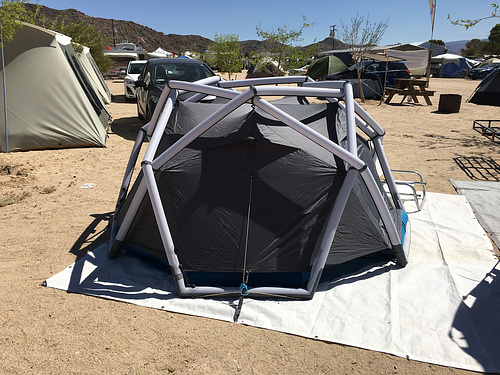 I'd seen these Heimplanet tents online, but this was my first in person. That outer skeletal structure is inflated.
permalink | March 29, 2016 at 07:34 PM | Comments (0)
March 26, 2016
He's Got Maille

Some kind person at Bequinox loaned some maille to this young man. It felt so good, he wore it all day long.
permalink | March 26, 2016 at 06:59 PM | Comments (0)
March 2, 2016
The Current State Of Tecopa Hot Springs
I stopped in at Tecopa Hot Springs briefly on my way home from Death Valley yesterday. This is my first time visiting since the change in management. Things are much better now! Open 24 hours (yay!), only $7, the new personnel are VERY friendly and helpful, they put up a really nice new website, and they've moved their point-of-sale operations to the little kiosk that you walk through to get to the bathhouses where it was intended to be, not in the building 100 feet away.
Inside the bathhouses, everything was pretty much the same. They still have a nominal rule against bottles of water that most guys ignored. Also, irrelevant to the subject, last night everyone there was (half a dozen guys) white, old and anti-Trump.
permalink | March 2, 2016 at 09:45 AM | Comments (0)
February 16, 2016
Naked Festival Via GoPro
A couple of guys take a GoPro camera into the Hadaka Matsuri.

permalink | February 16, 2016 at 05:34 PM | Comments (0)
December 9, 2015
How To Have Fun In Florida
Noe DeJesus, a 33-year old Floridian, knows that to have fun you should drive a Cadillac at 110 MPH while naked with three women (if that suits your taste) and a bottle of Crown Royal in the car. But he did several things to mar the fun. First, he had a 12-pack of Corona on the console between the front seats. Corona. The beer you drink in a Cadillac should have flavor. On top of that he was drunk. And he was driving without a license. You've probably already guessed that the reason we know about all this is because a cop pulled him over. Mr. DeJesus refused to voluntarily go along with a field sobriety test, so to the jail he went. I guess inability to put your pants on is not one of the standard sobriety tests.
permalink | December 9, 2015 at 05:28 PM | Comments (0)
No Surprise, Kids Don't Learn How To Drive Stick Shifts
But they're willing to engage in naked carjacking, nonetheless. From the Riverside County Sheriff:
Press Release: Carjacking
Agency: Coachella Police
Station Area: Thermal
Incident Date: December 5, 2015 Time: 6:53 p.m.
Incident Location: 85000 Block of Araby Avenue, Coachella
Reporting Officer: Sergeant John Clark

Details:

On December 05, 2015, at 6:53 p.m., Coachella Police responded to a report of an attempted carjacking in the 85000 block of Araby Avenue, Coachella. Officers spoke with the victim, who informed them he was delivering packages for Federal Express and was parked in front of a residence retrieving a package from the back of the delivery truck, when a suspect entered the truck and demanded his keys. The victim gave the suspect the keys and the victim ran to a nearby residence and reported the incident. No injuries were sustained by the victim. The suspect started the delivery truck, but did not know how to operate the vehicle and fled the area on foot, abandoning the victim's vehicle. The suspect was described as Hispanic male adult, 18-20 years, thin build, short hair, and not wearing any clothes.

Update: On December 06, 2015, Coachella police conducted a follow-up investigation and located a subject matching the description of the suspect. Albert Luna, 19 years old of Coachella, was arrested at his residence without incident and booked into the Riverside County jail in Indio for carjacking.

Albert Luna who, in his 19 years, never learned a stick shift, but thought he was up for jacking a FedEx truck...while naked.
permalink | December 9, 2015 at 08:38 AM | Comments (0)
October 6, 2015
Naked Pub Crawl
All my photos from the Naked Pub Crawl at Burning Man are posted here on Flickr. These go well beyond simple nudity, so consider whether you want to see that before clicking.
permalink | October 6, 2015 at 09:41 AM | Comments (2)
September 14, 2015
Harbin Hot Springs Destroyed
The well known naturist resort has been destroyed by the Valley Fire. Closed indefinitely.