November 21, 2016
LA Opera - Akhnaten


Los Angeles Music Center - the Dorothy Chandler Pavilion is on the right.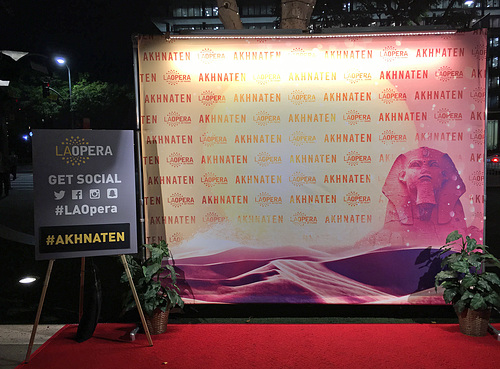 The LA Opera seems a bit heavy handed in promoting social media.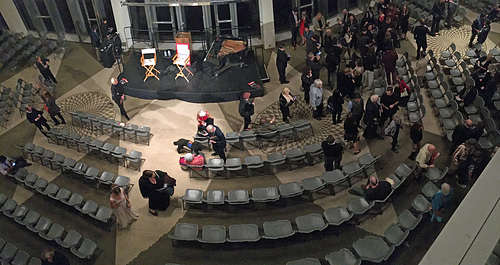 Composer Philip Glass and conductor Matthew Aucoin had a talk in the lobby before the performance. Philip Glass is in the crowd in the upper right with his hand on a lady's shoulder.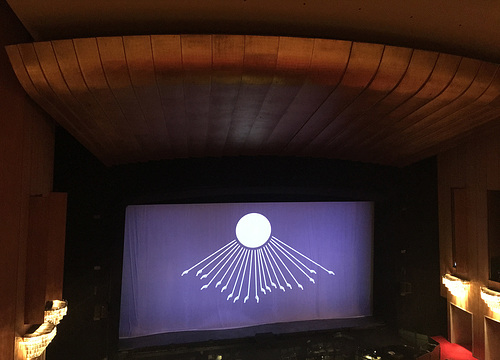 During the intermission after Act II.
More photos from my visit to the LA Opera can be seen here.
Here's the LA Times review of LA Opera's "Akhnaten."
Wikipedia article about the opera.

Here's a short video that gives you a few brief samples of the performance. The jugglers were amazing. Often there was so much action on the stage that you just couldn't follow it all - a sort of five-ring circus. It was great!
If you want a sampling of the music, here is the first 10 minutes and 44 seconds of the opera.
Akhnaten himself is sung by a counter-tenor. Here Anthony Roth Costanzo explains how he prepared.

Akhnaten imposed a monotheistic religion on Egypt during his reign (1353 BC to 1336 BC). His queen was Nefertiti. His son was Tutankhamen. More facts.
permalink | November 21, 2016 at 10:13 PM | Comments (2)
September 16, 2016
What I Would Do With My Tricycle If I Could
permalink | September 16, 2016 at 08:48 PM | Comments (0)
September 13, 2016
Frenetic
A lot of images from Burning Man buzzed together.

permalink | September 13, 2016 at 01:42 AM | Comments (0)
July 29, 2016
Sebastien De La Cruz
In 2013 he sang at an NBA finals game in San Antonio:

That brought a flood of racist commentary on Twitter.
He repeated his performance with a deeper voice (but he can still hit the high notes) at the Democratic convention:

Bonus: Here he is on "America's Got Talent" in 2012.

permalink | July 29, 2016 at 02:33 PM | Comments (0)
April 21, 2016
GoPro goes onstage at Coachella
From a fan's hands to the singer's.

permalink | April 21, 2016 at 10:15 AM | Comments (0)
December 17, 2015
San Francisco
Some photos from my weekend in San Francisco.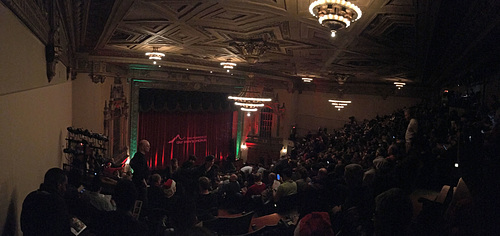 Nourse Theater where the San Francisco Gay Men's Chorus performs.

If anyone has insight into what might be the native language of the author who wrote "lock back" rather than "relock" or just "lock," I would appreciate it.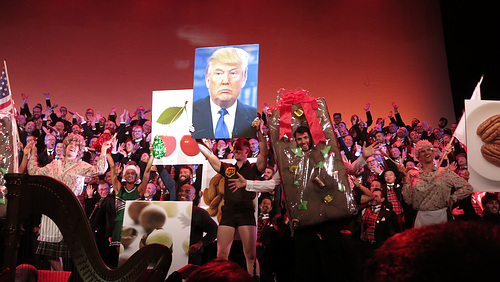 After "Recycle The Fruitcake" the Director had Mr. UPS (who was very popular with the audience) come back with the Trump poster so that the audience could take photos. While singing, chorus members held up, one by one, photos of "fruitcakes." They were Liberace, Richard Simmons, Pee Wee Herman (each one getting a good laugh), and then Donald Trump to which the audience reacted with a great roar. It was clearly the peak of excitement for the whole concert...in both performances that I attended. The Director said that when they came up with this idea four weeks ago it had seemed a bit iffy, but as the weeks passed the idea became better and better.

That's Darrell who I met at the Billy gathering at Halloween. I ran into him at the 440.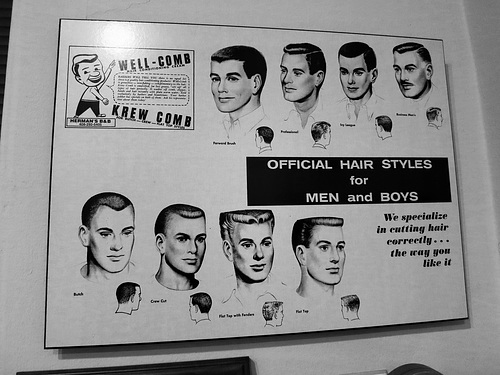 These are "Official" hair cuts. Anything else is simply unofficial. This is hanging in the barbershop where G. Fry works.

I don't need to explain this one, do I?

South San Francisco BART.


Civic Center BART with the UN shield front and center.
permalink | December 17, 2015 at 05:43 PM | Comments (2)
October 12, 2015
Amoeba Records Wants To Sell Marijuana
Amoeba Records in Berkeley wants to get the permit for the fourth medical marijuana dispensary in that city. If they get it, they will sacrifice their jazz and classical room (it's always jazz and classical that has to suffer) and turn it into a separate building for the dispensary. It's not too different from what KMart has done in Desert Hot Springs, splitting itself into two and putting a more attractive business in the other part in order to stimulate business in the old part.
permalink | October 12, 2015 at 08:49 AM | Comments (0)
September 24, 2015
Monkey Chant
This year at Burning Man I got to fulfill my desire to participate in a monkey chant. The monkey chant is also known as "Kecak". The monkey chant is taught Monday through Thursday at HeeBee GeeBee Healers and then on Friday they do a big monkey chant in Center Camp. I was unable to make it to the big event on Friday because that's when we host our party at Burner Buddies. The chant requires a lot of physical activity as well as mental alertness as the changes come unpredictably.
Here's a longish video of the monkey chant in Center Camp in 2014. It's not too different from practice chants done earlier in the week. I suppose they expect a lot of newbies to join the chant, so some of what you see is teaching the chant. The action begins to pick up after the 4 minute mark.

Ideally, we would have made it look like something created by Hollywood choreographers, like this scene from The Fall which is possibly the most beautiful movie ever made.


permalink | September 24, 2015 at 05:32 PM | Comments (0)
September 16, 2015
Video From The Naked Pub Crawl
Don't get too excited, though. I shot this short video to show you the incredibly powerful sound system somebody had mounted on his bicycle:

permalink | September 16, 2015 at 03:45 PM | Comments (0)
August 26, 2015
This Is Real (Depending On Your Definition Of "Real")
They are asking for money and in-kind support to finish this musical.