February 6, 2017
Carjacked 1,200 Pounds Of Marijuana
In Pomona! They were caught when they were spotted from the police helicopter unloading the weed in the "700 block of Washington." So I went to Google maps to look at the aerial view to see if possibly there were other indications.
Well, looky here. Can you pick out the weed house in this neighborhood of neat homes? I imagine the police already had their eye on this place.

permalink | February 6, 2017 at 07:15 PM | Comments (0)
Planning Commission - January 31, 2017
This was a special meeting of the Planning Commission to deal with the heavy marijuana workload. There are currently only four Planning Commissioners. Those two statements aren't directly connected. It's city staff that has a heavy marijuana workload and, coincidentally, there are only four commissioners for now.
Basement Cultivation at Green Leaf Wellness
This item was the agenda for the January 10 Planning Commission meeting, but was continued because the owner of the dispensary didn't show up. Now, on January 31, the owner was present.

North is up.
Commissioner De La Torre asked if the cultivation area in the basement extended under any neighboring business, such as the nail salon. City staff said it did not. Aw, too bad, because when I first saw these plans I could tell that it would extend under the nail salon. When the owner came to the podium he explained that the basement did, in fact, go under the nail spa. The point of that question was to determine whether an additional fire alarm should be installed in the nail salon, in case of a fire in the basement. The owner went on to list security measures he was putting in place, such as hardening the exit doors and installing card readers so he can track every employee who goes into a cultivation room.
Commissioner Cirner asked about ADA compliance. The plans show only two ways to access the basement and both of them are stairways. Rather than answer that question, the owner described more security measures he was putting in place. Mr. Cirner seemed to accept that as an answer. At the end of the meeting I asked Community Development Director Rangel about ADA requirements. His answer was, basically, that full ADA access in this space would be cost prohibitive. Yes, of course, but I didn't know you could compromise on ADA improvements solely because of their cost.
Someone (I could neither see nor hear who) moved to approve with the addition of an alarm in the nail salon connected to the fire detection system in the basement, Mr. Cirner seconded. Approved 4-0.

Tentative Parcel Map by DHS Properties, LLC
This is an empty 14.9 acre lot on Little Morongo Road north of Two Bunch Palms Trail. This tentative parcel map is for condominium purposes for marijuana cultivation. The agenda packet showed the applicant to be DHS Properties, LLC, but staff said the applicant was David Snyder.

This map shows the old city limits, prior to the annexation that reached to I-10.
The CUP for this parcel was approved in November 2015.
With no discussion or public comments, Commissioner Romero moved for approval, Mr. Cirner seconded, approved 4-0.

Four Parcels on Cabot Road
These four parcels are all adjacent and all will be used for cultivation. But there are two owners and some differences between each parcel, so this item includes FOUR CUPs, two development agreements and one mitigated negative declaration. (No partridges.) The two owners are Cabot Building Partners and DHS Therapeutics. It's on the east side of Cabot Road, a couple of empty lots south of Two Bunch Palms Trail. 6.29 empty acres.
Commissioner Cirner moved for approval with the addition of two lights on poles, seconded by Commissioner De La Torre, approved 4-0.
The entire meeting wrapped up in only 35 minutes.
permalink | February 6, 2017 at 01:53 AM | Comments (0)
January 11, 2017
Planning Commission January 10, 2017 - Cultivation, Cultivation, Cultivation, Cultivation
Commissioner Terifaj is no longer with the Planning Commission. Here's the form to fill out if you want to be part of shaping the future of DHS. Mayor Pro Tem Joe McKee is the one to make the appointment to fill this seat. Present tonight were Andrew Cirner, Scott De la Torre, Dirk Voss (Chair) and Cathy Romero.
The agenda this night consisted of four public hearings:
A marijuana cultivator's tentative parcel map
A CUP for a marijuana cultivation facility
Amending a CUP to allow for marijuana cultivation in a dispensary
Subdivision of land to be used for marijuana cultivation
Tentative Parcel Map for We Care DHS
The CUP for this grow facility got final approval back in August. The location is vacant land on Two Bunch Palms just west of the only cultivation site that is currently operational.

Approved 4-0.

Conditional Use Permit and Development Agreement for A Green Culture DHS, Inc.
This location is the northeast corner of 15th Avenue and Little Morongo Road. 15th Avenue is just a dirt road there.

The building will have 22,479 square feet of cultivation area and greenhouse roofs, so their electric bill will be a bit lower. The design of the building includes two 9 x 12 feet rollup doors that the cultivators don't need, but the city has started adding requirements to the cultivators' CUPs that will make the building more likely to be useful for other purposes when the day comes that they decide not to cultivate there anymore.

It looks like it's going to be right purty!
Approved 4-0.

CUP Amendment for Greenleaf Wellness
All marijuana dispensaries are permitted to grow up to 99 plants in Desert Hot Springs. When the CUP for Greenleaf Wellness was approved, however, the dispensary did not include any plans for the 1,315 s.f. basement. Now, they've got plans and they've come back for this amendment. The owner, Thom Miller was not present at the hearing.

I believe north is to the left. The shops on the street level face the north. Across the top would be Palm Drive.
Ted Mayerhofen commented that he had worked on this building before it was a dispensary. He thought there were security issues. He also said that delivery would have to be from the alley, and an ordinary truck would block that alley. OTOH, any delivery to any business in that little shopping center on the southwest corner of Buena Vista and Palm Drive could block an alley. Plus, I thought the main reason for alleys was using them to load and unload, because then the trucks are not blocking the main streets or taking up parking lot space. So what if it blocks a short alley for a short time? Later, the discussion of the Commission indicated that they understood a dispensary would have no large deliveries or shipments, so no big trucks would be in that alley anyway.
Commissioner Cirner raised the question of ADA access to the basement. In the floor plan above you can see there is a stairway coming down from the first floor and one door that exits to the exterior. It looks to me like that's the door that opens onto the stairway that goes up to Palm Drive. That would mean this basement space is not 100% beneath the dispensary, as it seems to extend to the eastmost end of the building.

The stairway from the one exterior door is on the left side of the building.
This would certainly not seem to be ADA compliant. Do small business have to conform to ADA when doing major renovations? I think they do. Installing an elevator in this building would, it seems to me, be very cost prohibitive. This cultivation space may never come to be.
The vote was 2-2, making it a denial. Commissioners Cirner and De la Torre voted against. Mr. Cirner had brought up the ADA issue, but Mr. De la Torre never expressed his concerns about the project. Then a motion was made to continue the hearing to next month's hearing (February 14) so some of their questions could get answered and to give the owner the opportunity to show up and explain. That motion was approved 4-0.

Coachillin Holdings Tentative Parcel Map
Before discussion started on this one Charles Rangel introduced himself as the new Interim Community Development Director.
Coachillin Holdings propose to build the biggest cultivation site in the city on Indian Canyon between 18th and 19th. You may have already noticed that there has been some grading there. The land is vacant, but the Google satellite view below is recent enough to show some of the grading.

The site is 150 acres and the developer proposes to subdivide it into 40 parcels. Mr. Rangel said that staff recommended this item be continued...again. This is not the first time this has come before the Commission and been continued. Part of the reason this time is that the developer handed a new map to the city on the very day of this meeting. That map would need to be reviewed by both the planning department and fire department before the staff could make any recommendation on that.
Another, bigger reason for the continuance is that the property has on it what the Army Corps of Engineers calls a blue-line stream. Here's the definition of blue-line stream as given by the Riverside County Flood Control and Water Conservation District:
Blue Line Stream - Any stream shown as a solid or broken blue line on 7.5 Minute Series quadrangle maps prepared by the U.S. Department of the Interior Geological Survey (USGS). A blue line stream may be any creek, stream or other flowing water feature, perennial or ephemeral, indicated on USGS quadrangle maps, with the exception of man-made watercourses. The United States Army Corps of Engineers uses USGS blue line stream markings as a preliminary indicator of "Waters of the United States". Streams identified on USGS maps in such a manner are therefore generally subject to federal environmental regulations.

A USGS map of the site. That's I-10 at the bottom. Dillon Road runs across the top of the map. It shows that "blue-line stream" coming down from the north, crossing Dillon and then Indian, then parallelling Indian as it crosses Coachillin's property. You can make it out in a regular Google satellite view, but it's also been used by off roaders, which somewhat obscures it. Before they can do anything on that site they need a sign off from the Army Corps of Engineers which will state, in effect, that they don't expect to be sending any ships up that stream, nor do they plan to dam it for hydropower or irrigation. BUT, the guy who does that at the Army Corps of Engineers retired in November and it seems he has not been replaced. Kenny Dickerson who represented Coachillin Holdings at this meeting, suggested that if both he and Interim Community Development Director Rangel went together to the Army Corps, they would get some action.
Coachillin Holdings disagrees with the requirement to put sidewalks on the streets around the project (except along Indian Canyon - there will be a sidewalk there). They also object to sidewalks inside their property. Their reasoning is that sidewalks make it easier for nefarious people to get closer to their valuable product. What a lot of nonsense. If your security plans are overwhelmed by simply providing evil doers a level path to walk on, then your security plans need a lot of beefing up. Every dispensary, every cultivator, everybody actually, puts in sidewalks. Never have I heard an argument that sidewalks attract crime. That sort of non-logic is usually used when a city is planning to extend a subway line or bike path, because everyone knows most stolen TVs are transported by either bicycle or mass transit. Crooks never have cars.
Coachillin is paying to build the roads around its facility. The sidewalks are a only a small part of that. Why would the city want to force people to walk in the street in an industrial zone?
Mr. Dickerson said that he would redo his proposal so that it only dealt with the parcels to the rear, which the blue-line stream doesn't cross. Mr. Rangel said that wouldn't help, because the Army Corps of Engineers would also have to sign off on a decision that the blue-line stream doesn't cross those parcels.
These are the remaining issues that still must be resolved before the Planning Commission can make a decision. Rather than bringing this proposal back month after month simply to approve a continuance, the Planning Commission voted to table it, meaning it hasn't been rejected and it isn't scheduled for a decision. Whenever Coachillin can get all their ducks in a row, they'll come back to the Commission.
Approved 4-0.

Special Meeting, Tuesday, January 31
Mr. Rangel said there is a bit of a backlog of proposed cultivation facilities that are ready for the Commission, so the Commission agreed to a special meeting on the 31st to review some of those.
permalink | January 11, 2017 at 12:10 AM | Comments (0)
December 6, 2016
Happiness, I Think
permalink | December 6, 2016 at 09:33 PM | Comments (0)
November 13, 2016
Blythe Outlawed Marijuana Sales
But that was some time ago when the issue was solely medical marijuana. Now, however, the city leaders see that Blythe could be THE city to supply recreational marijuana to all of Arizona...illegally, of course, but how many cops can Arizona tie up just to watch for marijuana to cross the Colorado River.
permalink | November 13, 2016 at 05:22 PM | Comments (0)
November 4, 2016
DHS Dispensary #6
The city's sixth medical marijuana dispensary is open, and this is the one that's only one block from where I live! Great for the day I'm in a wheelchair. They give their web address as IVTHC.com, but it looks like they let their domain registration slip, because there's nothing there now. They are on the west side of Palm Drive almost at 4th Street, 11555 Palm, immediately next to the dentist's office, in that set back building that used to be a dentist's office.
Here's their Weedmaps page. They opened only yesterday, November 3. Hours are 10 AM to 7 PM, every day of the week.

It's the building on the left.
permalink | November 4, 2016 at 02:45 PM | Comments (0)
October 2, 2016
DHS in Palm Springs Life
Palm Springs Life has a good and accurate article covering all the aspects of marijuana cultivation coming to Desert Hot Springs.
permalink | October 2, 2016 at 03:15 PM | Comments (1)
September 29, 2016
Canndescent Ribbon Cutting
Canndescent is the first cannabis cultivator to go into real operation in Desert Hot Springs, which means it's the first legal cultivation site in California, outside of dispensaries themselves. Boy Scout Troop 1606 brought the American flag and led the Pledge of Allegiance, which the cannabis people thought was a bit unusual. But! One of the Scouts is trying to raise money for a trip to Washington DC for some Boy Scout function. Canndescent covered his remaining financial need with a check for $3,300. I would like to be there when he tells other Scouts how he raised his money.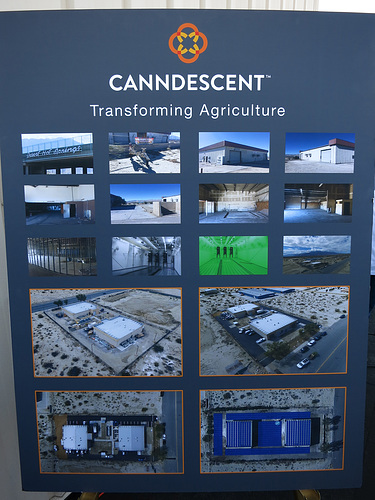 "Transforming Agriculture." I imagine in a few years as the cannabis industry settles down we'll get used to seeing slogans like you'd see in Iowa or any other predominantly agricultural state.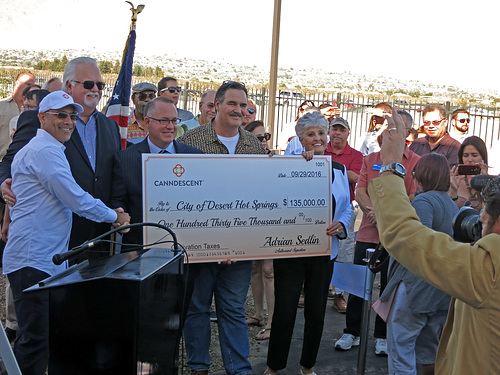 Canndescent also presented the city with its first tax payment of $135,000. The tax rate is based solely on cubic footage of the grow area, so the city doesn't have to wait for a crop to mature and be sold to get taxes. I don't recall if the taxes are paid quarterly or every 6 months, and no one said if this tax payment is one full payment, or does it cover through the end of the calendar year or perhaps the fiscal year? Nevertheless, $135,000 is almost the cost of one cop for one year. So it's a start.


Click for a larger size.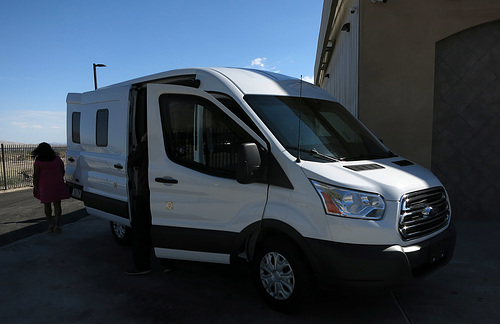 Their armored vehicle which doesn't seem to use CNG.

And it looks like they went all the way to Connecticut to get it.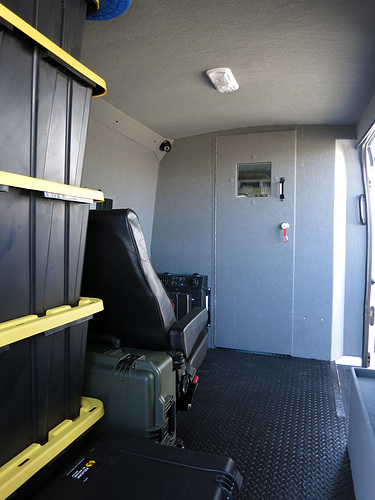 Interior of the vehicle.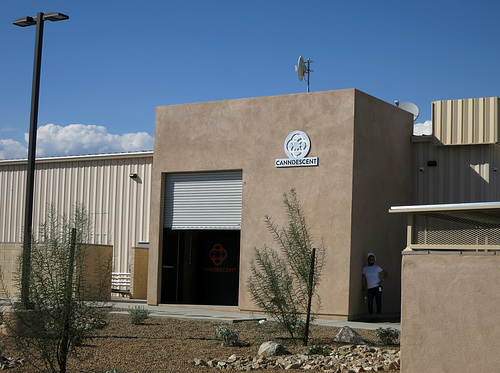 An historical plaque that Canndescent will erect. I suppose this fulfills their "art in public places" requirement. The plaque says:
CANNDESCENT

This marks the site of the first municipally-permitted cannabis cultivator operating in California. On November 5, 1996, California became the first U.S. state to legalize medical cannabis use. On October 21, 2014, Desert Hot Springs became the first city in California to legalize cannabis cultivation. On September 19, 2016, CANNDESCDENT commenced production.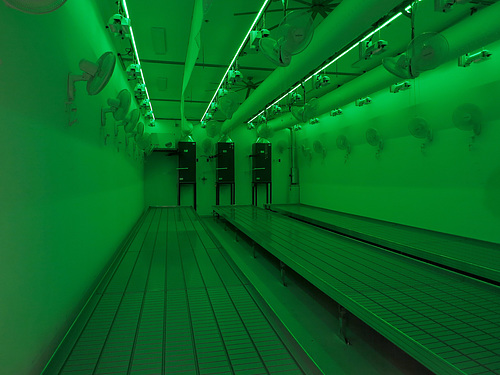 One of their grow rooms (with nothing growing).

Video of the grow room so you can see all the fans and appreciate the resulting noise.
permalink | September 29, 2016 at 07:17 PM | Comments (0)
September 25, 2016
Joint Meeting Of The City Council & Planning Commission, September 13, 2016
This was a special joint meeting of the City Council and Planning Commission solely to consider an Ordinance Amending Chapter 17.180 "Medical Marijuana Facilities Location." The proposed amendment clarifies and expands the current law. The current law did not address manufacturing (making edibles, packaging product, extraction, etc.). The amendment would put manufacturing in the industrial zones along with cultivation. The amendment also included restrictions on extraction methods. Some extraction methods use flammable solvents.
Testing and distribution facilities are addressed in the amendment, too, and they will be restricted to the industrial zones. The definition of "delivery" is also in the amendment. The existing ordinance is silent about delivery which, I think, made it illegal. Does merely defining it in a zoning ordinance make it legal, in the absence of any sort of restriction? Maybe it does.
Attorney Jennifer Mizrahi first covered some corrections to be made to the proposed amendment. After that, Mayor Pro Tem Joe McKee said that section 17.180.060(d) Operational Requirements needed to be culled because as written it would be too burdensome. Here's my summary of the 12 paragraphs that make up that section:
"Manufacturers are limited to certain equipment, methods, solvents, gases and mediums when creating medical marijuana extracts."
"Medical Manufacturing Facilities with a state license of a Type-6 (non-volatile) or a Type 7 (volatile) classification may be allowed to operate under this Chapter."
All of the usual laws regarding air, water, health and safety apply. The usual permits are required.
Class I and Class II solvents (as defined by the FDA) are forbidden.
But "butanes, ethanol, carbon dioxide, propane, heptane or other solvents exhibiting low to minimal potential human health-related toxicity for extraction, or other methods approved by the State" are okay. Any solvent must be at least 99% pure.
Extraction using hydrocarbons must conform with the standards of the American Society of Mechanical Engineers and with proper ventilation.
If CO2 is used for extraction, that also must conform to ASME standards. And there has to be proper ventilation.
If any other method of extraction is used, there must be proper ventilation and ignition source controls.
"The amount of residual solvent per gram of finished extract cannot exceed 300 parts per million when quality assurance tested."
An exact duplicate of 3 above.
"Manufacturers may use heat, screens, presses, steam distillation, ice water, and other methods of extraction without employing solvents or gases to create kief, hashish, bubble hash, or vegetable oils or fats derived from natural sources, and other extracts."
"Manufacturers using extract to create ingestible products shall only use food-grade ingredients."
Attorney Mizrahi said that in a discussion earlier that day with Mr. McKee he had expressed his desire to get rid of 4, 5, 6, 7, 9, 10, 11 and 12; leaving the "less stringent" requirements.
Council Member Anayeli Zavala said she thought it was important to retain the level of detail in the paragraphs that Mr. McKee wanted to eliminate.
Ms. Zavala also spoke about another provision in the proposed amendment. That provision is 17.180.060(e) which requires marijuana manufacturing facilities to hire a Ph.D chemist to "supervise the design, installation and operation of the facility's systems and manufacturing processes." She asked if the intent was for the chemist to be there only during setup, or is the chemist supposed to supervise on an ongoing basis.
Council Member Russell Betts said he didn't see anything in the proposed amendment that gives the city the ability to shut down a non-confirming business. The attorney assured him that provision was in there. [There's only one thing on the agenda, this proposed amendment, and it's only 10 pages long, but that's still too much for Betts]. The relevant bit is at 17.180.120(d): "Failure to abide by any laws mentioned in this subsection shall constitute a public nuisance and shall subject the medical marijuana facility to revocation of any and all entitlements, licenses and permits." Then again in 17.180.130(b) which begins "A conditional use permit approved for a Medical marijuana Facility may be suspended or revoked for any violation of this Chapter..."
Mr. Betts went on to ask if a testing lab could be safely located in a commercial zone. The amendment is written to restrict them to industrial zones, but his concern is that industrial land has become so expensive here that a lab might benefit from being able to open in a less expensive commercial zone.
Planning Commissioner Dirk Voss said he was ready to approve the amendment now.
Commissioner Paula Terifaj said she thought that labs should be permitted in commercial zones.
When Mayor Matas opened the public hearing, the first speaker was Jeff Ridge. He said that he thought the 99-plant limit for dispensaries should be changed so that cultivation in dispensaries is restricted in some other way, such as square footage or wattage used. He said the 99-mature-plant limit made it very difficult for dispensaries to operate. He also suggested delivery services should be required to have city or county permits from any city or county that bans delivery service before the service can deliver there. The intent would be to keep delivery services from going into cities where they are banned.
Bob Sellen spoke next. He was there representing a new group called DHS Can. He said they think it's good to have laws in place until the new state laws go into effect. He said there is no independent third party testing lab for marijuana.
Gretta Carter spoke in favor of the amendment, saying that until the state regulations come into place, city regulations like this protect the marijuana industry.
Dan Osborne with Clonetics Laboratories said the testing will keep the medicine safe for patients.
Brent Furman expressed support for the amendment. He said Ph.D. chemists are usually brought in after the "crude" oil has been extracted to oversee the refining process.
Andrew Milks supports the amendment. He said he would like to see the 99-plant cap removed. The coming California regulations restrict it by square footage, not by number of plants. The smallest state license will be 5000 square feet. He asked for a matching municipal limit.
Back when the original medical marijuana ordinance was debated and approved, the issue of whether the limit should be by square footage or number of plants was discussed quite a bit. I thought square footage would be a lot simpler to administer, but others said counting plants was easier. Representatives from the marijuana industry commented then that the 99-plant limit was fine and they could certainly work with that. Somehow it is now unusable! Five-thousand square feet is more square footage than any dispensary in town, and I mean the entire dispensary, not just the grow room. Organic Solutions of the Desert, the large dispensary on Ramon in Palm Springs is something closer to 5,000 square feet. Maybe it's a coincidence that Organic Solutions of the Desert is also the stinkiest of the dispensaries in the Coachella Valley.
Michael Dixon said he was concerned at the lack of a reference to the most recent state legislation, SB 837. He has found several inconsistencies between that legislation and the proposed amendment. He said the most qualified people in the marijuana industry are not Ph.D. chemists, but those who have had the most innovation in extraction. The proposed amendment's only quality standards concern potency and residual solvents. More than that needs to be tested. He also said there needs to be consideration of the fact that the amendment's definition of "manufacturer" is so broad it includes the simple re-packaging and labeling of products that goes on at a dispensary.
Nicole Salisbury recommended there be a neutral third party tester, rather than having each cultivator hire their own chemist. She also said that testing labs should be permitted in commercial zones. She expressed dissatisfaction with the 99-plant limit, saying it is too small.
Katy Podine said that the ordinance could be re-amended at any time, so there is no real risk in fast-tracking this amendment. She said that the definition of "manufacturer" was taken directly from state law.
Planning Commission Chair Cathy Romero said the discussions so far all focused on safety and quality and warned against the possibility of over-regulating. She said that if a business in Desert Hot Springs wanted to extract the oils of a lavender plant or frankincense or sandalwood, she doubted that the city would be so concerned with quality and safety.
Commissioner Voss pointed out that the provision in the amendment for a Ph.D. chemist already defines the position as neutral and third-party. Here is that paragraph people have been talking about:
As a condition of obtaining a City-issued medical marijuana regulatory permit and conditional use permit, a licensee of a manufacturing facility desiring to operate under this ordinance shall first verify that the licensee employs or contracts with a person who has a PhD in chemical sciences who shall supervise the design, installation and operation of the facility's systems and manufacturing processes. The licensee shall submit to the City a written statement that he or she certifies under penalty of perjury that the name of the employee/contractor is true and correct. The employee/contractor shall also submit a written statement that he or she certifies under penalty of perjury his or her educational qualifications and verifying that the supervisor is employed full-time to supervise the design, installation and operation of the facility's systems and manufacturing processes.
IMO, since the paragraph permits the chemist to be either an employee or an independent contractor, I have to disagree with Mr. Voss. He cited the fact that the paragraph requires certification. But the only verifications actually required are certifications of the chemist's name, qualifications and that he is employed full time.
Commissioner Andrew Cirner also warned against the risk of over-regulating.
Commissioner Terifaj expressed concern that the city might be approving something that would be in conflict with state law in 2018. The attorney pointed out section 17.180.060(f) [it's identified as "(e)" in the agenda packet due to a typo, but this comes right after the requirement for a chemist] which says state regulations take precedence over city regulations..
State Regulations. In the event the State of California implements health and safety regulations applicable to Medical marijuana Manufacturing Facilities, upon implementation of such state regulations, all Medical marijuana Manufacturing Facilities operators shall immediately implement the state regulations. Should there be a conflict between the provisions of this Chapter and the state regulations, the state regulations shall control.
Ms. Terifaj suggested that the city go ahead and approve the zoning component of this amendment, while forbidding extraction until the state regulations are in place.
Commissioner Voss moved for approval of the amendment, with all of the corrections that the attorney listed. In 17.180.060(e) the reference to full-time employment (for the chemist) would be removed. In item 17.180.060(d) all items would be deleted except for 1, 2, 8 and 10. Here those are for your reference:
1. Manufacturers are limited to certain equipment, methods, solvents, gases and mediums when creating medical marijuana extracts.

2. Medical Manufacturing Facilities with a state license of a Type-6 (non-volatile) or a Type 7 (volatile) classification may be allowed to operate under this Chapter.

8. All other methods of extraction shall be conducted in an environment appropriate to the solvent being used, with consideration to proper ventilation and ignition source controls.

10. All equipment, systems and manufacturing processes must meet or exceed all applicable state and federal requirements and regulations regarding air, water, health and safety, and handling, processing and storage of hazardous materials, solvents, gases and waste. No manufacturing facility shall commence operations or be issued any form of certificate of occupancy without first obtaining all required fire, environmental, health and safety, planning, and building certificates, permits and approvals required under City's Municipal Code and all other applicable county, state and federal regulations
The motion did not change the zoning rule that restricts manufacturing to the industrial zone. Commissioner Cirner seconded the motion. Chair Romero asked Commissioner Voss why his motion did not address the 99-plant limit. He said he feels okay with what we have in place.
The motion was approved 5-0.
Then attention went back to the City Council as they discussed the revised amendment approved by the Planning Commission.
Mayor Matas said he had received information about the dispensaries' problems with the 99-plant limit only the evening before, so he has not had time to fully inform himself on the subject. He said he will organize a subcommittee (himself and Mayor Pro Tem McKee) to meet with the dispensary owners and make sure their voices are heard.
Mr. McKee said that at a later date the council needs to address delivery modifications, the 99-plant limit, and labs in commercial zones.
Ms. Zavala moved to approve with the additional requirement that the Ph.D. chemist is required to visit the facility quarterly. Council Member Yvonne Parks seconded. Approved 4-1 with Mayor Pro Tem McKee voting against.
permalink | September 25, 2016 at 08:35 PM | Comments (0)
September 8, 2016
Israel To Export Marijuana
Israel has removed the limits on the number of marijuana cultivation sites in the country. They plan to begin exporting it in two years. The article says nothing about which countries might permit it to be imported.