April 9, 2015
Seen in Riverside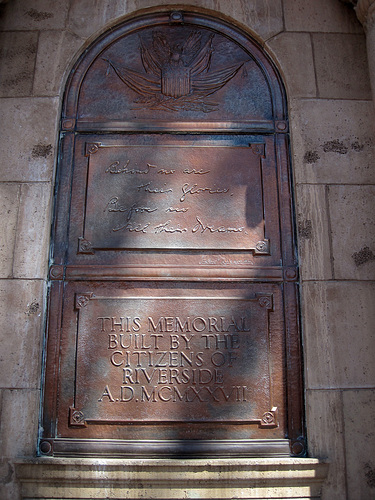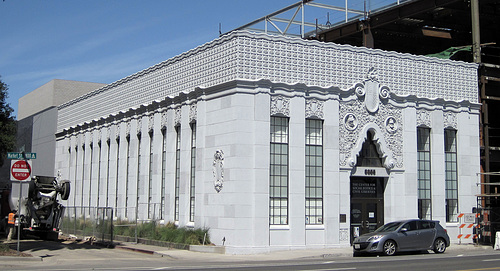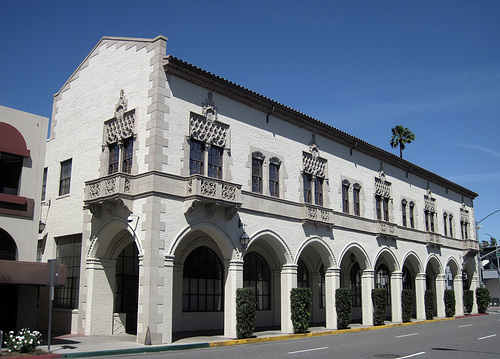 permalink | April 9, 2015 at 04:07 PM | Comments (0)
March 19, 2015
Salton Sea?
An excerpt from the new documentary Breaking Point.

Silly Californians. I first heard of the Salton Sea in the 1960s when the highly educational The Monster That Challenged The World was broadcast on channel 9 in Kansas City. I thought "Salton Sea" was a ridiculous fictional name made up for the movie. Click here to watch the mandatory "punishing the sinners" scene that appears in every horror movie which was shot on location at the Salton Sea. Young Jody will never disrespect her mother again. One might bear in mind that this preceded Jaws by 18 years.
permalink | March 19, 2015 at 02:52 PM | Comments (0)
February 26, 2015
Record Price For A F.L. Wright House
The John Storer Residence at 8161 Hollywood Blvd has sold for $6.8 million. Google map. Wikipedia.
By the early 1980s, the house had fallen into a dilapidated condition before being acquired in 1984 for $800,000 by motion picture producer Joel Silver. Silver, who has produced such films as Lethal Weapon, Die Hard and The Matrix, began a restoration project in 1984. The restoration was carried out under the supervision of Wright's grandson, Eric Lloyd Wright, and Martin Eli Weil, past president of the Los Angeles Conservancy. One of the challenges in the restoration effort was to develop a formula to duplicate the structure's concrete blocks. Ultimately, replacement blocks were made using soil from the backyard mixed with cement to conform to Wright's concept of "organic architecture." In addition to restoring the house, Silver also restored the original landscaping and built a pool that had been planned but had not been built. Eric Wright worked with Silver in completing elements included in the original plans. The restoration project won awards from the California Council of the American Institute of Architects and the Los Angeles Conservancy. In 2005, The New York Times wrote that the Storer House "is widely considered the best-preserved Wright building in Los Angeles."
permalink | February 26, 2015 at 10:00 PM | Comments (0)
February 20, 2015
Getty Villa
Yesterday, Jeff and I visited the Getty Villa - the one overlooking the Pacific - not the Getty Center, which is the one overlooking the 405 and the rest of Los Angeles. This was the first time at the Villa for both of us.
If you were one of those students who excelled in learning to identify corinthian, ionic and doric columns, then the Getty Villa will be your opportunity to show off that knowledge.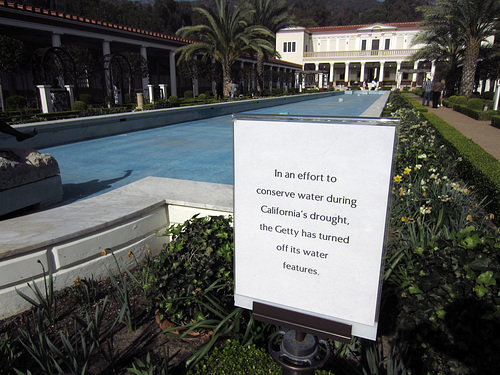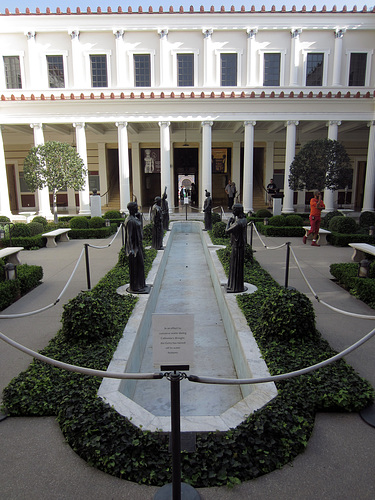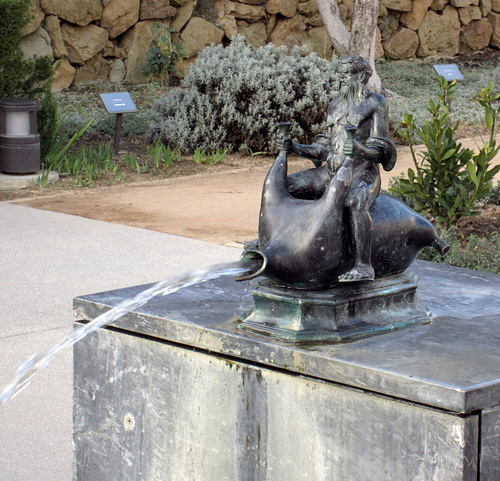 But the fountains in the gardens are still running.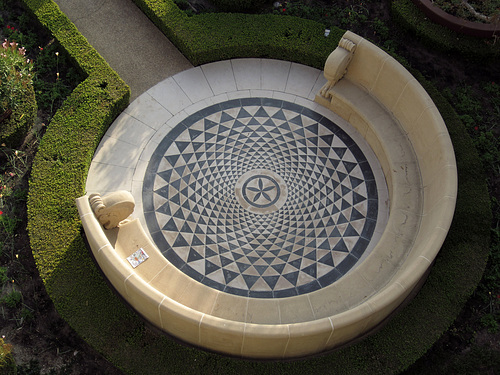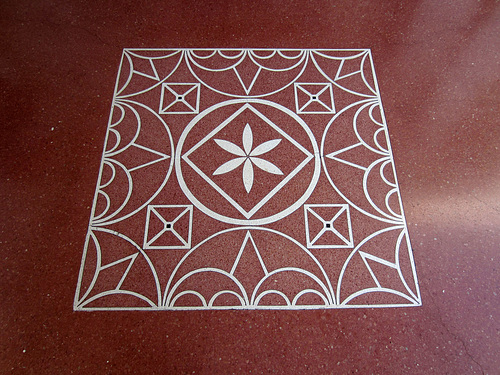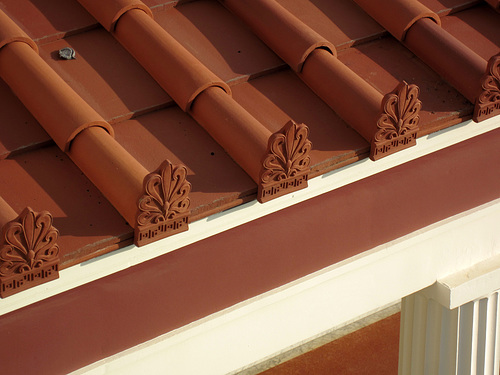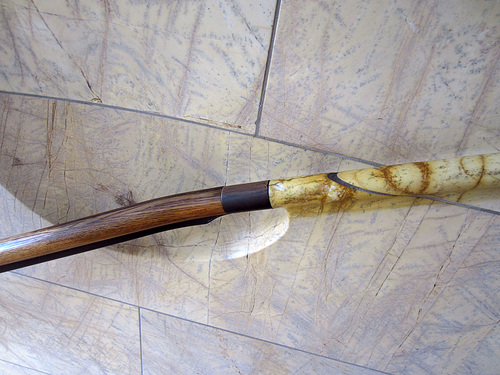 Handrail on a stairway.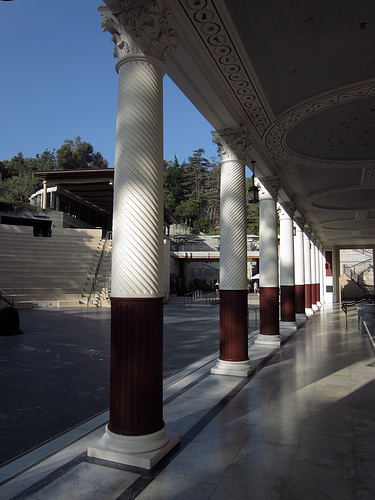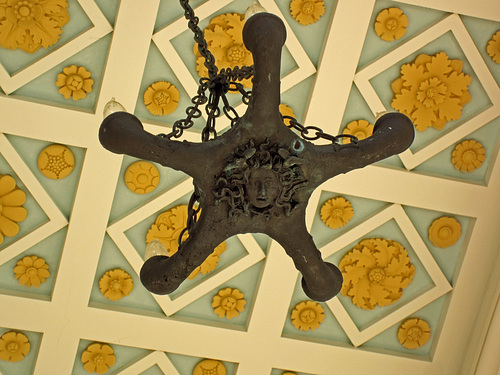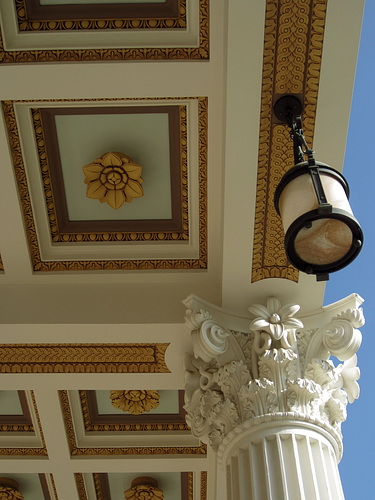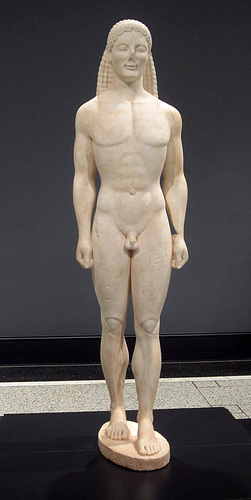 The complete set of photos is here.
permalink | February 20, 2015 at 09:05 PM | Comments (0)
Los Angeles City Hall Observation Deck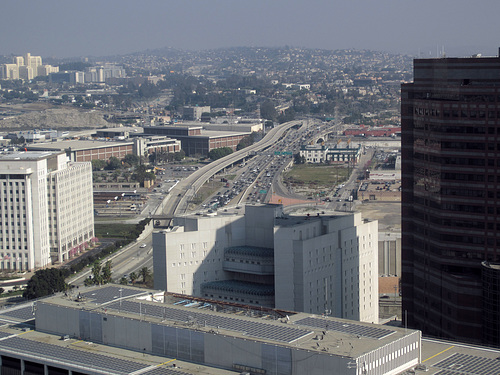 A view of the US 101 linear parking lot.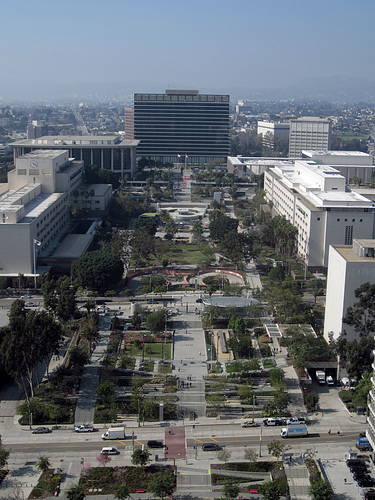 West of City Hall is its equally tough sister agency, the LADWP. You can see the Dorothy Chandler Pavilion cowering in front of the LADWP, a bit to the left.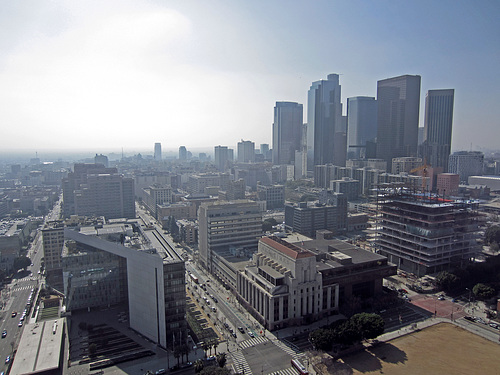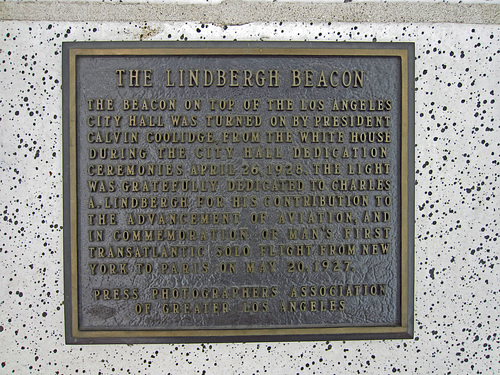 The Lindbergh Beacon

The beacon on top of the Los Angeles City Hall was turned on by President Calvin Coolidge from the White House during the City Hall dedication ceremonies April 26, 1928. The light was gratefully dedicated to Charles A. Lindbergh for his contribution to the advancement of aviation, and in commemoriation of man's first transatlantic solo flight from New York to Paris on May 20, 1927.

Press Photographer Association of greater Los Angeles.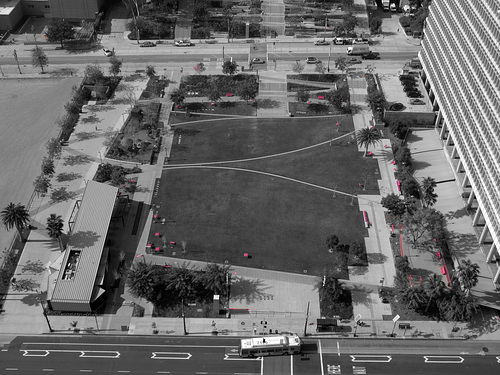 In the park just west of City Hall, the park furniture is bright pink, as it should be. You may need to click the image to get the full-res version in order to appreciate the pink highlights.

They've got some very nice elevators in LA City Hall.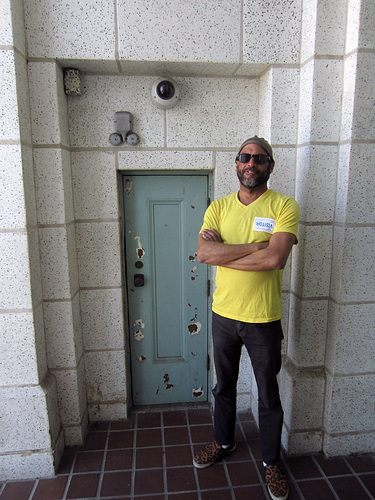 Jeff guards the door to make sure no trolls emerge.
See more of these photos here.
permalink | February 20, 2015 at 12:43 PM | Comments (0)
February 14, 2015
"That scar on the map of America"
That scar is the State of Mississippi, according to Anthony Walton in his book, Mississippi: An American Journey. In 2011 three white men lynched a black man in Jackson, Mississippi. Before sentencing, U.S. District Judge Carlton W. Reeves delivered a lengthy speech on the history of lynchings in Mississippi. The speech included some surprising statistics.
"[o]f the 40 martyrs whose names are inscribed in the national Civil Rights Memorial in Montgomery, AL, 19 were killed in Mississippi"
One historian estimated that between 1882 and 1968 4,742 blacks were killed in lynchings in the U.S. That number exceeds the 1,401 prisoners who have been executed legally since 1976. It's more than the estimate 1,700 who died on 9/11/2001. It's greater than the number "killed in Operation Iraqi Freedom and more than twice the number of American casualties in Operation Enduring Freedom — the Afghanistan conflict."
The sadness of this day also has an element of irony to it: Each defendant was escorted into court by agents of an African-American United States Marshal, having been prosecuted by a team of lawyers which includes an African-American AUSA from an office headed by an African-American U.S. attorney — all under the direction of an African-American attorney general, for sentencing before a judge who is African-American, whose final act will be to turn over the care and custody of these individuals to the BOP [Federal Bureau of Prisons] — an agency headed by an African-American.
It's probably not entirely coincidental that Judge Reeves was the one who declared Mississippi's ban on same-sex marriage to be unconstitutional. If you are trying to figure out what that shield on each man's shirt is for, they say "West Pulaski Fire Dept."
permalink | February 14, 2015 at 05:35 PM | Comments (0)
February 13, 2015
Found In The Wrong Hands Last Night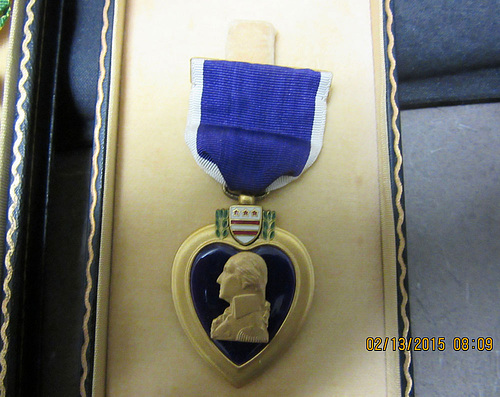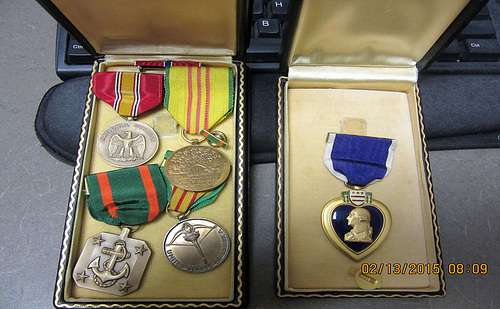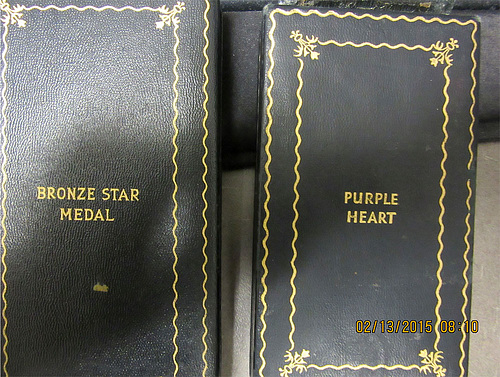 DESCRIPTION OF INCIDENT: Possession of Stolen Property

On 2-13-15, officers of the Desert Hot Springs Police Department arrested two females who were in possession of a stolen vehicle. One of the suspects had Vietnam era military medals in her possession. The medals were in two different cases. One case has "Bronze Star Medal" on the front the other has "Purple Heart" written on the front. The case with that is labeled Bronze Star Medal has four different medals in it and the one with Purple Heart; has a Purple Heart medal.

The Desert Hot Springs Police Department is seeking the American Hero these medals belong to, and want to reunite them with the rightful owner. Anyone who has knowledge of who might own the medals please call the department at the numbers listed below.

Anyone with additional information regarding this investigation please contact the Desert Hot Springs Police Department and ask to speak with Sergeant Larry Essex. (760) 329-6411 ext 322. Email: lessex@dhspd.com Citizens can also call Valley Crime Stoppers at (760) 341-7867.
permalink | February 13, 2015 at 08:48 AM | Comments (1)
February 8, 2015
Alpine Cemetery
A cemetery in Alpine, California, that permits a great deal of individuality: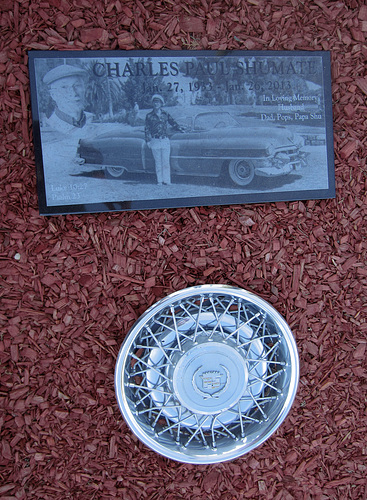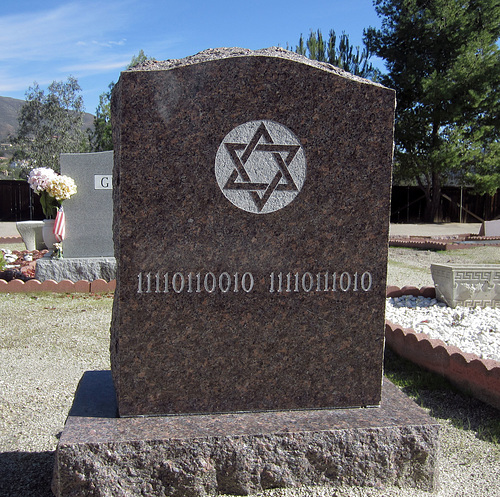 That converts to "1970 1978."
More photos from Alpine Cemetery are here.
permalink | February 8, 2015 at 04:18 PM | Comments (0)
January 23, 2015
Kevin Kelly, CEO, Two Bunch Palms Resort
The January 2015 Soup Supper of the Desert Hot Springs Historical Society:
permalink | January 23, 2015 at 04:54 PM | Comments (0)
January 12, 2015
Ten Bridges Epic Walk
Yesterday I went on the Ten Bridges Epic walk, which crosses 10 of the bridges over the Los Angeles River. It came to about 14½ miles. Maps: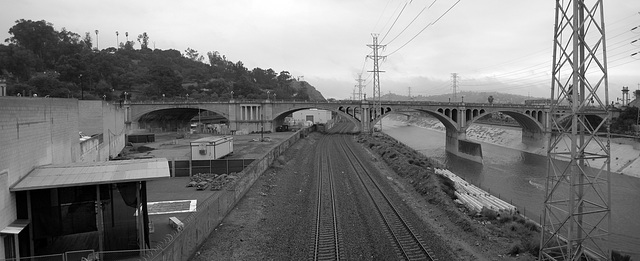 Broadway Bridge.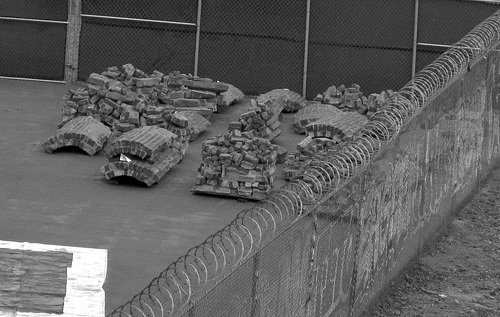 This is a detail from the photo above. These are the most recently unearthed remains of the Zanja Madre which were found in 2014. The brick probably dates from the 1880s, although the ditch itself goes back to the settling of Los Angeles. News story with photos here.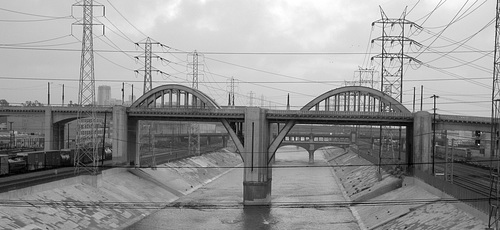 Sixth Street Bridge which will be demolished this year.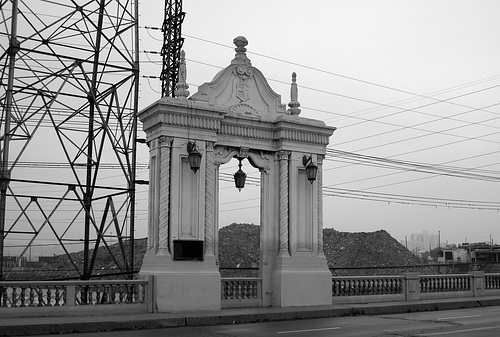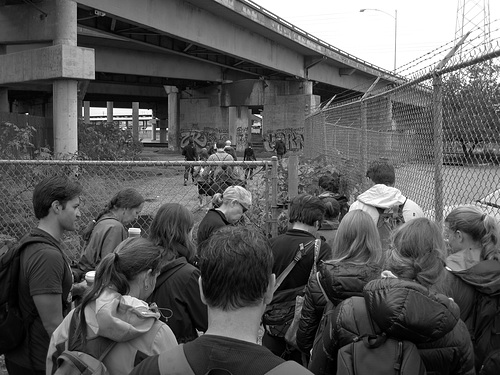 We try a shortcut along the river that is probably railroad property. It turned out to be a dead end and we had to follow our steps back and loop around.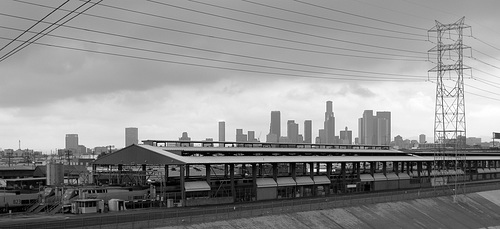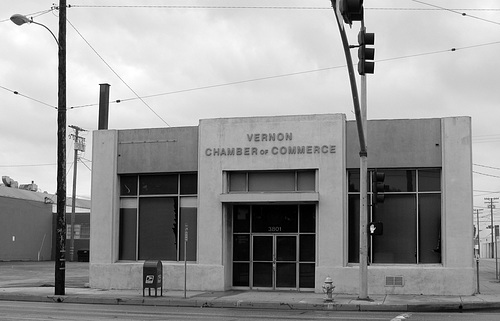 The Vernon Chamber of Commerce. I expected something a bit nicer.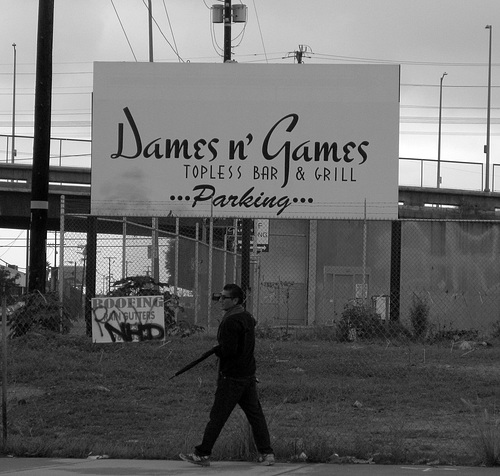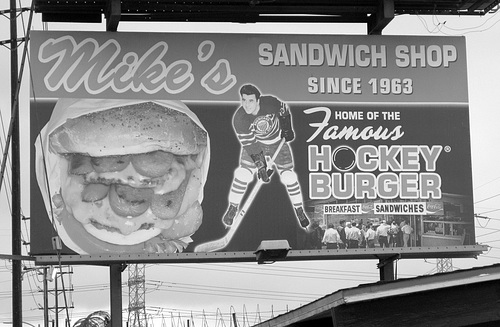 The famous hockey burger - which sets it apart from those ordinary hockey burgers that you never heard of.
The complete set of photos is here.
permalink | January 12, 2015 at 01:53 PM | Comments (0)
January 10, 2015
Los Angeles
Some photos I shot this past Wednesday.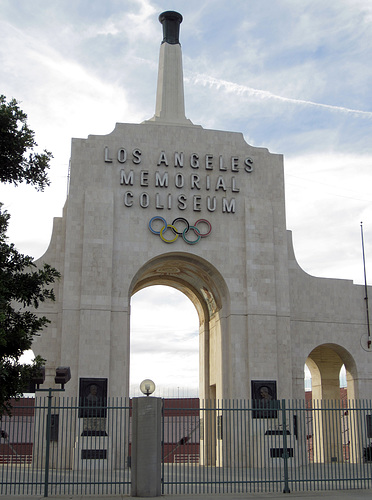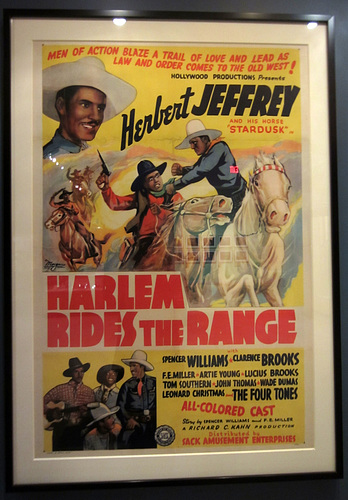 At the Autry National Center.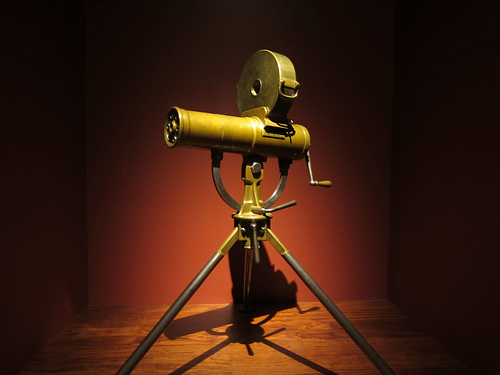 A Gatling gun at the Autry National Center.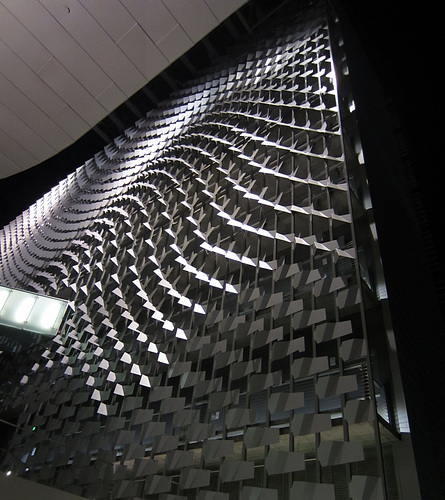 Emerson College on Sunset Boulevard.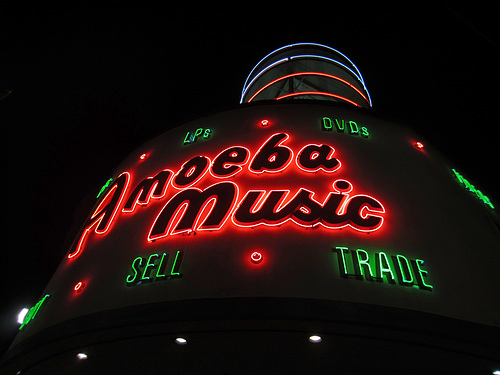 Amoeba Music, a real record store with a big selection of used discs. Besides CDs they sell LPs and even Laserdiscs. On Sunset at Ivar, which is a block west of Vine.

"Spirit of the CCC" at Travel Town in Griffith Park. There was a CCC camp in Griffith Park. The history of the statue is here. This is not the original.

An A-12 Blackbird at Exposition Park.
permalink | January 10, 2015 at 06:19 PM | Comments (0)
January 8, 2015
"Brokeback Mountain" Shirts
Behold!


These are the very shirts (and photo and closet door, for all I know) from Brokeback Mountain on display in the Autry National Center in Griffith Park. The shirts are on loan. Here's a video of the ceremony when the shirts went on display.
For those who are asking themselves "Huh? Shirts?" (and I know there are at least a couple) here are some videos to help. I'm trying to avoid "spoilers" for the benefit of those who think the enjoyment of a story is less because you've finished it.
Here is the end of the movie where we see the shirts just as they are displayed in the museum. Technically, it's not a spoiler, but if you have even just a single crumb of human empathy you can tell what happened before that scene.

If you're still all like "huh?" here's the beginning of the shirt story. Sometimes a fight is just a fight. This is not a fight.

If you still don't get it, then here's a third clip showing the convergence of the shirts. Technically not a spoiler in my book.

If you need yet more clarification, it's time for you to go see the movie. Netflix has it on disc, but not streaming. But it is available for streaming on Amazon.
permalink | January 8, 2015 at 11:25 AM | Comments (0)
Oldest Palm Tree In L.A.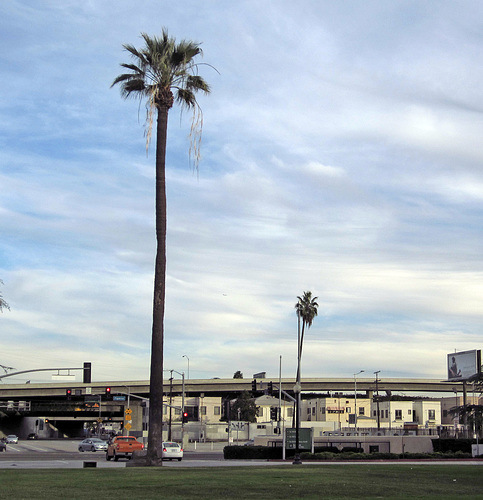 The oldest palm tree in Los Angeles is this one at the entrance to Exposition Park (the Coliseum). That's the 110 in the background. Here's what the official plaque says.
This historic palm tree stood for more than twenty-five years at the entrance of the Southern Pacific station. At this railroad portal of the city it became a familiar landmark to many thousands of Los Angeles and southern California citizens and visitors from elsewhere, and was a mute witness to the growth of Los Angeles from a community of pueblo days to a great world metropolis of today. When construction of a new Southern Pacific station necessitated removal, under the auspices of the Los Angeles Examiner it was presented to the City of Los Angeles by the Southern Pacific Company. On September 5, 1914, it was placed here, where it and its sentimental associations will be permanently preserved.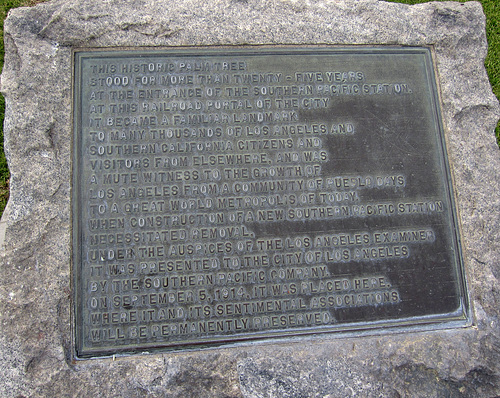 Note the unusual line lengths used in the plaque.
This story on the KCET website says the tree came from an arroyo north of now-downtown L.A. and is more like 150 years old.
permalink | January 8, 2015 at 11:06 AM | Comments (0)
December 28, 2014
Coachella Valley History Museum
Photos of some of the things to see at the Coachella Valley History Museum in Indio.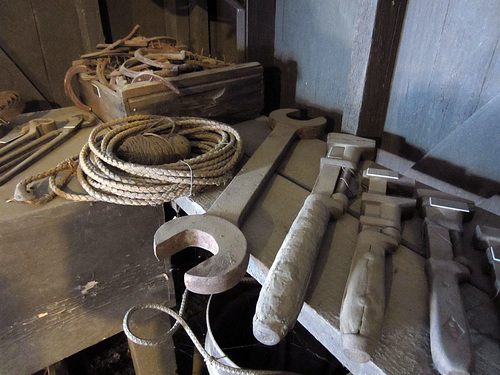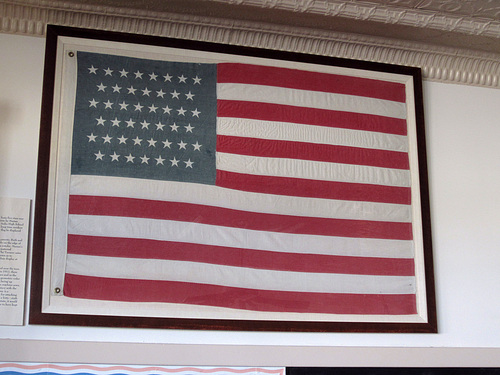 45 stars.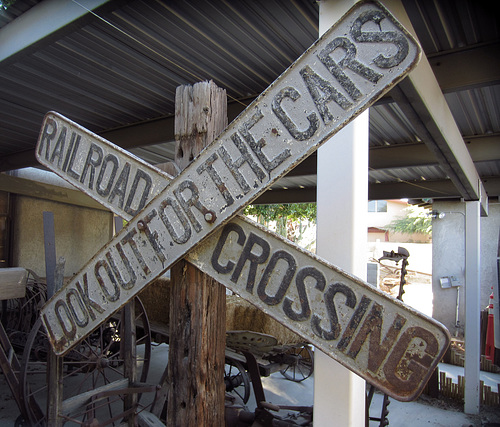 "Look out for the cars."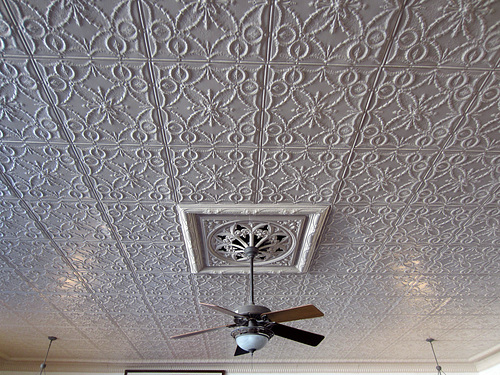 The ceiling in an old schoolhouse.
permalink | December 28, 2014 at 05:47 PM | Comments (0)
November 25, 2014
New At Cabot's Pueblo
BIG CHANGES at the PUEBLO
New Tour - New Experience Announcing our new Signature Tour beginning on December 2nd.

You'll experience Cabot's Pueblo Museum in a whole new way! There is so much to learn about the man responsible for the settling of the Coachella Valley. Do you think the Valley would be the same if Cabot hadn't made it his home?

New rooms open to the pubic for viewing!

Many haven't been open in decades. Cabot's Office and Artist sleeping quarters and drawing space are open for viewing. More rooms will be open soon!

Walk around the beautiful grounds.

We've been hard at work creating peaceful paths and gardens throughout the grounds for you to enjoy. Make sure you see the Alter in the Wilderness - Meditation Garden (it's also the perfect place for a wedding or special event!)

Remind yourself why there is No Place Just Like this Place.

Few people have left as indelible a legacy on the Coachella Valley as Cabot Yerxa. When you tour his remarkable hand-built 5,000 sf Pueblo you experience how his life changed the Valley. His stories will inspire you.

Cabot's Pueblo Museum is open Tuesday through Sunday between 9:00 AM and 4:00 PM. Guided tours are offered every half hour.
permalink | November 25, 2014 at 10:09 PM | Comments (0)
November 11, 2014
New Deal Deals
The Living New Deal is a project that started out focusing solely on the WPA in California, but then "In 2005, the project became a team effort to inventory, map, and interpret how the New Deal radically modernized California." In 2010 it was expanded to include the entire nation. They've got the whole New Deal and its projects indexed by city and state, by category, by agency, by artist [why the artists are not listed in alphabetical order is beyond me] and even alphabetically. The one piece listed for Diego Rivera, for example, is the "Pan-American Unity Mural" at the City College of San Francisco's Ocean View campus.
A search for New Deal projects in the Coachella Valley turned up only two: Palm Springs high school by the PWA (1938) and highway 60 (now I-10) between Indio and Chiriaco Summit by Federal Public Works (1934-1945) when the Colorado River Aqueduct was being built.
permalink | November 11, 2014 at 04:28 PM | Comments (0)
November 8, 2014
World War II MIAs and GoPro
The Battle of Peleliu took place from September 12, 1944, to November 27, 1944, although it was not until April 22, 1947, that all of the Japanese soldiers on the island surrendered. The island, occupied by 11,000 Japanese, was attacked by about 18,000 Marines. 1,794 Americans died in the battle, with 8,010 wounded or missing. Japanese casualties were considerably higher: 10,695 killed and 202 captured.
Map showing the location of Palau.
The Bentprop Project is "dedicated to locating and assisting with identifying American prisoners of war and missing in action from World War Two in Western Pacific Islands." In this effort they have been assisted by Scripps Institution of Oceanography-UCSD and the University of Delaware. They believe there are 70 to 80 recoverable MIAs in the coral reefs at Palau.
GoPro video showing their search for and location of a downed American plane that they believe contains the bodies of at least two airmen.

permalink | November 8, 2014 at 10:18 AM | Comments (2)
October 23, 2014
Harry Shearer as Nixon
Harry "Excellent!" Shearer will be Richard Nixon in Nixon's The One, a six-part series that will debut on Youtube Tuesday, October 28.

Sparked by working on the Nixon series, one has to confront a fairly blunt fact: Forgetting his foreign policy, which was ludicrous, a lot of his domestic policies were mind-spinningly to the left of Obama. Under Nixon, the EPA was started, the OSHA was started, the Clean Air Act was passed, the Clean Water Act was passed. And, most startlingly of all, Nixon gave a speech late in his truncated second term calling publicly for a guaranteed annual income for all Americans. How long do you think you'd have to live to hear Obama do that?
permalink | October 23, 2014 at 04:49 PM | Comments (0)
October 21, 2014
Returning To The Big Screen!
The Greatest Science Fiction Film Of All Time: 2001: A Space Odyssey has been digitally remastered and will open November 28 in the UK at a British Film Institute film festival. Go back and watch the original 1977 version (or whatever version of the original you can find) of Star Wars. If you were around in 1977, you will recall that its special effects blew us away. Now they look cheezily obvious. Then go watch 2001 which was made before most of you were born: 1969 1968! It still works. It still takes your breath away when it jumps to Jupiter space. And at the end you still don't know WTF was going on*. That's good cinema!
Appropriately enough, they've brought the trailer up to the standards of 2014:

HAL is still so sorry he couldn't open that podbay door.
*it's just a lengthy attempt to direct blame away from the opposable thumb and put it on some "space aliens."
permalink | October 21, 2014 at 03:37 PM | Comments (3)
October 14, 2014
It was 37 years ago today

It was October 14, 1977, in Des Moines. I, along with a couple of guys from Grinnell, Iowa, had carpooled to Des Moines to join the picket lines outside the auditorium where Bryant was speaking. This was my first time doing anything publicly political. Didn't hear about the pie thing until much later. This was before the internet, ya know.
1979: the first national gay rights march on Washington, DC. Demands included repeal of sodomy laws, approval of a proposed expansion of the Civil Rights Act to cover sexual orientation, an end to discrimination in child custody cases, ending the ban on gays in the military and ending discrimination in the civil service and among government contractors.
1987: Congress approved (94-2) a provision that would restrict the use of almost $1 billion in federal funds for AIDS education to materials that encouraged abstinence rather than actually telling people how to have safer sex. It was the first major effort the federal government was making to fight AIDS, and it was nearly strangled in its crib (the legislation, not AIDS). The provision was declared unconstitutional in 1992. The number of AIDS cases in the U.S. doubled during that time.