December 26, 2016
Petersen Automotive Museum

1936 Bugatti Type 57SC Atlantic. Design created by Jean Bugatti, son of the founder of Bugatti, Ettor Bugatti. In the SC variant, "The 'S' stood for 'Surbaissé' ('Lowered') and the 'C' for 'Compresseur' (a supercharger introduced by Bugatti as a result of customer's desire for increased power)." The body is aluminum. Only four of these were built. One disappeared in France during World War II. Another was hit by a train (!) but has been completely restored. This particular 1936 Bugatti Type 57SC Atlantic was brought to New York City in 1946. The owner drove it from there to Los Angeles. Some time in or after 2003 it was bought by Peter Mullin for a figure greater than $30 million. The fourth vehicle is owned by Ralph Lauren, who paid $40 million for his.

1939 Bugatti Type 57C by Vanvooren. This vehicle was a gift from the nation of France to Mohammed Reza Pahlavi, Prince of Persia, on the occasion of his wedding to Egypt's Princess Fawzia in 1959.

1939 Fiat 508C Balilla converted for CNG. This is said to have been the very first vehicle powered by compressed natural gas.

1948 Cadillac Sedanette Cadzzilla by Hot Rods By Boyd. This unique customization was commissioned by Billy F. Gibbons of ZZ Top.

1948 Davis Divan.

1948 Davis Divan. This is a three-wheeled convertible made by Davis Motorcar Company in Van Nuys in the late 1940s. There were 13 of these made, and 12 of them still exist. The design was based on an earlier three-wheeled car called "The Californian." Later, Gary Davis designed the 3-wheeled Dodge 'Em bumper car which is now ubiquitous in carnivals everywhere. He eventually retired to Palm Springs where he died in 1973.

1955 Chevrolet Biscayne XP-37. This vehicle was created by General Motors to show off its new 265 cubic-inch "Turbo Fire" V8 engine.

1955 Mercury D-528 Concept. The bulging "fins" are functional...and hinged. One is for the spare tire, the other holds the gas tank. This car had Ford's first reverse-sloping retractable rear window. "'Beldone' was a stage name selected by Paramount Pictures for the car's appearance in the 1964 Jerry Lewis movie, 'The Patsy', not an official Ford designation."

Here's a room in the Petersen museum where the unifying theme seems to be "shiny silver." Far to the back, not really visible in this photo, is a shiny gold car.

The chassis of a 2015 Tesla Model S P85D. Below is one with its clothes on.

Evidence of Petersen's attempt to class up its act. This restaurant (in the museum) used to be a Johnny Rocket's. Now it's a Drago.
Many more photos can be seen here.
permalink | December 26, 2016 at 10:39 PM | Comments (0)
November 21, 2016
Hotel Cecil
The L.A. Cultural Heritage Commission visited Hotel Cecil on Main Street. The lobby is quite nice. They also took us up to the 14th floor to see a couple of typical rooms. Most rooms do not have baths, so there are shared toilets and showers on each floor. All of the rooms are small; about 11' by 17'. We saw one room that had no bath and it was pretty small, but included a small flat screen TV and a clock radio that included a mount for an iPod (the old Apple connection, not Lightning). Then they showed us a room with a bath. It was still 11' x 17', so they just used almost all the open floor space to put a bathroom (shower, toilet, sink) in there. There was about 18 inches of clearance on either side of the bed, and if there was any furniture besides the bed, I can't recall it. The hotel is now doing business as "Stay On Main." The rooms are very plain,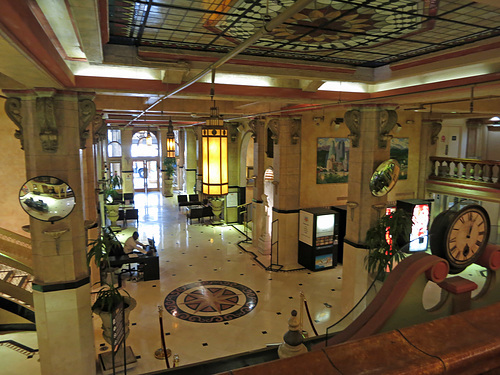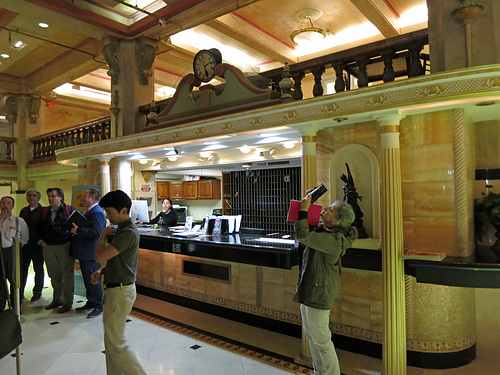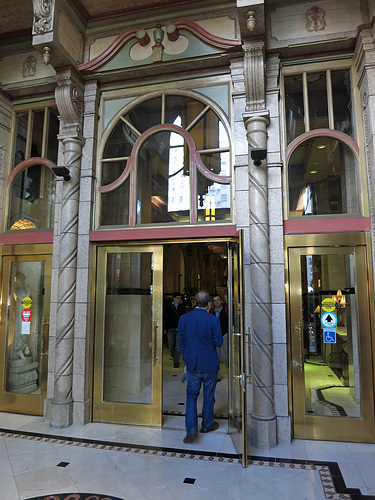 Looking out the window of a 14th floor guest room, this is the view.
More photos of Hotel Cecil can be found here.
permalink | November 21, 2016 at 08:30 PM | Comments (0)
Catalina Swimwear Building
On a tour with the Los Angeles Cultural Heritage Commission. Here's the Wikipedia article for Catalina Swimwear.


The building is live/work lofts. That's one of the Commissioners front and lower center.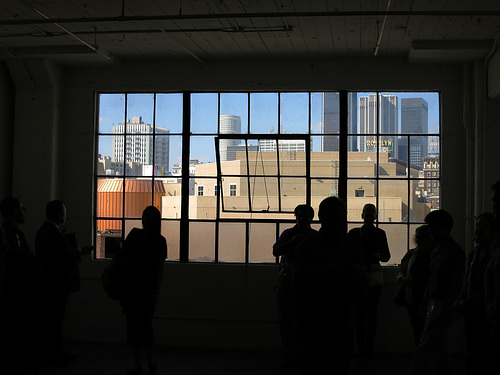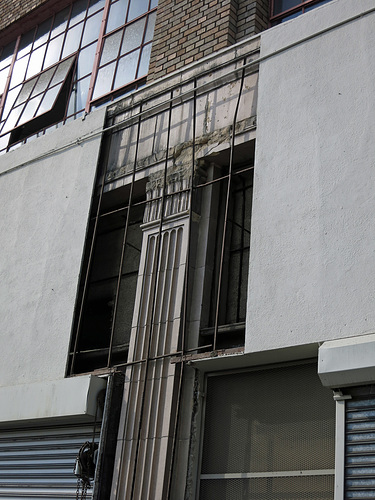 A bit of newer stuff was pulled off to reveal some of the original facade, which will be restore.
More photos of the Catalina Swimwear Building are here.
permalink | November 21, 2016 at 07:07 PM | Comments (0)
Los Angeles Cultural Heritage Commission
On Thursday morning last week I attended a 9 AM meeting of the Los Angeles Cultural Heritage Commission in LA City Hall. They had two things on their agenda that morning: first was to consider designating the Bob and Dolores Hope Estate in Toluca Lake as a monument; second was to go visit and tour Hotel Cecil and the Catalina Swimwear Building. It was the second thing that I came for, but the Bob Hope house issue was very interesting.

Above is the Google Earth view of the estate.
Below is what the public could see from the street.

The place is owned by the Bob & Dolores Hope Foundation. First the staff made its presentation with a slide show and talk all about how ultra famous Bob Hope was. Under Los Angeles law there are two different bases that can justify declaring something a monument. One basis is the usual: great cultural, historical, architectural (etc.) significance. The second is that it was the home of a celebrity. The Bob Hope house was proposed (by a city council member) due solely to the celebrity status. Staff admits it has no cultural, historical, architectural (etc.) significance. In discussion the Commissioners said that in L.A. they obviously are not going to declare every residence of every celebrity a monument or they would consume a significant portion of the housing market. But they agreed that Bob Hope was just about the most famous person in the world.
After the staff report the Foundation got up to make their comments. They were daughter Linda Hope and a couple of other people, one of whom may have been an attorney. They told us quite a different story than staff told. Right off the bat, Linda Hope said they had the wrong address. The correct address is 10346 Moorpark Street. Staff had supplied the address as 10350 Moorpark Street. No points for staff there. Then she went on to explain that while staff had described the house as French Chateau style, only the original house was French Chateau and that Dolores Hope had almost continually added wings and additions so that now the house was some sort hodge-podge of no significance. She also disputed their description of the grounds which staff said included a "one-hole par 3 golf 'course'." Linda Hope said it was only a small decorative thing that could not really be used for golf.
Worse, she said, was that there was no way the Los Angeles public could access the house. In the '90s the Hopes had considered making it into a museum, but quickly learned that since it was in a quiet upscale residential area with narrow streets, there was no way it could be a museum open to the public. So the Hopes' final instructions were to use the estate to help fund the Bob & Dolores Hope Foundation. The intention of the trustees was to sell it. The place had been sitting on the market for ages but not long ago the first decent offer was submitted. That was when the city council member asked that the Cultural Heritage Commission consider the property. The decent offer was immediately withdrawn.
Linda Hope listed all of the memorials to Bob Hope that are scattered over the Los Angeles area. She said each and every one of those was more significant to the legacy of Bob and Dolores Hope than the estate. Later, Commissioners said they were surprised by the list, not realizing there were already so many memorials; so obviously staff didn't do that research either.
A couple of residents got up to also speak against the designation, but the essence of their arguments was that Toluca Lake is a beautiful, quiet community and any kind of monument there would bring traffic, noise and lower property values. The President of the Commission interrupted both of those commenters (!) to tell them that was of absolutely no concern to this Commission.
One Commissioner suggested giving monument status to only the hedge and gate in front of the house, because those were the only things the public would ever see. I was pretty sure that was a joke, but the President went ahead and explained how impractical that would be.
Finally, a Commissioner made the motion to deny monument status and that was approved 5-0. The decision now goes to city council, since it had originated there and city council could overrule this decision.
The meeting was adjourned and we headed out on our field trip.
permalink | November 21, 2016 at 07:04 PM | Comments (0)
March 7, 2016
California County History
Here's an interesting interactive map that displays the history of county lines in California. I only know the southern counties well, so that's what I paid attention to.
1850 - San Diego County was HUGE!
1851 - Los Angeles and Mariposa Counties get big chunks of San Diego County.
1852 - Tulare County carved out of Mariposa County.
1853 - San Bernardino County carved out of Los Angeles County.
1866 - Kern County created from pieces of Los Angeles and Tulare Counties. Inyo County is carved out of Tulare County.
1872 - Ventura County carved out of Santa Barbara County. Boundaries adjusted between San Bernardino, Inyo, Kern, Tulare, San Luis Obispo and Monterey Counties to give us that nice straight line running from the Pacific to Nevada. Is that the defining line between northern and southern California?
1889 - Orange County carved out of Los Angeles County.
1893 - Chunks of San Bernardino and San Diego Counties taken to create Riverside County.
1907 - Imperial County carved out of San Diego County.
permalink | March 7, 2016 at 05:33 PM | Comments (0)
February 20, 2016
Great Los Angeles Walk Photos
I winnowed my photos from the Great LA Walk (November 21, 2015) down to the 1,930 best ones that you can see here. Blut I think the easiest way to see them is via this video slideshow which is only a little more than half an hour long, if you watch all of it. Most of the photos are from my GoPro, but I shot some with my pocket camera.
permalink | February 20, 2016 at 09:32 PM | Comments (2)
January 18, 2016
153 Years
There's an exhibit of historic photos at the LA Public Library on the subject of the Emancipation Proclamation, the March on Washington, and the 53 years since the march.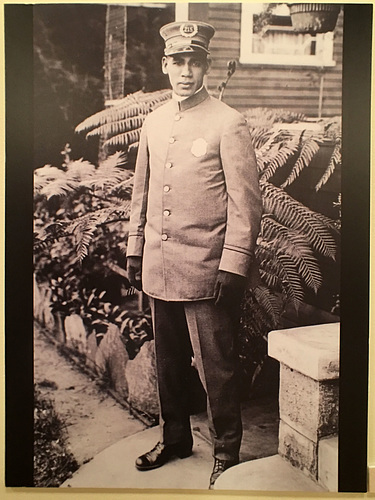 LAPD, 1915.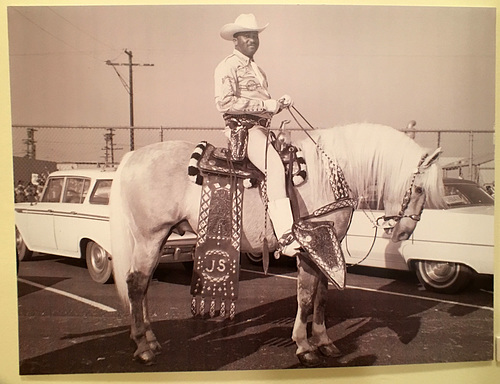 Watts Christmas parade.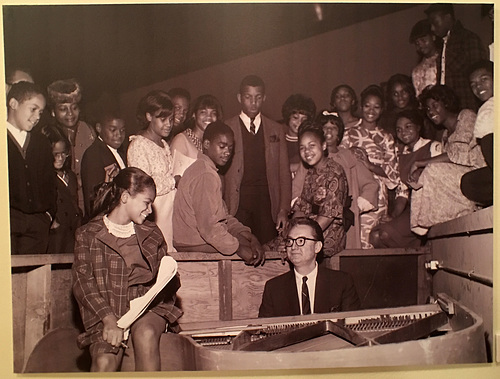 Steve Allen hanging out at the Ebony Showcase Theatre in 1966.

At Inkwell Beach in 1931. Inkwell Beach was the 200 yards of Santa Monica Beach where blacks were allowed to hang out. Here's a Google satellite view showing the location today. It's where lifeguard stand 20 is.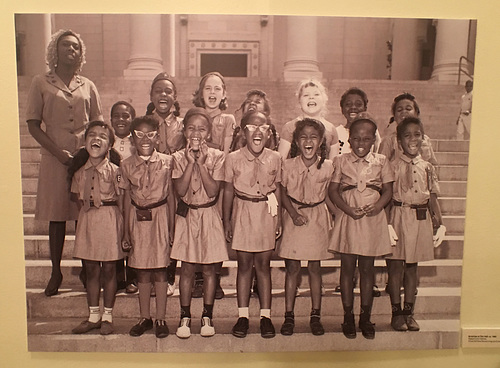 Visiting city hall in 1963. Check out the stylish eyeglasses!

"Dr. Josie Bain, the southern area superintendent of Los Angeles City Schools makes remarks during the groundbreaking for Loren Miller Elementary School on West 77th Street, near Hoover Street, in 1969." Sure, but check out the hairdo! I think she may have a radar antenna up there.
permalink | January 18, 2016 at 09:21 AM | Comments (0)
November 8, 2015
Rockhaven Sanitarium
I went on a tour of Rockhaven Sanitarium for women in Glendale yesterday. It was founded by Agnes Richards, a nurse, in 1923 at a time when there were as many as 20 sanitariums in the area. It was operated by Agnes Richards until 1967, when she turned it over to her granddaughter Patricia Traviss who continued to operate it until 2001, when it was sold to a nursing home chain. Five years later it was closed when it became obvious that meeting ADA standards would be financially impossible. The City of Glendale bought it in 2008. Since then the city has done little with the site, not having the money to renovate it nor the will to just get rid of it.
It was a place for women with mild to moderate "nervous disorders," and featured none of the tortures that one would normally see in an insane asylum of that time. It's two most famous residents were Billie Burke and Gladys Pearl Monroe Baker, the mother of Marilyn Monroe.
The docents told of some spooky happenings at the place. A face seen behind a curtain that was pulled back from a window on the second floor of a building that was empty; small objects (a rosary, a valentine card, for example) simply appearing where it had never been before. The contents of the site were well documented when the city bought it. Even though old photos of the place show a piano, no piano is listed in the city's inventory. One day, when the docents opened the garage where they have stored statuary and other vulnerable items, there was the piano. I could believe the small things were pranks played by one of the docents, but the appearance of the piano is quite a stretch. How many ghosts does it take to move a piano?
An hour long video about Rockhaven.
The Crescenta Valley Water District is putting in a well on the site.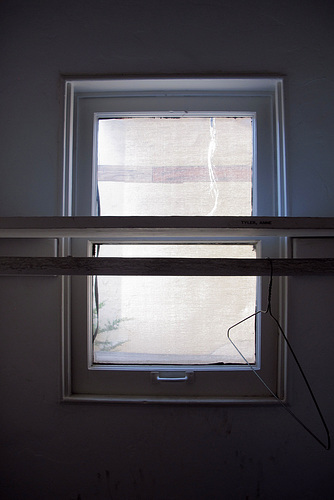 The closet window through which Marilyn Monroe's mother escaped using rope made from bed sheets. She had a much larger window in her room that would have been much easier to go through. The drop from the closet window to the ground below was about 6 feet. IOW, she was a drama queen.

According to this illustration germs used to be much larger back in the 20th century.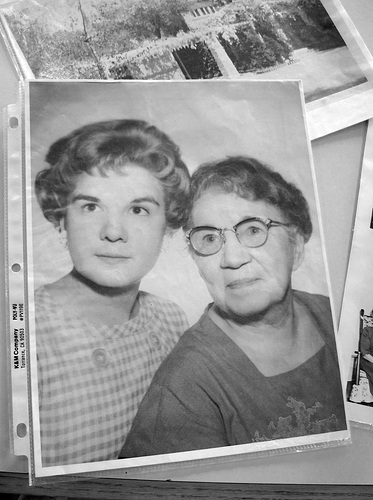 Patricia Traviss and Agnes Richards

The Rose house existed on the site before Richards created the sanitarium. She had it lifted and turned to face into the inner courtyard of the sanitarium.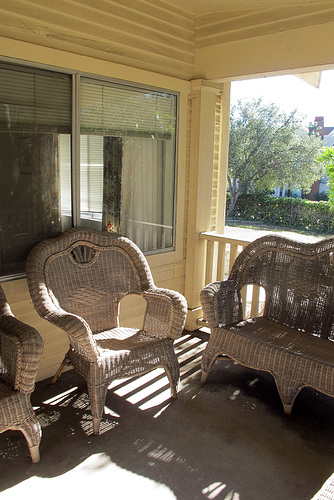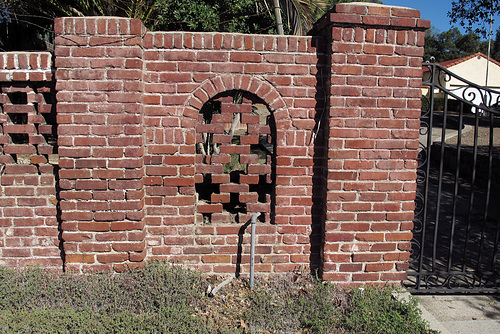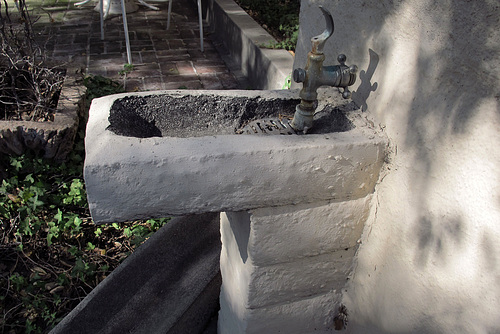 A drinking fountain.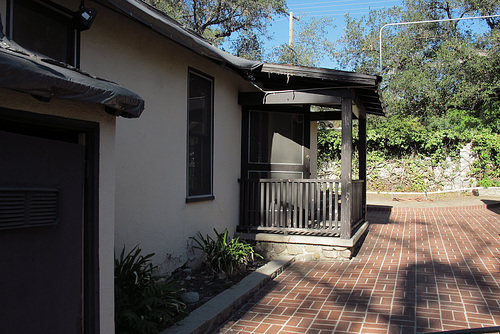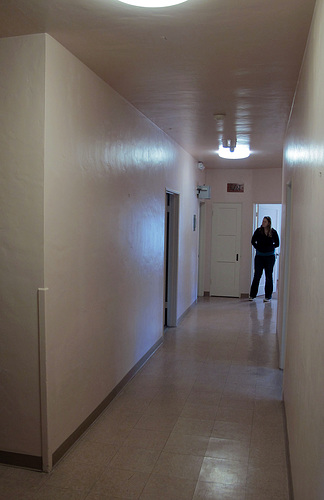 The walls are pink.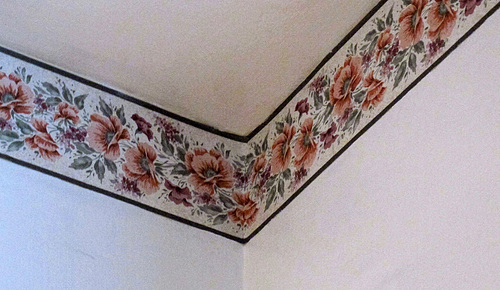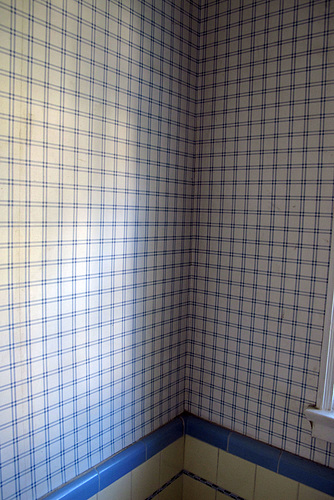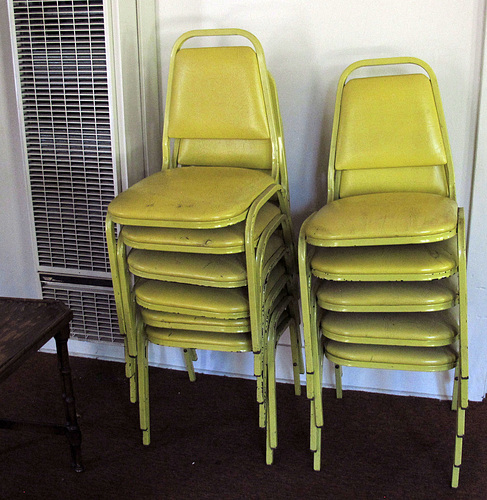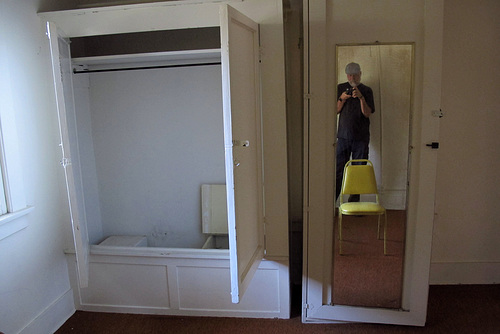 A Murphy bed.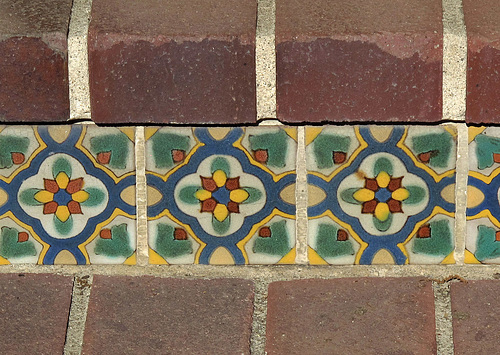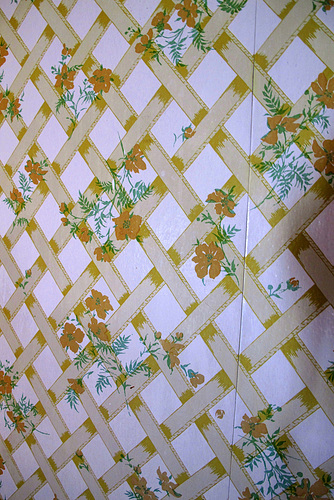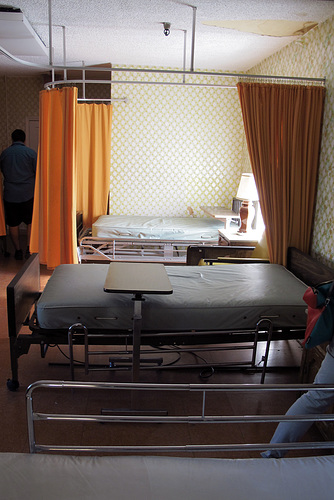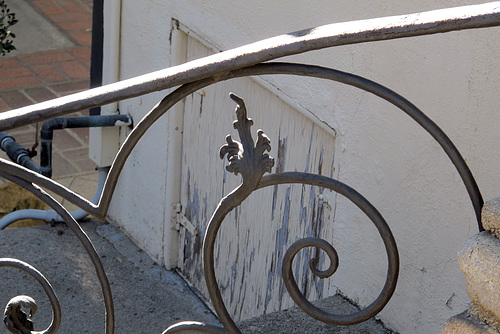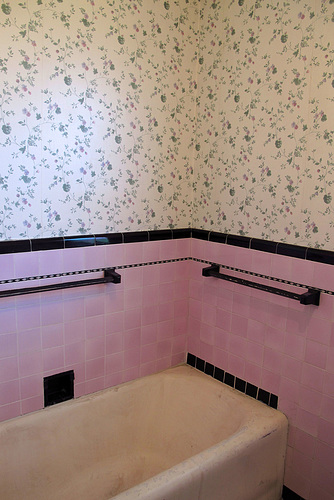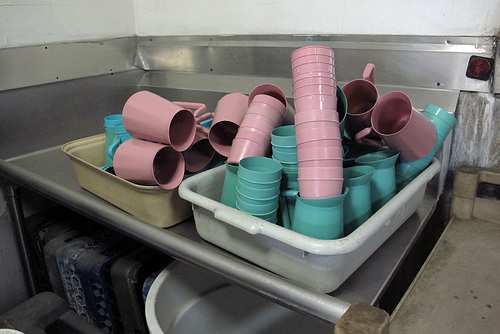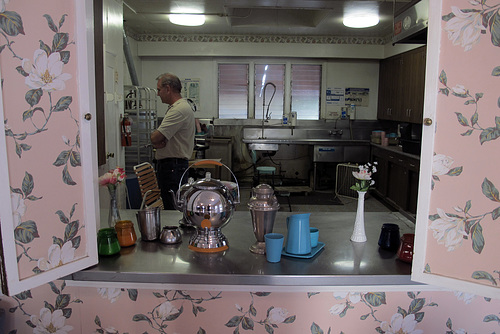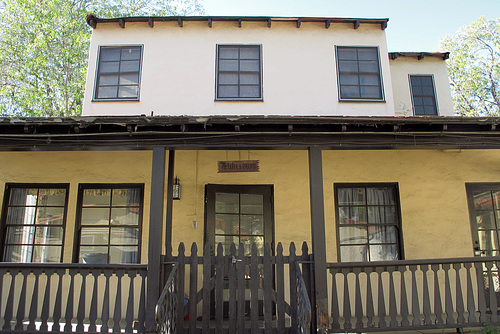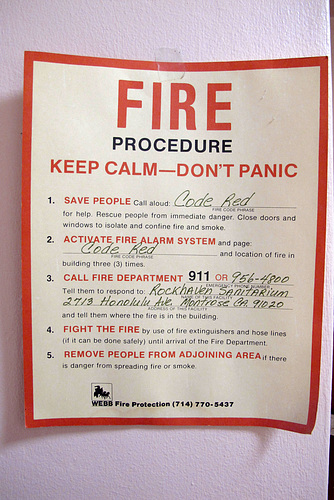 "The Lady of Rockhaven" by Gladding, McBean.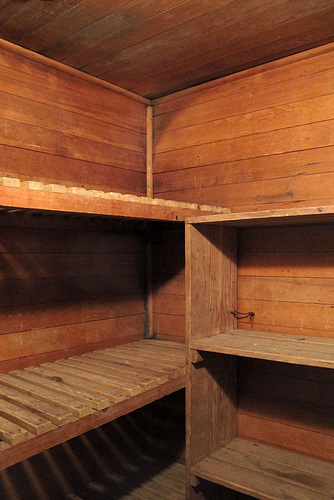 The walk-in cooler which could obviously be converted easily into a sauna for small people.
More of my photos from Rockhaven Sanitarium are here.
permalink | November 8, 2015 at 05:08 PM | Comments (1)
October 23, 2015
Eldridge Cleaver
I finally found the grave of Eldridge Cleaver. Before today I knew only the general area where he was buried in Mountain View Cemetery in Altadena. But the description in this book helped quite a bit. Then this photo made it pretty easy. To assist anyone else looking for his grave, here are the coordinates: N34° 11.070' W118° 08.724' and a map:

permalink | October 23, 2015 at 01:11 AM | Comments (0)
October 19, 2015
The Gamble House
The Gamble House. "Originally intended as a winter residence for David and Mary Gamble, the three-story Gamble House is commonly described as America's Arts and Crafts masterpiece." (Wikipedia)